Shopping in Paris – The Definitive Guide
Paris is known as one of the top Fashion Capitals of the world, maybe that's why Paris in one of the most visited cities in the world. If you are looking to do some shopping during your travels, you have come to the right place.
Paris is the city where all your shopping dreams will come true! From the quaint boutiques to the high-end fashion designers, with multiple romantic places, Paris has it all.
No matter what your budget, you will be able to enjoy perusing through the storefronts and taking in the Parisian style. You just need to know where to find it!
Here is your perfect guide to Paris Fashion and Shopping.
I- When to Go Shopping in Paris
Best Weather for Shopping in Paris
When planning your travels to Paris for your shopping extravaganza, you may want to keep in mind the weather and temperatures for when you are looking to go.
There are pros and cons to the differing seasons.
If you are planning to go in the colder months the rates and crowds will be slightly less, so it might be the more affordable option. The downside is that the weather could be a little rough and it may not be as much fun to be out and about in the cold and maybe even in the snow.
During the warmer months, the rates and crowds will be much higher and might not be as affordable of a trip. The upside is that the weather will be enjoyable to be perusing the streets and bopping in and out of storefronts.
The choice really is up to you and what works best for what you want out of the trip!
Best Shopping Events in Paris
Other things to consider when picking a time to visit Paris are the big events that go on throughout the year in the city.
Here are two that you may want to plan your trip around to make sure you make the most of the sales, get some good deals and surround yourself by the best fashion days Paris has to offer.
Les Soldes
Paris has two big sale events during the year since sales in France are state-regulated:
2019 Winter Sales in Paris start on Wednesday, January 9th and end on Tuesday, February 19th.
2019 Summer Sales in Paris begin on Wednesday, June 26th and end on Tuesday, August 6th.
Each sale typically lasts about 5 or 6 weeks.
As the weeks progress in the sale, the prices continue to get slashed.
However, the further you get into the sales the more picked over the items get as well.
Paris Fashion Week
Another big event for every fashionista's dream vacation is Paris Fashion Week.
If you are wanting to shop some of the high-end fashion and designers, then this is one event you won't want to miss.
Paris Fashion Week occurs six times throughout the year so there are several chances to take it in.
It definitely is not easy to get a ticket, but there are chances of getting into shows that are not filled up.
Aside from the shows themselves, there will be everyone who is anyone in fashion present and in the city.
It is almost guaranteed that you will run into a few big names.
II- Top Shopping Places in Paris
Now for the shopping!
With so many options throughout the city, where are the best places to go shopping in Paris?
Paris does have a wide variety and it does vastly depend on what exactly your style is and the type of items you are particularly looking for.
Here are the 12 best showstoppers in Paris you will want to make sure you hit when making your shopping rounds during your trip.
1. Val D'Europe, La Vallée Village
About 30 minutes East of the city is the Shopping Center known as Val d'Europe as well as the famous luxury outlet La Vallée Village.
The Val d'Europe mall is an exquisite indoor shopping center containing over 160 stores for you to peruse through.
And La Vallée Village is "the most successful outlet shopping destination in France" home to many of the luxury brands such as Armani, Givenchy, Jimmy Cho, Burberry, and Versace. La Vallée Village has more than 100 boutiques of international designer names in fashion spread across intimately scaled buildings with beautiful pedestrianized streets.
That's why Val d'Europe is the perfect destination for shoppers looking to go to one place and hit a bunch of stores all at once or if there is a variety of things you are needing.
During French Sales, you can find huge discounts in La Vallée Village on many items from big brand names that can go up to 70% discounts! This makes Val d'Europe a must-do in the shopper traveler's checklist.
There is also a large restaurant section known as Les Terrasses. It is a fun place to spend the day shopping, rain or shine!
2. Boulevard Saint Germain
Located in the 7th Arrondissement is the Boulevard Saint Germain. It is one of the best shopping areas in the city and you won't want to miss taking a stroll along it.
The street has a variety of different stores to explore from home décor to fashion boutiques and delicious cafes to stop at and grab a bite to eat along the way.
The street itself is enchanting and beautifully lined with trees traveling all the way up to the Seine River.
3. Rue De Rivoli
Located in the 1st Arrondissement is the Rue De Rivoli. The street runs right near the Louvre Museum and the Tuileries.
This area of Paris is every shopper's dream. There are so many stores on the main strip and through all the side streets, that you could spend days exploring and shopping the area.
This street is luxurious and has a perfect mix of unique boutiques with original items and larger fashion stores.
4. Forum Des Halles, Les Halles
In the 70s Les Halles was created as an underground shopping center. It is a multi-level shopping center filled with a mix of large shopping chains and small boutiques.
There are also several open-air cafes and restaurants to enjoy in the pedestrian area above Les Halles.
You will have plenty to do and see at this shopping mecca. It is a one-stop-shop for many of the stores you will want to shop.
5. Avenue Des Champs-Elysées
If you are looking for a few high-end shops and restaurants, you will find all you need along the Champs Elysees.
This street has stunning architecture and it is beautifully landscaped along the strip.
It is one street that is more heavily frequented by tourists, so you won't find as many local boutiques to shop at and instead more of the bigger name stores.
It is the perfect spot for some designer shopping.
6. Boulevard Haussmann
Runs from the 8th to the 9th Arrondissement and is the epitome of the Old Paris.
Home of Galleries Lafayette and Printemps Stores, Boulevard Haussmann is grand and the bulk of the shopping located on this street is comprised of large Old Parisian Department stores.
Though these might be big department stores, they are dripping in opulence and exquisite décor.
The architecture of the buildings is on a scale entirely their own and decked out with ornate detail.
Even if the large department stores are not your style of shopping, it is worth seeing them just to take in the beauty of the stores.
7. Le Marais
Looking for something a little not so mainstream and more unique? Le Marais, located in the 3rd and 4th Arrondissements is the perfect shopping destination to find more eclectic items.
Here you will find more of the crafty buys from handmade jewelry to vintage clothing. This is also a great destination for art lovers, as there is a great deal of fine-art to shop.
Aside from fashion and art, it is also a top shopping area for foodies, as there are several unique food and drink shops to enjoy.
8. Saint-Ouen Flea Market
Dating back to the 19th century, the Saint-Ouen Flea Market is the largest flea market in the city. It is located in the Northern portion of the city and is the perfect place to shop for out of the ordinary items.
Typical items you will find here are antiques, furniture, and vintage clothing and jewelry. You never know what you will come across.
Flea Markets can be hit or miss, so you should try and go with an open mind and see what gems you will come across.
Weekdays are typically a little better to avoid crowds as well.
9. Avenue De Ternes
A lesser-known shopping area is Avenue De Ternes. This street is more commonly frequented by locals, as many tourists are unfamiliar with it.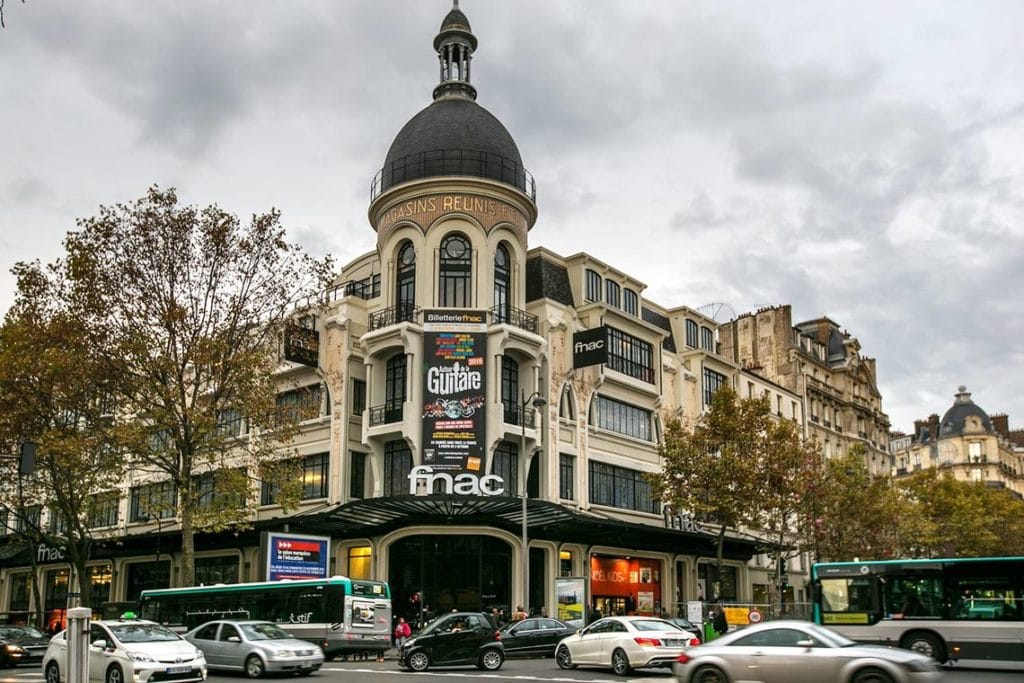 Located in the 17th Arrondissement, this shopping area is more where you will find typical everyday shopping. It will have your basic needs from clothing, appliances, food, shoes, etc.
The neighborhood is what makes this shopping area special. There is a vibrant energy that makes it a lovely place to be out and about for the day and do as the locals do.
10. Rue Du Commerce
Near the Eiffel Tower in the 15th Arrondissement is the Rue Du Commerce.
This shopping district will have more stores than you could ever want. It is the perfect place to find trendy outfits and items for your wardrobe.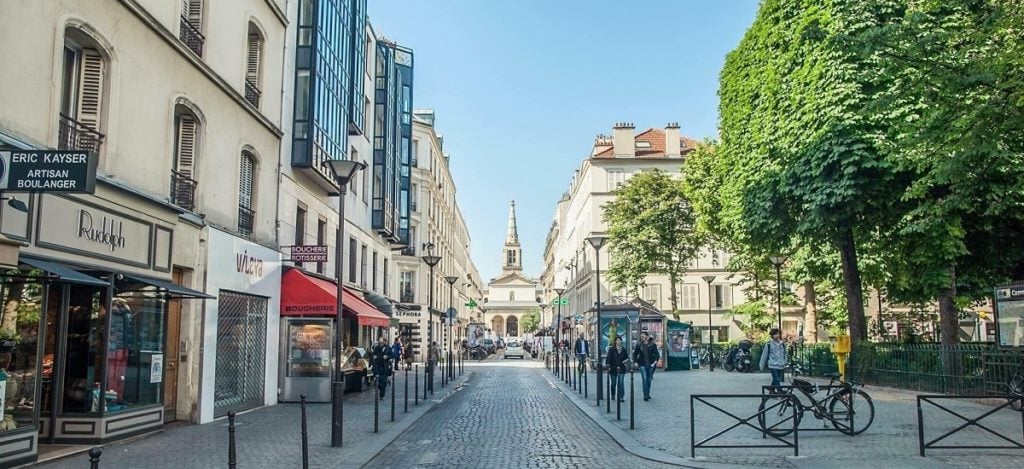 You will find, it is a favored shopping spot by Parisians as well due to it being filled with stores that are more reasonable. This allows you to get some of the trendier styles at a good price and you won't have to break the bank.
It is a mixture of large brand shops and small original boutique storefronts.
11. Rue Saint Dominique
Found in the 7th Arrondissement is Rue Saint Dominique. The beauty of the shops and stores on this street is not in what the stores are, but more in the atmosphere of the area.
The shopping on Rue Saint Dominique has more of a local vibe to it. The shops and cafes found here reflect the Parisian Lifestyle.
It is the perfect destination for you to enjoy some of the boutique-style shops while experiencing the local scene and culture.
If this is your first time to Paris and you want more of an authentic shopping experience, this is one stop you will want to explore.
12. Triangle D'Or
Calling all fashionistas! If you are looking to shop more of the high-end fashion and designers showcased in Fashion week, look no further than the 8th Arrondissement and you will find Triangle d'Or.
It is right across from the Eiffel Tower and very close to the Champs-Elysées. This street not only houses numerous flagship stores, but it also is where you will find some of the top Fashion Houses in the world.
Even if these stores are out of your shopping budget for the trip, it is worth the walkthrough to check out and enjoy the glamorous shopping it has to offer.
III- Top Stores
With there being more stores in Paris than you could possibly know what to do with, it is impossible to visit them all.
There are several different sections to the city where the shopping is one step better than the next and each offering its own unique boutiques and cafes.
Depending on what you are looking for you will gravitate towards certain types of stores.
If you just want to peruse and get a taste of all the different types of shopping in Paris, you may want to go to a variety of different shops.
Here are a few top stores in Paris that you may want to add to your Parisian shopping bucket list.
Forum des Halles
Galeries Lafayette
Printemps Haussmann
La Vallée Village & Val d'Europe
Les Quatres Temps & CNIT (La Défense)
BHV
Le Bon Marché
Cristaseya
Ateliers Auguste (Bags & Luggage)
Thanx God I'm a Vip (Vintage)
Monoprix
Merci
IV- Parisian Shopping Tips
1. Avoid Crowds
If you are planning to hot some of the sales or fashion events, the key is to go early during the weekdays.
You will be able to peruse the shops during the week while the locals are still working, allowing you to miss the bulk of the crowds in the stores that will be seen on the weekends.
If weekends work best for your schedule, go early to beat the rush. You will like having more space in the stores to look and casually shop. Makes the experience a little more enjoyable!
2. Quality & Price
Timing the sales right will make all the difference. The key is to go mid-sale.
With the sales lasting up to six weeks and the sale prices going down as the sale continues, the items get picked over.
You will want to find the right balance and go during the sale when it is not yet too picked over but also when the prices have dropped some.
3. Splurge
Shopping in Paris is a once in a lifetime experience! It is a memorable time and you will always want to cherish it.
Though you may do some window shopping, find something special just for you that you absolutely love.
Don't be afraid to splurge on an item that is truly unique and you can't get enough of. You won't regret it and it will be a souvenir you can have forever to remember your fun shopping trip to Paris.