How Long Does it Take to Travel Across England?
Every year, countless people tackle the challenge of driving from Land's End (in England) to John o'Groats (in Scotland), which is a lengthy journey of over 800 miles (1300km). This route takes intrepid drivers from the most southwestern point of Great Britain to the most northeastern point of Great Britain. We even wrote a guide about it.
But less popular – and less well known – is the drive across England.
If you're more interested in exploring only England (and not crossing over into Scotland), you can instead drive from England's most southeastern point to the nation's most northeastern point.
In this article, we've unpacked everything you need to know about the journey across England along with lots of information on other cross-country routes throughout the country.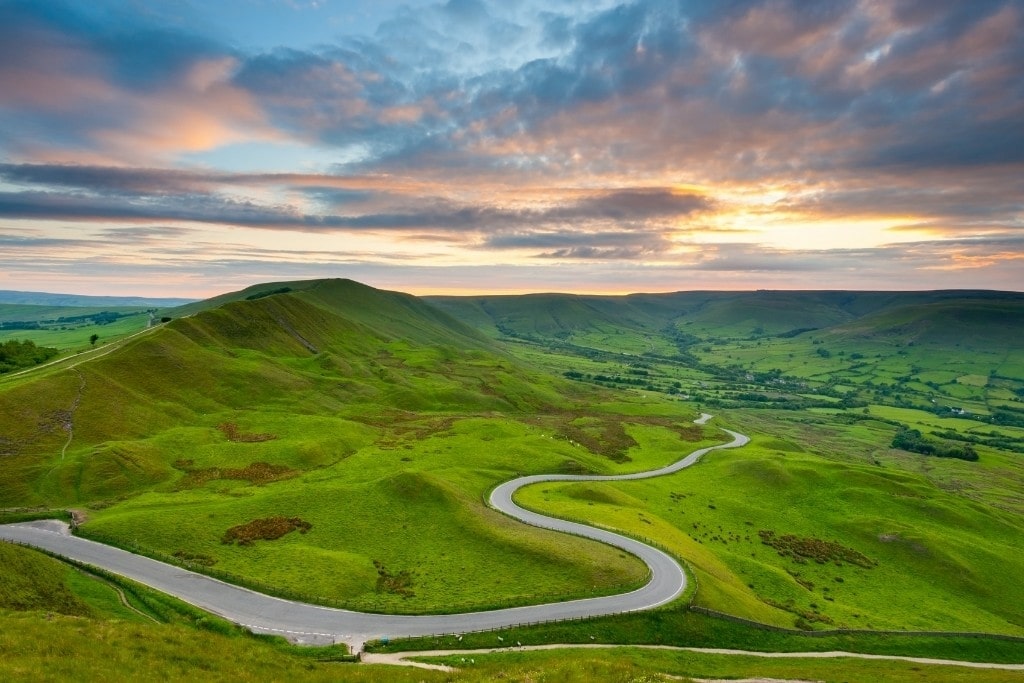 What's the Longest Route Across England?
The longest route across England is from Land's End to Marshall Meadows Bay (556 miles, 895km). The route traverses the entire country in a diagonal line between its most southeastern and northeastern coasts, just south of the border between England and Scotland.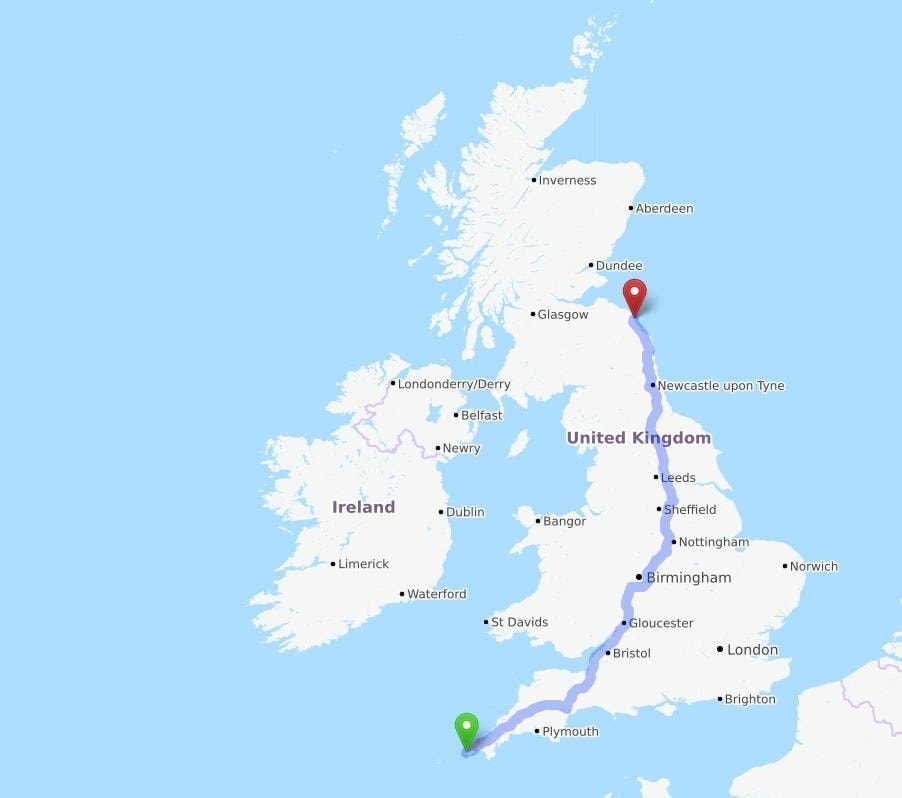 From point to point, as the crow flies, this distance clocks in at 426 miles (686km), but the shortest route by road is 556 miles (895km). Lots of eager speedfreaks drive from Land's End to Marshall Meadows Bay every year, while some crazier and more adventurous people do so by cycling or walking.
Though this is the longest route, it's not the most famous route, so we'll cover some of those later in this article.
But for now, let's unpack the route from Land's End to Marshall Meadows Bay!
How Long Does It Take to Drive Across England?
It typically takes between 10 and 12 hours to drive across England when tackling the trip from Land's End to Marshall Meadows Bay. But nobody wants 10-12 hour of constant driving, so the trip pretty much always takes much longer.
The fastest route from Land's End to Marshall Meadows Bay largely takes place along motorways and other uninteresting roads, so the fastest route is by no means the most attractive route. Most drivers who undertake the trip therefore instead devise a bespoke route to take in some stops and scenes along the way.
Depending on the route you decide to take, your journey can include beaches, hills, valleys, national parks, historical cities and much more. If you want to drive across the entirety of England, motoring from Land's End to Marshall Meadows Bay is absolutely your best option.
Popular with car drivers, motorbikers and campervan fans, it's one of the best road trips in England.
How Long Does It Take to Cycle Across England?
If you cycle from Land's End to Marshall Meadows Bay it can take you around 10 days to complete the 620 miles (1000km) or so, depending on the route you choose. Again, the only fixed points are the end and the beginning, and you can cycle between the points in any way you like, meaning that the route has no maximum mileage.
A sensible time estimate is 7-10 days, but many cyclists undertake the route much more slowly if they want to treat the journey as an extended vacation rather than purely as an intense physical challenge.
Some cyclists even split the route up into several smaller chunks and tackle each chunk separately over the course of many years.
Here's an excellent account of someone who cycled the route in a swift – and impressive! – one-week period.
How Long Does It Take to Walk Across England?
If you walk from Land's End to Marshall Meadows Bay, it'll likely take you around 1 or 2 months, but this can again vary massively depending on your chosen route – and depending on how much walking you're prepared to do every day.
Like the cycling route from Land's End to Marshall Meadows Bay, some people walk the route all in one gigantic adventure, while others split the route into smaller, more manageable chunks which they attempt over a much longer period of time.
Some crazy people even run the route. But unless you love running with tears in your eyes and weeping sores on your feet, I wouldn't recommend it.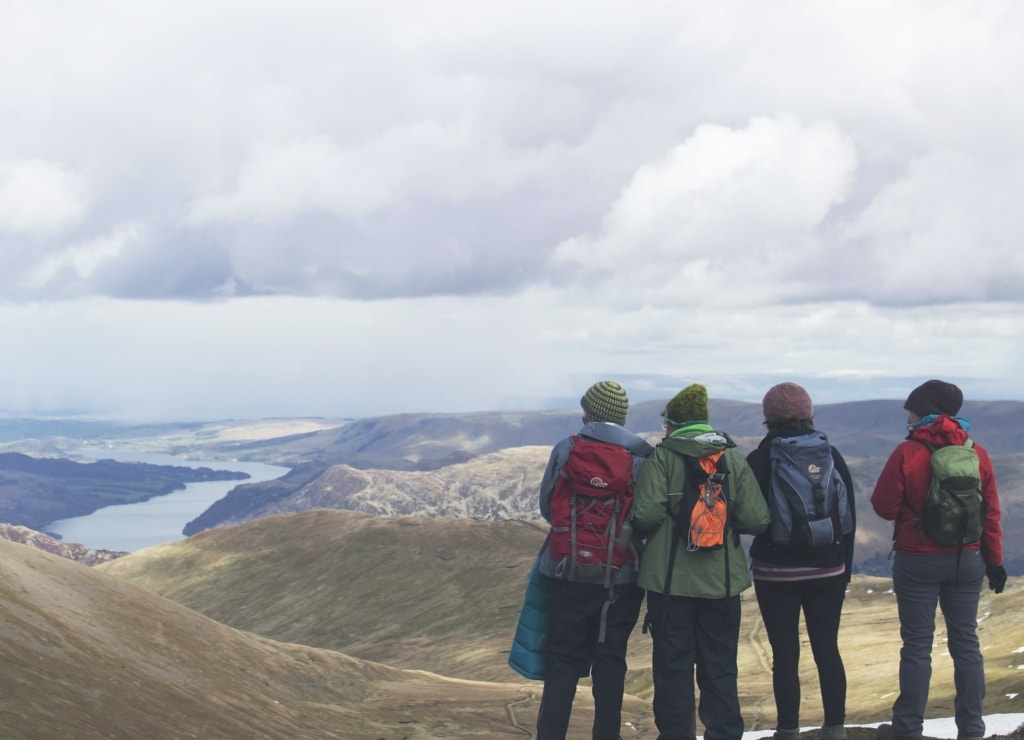 How Long Does It Take to Travel Across England by Train?
If you travel from Land's End to Marshall Meadows Bay by train, it'll take around a day or two. Here's what your journey will probably look like:
Land's End to Penzance: there's no train available for this section of the journey (because Land's End doesn't have a train station), but you can easily undertake this part of the journey by taxi, bus or hitchhiking. This small part of the route is only around 10 miles (16km).
Penzance to London: this train runs regularly.
London to Berwick: … as does this one! Berwick is the last town English town before the Scottish border, so this train shuttles you over plenty of distance.
Berwick to Marshall Meadows Bay: Marshall Meadows Bay has no train station (which is no surprise since it's a small sandy bay), but you can ride a bus or hitchhike for this stretch of the trip. Since this section of the adventure is only 3.1 miles (5km), you can even walk it.
Again, you can choose any route you like, but the journey outlined above is by far the easiest, quickest and most accessible.
Some people tackle the challenge of undertaking the route from Land's End to Marshall Meadows Bay only by bus and coach, but this is a much longer option than taking the journey by train.
What's the Four Points Ramble?
The Four Points Ramble is a relatively famous variation of the walk from Land's End to Marshall Meadows Bay. The aim of the Four Points Ramble is to 'walk to each of the four extremities in England', and takes in the most northern, southern, eastern and western points of the English mainland.
Again, the route is very flexible and changeable, and there's no one true way to approach it.
Want more information? Here's lots of it.
Are There Any Other Famous Road Trips in England?
England is packed with great drives, but it's pretty short on official road trips.
That said, my favorite is the Atlantic Highway. Weirdly, this route also starts close to Land's End. It stretches for around 70 miles (113km) near the southwestern tip of England, and has lots of excellent coastal scenery. If you're crossing from Land's End to Marshall Meadows Bay, you should absolutely include this stretch as part of your trip.
Another fantastic English road trip is the drive from the Lake District to the Peak District, England's two most famous national parks. They're both huge regions full of lakes, hikes and other outdoor experiences, most famous for hiking and cycling adventures.
But even the drive between them is excellent – and it's incredibly varied and diverse. You can choose your own starting point and end point for a bespoke adventure packed with peaks, valleys and gorgeous greenery.
A note here: neither of these routes take you across the entirety of England. If that's your plan, the drive from Land's End to Marshall Meadows Bay is absolutely the best choice, as it cuts an incredible diagonal path across the entire breadth of the country.
If you're looking for road trips in other parts of the UK, my favorite is the North Coast 500. A spectacular loop around the most northern sections of the Scottish Highlands, it's one of the best road trips in the world.
I Want to Cross England Without a Car – What Are My Options?
While there aren't many official cross-country car trips in England, there are lots of options if you'd rather cycle or walk. And not all of them are as long as you might think.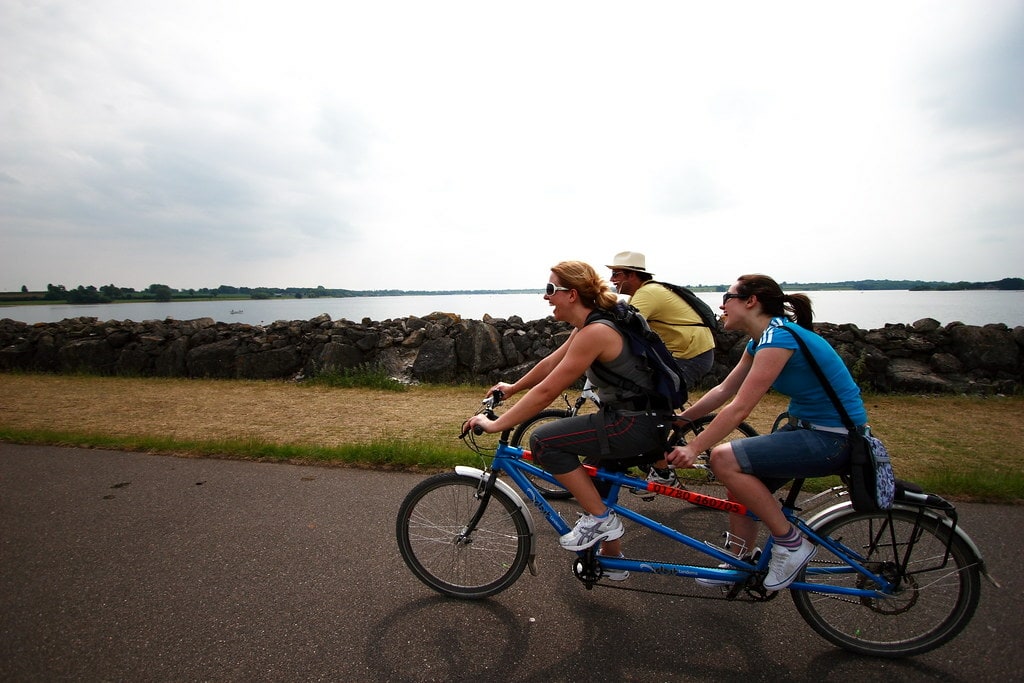 Here are some of my favorite routes:
Coast to Coast cycle: there are some variations of this cycling challenge, but it's a route which crosses the northern part of the country between England's western and eastern coasts. Most cyclists travel between Tynemouth and Whitehaven on a route which clocks in at around 140 miles (225km). It's the most famous cycle route in England.
Coast to Coast walk: pretty similar to the above, but this challenge is (obviously) a walk instead of a cycle, and it's a little more southern than the cycle route, talking trekkers from St Bees to Robin Hood's Bay. This route is 182 miles (293km).
Hadrian's Wall: another route which (almost) traverses the northern stretch of the country, this starts close to the east coast of England, and stretches all the way to the west coast. The 84-mile (135km) route follows the original path of Hadrian's Wall, which was built by Roman Emperor Hadrian to keep the northern barbarians out of England.
Pennine Way: this route starts in Scotland and ends relatively close to the Midlands of the country. At 268 miles (435km), it's one of the most famous walks in England, and crosses endless amounts of challenging terrain.
The Thames Path: this is a very unique route, and follows the iconic river Thames from its humble source all the way to central London. If you want to experience England's capital in a unique and unusual way, it's brilliant. This walk measures in at 184 miles (296km).
England Coastal Path: this isn't yet completed, but it's absolutely huge, and it's a mammoth challenge perfect for any pedantic completionist. When completed, it'll eventually measure in at 2,795 miles (4,500km) as it skirts the entire perimeter of the English coastline.
Again, it's important to note that these journeys don't all take you across the entirety of England (though some do). If you want to experience the entire length and width of England, walking from Land's End to Marshall Meadows Bay is the best option.
In Short…
That's how long it takes to travel across England!
One of the best road trips in the UK, the drive from Land's End to Marshall Meadows Bay is slowly becoming more famous and more well-traveled, and it'll soon be just as popular as the route from Land's End to John o'Groats.
But as we've highlighted, there are way more options for other long-distance routes throughout England, including hikes and bike rides along with other road trips. While some traverse stretches of the entire country, others are a little shorter but often equally impressive.
Interested in traveling in England? We've got all the information you need, from city guides to information on the best places to stay. We also have guides on accents, currencies, and some of the most unique and unusual things you can do in the nation.
Stick with us, browse the website, and learn more!
Being a Digital Nomad: Tips, Tricks and Places
Do you want to be a digital nomad?
If you do, maybe you don't know where you might want to live. Or how to live there. Or whether you need a visa. Or how to make friends in the scary sprawl of a brand-new city. Or how to stay productive while you travel. Or how to find an apartment. Or whether this lifestyle really is for you. Or… I'm sure you get the idea.
But with some insight and experience, it's not as difficult as you think. So in this book, I've gathered my 6 years of digital-nomadding experience… and I've used it to answer all your questions, soothe all your fears, and get you on your way. After reading this, you'll realise being a digital nomad is much easier (and much more possible!) than you think.