19 Most Beautiful Hikes & Walks in and Around Edinburgh
Millions of people visit Edinburgh every year.
Most of them spend a day or two in the city, seeing the castle, hitting the sights, and trawling through all the terrible souvenir stores. But not enough people tackle nearby hikes—yeah, it's not in the Scottish Highlands, but Edinburgh is a great base for exploring some of Scotland's most underrated wanders.
So in this guide, I've brought you the 19 best hikes in and around Edinburgh. I've covered easy strolls, historical jaunts, challenging day trips, hilltop summits, shoreline wanders and long-distance epics. Whatever you're looking for, it's here.
Today, Travelness are exploring the 19 best hikes & walks in Edinburgh and nearby. And you're coming with us!
I- Multi-Day Hiking Trails in and Around Edinburgh
1. The Union and Forth Canal & Clyde Canal Towpath Route
An excellent way to see Edinburgh, Glasgow, and all the urban and industrial places between them, this route takes you across length stretches of two canals (the Union Canal, in and around Edinburgh, and the Forth & Clyde Canal, in and around Glasgow).
If you want a multi-day walk that isn't too challenging or strenuous, you'll love this. You see pubs, lochs, canals, boats, villages, towns and industrial areas—and because it's all very flat and easy to follow, you don't need to be an experienced hiker to take on the challenge.
Pro tip: because this route is really urban, pretty much all of its stretches are easy to access, so lots of people tackle separate sections of the route as day trips. If that's your plan, here's the best way to split the route into 6 different sections (quick note: the linked route is marked from Glasgow to Edinburgh).
2. The John Muir Way
For its central section, this one runs along a similar route to the Union Canal and Forth & Clyde Canal Towpath Route.
But it also extends in both directions (especially on the eastern side), making it a much longer route with much more variety.
In addition to all the towpath sections, you also get hilly segments, some excellent stretches of coastline, and a wander through the southernmost part of Loch Lomond & The Trossachs National Park. The route doesn't enter central Glasgow, but skirts around some of its nearby urban areas instead.
The John Muir Way is 71 miles (114km) longer than the towpath route, so it's a much bigger challenge. If you have time to tackle it all, I totally recommend it—it's a brilliant trail, and a great way to see this part of southern Scotland.
The walk is named after Dunbar-born conservationist John Muir, who helped to establish some of the first national parks in the US.
3. The Berwickshire Coastal Path
I absolutely love the Berwickshire Coastal Path. I've only ever cycled it, but it's one of the best long-distance routes I've ever been on. For a multi-day adventure, it's pretty short, but it's packed with lots of variety.
A 30-mile (48km) wander from Cockburnspath to Berwick-upon-Tweed, it takes in cliffs, beaches, charming towns, fishing villages and endless panoramas. I reckon it's one of the best coastal walks in the UK. If you want to tackle a coastal walk in Scotland, I honestly can't recommend this one enough.
As a handy bonus, the route ends at Berwick-upon-Tweed, which has all the comfort and conveniences you need—along with regular direct trains to Edinburgh.
Pro tip: if you want to make this hike even better (and much more beautiful), you can extend it by tackling the Northumberland Coast Path as soon as you're done. It starts in Berwick (where the Berwickshire Coastal Path ends), and runs south all the way to Cresswell. The Northumberland Coastal Path measures in at 62 miles (100km).
II- Easy Single-Day Hiking Trails in and Around Edinburgh
4. Arthur's Seat
You've all heard of this one. An ancient volcano looming right over the heart of Scotland's capital, most Edinburgh visitors clamber up to the top of Arthur's Seat.
But although it's right in the middle of Edinburgh, it's actually a really great walk, and much better than most people expect. The best way to get a feel for the peak and its surroundings is by starting in the northwest of Holyrood Park and going in a big loop.
The ascent measures in at only 279 meters (915 feet), so it's a pretty easy walk. From the top, you get great views of Edinburgh, the city's surroundings, and the Pentland Hills (another hiking hotspot which we'll cover in much more detail soon).
Pro tip: Arthur's Seat is part of Holyrood Park, a popular city-center escape for families, dog walkers and picnickers. So whether you stroll up Arthur's Seat or not, make sure you explore the rest of Holyrood Park.
5. Calton Hill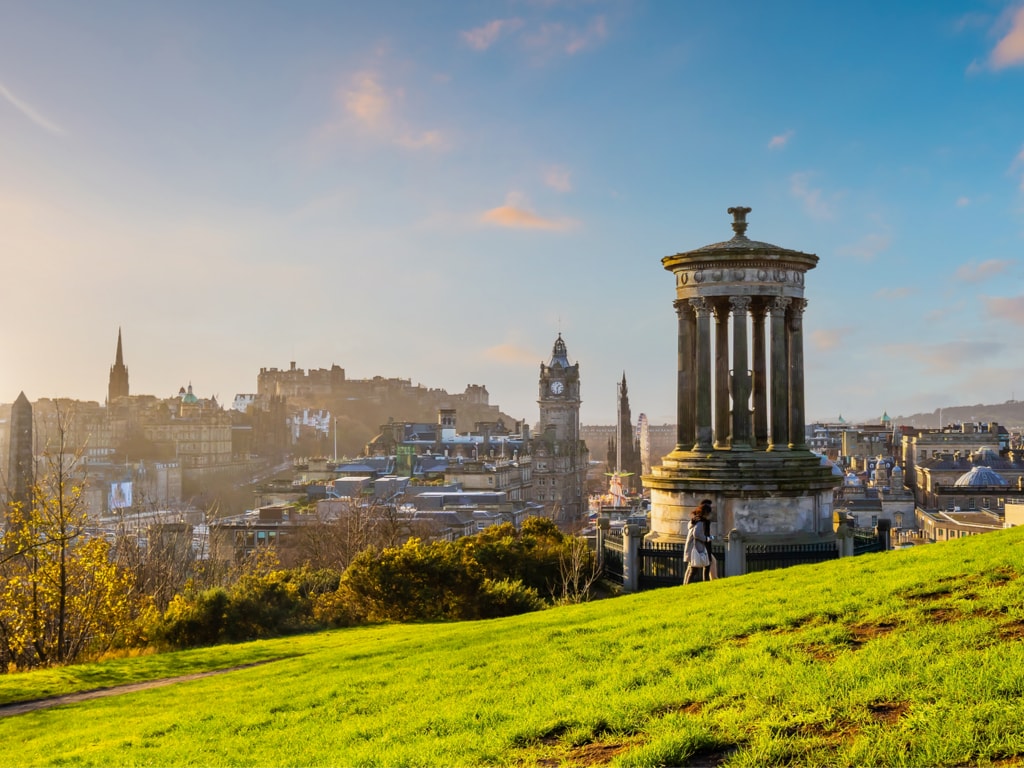 Great walks don't get much easier than this. Another way to get lovely panoramas of Edinburgh, Calton Hill is even more central than Arthur's Seat. A small peak-topped park, the place has various buildings and monuments, and great views of the city.
Start from Edinburgh Waverley railway station, walk east towards the hill, climb the steps towards the peak, and explore Calton Hill in a little circle. It's only a short walk, but the views are way better than you'd expect (considering how easy it is to get them).
Along the way, you see lots of great stuff: you get views of Leith, the docks, Arthur's Seat, Holyrood Park, Princes Street, other parts of central Edinburgh, and plenty more. And on top of all that, you'll also see Nelson Monument, Dugald Stewart Monument, and (weirdly) a half-finished version of Athens' Parthenon.
For an easy-to-access combination of views, architecture and historical insights, city-center walks don't get much better.
6. Blackford Hill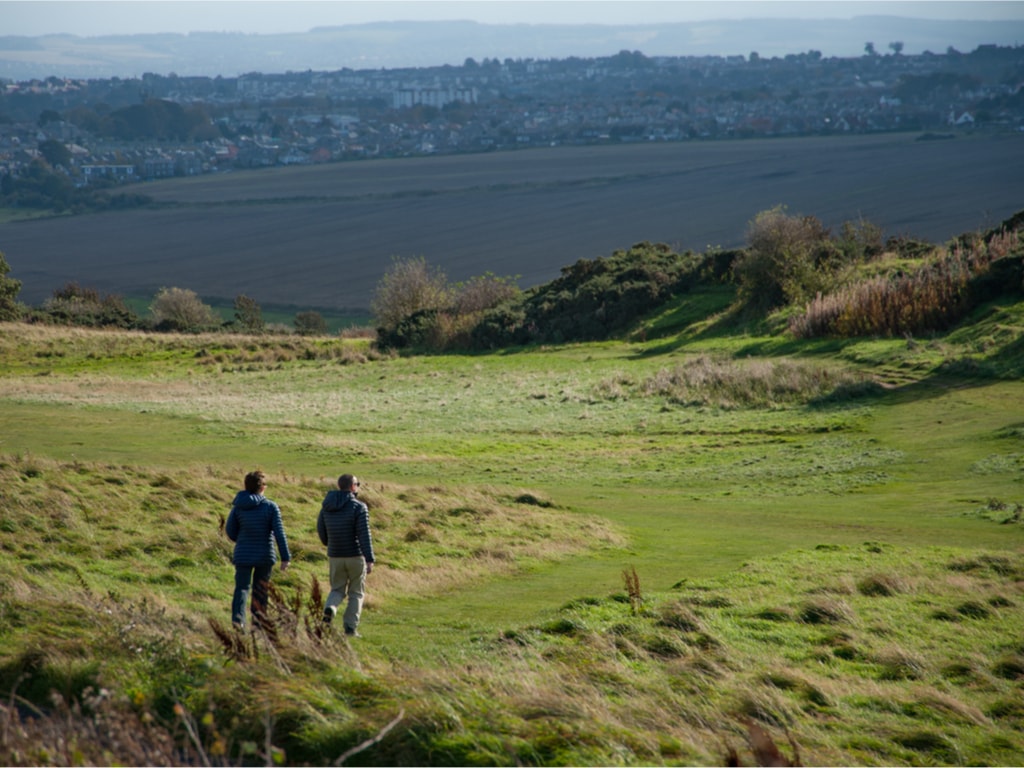 Another city-center hill, this one isn't quite as central as Arthur's Seat or Calton Hill, but it's still very close (and easy to reach both by bus and foot).
Part of a park, there are a huge number of routes on and around Blackford Hill, which is a really popular getaway for people who live in Edinburgh. The main peak measures in at 164 meters (538 feet), and is surrounded by the grounds and buildings of an old estate.
To start your walk, head to where Braidburn Terrace meets Braid Road. From here, follow the path through the wooded valley, passing Hermitage of Braid (the garden-turned-park), Hermitage House (the old manor house), and views of the peak ahead of you.
From the top of the peak, you get excellent panoramas of Edinburgh. You also get what I reckon is the best possible view of Arthur's Seat.
7. Allermuir Hill
Alright, we're heading to the Pentland Hills for the first time. A range of hills just south of Edinburgh, there are countless hikes in the area.
One of the most accessible is Allermuir Hill, the most northern of the peaks.
There are lots of routes up the hill, but the best way I know of is from the car park at Midlothian Snowsports Center (which is a great place to visit if you're looking for more outdoor adventures).
From here, you wander up the ski slopes of the ski center before following a ridge along to the top of Allermuir Hill. From the top, you can see Edinburgh to the north and the rest of the Pentlands to the south. On the way back down, you can walk back to the car park through the tiny village of Swanston, which is basically just a collection of thatched cottages.
In total, you tackle 385 meters (1,263 feet) of ascent on this one, so it's a pretty easy hike.
8. Harlaw Reservoir and Threipmuir Reservoir Circular
Another Pentlands option, this flat walk takes you around the shores of both Harlaw Reservoir and Threipmuir Reservoir.
One of the most popular family walks near Edinburgh, it's a good option if you're looking for a hike that's both super beautiful and super accessible.
Park up at Harlaw House Visitor Center car park, and follow the signs for Threipmuir Reservoir. There are various routes of various lengths, but I recommend going around the entirety of Harlaw Reservoir (the smaller of the two), and the northern shore of Threipmuir Reservoir (the much bigger of the two). You get woods, shoreline strolls, and great views of Black Hill.
This route clocks in at around 2.5 miles (4km), but you can make it both longer and shorter. There are only around 30 meters (98 feet) of ascent in total, making it easy and accessible for basically anyone.
9. Glencorse Reservoir
Another hike, another Pentlands reservoir.
A little longer than the walk we've listed above, but with much better views, it's a good option if you want excellent panoramas of the Pentland peaks without putting in too much effort. There's 152 meters (499 feet) of ascent in total.
You park up at the Ranger Center car park, just off the A702 road. Follow the track until it splits off into two. When it does, head right (the left path is for Scald Law, which I've covered in another entry later).
From here, it's easy to get to the eastern shore of the reservoir. Head along the eastern shore until you can't go any further, then turn right and head up a track which takes you above the reservoir, for the best views of the whole walk.
I reckon Glencorse is the prettiest of all the reservoirs in the Pentland Hills (there are six of the watery boys in total).
10. Rosslyn Chapel and Roslin Castle Loop
If you prefer strolling through towns and villages rather than remote and rural walks, you'll absolutely love this one. It's a really easy wander to the two most famous sites in the pretty village of Roslin.
Park at Rosslyn Chapel (famous cos it was in that terrible Da Vinci Code) before taking a gentle (and very short) downhill path to the ruins of the castle. When you're done at the castle, follow the river west for a while for as long as you feel like, before then doubling back on yourself and heading back to the chapel. Very short and very easy.
Pro tip: if you want to extend the walk, you can also wander through Roslin Glen Country Park. West of both the castle and the chapel, it has woodland, meadows, and easy family strolls.
11. North Berwick Law
North Berwick Law is a strange hill jutting out of the otherwise-flat landscape of North Berwick, a lovely little seaside town.
From its top, the views are massively unique—you can see North Berwick, the North Sea, and all the tiny islands that lie just off the coast. At the summit, there's also a strange monument (made in the shape of a whale's jaw bone), and a trig point with 'live for the moment' spray-painted on it.
The summit measures in at 187 m (614 ft), and the car park is around halfway up—so it's an easy ascent. Pretty and accessible, it's a popular picnic spot.
From Edinburgh, North Berwick is around 25 miles (40km) away. It's easy to reach by car, but there's also a regular direct train service.
12. North Berwick to Tantallon Castle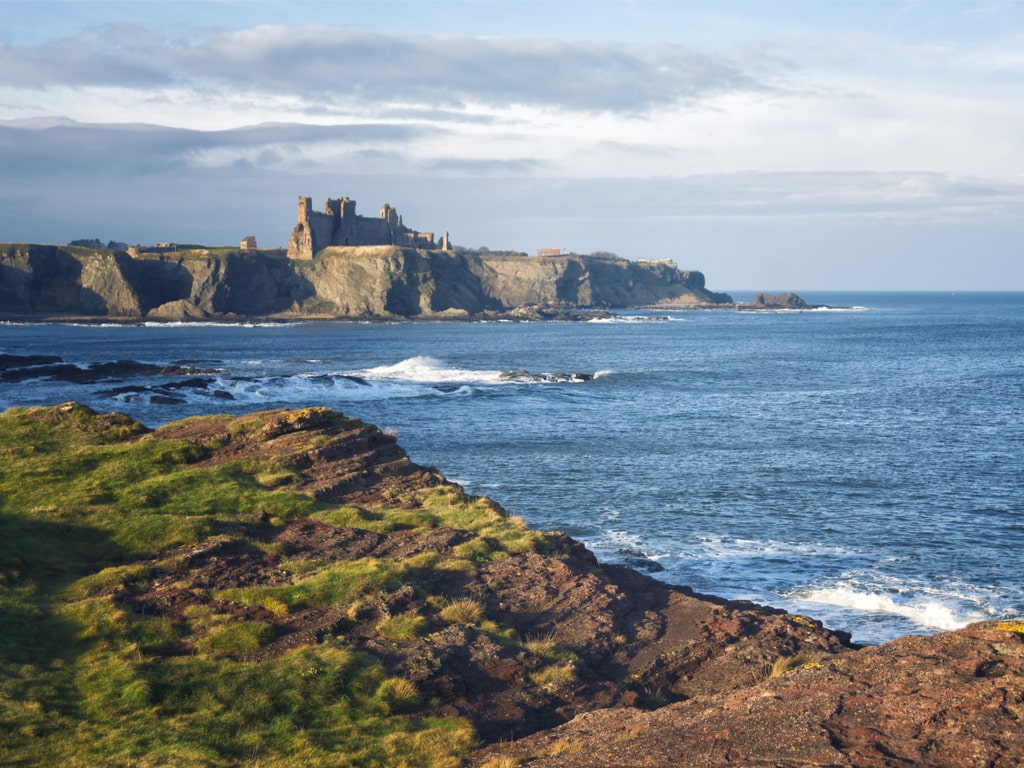 This varied shoreline wander is an underrated gem.
Another North Berwick hike, you could tackle both this one and the entry above in one big bumper day. And because they're massively different to one another, I reckon you should.
Ending at the ruins of cliff-top Tantallon Castle, you park up in the center of North Berwick before following the coast along crumbing cliffs, lovely beaches, a golf course, tucked-away bays and lots of little islands. You'll also see plenty of birds—North Berwick is home to the planet's largest collection of Northern gannets, and lots more rare, local and migrating critters.
To get back to where you started, you can either walk, or take the (very infrequent) 120 bus. If you take the bus, make sure you check the timetable in advance.
13. Linlithgow Loch Circular
If you're walking with kids or older people (or you are one of those two things), this is a brilliant option—it's really easy and accessible, but it's still beautiful. All of the walk is paved or surfaced, and there are lots of perfect picnic spots along its entirety.
The path goes around the entire perimeter of Linlithgow Loch and takes in the hulking sprawl of Linlithgow Palace (most famous as the birthplace of Mary Queen of Scots).
You'll see boats, birds, fishermen, lots of families, and various views of the loch.
From Edinburgh, it's easy to reach Linlithgow. You can either drive or take a direct train (which basically brings you right to the start of the walk). The two places are around 18 miles (29km) from one another.
III- Challenging Single-Day Hiking Trails in and Around Edinburgh
14. Water of Leith Walkway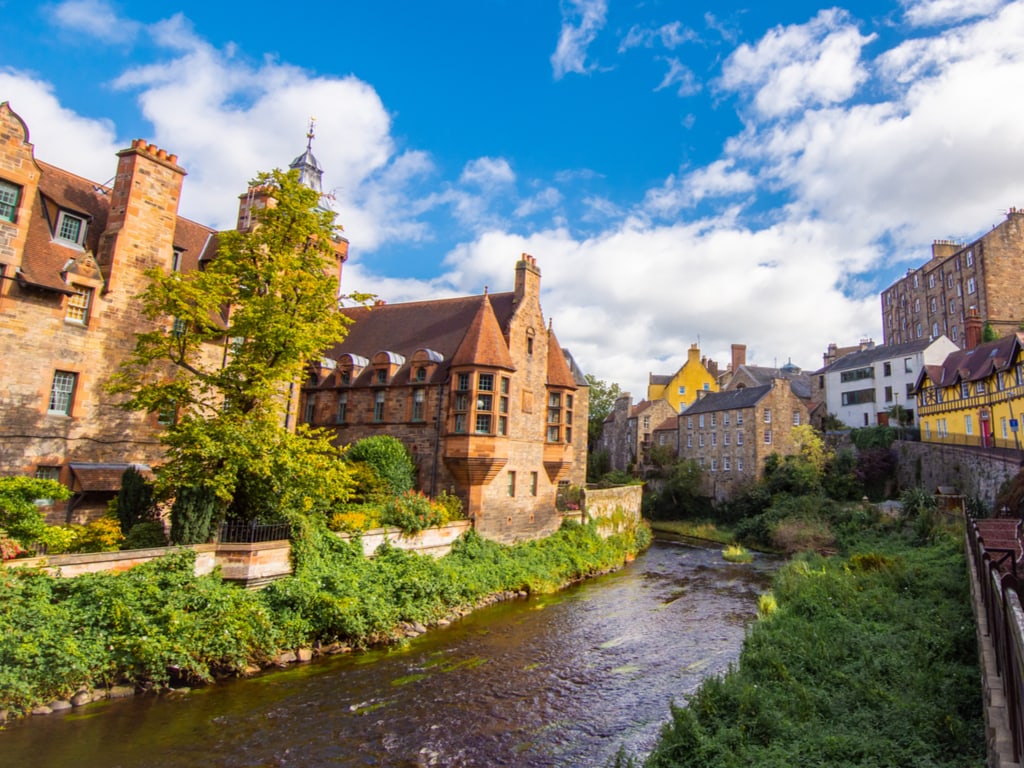 Okay, this one isn't challenging in terms of ascent or descent, and the terrain is all easy. But it clocks in at 13 miles (21km), so it's a pretty lengthy adventure.
A riverside walk that takes hikers from Edinburgh's outskirts all the way to central Leith, it's a brilliant way to see lots of Edinburgh and its lesser-known areas—you get Dean Village (one of the cutest neighborhoods in the UK), Colinton Village, the Union Canal and plenty more. And as a bonus, you finish in Leith, my favorite part of Edinburgh.
I massively recommend this one for anyone.
Here's a basic PDF of the route. It's also suitable for cycling.
You can walk the route in both directions, but it's best to walk towards Leith, so you finish in central Edinburgh. To get to the start of the stroll from Edinburgh, take the 44 bus to Balerno—it's direct and regular.
15. Scald Law (and Carnethy Hill)
Measuring in at 579 meters (1,900 feet), Scald Law is the highest peak in the Pentland Hills, and I reckon it's the best summit in the area.
The classic approach starts at the car park next to the Ranger Center, just off the major A702 road, and beside the Flotterstone Inn (yep, the same one you park up in for the Glencorse reservoir route).
If you take this approach, you get great switchbacks, an easy-to-follow path, and excellent views of various Pentland peaks as you approach them. On the way up, you'll also ascend Carnethy Hill, the second-highest peak in the range.
On your way back to where you started, you can (and should) pass the shores of Loganlea Reservoir.
For a (relatively) challenging hike in the Pentlands, it's an excellent choice, and I absolutely love this hike. But if you want something even harder (and in the same area), check out our next entry.
16. Five Peaks of the Pentlands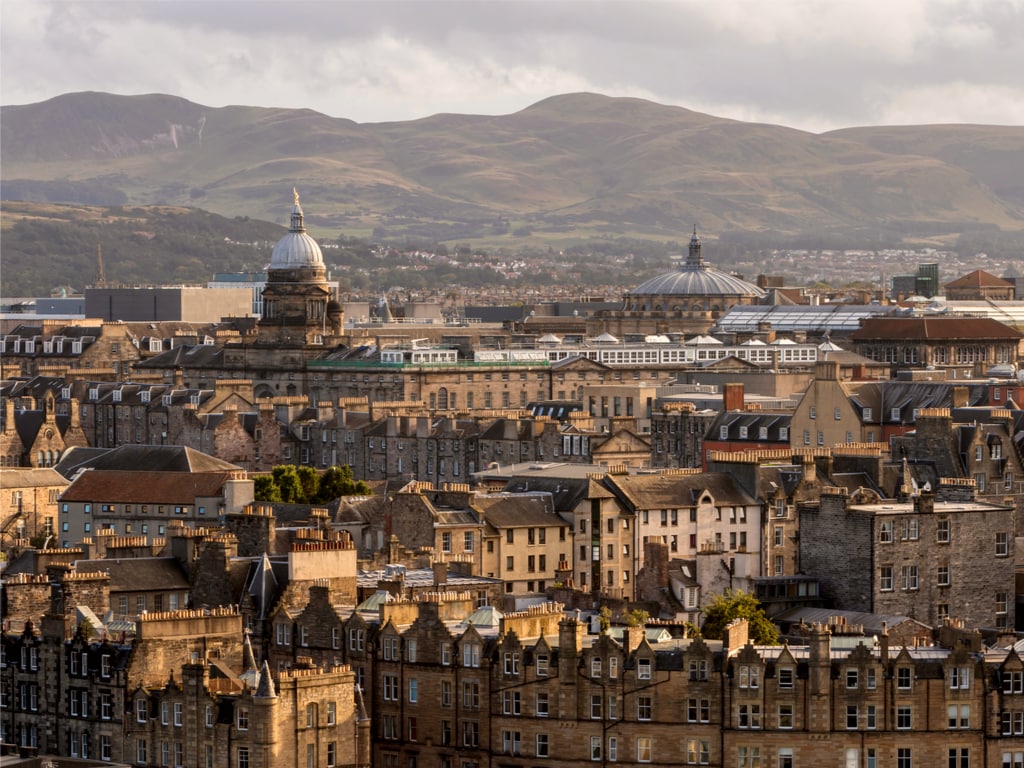 If you want to explore the Pentland Hills in full, or if you want the biggest close-to-Edinburgh challenge you can get, this is it.
Also known as the 'Pentland Skyline,' this route was officially established by Carnethy Hill Runners, an insane Scottish running club (though I'm sure people probably did the route before them).
It follows the two ridges of the Pentlands over the five main peaks (Turnhouse Hill, Carnethy Hill, Scald Law, South Black Hill and East and West Kip, though that fifth peak is actually two small peaks). Along the way, it also hits 10 more lesser-known summits.
Measuring in at 16 miles (26km), and with 1,890 meters (6,200 feet) of total ascent, it's a massive test, but it's without doubt the best big hike near Edinburgh. So park up (or get the bus to) the southern tip of the park, and see if you can tackle the challenge.
17. Seven Hills of Edinburgh
Okay, earlier in this guide, I mentioned Arthur's Seat, Calton Hill, and Blackford Hill.
If you combine these three together, and add four other city-center peaks (Braid Hill, Craiglockhart Hill, Corstorphine Hill, and Edinburgh Castle), you get the Seven Hills of Edinburgh, a popular walking and running challenge for lots of the city's residents.
It's best known for the competition that takes place on the seven peaks, but you of course don't need to enter the competition to climb up the seven for yourself. That link has an excellent guide to the route, so I won't go into detail here (except to say that you should definitely do it).
Pro tip: Obviously, any of the seven hills can be a good walk on their own. But for a short walk, the three we've already listed are the best.
18. Cockburnspath to Eyemouth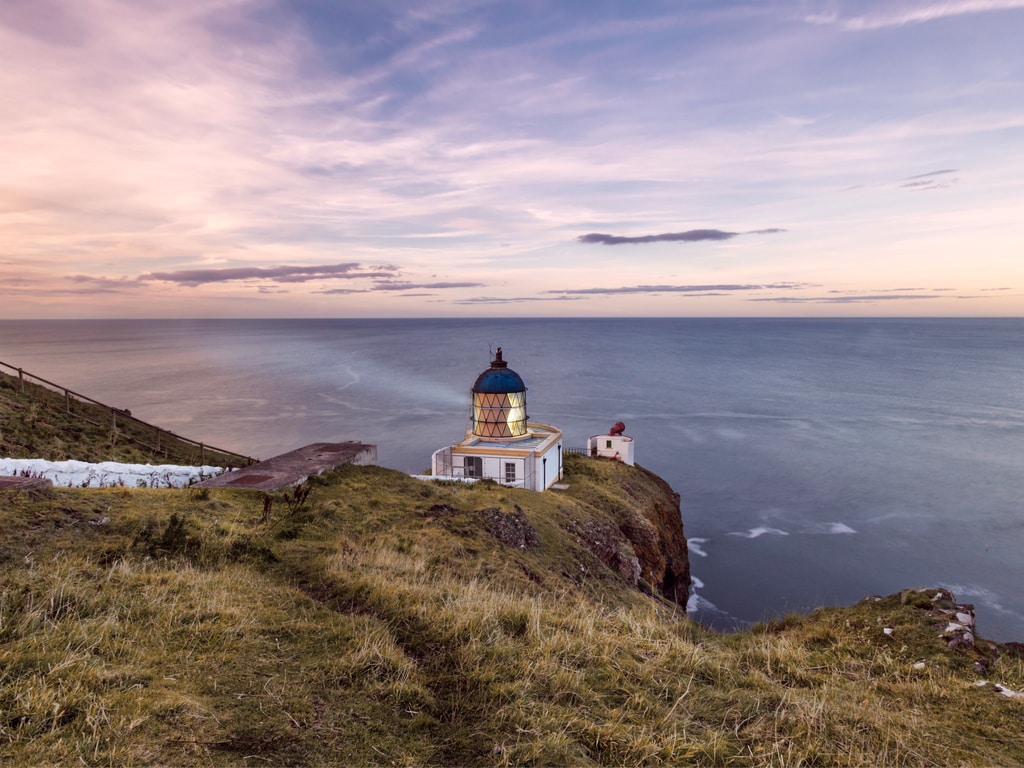 If you don't want to tackle the entirety of the Berwickshire Coastal Path (though you should), do this wander instead, which is the first part (and I reckon the best part) of the official route.
One of the most beautiful sections of the UK coast I've ever seen, it's incredible. You pass lumpy headlands, rugged cliffs, cute towns and villages, harbors, hidden coves, and an iconic lighthouse. And best of all, you finish in Eyemouth, one of my favorite Scottish coastal towns.
There are around 900 meters (2,953 feet) of ascent in total, depending on who you ask.
Pro tip: if you want to make this shorter, you can instead walk from Cockburnspath to either Dowlaw or St Abbs (but I recommend going all the way to Eyemouth). If you want to shorten your mileage without losing out on many sights, walk from Dowlaw to Eyemouth instead.
19. Dunbar to Cockburnspath
Instead of heading south along the coast from Cockburnspath to Eyemouth (as above), you can instead head south along the coast from Dunbar to Cockburnspath.
While the Cockburnspath to Eyemouth stretch is remote and challenging, this one is a little more urban, and there's much less ascent and descent (with 180 meters/590 feet in total).
But be warned: because it's easier, the views are nowhere near as good. Yeah, you pass some nice beaches, dunes, woodland and shorelines, but some lengthy stretches are roadside, and you see the gigantic Torness Power Station for around half of the hike.
Fun fact: this route links the John Muir Way with the Berwickshire Coastal Path. So some absolute maniacs connect the two trails together into one giant trek via this route.
Final Words and Further Reading
There they are—the 19 best walks in Edinburgh and nearby.
If you want to know anything else about adventuring around Scotland's capital, check out our guide on the best day trips from Edinburgh. Or for more hikes in Scotland, have a peek at our guides on the best hikes in the nation, and the country's most beautiful coastal walks.
Thanks for reading, and we'll see you next time!
Being a Digital Nomad: Tips, Tricks and Places
Do you want to be a digital nomad?
If you do, maybe you don't know where you might want to live. Or how to live there. Or whether you need a visa. Or how to make friends in the scary sprawl of a brand-new city. Or how to stay productive while you travel. Or how to find an apartment. Or whether this lifestyle really is for you. Or… I'm sure you get the idea.
But with some insight and experience, it's not as difficult as you think. So in this book, I've gathered my 6 years of digital-nomadding experience… and I've used it to answer all your questions, soothe all your fears, and get you on your way. After reading this, you'll realise being a digital nomad is much easier (and much more possible!) than you think.