The Northumberland Coast Path Ultimate Guide
The Northumberland Coast Path is one of the best long-distance coastal walking trails in Europe. And I know, cos I've done it all.
I'm originally from Northumberland, I've walked all sections of the trail, and I've walked lots of its sections countless times. On top of that, I've cycled along parts of it, slept along parts of it, and spent day trips along parts of it. Back home, they call me 'Mr. Northumberland Coastline'.*
*They don't really.
Anyway, the entire route clocks in at 62 miles (100km), and it's all pretty flat and easy to follow, making it a good compromise between challenging and doable. If you're looking for a beautiful but relatively easy long-distance walk, the Northumberland Coast Path is one of the best walks in Northumberland.
What is the Northumberland Coast Path?
The Northumberland Coast Path is one of the world's best long-distance coastal trails.
In terms of its official designation, the fully-signposted walk hasn't been around for very long – but local people who like coastal walks have known these routes for years.
The Northumberland Coast Path takes you across the entirety of the officially-designated Northumberland Coast Area of Natural Beauty (and the two areas that bookend it). The walk is a completionist's dream – it allows you to see basically the entirety of this narrow area, making it a great way to get a full understanding of its views, people and places.
If you like quiet coastlines, ancient castles, coastal towns, no-frills seafood and friendly faces, you'll love the Northumberland Coast Path.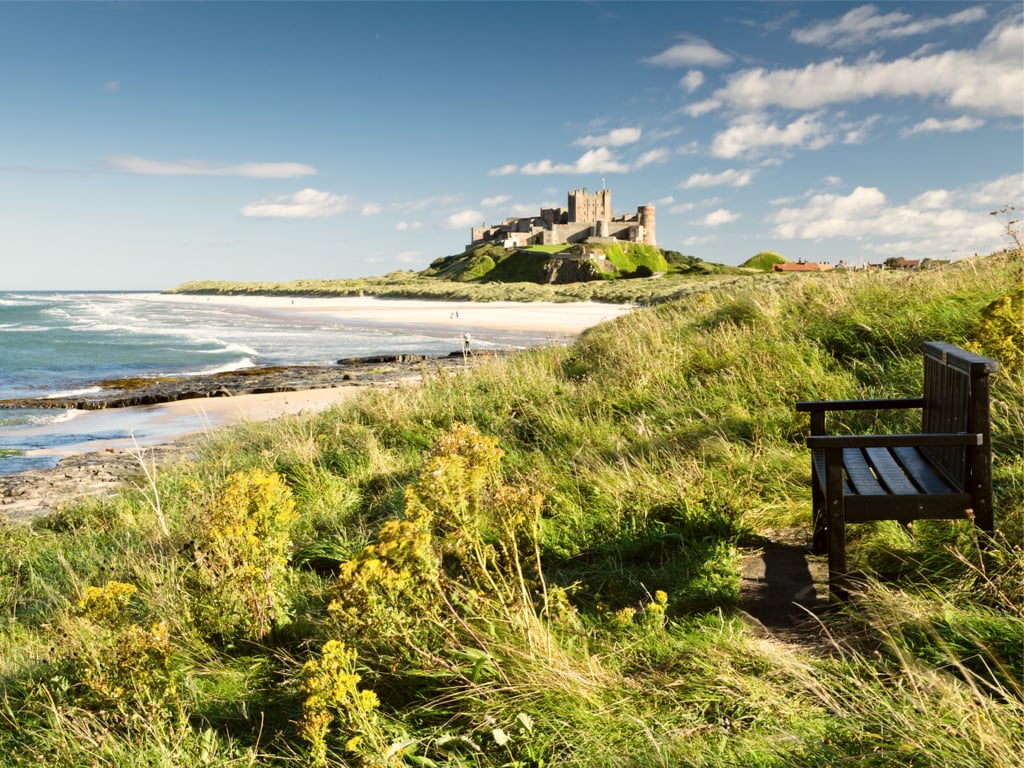 Overview of the Northumberland Coast Path
Where Does the Northumberland Coast Path Start and End?
The Northumberland Coast Path starts at Cresswell at its most southern point, while its most northern point is in Berwick-upon-Tweed, the border town sitting just on the English side of the England-Scotland border.
You can walk in either direction, though most people walk from south to north (but more on that later).
Here's a Northumberland Coast Path map. It gives you a pretty good idea of a standard itinerary with 6 common stops (but, again, there's much more info on potential stops later in this guide):
Is the Northumberland Coast Path Difficult?
No, it's really not. Obviously, walking for 100km over several days is always going to be a challenge, but this is as easy as long-distance walking gets. It's very well marked, it's relatively short, the land is all pretty flat, and there are lots of cosy and convenient towns and villages along the way.
If you've always wanted to do a long-distance walking trail but you've been too scared to do anything hardcore, the Northumberland Coast Path is a brilliant and beautiful solution.
How Long Does It Take to Do the Northumberland Coast Path?
Most people do it in anything from 3 to 6 days, but around 4 or 5 is normal. If you do the walk in 4 days, that's around 15.5 miles (25km) a day, which seems like a lot—but when you remember that you've got nothing to do all day but walk, it's still pretty leisurely. And because it's flat, you don't have to tackle lots of ascents or descents, making things even easier.
I recommend you take your time, so go for at least 4 days (or more if you want to make the trip into a leisurely vacation instead of a strenuous one). There are loads of excellent highlights along the way, and it's good to spend time visiting, viewing and enjoying them all.
But how long the walk will take you depends on how you divide it up, which brings us to…
How is the Northumberland Coast Path Divided Up?
How you want to divide it up is totally up to you, but the official site breaks the walk down into 6 general stages (assuming you walk south to north):
Section 1: Cresswell to Warkworth (16.8km/10.5 miles): for most of this section, you'll walk along 8 miles of the vast and quiet Druridge Bay. You'll also pass through charming Amble, and finish your day in castle-dominated Warkworth.
Section 2: Warkworth to Craster (20.4km/13 miles): your walk gets even quieter and more remote, as you pass through Alnmouth (my favorite fishing village in Northumberland), Boulmer and kipper-packed Craster.
Section 3: Craster to Seahouses (16km/10 miles): usually considered to be the best part of the walk (and even voted among the UK's top 10 coastal walks by The Guardian newspaper). Craster and Seahouses are great, and Dunstanburgh Castle is incredible.
Section 4: Seahouses to Belford (17.5km/11 miles): you'll see the Farne Islands and Bamburgh Castle (one of the most picturesque castles in the world, I reckon), and you take an inland tour to Belford.
Section 5: Belford to Fenwick (10.3km/6 miles): a change of pace and a change of scenery. This short section heads inland for its entirety, showing you a different side of Northumberland in the shape of farmland, woodland and lots of wooly-faced sheep.
Section 6: Fenwick to Berwick-upon-Tweed (19.5km/12 miles): onto the finish line, and beyond distant views of Holy Island, which offers a worthwhile and tempting detour. This stretch includes some of the most remote parts of the entire walk.
Recommended Itinerary for the Northumberland Coast Path
Again, do it how you want to do it. But if I was going to do the full thing all in one go, I'd split the hike into four or five days. If I was doing it in 4, I'd probably go for the following route:
Day 1: Cresswell to Alnmouth (approx 24km/15 miles)
Day 2: Alnmouth to Seahouses (approx 30km/18.5 miles)
Day 3: Seahouses to Fenwick (approx 27.5km/17 miles)
Day 4: Fenwick to Berwick-upon-Tweed (approx 19.5km/12 miles)
If I was to do it in 5 days, I'd probably do something like this:
Day 1: Cresswell to Warkworth (approx 16.8km/10.5 miles)
Day 2: Warkworth to Low Newton by-the-Sea or High Newton-by-the-Sea (approx 22.5km/15 miles)
Day 3: Low Newton-by-the-Sea or High Newton-by-the-Sea to Bamburgh (approx 17.5km/11 miles)
Day 4: Bamburgh to Fenwick (approx 19.2km/13 miles)
Day 5: Fenwick to Berwick-upon-Tweed (approx 19.5km/12 miles)
If you don't want to do the whole thing and you'd rather just choose a short section (or a few short sections), lots of other people do that too. I've never actually walked the entire route in one lengthy attempt either.
Anyway, no matter how much of it you do, each section is packed with lots of highlights. Which brings us to…
Highlights Along the Northumberland Coast Path
The Northumberland Coast Path is absolutely brimming with highlights—way more than you'd expect for such a short walk. Some of my favorite parts are…
Druridge Bay
Druridge Bay is one of the most popular hidden gem beaches in Northumberland.
And I know that sounds like it makes no sense, but give me a minute…. it's a hidden gem because it's never busy, despite most people knowing about it. See, a popular hidden gem. I hope I've cleared that up.
This is mainly because of its lengthy proportions: the whole bay clocks in at a hefty 7 or 8 miles (11-13km), depending on who you listen to.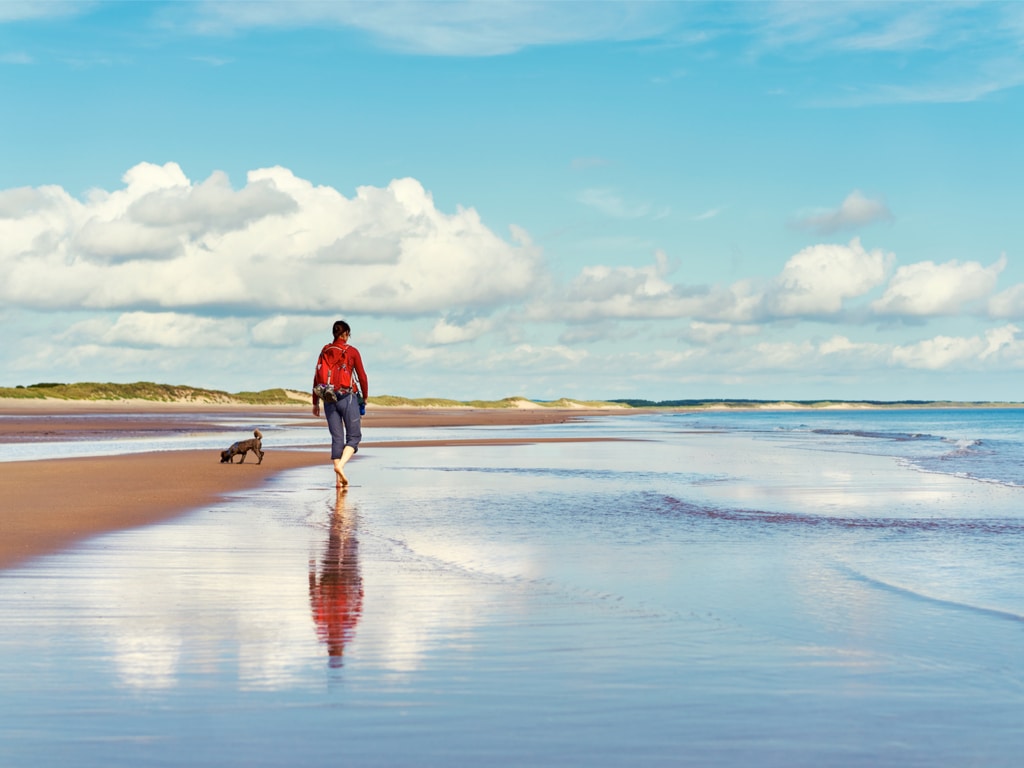 Amble and Warkworth
I've lumped these two together because they're so close to each other.
Amble is a busy but small fishing town with a population of around 6,000 people (which might seem small, but it's one of the bigger settlements along the way). It's a great place to eat and drink, it's brimming with boats, and it has a lovely Sunday market.
A short walk north, Warkworth is dominated by its massive castle, which overlooks the town from the craggy precipice of a lofty hill. If you have time, it's worth taking a trip to the castle. Warkworth itself is charming and homely, stuffed with quaint architecture and smiling faces.
The beautiful River Coquet connects Warkworth and Amble before it moves inland to the hiking havens of Felton, Rothbury, Harbottle and beyond.
Alnmouth
Is Alnmouth the prettiest coastal village along the entire walk? In my opinion, yes. If you don't like it, write your own article.
A short few miles north of Warkworth, I love Alnmouth. It has orange-topped houses, a small harbour, a lovely atmosphere and an excellent location. It's a perfect coastal fishing village, and I promise you'll fall in love with it.
Craster and Dunstanburgh Castle
I love Craster. Famous for its kippers (yellow pieces of smoked fish), it's a tiny village with a tiny harbour, but it's a massively popular day trip option for loads of Northumberland's weekenders.
And Dunstanburgh Castle is incredible. Remember earlier when I said the UK newspaper The Guardian said that one of the parts of this walk was one of the best coastal walks in the UK? Well, they mentioned Dunstanburgh Castle in particular, saying:
The seacliffs are excellent and the ruins of Dunstanburgh Castle summon up every possible image of Macbeth, Richard the Lionheart and all those other mighty chaps.

The Guardian
See, I told you it was good.
Seahouses
Before Berwick, Seahouses is as close as you get to a big town.
If you're looking to spend a rest day somewhere, spend it in Seahouses. And if for some reason you're doing this whole walk with kids (brave choice), Seahouses has loads of great kid-friendly stuff, including mini golf, fish and chips, cute cafes, souvenir shops and (best of all!) boat trips to see the nesting puffins at the Farne Islands.
Bamburgh Castle
Bamburgh Castle is the best castle in Northumberland, and anyone who thinks I'm wrong is wrong.
The place looms over the village of Bamburgh, dominating the skyline, the sealine and any other lines you can think of. The coastal stretch just north of Bamburgh is one of the most popular photography spots in all of Northumberland.
Go there, look behind you towards the castle, and you'll see why.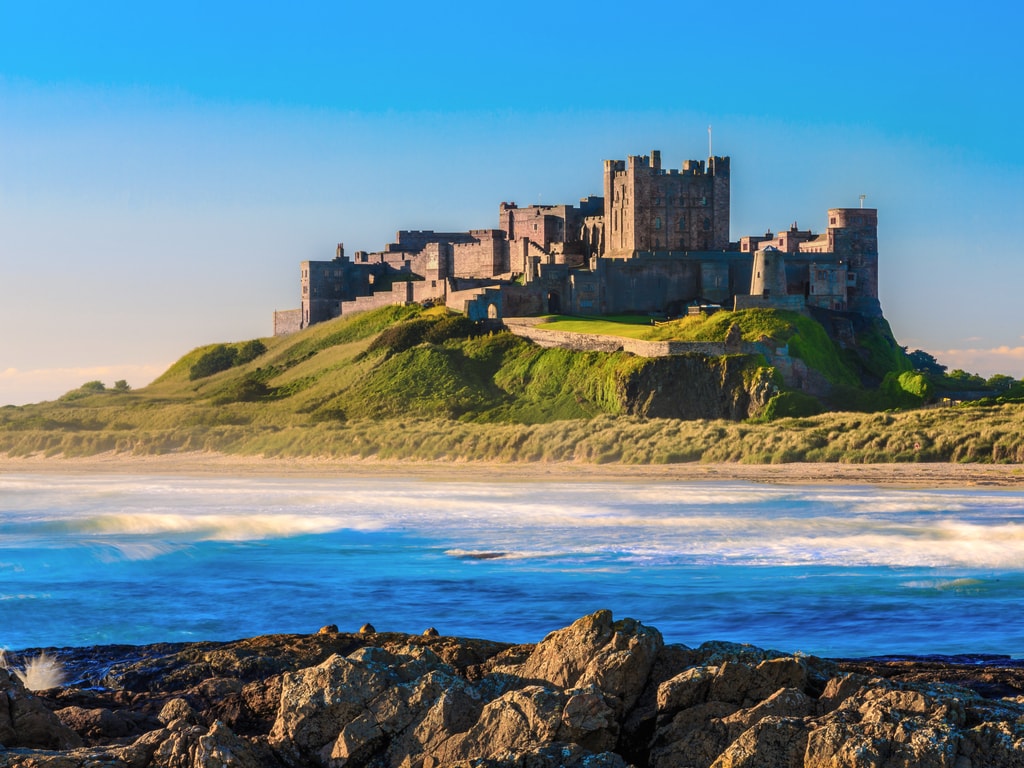 Belford
A charming little village, Belford is part of the small inland detour you take after you hit Bamburgh.
It's the most famous village in this section, and it's absolutely the prettiest. With orange-roofed houses, a small church and a tiny high street, it's loveable and welcoming, and it's backed by an endless stretch of farmland.
(I'm actually writing this from Belford right now. I've come here on the Coast and Castles bike route).
Lindisfarne
You don't need to visit Lindisfarne as part of your trip, so to visit, you have to make a detour.
So I know what you're thinking. 'Paul, I've already walked more than 60 miles, why would I want to do any extra walking you moron?'.
Well, because Lindisfarne (or 'Holy Island,' as it's more commonly known), is one of the best detours you'll ever make.
One of the weirdest and most remote places in the UK, Lindisfarne was once a massively important religious site. It's only accessible at certain times of the day, depending on when the causeway is (or isn't) covered by the movement of the tides.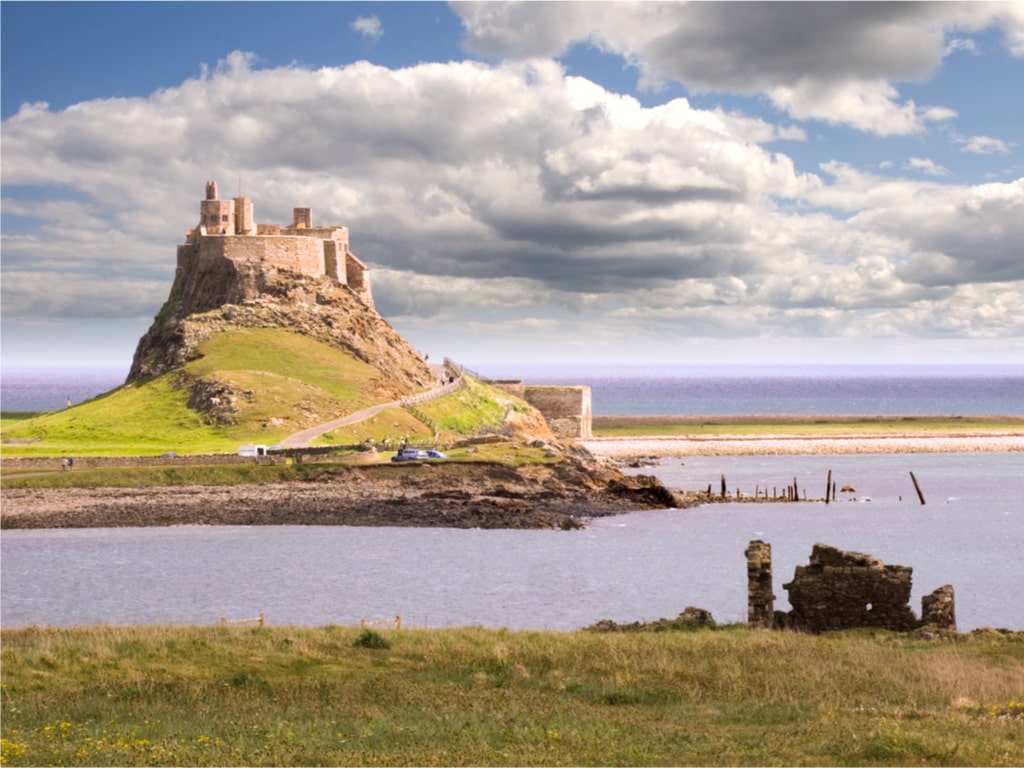 Berwick-upon-Tweed
Berwick-upon-Tweed (or just 'Berwick,' as it's better known) is a great place to end your hike. Compared to all the tiny places you've already hiked through, Berwick feels like New York. In reality, it's just a medium-sized town, but it has all the pubs, restaurants, amenities, hotels and conveniences you want (and need) when you've just finished a big long walk. And the over-the-river view of Berwick from Tweedmouth is great.
If you've been paying attention to the accents on your walk, you'll notice that people in Berwick sound… different. The last town before Scotland, people here speak a weird hybrid of the Geordie accent and the Scottish one.
If you're not yet tired of walking and you want to push on further, you can move on to the Berwickshire Coastal Path, which starts in Berwick. It's only around 30 miles (48km) long, and it takes you to the charming village of Cockburnspath. Highlights along the way include Eyemouth, St. Abbs and loads of cliffs and beaches.
Other Highlights
Other highlights include the excellent but overlooked seaside towns and villages of Newton-by-the Sea, Beadnell and Cresswell.
If you like, you can take another short detour to St. Cuthbert's Cave, a remote sandstone cavern in the woods. It's allegedly where St. Cuthbert (some Anglo-Saxon saint) was buried.
I know this is a ridiculously obvious thing to say (and I'm gonna say it anyway), but the whole coastline is a highlight. As they say, 'it isn't an officially-designated area of natural beauty for nothing.'
(Yes, I know no-one says that).
Last of all, one of the biggest highlights of the walk is the people you'll meet. Locals in this part of the world are known for being some of the friendliest people on the planet. They'll all say hello and they'll all give you a smile.
Local Tips for the Northumberland Coast Path
What's so great about this walk compared to lots of other long-distance multi-day jaunts is that it's short, it goes through lots of towns and villages, and it's a great entry-level trip.
For those reasons, my main top tip is this: get casual.
Take your time. Eat. Drink. Go slowly. Enjoy the views. Take some photographs. You don't really need to worry about navigating or having enough supplies or any of that stuff, so just take your time and relax instead.
Aside from that, here are some of my other top tips:
Phone signal isn't always great. You'll probably struggle to get signal in some places, so warn your family before you go or whatever.
If you don't want to do the full hike, but you want to stay on the coast and use one location as a base, choose Alnmouth. It's close to the center of the walk, it's archetypally coastal, it's beautiful, and there are great transport links to many other en-route places.
I know I've said this already, but visit Lindisfarne. You'll love it.
If you have time, visit some of the castles along the walk. England is one of the world's most castled countries, and Northumberland is the most castled county in England. Add those two things together and you get loads of castles worth visiting.
Recommended Guidebooks and Maps for the Northumberland Coast Path
I know I keep saying you don't need to worry about navigating along the Northumberland Coast Path. And you don't.
But it's always handy to have a good map and a good guidebook, so you can spend your time enjoying yourself rather than perpetually doubling-back and shouting at whoever you're traveling with. It's also good to be able to follow the path properly, and to spot, see and enjoy all the good stuff along the way.
So… the best guidebook is The Northumberland Coast Path: Recreational Path Guide.
There are lots of great maps inside the book, but if you want even better maps, you should go for the relevant OS Maps. You'll want numbers 325, 332, 340 and 346. And if you decide to venture onto the Berwickshire Coastal Path, map number 346 also covers that. Lucky you!
If you want a website with more information on the Northumberland Coast Path, the official site is great (not as good as ours though, obviously).
What to Pack for the Northumberland Coast Path
You should pack…
A good water bottle: you're gonna need some water, so you're gonna need a good reusable water bottle. This Camelbak is easy to use, clean and carry, it has a straw, it's BPA-free, and it's made by an excellent brand.
First aid kit: you probably won't need this, but you might get a small few blisters and cuts. If you do, a first aid kit will come in useful.
Hiking poles: I used to think I didn't need hiking poles. And now I always have sore knees. I know it's a short, undemanding walk, but just take some hiking poles. Make your knees smile.
Multi-tool: everyone likes a multi-tool.
Travel towel: no-one wants to carry around a big, heavy, annoying towel when they can carry one of these instead.
Food: carry some snacks—but again, you'll find lots of places to eat and drink along the way, so you don't need to carry much food.
A good backpack: make sure your backpack is good, and make sure you've used it before.
Good hiking boots: again, make sure you've already worn your hiking boots a few times before. If you're not used to your boots, you'll probably get blisters—and no-one wants blisters on a big long walk.
Waterproofs: carry waterproof trousers, a waterproof coat and a waterproof pack cover. At some point (this is England), you'll probably need them all.
Sunscreen: on the flipside of that, you'll also probably still need sunscreen. Sunscreen and waterproofs? Yep, welcome to the north of England.
Camping stuff (but only if you're camping)!
Overall, the great thing about this walk is that you don't need to carry lots of snacks, emergency equipment or provisions, as you're never far from a village or town. Unlike lots of much more remote long-distance walks, this is a casual hop through towns and villages rather than an epic odyssey through remote wildernesses.
Frequently Asked Questions About the Northumberland Coast Path
Should I Walk South to North or North to South? What's the Best Way to Walk the Northumberland Coast Path?
It's best to walk south to north. That's for a few different reasons:
You'll finish in Berwick: I mean, Berwick isn't some sort of must-visit haven, but it's a great place to finish, with lots of conveniences, pubs, cafes, restaurants and shops. And it's pretty.
You'll largely have the sun at your back, so you won't spend all day squinting into the distance.
The Northumberland Coast is often windy. And if you catch windy days, the prevailing wind will probably be coming from the south-west. So if you walk north, you'll have the wind at your back.
That said, you're not going to die if you walk in the opposite direction. I've done some sections north to south, so you can if you'd prefer.
Is the Walk Signposted?
Yes, it's very well signposted. The symbols you'll be following are white arrows on a blue background, usually accompanied by some sort of text, mileage marker or a blue N-shape (or all three). You'll find these markers on signposts, walls, small wooden markers and more.
And even if you get a bit lost, all you need to do is follow the coastline, so you're never gonna be stuck in the middle of nowhere.
What's the Best Time of Year to Do the Northumberland Coast Path?
It's best to do it anytime between April and September. Any other months will probably be too cold or too wet (or both). That said, the north of England can alway be cold and wet, so hope for the best but don't necessarily expect it.
Where Should I Stay on the Northumberland Coast Path?
You have lots of options, from caravan parks to campsites to bed and breakfasts to small budget hotels.
Loads of the towns and villages along the route are popular tourist spots, and lots of them have plenty of accommodation. You should probably book in advance, because visitor numbers often outweigh the number of accommodation options, even though there are lots of places to stay.
Some of the best places to stay include Cresswell Towers Holiday Park, Warkworth House Hotel, Craster Crew House, The Bamburgh Castle Inn (which is actually in Seahouses), Beadnell Bay Camping and Caravanning Site and The Premier Inn in Berwick.
Is It Possible to Camp on the Northumberland Coast Path?
Yes, you can. In England, you're only supposed to camp in official camping spaces, as wild camping is illegal (unlike in Scotland and many other countries).
That said, those camping rules are stupid, so as long as you're a good camper and you don't make fires or leave trash behind, my advice is camp wherever you want.
If you're looking for actual campsites with actual facilities, some of the best include Waren Mill Caravan and Camping Park, Dunstan Hill Camping and Caravanning Site and Beadnell Bay Camping and Caravanning Site.
There are no official campsites south of Craster, which is a shame. But like I say, wild camp if you want to wild camp, just be a nice person, be responsible, and don't camp in anyone's garden or whatever.
Where Should I Eat on the Northumberland Coast Path?
You'll never struggle for places to eat. Like I said, loads of the towns and villages along the route are popular tourist spots, with plenty of cafes, restaurants, pop-up food places and fish and chip shops.
Make sure you eat lots of the local delicacies. You should try Craster Kippers (bright-yellow pieces of smoked herring), lots of fish and chips, plenty of ice creams, and endless plates of pub food.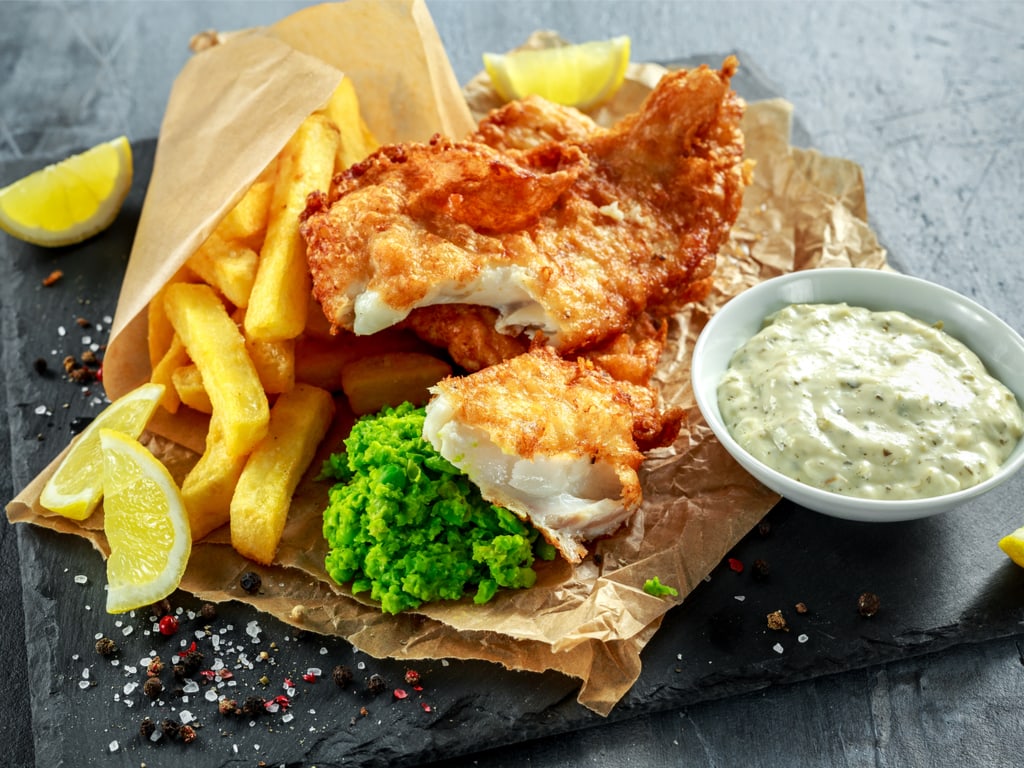 Can I Cycle the Northumberland Coast Path?
Not quite, but you can ride a very similar route.
The UK has a load of excellent signposted long-distance cycling routes, called the National Cycle Network. If you cycle along National Cycle Network 1 (NCN1) from Cresswell to Berwick, you'll be following a very similar route, and you'll see pretty much all the same sights.
You obviously won't always be quite as close to the coast (since no cycling route is gonna take you along sand dunes), but I've cycled and hiked all stretches, and both routes are pretty similar to one another.
If you want to extend your ride, you can tackle the Coasts and Castles cycle route, known for being the easiest (and one of the best) high-quality long-distance cycling trails in the UK. After Berwick, there are two possible routes: an inland ride through the border area of Scotland, or a route which continues to hug the coast. Whichever one you take, they both end in Edinburgh.
The entirety of NCN1 is actually 1264 miles (2034km), making for a mammoth challenge if you ever fancy tackling the entire thing.
Can I Drive the Northumberland Coast Path?
Sort of. If you can't (or don't want to) hike or cycle, the area makes for an excellent road trip.
Again, just like cycling, the road trip route isn't exactly the same as the walking route, but it runs pretty parallel. And because lots of the roads here run right along the coast, you can easily drive and park up in most of the places you'd see if you were traveling on foot.
When you drive, always stick to the roads which are as close as possible to the coast, which will bring you as close as possible to all the stuff we've featured on this list. Don't just follow the A1 main road (which your satnav will take you on), as some of it is pretty far from the coast.
Final Words
Thanks for reading our ultimate guide to the Northumberland Coast Path!
Want to know anything else about exploring the UK? We have hiking guides on the Coast to Coast challenge, the Pennine Way and the best hikes in Scotland. We also have lots of information on Northumberland, including the 20 most beautiful places in Northumberland and a list of the best walks in the region. To learn more about the region you can also browse my compilation of all the things Northumberland is famous for.
Whatever you want to know about hiking, outdoor adventures and traveling in the UK, we have it all here on our site. Stick with us!
Being a Digital Nomad: Tips, Tricks and Places
Do you want to be a digital nomad?
If you do, maybe you don't know where you might want to live. Or how to live there. Or whether you need a visa. Or how to make friends in the scary sprawl of a brand-new city. Or how to stay productive while you travel. Or how to find an apartment. Or whether this lifestyle really is for you. Or… I'm sure you get the idea.
But with some insight and experience, it's not as difficult as you think. So in this book, I've gathered my 6 years of digital-nomadding experience… and I've used it to answer all your questions, soothe all your fears, and get you on your way. After reading this, you'll realise being a digital nomad is much easier (and much more possible!) than you think.