Are There Wolves in Scotland?
Scotland is home to lots of big beasts, and it's one of Europe's best nations for encountering varied creatures and critters. The nation has wildcats, badgers, sharks, dolphins, pine martens, seals, countless birds of prey, and lots more varied species.
But are there wolves in Scotland? Will they attack you? And why are you so paranoid?
Coming up, we'll tackle all that juicy stuff and more. Welcome to our fact-packed guide to wolves in Scotland!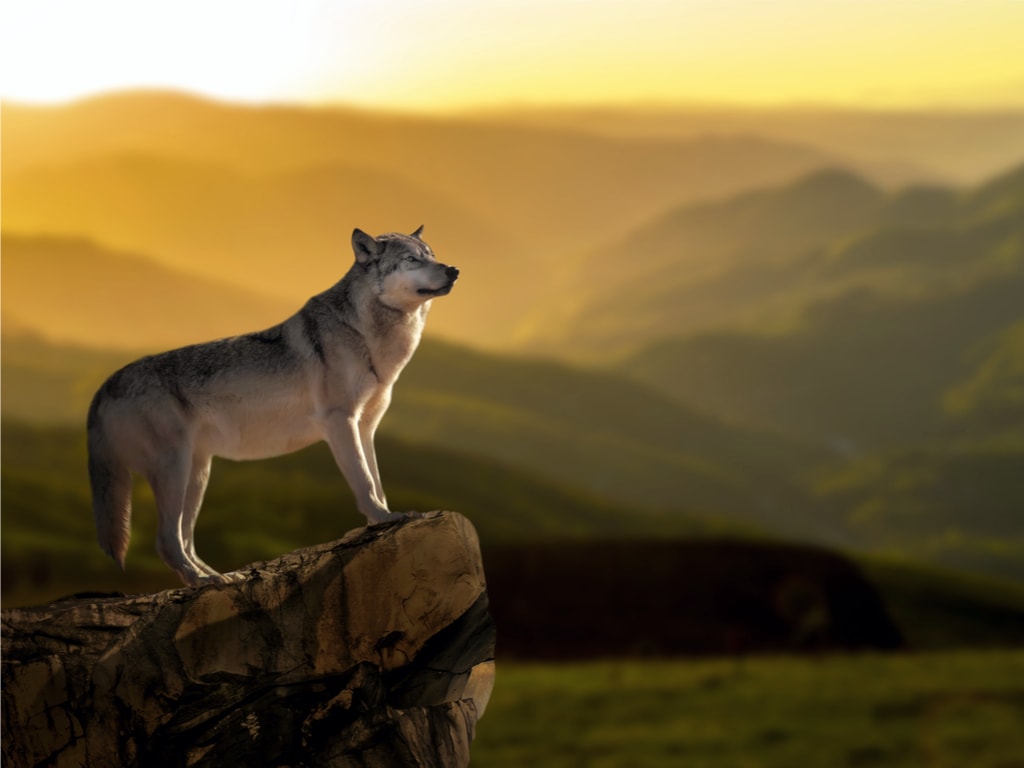 Are There Wolves in Scotland?
There are no wild wolves in Scotland.
Many years ago, the place was home to plenty of free-roaming packs of the hairy little beats. But for various reasons (and we'll come to all that soon) all of Scotland's wild wolves are now extinct.
That said, there are still some sort-of-domesticated wolves in the nation.
If you want to see wolves in Scotland, you now need to go to a zoo. If that's your plan, you can wander over to Highland Wildlife Park, the Scottish Deer Center, and Five Sisters Zoo. But we'll cover that in much more detail later in this guide.
How Many Wolves Used to Live in Scotland?
No-one really knows exactly how many wolves used to live in Scotland, but they were once pretty common, and pretty widespread (as they were in many parts of Europe, including England and Wales).
They were so widespread and rife that they began to trouble the local human population, and laws were introduced in an attempt to control their numbers. 
During the reign of James VI (who was King of Scotland from 1567 to 1625), these pesky wolves were a massive threat, and people would often hunt them.
Though they rarely attacked people, they were often visible and were notorious for digging up graves and eating human corpses. To deal with their disruption, James VI passed a law making it compulsory to hunt wolves three times a year, during the cubbing season.
The wolves that lived in Scotland were gray wolves (as was—and is—the case for most of Europe). These types of wolves weigh between 30kg and 50kg, measure in at a length of around 1.5 meters (5 feet), and have a typical height of around 1 meter (3.3 feet). Adult wolves can eat a hefty 10kg (22lbs) of meat in a single meal.
Where Did Wolves Mainly Live in Scotland?
Most of Scotland's wolves lived in the Scottish Highlands, which are home to many of the most remote parts of mainland Scotland.
Historically (and even now), these parts of Scotland were very sparsely populated, giving the beasts plenty of room to roam.
Currently, the Scottish Highlands region has an average population density of 8 people per square kilometer (around 22 people per square mile)… but some areas of the Highlands have a much lower population density than that.
So as you can probably imagine, the wolves enjoyed a relatively human-free life in most parts of their habitat. Well, until they started hassling James VI's buddies.
When Was the Last Time a Wild Wolf Was Seen in Scotland?
The answer to this question is a little more tricky and controversial than you're probably expecting.
According to some, the last official sighting of a wild wolf in Scotland was way back in 1680, when Sir Ewan Cameron shot and killed one near the little village of Killiecrankie, just south of the massive Cairngorms National Park.
But another monument in the far north of mainland Scotland claims that the last living wolf was killed by a hunter named Polson around the year 1700 (source).
That said, there might still have been wild wolves roaming around Scotland way later than both of those dates. There are some reports that wolves were still lingering about in Scotland in the 18th or 19th centuries. The very last reported unofficial sighting was in 1888.
So it's hard to know when a wild wolf was last seen in Scotland—and that's for a couple of different reasons. Firstly, records can (of course) be unreliable, especially when they're so old.
But there's also a second (and much more interesting) reason. Because hunting dogs have been used in Scotland for a long while, people would often confuse hunting dogs for wolves. So the 'wolves' that were 'seen' in the 18th and 19th centuries might just have been hunting dogs. I guess we'll never really know.
Wolves died out in Scotland for the same reasons that most big predators die out in most places across the planet. They get hunted (from the 13th to the 16th centuries, hunting wolves was a pretty popular pastime in Scotland), their prey gets hunted, their land gets stolen, and both nature and humans change the landscapes in which these predators live.
Add all those reasons together, and you get a recipe for fewer wolves!
Will Wolves Be Reintroduced to Scotland?
It's possible, but it's very unlikely.
Though lots of people are pushing for the reintroduction of wolves to Scotland (and though most locals support the push), the Scottish government claims that "we have no plans to reintroduce lynx, wolves, bears or any other large carnivore species into Scotland."
Though the reintroduction of wolves to Scotland might seem like a wacky idea concocted by some dog-mad maniac, similar schemes have been very successful. And despite their understandable reluctance, there are some pretty compelling reasons for the Scottish government to give the go-ahead.
In 1995, for example, gray wolves were successfully reintroduced to Yellowstone National Park, in the western part of the United States. This rewilding has helped to reduce the number of other animals (who are prey to the wolves), which has, in turn, helped many trees and plants to grow more freely… and helped these trees and plants to attract further birds and animals.
Similarly, reintroducing wolves to Scotland would help to keep the nation's deer population under control, which has almost trebled since 1959. These abundant (and free-roaming) deer munch on farmland, which means that farmers are forced to hunt them in order to sustain their properties and livelihoods.
If wild wolves were reintroduced, the wolves would do this culling instead (saving the farmers some time and money), and nature would become (partially) rebalanced. Research has shown that this reintroduction could eventually reduce the deer population by a hefty 50% (source).
And so the reintroduction of wolves would be great for farmers.
But as it was in Yellowstone National Park, the reintroduction of wolves would also be good for the promotion and diversification of natural food chains and would help deer-munched trees and plants to thrive. This would in turn lead to a more diverse nature and greater numbers of animals, plants, and trees throughout the nation.
And on top of that, the reintroduction of wolves to Scotland could potentially increase tourism (and help the Scottish economy!).
That said, some hikers, wild campers, and outdoor explorers are scared that wolves might attack them… and lots of farmers worry that wild wolves might kill their livestock. 
So in short, it's a pretty complicated topic!
Because lots of people are fearful of the chaotic potential of any wolf reintroductions, some have proposed that wolves could be placed into a massive fenced-off reserve (similar to some of the nature reserves in Africa and other parts of the world). Paul Lister, the owner of Alladale Wilderness Reserve, is one of the biggest proponents of this idea.
Of course, because Scotland is part of an island with absolutely none of the wild creatures left, wolves can't be accidentally reintroduced to the environment. So if it's to happen, it would need to happen with the planning and permission of the Scottish government. They couldn't accidentally pop up in the nation, as they recently have in other parts of mainland Europe.
Because of wolf-hunting bans in many parts of Europe, and because small villages and remote regions are now becoming uninhabited by humans, numbers of wild wolves are growing in many of the continent's nations. But not yet in Scotland!
Where Can I See Wolves in Scotland?
If you want to see wolves in Scotland, you won't see them in the wild (as you've hopefully worked out by now). You instead need to head to some zoos and wildlife centers, where you can get all close and personal without being eaten.
As we've already mentioned above, the three best locations are:
Highland Wildlife Park: Sitting inside Cairngorms National Park, this place is home to a really impressive 'Wolf Wood,' a cool walk-through area with European wolves, forest reindeer, and lots more quirky creatures.
Five Sisters Zoo: Located in West Lothian, Five Sisters Zoo is a great option if you want  a smaller and more intimate zoo. Home to two arctic wolves along with lions, bears, Scottish wildcats and plenty more, it's a hugely popular family day out.
The Scottish Deer Center: North of Edinburgh, this place is (unsurprisingly) most famous for its 12 different species of deer. But back in July 2021, after a wolfy hiatus, two European wolves joined the center from Longleat Safari Park. Check out their video below:
Surprisingly, though Edinburgh Zoo is the biggest and best zoo in Scotland, it's no longer home to any wolves. The last time I was there, there were none of the creatures… and from all the research I've done, it seems that's still the case.
If you want to know much more about the UK's brilliant zoos, check out our guide to the 15 best zoos and wildlife parks in the UK.
What Other Wild Predators Live in Scotland?
Scotland is home to huge numbers of wild animals. Some of the nation's biggest predators include:
Birds of prey (or raptors, which you might instead call them, depending on where you're from): some of the big-winged boys in Scotland include buzzards, kestrels, golden eagles, hen harriers, ospreys and sea eagles. They're surprisingly common.
Badgers: Britain's biggest carnivore, there are lots of badgers in Scotland. But because they're nocturnal and notoriously elusive, they're pretty hard to spot.
Scottish wildcats: Native to Scotland, the biggest wildcats are around twice the size of an average housecat. Because there are only around 200 of these guys left, they're the rarest wild mammal in the whole of the UK.
Pine martens: Similar to weasels, pine martens are also pretty elusive and rare. But if you manage to spot one, you'll be surprised by how ridiculously cute they are.
Adders: The only venomous snake in Scotland, the nation's adders are often found in remote moorland, and other lofty areas with lots of peace and quiet. Because they're venomous, people are often scared of them—but they largely stay away from humans.
Otters: Though otters are relatively rare in Scotland (with around 8,000 of them living in the nation), they're surprisingly easy to see. If you spend enough time on the islands, or on the west coast of the mainland, there's a very good chance you'll spot an otter.
Seals, dolphins, sharks and whales: Yep, you didn't read that wrong! During certain times of the year, it's pretty normal to see dolphins, sharks, seals and whales. Lots of companies offer boat trips which give you a good chance of encountering the creatures.
The nation is actually home to more than 90,000 species of flora and fauna (though they're not all predators, obviously). For more information about all the animals you can encounter in Scotland, check out our guide to 25 of the most impressive beasts.
Wild Wolves in Scotland: Final Thoughts and Further Reading
And that brings us to the end of this blog post, the end of your education, and the start of your new life as an expert on Scottish wolves.
Before you go, make sure you check out our similar articles on bears in Scotland and elk in Scotland. 
And if you want to learn about all the outdoor adventures you can have in the nation, wander on over to our articles on Scotland's best road trips, most beautiful coastal walks, and most stunning lochs.
Thanks for reading, you adventurous explorer, and we'll see you next time!
Being a Digital Nomad: Tips, Tricks and Places
Do you want to be a digital nomad?
If you do, maybe you don't know where you might want to live. Or how to live there. Or whether you need a visa. Or how to make friends in the scary sprawl of a brand-new city. Or how to stay productive while you travel. Or how to find an apartment. Or whether this lifestyle really is for you. Or… I'm sure you get the idea.
But with some insight and experience, it's not as difficult as you think. So in this book, I've gathered my 6 years of digital-nomadding experience… and I've used it to answer all your questions, soothe all your fears, and get you on your way. After reading this, you'll realise being a digital nomad is much easier (and much more possible!) than you think.