13 Best Beaches on the Isle of Skye
The Isle of Skye is… an island.
And what do islands have lots of?
If you said 'beaches,' give yourself a high-five, cos that's exactly right—and that's exactly the point I'm trying to make in this meandering opening section.
So to honor all those sands and shores, I've brought you the 13 best beaches on the Isle of Skye. Expect big ones, little ones, lonely ones, busy ones, and some mundane insights into which ones I like visiting best.
Pack a picnic, slip into your Speedos, and come join the fun!
1. Talisker Bay
🌊 You'll like this beach best if… you want a busy bay with a big name. Or if you like beaches with waterfalls.
Sitting on the western shore of the central part of the island, Talisker Bay is one of the most well-known beaches on Skye.
It's famous for a lot of reasons. It's big, wide and sandy, it's good for a swim, and it's beautiful (who doesn't like a beautiful beach, know what I mean?). But other than that, it has the same name as a famous distillery, it's dog-friendly all year, and it's home to a big waterfall.
Oh, and it's also one of the best Skye spots for sunset. If you want a beach-based sunset on the Isle of Skye, you won't find better.
To get here, you need to wander about 15-20 minutes from the nearest car park. It's worth the stroll.
2. Portree Bay
🌊 You'll like this beach best if… you don't have much time, and you just want a quick beach-ish fix.
Alright, I'll be honest with you.
Portree Bay isn't the best beach on the Isle of Skye. In truth, it's not even much of a beach. There's a short strip of narrow mudsand (I know "mudsand" isn't a word, but go check out Portree Bay and you'll see why it should be), and then a load of houses, cafes and boats.
But here's what Portee Bay does have in its favor: it's right in the heart of the island's main town (convenient!), and the views are pretty.
So this isn't a place for a sandy stroll, or lying in the sun. But grab a coffee, sit down, and enjoy the lovely combo of busy bustle, pretty views, and easy-to-access shores.
Better Skye beaches are coming up soon, I promise.
3. Coral Beach
🌊 You'll like this beach best if… you're hunting for wide and sandy, or you're the owner of energetic dogs (or energetic kids).
A quick disclaimer, before we get going: Skye's Coral Beach doesn't actually have any coral. So there's that disappointment dealt with.
Instead, the sands of this mega-popular place are dotted with little pieces of hardened algae. And that hardened algae looks like coral. So… I'm sure you can work out the rest.
Anyway, there's lots to love about this vast and stroll-worthy place. It's close to Dunvegan Castle, the walk from the car park is pretty, there's a big lumpy rock for picturesque picnics, and (just off the shore) there's an accessible-by-foot tiny island called 'Lampay*.'
Even better, because it's a 25-minute-minimum walk to get here, it's never massively busy.
*You should only walk to Lampay when the tide is out. Or you might get stranded and die.
4. Staffin Beach (An Corran Beach)
🌊 You'll like this beach best if… you're traveling with kids, or you wanna see some dinosaur footprints.
An Corran (located just north of the tiny village of Staffin) is one of the best family-friendly beaches on the Isle of Skye… for loads of reasons.
First up, it's easy to reach. To get to some of the sands and shores we've covered, you need to tackle a long wander. But for this one, it's just a little stroll from the car park at Staffin Harbor.
It also has lots of rock pools, so you and your kids can dip about and hunt for crabs.
But here's the juicy part: the beach is also home to some fossilized dinosaur footprints, which scientists reckon date from around 170 million years ago. They're only visible when the tide is out, so make sure you check the times here before you go.
5. Elgol Beach
🌊 You'll like this beach best if… you like mountains or boat trips.
Is Elgol Beach the best beach on the Isle of Skye?
If your priorities are views and adventures, the answer to that question is a big steamy yes.
Sitting in one of the most remote parts of the island, rocky Elgol Beach isn't the place for sunbathing. But it has great views of the Cuillins (the sort-of-scary mountains that loom over this part of the island), and the ride to the beach is one of my favorite drives on Skye.
But here's the best bit:
Northwest of Elgol Beach, and sitting in the middle of the Cuillins, there's the barely-reachable Loch Coruisk. This lake (or 'loch,' cos we're in Scotland) has outrageously-good views, outrageously-good walks, and a load of wildlife (possible sightings include whales, dolphins, seals, and basking sharks)…
… and from close to the beach, you can take boat trips to this loch. Misty Isle and Bella Jane are your two best options.
6. Glenbrittle Beach
🌊 You'll like this beach best if… you want more remote adventures. Or if you like sipping artisan coffee in the middle of nowhere.
Northwest of Elgol Beach, Glenbrittle Beach is just as remote as its nearby neighbor.
And in many ways, it's pretty similar to the place:
You get Cuillin views, lots of outdoor adventures, and an incredible drive to the beach (again, it's one of my favorite rides on Skye).
You'll usually find kayakers here, and some wanderers hike all the way from the Cuillins to Glenbrittle. For a different hike, follow the southern shore of Loch Brittle (the sea loch this beach sits on) all the way to a rocky outcrop with an old ruin,
For your last slice of fun, head to Glenbrittle Campsite & Cafe. Sitting on the shores of the beach, it's one of the UK's best campsites. They have loads of tasty snacks and baked treats… and some of the best coffee I've ever slurped on.
7. (All of The) Sleat Peninsula
🌊 You'll like this beach best if… you want to wander aimlessly to find a secluded spot.
Alright, this isn't really one of the best beaches on the Isle of Skye…
… mainly cos it isn't just one beach.
But bear with me here.
Lumpy and misshapen Skye is made up of a bunch of different peninsulas. The bottom peninsula (or the bottom 'finger,' if you aren't 100% on what a peninsula is) is known as 'The Sleat Peninsula.'
And scattered all along this peninsula, you'll find a bunch of different beaches. Some have names, some don't have names, but all of them are quiet and secluded.
So get yourself a car, drive along both the northern and southern stretches of the finger (the northern shore is the more remote of the two), and find a beach you like.
Or if you're looking for one particular recommendation here, head to the next entry on our list…
8. Aird of Sleat Beach (or Rubha Shlèite… or Camas Daraich)
🌊 You'll like this beach best if… you want clean white sands, or something sort-of-tropical-looking.
Right at the westerly end of the Sleat Peninsula, this beach has about 8 million names (I'm exaggerating, it has 3).
Whichever name you prefer to go with, loads of locals reckon this is the very best beach on the Isle of Skye.
It's not massive, but it's beautiful. Clean and serene, it's covered in bright-white sand, and it's a great spot for some secret sunbathing on a hot day.
It's dog-friendly, although there's not much space for your pooch to roam around. But it's one of the best Skye beaches for both swimming and rock-pooling.
And if you want one more adventure here, walk west for another 30 minutes. It'll bring you to the rocky Point of Sleat, the most southerly part of the island. If you're lucky, you might spot some dolphins here.
9. Varkasaig Beach (AKA Orbost Beach)
🌊 You'll like this beach best if… you want secretive and serene… or if you're seeking a base for a clifftop wander.
Although this place goes by two names, hardly anybody knows about it.
So if you're on the hunt for quiet and cozy, it's one of the best beaches on the Isle of Skye.
The sands here are black, it's a good dog-walking spot, and (because it sits in an inlet) it has pretty views of other parts of distant Skye.
If you're hunting for an adventure from here, I recommend a wander to Macleod's Maidens.
Around 4.5 miles (7.2km) from Varkasaig Beach, the maidens are a collection of atmospheric lonely sea stacks—and the clifftop wander (though it's sometimes a bit boggy) is one of the best walks on the island. It's one of my favorite under-the-radar adventures on Skye, and it starts and ends at a lovely beach.
10. Bearreraig Bay
🌊 You'll like this beach best if… you want a not-busy alternative to the very-busy Old Man of Storr.
One of the most little-known beaches on the Isle of Skye, I love Bearreraig Bay.
It's in one of the most well-touristed parts of the island (close to Portree, the Old Man of Storr, Lealt Falls, and other famous places), but hardly anybody comes here.
That's mainly because it sits at the bottom of a steep path, which heads sharply down to the bay. But tackle the walk (it's not as bad as people say, let's all stop being dramatic), and you're rewarded with rocky cliffs, a stony peaceful bay, and (most famously) hidden fossils*.
*Fossil-finders come here to scour through the rocks and seek out some specimens. Join the party! (But don't take them away).
Oh, this beach (at least for now), is incorrectly marked on Google Maps as 'Bearreaig Bay.' So, yes, it's the same place.
11. Inver Bay
🌊 You'll like this beach best if… one island just isn't enough for you.
Now we're getting niche.
This beach isn't actually on the Isle of Skye. But (unless you have your own boat), you need to first reach the Isle of Skye to get there. So that definitely counts. Right?
Just east of Skye, you'll find Raasay, another island. And the only public-transport way to get here is by taking a boat from Skye. Head to Sconser, hop on a Calmac ferry (timetable here), and you'll be on Raasay within 25 minutes.
Tiny and sparse, it has a population of around 160 people. And visiting here feels like you've boat-tripped yourself back in time about 100 years.
That also goes for the beach. Pebbly and stoney, it's quiet and calm, and you'll probably see no-one else (apart from maybe some porpoises, whales, and dolphins). Even better, the 30-minute walk to the beach (from a small lay-by on the 'main' road) is beautiful. Highly recommended!
12. Glenelg Beach
🌊 You'll like this beach best if… you want to see Skye, rather than sit on Skye.
Disclaimer: this beach isn't actually on Skye. I hope you can forgive me for being a big misleading liar.
Instead, this one sits just across from Skye's shores. If you go to Skye's tiny village of Kylerhea, then look over the water, you're sort of looking in the direction of Glenelg Beach… which sits on mainland Scotland.
The beach here is sandy, small, and super peaceful… you probably won't encounter anybody else (cos all the other people are hitting the on-Skye beaches instead).
You'll see a small car park, a few white houses, a couple of lonely boats, and… not much else. For a quiet wander, this place is perfect.
13. Plockton Harbour
🌊 You'll like this beach best if… you want to see one of the prettiest coastal places in all of Scotland.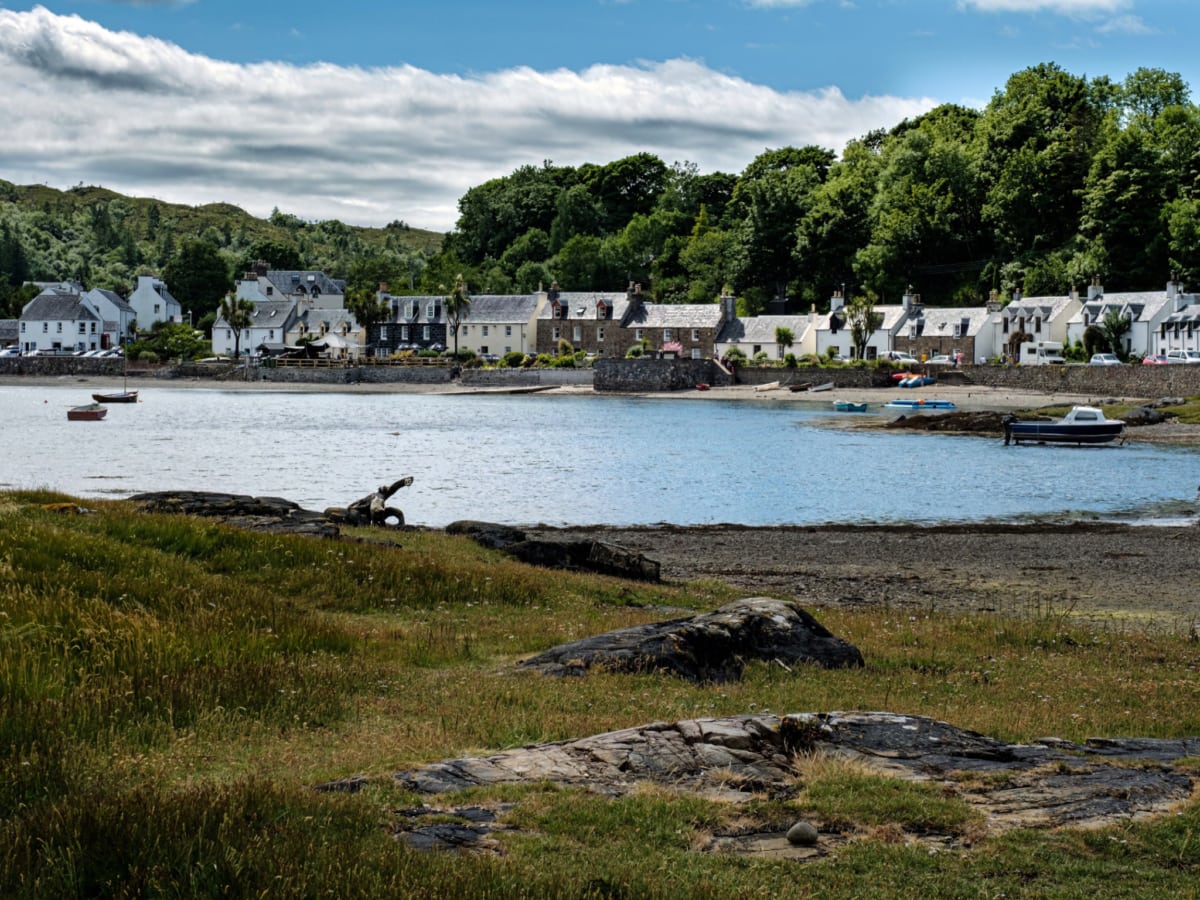 Okay, for this last entry, I'm breaking all my rules.
The tiny village of Plockton (population: around 400), like Glenelg Beach, isn't actually on Skye.
… and it also doesn't really have a beach.
Sorry.
But if you visit the Isle of Skye without visiting Plockton, you're doing it wrong. This tiny waterside village is super close to the island, and you (almost) have to pass the place to reach Skye anyway.
There's not much to do here, but that's sort of the point. Look at the row of houses, go for a little walk, munch on some fish and chips, take one million photographs, and just enjoy being in one of the cutest and cosiest coastal villages in Scotland.
Come here, and you'll see why everybody (including future-you) falls in love with the place.
Being a Digital Nomad: Tips, Tricks and Places
Do you want to be a digital nomad?
If you do, maybe you don't know where you might want to live. Or how to live there. Or whether you need a visa. Or how to make friends in the scary sprawl of a brand-new city. Or how to stay productive while you travel. Or how to find an apartment. Or whether this lifestyle really is for you. Or… I'm sure you get the idea.
But with some insight and experience, it's not as difficult as you think. So in this book, I've gathered my 6 years of digital-nomadding experience… and I've used it to answer all your questions, soothe all your fears, and get you on your way. After reading this, you'll realise being a digital nomad is much easier (and much more possible!) than you think.