20 Prettiest Seaside Towns in Scotland You Must Visit
Scotland is… as you know… part of an island.
And as an unsurprising result of that, it has loads of sands and shorelines.
It's also pretty sparsely-populated, with some surprisingly-small towns and villages dotted around its sprawl.
Put those two seemingly-unrelated things together, and what do you get? That's right—a nation with loads of lovely seaside settlements.
If you don't know me already, I'm Paul, and not only is Scotland one of my absolute favorite places on this planet, but I've also dedicated countless hours to wandering its captivating landscapes, immersing myself in its vibrant cities, scaling its majestic mountains, and unraveling the secrets of its enchanting coasts. With this perfect blend of passion and exploration, you can bet this article will cast a spell on you my friend!
So in this guide, I've brought you my favorites, with a big fat list of the 20 best seaside towns in Scotland. Grab your backpack, slip in some sandwiches, and come join the fun!
1. Plockton
Loads of people reckon this is the most charming seaside town in Scotland.
And depending on my mood when you ask me, I might be one of them.
With a tiny population of around 400 people, Plockton is alluringly cute and cozy. It's home to a few boats and houses, views of little bays and distant mountains, and pretty much nothing else.
The village has been used as a filming site loads of times—so if TV and film crews think it looks nice, it must be alright.
I love it, you'll love it, everybody loves it. And I massively recommend it.
If you don't have a car, you can (surprisingly) take a direct train here from Inverness. The journey takes around 2.5 hours.
Highlights of visiting Plockton:
2. Portree
Honestly (and this might surprise you but), Portree isn't as impressive as some of the other places we've covered on this list.
But it's the main town on the Isle of Skye. And if you're not gonna visit the Isle of Skye while you're roaming around Scotland, you're a big dum-dum.
Bigger than most people realize, it has a wander-worthy bay, a pretty harbor area, boat trips, those famous colorful houses, and loads of places to munch on meals. For tasty but no-fuss, I recommend the welcoming Isles Inn.
For most people, Portree is obviously the best base on the island—and if you want to see Skye's major highlights without wasting time, trips like this (massively recommended, by the way) all leave from the town.
Highlights of visiting Portree:
3. Mallaig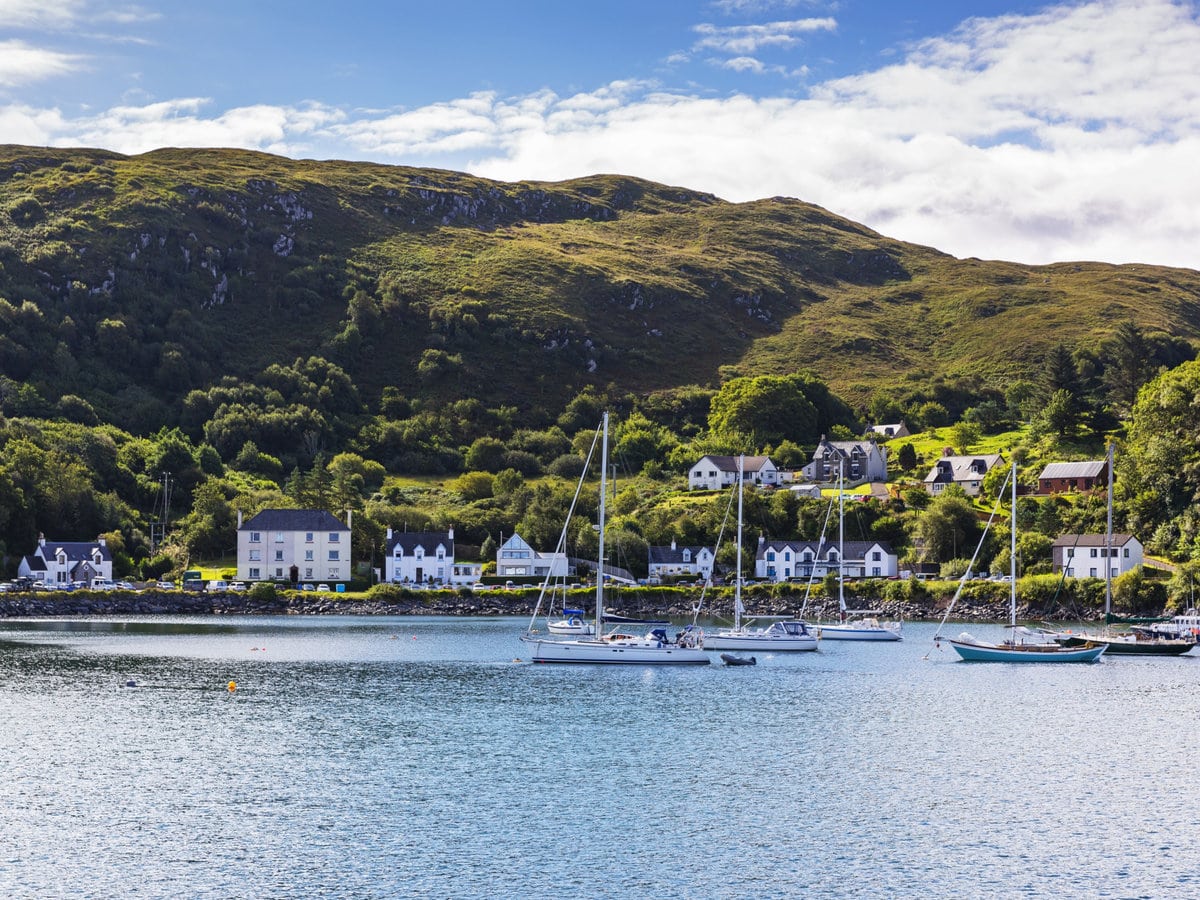 Also close to Skye (you can actually take a ferry from here to the island), Mallaig flies under the radar a bit.
A still-working fishing port, it's not as pretty as some other Scottish towns. But it's a great base for west-coast adventures—serving up boat rides, rail trips, bike rides, long and short hikes, and loads more.
To get here, you can take a direct train from Glasgow… and that's without doubt the best way to reach Mallaig. This rail ride is famous as one of the prettiest train journeys in Europe (and it runs along the Glenfinnan Viaduct, which you probably know from the Harry Potter movies).
Highlights of visiting Mallaig:
4. Oban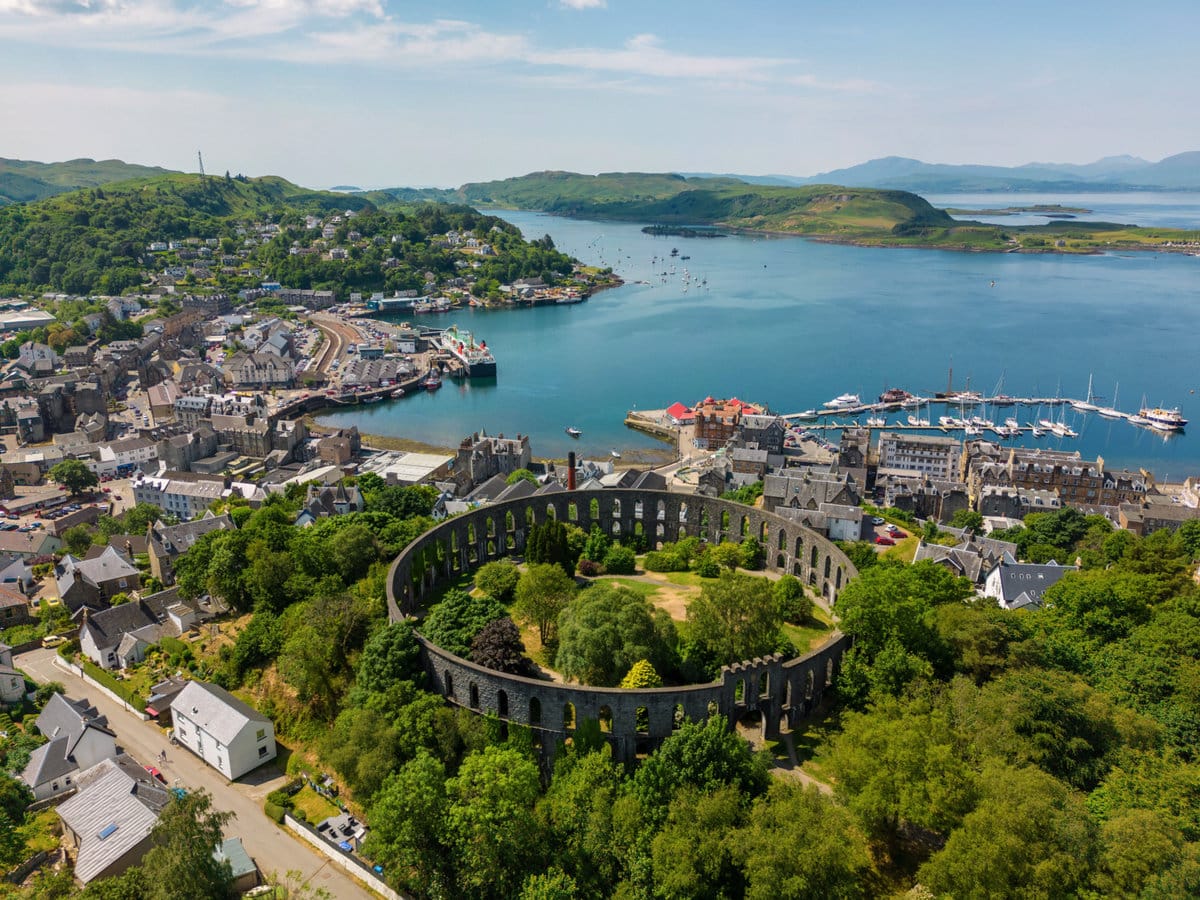 Another west-coast beauty-fest, Oban is like someone took all the Scottish seaside-town clichés, and bundled them into one lovely place. It's so scenic that it's almost funny.
It offers long and short boat trips (to distant islands, seal colonies, and bird colonies), top-quality hiking, and the best seafood scene in Scotland.
Because there's so much to do from Oban, loads of people overlook actually exploring the town itself. But to see all the best bits (and learn all the best stuff), a walking tour is a good idea—you can hit all the historical heritage spots with a bit of context.
Like Mallaig, you can also reach Oban from Glasgow, by direct train. It's obvs not as incredible as the Mallaig ride, but it's still pretty nice.
Highlights of visiting Oban:
5. Crail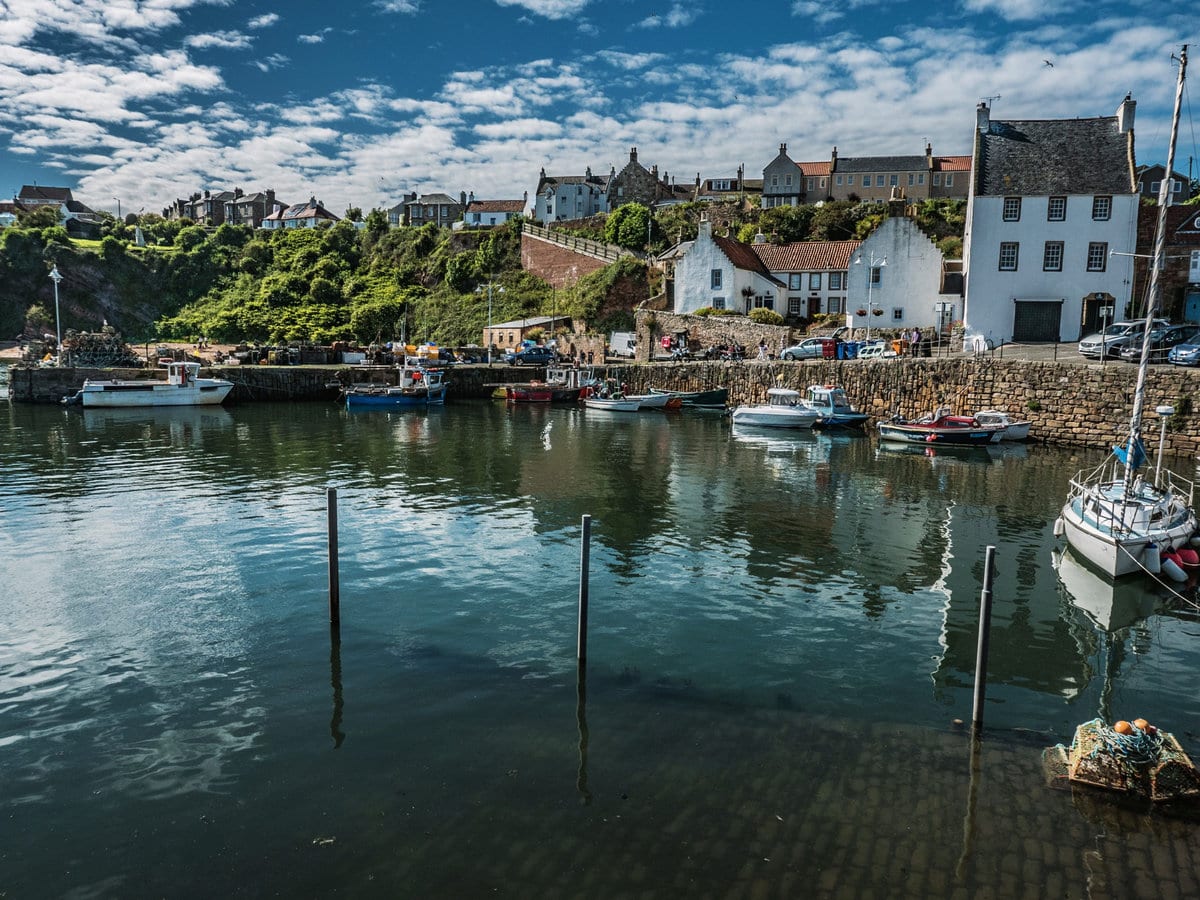 The prettiest coastal town in Fife, this cobbles-and-harbor cute-spot sits 90 minutes north of Edinburgh.
Honestly, there's not a massive amount to do here (although you can walk and cycle along lovely shoreline routes in both directions). But when a place is this pretty, no-one really cares.
Get an ice cream, or fish and chips (Crail Fish Bar & Cafe is full of tasty treats), watch the fishing boats, get lost in the little lanes, and just soak up the charm. Oh, and if you head here in summer, time your trip to coincide with Crail Food Festival.
To get here without a car, take the direct number 95 bus from St Andrews.
Highlights of visiting Crail:
6. St Andrews
The most famous of all the seaside towns in Scotland, Fife's St Andrews is pretty close to Crail. But it's much bigger than its nearby neighbor.*
*with a still-small population of around 15,000 people, it's actually the biggest town on our list.
Anyway, you probably know St Andrews for a few different things: famous golf courses, its historic university, a massive cathedral, and its kooky collection of mish-mash architecture. To learn about those places (and some heritage), check out this history tour, and this ghost tour (spooky!).
But the town is also way more than that:
It's a good option if you're hunting for a multi-day base you can tackle loads of adventures from. In and around St Andrews, you get beaches, short walks, many-day hikes, kid-friendly stuff, close proximity to Edinburgh. sort-of-nearby Lomond Hills Regional Park, and plenty more.
No matter who you are and what you want to do, St Andrews should be one of your top options.
Highlights of visiting St Andrews:
7. Eyemouth
If you've got kids, this is the Scottish seaside town for you.
The area's beaches are big and sandy, there are endless casual places to munch, and the harbor is a nice place for a fun little wander.
There's also a great caravan park, loads of boat trips (taking in caves, cliffs, shores, sands, seals, seabirds, and maybe even dolphins), and a local man who'll help you feed the seals.
And last of all, it's a great base for day trips. From Eyemouth, it's easy to reach Edinburgh, Berwick, underrated Dunbar, and lots of littler places.
In short, if you're looking for a family-friendly place, Eyemouth is my #1 recommendation.
Highlights of visiting Eyemouth:
8. North Berwick
Pretty close to Eyemouth, North Berwick isn't quite as well-known as its neighbor.
But it's just as fun-packed, and it's easy to reach from Edinburgh. So if you're seeking a simple but lovely seaside-town day trip from Scotland's capital, you've found it.
Highlights here include boat trips to bird-covered Bass Rock, loads of great beaches (Yellowcraig is my favorite), the family-friendly Scottish Seabird Center, some great golfing, the massive hulking ruins of Tantallon Castle, and lots of informal places to eat and drink (dog-friendly hipster hub Steampunk Coffee is great).
Highlights of visiting North Berwick:
9. Ullapool
The most well-known town on the North Coast 500*, I love Ullapool.
*In case you have no idea what I'm banging on about here, I'm talking about one of the world's best road trips—you totally need to tackle it.
For me, Ullapool is what Scottish coastal towns are all about. Brimming with an unpretentious charm, you get hyper-fresh seafood, great campsites, gentle port walks, loads of nearby hill hikes, and a bunch of friendly faces.
If you can only visit one seaside town in Scotland (and time and transport aren't an issue), this is the one I recommend. I guarantee you'll love the place, and you'll start making plans to move here immediately.
Highlights of visiting Ullapool:
10. Durness
Further north up the North Coast 500 route, you've got Durness. Sitting on the western side of Scotland's northern coast, this is one of the most remote entries on our list.
But even though it's remote, it's a relatively busy place… and it serves up loads of varied adventure options. Popular choices include Smoo Cave (a sea-and-freshwater cavern, great if you're traveling with kids), Golden Eagle Zip Line (the most northerly zip line in Europe), the walk to Faraid Head, and the chocolate-filled Cocoa Mountain of Balnakeil.
… and make sure you also explore the sands and shores of Balnakeil Beach, one of the best beaches in Scotland.
If you're into camping, pitch up at Sango Sands. One of the best campsites in Scotland, I love the place.
Highlights of visiting Durness:
11. Tobermory
You know that famous kids' TV show Balamory? The one with all the colorful houses?
Well, that was filmed in Tobermory—and the cheerful fictional town based on it isn't particularly different from the real-life place.
The colorful capital of the Isle of Mull, it's packed with friendly faces and loads of stuff to do—and it's probably one of the nicest coastal settlements you've ever seen. Of course, it's the island's best base for exploring all of Mull (with its walks, beaches, and big lovely lochs)…
… but there's also plenty to enjoy in and around Tobermory itself.
To get here, hop on a ferry from the mainland departure point of Kilchoan.
Highlights of visiting Tobermory:
12. Lossiemouth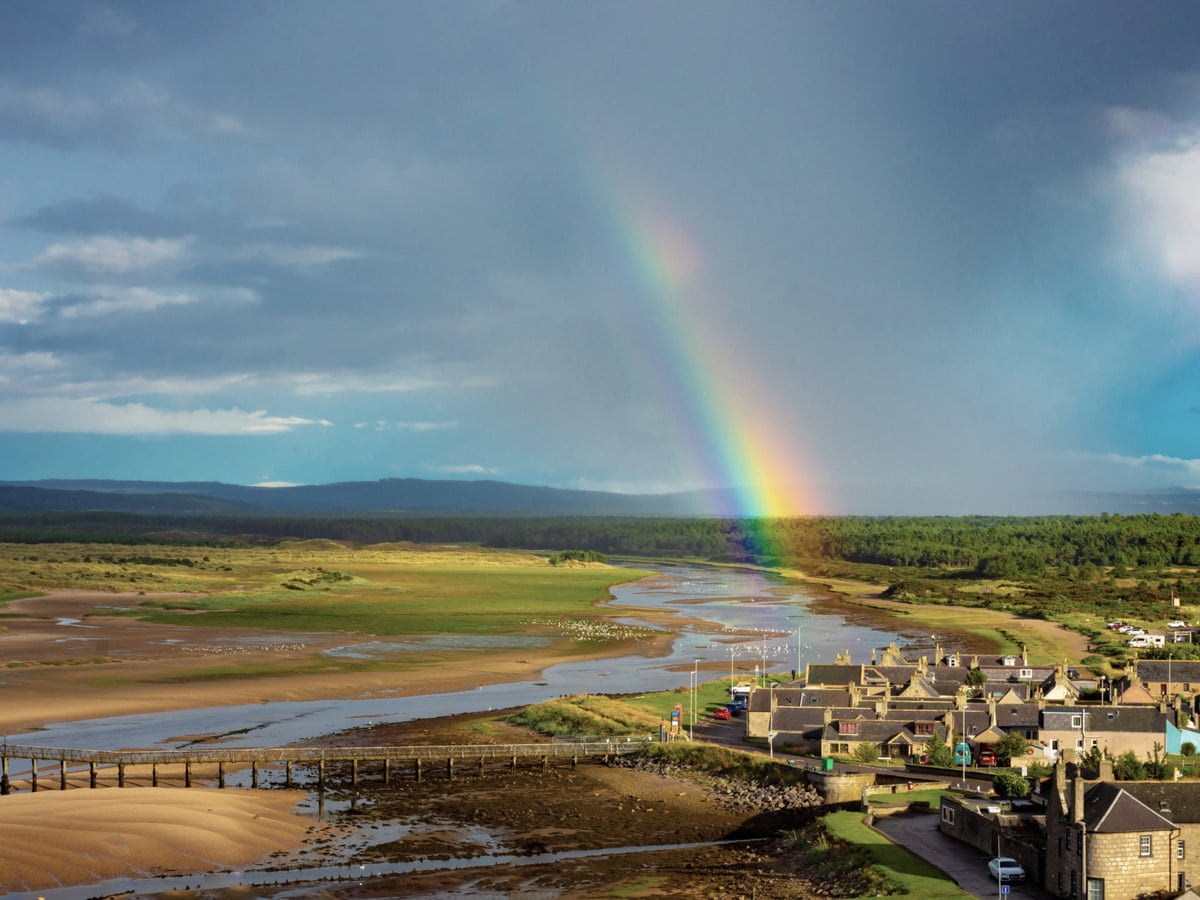 When I first came to Lossiemouth, the place was a nice little surprise.
I only visited cos my friend lived here… so I wasn't really expecting much. But it exceeded all my expectations, and I totally fell in love with the place.
(Anyway, enough of the mundane insights of my life).
Lossiemouth is great for all types of people, but it's particularly good for anyone with kids. Here, you get plenty of places to eat and drink, a great caravan site, lots of safe beaches, close proximity to loads of fun and day trips, and endless servings of ice cream.
The nearest city is Inverness. To get to Lossiemouth, hop on a train from Inverness to Elgin, then a bus from Elgin to Lossiemouth. The entire journey will usually take around 90 minutes.
Highlights of visiting Lossiemouth:
13. Stranraer
Here's a controversial one for you.
Most people (who haven't been to Stranraer) have some weird idea that the town is a horrible dirty ming-fest.
Those people are wrong.
Stranraer is actually a lovely place with lovely people. And it's a good option if you're with kids—it's bigger than most places on our list, with all the comforts and conveniences you and your kids could need. You'll always find somewhere to stay, somewhere to eat, and stuff to keep you entertained.
Other perks include beaches, a pretty harbor, great-but-easy nearby walks, and exploring all of the surprisingly-big peninsula that juts out of the town.
You can get here from Glasgow by switching trains in Ayr.
Fun fact: In Stranraer, if you pay attention, you can find some tropical palm trees! I know, it's very odd isn't it? I wrote an entire article about the subject, check it out here: Are There Palm Trees in Scotland?
Highlights of visiting Stranraer:
14. Brodick
Another island entry.
Brodick is the main town on the Isle of Arran (I use the word 'town' loosely, cos only around 900 people live here)…
… and in some ways, Brodick is similar to Portree, on the Isle of Skye. It's charming and pretty, but it's nothing massively special. But it's an excellent base for adventures around the island—and for the vast majority of people, it's the logical place to stay.
From here, you can access all of Arran's fun, including coastal walks (the Arran Coastal Way runs around the entirety of the island), the wander up Goatfell, and plenty of trips and treks to nearby beaches and villages.
To get here, you need to reach the mainland west-coast town of Ardrossan, then hop on a ferry.
Highlights of visiting Brodick:
15. Glencoe
I know, I know. Glencoe isn't strictly a coastal town. Sorry for being a big liar.
But it lies on the shores of a loch, and that loch leads directly into the sea. So it's sort of coastal, isn't it? Isn't it?
Better than nearby Fort William, Glencoe is one of Scotland's best bases for hiking.
The village itself is nothing special (and is hardly even a village—it's absolutely tiny). But if you want to get some of the best hikes in Scotland without heading to a more remote village, this is where you want to be.
Highlights of visiting Glencoe:
16. Gairloch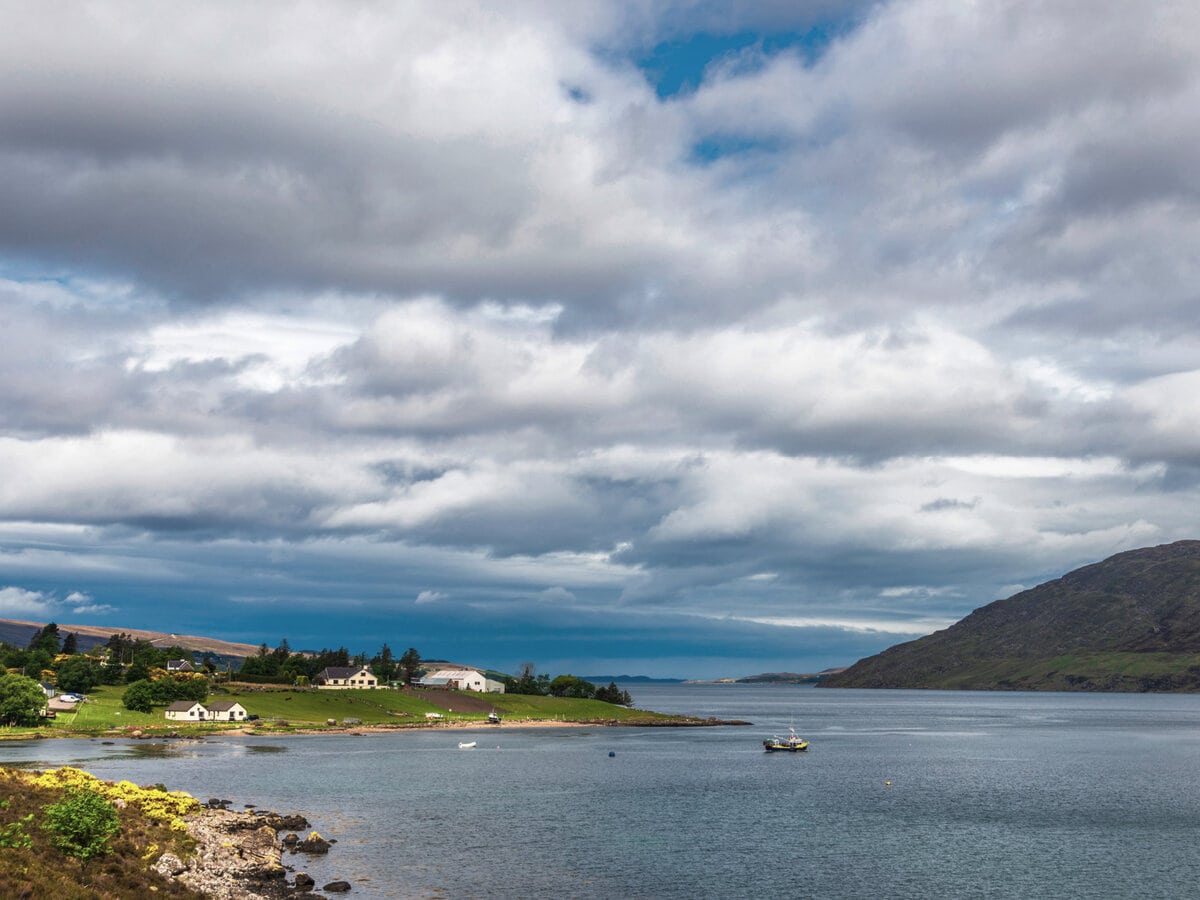 Another Scottish west-coast option, another North Coast 500 option.
I love this place. Absolutely tiny, there's not much to do here except eat a bit of food, splash around on the beaches, and gawp at all the lovely lovely views.
But when a place looks this good, that's all you really need. Pitch up in Sands Caravan and Camping (one of my favorite Scottish campsites), and just spend a few days exploring all the outdoors here.
It's (surprisingly) possible to reach Gairloch via the direct 700 bus from Inverness.
When you're in Gairloch, make sure you wander to Hillbillies Coffee, a quirky cafe offering books, cakes, and plenty of charm and smiles. They make their coffee with beans from a company owned by one of Bob Marley's sons.
Highlights of visiting Gairloch:
17. Portpatrick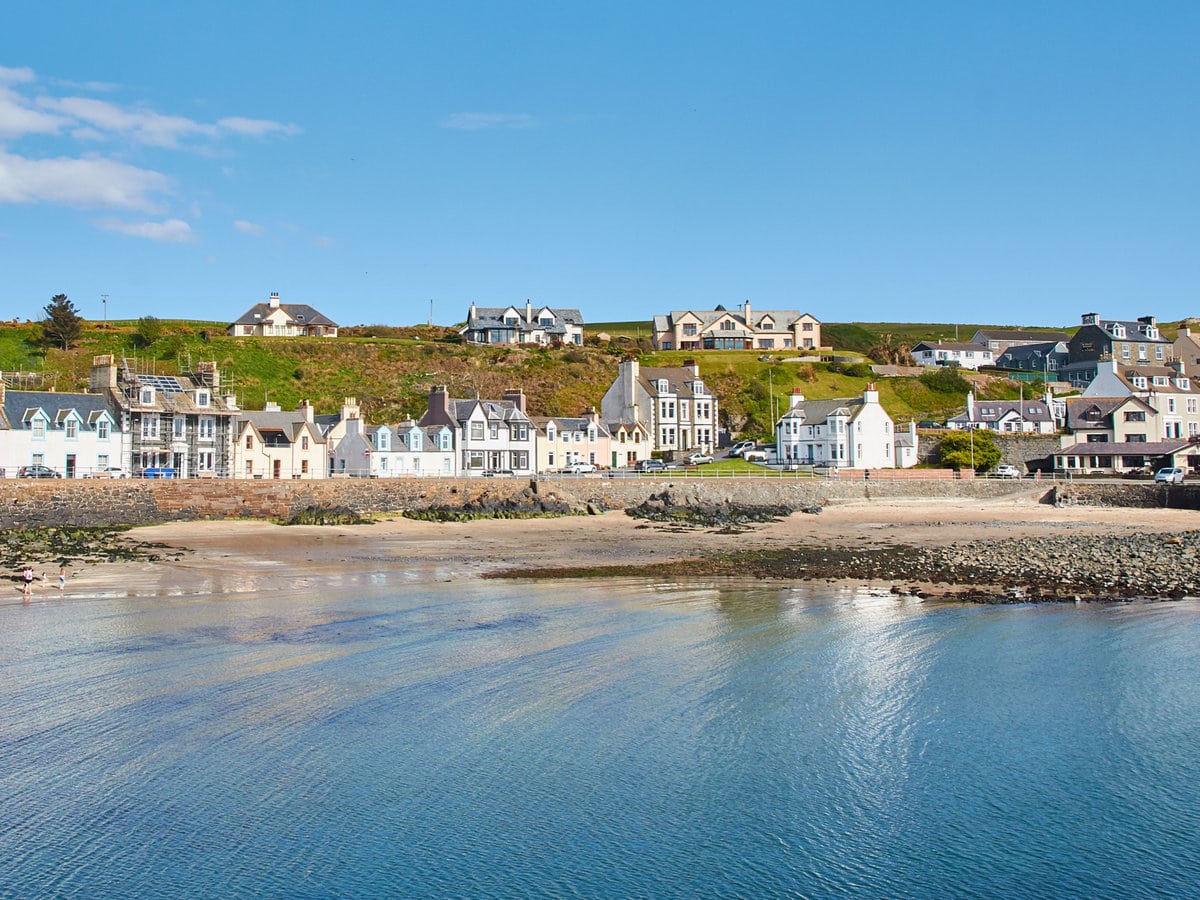 If you want to go remote without heading too far north, this is the Scottish seaside town for you.
Sitting close to Stranraer, Portpatrick is plonked on a weird little peninsula jutting out of the southwestern part of Scotland.
Adventures here include fishing, clifftop wandering, and munching on seafood in and around the harbor. From this harbor (and all of Portpatrick's seafront), you can even nab some views of not-too-distant Northern Ireland.
If you're hunting for a hefty adventure, Portpatrick is at the westerly edge of the Southern Upland Way, a massive 214-mile (344 km) coast-to-coast wander along some of the most underrated parts of remote Scotland.
To reach Portpatrick, you can catch the direct 367 bus from Stranraer.
Highlights of visiting Portpatrick:
18. Peterhead
Close to Aberdeen, Peterhead is home to a surprising amount of fun.
Highlights include the busy harbor, the almost-as-busy marina, the clear-watered shores of Scotstown Beach, and the great fish and chips of The Dolphin Cafe. Make sure you also check out the daily fish market, just north of the harbor (Peterhead is one of the busiest fish ports in Scotland).
… and south of the town, you'll find Slains Castle, apparently one of the inspirations for Bram Stoker's Dracula.
To get here from Aberdeen, take a direct 1-hour bus. The X60 and the X63 are your best options.
If you like unique (or grisly) fun, get yourself on a Peterhead Prison Museum tour. Known as "Scotland's Alcatraz," this place has a pretty horrendous history.
Highlights of visiting Peterhead:
19. Lochcarron
Another tiny place, another of my favorites.
Soz for being a big stinking liar, but this isn't exactly a Scottish seaside town. Like Glencoe, it sits on a loch rather than on the sea.
But, again, this loch stretches into the sea… so if you use your imagination a bit, Lochcarron is definitely a Scottish seaside town. There's not much to do in the settlement itself (except sit in some outrageously-charming cafes on the shores of the loch)…
… but it's an incredible base for cycling, hiking, visiting other small towns, and doing some open-mouthed gaping at all the lovely scenery.
Highlights of visiting Lochcarron:
20. Lerwick
To get as remote and rural as you possibly can, this is the Scottish seaside town for you.
The main settlement on the Shetland Islands, it sits a long ol' way from the rest of Scotland—the peninsula (made up of around 100 islands, only 16 of them inhabited) sits around 100 miles (160km) north of the mainland.
It's the best base for exploring the southern parts of the Shetland Islands—you get endless beaches, wanders, villages and more.
In-Lerwick highlights include the Shetland Museum and Archives, some little coastal walks, Shetland Seabird Tours, and a load of cute and cozy cafes.
To get here, you'll have to tackle an overnight ferry. These ferries depart from both Kirkwall (on the Orkney Islands) and Aberdeen. The 12-hour direct-from-Aberdeen option is most popular.
Highlights of visiting Lerwick:
Before You Go
There they are—the 20 best seaside towns in Scotland.
You probably don't have time to visit them all—so if you can only choose three, I recommend St Andrews (the best all-rounder), Ullapool (one of my personal favorites, but it's pretty far north), and Eyemouth (if you're hunting for family-friendly fun in the south of the nation).
For more highlights of the nation, check out our guides to the best cliffs in Scotland, the best castles in Scotland, the prettiest villages in Scotland, and the best road trips in Scotland.
Thanks for reading, and thanks for choosing Travelness. See ya!
Being a Digital Nomad: Tips, Tricks and Places
Do you want to be a digital nomad?
If you do, maybe you don't know where you might want to live. Or how to live there. Or whether you need a visa. Or how to make friends in the scary sprawl of a brand-new city. Or how to stay productive while you travel. Or how to find an apartment. Or whether this lifestyle really is for you. Or… I'm sure you get the idea.
But with some insight and experience, it's not as difficult as you think. So in this book, I've gathered my 6 years of digital-nomadding experience… and I've used it to answer all your questions, soothe all your fears, and get you on your way. After reading this, you'll realise being a digital nomad is much easier (and much more possible!) than you think.