Top 10 Most Stunning Cliffs on the Isle of Skye
The Isle of Skye is by far the most popular island in Scotland, perpetually packed with day-trippers, campers, hikers and all other types of tourists. It's brimming with beaches, fishing villages, hikes, charming towns, ancient sites and loads of other excellent stuff both incredible and weird.
One of the island's biggest draws is its varied selection of craggy cliffs, which offer lots of opportunities for trekking, clambering and exploring.
In this article, we've brought you a list of all the best cliffs on the Isle of Skye. Some of the cliffs have official names, some are unnamed outcrops, and others are among the most famous attractions in Scotland.
But no matter what you call them and where you find them, here's your introduction to them all!
We've included 10 entries on this list, offering you a variety-packed compilation of beachy behemoths, on-land outliers and vast areas of rugged remoteness.
Here they are – the best Isle of Skye cliffs…
1. Kilt Rock (and Mealt Falls)
The most famous entry on our list, and the entry you were probably expecting to see first. I didn't want to let you down.
Kilt Rock measures in at 90 meters, and it's named after its (apparent) resemblance to a pleated kilt, the traditional Scottish sort-of skirt. The slab-like cliffs here are flat and stark, making for one of the most imposing and impressive sites in the whole of Skye.
But the main event here is Mealt Falls, a waterfall that cuts through the cliffs and tumbles down the flat descent of Kilt Rock's sheer face. Situated on the Trotternish peninsula (the most northeastern point of Skye), there's a car park right beside the most famous viewpoint, perfect if you don't fancy a longer hike.
By the way, if you want to know anything else about Scottish garments, we've got your back.
2. Rubha Hunish
Also on the Trotternish Peninsula is Rubha Hunish, the most northerly point of Skye.
The cliffs here are massively unusual, lumpily jutting out of the landscape and plunging 100 meters down into the water beneath them. On a clear day, these cliffs offer views reaching all the way to the other islands of Lewis and Harris and Uist.
This area is ridiculously remote, which makes the landscape particularly special and unique. You'll find one of the nation's most tucked-away bothies here, while the area is also Skye's best place for spotting whales, dolphins, porpoises and lots of rare nesting birds.
The best way to take in the cliffs and crags of Rubha Hunish is by hiking from Shulista, on an incredible trek which measures in at 8.5 km (5.25 miles).
3. Duirinish Peninsula
West of the Trotternish Peninsula is the Duirinish Peninsula, the most westerly part of Skye. If you're on the hunt for cliffs (and why wouldn't you be if you're reading this article?), just go to Duirinish and explore.
You'll find cliff-based adventures everywhere, including rocky stacks, craggy overhangs, gentle hikes and excellent short road trips – it's my favorite cliff-covered area in Skye. I don't know what most of the cliffs here are called (or if they even have names), but loads of the cliffs here are incredible.
The best clifftop walk on the Duirinish Peninsula is the lengthy hike from Ramasaig to Orbost (or Orbost to Ramasaig), a 22-km epic that many people consider to be the best cliff-based trek in the whole of the UK.
But the big cliffy name on the Duirinish Peninsula is Neist Point, which brings us to…
4. Neist Point
Neist Point is incredible. It's home to one of the most famous lighthouses in Scotland, but it's also way more than that. Here, you get cliffs of various descriptions along with rocky towers, sheer shoreline descents, unusual landscapes and an incredible hike.
The lighthouse sits at the end of a narrow and lengthy strip of green-coated cliffs, some of which climb near-vertically out of the sea. While the lighthouse sits 43 meters above sea level, some of the cliffs are much loftier.
Consider coming here at sunset, for one of the most photogenic sights in Scotland. In fact this place is one of the best places to see the sunset on the Isle of Skye!
If you want to hike to and around Neist Point, consider the 8km (5-mile) round trip from the tiny village of Glendale. If you can't be bothered for a long walk, it's possible to park much closer to the lighthouse for an alternative gentle jaunt.
5. Dunvegan Castle
Very close to the Duirinish Peninsula is Dunvegan Castle, which is perched upon some small rocky cliffs hanging over Loch Dunvegan, a large lake (or 'loch,' if you're in Scotland) which bleeds into the sea.
The cliffs themselves aren't particularly impressive. But they have a castle built on the top of them – and if you don't think that's impressive, I don't know how to help you.
Dating back to around 1200, it's the oldest continuously-occupied castle in Scotland, and it's still inhabited now. If you like castles, you'll love it here. If you aren't interested in dropping in for a visit and you only want to see its exterior, there are some great viewpoints from the road that leads north from the castle.
6. Scorrybreac
The most accessible entry on our list, the cliffs along Scorrybreac aren't the most impressive in this article, but they're the best option for day trippers who don't have much time.
A small trail that leads out from Portree, the village-sized capital of the island, the Scorrybreac walk takes in woodland, beaches, bays, boats and surprisingly impressive grass-covered rocky cliffs. Greener and grassier than most other cliffs on this list, they slope out of the sea, making for a great view that massively outweighs the effort required to get it.
The circular stroll to Portree and back only measures in at around 3km (1.75 miles), making it popular with dog walkers, casual hikers and anyone who likes putting in no effort to get good views.
7. Quiraing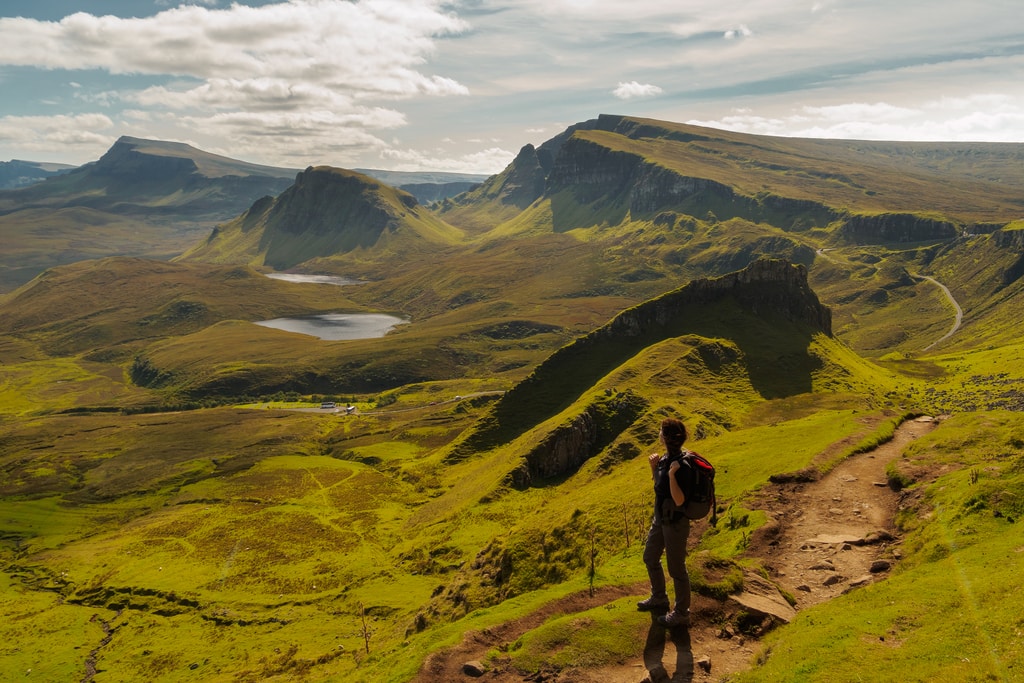 Since it's inland, the Quiraing isn't really a cliff – but it looks like a cliff, and most people call it a cliff anyway, so let's not argue.
Anyway, the Quiraing is one of my favorite attractions in Scotland. It's definitely my favorite attraction on Skye. Loads of people love this place, and it ranks alongside Portree (which we've already mentioned) and the Old Man of Storr (which is coming next) as one of the most popular attractions on the island.
A lumpy, ridge-like result of a landslide, The Quiraing is weird. It looks like something from a different planet, with its lumpy shape, marshy ground and bright green colors. Its highest point sits at 540 meters, while the best walk here is a loop of around 6.5km (4 miles).
If you like unusual landscapes, go to the Quiraing. It's not like any other cliff on this list. In truth, it's not like any other cliff in the world.
8. Old Man of Storr
Again, this isn't a sea cliff, but it's a rocky tower, it's one of the most famous landmarks on Skye, and most people (including me) consider it to be a sort-of cliff. Whatever you want to call it, if you like cliffs, you'll undoubtedly love this place.
A lofty rock tower visible from miles around, The Old Man of Storr is surrounded by other shard-shaped lumps of rock, all of which look like they really want to fall over. At its highest point, the Old Man of Storr measures in at around 719 meters, and legend says that this place is the burial ground of a giant.
Probably the most popular hike on the whole of Skye, the standard Old Man of Storr trek starts on the main road heading east out of Portree. From the car park on this road, it's a round-trip walk of around 4.5km (2.75 miles).
The views of the Old Man from below are incredible – but the views of the landscape from above are even better. The hike is ridiculously popular, but it's also ridiculously good.
9. Elgol
Elgol is a tiny village, sparse, scattered and small, but it's an excellent (and underrated) jumping-off point for lots of Skye's best adventures. Situated around 14 miles (22.5km) southwest of the larger settlement of Broadford, even the drive to Elgol is packed with rugged cliffs and remote wilderness.
Most importantly for anyone reading this article, the region around Elgol is brimming with loads of excellent cliffs. For the best views, tackle a lengthy walk around the entire perimeter of the coastline surrounding the village, but any short jaunt will be met with excellent cliff-packed payoffs.
My favorite section is west of Elgol, with panoramas stretching beyond Loch Scavaig for views of craggy cliffs and the Cuillin mountains.
Once you're done checking out all the cliffs, explore the charm of the village itself, with its tiny smattering of houses, boats and accommodation options.
10. Talisker Beach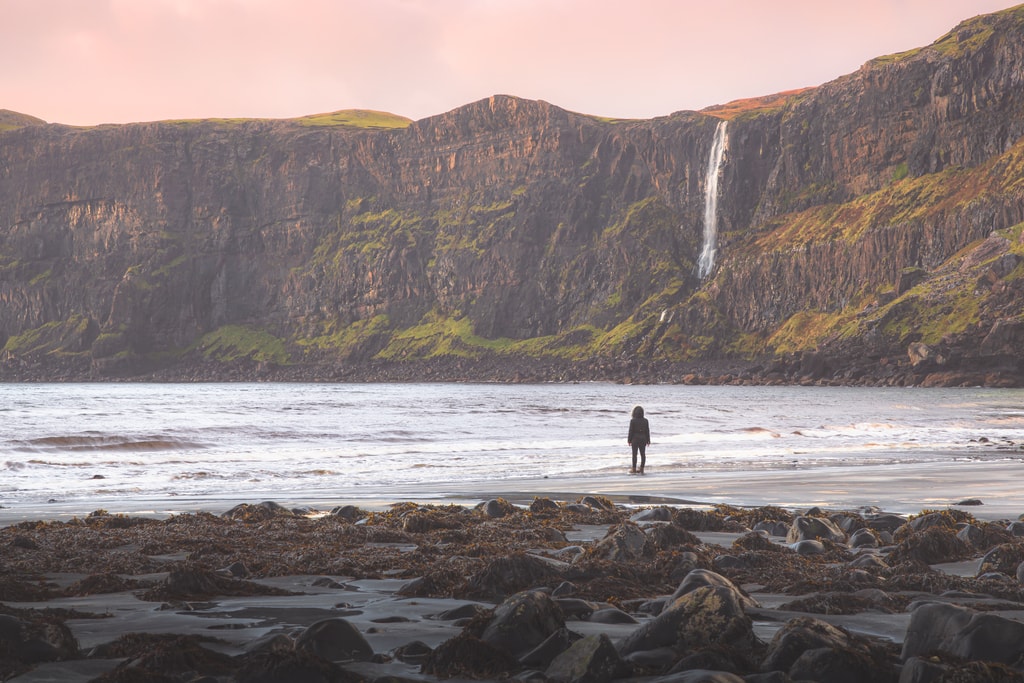 Our last entry on this list, Talisker Beach is one of Skye's most famous shorelines.
If you want a cliffside location that's perched right beside a bay, you'll love Talisker Beach – its grey, remote, sandy bay is a popular choice for families, dog walkers and beach fans seeking a casual stroll.
Some of the semicircle bay is backed by steep vertical cliffs, which enclose the beach's shores and sands. There's an excellent waterfall clambering down the face of some of the cliffs, while other highlights include a giant sea stack and lots of lovely rock pools. It's a popular place for a (very cold) wild swim.
The easiest way to access Talisker Bay is from the tiny settlement of Talisker. The two-way walk clocks in at only around 3.5km (2.25 miles), and it's a great spot for an evening stroll.
Final Words
There you have it – all the must-visit cliffs on the Isle of Skye, and everything you need to know about them. If you're on the hunt for cliffs, Scotland is packed with them – and Skye is one of the best cliff-spotting destinations in the whole nation.
For more adventures in the island checkout our guide on the best walks in Skye.
Want to know anything else about Scotland? We have articles on the best hikes, the right to roam, and much more.
If you really like cliffs (and you probably do, since you're reading about them), we even have an article on the best cliffs in the whole of Scotland, and the best cliffs you can find near Edinburgh. Check them out!
Whatever you want to know about Scotland, you'll find it here on our site.
Being a Digital Nomad: Tips, Tricks and Places
Do you want to be a digital nomad?
If you do, maybe you don't know where you might want to live. Or how to live there. Or whether you need a visa. Or how to make friends in the scary sprawl of a brand-new city. Or how to stay productive while you travel. Or how to find an apartment. Or whether this lifestyle really is for you. Or… I'm sure you get the idea.
But with some insight and experience, it's not as difficult as you think. So in this book, I've gathered my 6 years of digital-nomadding experience… and I've used it to answer all your questions, soothe all your fears, and get you on your way. After reading this, you'll realise being a digital nomad is much easier (and much more possible!) than you think.