17 Best Castles in Scotland to Visit
Scotland is one of my favorite countries on the planet. It's packed with lochs, mountains, lovely cities, brilliant people, and some of the best landscapes on the planet.
But it's also famous for its Scottish castles.
With more than 1,500 of them (and probably loads more, depending on who you ask), you get tiny ruins, royal residences, city-center behemoths, historical icons, and much more.
So in this guide, we've brought you the 17 best castles in Scotland to visit. No matter what part of the nation you're visiting, there'll be a couple you can visit.
Get your crown on, fortify your walls, set up a banquet, and join us. Today, Travelness is visiting the best and most beautiful castles in Scotland.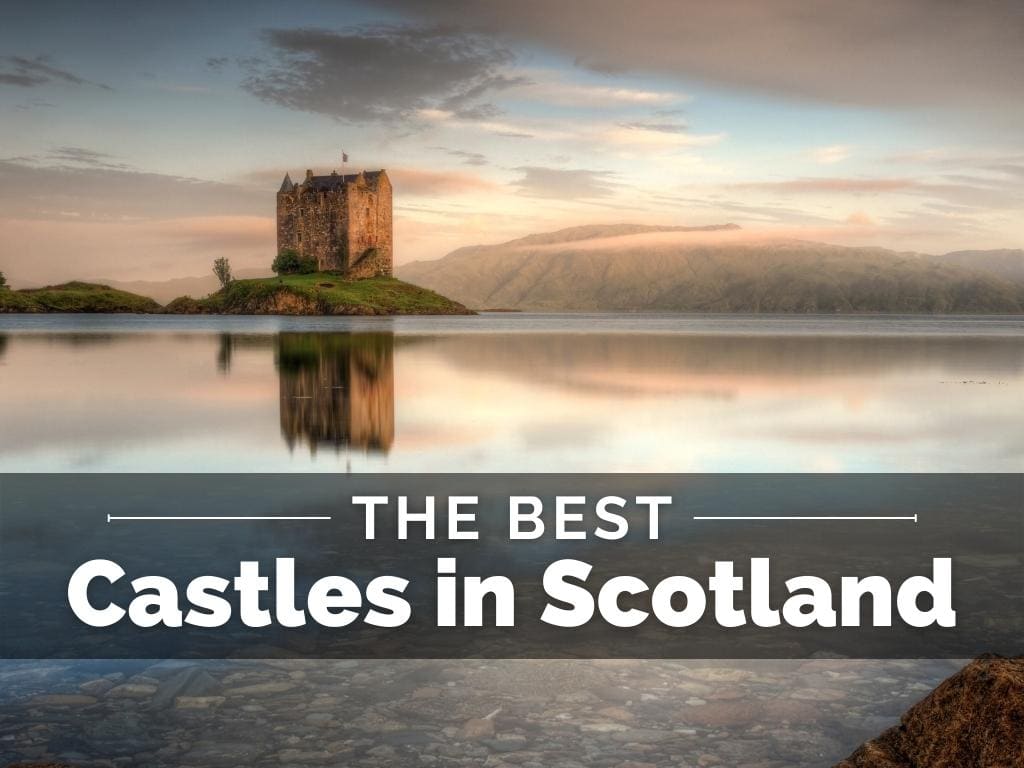 1. Edinburgh Castle
Easily the most famous castle in Scotland, you've all heard of this big boy. One of the most popular tourist attractions in Scotland, one of the oldest fortified buildings in Europe, and the most-besieged building in the UK, there's absolutely loads of history here.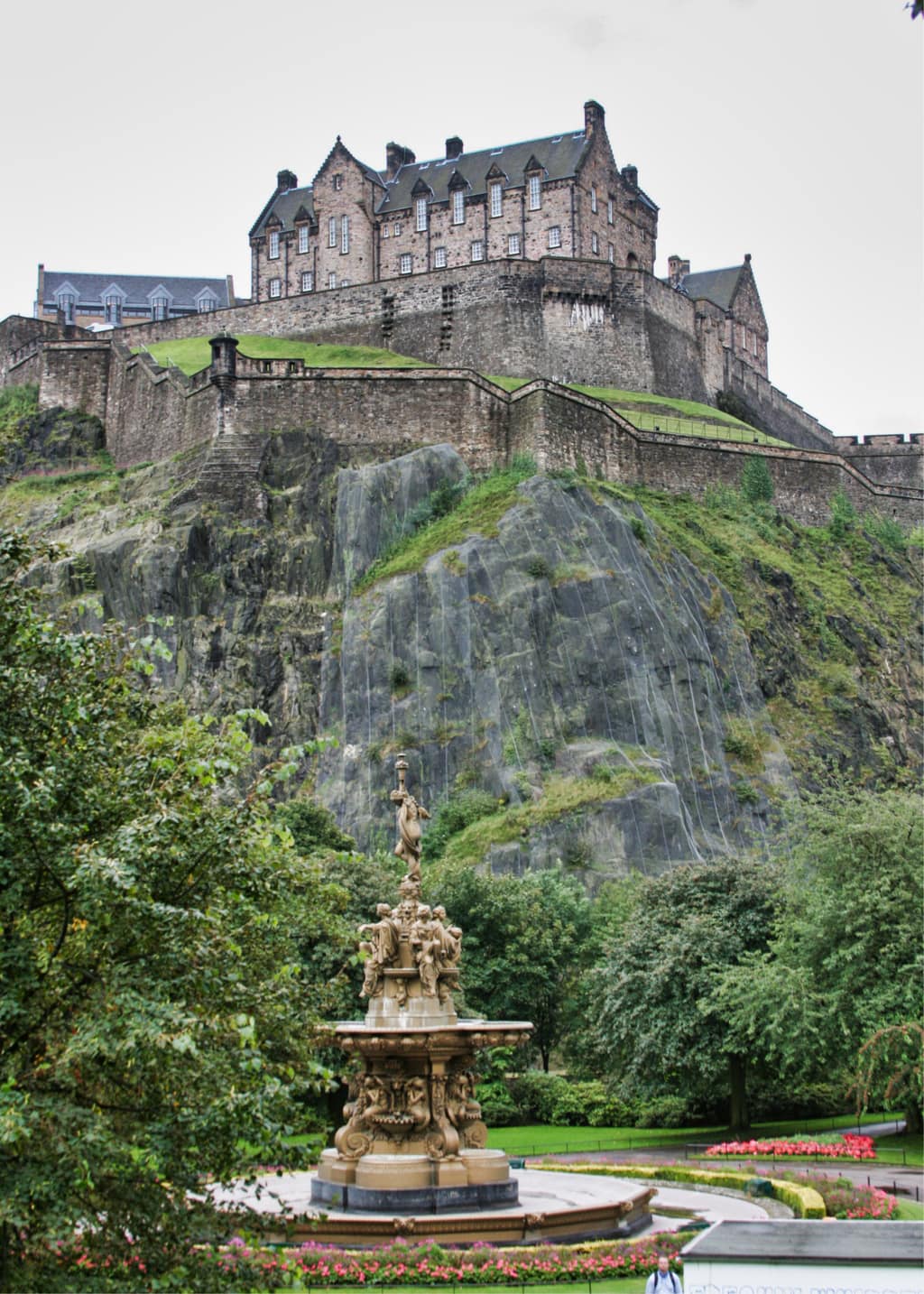 Edinburgh Castle has been used as a prison, a royal residence, a fortification, and more. Because it's such a popular place to visit, there are loads of things to do inside the castle, including exhibitions on fighting, history and loyalty, and loads of stuff for kids. If you can, try to visit at 1 o'clock, when a daily cannon is fired (except on Sundays).
Built right on the top of a dormant volcano, and looming over the city, it's an absolutely beautiful place—the views from the castle are great, and the views of the castle from below are even better.
How to get to Edinburgh Castle: From the centre of Edinburgh, it's really easy to walk to the castle. So no problems there!
2. Stirling Castle
Less famous than Edinburgh Castle, but the second city-center castle on our list.
In lots of ways, Stirling Castle is pretty simple to Edinburgh Castle. It's old, it's big, and it's perched on a hill that rises over the city surrounding it.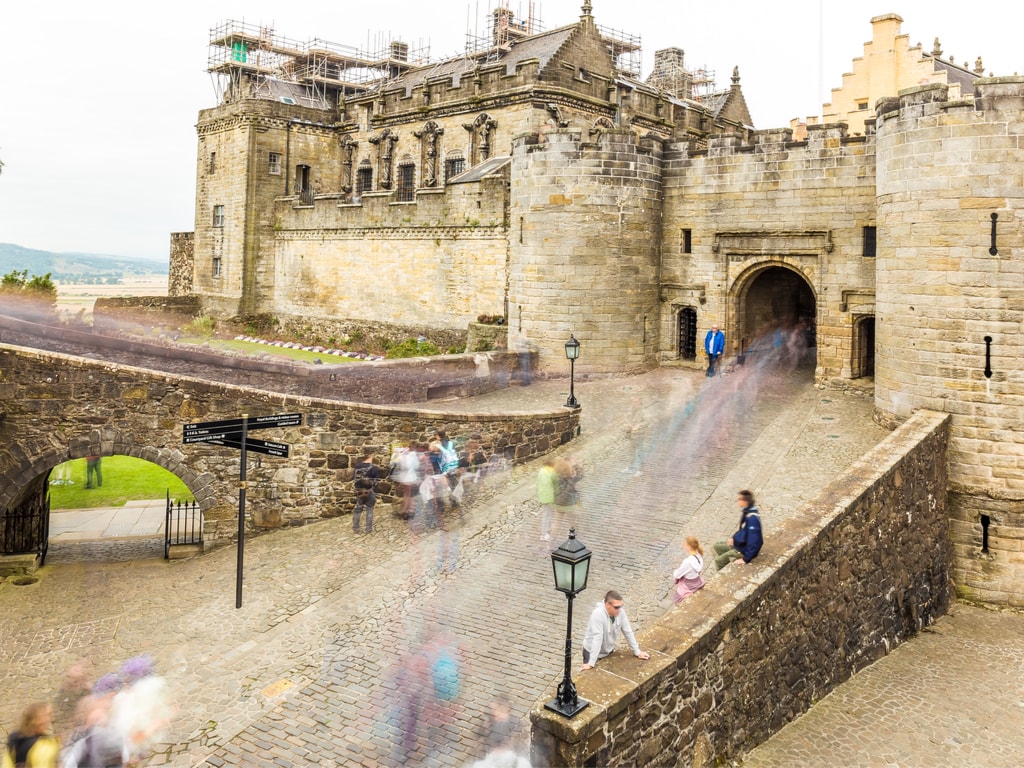 And on top of that, it was also once a royal residence. Loads of royals lived here, but the most famous was Mary Queen of Scots, who was crowned at the castle (when she was less than a year old—weird).
History here dates back to the 12th century, so there's plenty of stuff to unpack in a visit. Highlights of a trip included guided tours, costumed characters, dress-up stuff, medieval instruments, and plenty more for both adults and kids. And as an extra little bonus, the castle and gardens are both really beautiful.
Because there's plenty to do at Stirling Castle, it's one of the best castles in Scotland for a fun-packed family day out.
How to get to Stirling Castle: It's right in the center of the city, so it's easy to reach on foot. Simple!
3. Eilean Donan Castle
Probably the most famous rural castle in Scotland, people come from all over the UK to take pictures here. Perched right over the shores of Loch Duich (where Loch Duich meets Loch Alsh and Loch Long), I absolutely love the place.
It's only a tiny ruin on a little island, so it's not the sort of place you come for endless activities or a full family day out, but it's ridiculously beautiful.
Originally built as a small chapel, the castle on the island has been built and rebuilt a few different times. Most recently, it was rebuilt with a 20-year project starting in 1912.
If you're searching for pretty and beautiful (and you probably are, since you're looking at this list), Eilean Donan Castle is probably the best pick in Scotland.
How to get to Eilean Donan Castle: Car is the best way—the castle is right on the major A87 road. The nearest train station is at Kyle of Lochalsh, around 8 miles (13km) west of the castle.
4. Dunvegan Castle
The first island castle on our list, Dunvegan Castle sits on the Isle of Skye, not too far from Eilean Donan Castle.
Dunvegan and its castle are on the western part of Skye, where not enough tourists go, but way more should.
The oldest continuously-inhabited castle in Scotland, this place has had people living in it for over 800 years. And, yep, people still live in it now. Massive, majestic, and beautiful, it's a lovely place to admire from the outside.
But there's also lots to enjoy apart from the famous facades.
You get great gardens (with on-site waterfalls!), a ridiculously-attractive waterside location, and popular boat trips to a nearby seal colony.
Dunvegan Castle was built over a period of 600 years, and because it was never really a setting for many fights or battles, it's one of the best-preserved castles in Scotland.
How to get to Dunvegan Castle: Drive to Dunvegan, then head slightly north to the castle. There's no train, and buses are irregular. So if you're relying on public transport, just hitchhike instead.
5. Dunrobin Castle
Dunrobin Castle is on the eastern coast of northern Scotland, so you'll drive right past it if you're tackling the North Coast 500 (one of the world's best road trips).
Like Dunvegan Castle, Dunrobin Castle is also a family home, and people have been living here (continuously!) since the early 1300s. Partially planned by one of the people who helped to design the Houses of Parliament, this place is one of the biggest and best architectural wonders in Scotland. It's like someone took the words 'grand' and 'majestic,' mixed them with concrete, and somehow transformed them into a building.
Compared to most other castles on this list, Dunrobin Castle is pretty unique. It's been assembled in the style of a French chateau, and it's a residential place rather than a conflict site.
The inside of the castle is really elegant and ornate, the gardens are massive, and the place hosts regular falconry displays.
How to get to Dunrobin Castle: If you're driving, it's right on the main A9 road. If you want to take the train, the castle has its own train station (yeah, seriously).
6. St. Andrews Castle
The most ruinous castle we've featured so far, St. Andrews Castle is (unsurprisingly) situated in the town of St. Andrews, Scotland's so-called 'Home of Golf'.
Around 50 miles (80km) north of Edinburgh, it's a popular day trip from the city, a top location for photographers, history buffs, architecture fans and everyone in between.
Kings James I and James III are both associated with the place. The former was educated here, while the latter was born in the castle.
The castle's most famous feature is its notorious 'bottle dungeon,' a claustrophobic dankfest that's only 4.6 meters deep. Loads of people were killed and tortured here, in one of the most horrible dungeons in Scotland (that said, most dungeons are probably pretty horrible).
How to get to St Andrews Castle: If you're in the town already, the castle is really central. But if you're driving from elsewhere, follow the main A91 or A915 roads. There's no train station in St. Andrews, but you can get relatively regular buses from many places, including Edinburgh.
7. Urquhart Castle
Perched over the lengthy shores of iconic Loch Ness, this is one of the most famous castles in the UK.
Definitely one of the most-visited castles in Scotland (since Loch Ness is one of the most-visited attractions in Scotland), it's beautiful, and loads of people love the place. It's pretty central in relation to the rest of the loch, close to Drumnadrochit—so it's really easy to visit no matter where you're staying along Loch Ness.
Another ruin, there's not a whole load to do here, but it's a great place to grab some snaps. And the guided tours are pretty good too. Years ago, this was one of the biggest and most significant castles in Scotland, the site of countless conflicts and bloody battles. During Scotland's historic fights for independence, control of the castle frequently changed hands.
The place was then partially blown up in the late 17th century, and has continued to crumble ever since.
How to get to Urquhart Castle: If you're driving, it's right on the A82 road. There's no train station nearby, but it's possible to take a bus from Inverness.
8. Inverness Castle
Another city-center castle, Inverness Castle sits high above the Ness, the river that runs through the city. From up here, in the north tower, you get the best possible panoramic view of the city.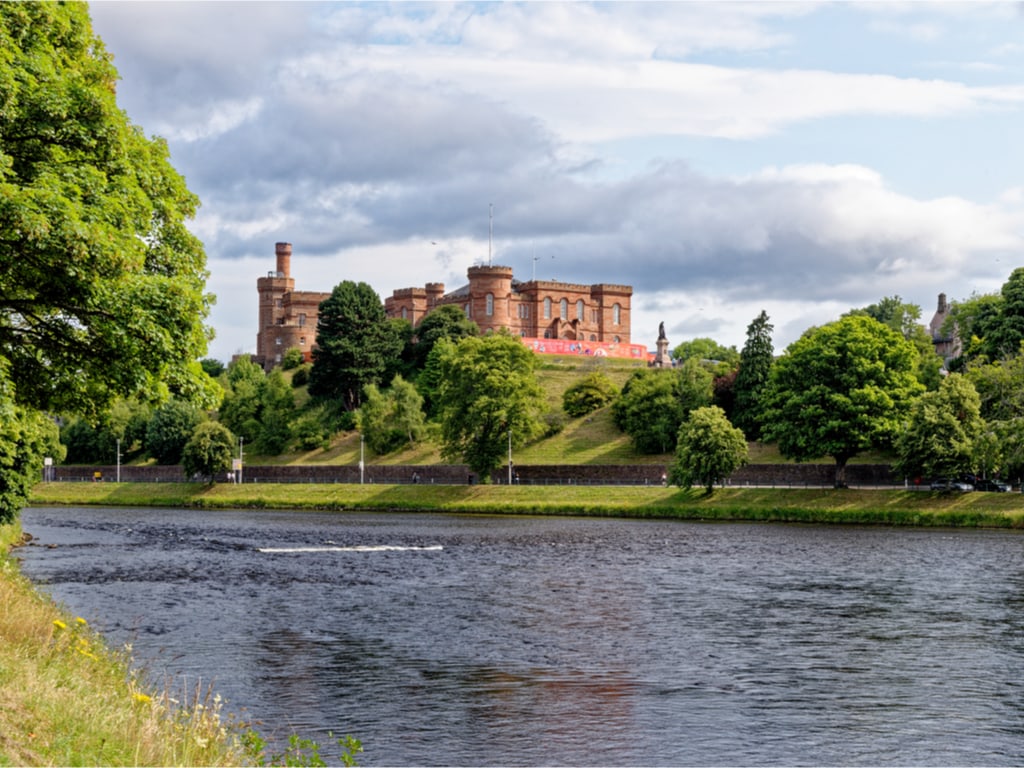 Aside from that, there's not a huge amount to do here. You can go up the tower and wander around the grounds, but the inside of the rest of the castle isn't open to the public (at least for now).
Like lots of the castles we've featured on this list, Inverness Castle has been besieged on plenty of occasions, and it's even been set on fire a couple of times.
Fun fact: the place features on the Scottish £50 note.
How to get to Inverness Castle: If you're already in Inverness, the place is really central, so you can just walk right up. Easy!
9. Dunnottar Castle
Halfway between Inverness and Edinburgh (and just south of Aberdeen), you have Dunnottar Castle.
Without doubt one of my favorite castles in Scotland (and definitely one of the most beautiful castles in Scotland, if you're more interested in setting over architecture), it's dramatic, atmospheric and alluring.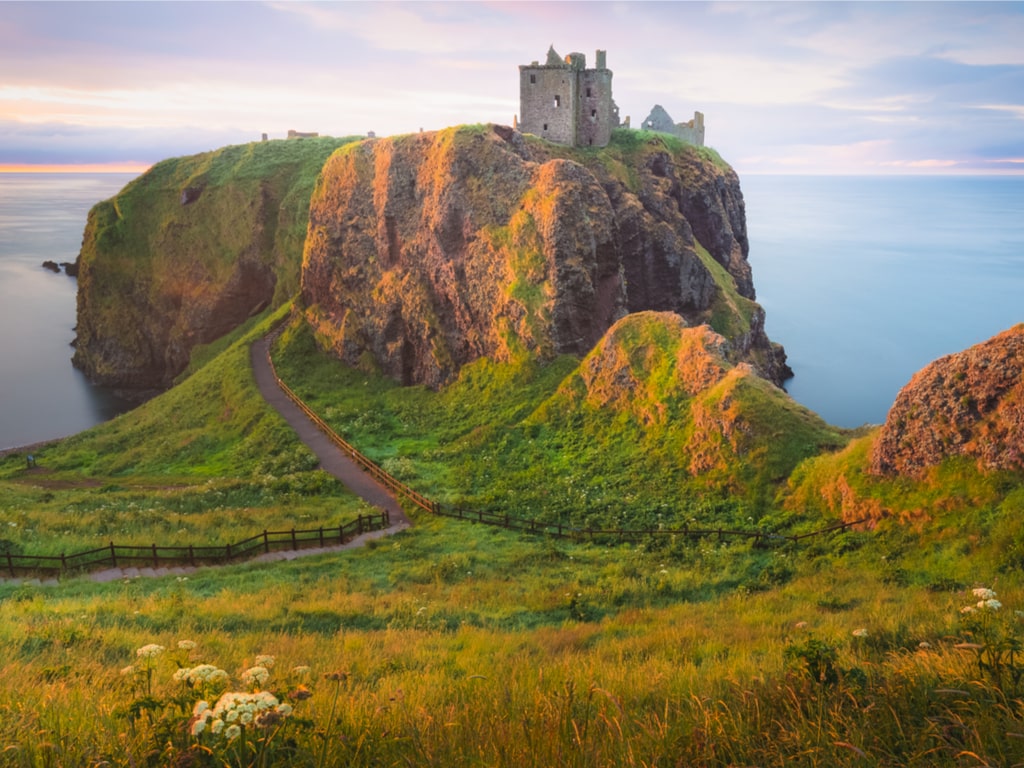 Set right on the edge of a rocky ocean headland, Dunnottar Castle sits on rugged cliffs that measure in at 160 feet (49 meters). Fortifications have existed here for more than 2000 years, but the current buildings have been around for about 700.
The walk to the castle takes you up a lengthy flight of stairs—and both at the top and at the bottom, you get brilliant views.
How to get to Dunnottar Castle: If you're driving, the castle is just south of Stonehaven, down a small road. The nearest train station is in Stonehaven.
10. Glamis Castle
Another inhabited castle, this sprawling complex was mentioned in Macbeth (even though Macbeth never actually had any connection to the place—Shakespeare is a big stinking liar).
Just north of Dundee, Glamis Castle is a popular day trip from both Dundee and Perth. The exteriors are beautiful, but the real magic here is inside the castle, which is one of the most ornate places in Scotland. On guided tours, you'll see some of the most grand paintings, furniture and fixtures you've probably ever seen.
The massive gardens are also great. They're so big that they have waymarked trails inside of them; the longest clocking in at around a 30-minute walk. During various parts of the year, these grounds also host events, including exhibitions, performances, car shows, Christmas markets and Santa's grottos.
Fun fact: the mother of the incumbent Queen was brought up in Glamis Castle.
How to get to Glamis Castle: If you're driving, the castle is relatively close to the main A90 road. There's no nearby train station.
11. Blackness Castle
Another great day trip from Edinburgh, Blackness Castle is pretty unique. Built in the shape of a boat, it's poetically known as 'the ship that never sailed.'
Assembled on a hefty headland in a wide part of the Forth River, Blackness Castle and its surroundings are super beautiful, and it's a great place to get some good photographs. Because it's so pretty, it's been used as a filming site for lots of movies and TV shows.
Most famously, the place was used as a state prison, and once held an Archbishop.
Really close to Blackness Castle is Linlithgow Palace, the birthplace of Mary Queen of Scots.
How to get to Blackness Castle: If you're driving from Edinburgh, follow the M9. There's no nearby train station, and the bus connections aren't great.
12. Balmoral Castle
When the British royal family go to Scotland on vacation, they go to Balmoral Castle (which they own). Sitting inside Cairngorms National Park (the biggest national park in the UK), it's absolutely huge.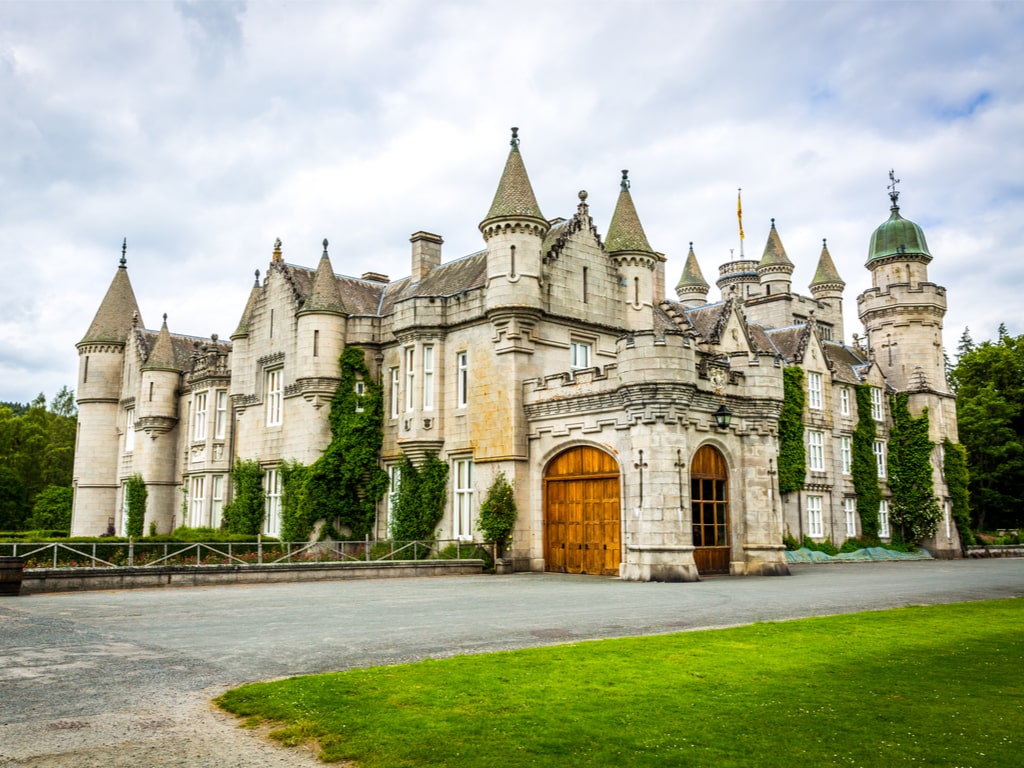 Technically, the place is actually a stately home rather than a castle, but it's called a castle anyway (no, I don't know the difference either). The current home was built in 1856 after the original home on the site was deemed "too small" by the royals who'd bought it (how ridiculous).
It sits on grounds measuring in at around 50,000 acres (that's around 25,000 soccer pitches). Because it's so massive, it has grouse, deer, ponies, Highland cattle, and loads of forestry and farmland. You can explore its expanses on 4WD expeditions, or just good old hikes.
If you want to explore the inside of Balmoral Castle, you can only do so on a guided tour—to make sure you don't walk in on the Queen having a shower or whatever.
Entry is expensive (£15 for adults), even though the royal family have loads of money already. But if you're interested in them, you'll probably think it's worth the cost.
If you want to visit another close-by castle, Braemar Castle is just 8 miles (13km) away.
How to get to Balmoral Castle: It's possible to get buses from some bigger settlements around the castle, but there are no nearby train stations. If you're driving (which is the easiest option), the castle is situated on the main A93 road.
13. Castle Fraser
Just west of Aberdeen, Castle Fraser is a popular day trip from the city.
This one looks like something from a fairytale. It's a pretty fun place for a family day out, with secret staircases, hidden trap doors, a walled garden, and a woodland play area.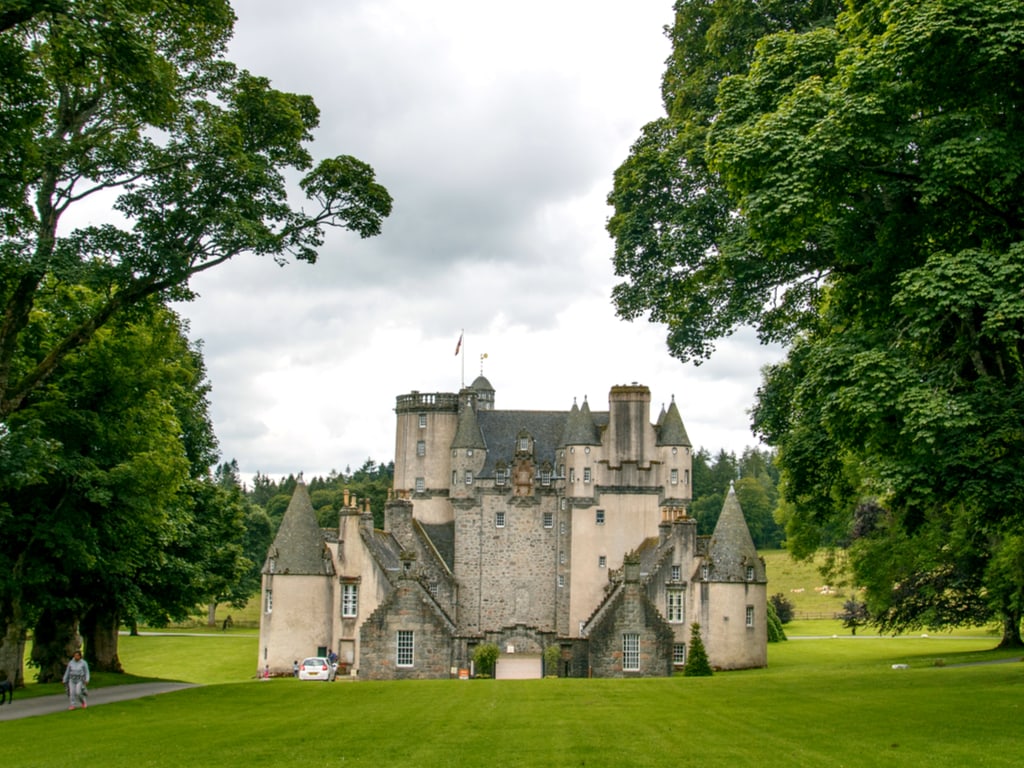 And from the top of the round tower, you get excellent views of the castle, its grounds, and the surrounding area.
In the grounds, you get woodland, animals, farmland, a pond, and two waymarked trails. Inside, you get beautiful decor, and a massive collection of family portraits. All in all, it's an excellent place to visit, and it's absolutely one of the most beautiful castles in Scotland.
How to get to Fraser Castle: From Aberdeen, it's only a short drive to the castle. Without a car, you'll struggle to access the place, which is down some pretty small country lanes.
14. Duart Castle
The second (and last!) island castle we've featured so far, Duart Castle sits on the Isle of Mull, west of Oban. Right on the edge of a little coastal crag, it's alluring and atmospheric, and I reckon this is definitely one of the most beautiful castles in Scotland.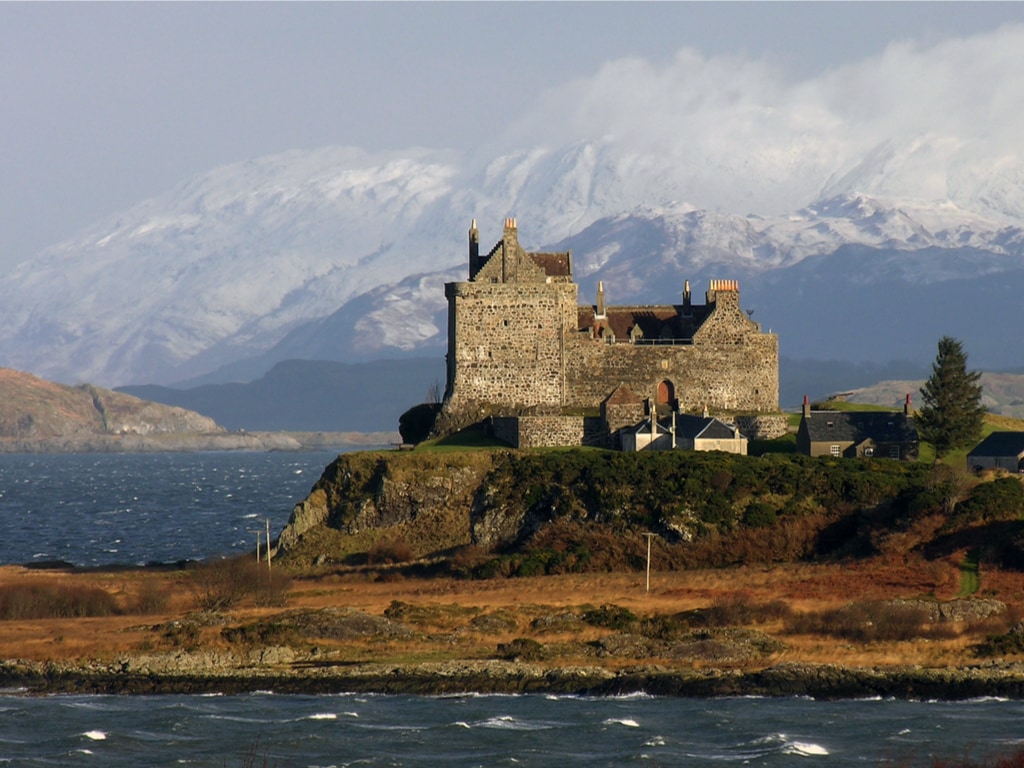 It's most famous for its dungeons, which are pretty spooky and scary. Other than that, you also get an ornate Banqueting Hall, great insights into Clan history, and some lovely nearby walks.
The place belongs to the Maclean Clan (that just means 'family'), making it one of the last surviving privately-owned Clan castles in the nation.
How to get to Duart Castle: You can only reach the Isle of Mull by ferry. Once you're there, the nearest significant settlement to the castle is Salen. It's easiest to drive or hitchhike from there.
15. Castle Stalker
Just east of the Isle of Mull, and back towards the mainland, is Castle Stalker.
This place is massively unique. It sits on a tiny island, just off Scotland's west coast. It's a privately-owned place, but they organize a small number of organized tours per year. You can only access the castle by boat, which takes you to the island over a short trip on the water. You can't visit without a tour.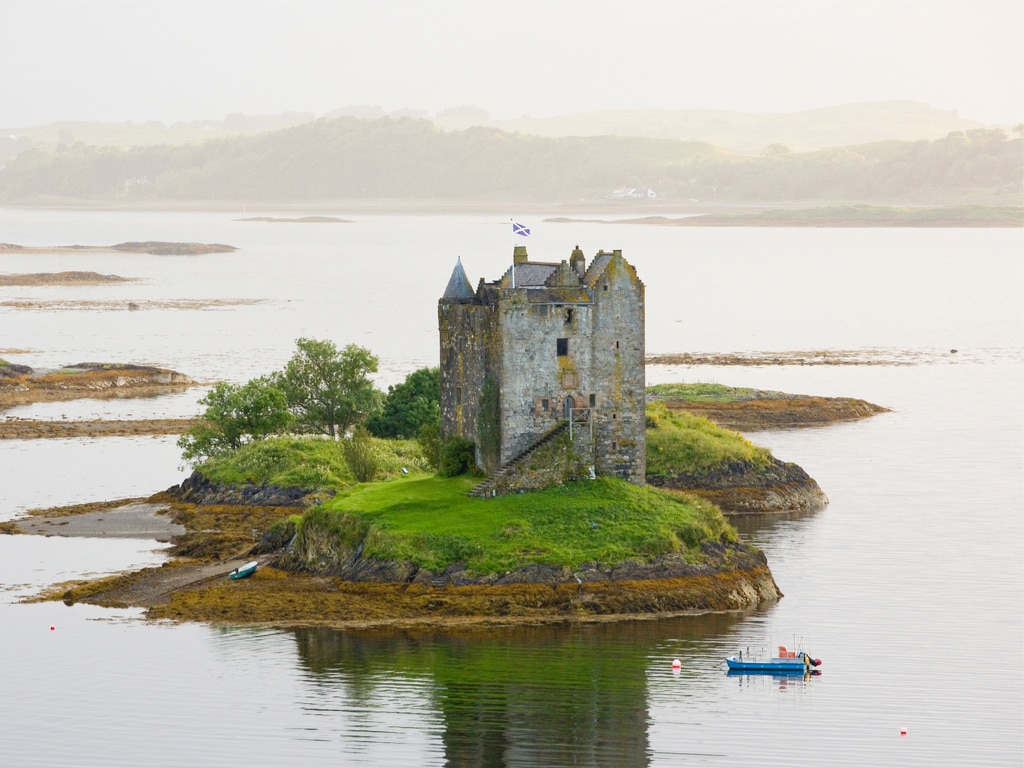 Since the 14th century, when this place was built, there've been loads of battles here. Weirdly, it once traded hands as part of a drunken bet.
If you like unique and unusual (or visiting places without countless crowds), you'll absolutely love the place.
How to get to Castle Stalker: Park up at the Old Inn, a close-by pub on the main A828 road. There's no nearby train station, and hitchhiking is your best bet if you're traveling by public transport.
16. Kelburn Castle
Definitely the most unusual castle on our list, Kelburn is more like some sort of urban experiment than a historic castle (from the outside, anyway). Surprisingly, it's existed (in various forms) since around 1143.
Covered in brilliant street art, it's routinely nominated as one of the best urban art centers in the world. But once you get inside, the interiors completely contrast with the spray painted facades—you get classy furniture, beautiful decor, and lots of family portraits.
You can only access some parts of the castle's insides, and only during certain times of the year—the castle is still the private home of the Earl of Glasgow and his family.
Around 33 miles (53km) west of Glasgow, it's a popular place for a day trip, and it's great for families. Aside from the castle itself, there's also loads more on offer, including yurts, a campsite, play areas, a so-called 'secret forest', waterfalls, alpacas, sheep, goats, trails, walks, and plenty more family fun.
For an action-packed day out, it's absolutely one of the best castles in Scotland.
How to get to Kelburn Castle: If you're driving, follow the A737 road west from Glasgow before turning off the A760. If you prefer to use public transport, get the train to Fairlie.
17. Kilchurn Castle
Last up on our list of the most beautiful castles in Scotland, it's Kilchurn Castle.
Relatively close to both Duart Castle and Castle Stalker, this one is just west of the northern part of Loch Lomond & The Trossachs National Park. And like loads of the castles we've already featured, it's perched over the shores of a loch. It sits on the eastern edge of Loch Awe (the longest loch in the nation), and it's surrounded by lofty peaks.
Because of its scenic location and imposing size, it's another of the most-photographed castles in the nation. You can get great shots from close to the castle, but also by clambering and climbing around its surroundings. You could probably spend days photographing this one and still want to get more shots.
Kilchurn Castle was built and owned by the hugely-powerful Campbell family, but it was abandoned by the end of the 18th century. There's not much to do on a visit (no tour, no cafe, and no extra activities), but just looking at it is enough.
How to get to Kilchurn Castle: If you're driving, it's on the A85 road between Tyndrum and Oban. If you want to travel by train, get off at Loch Awe railway station, probably the most beautifully-situated train station in Scotland.
Frequently Asked Questions About the Most Beautiful Castles in Scotland
Final Words and Further Reading
That's everything you need to know about the 17 most beautiful castles in Scotland. Thanks for reading!
If you want to know anything else about Scotland, we have plenty more articles on our site. Check out our guides to the best road trips in Scotland, the best lochs in Scotland, and the top 23 reasons you should visit the place.
And if you just can't get enough of castle-spotting action, have a wander over to our guide on the best castles in Northumberland.
See you next time kids!
Being a Digital Nomad: Tips, Tricks and Places
Do you want to be a digital nomad?
If you do, maybe you don't know where you might want to live. Or how to live there. Or whether you need a visa. Or how to make friends in the scary sprawl of a brand-new city. Or how to stay productive while you travel. Or how to find an apartment. Or whether this lifestyle really is for you. Or… I'm sure you get the idea.
But with some insight and experience, it's not as difficult as you think. So in this book, I've gathered my 6 years of digital-nomadding experience… and I've used it to answer all your questions, soothe all your fears, and get you on your way. After reading this, you'll realise being a digital nomad is much easier (and much more possible!) than you think.