7 Best Road Trips in Wales for Unforgettable Journeys
For top-notch adventures, Wales is massively overlooked. Often unfairly overshadowed by other parts of the UK, not enough people venture to the nation for excitement and adventure.
So in this four-wheeled guide, I've attempted to put that right… by bringing you the 7 best road trips in Wales. I've covered all parts of the nation, and various types of landscapes.
Some are big long multi-day road trips, while others are just scenic short drives. But whatever and wherever they are, they're all brilliant, beautiful and adventurous, and they're all great fun.
Get your map out, rev that engine, and fill your tank with gas. Today, you and Travelness are tackling some exciting Welsh road trips!
1. A4069 Black Mountain Pass
Let's get things started with the most famous road in Wales.
In the south of the nation, you have the Brecon Beacons, an incredible range of adventure-packed mountains. On the western side of the Brecon Beacons, there's the A4069 road, which twists and turns through some of the most scenic parts of this area.
Most people reckon these are the best roadside views you can get in the entirety of Wales… and it's pretty hard to argue. A short route measuring in at 20 miles, the drive is packed with jagged mountains, incredible ridges, challenging dips and bends, and some of the best panoramas you've probably ever seen in your life.
It's pretty notorious for being a dangerous road, but that reputation is a little excessive.
Yeah, there are lots of tight hairpin turns, and you need to be careful and cautious, but the road is well-surfaced and well-traveled. Watch out for bumps (don't drive this in a low car), sheep, and other drivers.
If you want to take some photographs along the way (and you definitely will), there are loads of laybys where you can pull in and nab some snaps.
2. Conwy to Snowdon (Plas Gwynant)
This is my favorite drive in Wales. But to tackle it, you don't want to take the direct route.
Instead, you want to head west from Conwy to Bangor, before then heading south and making your way to Snowdon (the highest mountain in Wales, with a highest point of 1,085 meters/3,560 ft).
The first stretch of the journey is short but pretty. Measuring in at around 16 miles (26km), you drive from Conwy to Bangor with the coast to your right, and the verdant peaks of Gwydir Forest Park to your left.
Once you reach Bangor, take the A4086 south followed by the A498 west through Snowdonia National Park to Plas Gwynant, where you can start an ascent of Snowdon (there are lots of routes up the mountain, but this climb is one of the best).
This A4086 and A498 route isn't the quickest, easiest, or most popular way to get to Snowdon, but it's definitely the prettiest way. Sitting in a super-narrow gorge, you're surrounded by mountains to both sides, with incredible views lurking on every corner. I haven't done every drive in Snowdonia National Park… but it's the best of all those I have done.
You'll pass lakes, peaks, a million photo opportunities, some lovely stretches of beach, and countless ascents you'll want to attempt.
3. Tenby to St Davids
Next up, something a little different. This isn't the most scenic drive in Wales (though it's still fairly pretty), but it's the best choice if you're traveling with little ones.
A relatively short drive which you can tackle in a day (or two, if you want to tick off all the en-route adventures), it runs past lots of kids' attractions, along with a few stops that even adults will enjoy.
You start in the southern coastal town of Tenby (which might just be the most famous seaside settlement in the entire nation). Full of beaches, cliffs, a lovely harbor, a dinosaur park, and loads of kid-friendly stuff, it's a massively popular family getaway, and it's beautiful.
From here, you drive north to Templeton, then west to Haverfordwest. Between Tenby and Templeton, you have Folly Farm Adventure Park and Zoo; and just west of Templeton, there's the excellent Oakwood Theme Park. At Haverfordwest, you'll find a pretty river, a castle, and some more kid-friendly attractions.
After you leave Haverfordwest behind, you'll make your way west through Pembrokeshire Coast National Park, hitting its most westerly point at St Davids, one of the prettiest seaside towns in the nation. It has great beaches, a massive cathedral, and even kid-friendly Dr Beynon's Bug Farm.
4. The North Wales Way
The first official road trip on our list, the North Wales Way is the shortest of the three official routes we've featured… and (as you've probably deduced for yourself) it runs across the entirety of the northern part of the nation.
It takes you to and through basically all the prettiest parts of northern Wales, running from the horrendously-named Mold to Anglesey's most western settlement of Holyhead.
Following an old trading route, you pass a massive amount of history, so it's a perfect ride for anyone interested in Welsh heritage.
The route is most well-known for the trio of castles you pass along the way: Beaumaris, Caernarfon, and Conwy. But aside from those three beefy behemoths, you also ride past great villages and towns on the Welsh coast, and through some fantastic mountainous areas.
The first of these peaky perks is the Clwydian Hills, one of the nation's most underrated hiking areas—if you like quiet walks, I massively recommend it. You also ride along the northern part of Gwydir Forest Park, which has some great tree-lined trails.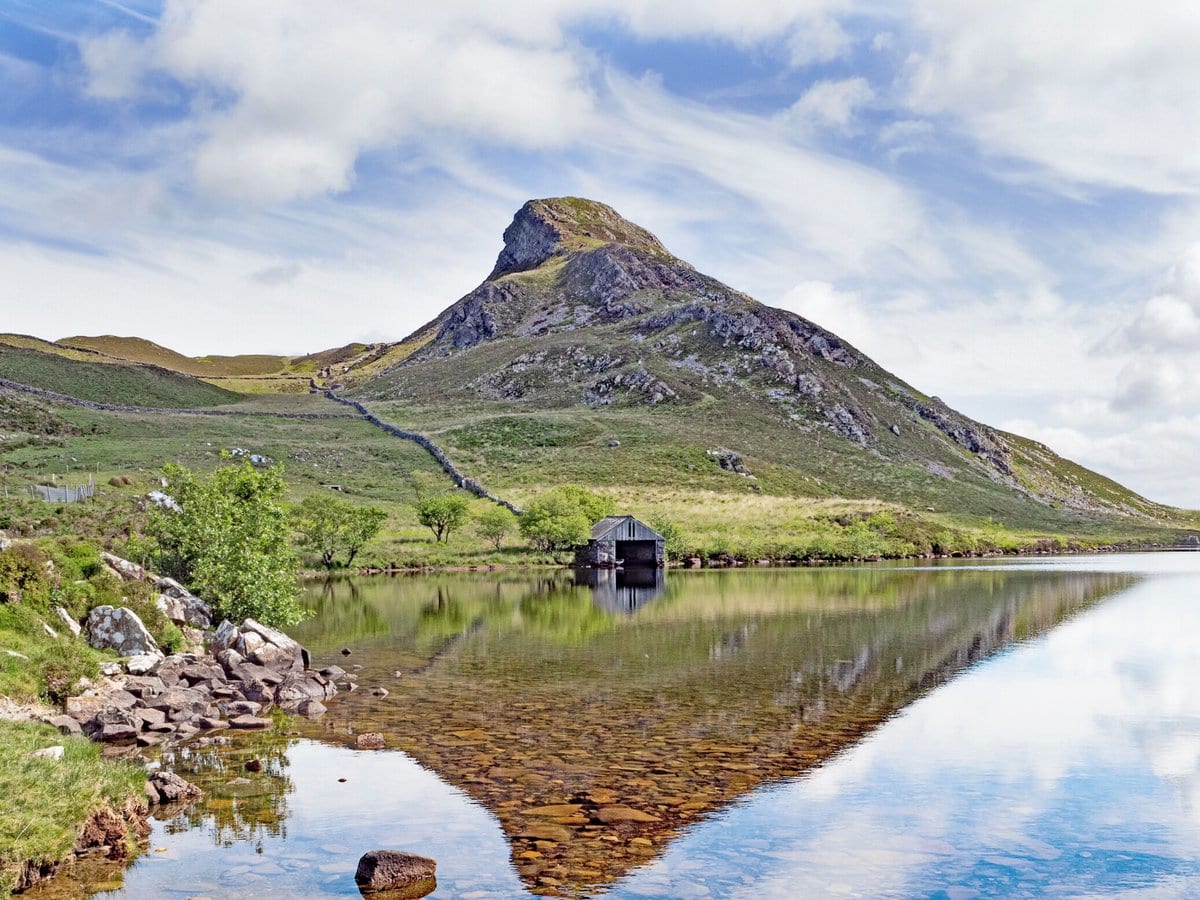 Last of all, you spend around a third of your trip on Anglesey, the biggest island in the nation. It's one of the most popular vacation destinations in Wales… and you'll soon see why.
5. The Cambrian Way
If you want to see as many Welsh mountains as you can in one lengthy, adventurous and official road trip, the Cambrian Way is for you.
Running all the way from the south (in the Welsh capital of Cardiff) to the popular northern beach town of Conwy, this route travels over peaks, passes, panoramas, and a whole load of incredible mountainous mayhem.
For pretty much the entire route, you follow the A470 road, a north-to-south behemoth measuring in at 185 miles (300km).
You start in Cardiff, which is of course worth exploring. Eat, drink, and enjoy all the conveniences… because you'll be leaving lots of them behind for a while (the central parts of this route are rough, rugged and remote, and full of barren mountainous regions).
Along the way, you'll pass Caerphilly Castle, huge stretches of the Brecon Beacons (but not the same places as those you'll see on the A4069 Black Mountain Pass), Elan Valley, the Cambrian Mountains, parts of Snowdonia National Park, and lots of potential hike-heavy day trips.
If you prefer inland routes to coastal ones, this is the most thorough road trip you can take in Wales—it's a mountaineers' dream, and it takes in lots of great settlements (both big and small).
6. The Coastal Way
Another route traversing a huge part of Wales, this ride also runs from north to south (though it doesn't hit the far north or far south of the nation), taking you all the way from St Davids to Aberdaron.
But instead of running through the hearts of hills and mountains, this route instead sticks to the Welsh coastline… so if you prefer beachside views to mountainous ones, this is the journey for you.
An 180-mile (290km) route running along beaches, caves, cliffs, and some of the prettiest coastal towns and villages you've probably ever seen, this ride is outrageously loveable. Some of the nicest settlements along the way include Abersoch, Cardigan, Llangrannog, and St Davids and Aberdaron themselves.
When you're driving this one, I recommend walking some stretches of the Pembrokeshire Coastal Path, the best multi-day coastal wander in Wales.
But this road trip isn't all coastal stuff. Although you follow the shoreline all the way, you have lots of mountains to your right (including Snowdonia National Park!)… so if you want to take some hiking detours, you have plenty of opportunities to do exactly that. I recommend hitting the Preseli Hills, a relatively low-lying bunch of peaks early into your journey.
7. Newport to Rhyl
Last up, our longest ride, and the ultimate way to see the entirety of the Welsh coast.
If you like beachside views and shoreline strolls, this is the route for you—it's sort-of the same as the Coastal Way we've just outlined above, but it stretches much further at either end.
All of the highlights we've just outlined above… you get them. But you also get great stretches between Aberdaron and Rhyl, and between St Davids and Newport. At both sides, you of course get way more beautiful coasts and beaches.
But on the extra northern stretch, you get Nefyn, great views of Anglesey, and access to both Snowdonia and Gwydir Forest Park (along with some northern coastal stretches we've already outlined in our descriptions for other routes). In the southern extension of the route, you hit Swansea, Cardiff and Newport, perfect if you like exploring cities!
In short, if you want the longest Welsh road trip on this list, you've found it. It measures in at 340 miles (547km), and has more variety than any other route we've brought you.
Before You Go
And just like that, we've put the brakes on, pulled over, and reached the end of our guide to the 7 best road trips in Wales. I massively recommend driving as many of them as you can!
If you're interested in more road trips and scenic drives in the UK, check out our guides to the best road trips in England, the best road trips in Scotland, and the best road trips in Northern Ireland.
And don't forget to check out my extensive list of the best road trips in the UK.
Being a Digital Nomad: Tips, Tricks and Places
Do you want to be a digital nomad?
If you do, maybe you don't know where you might want to live. Or how to live there. Or whether you need a visa. Or how to make friends in the scary sprawl of a brand-new city. Or how to stay productive while you travel. Or how to find an apartment. Or whether this lifestyle really is for you. Or… I'm sure you get the idea.
But with some insight and experience, it's not as difficult as you think. So in this book, I've gathered my 6 years of digital-nomadding experience… and I've used it to answer all your questions, soothe all your fears, and get you on your way. After reading this, you'll realise being a digital nomad is much easier (and much more possible!) than you think.