11 Best Road Trips in England for Scenic Secrets
I was born in England, and I've spent most of my life in the nation. So I've spent much of my meager existence adventuring around the place, on foot, on bikes, and in cars.
And while the nation is most famous for its excellent hiking and cycling, England is also home to some incredible road trips. So in this guide, I've brought you the 11 best road trips in England.
Lock that seatbelt, grab some car snacks, and fill your tank with gas. Today, Travelness is revving around the 11 best road trips in the entirety of England. And you're riding shotgun!
1. The Northumberland Coastal Route
This isn't the biggest, most famous, or most dramatic road trip in England, but it's absolutely my favorite.
(I might be a bit biased because I'm from the area, but let's not get caught up in the details).
Anyway, it's an absolutely beautiful drive, crammed with history, heritage, and lots of lovely stuff.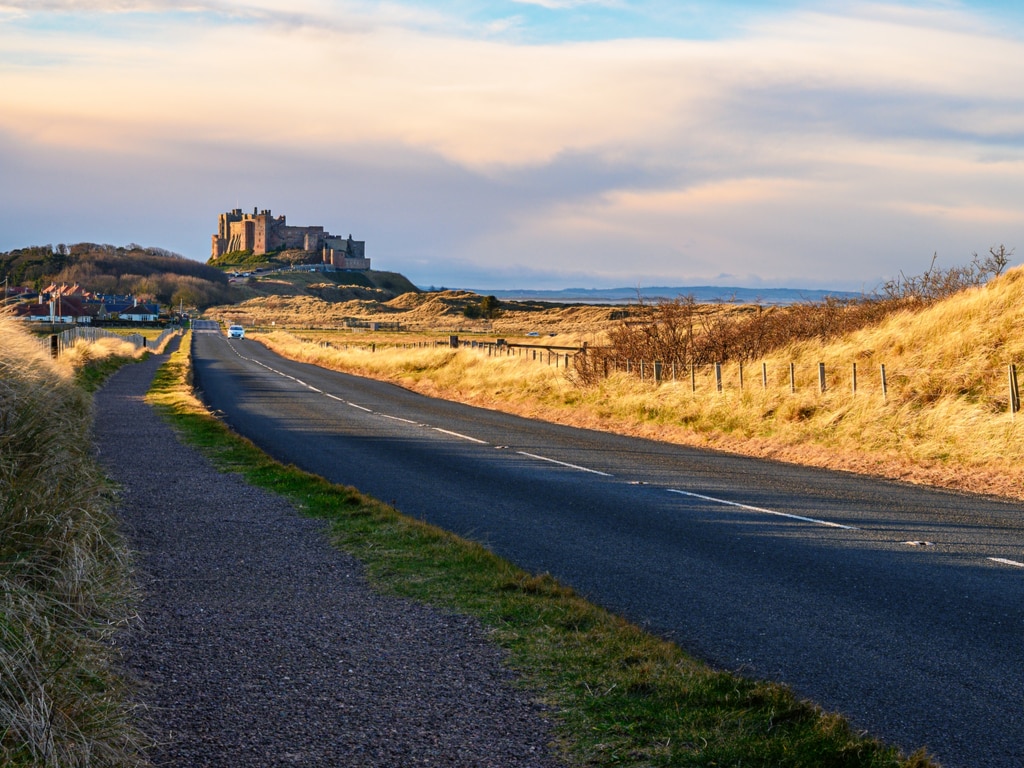 Start in Tynemouth, just east of Newcastle. From here, drive north to Berwick-upon-Tweed (the Scottish border town), hugging the coast as closely as you can.
You'll pass massive castles, charming villages, and some of the most beautiful beaches you've ever seen. Highlights include Seahouses, Bamburgh Castle, Craster, Dunstanburgh Castle, and Creswell. Oh, and make sure you cross the causeway onto the bizarre shores of strange Holy Island.
It's not the lengthiest ride, but I recommend taking your time, so you can do lots of stopping off. And I also recommend making friends—people in this part of the world are super friendly (I told you I was biased).
2. Land's End to John O'Groats
Okay, this drive is actually in both England and Scotland, but it's the most iconic long-distance route in the UK.
Some people cycle this, some maniacs walk it, and some do it in countless other weird ways. But if you're a lazy bum who doesn't fancy the challenge of any physical activity, the most comfortable way to tackle the trip is (of course!) by car.
The ride runs all the way from the southwestern tip of mainland England (that's Land's End) to the northeastern tip of mainland Scotland (John O'Groats). But here's where things get complicated: there's no one official way to ride the route, and people choose different options according to places they want to see and visit along the way.
The shortest road route measures 837 miles (1,347km), but you can make it way longer with infinite detours.
If you like the idea of traversing the entire north-south route of mainland UK, you'll love this one. But if you don't want to do lots of planning, or if you're the type of person who likes ticking off every last thing, this will probably be your worst nightmare.
3. Hadrian's Wall
If you're interested in history and heritage, you'll love this trip. It takes you past ruins and relics of Hadrian's Wall, the ancient structure that was built to keep northern barbarians out of Roman-occupied England (at the time).
It's a pretty short ride, but there are lots of places to see along the way. Housesteads and Sycamore Gap are the two most popular, but I recommend stopping off around the strangely-named settlement of Twice Brewed for a couple of days and using the place as a base for hikes.
Make sure you also visit Chesters Roman Fort, and Vindolanda, just east of Newcastle.
And aside from all the excellent historical stuff, the views are also great, with lots of farms, fields, and rolling hills.
If you prefer a more active adventure, it's also possible to tackle similar routes on the back of a bicycle, and on foot. These routes are much more rural and much more beautiful.
After you've reached Carlisle (where your journey ends), you can continue following the road west, and onto the western coast of this part of England. I definitely recommend it, but be warned: after you go south of Bowness, you're no longer in Hadrian's Wall Country.
And that brings us to our next entry…
4. The Cumbrian Coast
Because England is part of an island, it's of course home to a pretty lengthy coastline—and any stretch of that coastline can make a great place for a road trip.
But the Cumbrian coast is hugely underrated. It's overlooked for two reasons: firstly, there are lots more famous shorelines in the nation. And secondly, when people come to this part of England, they're usually interested in visiting the peaks, passes, and panoramas of the Lake District National Park, rather than any of the coasts.
But I definitely recommend a drive along this coastline, which is packed with beautiful stuff.
Starting at Bowness-on-Solway, hug the west coast as tightly as you can while you make your way south to Barrow-in-Furness. Along the way, you'll pass some beautiful towns and villages.
The landscapes aren't as dramatic as some other entries on our list, but the settlements are as charming as you'll find anywhere in England. Ravenglass, Whitehaven, and St Bees are three top picks, but just stop wherever and whenever you feel like it. For welcoming, friendly and homely, driving routes don't get much better than this.
Fun fact: St Bees is the starting point for England's iconic Coast to Coast walking trail.
5. The Atlantic Highway
Probably the most famous road in England, the Atlantic Highway is actually just the fancy name for the A39 road running through a western part of southern England.
The most 'official' driving route in the nation, this is a brilliant ride with a bit of everything—and when most people choose a road trip in England, they choose this one. When you drive it, you'll see exactly why.
The stretch from Bridgwater to Bude is the most famous, and it's the part that most people tackle. But I recommend extending the route, by driving all the way from Bath to Newquay, for around 210 miles (338km) of fun.
Running along some of the best parts of the Devon and Cornwall coasts, you'll see craggy shorelines, golden sands, chalk cliffs, and loads more—with some especially great beaches in and around Bude. Some of the trip's settlements are also really lovely—I recommend stopping off in Porlock, Ilfracombe, Woolacombe, and wherever else you fancy.
Speaking of settlements, you should arrive in Bath the day before you plan to set off. One of the prettiest cities on the planet, there's plenty of beauty and history to explore.
If you attempt this one in summer, you might be pleasantly surprised by the weather—this part of England is often the warmest part of the nation.
6. The Norfolk and Suffolk Coasts
Usually overshadowed by the coastline in southwest England, Norfolk and Suffolk's shores are hugely overrated. But just like their westerly cousin, they make a lovely place for a road trip!
To traverse all of the best areas, you want to drive from Felixstowe to Hunstanton. So that's exactly what I'm gonna recommend!
Along the way, you'll drive through three particularly brilliant stretches: the Norfolk Coast Area of Natural Beauty, The Norfolk Broads, and The Suffolk Coast and Heaths Area of Natural Beauty.
All three offer lovely combos of beaches, marshland, hiking and hills, along with charming villages. Make sure you visit Hunstanton, Blakeney Point (home to the largest seal colony in England), Cromer, Great Yarmouth, and Lowestoft.
This is a great drive for birdwatchers, as there are lots of RSPB reserves dotted around the area. But I think the biggest appeal is all the hiking. I think this is the best possible English road trip for finding great inland hikes right beside the coast—if you want an alluring combination of excellent beaches and hikeable hills, you won't find better than this.
7. The Lake District Loop
England is packed with national parks and other beautiful areas.
But of them all, the Lake District is the most famous. Home to the nation's loftiest peak, and (unsurprisingly) some of its most famous lakes, it's a lovely place, and it's the most popular hiking hub in the nation.
But if you're not up for all of that walking and wandering, you can see some of the Lake District's best bits from inside the comfy confines of a car. I'm not aware of an official route through the place, but there are loads of great roads.
For an excellent loop, I recommend starting in Ambleside, which is right in the heart of the park. Head east to Pooley Bridge (on the route via Ullswater), then across to Keswick and Cockermouth, south to Broughton-in-Furness, and back to Ambleside. This circular route is around 110 miles (177km) with no detours.
Along the way, you'll pass some of the park's biggest highlights, including Helvellyn, Ullswater, Keswick, Windermere, Coniston Water, the underrated western side of the park, and plenty more. You'll never see all of the Lake District in one trip, but this is about as close as you'll get.
8. The Peak District Wiggle
Another inland route, the Peak District is England's next-most-famous national park after the Lake District.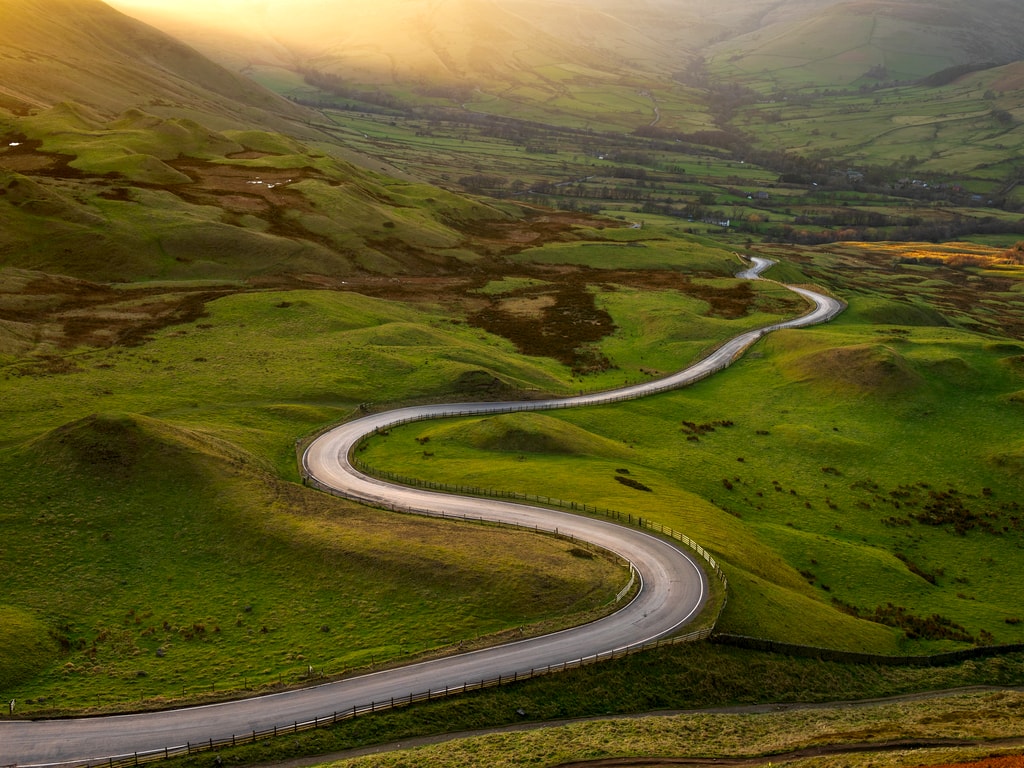 And devising a road trip here is even harder than devising a road trip in the Lake District.
But here's a good route mainly on major roads, that offers lots of day trips and diversions if you want them:
Start in Matlock, just on the southern outskirts of the park. From here, drive to Buxton via Bakewell. Head north to Chapel-en-le-Frith before then cutting east across the park along Sheffield Road. Go past Edale to Hope Valley. From here, head north then west to Glossop, before following the A628 (the steepest road I've ever cycled on) from Glossop to Penistone.
Along the way, you'll stop at some of the region's nicest big towns (including Buxton, Bakewell, and Glossop), you'll see the start of the Pennine Way (at Edale), you'll drive past the famous Ladybower Reservoir, you'll hit caves, lakes and famous peaks, and you'll have endless opportunities for hiking.
If you're looking for a hiking hub to stop off for a few days en-route, choose somewhere in the triangle made by Chapel-en-le-Frith, Hope Valley and Glossop. There are loads of trails in this region, including paths up to Jacob's Ladder and Kinder Scout.
9. North Yorkshire Moors Linear
Another hugely underrated area, I love this part of England. Full of low-level peaks, riverside villages and lonely roads, it's friendly, welcoming and cute.
Again, there are lots of winding roads on which to explore the area. But my favorite route is probably the small ride from Helmsley to Staithes, which measures in at around 33 miles (53km).
Take the route that passes through Castleton—I think it's the prettiest of all the options. Some of the en-route highlights include Hutton-le-Hole, Castleton itself, and Danby. Staithes, your endpoint, is a ridiculously charming seaside village, where you'll want to plonk yourself down on a bench and stay forever.
When you get to Staithes, you have the option to follow the coast south, to make your ride longer—and to take in different types of landscapes. I definitely recommend it. A ride all the way to Whitby is the traditional option, and offers lots of nice coastal towns and villages, along with more fish and chips than you've probably ever seen in your life.
10. The Jurassic Coast
Another shoreline drive, the Jurassic Coast is much less scary than it sounds.
On the western part of England's south coast, this area is just east of the Atlantic Highway, but it's almost as beautiful. You get white cliffs, hidden beaches, beautiful shorelines, and even views of the Isle of Wight!
It's an excellent choice for a family-friendly adventure, with loads of stuff to do with kids. Some of the best kid-friendly highlights include Weymouth's sands, Weymouth's boat trips, Monkey World Rescue Center, and Durlston Country Park.
And on top of all that, you get swimming beaches, towering cliffs, and even fossils!
While you're en-route, always hug the coast as tightly as possible, or you won't see all the best bits. Make sure you also tackle the strange little peninsula with Swanage, Corfe Castle, and all the rest, and definitely make an effort to visit the Isle of Portland.
Top tip: if you have time, I definitely recommend a detour to the Isle of Wight. A circular of the island is a great road trip in itself, and the place has its own steamy microclimate.
11. North Pennines
One of the most underrated natural areas in England, the North Pennines is a lovely place for a drive, and it's perfect for avoiding crowds.
Full of barren moors, flat fields, and some alluring-but-apocalyptic landscapes, I'm infatuated with this area. It's sort of similar to the North Yorkshire Moors, but a lot less populated.
There are countless ways you can cross this officially-designated Area of Natural Beauty, and they're all almost as good as one another. But I recommend cutting across the area north to south, as it's the longest possible direct route, and includes lots of the region's highlights.
Start Lambley and finish in Barnard Castle—there's loads of stuff to enjoy along the way. Check out Lambley Viaduct, the lovely village of Alston, the rapids of Ashgill Force waterfall, and the charm of Barnard Castle.
It's a short route, and you could finish it in a couple of hours. But I recommend spending a long weekend here, and hiking and cycling through the area. If you have time, clamber up Cross Fell, the highest peak in the region.
If you're looking for quiet, unexplored, and underrated, this is the #1 pick on our list. I genuinely love it.
Before You Go
There they are—the 11 best road trips in England. Jump in your car, get that map out, and tackle as many as you can!
If you want to know anything else about multi-day adventures in England, wander over to my guides on the Coast to Coast cycle route, the Northumberland Coast Path, and the Pennine Way.
Oh, and make sure you also check out my selection of the best road trips in Scotland, the best road trips in Wales, and the best road trips in Northern Ireland.
And don't forget to check out my extensive list of the best road trips in the UK.
Being a Digital Nomad: Tips, Tricks and Places
Do you want to be a digital nomad?
If you do, maybe you don't know where you might want to live. Or how to live there. Or whether you need a visa. Or how to make friends in the scary sprawl of a brand-new city. Or how to stay productive while you travel. Or how to find an apartment. Or whether this lifestyle really is for you. Or… I'm sure you get the idea.
But with some insight and experience, it's not as difficult as you think. So in this book, I've gathered my 6 years of digital-nomadding experience… and I've used it to answer all your questions, soothe all your fears, and get you on your way. After reading this, you'll realise being a digital nomad is much easier (and much more possible!) than you think.