11 Best Road Trips in Northern Ireland for Scenic Drives
For such a small place, Northern Ireland is home to a surprising number of excellent and impressive on-road odysseys. So in this guide, I've brought you the best of them, with a big list of the 11 best road trips in Northern Ireland.
I've covered short drives, long drives, coastal routes, mountainous rides, and everything in between. But whatever and wherever they are, they'll all want to make you hop in your car and come join the fun!
Looking for the 11 best drives in Northern Ireland? You've found them!
1. The Causeway Coastal Route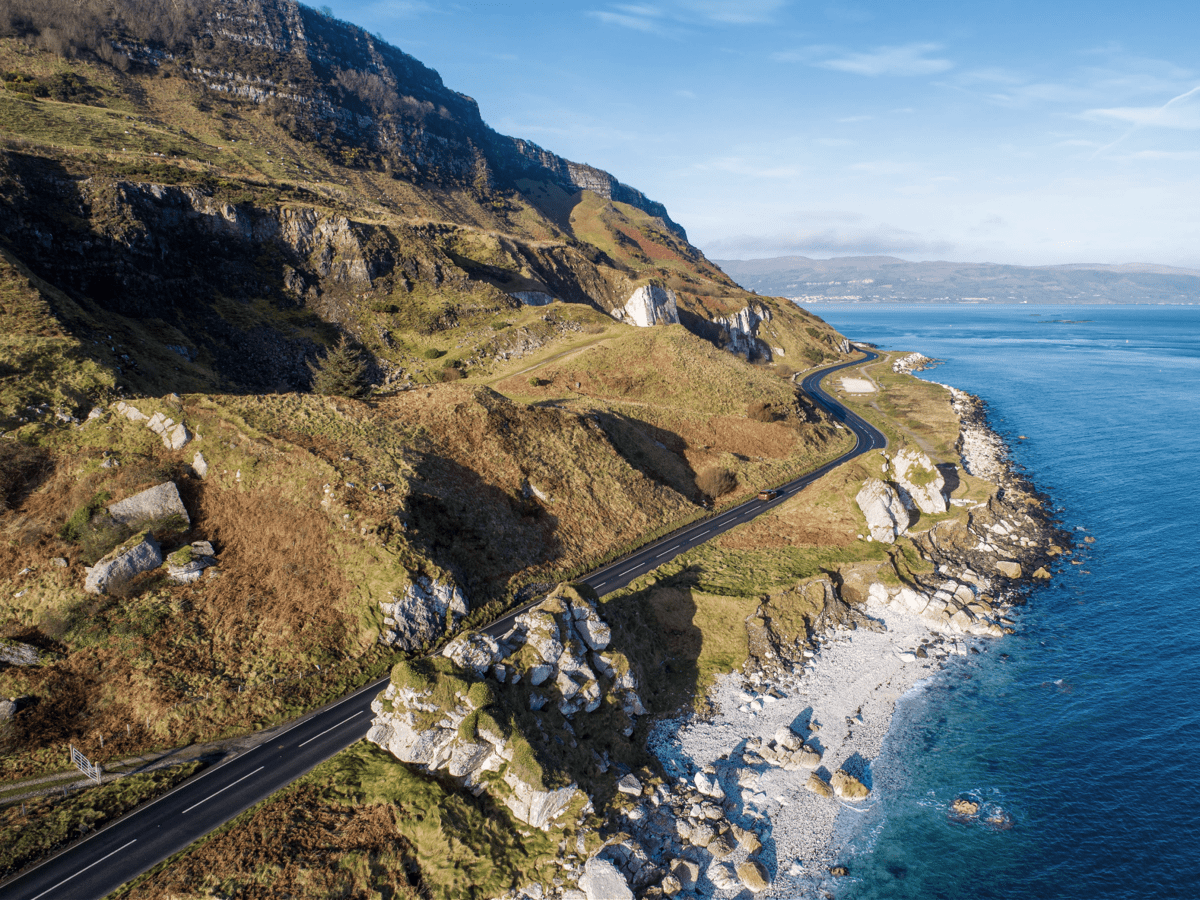 The most famous Northern Irish road trip by a very long way, the Causeway Coastal Route runs between Derry and Belfast, the two most famous (and significant) settlements in the whole of Northern Ireland.
The route runs across the northern and eastern coasts of Northern Ireland for almost its entirety, and takes you to countless famous places. Some of the best include Dunluce Castle, Carrickfergus Castle, lots of beaches, some excellent coastal walks, and Derry and Belfast themselves.
But for most people, the major highlight is of course the Giant's Causeway. The most famous attraction in Northern Ireland (and the attraction which gives this route its name), this UNESCO World Heritage Site is a bizarre geological oddity made up of around 40,000 basalt columns.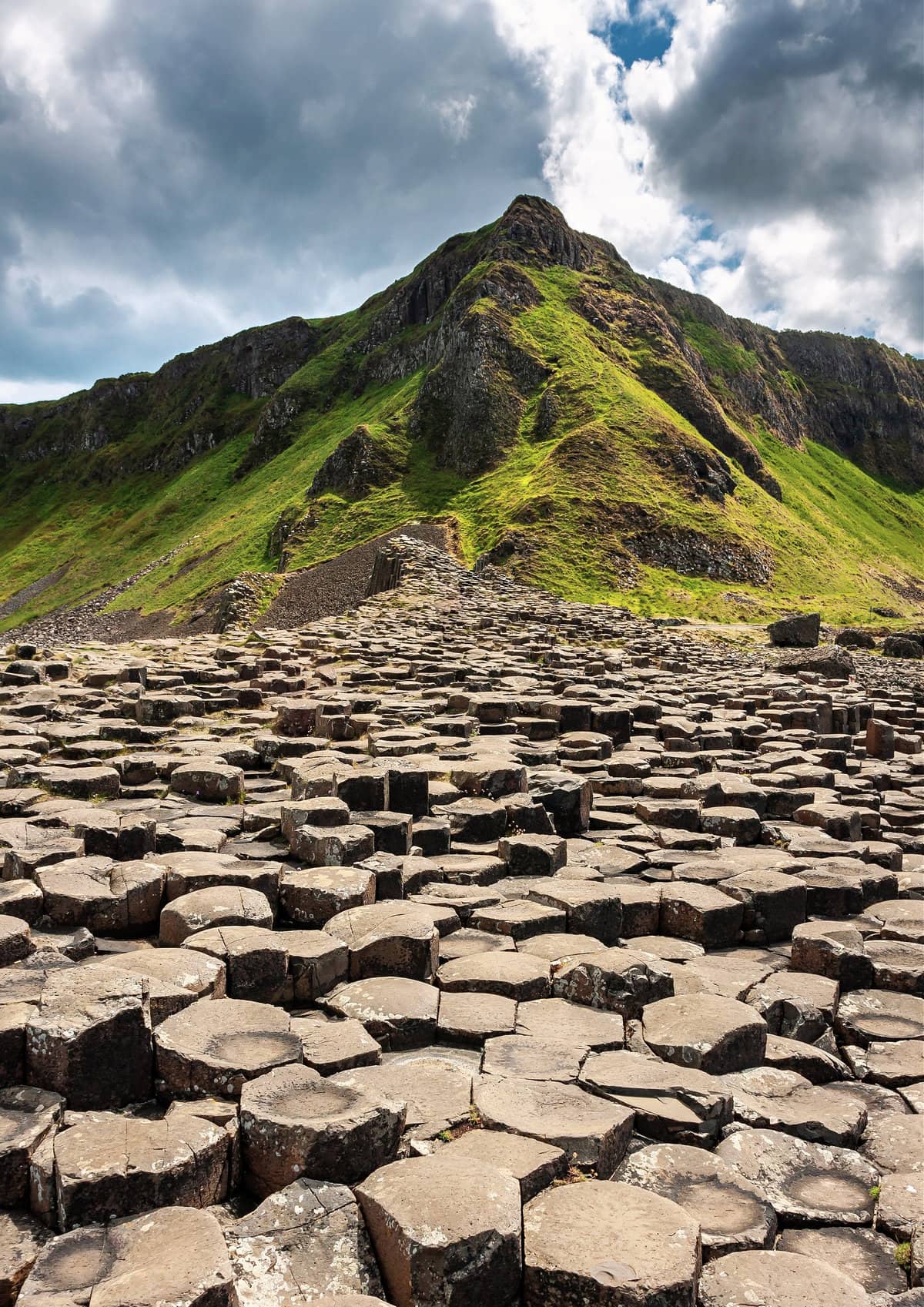 In addition to the main Causeway Coastal Route, there are nine mini loops which you can add to your itinerary for even more fun and adventure. Dotted along the entirety of the drive, these are all relatively small… but if you tackle them all, they'll make your route way longer (and much better!).
In short, if you're going to attempt only one road trip in Northern Ireland, it should be this one. Yes, it's very famous… but it's very famous for a reason.
If you like the idea of visiting these sites but want to go on a guided tour instead to fully enjoy the experience, then get any of the following tours, they are highly-rated by travelers and include many stops along the way. You can't go wrong with any of them.
2. Strangford Lough
More water! But this time, we're following the perimeter of a lake (or 'lough', since we're in Northern Ireland) instead of a seaside coastline.
Because this route follows the whole perimeter of one entire lough, it's perfect for pedantic completionists who like feeling as if they've seen the entirety of one place.
The most logical starting point is the town of Newtownards, at the northern tip of the lough. From here, head to the eastern side of the shore, and return in a big ol' loop to exactly where you started.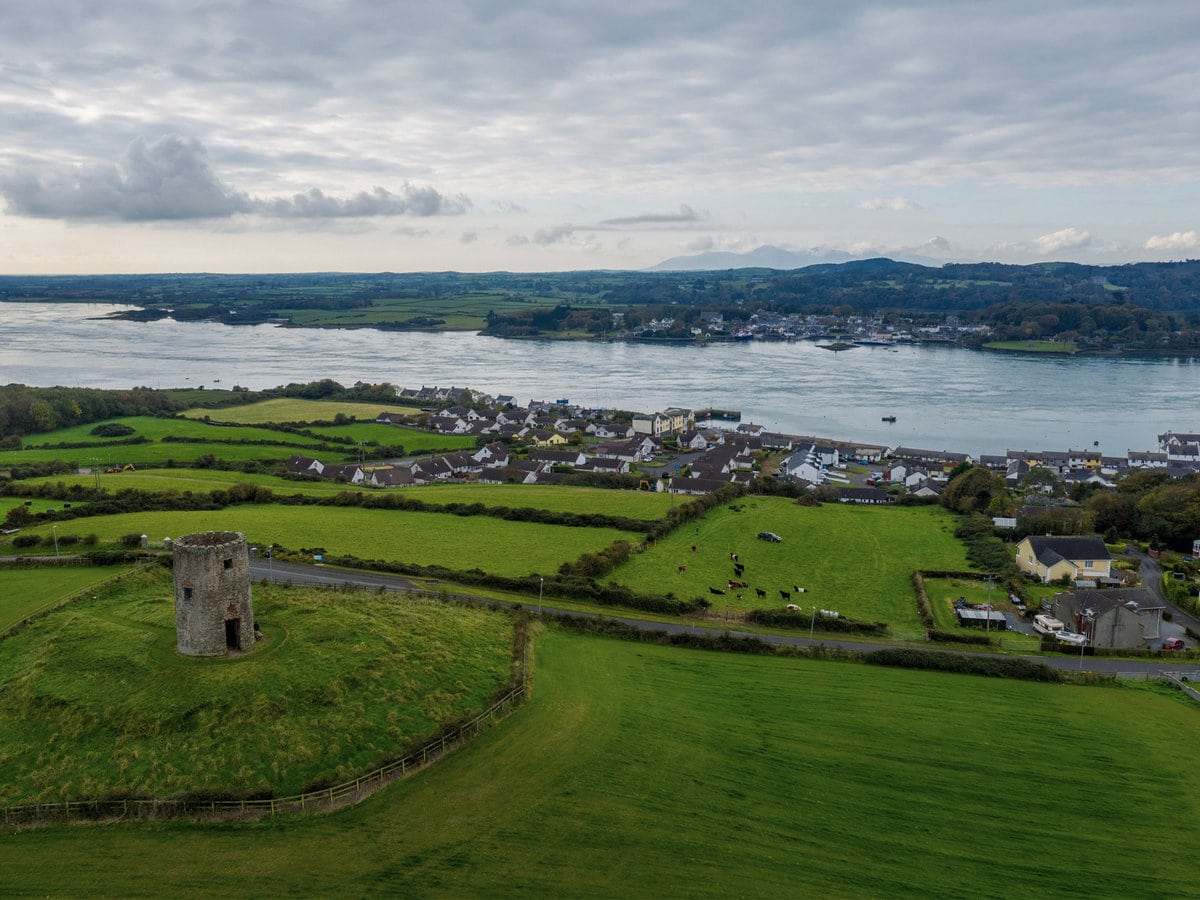 Along the way, you'll pass countless highlights… but some of the best include Mount Stewart mansion, Portaferry Castle, loads of great beaches, more than 300 tiny islands (some accessible, some not), lovely Greyabbey village, and some of the quietest, cutest and underrated settlements that Northern Ireland has to offer.
If you want waterside villages and under-the-radar locations, this is the road trip for you.
At the southern point of the lough, where the water reaches into the sea, there's a small gap between Strangford and Portaferry. To get between them, you need to drive your car onto a small passenger ferry, for one extra adventure. Make sure you book in advance!
3. The Ards Peninsula
Just to the east of Strangford Lough, you have the Ards Peninsula, which is formed by the small inlet which creeps from the lough into the sea.
If you want a compromise between loughside views and seaside views, this route is an excellent option… and I think it's one of the best road trips in Northern Ireland.
Again, the most popular (and logical) place to start is Newtownwards. And just like the route above, you'll follow the eastern shores of the lough until you reach pretty Portaferry. But instead of heading west to Strangford, you instead drive east to the tiny (and charming!) village of Kearney.
From Kearney, follow the seaside all the way to Donaghadee, a pretty and popular tourist destination. You then head west back to Newtownards… and your loop is complete!
This part of Northern Ireland's east coast is hugely underrated. If you're looking for a cute ride with friendly faces, tiny villages, and very few tourists, it's a perfect option. Make sure you visit Portavogie (a wonderful fishing settlement), Donaghadee Lighthouse (one of the best in Ireland) and Ballycopeland Windmill (a remote old-school windmill in the middle of nowhere).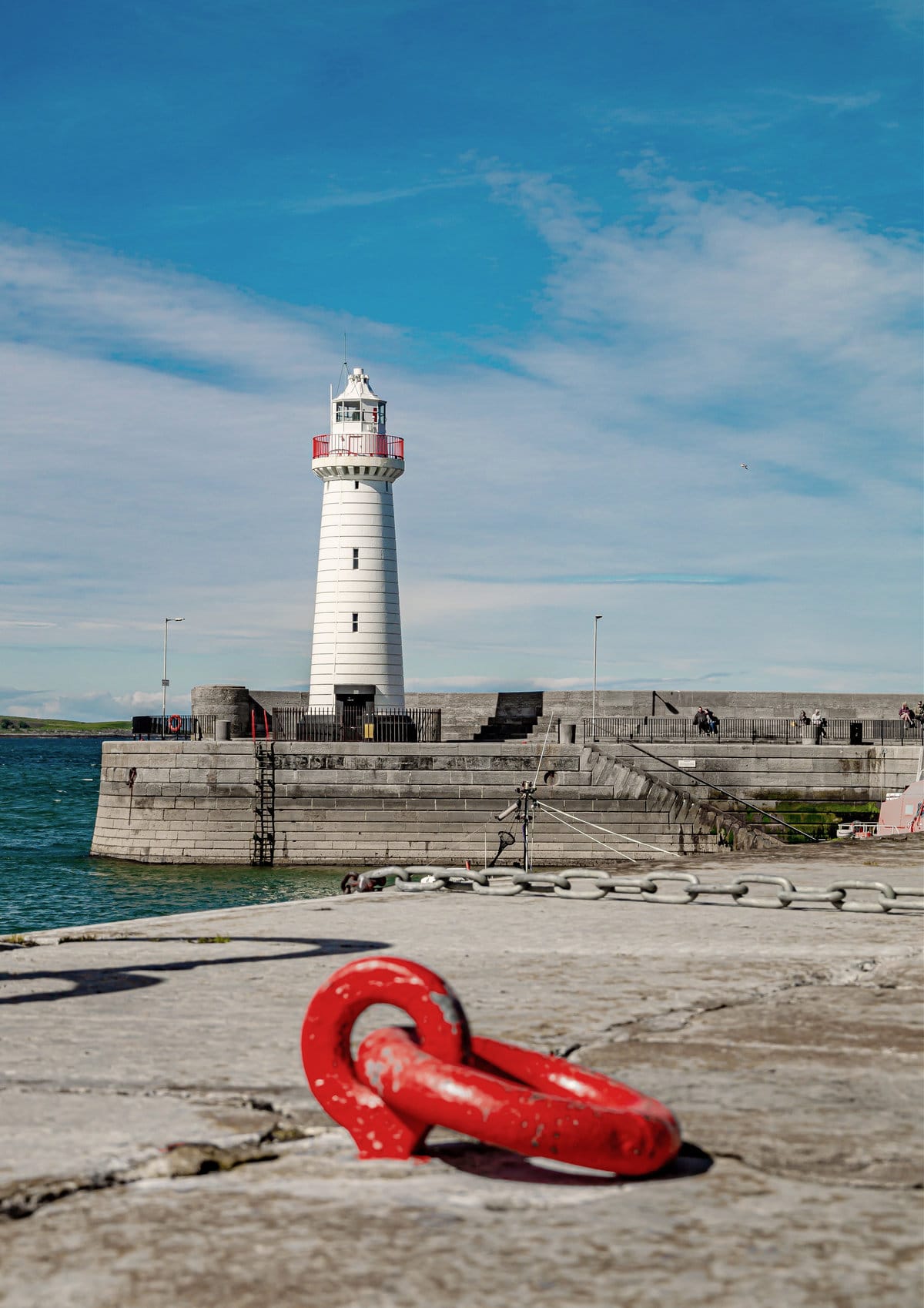 4. Lough Neagh Loop
Another big lough!
The largest freshwater lake in all of the British Isles (measuring in at 391 square kilometers/151 square miles), a ride around the perimeter of this place is absolutely brimming with highlights.
Plonked right in the middle of Northern Ireland, the route around Lough Neagh is different to a ride around Strangford Lough. It's more populated, more popular, and much less remote. Sitting just west Belfast, there's plenty to do here, no matter what you're looking for or who you're traveling with.
If you're a fan of big towns, you'll really enjoy this one. Some of the best en-route settlements include Antrim (which is the best and most logical starting point), Ballyronan and Lurgan, but there are also lots of adorable tiny villages.
But it's not all cities and towns. You'll see endless wildlife (with lots of woodlands, meadows and bird-watching hides), along with many fishers and boat-trippers. You'll also hit bays, beaches, nature reserves, some tiny loughs, and lots of perfect picnic spots.
Try to stick as close to the shore as you can, at all times.
And here's a pretty unique feature of the ride: Northern Ireland has six counties. And if you tackle the perimeter of Lough Neagh, you pass through an impressive five of them (the only one you won't see is Fermanagh).
5. The Mourne Coastal Route
Waymarked, official, and in the very south of the nation, the Mourne Coastal Route is popular and impressive, and it's one of the best road trips in Northern Ireland.
Starting in the capital city of Belfast, and sticking to the coast for its entirety, you follow the Ard Peninsula all the way to Portaferry. From Portaferry, you and your car jump on a ferry before riding along the coast to Ardglass, Newcastle, Annalong and Warrenpoint, then finishing your journey in Newry.
If you want a long coastal alternative to the Causeway Coastal Route, this offers a great compromise between coasts and mountains.
For the first stretch, you drive east of Belfast in the direction of Donaghadee, hitting some of the most popular coastal towns in villages in the entire nation. I recommend stopping in both Helen's Bay and Groomsport.
You then ride down the eastern side of the Ard Peninsula (which we've already covered above), before heading west and driving in the shadow of the Mourne Mountains. Northern Ireland has many mountains, but I think these are the most interesting, rugged and action-packed peaks in the nation.
Before you begin this drive, make sure you explore Belfast—it's a brilliant city with excellent history, heritage and music.
6. High Mournes Scenic Loop
A loftier alternative to the route we've just outlined above, the High Mournes Scenic Loop takes you to some of the highest parts of the Mourne mountains.
While the coastal route shows you the peaks from a distance, this one drives you right through the heart of them. If you want to see endless summits and panoramas without ever having to use your own two feet, you'll absolutely love this route.
You start in Newcastle, before following the B180 and the B27. Once you hit the tiny village of Attica, turn east, and you'll wind up in Annalong. This whole section is brimming with mountain views, with some of Northern Ireland's most scenic vistas. The best part is (arguably!) the section in and around Spelga Dam.
When they reach Annalong, most people end their journey there. But I recommend extending your drive by around 8 miles (13km) and driving back to Newcastle along the coast. Loops are always more satisfying, and this stretch of the shoreline is fantastic.
I can't think of any other short drive that packs this much beauty and variety into its tiny confines.
If you're looking for an en-route hike, hit Slieve Donard, the highest peak in the nation—the road runs right around it.
7. The North Sperrins Route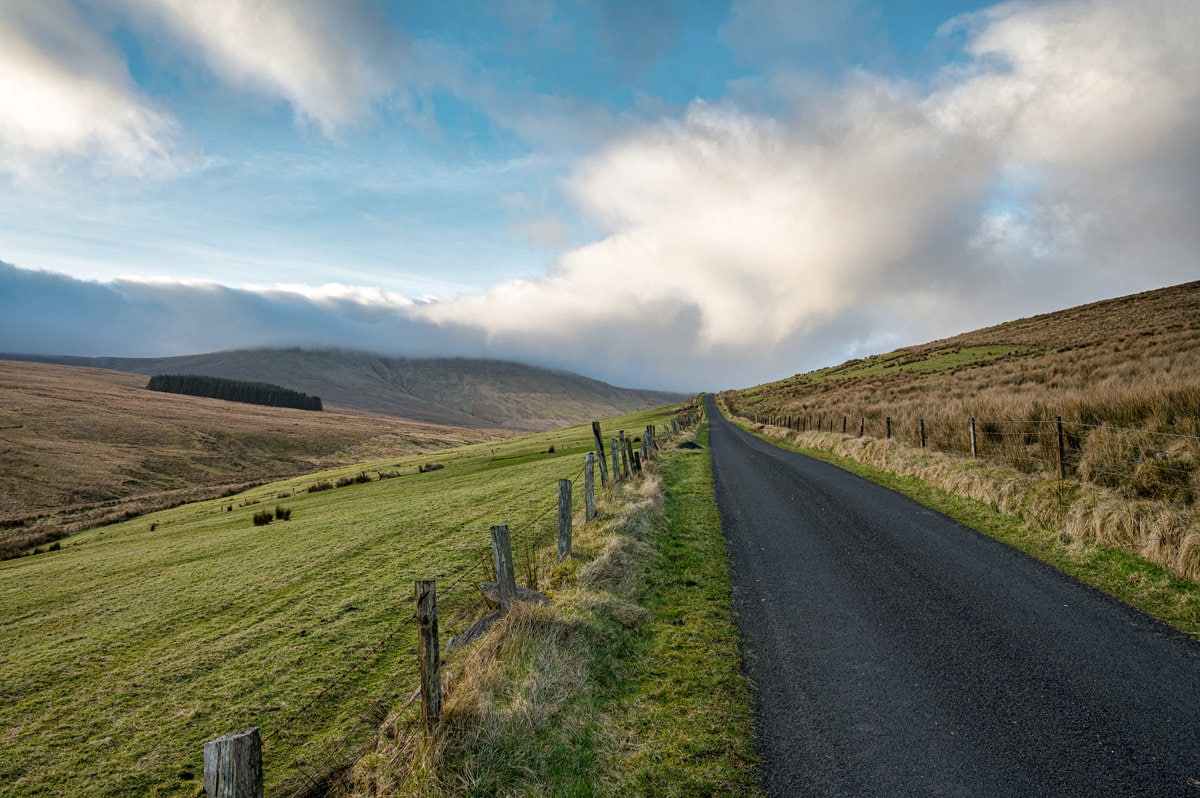 The first of four so-called Sperrins routes (all four of which we've featured, and all four of which run around various parts of the Sperrins region), this is arguably the most well-known of them all.
The Sperrins region is in the western part of Northern Ireland, and features a huge range of mountains. Taking up around one quarter of the entire nation, there's plenty to explore… and that's exactly why there are four official driving routes in this part of Northern Ireland.
Though the Sperrins aren't the biggest peaks in Northern Ireland (the tallest of them all is Sawel Mountain, which measures in at 678 meters/2,224 feet), they're great for anyone seeking outdoor adventures.
The North Sperrins Route runs around 50 miles (80km) of this territory, through forests, valleys, and lots of history. Some historical highlights include Tirkane Sweathouse, Tirnoney Dolmen, and Banagher Old Church.
If you want to attack some high-level intense hikes, this isn't the route for you. But if you like pretty woods, ancient relics, and insight into heritage, you'll likely love it.
8. The East Sperrins Route
The East Sperrins Route is one of the most popular and best road trips in Northern Ireland, as it's perfect for many different types of people.
It's close to lots of exciting hikes (perfect for outdoor adventurers), but it also offers access to lots of kid-friendly stuff, which is great if you're traveling with little ones.
If you're looking for outdoor excitement, you get Iniscarn Forest (with lots of surprisingly-challenging wooded trails), Slieve Gallion (one of the best ascents in the area), a great walk around Lough Fea, the trails of Dava Forest, and decent proximity to Sawel Mountain (if you don't mind taking a little detour).
For people with kids, I recommend checking out The Jungle NI (the best kid-friendly outdoor activity center in the entire nation) and Drum Manor Forest Park. But along the whole route, you'll find lots of play areas, picnic zones, and fields and forests for your young ones to play in.
And no matter who you are or who you're traveling with, make sure you take the tiny detour to OM Dark Sky Park & Observatory, one of the best stargazing spots in the whole of the UK.
9. The South Sperrins Route
The South Sperrins Route begins and ends in Omagh, one of the biggest settlements in this part of Northern Ireland, and a pretty place to spend a day or two.
Make sure you also spend some time in the village of Gortin, one of the prettiest places along this route. Nearby Gortin Glen Forest Park has lots of trails, both for hikes and mountain biking… but there's a five-mile (8km) stretch of this road trip which runs through the area, and it has excellent panoramas. It's one of the best parts of the route.
You should also check out Ulster American Folk Park, a living history experience where you feel like you've stepped back in time.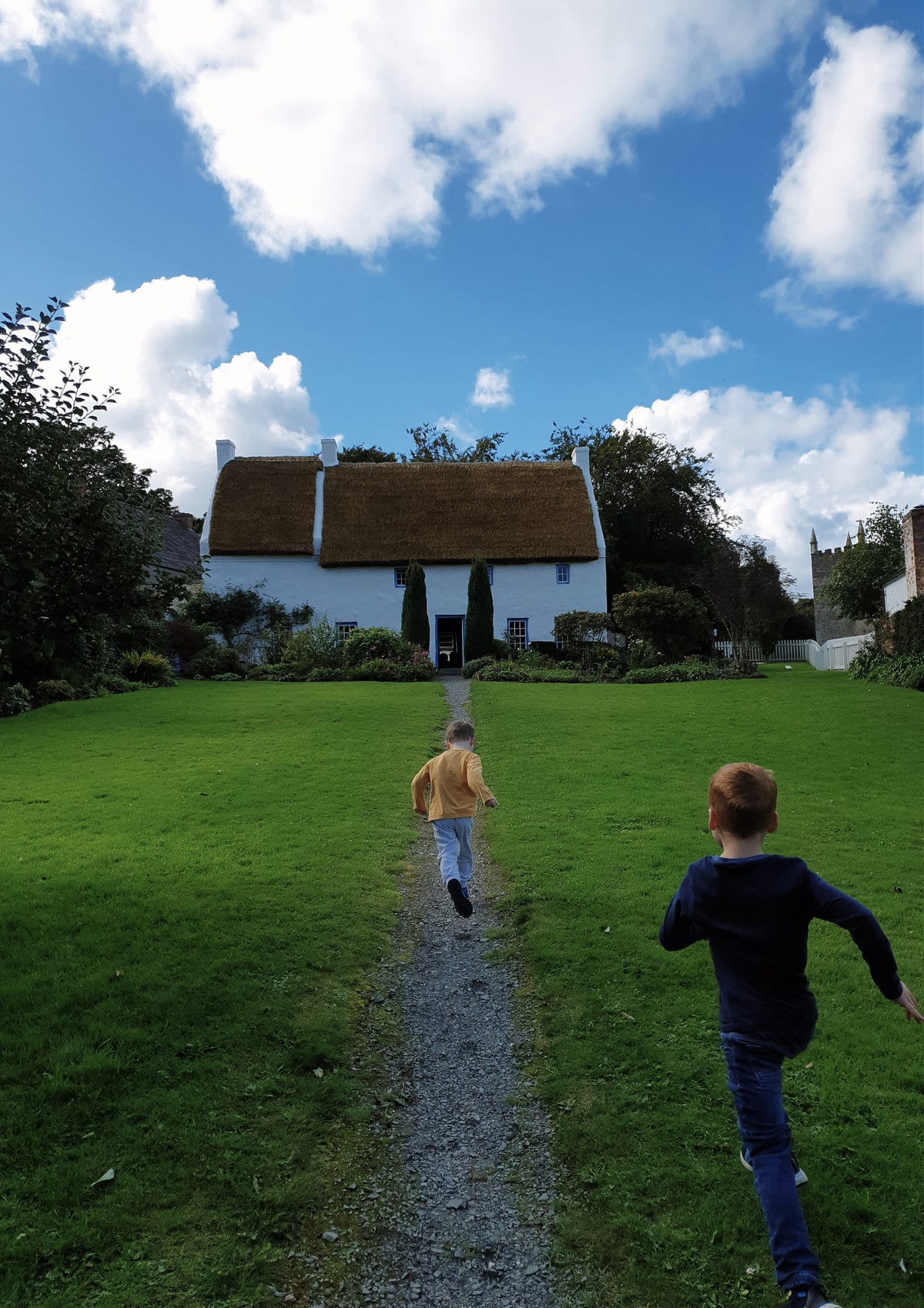 Other highlights include Bolaght Mountain (which sits at only 345 meters/1,132 feet, but the views are much better than you'd expect), Baronscourt Estate, and the Abingdon Collection.
Overall, this isn't the most exciting or exhilarating Sperrins route, but it has some quaint highlights, and plenty of cute, quiet places to spend some time. If you're interested in history, small settlements, and hopping between tiny villages, this is definitely one of the best road trips in Northern Ireland.
10. The Central Sperrins Route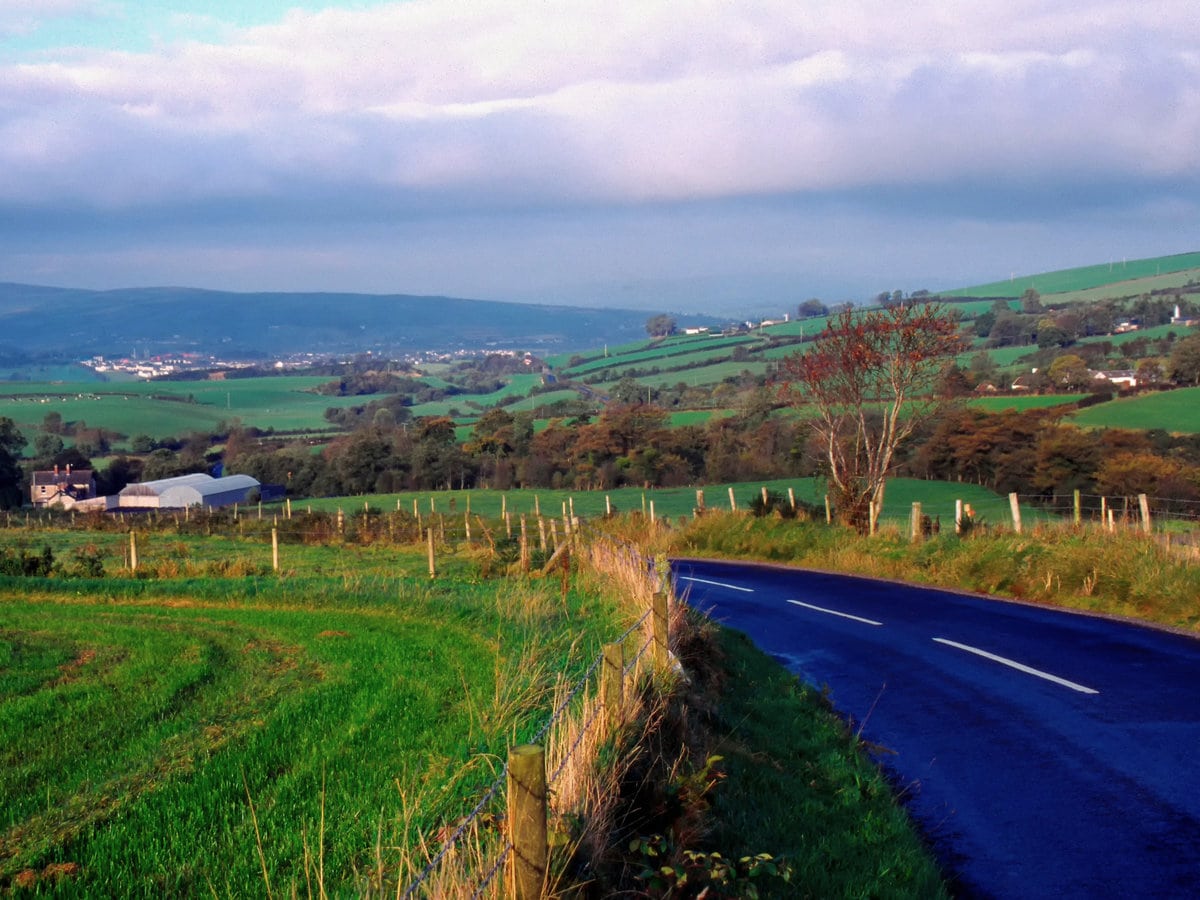 The last of the Sperrins drives we've featured, the Central Sperrins Route is the biggest of them all, measuring in at 90 miles (145km). If you want to see as much of the region as you can, this is of course the choice for you.
It's also a good choice for outdoor adventurers, as the route takes you past lots of great hikes and trails. Some of the best walks include jaunts in Baronscourt Forest, Gortinglen Forest, and the Glenelly Valley—while the ascent up Mullaghcarn is one of the best walks in the whole of Northern Ireland.
But for most people, the hiking highlight is the ascent up the lofty peak of Sawel—this route (of all the four Sperrins rides) takes you closest to it. You can climb it from both Sperrin and Cranagh, which are both official stops along the route.
Some other highlights include the villages of Donemana and Sion Mills, the Aghascrebagh Ogham Stone (with its medieval alphabet), and the pretty town of Strabane, which, by the way, is the best start and end point for the loop.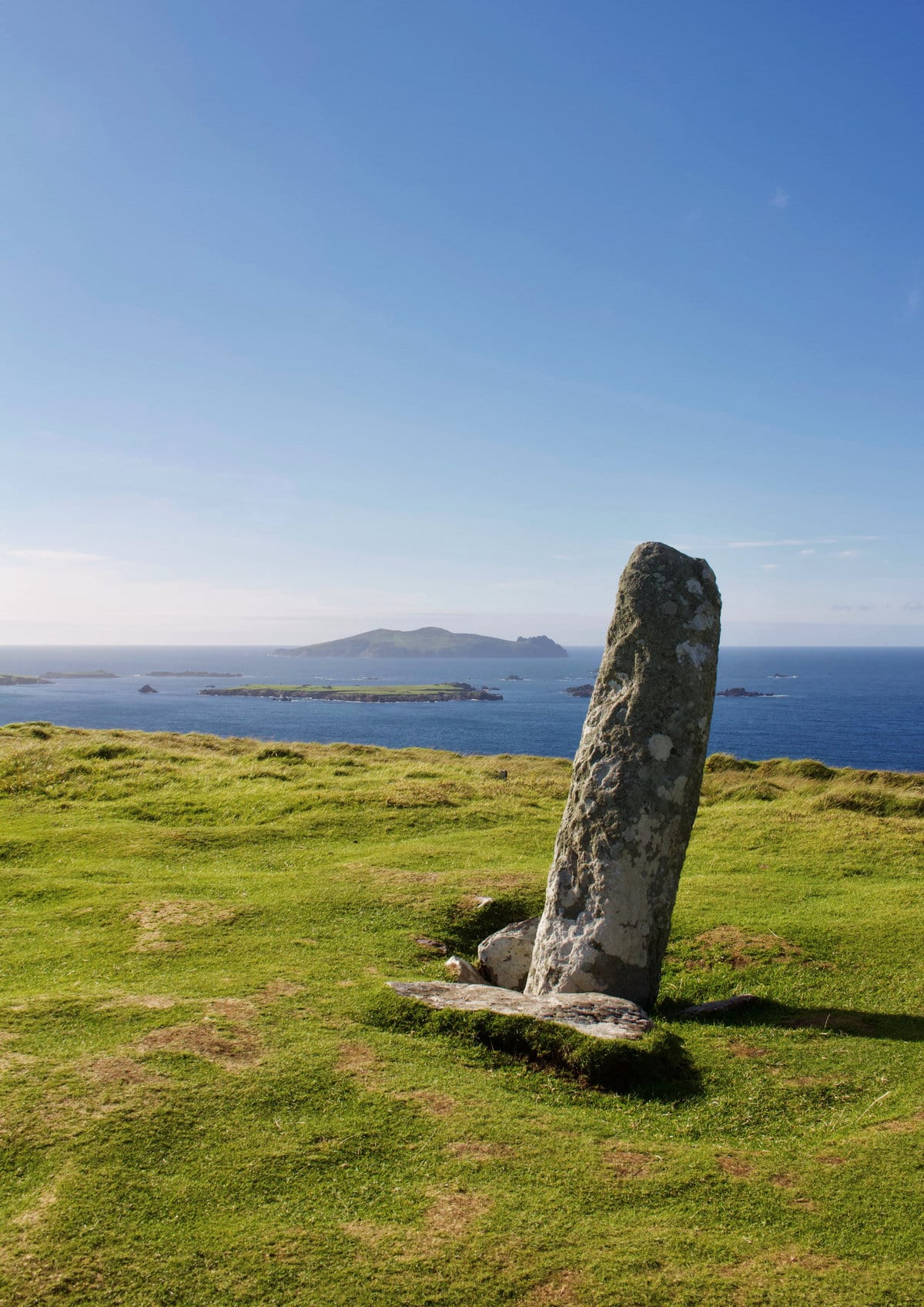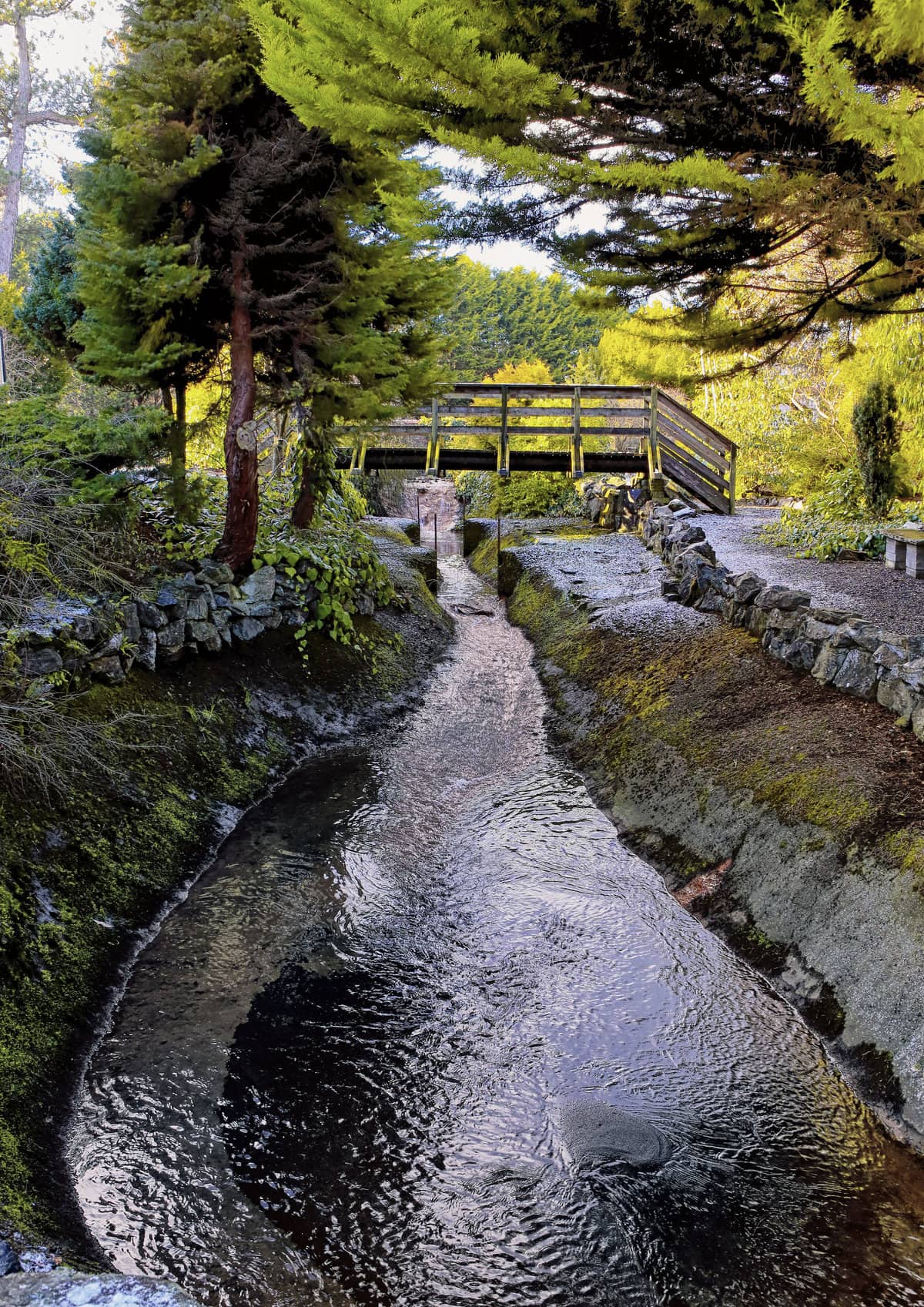 All in all, this is one of the best road trips in Northern Ireland, and it's an excellent way to explore lots of the Sperrins.
11. Belleek to Teemore
Last up on our list of the best road trips in Northern Ireland, we have the linear route from Belleek to Teemore.
The most underrated and unknown entry on our list, it covers a part of the nation we haven't yet touched… and it's outrageously scenic.
But you don't want to take the shortest route. Instead, you should head out of Belleek on the A46, which runs across the southwestern shores of Lower Lough Erne. On this stretch of the journey, you'll find the Cliffs of Magho, Blackslee Waterfall, Tully Castle, lots of tiny islands, and (of course) the beautiful shores of Lower Lough Erne. If you like lakes, you'll love this route.
Once you hit endearing Enniskillen (the biggest town in this part of Northern Ireland), drive on a meandering route taking in Lisnaskea and Teemore. On this stretch of your ride, you'll cross Upper Lough Erne and lots more lovely views.
If you want an underrated journey in an overlooked part of the world, or just a ride you can tackle in a day, this is one of the best road trips in Northern Ireland.
Before You Go
At this point, we pull over, put the handbrake on, have a well-deserved rest, and reach the end of our guide on the 11 best road trips in Northern Ireland. Thanks for following our adventures and thanks for reading!
For even more revving and roads, don't miss our guides to the best drives in Scotland, the best drives in England, the best drives in Wales, and all of the best road trips in the entirety of the UK.
Being a Digital Nomad: Tips, Tricks and Places
Do you want to be a digital nomad?
If you do, maybe you don't know where you might want to live. Or how to live there. Or whether you need a visa. Or how to make friends in the scary sprawl of a brand-new city. Or how to stay productive while you travel. Or how to find an apartment. Or whether this lifestyle really is for you. Or… I'm sure you get the idea.
But with some insight and experience, it's not as difficult as you think. So in this book, I've gathered my 6 years of digital-nomadding experience… and I've used it to answer all your questions, soothe all your fears, and get you on your way. After reading this, you'll realise being a digital nomad is much easier (and much more possible!) than you think.