21 Best Things to do in Ouseburn (by a local)
I was born in Newcastle, so I've (inevitably) spent loads of my life exploring the bridge-packed place.
It's only a little city, but it's surprisingly diverse. Of all its various neighborhoods, my favorite (by a massive margin) is small but lovely Ouseburn (or 'the Ouseburn,' as us locals like to call it).
A hip and happening area, it features animals, bars, riverside stretches, hipster hangouts, plenty of stuff for children, and lots of ways to get all active and excited. And get this: it was recently voted by TimeOut as one of the coolest neighborhoods in the UK.
So in this guide, I've brought you, not 1, not 2 … but the 21 best things to do in the Ouseburn. Get yourself along for the riverside ride!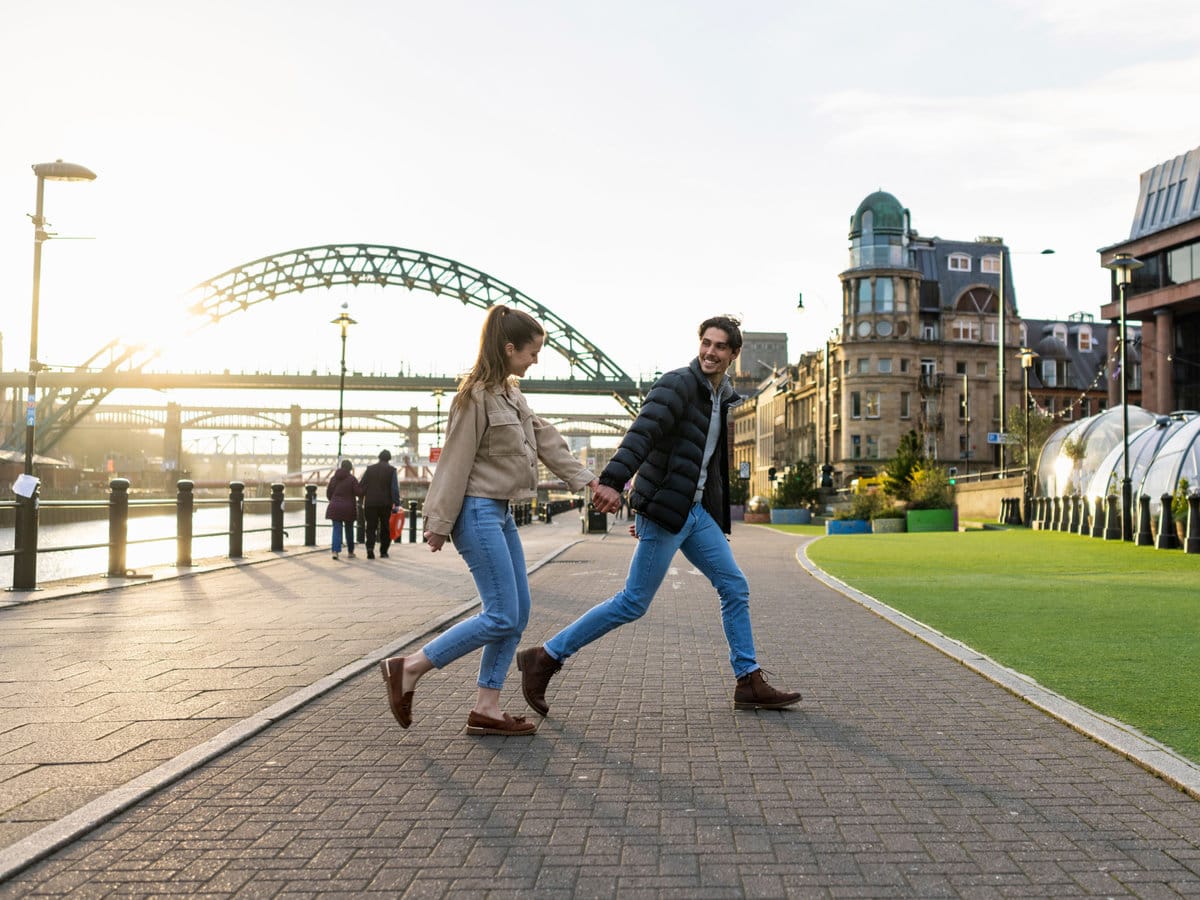 1. Wander Through Creepy Confines of the Dimly-Lit Victoria Tunnel…
If you're on the hunt for actual tourist attractions, this is the best thing to do in the Ouseburn.
A massive wagonway stretching underneath the surface of the city, it was originally built back in the 1800s to quickly and easily transport coal (this part of England has a huge mining heritage).
It was then repurposed into an air raid shelter during WW2, and it has a spooky history of ghost sightings and other allegedly-paranormal activity (if you believe in all that stuff).
Visiting the tunnel is a unique way to learn about the city, its people, and its history and heritage. And because it's a vaguely-creepy tour, it never gets boring or dull. It's been recommended by lots of famous travel guides, and it's won loads of awards.
You can't visit without a guide tour, so make sure you book in advance (via the website below).
But if you want to combine the tunnel experience with even more Ouseburn adventures, I recommend this experience (which also includes a food tour of the morsel-packed neighborhood!).
I wrote a specific and deep (pun intended, ha!) guide about the tunnel, read it next: Discover the Victoria Tunnel in Newcastle upon Tyne.
2. … or Have Your Hand Held on a Guided Tour of the Entire Area
For squeezing lots of history, information and adventure into one short period of time, this is one of the best things to do in the Ouseburn.
These 'back to the future' guided tours (no relation to the film) are organized by the same people who organize the Victoria Tunnel tours—so they're high-quality, well-researched, and well-presented.
All in the short period of 90 minutes, you get juicy tidbits about history, people, places, recent regeneration, and plenty more. Not many tours squeeze this much detail into such a short period—and even lifelong locals can learn stuff from getting involved.
Best of all, the tours are legitimately interesting, and sometimes even funny (good old Newcastle humor). And this is coming from a man who usually despises walking tours from the very bottom of his soul.
3. Munch Some Brunch with Ernest…
There are loads of great food spots in the Ouseburn (and I've covered plenty more coming up soon).
But of them all, Ernest is the most well-known.
They call themselves an "independent cafe bar," but they're most famous for their brunch offerings. Among the breakfasty bonanzas, you'll find all the egg variations you could ever imagine (plus loads more you probably can't imagine), homemade porridge, cinnamon French toast, and one of the best English breakfasts I've ever had.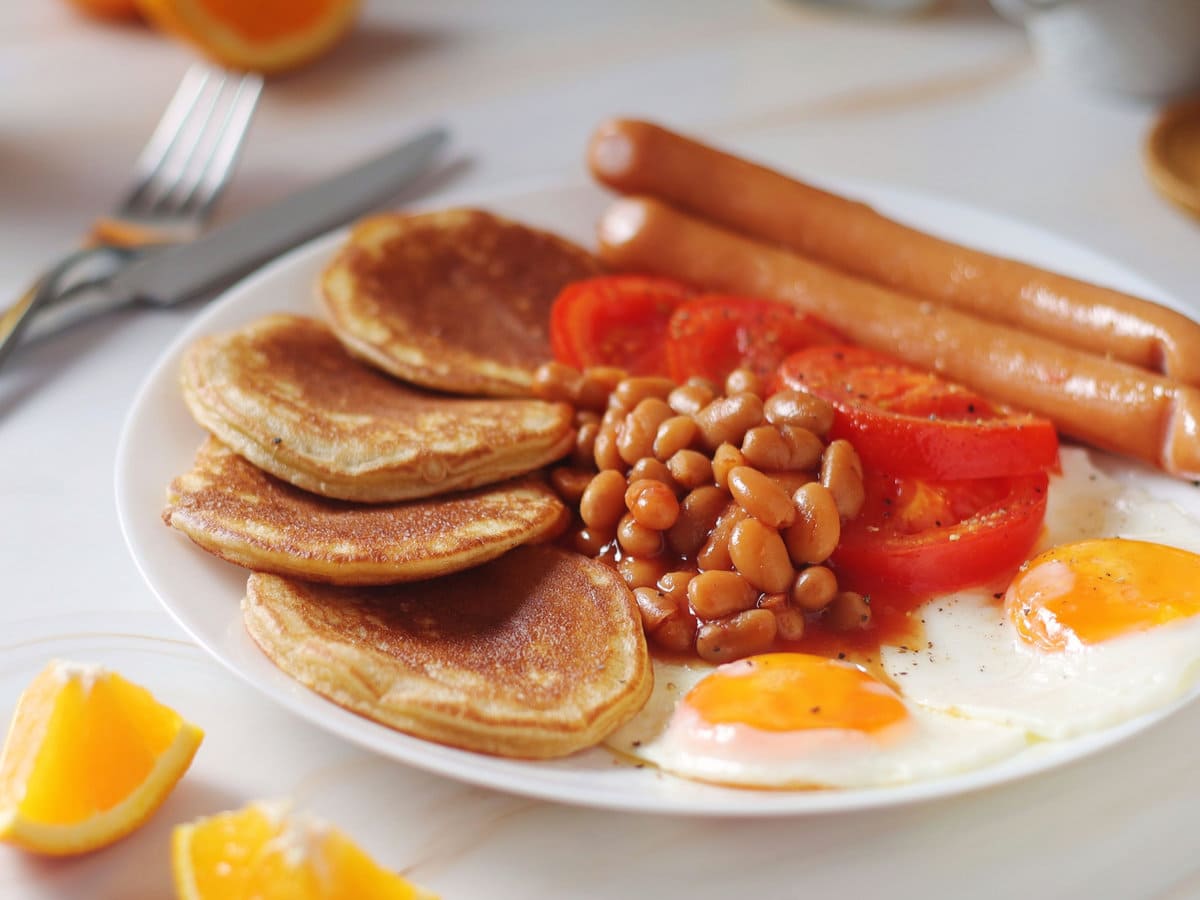 All the food is hearty and tasty, and loads of it is locally sourced.
Other than brunch, they serve grazing platters, hash bowls, lots of lunch and dinner options, and a massive range of interesting drinks.
If you're only gonna eat at one place in the Ouseburn, it should probably be here.
On top of all foodie fun, Ernest is also a popular late-night spot, especially on weekends. They often host lots of interesting events (usually advertised on Facebook), including DJ sets, markets, seasonal specials, and more.
For more places where to eat in the area head over to my selection of the best restaurants in Ouseburn.
4. … or Brunch and Breakfast Elsewhere
Like any happening hipster neighborhood, the Ouseburn is brimming with avocado-on-toast brunch spots. Expect to meet lots of knot-topped beard-loving hipsters, all with a passion for pretentiousness.*
*I'm half-joking. I love you guys really. And I also have a beard.
Anyway, aside from Ernest, you have lots more options for late-in-the-day breakfast foods.
One of my favorites is Kiln… which is somehow the most edgy and artistic brunch-based venue of them all. Yep, this place is a cafe and a restaurant—but it's also a working pottery manufacturer, where you can watch the on-site workers chuck some clay around while you're munching on your eggs.
And if you eat here, you'll gobble from plates and bowls that were made on-site.
Other brunchy munchies in the Ouseburn include meals and morsels at Cook House and the Cycle Hub, but I've covered those places in much more detail soon.
5. Enjoy Some Hands-on Fun at Seven Stories (The National Centre for Children's Books)
One of the most fun museums I've ever visited, this interactive extravaganza isn't just a boring ol' bookfest (though it does have an on-site bookshop).
Instead, it's an exciting adventure packed with costumes, storytelling sessions, interactive exhibits, and seven storeys (spotted the pun?) of fun. Expect to read books, meet some of your favorite characters, and immerse yourself in themed literary worlds.
If you're traveling with kids, this is of course one of the best things to do in the Ouseburn.
They have both permanent exhibitions and temporary exhibitions (including seasonal stuff, like meetings with the Grinch). For some events, you can just turn up. For others, you need to book in advance.
No matter how old your kids are, they'll love this. I was last here a couple of years ago, at the age of 30, and even I had a brilliant time. But then I am a moronic manchild with the brain of a big fat baby.
For more family-friendly fun in the region, here's our list of the best pumpkin patches near Newcastle.
6. Climb and Clamber at the Valley
Alright, this suggestion admittedly isn't for everyone.
But if you like indoor climbing (or 'bouldering,' if you consider yourself an aficionado), The Valley is a genuine must-visit.
I'm not the biggest climbing expert on the planet, but I've visited 20 or so different walls, and this is the best I've ever been to. By a long way.
You'll find a wide range of different challenges (with stuff for very beginners and experienced experts), lots of friendly faces, and some great music.
There are other climbing walls nearby. They are The Pool (set inside an old swimming pool), and Newcastle Climbing Center (set inside an old church), but The Valley is the best of them.
For even more exercise, the neighborhood's Crossfit gym is one of the best gyms I've ever been to. But that's only an interesting insight if you actually live here.
7. (Don't) Eat Some Biscuits…
You'd be forgiven for thinking the Ouseburn's Biscuit Factory is a… biscuit factory.
But it's actually the UK's largest independent art gallery, and one of the city's most interesting cultural venues (and often voted as one of the best galleries in the UK).
Lurking inside, you'll find a massive range of varied stuff, including sculptures, prints, jewelry, crafts, homewares, paintings, drawings and more. There's a big focus on local stuff and emerging artists, and it's all housed inside a former Victorian warehouse (it manufactured biscuits, as you probably already worked out for yourself).
If you like arty stuff, you'll think this is one of the best things to do in Ouseburn.
8. … and See Some Other Art
The Ouseburn is Newcastle's artiest district by a long way—and there's a super-surprising amount of creative stuff crammed into its small confines.
Here are some of the highlights:
And on top of that, you should also head to Kiln, which we've already mentioned. While munching on your meal here, you can watch the potters make pieces and products from clay… and peruse some of the stuff they've made.
9. Buddy Up with Birds and Beasts…
Loveable Ouseburn Farm is lots of little things all crammed into one charming venue. It's a petting zoo, a working farm, a community-led project, and a charity.
They have a garden and an orchard, along with loads of furry friends. The on-site cuties include sheep, cows, pigs, chickens, ducks, and loads of rodents and reptiles. You can meet them, learn about them, pet them, and feed them.
On top of all the animal fun, the team at Ouseburn Farm are involved in lots more great projects, including animal workshops, garden workshops, and employability schemes for local people with disabilities.
I love this place so much. No matter who you are, it's one of the best things to do in the Ouseburn. Traveling with kids? Without kids? With a partner? With your pals? Solo? Who cares—just get yourself here!
You'll probably walk in here with a smile on your face. No matter the case, you'll definitely walk out with one.
10. … or Learn How to Ride a Horse
For even more animal adventures, head to Stepney Bank Stables.
The oldest still-working set of stables in the city, this is another beast-based charity running lots of projects within the local community. Here, you can enjoy one-off lessons, full courses of lessons, or even take horse-based qualifications.
Or if you like, you can just pop along quickly to say hello to the horses.
The Ouseburn is super small, so Stepney Bank Stables is very close to Ouseburn Farm. Perfect if you want a full day of animal-packed adventures!
For even more furry fun, check out our list of the 13 best zoos, animal farms, and aquariums near Newcastle.
11. Munch on Some Highly-Proven Donuts
Proven Goods dishes up the best donuts I've ever eaten (by a very very long way).
They make them fresh every day, and serve them with some of the city's top coffee.
The menu changes regularly, but you can expect relatively normal flavors (such as caramel, and the old 'glazed with sprinkles' classic), along with much-more-unusual stuff (like 'apple, vanilla, and cornflake crunch pudding,' and 'blackberry and cacao nib jam').
If you like sweet stuff, this is one of the best things to do in the Ouseburn, and I honestly can't recommend it enough. The place has a massive reputation in the city.
Get here as early as you can, because I've never known anywhere sell out as quickly as these guys do. The donuts are outrageously popular, and you'll probably need to queue to get in.
For some equally-excellent sweet treats in the Ouseburn, check out Di Meo's, where you'll find a contender for the best ice cream in north east England.
12. Sip and Slurp at Pubs and Breweries
When most locals think of the Ouseburn, they think of all its excellent pubs and breweries. You could easily fill a great day just jumping from friendly pub to friendly pub here (and I should know, cos I've done exactly that plenty of times).
For me, this isn't just one of the best things to do in the Ouseburn—it's the best thing to do in the Ouseburn.
Highlights include:
Other must-visits include Two By Two Brewery and Tap Room, Ouseburn Garden, Brinkburn Street Brewery, and The Tanners (more on that place coming up next).
13. Drool Upon the Best Sunday Roast in the City
Controversial, I know… but The Tanners serves up the best traditional-style roast in the city.
Get your lips around it, and you'll agree.
It's a standard-style Sunday roast, but executed perfectly. Expect roasted root vegetables, buttery greens, succulent meats, stodgy Yorkshire puddings, possibly the best roast potatoes you've ever munched upon, and all the other trimmings.
Even better, it's a really laid-back family-friendly place, with a pool table, some kids' books, and a whole load of crayons, lego, and kid-friendly bites. If you're looking for a family-friendly place to eat, this is one of the best things to do in the Ouseburn.
If you're having a lazy little Sunday and just want to sit around in your underpants, The Tanners also offers collection-only meals… so you can munch on your roast at home.
14. Make Some Bicycling Buddies at the Cycle Hub…
I love cycling, so I'm probably bit biased.
But I think the Cycle Hub is one of the most welcoming and friendly venues in the city.
It's lots of things all rolled into one place: a bike hire store, a bike repair shop, a cafe, and a popular local hangout for the city's cyclists (and even the city's non-cyclists).
Even if you're not into cycling, you should check it out. It has a nice terrace right on the riverside, which is lovely on a sunny day. It also offers affordable food, locally-sourced snacks and cakes, kid-friendly food, and a laid-back atmosphere.
And if you are into cycling, the place is even better. You can get route recommendations, bike advice, and chats with other cyclists.
15. … and Attack a Big Bike Ride
From the Cycle Hub (which, as I've mentioned, sits right on the banks of the river), you can venture along loads of varied bike rides.
Because I love them so much, you're probably bored of me banging on about bike rides here at Travelness. But this is the city's best base for embarking upon adventures both long and short.
If you like action and exercise, tackling a bike ride from here is one of the best things to do in Ouseburn. You have an endless number of options, but here are my top recommendations:
To see these routes and others (and to plan your own ride) use the official map of the UK's National Cycle Network.
… and for more sensational cycling, pedal on over to our guides on cycling in Kielder, and all the best bike rides in and around Newcastle.
16. Wrap Your Ears Around Some Local Live Music
For local live music, the Ouseburn is the best part of Newcastle.
Although big(ish) names sometimes come to the larger venues here, most bars and cafes place a firm focus on local musicians (both established and on-the-rise).
You'll find traditional music venues (such as The Cluny), while smaller venues also repurpose themselves some nights of the week (such as Ernest, Brinkburn Street Priory, and Tyne Bar).
Here's an extensive list of all the Ouseburn venues offering live music. You'll be surprised by how many there are.
You'll normally find the most interesting events at The Cumberland Arms. Which brings us to…
17. Check out Events at the Cumberland Arms
The Cumberland Arms is one of the most-loved pubs in all of Newcastle, and you'll always find the city's artiest residents lurking around in the place.https://youtu.be/43h8Hpx-epw
Along with arty types, you'll also find a stacked calendar of varied events. Expect live music, craft nights, DJs, silent discos, topical occasions (with plenty of stuff for Christmas), quizzes, improv shows, fireside music sessions, open-mic nights, and plenty more. It's a wholesome venue, but without any pretension.
If you like casual pubs, sipping on locally-sourced drinks, or finding strange events, you'll love it.
Even on a non-event night, The Cumberland Arms is a great place to hang out. Pared-back and no-frills, a night here feels like sitting in someone's living room (in the best way possible).
18. Chow Down on Some Food at Cook House
A fairly new addition to the Ouseburn eatery encyclopedia, the Cook House is a genuinely special place to eat.
They place a massive emphasis on seasonal eats, locally-sourced ingredients, and serving up an ever-changing menu of actually-interesting flavors.
Current menu options, for example, include 'slow roast mutton shoulder with winter roots in anchovy dressing', 'confit duck leg with blackberry sauce and pickled cherries, and 'pan-fried pollock with cannellini bean mash, venison nduja butter, and winter greens.' Told you it was interesting.
The food looks and tastes like fine dining, but the atmosphere is typical Ouseburn: it's laid-back and unique, but without any unnecessary pretension. It's a small and welcoming place, and offers a deli, a terrace, a little outdoor seating area, and cookery workshops.
If you're a foodie, visiting the place is absolutely one of the best things to do in the Ouseburn. Enjoy!
19. Buy Some Vintage Stools
Imaginatively-named 'Recycle Your Furniture' is another of those venues you'd only ever find in a gentrified hipster neighborhood.
It's like a generic thrift store, but instead of buying shirts and trousers, you can buy tables and chairs (and loads more homely additions). Perfect if you're trying to save some money, help the environment, or be all socially-conscious.
Like most venues in the Ouseburn, this hangout places a firm focus on community spirit. It might just be a furniture store, but it feels much more homely and welcoming than that.
Best of all, it has a great selection of varied stuff. Some of the furniture is quite new and modern, some is delightfully old-school, and some is utterly bizarre. If you like furniture, design, arty stuff, or just second-hand shopping, you'll love this place.
20. Shoot Your Shot at Gaudy Golf Fang
You know those neon-lit mini-golf places that are all trendy and popular these days?
Well… Golf Fang (formerly known as 'Ghetto Golf'), is Newcastle's version.
Popular, excessive and edgy, it offers 18 holes of brightly-illuminated traps and tricks. It's brimming with bespoke art, loud noises, and inventive areas. It calls itself a "cathedral of graffiti," and you need to be at least 18 to visit.
Some sections are spooky, some sections are funny, and all sections are shocking. Themes include graveyards, Jeremy Kyle, killer clowns, and dirty toilets.
It also offers a stacked menu of food and drinks, so you can come here for a few hours. Lots of people hang around in the bar area for a while when they're finished pitching and putting. The food and drinks are expensive, but that's what you expect in this sort of place.
It's super popular, especially at weekends. So make sure you book in advance.
21. Wander to the Quayside
The Quayside is Newcastle's riverside area, and it's a great place for a wander.
It borders the Ouseburn (quite where one begins and the other ends, no-one seems to know), so any visit to one should always include a visit to the other.
Wander along the river, have some food and drinks, visit the Baltic Art Gallery, look at all the bridges, and take loads of photos. Eating and drinking highlights include CatPawCino (a popular cat cafe!), The Broad Chare, and The Head of Steam.
Try to hit the Quayside on a Sunday if you can, for the weekly open-air market. Iconic, long-running, and filled with strange and unusual stuff, I love this market (and I usually don't like markets).
Or for loads of history and context and all that other stuff, this 90-minute walking tour takes you along the Quayside (and to plenty more parts of the city).
Being a Digital Nomad: Tips, Tricks and Places
Do you want to be a digital nomad?
If you do, maybe you don't know where you might want to live. Or how to live there. Or whether you need a visa. Or how to make friends in the scary sprawl of a brand-new city. Or how to stay productive while you travel. Or how to find an apartment. Or whether this lifestyle really is for you. Or… I'm sure you get the idea.
But with some insight and experience, it's not as difficult as you think. So in this book, I've gathered my 6 years of digital-nomadding experience… and I've used it to answer all your questions, soothe all your fears, and get you on your way. After reading this, you'll realise being a digital nomad is much easier (and much more possible!) than you think.