22 Best Things to do in Newcastle
One of England's most underrated cities, Newcastle is small but charming, diminutive but endearing, elfen but exciting.
Despite the city's relatively small proportions, there's plenty to do, with way more excitement and adventure on offer than most people realize.
I'm from Newcastle, so though I'm not gonna call myself an expert (but you can if you like), I know all of the city's hidden attractions. Want some top tips on under-the-radar stuff to do in Newcastle? I've covered all of that along with some of the city's more well-known stuff.
Some of it niche, some of it popular, some of it weird, I've brought you the lot.
TripAdvisor won't give you most of this stuff. Here are the 22 best things to do in Newcastle:
1. Make Friends
Here we go – my first entry and my first cliche.
Here's an impression of people from Newcastle talking about people from Newcastle:
"Eeeeh, everyone in Newcastle is so friendly. Wey aye man, you've got to go there. Everyone will be your friend and buy you a drink and give you a kiss. Howay the lads!"
People from Newcastle love telling you that people from Newcastle are friendly. But then, people from everywhere love telling you that people from Newcastle are friendly.
And it might be a cliche, but it's absolutely true.
(If any of the words in that fictional but beautifully-written monologue confused you, we'll get to that soon).
2. Pass the Pease
When you're in Newcastle, you need to try pease pudding. A niche local delicacy, it's Newcastle's (sort of) answer to hummus.
While you're at it, have a stottie as well. Or both together, with ham.
You should also try saveloy dip, pan haggerty and a Greggs pasty.
British food is infamous for being unapologetically stodgy, and I wish I could say that any of the above will contend that reputation. But it won't.
3. Have a Wander in the Grainger Market
The Grainger Market is iconic. A classic English indoor market, it's been serving Newcastle's residents since 1835. It's one of the oldest traditional markets in the UK, and it feels like shopping did since before your grandmother was born.
It's been packed with grocers, butchers, fishmongers and other traditional market stalls for nearly 200 years. But it's now also a bit of a hipster haven, with lots of trendy eateries, coffee places and second-hand stores. For a trendy combination of retro throwbacks and hipster hangouts, The Grainger Market is great.
The Grainger Market is also an excellent place to grab some cheap meals and morsels, with brilliant lunch options for even the barest of budgets. If you want an interesting midday meal, it's the best place in Newcastle.
4. Take Your Tastebuds on Tour
If you're terrified of getting lost in the gastronomical labyrinth that is Newcastle, you can get a food tour in the city.
Newcastle's food scene is surprisingly huge (and surprisingly amazing), so if you want to find the best foods, restaurants and local delicacies, it's the only way to find it all.
5. Go North
If you like hiking, head north from Newcastle to hit Northumberland, the most northern region in England. Packed with endless opportunities for hiking, climbing, cycling and making friends with sheep, it's one of the most remote areas in the whole of the UK.
If you like outdoor adventures without the evergreen crowds offered by some of the world's more popular natural areas, you'll love Northumberland.
If you're keen to do more Googling on Northumberland's best natural spots, start with Simonside, Kielder, Hadrian's Wall and The Cheviots. They're four of the best green spaces in the region.
6. See the Sea
The coastline around Newcastle is one of the best coastlines in England. And it's hugely diverse.
If you're looking for coastal towns near the city centre, Tynemouth and Whitley Bay are excellent picks. But if you want fishing villages, barren stretches of sands and cliffside castles, head further north to… you guessed it… Northumberland.
7. Enjoy Some Art…
Newcastle has lots of galleries. Here are some of the best:
The Baltic: one of the best modern art galleries in the UK, the stuff here is incredibly varied and experimental. Some of it is amazing, some of it is terrible, but that's modern art. (This gallery is actually in nearby Gateshead rather than Newcastle, but let's not get into the details).
The Laing: if you prefer traditional art, The Laing is the best bet. There's lots of excellent stuff in here, including some great stuff from local artists both old and new.
The Biscuit Factory: the UK's largest independent commercial art gallery, this place (unironically) was once a biscuit factory. The modern interiors are an artwork of their own, and the stuff inside is massively diverse.
Hatton Gallery: the university's on-site art gallery is surprisingly brilliant.
8. And Some Cinema…
For excellent cinema, Newcastle is one of the best cities in the UK:
Tyneside Cinema: one of the best cinemas in the whole of the UK, with a brilliant program of stuff old, new and cult.
SIDE Cinema: this tiny independent place offers an intimate setting and lots of weird events. If you're interested in unusual cinema, you'll love it here.
Star and Shadow: this community-run cinema specialises in gigs, exhibitions and other strange attractions.
Newcastle also has lots of great commercial cinemas too, if that's your thing.
9. And Some Theatre…
Considering its relatively diminutive dimensions, Newcastle has lots of great theatres. The best are:
Northern Stage: this place specialises in new writing and modern theatre. If you like contemporary stuff, it's the best place to find it. They also have great Christmas shows.
Theatre Royal: for pantomimes, tribute acts and famous shows, this is the best venue in Newcastle. The building itself is beautiful, and it's one of the best architectural sights in the city.
Live Theatre: interested in local theatre? Promoting excellent local talent is the the major speciality here, along with a fantastic intimate setting They also specialise in new writing.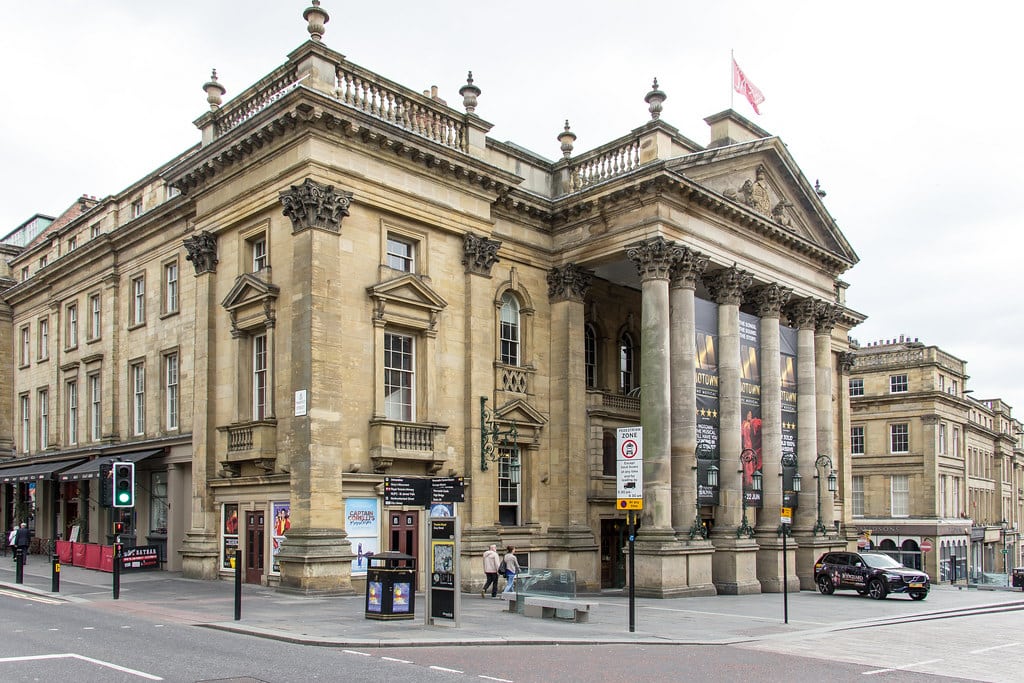 10. And Some Museums!
Some of Newcastle's best museums include:
Discovery Museum: free and interactive, this is a great place for kids (and adults who behave like kids) to learn about science, ships and Newcastle's history.
Hancock Museum: want to see dead ancient Egyptians? Or stuffed animals? Or fossils? If you like natural history, you'll love it here.
Life Centre: one of the best science museums in the UK, this place has excellent interactive exhibits including an innovative motion simulator.
Seven Stories: the only museum in the UK dedicated exclusively to children's books, this is a haven for kids.
Beamish: okay, this place is outside of Newcastle, but it's close by. A living interactive museum of gargantuan proportions, this is like time travel without all the bad bits.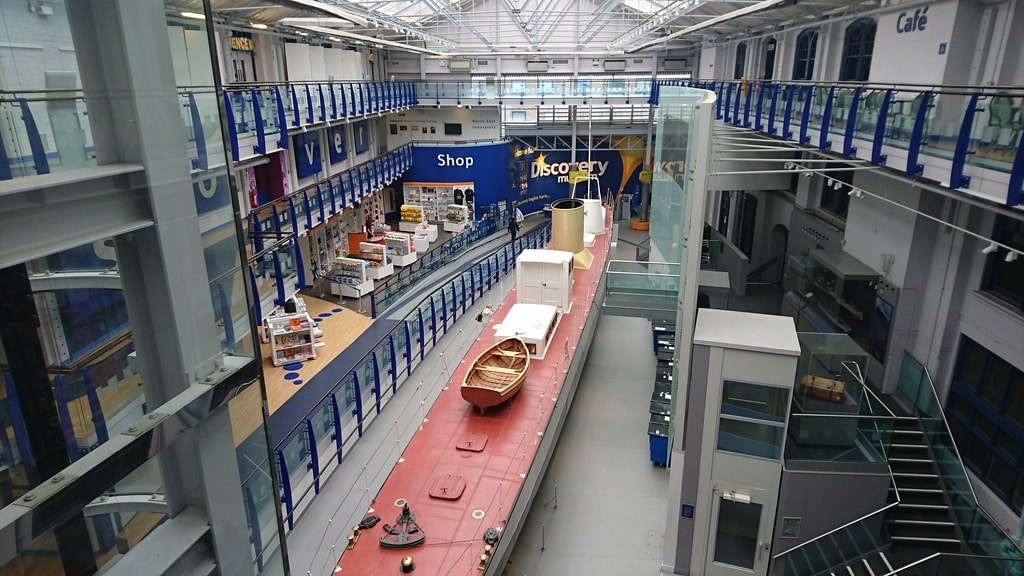 11. Tunnel Your Way out
Well, not literally.
But Newcastle does have a famous tunnel, and you should visit it. A preserved 19th-century wagonway which runs under the city, its subterranean confines were originally built to shuttle coal before later being used as an air raid shelter.
Now, it's one of Newcastle's most unique attractions, and it's massively popular. If you like history, weird attractions, stumbling around in the dark or repeatedly hitting your head off the ceiling, you'll love this.
12. Jesmond Dene
This area is a great place for a stroll. Or a cycle. Or a climb. Or for a splash in a waterfall.
In short, if you like natural areas in city centers, go to Jesmond Dene. It's packed with dog walkers, wanderers and lots of great greenery.
It won't be enough of an adventure for people who really like outdoor escapades, but as far as inner-city green spaces go, it doesn't get much better, with its 4-mile route taking you down to Newcastle's central Ouseburn area.
It even has a petting zoo.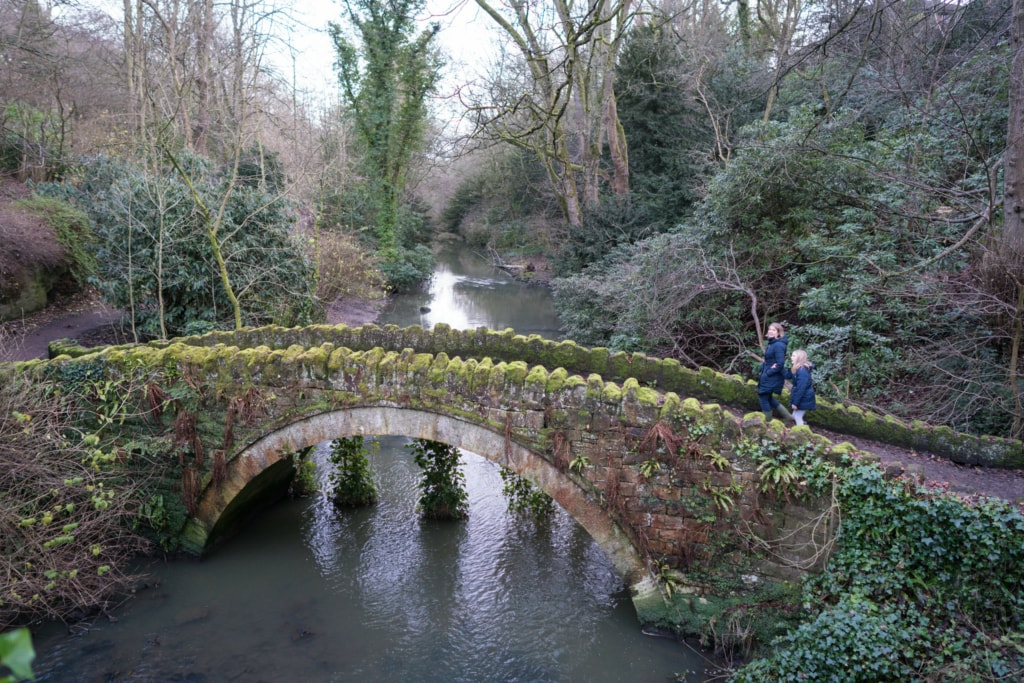 13. Feel the (Ouse)burn
Remember when I said above that Jesmond Dene takes you down to Newcastle's Ouseburn area? You should, because it was only two sentences ago.
Well, the Ouseburn area of Newcastle is a hipster paradise, and it's packed with quirky pubs, breweries, bars, eateries, gyms, and cafes. Like avocado on toast? Or stupid shapes frothed into your coffee? Or young men with inexplicably disgusting mustaches? You'll love the Ouseburn.
But all sarcasm aside, it's my favorite part of the city, and lots of locals love it. If you like local hipster hangouts, spend some time in the Ouseburn.
Here are the best things to do in Ouseburn. All the 21 of them!
There's a petting zoo here too. Newcastle seems to like petting zoos.
14. Have a Ride
The Hoppings – which hits the city every summer – is a Newcastle institution, with a history dating back to 1882
One of the biggest traveling fairgrounds in the world, you haven't experienced Newcastle until you've ridden on one of the Hoppings rides while fearing for your life.
Aside from the rides, the atmosphere itself is excellent, somehow teetering somewhere between menacing and almost-unbearably exciting.
15. Get Spooked
If average walking tours bore you – and they absolutely bore me, I think they're terrible – take a grisly one instead. They're an interesting and unusual way to become acquainted with Newcastle.
Focused on murder, mayhem and the macabre, these tours offer tales of gangsters, criminals and other people you probably wouldn't want to introduce to your grandma.
Other tours offered by the same company include tours on old Newcastle, historical Newcastle (I'm not sure what the difference is either) and the iconic Quayside. Not sure what that last one is? Read on…
16. Bridge the Gap
Newcastle's Quayside area is legendary. With a legendary river, 7 sexy bridges and lots of cafes, cyclists, runners and dog walkers, it's a wide open space perfect for soaking up the city's atmosphere. It's also the city's best spot for people-watching.
For many locals, the Quayside is the most attractive part of the city.
Like visiting the most picturesque parts of the places you're visiting? Go to the Quayside.
17. Borrow a Bike
Newcastle has some great cycle routes, some of which lead from the very centre of the city.
From Newcastle's centre, you can cycle in all directions on specifically-designed cycle routes, which are hugely popular throughout the UK.
Cycle routes include coastal jaunts, riverside cycles, trips to Sunderland and rural adventures. If you don't have your own bike (which, since you're on vacation, you probably won't), you can easily rent one in the city. If that's your plan, check out the Cycle Hub on the Quayside, who offer great bikes, great coffee and great service.
If you do rent a bike, you can (at certain times) take your bike on Newcastle's Metro system. So if you cycle somewhere and can't be bothered to cycle all the way back, you don't even need to.
18. Meander on the Metro
What's the Metro? Luckily for you, I'm here to answer my own question.
Newcastle's iconic Metro system is an excellent public transport network and it's the biggest UK Metro system outside of London. For getting around Newcastle and some of its surroundings, it's great.
19. Meet Your Match…
Football is a huge part of Newcastle's landscape, both literally and metaphorically. And so too Newcastle United's stadium, St James' Park. It looms over the Newcastle skyline, like an ominous shadow reminding citizens of how abysmally bad their football team is.
But despite the poor performances on the field, the support in the stadium is perpetually loyal.
If you like football (don't call it 'soccer' you weirdo), you should watch a match at St James' Park. It won't be the best football you've ever seen, but it'll likely be the best support.
20. Or See a Gig
If you prefer live music to live sport, you should check out some live music in Newcastle instead. The UK has a reputation for incredible live music, so any city is a great place to catch some of it, but Newcastle is one of the best.
For big gigs in the presence of stadium-style headline names, go to the Utilita Arena. Otherwise, the city is home to lots of much smaller (and much better) venues which play host to lesser-known names.
My top picks are 02 Academy, The Cluny, The Sage and Filthy's. But there are plenty more.
21. Get Board
Like board games? Me too.
Board game cafes are massively popular throughout the UK, and most cities have at least one. But one of the best in the whole of the UK belongs to Newcastle.
Haven't heard of board game cafes? Well, they're like normal cafes but with hundreds of board games for you to rent and play. In Newcastle's Meeple Perk, all games are free to play – you just have to pay for coffee, or cake, or whatever else you fancy chomping on. They've got classics, family favorites and loads of incredible stuff you haven't heard of.
But best of all, the food is great, the decor is cute and the two people who own the cafe are ridiculously lovely people.
This is my top pick for hidden gem adventures in Newcastle.
22. Be Confused
I started this list with a cliche, so I thought I'd end it with one too.
It's called bookending. It's a writing technique, look it up.
In Newcastle, you'll probably struggle to understand everyone, at least at first. The Newcastle accent is notorious for being hard to understand, and pretty much everyone struggles with it – even people from other parts of the UK.
Want to know more? My guide to the Newcastle accent might just (sort of) clear things up.
In Short…
… there they are – the best 22 things to do in Newcastle!
From football to cycling to death-defying rides, Newcastle has plenty of action and adventure on offer. And lots of it flies under the radar for the vast majority of travelers.
Want to know more about Newcastle? We've got everything you need on our site, from the best places to stay to the city's best eateries to even more reasons you should visit the city. Or looking for a handy online dictionary to all the weird made-up words you'll hear? We've got that too.
If you want to take a break from the city, check out my guide on the best day trips from Newcastle, and then go dip your toes in the best beaches near Newcastle.
Stick with us to learn more!
Being a Digital Nomad: Tips, Tricks and Places
Do you want to be a digital nomad?
If you do, maybe you don't know where you might want to live. Or how to live there. Or whether you need a visa. Or how to make friends in the scary sprawl of a brand-new city. Or how to stay productive while you travel. Or how to find an apartment. Or whether this lifestyle really is for you. Or… I'm sure you get the idea.
But with some insight and experience, it's not as difficult as you think. So in this book, I've gathered my 6 years of digital-nomadding experience… and I've used it to answer all your questions, soothe all your fears, and get you on your way. After reading this, you'll realise being a digital nomad is much easier (and much more possible!) than you think.