Top 13 Best Day Trips From Newcastle-upon-Tyne
I was born in Newcastle, and I've spent lots of my life in and around the city and its surroundings.
Because I'm such a little local genius, I know all the best day trips from Newcastle-upon-Tyne, so I've put together this guide to share them with you. In it, I've included varied stuff featuring hiking, towns, cities, beaches, kid-friendly activities, and plenty more.
For some of these day trips, you need a car. But for others, you can quickly and easily use public transport.
Anyway, enough of all the boring introductions, here are the top 13 day trips from Newcastle…
Best Day Trips from Newcastle for People with Kids
1. Beamish Museum
Beamish is both brilliant and bizarre, and it's way more than just a mundane ol' museum.
Billed as 'The Living Museum of the North,' the place is a massive collection of open-air exhibitions that transport visitors back in time. You can enter an ancient coalmine, visit an old pub, go to a Victorian school, ride a 1910s tram, buy candy from an old-school sweet shop, and loads more.
In short, if you and your kids want to feel like you've had a fun little ride in a time machine, go to Beamish. It's massively interactive and engaging, and the attention to detail is brilliant. I'm 31, and I was there about three years ago, and I loved it. But I am a big baby.
Distance from Newcastle: 10 miles/16km
How to get there: The 28 and 28A buses go directly from Newcastle to Beamish
Time taken to get there: 1 hour
How much time to spend there: All day
2. Washington Wetland Center
Alright, I've got a confession to make. I've never actually been here. But if it makes you feel any better, people with kids love it, loads of people tell me it's brilliant, and one of my friends always tries to talk me into visiting (hello Nathan, sorry we haven't had time to do this).
Washington Wetland Centre has more than 100 acres of land, all covered in cute little critters who like living in damp, wet, watery conditions. You get birds, otters, dragonflies, baby animals and loads more.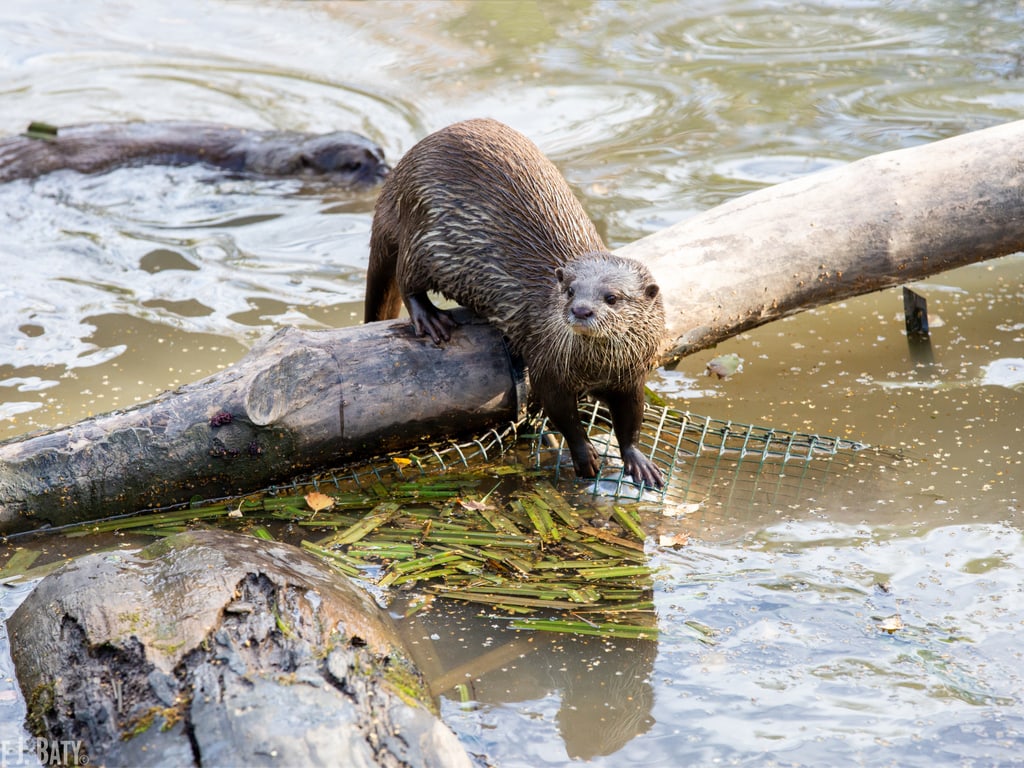 But even better, this place isn't just an everyday zoo or farm. It's a natural wetland area where birds stop off on their migration routes, and lots of animals live wild. It's dedicated to preserving and promoting the planet's natural wetland zones.
Aside from all the fun animals and views, there are lots of regular events and activities here, and a great play park for kids.
Distance from Newcastle: 10 miles/16km
How to get there: It's easiest to rent a car, or you can take public transport by jumping on two consecutive buses
Time taken to get there: 30 minutes by car
How much time to spend there: 3-4 hours
3. Alnwick Castle and Gardens
This is probably the most popular family attraction near Newcastle, with loads of varied stuff.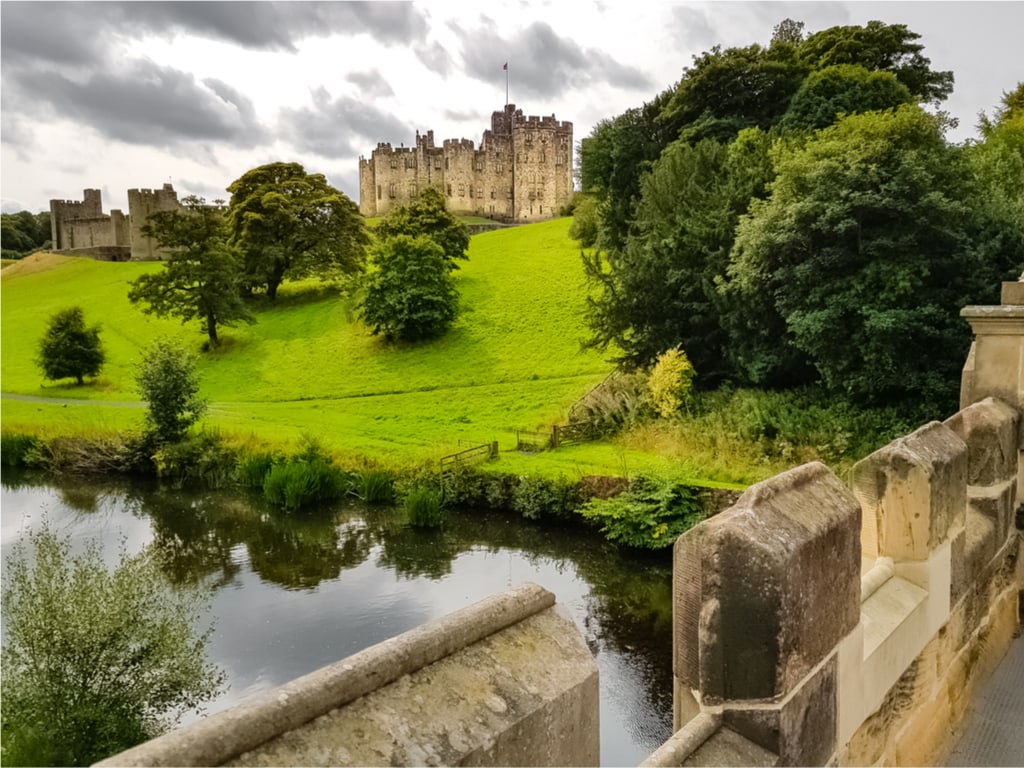 The second-biggest inhabited castle in the UK, Alnwick Castle offers huge gardens (including a poison garden, a maze, and some of the biggest fountains you've ever seen), medieval displays, guided tours, a treehouse restaurant, craft demonstrations, live performances, kid-friendly events, mazes, and much more.
There are also loads of Harry Potter-themed attractions, installations and events at Alnwick Castle—parts of some of the movies were filmed there.
Alnwick itself is a nice little town, and has the best second-hand bookshop in England (Barter Books, in case you're wondering). So when you're finished at the castle, wander around Alnwick's cosy cafes and labyrinthine streets.
Distance from Newcastle: 35 miles/56km
How to get there:Take the X15 bus from Newcastle
Time taken to get there: 90 minutes
How much time to spend there: All day
Best Hiking Day Trips from Newcastle
4. Hadrian's Wall
If you're thinking about hiking in Newcastle, you're probably already considering a visit to Hadrian's Wall.
One of the most significant Roman sites in the UK, Hadrian's Wall is, as you've probably worked out for yourself… a big long wall.
But it's not just that: it's also the site of one of England's best multi-day walks, an 84-mile (135km) jaunt through beaches, towns, farmland, hills and historical sites. The route largely follows the boundary where the entire wall once was. Lots of it is no longer around, but quite a few portions still stand.
You're probably not going to walk the whole thing (though you should if you have time). So if you're just looking for a small stretch to visit, go to Sycamore Gap. A big lone tree standing in a mini valley, it's one of the most photographed sites in northern England.
But more than that, Sycamore Gap is along the best stretch of Hadrian's Wall, it's close to a car park, and it's near a couple of Roman forts. It gives you all the best bits of Hadrian's Wall, but in a conveniently tiny area. Get to Steel Rigg car park, and have a wander.
Distance from Newcastle: Sycamore Gap is 40 miles/65km away
How to get there: Get from Newcastle to Hexham by train before then getting on the AD122 bus from Hexham to some of the places I've mentioned above. Of course, it's easier to drive
Time taken to get there: 1 hour by car
How much time to spend there: 2-12 hours, depending on what you do
5. The Cheviots
The Cheviots are home to the biggest mountain in Northumberland (or hill, depending on how pedantic you are). So if you reckon you're a proper little hiker with a passion for peaks, get yourself there.
The highest peak itself is called The Cheviot (how imaginative), and it measures in at a relatively lofty 815 meters.
The other big peak here is Hedgehope. You can hike up both Hedgehope and the Cheviot in one challenging but rewarding loop—it's one of my favorite hikes in Northumberland. Or if you want something a bit more gentle, just wander up Harthope Valley instead, where you get great views of both peaks.
The whole area is beautifully barren and boggy, filled with moorland and rolling hills.
If you like waterfalls, go to Linhope Spout, on the southern side of Hedgehope. It's a really popular hangout spot for kids, families, couples, and everyone in between.
Distance from Newcastle: 60 miles/96km
How to get there: Drive
Time taken to get there: 90 minutes
How much time to spend there: Around 2-5 hours
6. Simonside
The most popular hiking spot in Northumberland, loads of locals come here for a quick but rewarding wander up the Simonside ridge. It's a simple, easy and accessible walk, but the views massively outweigh the effort needed to get them. Full of heather, farmland and rocky outcrops, it's a lovely hike.
When you're here, visit Rothbury, the market down just underneath Simonside. It has a lovely riverside area, and nice pubs and cafes. If you want to visit a charming Northumberland town while you're in Newcastle, this is one of the best.
While you're in the area, you should also visit Cragside. One of the best and biggest manor houses in the region, it's great for history, hiking and heritage. The gardens are massive.
Distance from Newcastle: 35 miles/56km
How to get there: Rent a car and drive (though you can get the X14 bus to Rothbury if you only want to explore the town instead of Simonside)
Time taken to get there: 1 hour
How much time to spend there: 3 to 4 hours
7. Kielder Reservoir
The biggest reservoir in Europe, the perimeter of Kielder measures in at a hefty 26 miles (42km). It's really popular with hikers, mountain bikers, fishers, day-trippers and loads of other outdoor adventurers. And because it's located in one of Europe's biggest areas of dark sky, it has a mega-famous observatory.
I'm not going to say much more here, because I've already covered the area in ridiculous detail in my bumper guide to the best things to do in Kielder. See you there!
Distance from Newcastle: 50 miles/80km
How to get there: You need to rent a car
Time taken to get there: 90 minutes
How much time to spend there: All day, depending on what you do
Best Town and City Day Trips from Newcastle
8. York
York is further away than most of the other Newcastle day trips I've recommended. But it's totally worth the journey.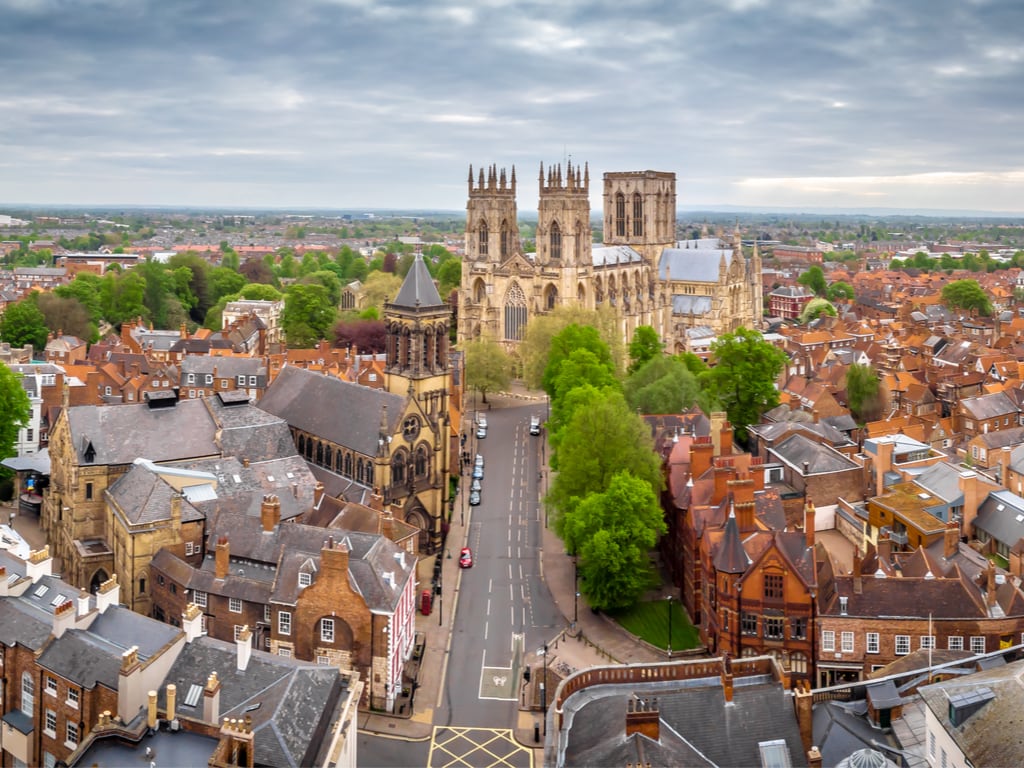 Properly medieval, you've probably never seen anywhere like the city of York if you're visiting from outside the UK. And even if you're not, it's still lovely.
A maze-like mixture of cobbled lanes, ancient stores, charming alleyways and tiny doorways, walking around York makes you feel like you've accidentally wandered into 1342. The big attraction here is The Shambles, one of the world's best-preserved medieval shopping streets. Other attractions include the massive Gothic sprawl of York Minster (a gigantic cathedral), Jorvik Viking Center, and a beautiful riverside area.
Just like Alnwick Castle, York has loads of connections to Harry Potter. The main ones can be found in the streets of The Shambles, which look like they've been plucked from a Harry Potter movie. Cashing in on the tenuous premise, loads of the stores now sell movie-related paraphernalia. It's pretty cool for kids, but if you're an adult, I don't know why you're buying a wand or a sorting hat or whatever.
Distance from Newcastle: 90 miles/145km
How to get there: Direct train
Time taken to get there: 1 hour
How much time to spend there: All day
9. Durham
Only a few minutes from Newcastle on the train, endearing Durham was also used in some of the Harry Potter movies.
(No, I promise I'm not JK Rowling writing under a pen name).
The main filming site was the humongous sprawl of Durham Cathedral, which is absolutely worth a visit, even if you don't believe in wizards.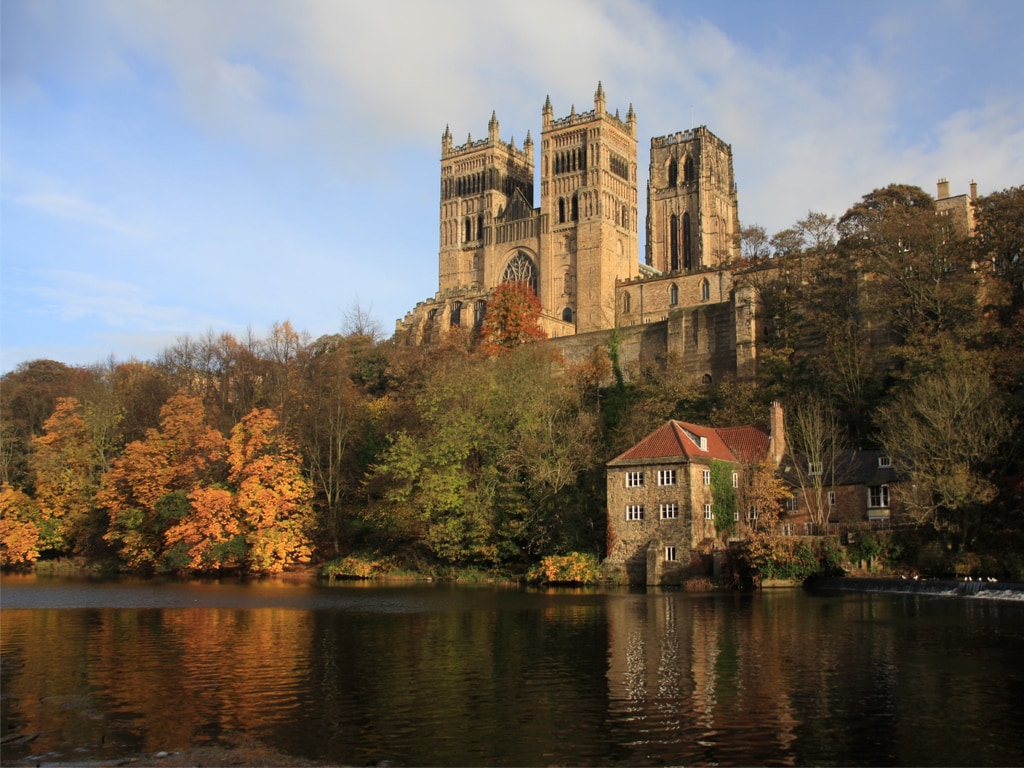 Aside from that, Durham is a small and pretty city, with a castle, cobbled streets, a nice riverside area, and a botanic garden. It's not the most exciting city on the planet, but it's small, attractive and charming, and it's a popular, simple and relaxing day trip.
Distance from Newcastle: 17 miles/27km
How to get there: Take a direct train from Newcastle
Time taken to get there: Around 10-15 minutes
How much time to spend there: All day
10. Holy Island
Holy Island isn't a town or a city, but it's a strange little settlement of its own, so I've put it in this list anyway.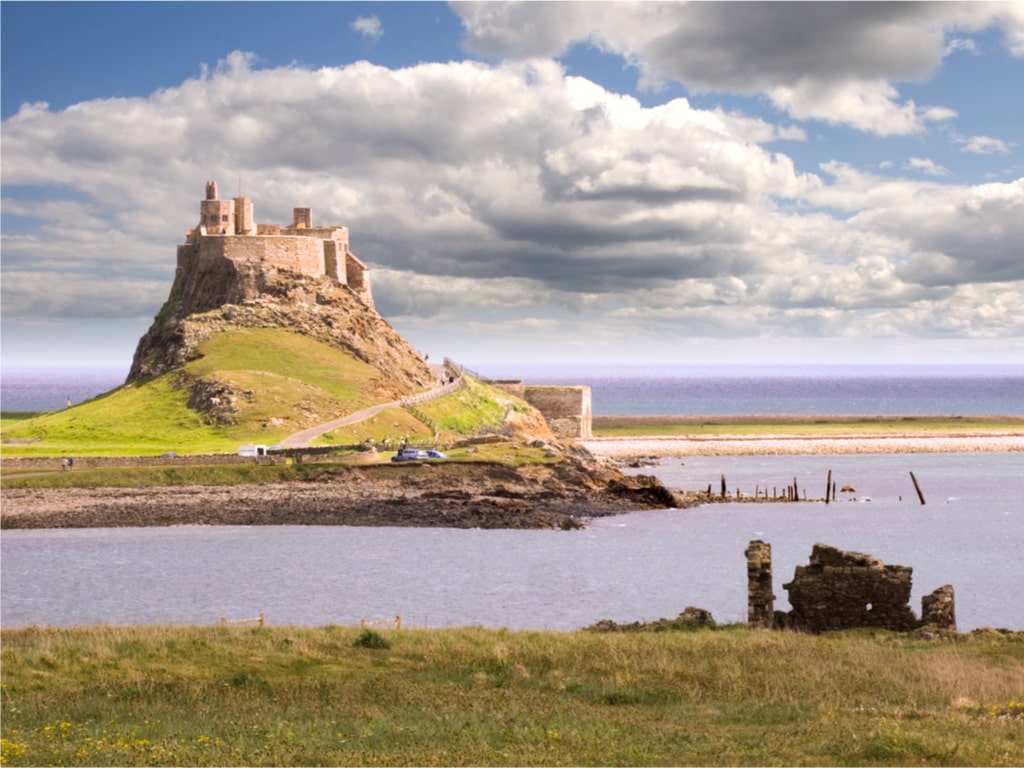 Holy Island (or Lindisfarne, as you might know it) is like something from a weird fairytale. Connected to the eastern English mainland by a semi-submerged causeway, the place is only accessible when the tides are out.
Because of that, the place has a desolate, near-apocalyptic atmosphere. Lonely and remote, less than 200 people live here
Now though, it's also a tourist attraction, with lovely views, great beaches, a castle, a priory, and a local winery. There's even another tiny island connected to Holy Island by another half-submerged causeway. Again, it's only accessible when tides are low. It's like Matryoshka Dolls, but with islands.
Distance from Newcastle: 60 miles/96km
How to get there: Rent a car
Time taken to get there: 90 minutes
How much time to spend there: All day
Other Day Trips from Newcastle
11. Endless Beaches
Newcastle has a ridiculous number of nearby beaches.
They're all totally different from one another—some are barren and bleak, some are in big towns, some are flat, others are covered in cliffs. Loads of the Northumberland beaches are in an officially-designated 'Area of Natural Beauty.' Fancy!
Here are some of my favorites:
Tynemouth, Whitley Bay and Cullercoats: these three small towns are within 3 miles (5km) of each other, so you can easily visit them all in one day. The coastline between them is incredible, and they're all charming, trendy, cafe-stuffed settlements.
Seaton Sluice: massively underrated, Seaton Sluice also has lots of places to eat and drink, but it's a little more rural and humble than its northern neighbors. My favorite spot is the harbor—go down to it and follow the river through Holywell Dene for a lovely walk.
Alnmouth: My favorite coastal town near Newcastle, Alnmouth has beautiful beaches and lovely orange-topped buildings. While you're in Alnmouth, have a wander to Amble and Warkworth, two nearby towns. All three are popular tourist spots.
Bamburgh: Home to one of the best beaches in Northumberland, and absolutely the best castle in Northumberland, Bamburgh is great.
Seahouses: If you're traveling with kids, this is the best beach near Newcastle. Here, there's mini golf, ice cream, fish and chips, and brilliant boat trips to the distant (and uninhabited) Farne Islands.
Craster: A little more desolate and atmospheric than most other beaches in the region, Craster is alluringly barren. Explore the rocky beach, visit massive Dunstanburgh Castle, say hello to all the sheep, and eat some hyper-local (and smelly) kippers.
South Shields: To get to South Shields, you can take a public transport ferry over the River Tyne (exciting!). Once you get there, you've got arcade games, fish and chips, kids' rides, endless cliffs, and loads of great beaches. This is a great pick for families.
And that's only some of them!
Distance from Newcastle: Various, but Tynemouth, Whitley Bay and Cullercoats are the easiest to access if you don't have a car
How to get there: For Tynemouth, Whitley Bay and Cullercoats, just get the Metro from central Newcastle
Time taken to get there: 10 minutes
How much time to spend there: All day
12. Angel of the North
This isn't the most exciting place in the world, but it's a 20-meter-tall local icon. And it's a simple trip, perfect if you're seeking something easy.
A massive angel-shaped structure looming over the major A1 road, apparently 33 million people drive past this thing every year.
Loads of locals use this statue as a sort of waymarking landmark—when they venture home after a while, they know they've made it when they see this big behemoth, which is Britain's biggest sculpture
You can't spend very much time here, but it's really easy to access, and it's massively impressive. And because it's on a big field, you can take a picnic and sit around in the sun (assuming it's not raining). And yes, you're allowed to touch it.
Distance from Newcastle: 11 miles/17km
How to get there: Take the Angel 21 Bus from Newcastle
Time taken to get there: 30 minutes
How much time to spend there: 1-2 hours (at most)
13. The Metrocentre
I hate shopping. But not everyone does, so this is me being all inclusive.
If you like chain stores, bargain shopping and endless restaurants, you'll love the Metrocentre, one of the biggest indoor shopping centers in Europe. Apparently, it takes more than an hour to walk past every store.
This place is so big that it used to have a theme park inside. Yeah, seriously. I used to go all the time.
Now, the theme park's gone, but there's still a cinema, loads of restaurants, arcade games, a bowling alley, and plenty more. So if you like shopping, eating, or just entertaining your kids, it's a pretty good place to visit. Best of all, it's really close to Newcastle, so you don't have to travel far to get there.
Distance from Newcastle: 5 miles/8km
How to get there: Direct train from Newcastle
Time taken to get there: 10 minutes
How much time to spend there: 2-6 hours
Final Words
Thanks for reading my speedy guide to the best day trips from Newcastle.
If you want any more information on the city, I've written plenty of articles on this site. Have a look at the best things to do in Newcastle, the top reasons to visit Newcastle, the best pumpkin patches near Newcastle, and my handy guide to the Geordie accent.
And if you're looking for non-Newcastle adventures in northern England, here's my guide to the most unique and interesting things to do in the north of England.
Whatever you want to know about Newcastle, Northumberland or the north of England, we've got plenty here, you lucky boys and girls. Stick with us for more!
Being a Digital Nomad: Tips, Tricks and Places
Do you want to be a digital nomad?
If you do, maybe you don't know where you might want to live. Or how to live there. Or whether you need a visa. Or how to make friends in the scary sprawl of a brand-new city. Or how to stay productive while you travel. Or how to find an apartment. Or whether this lifestyle really is for you. Or… I'm sure you get the idea.
But with some insight and experience, it's not as difficult as you think. So in this book, I've gathered my 6 years of digital-nomadding experience… and I've used it to answer all your questions, soothe all your fears, and get you on your way. After reading this, you'll realise being a digital nomad is much easier (and much more possible!) than you think.