Biking in Kielder – The Complete Guide
Kielder is most well-known as the home of the biggest reservoir in northern Europe (well, depending on how you measure it). But if you like outdoorsy stuff, you probably also know Kielder as one of the best cycling areas in Northumberland.
It's most famous for mountain biking, but there are loads of other great trails too, from long-distance road rides to gentle family stuff to the Lakeside Way, an excellent and accessible route around the perimeter of the entire reservoir.
In this guide, I've unpacked all the bike rides you can do in, around and close to Kielder. And since I'm a local (and a genius), I've also included some of my top tips for the area.
Whatever you want to know about cycling in Kielder, you'll find it in this guide. I've included information on mountain biking, road cycling, family-friendly stuff, long rides, short rides and everything in between. This is the internet's ultimate guide to cycling in Kielder.
I- Cycling Options in Kielder
1. Mountain Biking in Kielder
This is the main event. If you're coming to Kielder on a bike, there's a good chance you're gonna do some mountain biking. Your six options for mountain biking routes in Kielder are:
The Osprey Trail
Clocking in at around 8 miles (13km), this route starts and ends at Kielder Castle. It's the best entry-level mountain biking trail in Kielder, and it's perfect for anyone who's starting out, or who just wants a gentle adventure. None of the Osprey Trail is technically challenging, but lots of it is beautiful, with loads of forest-based single-track sections.
Red Deadwater Trail
A great intermediate route with tricky rocky sections and some steep ascents and descents, the Red Deadwater Trail measures in at 4.2 miles (6.8km). It's narrow and challenging, and features some sudden drops, tight switchbacks, moderate jumps and loads of other excellent features.
Black Deadwater Trail
A longer, harder, more technical version of the Red Deadwater Trail, the Black Deadwater Trail heads up to the Deadwater Fell summit, which measures in at a lofty 571 meters.
From here, on a clear day, you get panoramic views of Scotland, seaside, Northumberland and the Lake District. The terrain is different to most other Kielder rides, as lots of it is exposed and open (rather than just wooded).
The Black Deadwater Trail has a great gap jump and a speedy up and down section, and it clocks in at 6.3 miles (10.2km). It's the hardest, most challenging and most technically-demanding route in Kielder, with lots of rough, rocky sections.
Lonesome Pine Trail
The easiest of the intermediate rides, the Lonesome Pine Trail clocks in at around 12 miles (19.5km), and it's mainly made up of gentle ups and downs. Because there aren't many steep sections, you get plenty of time to enjoy the excellent views, with a great combo of exposed land and forested stretches.
The highest point on the Lonesome Pine Trail is Purdom Pike, which sits at over 300 meters. The highlight of the trail is its wooded flyover section, which is probably the most famous mountain biking feature in all of Kielder. Measuring in at almost a kilometer, t's the longest timber flyover in England.
Bloody Bush Trail
If you get halfway through the Lonesome Pine Trail and you want to extend your ride, you can add the Bloody Bush Trail to your route.
Combined, the two measure in at a hefty 20.5 miles (33km). The Bloody Bush Trail goes through a medieval battle site, and it's really wild and secluded, taking riders through distant moors and faraway forests right up to the Scottish border.
If you want remote but intermediate, go for the Bloody Bush Trail. Make sure you pack plenty of water, food and gear, as you'll be properly in the middle of nowhere.
Cross Border Trail
This one takes you all the way to Scotland, and it's probably the most popular trail of the lot. Measuring in at around 25 miles (40km), it's a massive adventure, with loads of diverse views and challenges.
You get ascents, descents, rocky sections, wooded stretches, barren vistas and loads more. It's really remote, wild and rural, and it's an excellent full-day adventure. If you want a proper insight into Kielder's environment and surroundings, you'll love this.
2. Kielder's Lakeside Way
My favorite cycling route in Kielder is the Lakeside Way. A multi-use circular route that skirts the entire perimeter of the reservoir, the Lakeside Way measures in at 27 miles (43km), and it's mainly made up of accessible dirt tracks and (equally-accessible) gravel paths.
Unlike the mountain bike trails, you don't need a mountain bike to do the Lakeside Way. You won't be able to do it with slick tyres or any tyres under 28c, but you'll otherwise be fine. I ride a hybrid bike with decent-traction tyres, and I was more than equipped. Even a city bike would probably be okay as long as you have decent tyres.
Because the Lakeside Way runs around the entirety of the reservoir, it's an excellent way to take in all the diversity of the area. You get forests, ascents, descents, farmland, inlets, bridges, small islands, shores, weird structures, art installations and loads more. I know this sounds like a big fat cliché, but none of Kielder is really like any other part of Kielder—and riding a bike around the Lakeside Way is the best way to see it all.
When you tackle the Lakeside Way, I recommend starting at Kielder Castle, and first riding along the northern shore, where there aren't any cafes or places to eat. So by the time you reach the southern shore, and you want a coffee and cake and all that, there'll be places where you can get them.
Some of the route (especially the northern section) is in the middle of nowhere, so make sure you take bike repair stuff. You don't want to end up wheeling your bike for miles.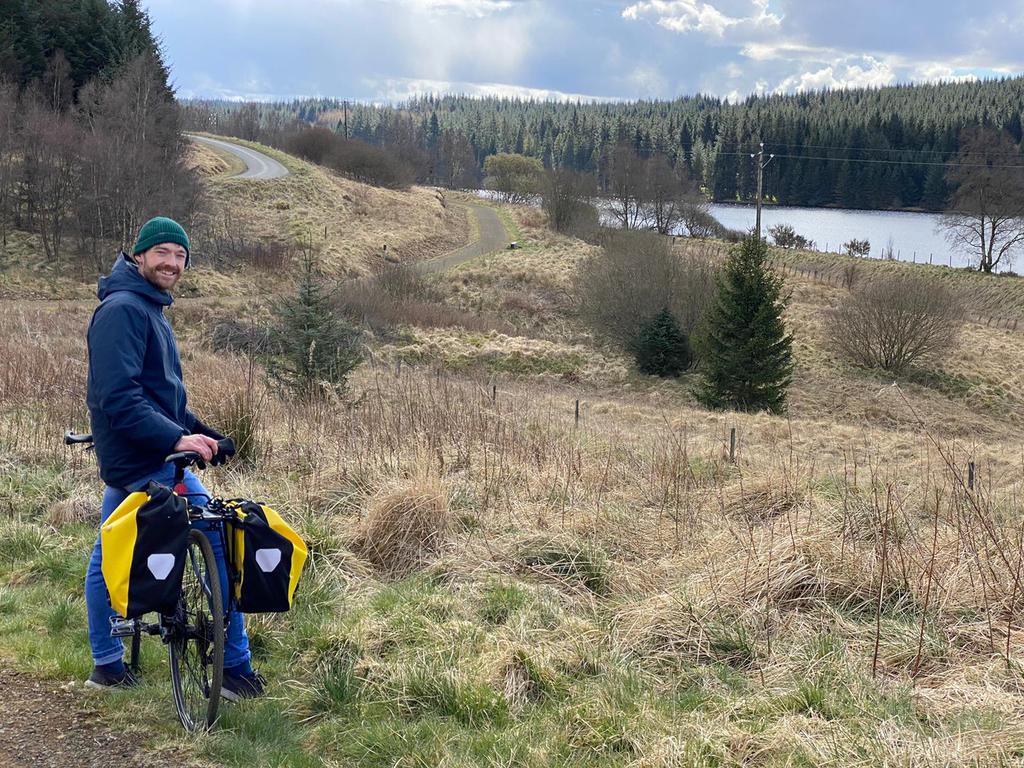 If you don't want to cycle the Lakeside Way, you can walk it, ride a horse around it, run around it, or even compete in the annual marathon. You can explore the Lakeside Way in endless different ways, which is why it's one of the most popular attractions in Northumberland.
3. Road Cycling Close to Kielder
There are loads of roads in and around Kielder that take you to and through some brilliant places. Depending on where you want to go, you could visit:
Wooler (around 51 miles / 82km*): the closest settlement to the Cheviots, Wooler is lovely, it's one of the best hiking bases in the area, and it's a great little Northumberland village. The ride from Kielder to Wooler is an incredible introduction to lots of Northumberland National Park's diversity.
Bellingham (around 9 miles / 14.5km*): very close to Hareshaw Linn (a lovely little waterfall which is a popular spot with locals), and a charming village of its own, Bellingham is a really popular (and pretty short) ride from Kielder. If you're just looking for a short road ride around Kielder, this is an excellent pick.
Otterburn (around 13 miles / 21km*): my favorite village in Northumberland, this place is a big old load of nothing in the middle of nowhere, but it's ridiculously pretty, and it's a great place to explore if you like proper solitude.
Sycamore Gap (around 27 miles / 43km*): the most well-known spot along Hadrian's Wall, cycling to Sycamore Gap takes you to the southern stretches of Northumberland and all of its history and heritage. While here, you can also visit lots of other sites along Hadrian's Wall, including Vindolanda, Housesteads, and various milecastles.
Rothbury (around 31 miles / 50km*): one of the most popular small towns in northern Northumberland, this place is the gateway to Simonside and loads of other lovely walks in the area. If you like quaint and cute, you'll love Rothbury, and all of its charming shops, pubs and people.
Harbottle (around 26 miles / 42km*): the best base for exploring Upper Coquetdale, the most isolated and underrated hiking region in Northumberland. Here, you'll find more sheep than people, along with dozens of remote walks and wanders.
Newcastle (around 44 miles / 71km*): the biggest city in the area, the city I was born in, and a hugely underrated place to eat, drink, visit and have fun. I reckon it's one of the best cities in England (but obviously I'm biased). And it has plenty of cycling routes as well.
Carlisle (around 40 miles / 64km*): the city west of Kielder. It's not as big or as good as Newcastle, but it's another city option if you've already been to Newcastle or if you're heading west.
*The distances I've given are all from Falstone, at the southern tip of the reservoir. Obviously, if you're going from any other part of the reservoir, the distances are gonna be different (probably longer).
If you don't want to do any of the adventures above, and you want to plan your own road ride somewhere in and around Kielder instead, here's a top tip for you: have a look at the Sustrans National Cycle Network to see some of the official routes you can follow.
There's a big network of numbered and signposted cycling routes around England, and they're a great way to enjoy cycling without having to navigate or look at a map every five minutes. If you use the Sustrans map on your phone, it even uses GPS, so you can check exactly where you are. We really are living in the future.
But whether you plan your own routes or not, the great thing about this part of England is that it's really quiet and remote, so there are loads of quiet little country lanes that are perfect for cycling. They're in beautiful areas, they're really well-surfaced, and you hardly ever see any cars. This part of the world is beautiful, and roady cycling is one of the best ways to see it.
4. Family-Friendly Cycling in Kielder
If you're cycling with kids, ride along the Borderline Trail. It's only 3.7 miles (6km), and it's perfect for kids of all ages (well, assuming they can ride a bike). The route follows an old railway line through farmland, it's surprisingly pretty, and it goes up to the Scottish border. And because it's the same way there and back, you can stop as soon as your kids are tired.
Lots of the Lakeside Way route is also really family-friendly. I've seen families cycling it together, along several stretches of the route. I once saw a little girl fall off her bike, so try not to let your kids do that.
Anyway, depending on the age, ability and patience of your kids, you can cycle the entire Lakeside Way with them. But if they're younger, or new to cycling, try some stretches on the southern shore instead. The southern shore is a little less steep and rough, and it has more cafes, facilities and all that stuff, so you can stop whenever your kids get tired.
5. Long-Distance Cycling Routes Near Kielder
If you want to cycle a fully-recognized long-distance route that takes in Kielder, the only pick is the Reivers Route, a coast-to-coast ride that's a great alternative to the (much more famous) C2C. The route runs between Tynemouth and Whitehaven, and goes through some of the most remote and rural parts of northern Northumberland (including around the entire perimeter of Kielder, if you take the longer route).
There's an off-road section and an on-road section, both of which go through various parts of Kielder. Whichever route you take, it's one of the most rural and isolated coast to coast routes in the UK.
Both routes are well signposted, so they're easy to navigate.
If you're tempted to do the off-road route, you need a bike that can manage it. I've done some of the eastern off-road stuff on a hybrid and my bike didn't really like it. So make sure you ride a mountain bike, gravel bike, custom-built hybrid or something similarly sturdy.
The Reivers Route is the only official long-distance trail that passes through Kielder, but if you have a look at that Sustrans map I linked earlier in this guide (here it is again), you'll see the Reivers Route (NCN10) connects lots of other long-distance trails in the area, making it a great route for accessing other parts of Northumberland and beyond.
Kielder is sort of at a crossroads between England and Scotland; between rural and urban; between Northumberland and Cumbria. And because of that, it's halfway between lots of potential cycle routes, so you can definitely squeeze it into lots of exciting cycling itineraries.
II- What Type of Bike Should I Ride in Kielder?
That depends upon where you're riding and the types of trails you're riding on.
If you're riding on the mountain bike trails, you'll need… a mountain bike. Make sure you've got good tyres and decent suspension, and a good helmet.
If you're doing the Lakeside Way, most bikes will do. Like I said, if your tyres aren't slick and they're 28c or over, you'll be totally okay. Just make sure your bike is in good condition, and you've checked for any problems etc. The Lakeside Way is really accessible, but it's still challenging, so make sure you've pumped your tyres up and tested your brakes and all that basic stuff.
Likewise, the kid-friendly Borderline Trail is suitable for pretty much any and all bikes. It's best if your kids have mountain bikes, but it's totally fine if they don't.
No matter what trail you're riding and what type of bike you're on, make sure you carry basic maintenance stuff like Allen keys, inner tubes and a puncture repair kit. And regardless of which route you're cycling on, make sure you carry some waterproofs. In Northumberland, it rains a lot. I was here in April and it was snowing, so don't assume you'll get good weather.
If you're in any doubt about which bikes are suitable for which trails, you should speak to the staff at the two bike hire places in Kielder, which brings us to…
III- Can I Hire a Bike in Kielder?
Yep. There are two places where you can rent bikes in Kielder.
The biggest one is Kielder Cycle Center, near Kielder Castle. They offer hybrids, mountain bikes and electric bikes, with all the gear, equipment and advice you'll probably ever need. They're open year-round from 9:30am until 5:30pm, 7 days a week.
The second spot is at Kielder Waterside. It's a much smaller place, but they have mountain bikes and a small number of electric bikes. They're open Tuesday-Sunday 9:30am until 5:30pm, but they're closed on Mondays. They're only open from 1st April to October 30th.
Both shops offer repairs, equipment and advice, but for whatever you need, the cycle center near the castle is always best, as it's much bigger and much better equipped.
IV- Expert Tips and Important Things to Know Before You Go
It's really hard to get phone reception in basically all of Kielder. So make sure you carry any tools you need, as you won't be able to call someone to pick you up. You're never far from civilization, but rolling a bike for miles is annoying, especially if it's raining.
There aren't any cafes, food places or other facilities on the northern shore of the reservoir. So if you like stopping a lot for stuffing cake and coffee in your face, focus your adventures around the southern side of the shore. If you like wilderness, explore the north shore instead.
Speaking of food and drink, you should plan to start and end your bike ride at one of the visitor centers, where you can have some food and drink both before and after your ride. They're all on (or very close to) the shore, so they have great views and all that stuff. The best one is at Leaplish, on the western side of the reservoir.
I know I've mentioned this already, but thin tyres and slick tyres won't get you very far in Kielder (unless you're cycling exclusively on roads). If you have a bike with unsuitable tyres, see if you can swap them out—or just rent a bike in Kielder instead.
If you're driving to Kielder (which you probably are), the best car parks are at Kielder Castle, Leaplish and the two that bookend the dam.
There are loads of weird and wacky art pieces dotted in and around the reservoir, from kooky cabins to bizarre chairs to strange viewpoints to a massive head. Some of them are great, some of them aren't, but if you want to visit lots of them, just do the Lakeside Way. You'll accidentally stumble upon loads of them as you ride.
Again, make sure you carry some basic bike repair stuff and make sure you've checked your bike over before you set off.
Final Words
Thanks for reading our ultimate guide to cycling in Kielder!
Want to know anything else about the area? Check out our article on all the things you can do in and around Kielder. Cycling here is amazing, but there's loads of other stuff you can do too, including hiking, stargazing, camping, fishing, running, family activities and loads more.
For adventures further afield, we also have lots of articles about other outdoor adventures in Northumberland, including our guides to the most beautiful outdoor areas in Northumberland, the most beautiful walks in Northumberland, and our mammoth guide to the Northumberland Coast Path.
Or if you want more on cycling, check out our guides to the C2C and the Coast and Castles cycle route. Whatever you want to know about outdoor adventures in the north of England, we have it right here on our site!
Being a Digital Nomad: Tips, Tricks and Places
Do you want to be a digital nomad?
If you do, maybe you don't know where you might want to live. Or how to live there. Or whether you need a visa. Or how to make friends in the scary sprawl of a brand-new city. Or how to stay productive while you travel. Or how to find an apartment. Or whether this lifestyle really is for you. Or… I'm sure you get the idea.
But with some insight and experience, it's not as difficult as you think. So in this book, I've gathered my 6 years of digital-nomadding experience… and I've used it to answer all your questions, soothe all your fears, and get you on your way. After reading this, you'll realise being a digital nomad is much easier (and much more possible!) than you think.