Coast and Castles Cycle Route: The Ultimate Guide
I love the Coast and Castles. One of the easiest officially-designated long-distance cycling routes in the UK, it's accessible, beautiful and brilliant, and it takes riders through diverse stretches of shores, sands, history, heritage, hills, farms, fields, and loads more.
It has loads of other little tasty benefits too: it passes through the England-Scotland border, it's fully signposted, it's challenging but doable, and there are loads of charming towns and villages along the way, perfect for frequent mid-ride stops.
I did the entire Coast and Castles cycle route in May 2021, so I'm your local expert, with all the tips, insights and juicy info you need. You don't absolutely need to call me 'Mr. Cool, Knowledgeable and Handsome,' but you can if you like.
Want the ultimate guide to the Coast and Castles cycling route? You've found it!
The Coast and Castles Route
Assuming you cycle south to north, which most people do, the Coast and Castles takes you from Newcastle upon Tyne (the most northerly city in England) to Edinburgh (the capital of Scotland).
The route takes riders along loads of the region's hugely-underrated coastline, past some massive castles, and through loads of cute towns, villages and fishing settlements.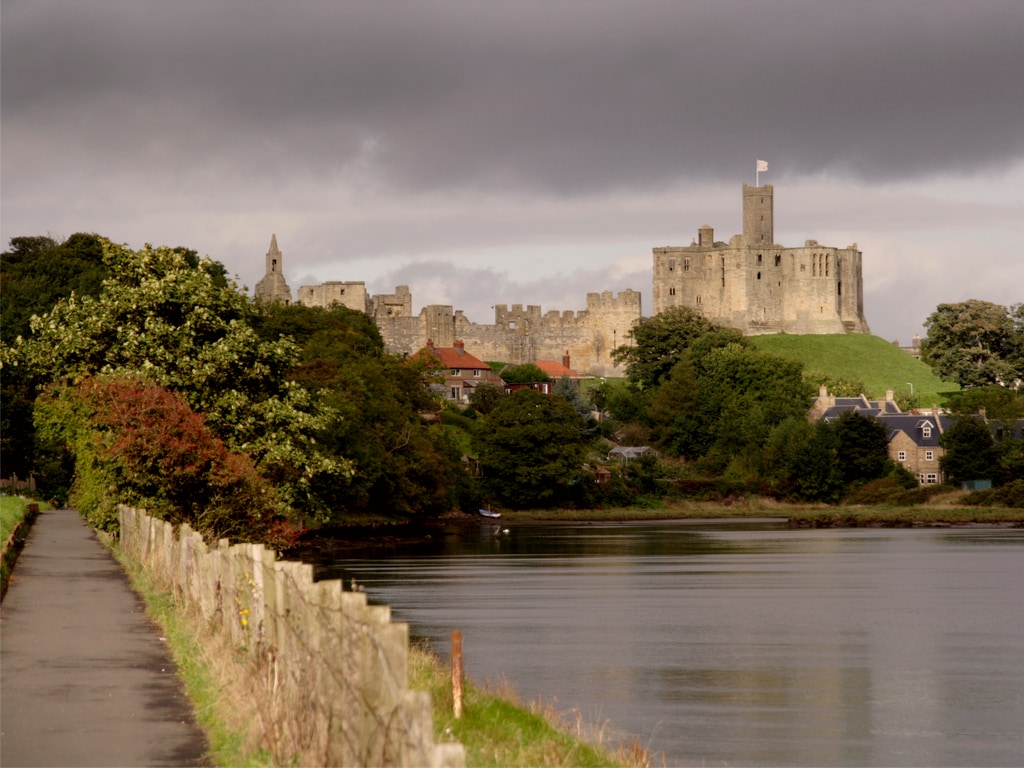 Depending on which route you take (more on that confusing qualifier later), the Coast and Castles measures in at around 170 miles (275km) or 200 miles (320km). The whole ride usually takes somewhere between 2 and 4 days.
Even if you think you know what you're gonna get, you'll be shocked by just how brilliant the Coast and Castles cycling route is. I was born in Newcastle, I know Edinburgh pretty well, and I've spent loads of time exploring the places between them. But even I was surprised by how great the ride is—the views far outweigh the effort required to get them and the landscape is much more diverse and attractive than I expected.
Anyway, here's where things get complicated: the first part of the route takes you from Newcastle to Berwick (on a stretch which measures in at 100 miles). But once you reach Berwick (or Berwick-upon-Tweed, if we're being all official), you have two different options…
You can either continue hugging the coast, or you can go west and head inland through the Scottish borders instead. Whichever route you choose, they both lead you to Edinburgh. Here's a brief breakdown of your two options:
The Coastal Route
If you're an unquenchably-keen coastal junkie and you want even more servings of shores, sands and seas, this is the choice for you. This is the version I've done, so it's obviously the version I'm gonna recommend.
If you follow this version of the route, you keep hugging the shore most of the way to Edinburgh (though there are some inland sections too).
I decided to take this route as I really wanted to see Eyemouth, Cockburnspath, Dunbar, and the stretches between them. The southern Scottish coastlines are amazing, and the views are massively different from the coastal stuff you see in England. For me, the section between Eyemouth and Cockburnspath is by far the best part of the entire ride I did.
If you cycle from Berwick to Edinburgh via the coastal route, the ride clocks in at 70 miles, taking your whole journey up to a total of 170 miles. The total elevation is around 2,100 meters (or at least that's what my Strava told me anyway).
In this article, I'll mainly be outlining the coastal route, as that's the stretch I'm familiar with. But here are some brief details on the inland route…
The Inland Route
If you tackle this version of the ride, you head west out of Berwick, on a jaunt that takes you on an inland half-loop through fields, farms, border towns, river vistas, hill-backed villages and Edinburgh's southern suburbs. For the first stretch, your route runs along the lengths of the River Tweed before then veering north through brilliant peaks and panoramas.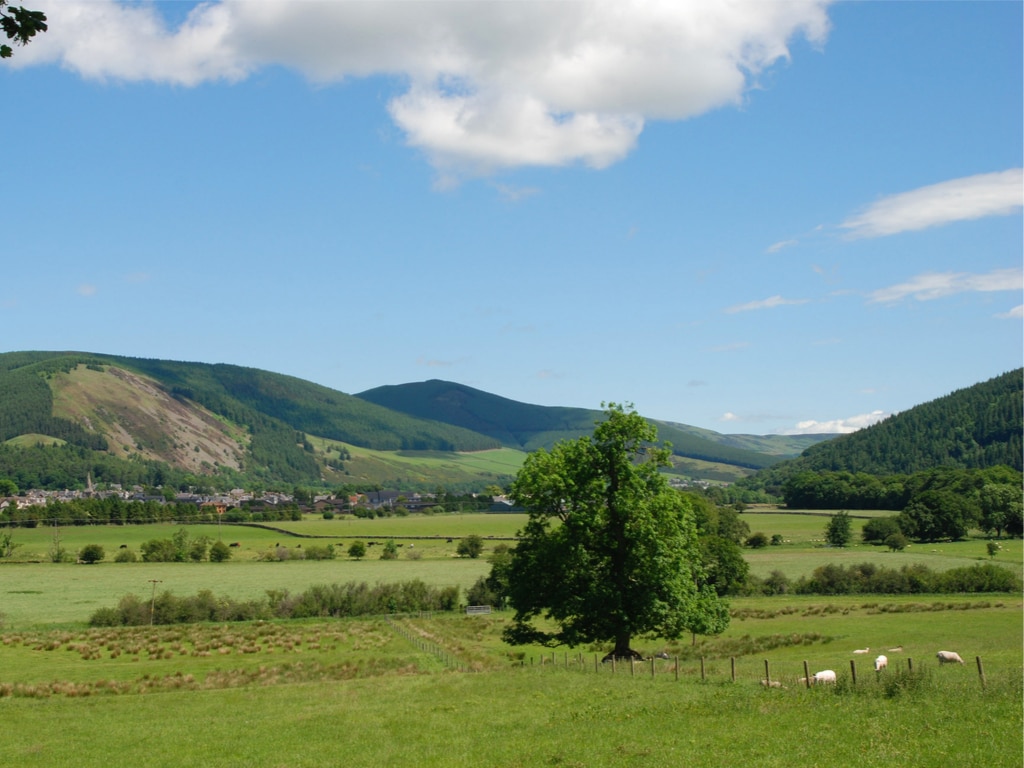 If you ride from Berwick to Edinburgh via this route, the ride clocks in at 100 miles, taking your entire journey up to a total of 200 miles. If you want more of a challenge, this route is your best choice, with tougher terrain, a longer total distance, and an alleged elevation of around 2,500 meters (though we all know it's always more in practice).
The most challenging section of this route will probably be the first part of the last 50 miles, after you head north out of Innerleithen. I don't know this area very well, but I know it's hilly, with lots of ascents and descents. But it's also beautiful, so you win some, you lose some.
Anyway, whichever route you take, you'll have an amazing trip. Some of the highlights include:
Coasts (what a surprise): for loads of the route, you cycle along seas and shores, passing dunes, beaches and cliffs. The coastlines are really diverse, featuring rocky beaches, sandy stretches, popular hangouts, barren spots and plenty more.
Castles (another big surprise): there are loads of castles along the route: some near, some far, some close, some distant. If you want to get really close to lots of castles, you'll need to take some detours, but more detail on that soon.
People: I'm probably a big biased liar, but people in this part of the world are ridiculously friendly. Here, everyone gives you a smile, and everyone makes you feel welcome.
Places: there are loads of brilliant towns and villages along the way, from ancient fishing ports to traditional towns to castle-backed villages. And on top of that, it's all sandwiched between the brilliant cities of Newcastle and Edinburgh.
Riding a bike: riding bikes is fun, and it's the perfect pace for traveling. Not too fast, not too slow, bikes get you from place to place at just the right speed. If you don't like riding bikes, I don't know why you're reading this.
Coast and Castles Suggested Itinerary
Alright, you know where you're starting and where you're ending, but if you're not familiar with this part of the world, you're probably still a bit lost. Luckily for you, it's pretty easy to build your itinerary.
You can do the route in anything from 2 to 5 days (or even in 1 if you're an absolute lunatic). Most people do it in 3, but I recommend doing it in 4. That way, you can take your time and enjoy the places you cycle through, instead of doing nothing but cycling, eating and complaining about your sore little booty.
I did the route in four days, and my itinerary looked like this:
Day 1: Newcastle to Amble
Distance: Approx 34 Miles/55km
You're off! Today's the day you start your trip, you lucky little sausage. You've got some treats ahead.
This is the easiest and shortest day, but it's also (in some ways) the most varied, as you go from busy Newcastle and its bustling nearby towns to the remote rurality of southern Northumberland's quiet coastal settlements.
What You'll See:
Newcastle: you start the Coast and Castles in Newcastle, right on the banks of the River Tyne. This is one of the most picturesque parts of Newcastle, with seven bridges, nice apartments and some great places to eat and drink. It's a massively underrated city.
Tynemouth, Whitley Bay and Cullercoats: compared to some of the places you'll cycle through later in your trip, these three are bustling metropolises. They've all recently undergone lots of development, so they're hip, trendy, happening and mega-popular.
Tynemouth Priory: the first castle you'll see, this sprawling ruin looms beautifully over Tynemouth's shores.
Cresswell and Lynemouth: most of the Coast and Castles route is really remote – and this is where the remote stuff starts. Hugely underrated, this area is beautiful, barren, and somehow alluringly apocalyptic.
Druridge Bay: the longest by-beach section of the Coast and Castles is the stretch from Cresswell to Amble, which is pretty much all along the lengthy shores of Druridge Bay. The entire bay measures in at a hefty length of around 7.5 miles (12km).
Amble: your finishing point for the day, Amble is a cute little coastal town with a handful of places to eat, drink, and celebrate the end of your first leg. It's proper old-school British coastal fun—my dad used to come on caravan holidays here when he was little.
What to Know:
You see quite a lot of industrial stuff today. There's a massive power station in Lynemouth that's sort of weirdly beautiful, while some parts of Blyth are pretty ugly (sorry Blyth). Lots of the places you pass through are old mining settlements.
Today's also your easiest day. It's the shortest, and the elevation gain is only a measly 240 meters (approximately).
Day 2: Amble to Belford
Distance: Approx 38 Miles/61km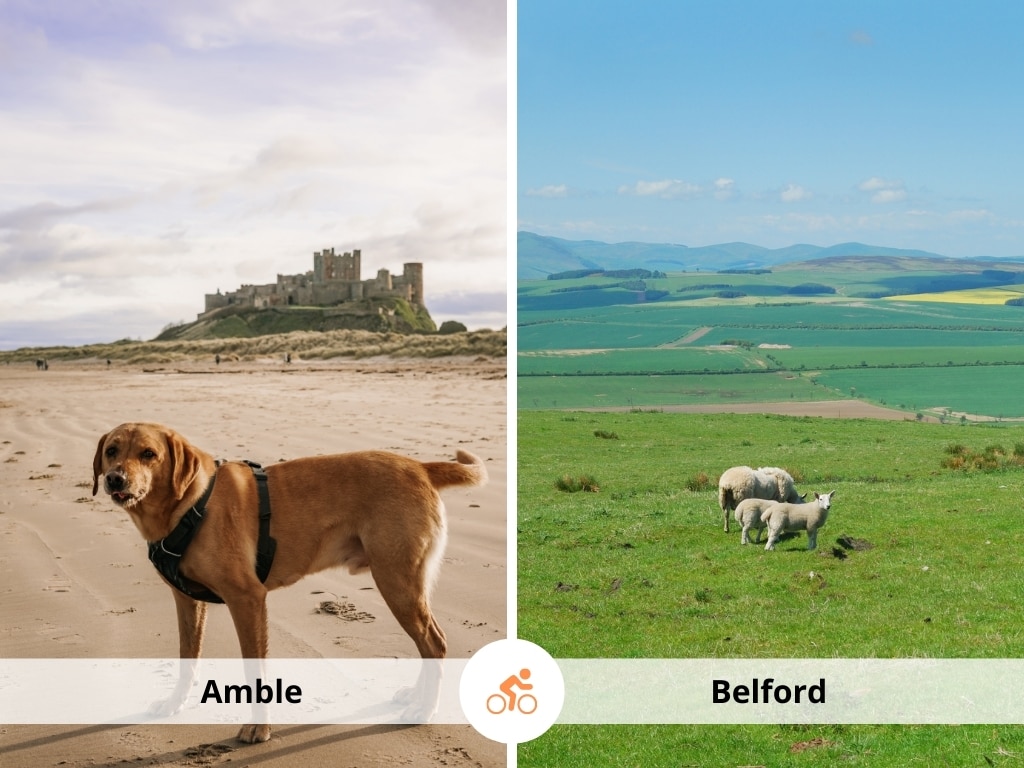 Today, you move from the coast to some of the longest inland stretches, taking you through fields, farmland and working farms. You'll learn why the Coast and Castles doesn't just take you along the coast.
What You'll See:
Warkworth Castle: the first really impressive castle you'll see, Warkworth Castle is great. Looming on a hill overlooking the town of the same name, the route rides right by it. Visit the castle and the nearby Hermitage (a weird little religious building that's one of the route's strangest detours).
Alnmouth: this lovely little coastal town is one of my favorite places in Northumberland. The beaches here are great, the town looks beautiful, and the on-ride view on the approach to Alnmouth is one of the nicest on Northumberland's coast.
Dunstanburgh Castle: you get amazing views of Dunstanburgh Castle, but you don't actually come very close to it. One of the biggest castles in Northumberland (depending on how you measure it), the ruins of Dunstanburgh are definitely a worthy detour. Lots of people reckon this place is one of the best castles in England.
Bamburgh Castle: if you're a regular reader of the Northumberland articles on this site, you're probably tired of me banging on about Bamburgh Castle all the time. But since I've done it so many times, I might as well do it again. This is the best castle in Northumberland, and the ride brings you right underneath it.
What to Know:
Belford is about a half a mile (1km) off the official route, but it's a perfect place for an overnight stop. It's a proper traditional Northumberland village, and there are great places to eat and drink. In this part of the world, it's sometimes difficult to find settlements that are suitable for an overnight stay, but Belford is one of them, so it's worth the tiny detour.
Between Boulmer and Howick, there's an off-road section with a lengthier on-road alternative. I decided to go the off-road way, cos it's closer to the coast. But what I didn't know is this: during the off-road stretch, you cycle through sand, beaches, dunes, muddy trails and about 8 million gates. So don't be an idiot like me, and take the detour—because even though it's longer, it's shorter.
Day 3: Belford to Cockburnspath
Distance: Approx 49 Miles/79km
This is by far the hardest day.
It's not ridiculously hard, but it's definitely the most difficult of the 4. It's also by far the most beautiful—the ride from Berwick to Cockburnspath is ridiculously nice, with some of the best coastal descents I've ever seen. You've already seen some good stuff, but today will blow your lucky little mind away.
What You'll See:
Holy Island: you don't have to detour onto Holy Island, but you should. I didn't, because of three main reasons: the rain was absolutely horrendous when I did my trip, I've been loads of times anyway as a kid, and I'm a massive hypocrite. So, as a bad parent says, 'do as I say, not as I do.'
Cliffs: before and after Holy Island, there are lots of sections where you're riding right along the edge of cliffs. The views are amazing, the landscape is varied, and it's one of the most adventurous stretches of the trip.
Berwick-upon-Tweed: as you approach Berwick from the southern towns of Spittal and Tweedmouth, the views are brilliant. Berwick itself is a highlight—compared to most of the places preceding it, it feels like the world's biggest metropolis.
Eyemouth: I wish I'd spent more time exploring Eyemouth, cos it's really lovely, and everyone who's been there seems to love the place. The first great coastal town in Scotland, this place is packed with ice cream, fish and chips, caravans, great beaches and all those other British seaside clichés.
Eyemouth to Cockburnspath; this is the best part of the whole Coast and Castles, and it gets better as it winds onwards, offering vast wind farms, steep coastal descents and vast panoramas of seas, sands and cliffs. This stretch is only around 13 miles (21km), but give yourself plenty of time to tackle it, because you'll want to stop for photographs every five minutes.
What to Know:
There's a wind farm between Coldingham and Old Cambus. From Berwick to this wind farm is basically a big long steady climb. It's not massively difficult, but it's generally all uphill, and there are some short tough sections. Pack some sugary snacks.
Day 4: Cockburnspath to Edinburgh
Distance: Approx 45 Miles/73km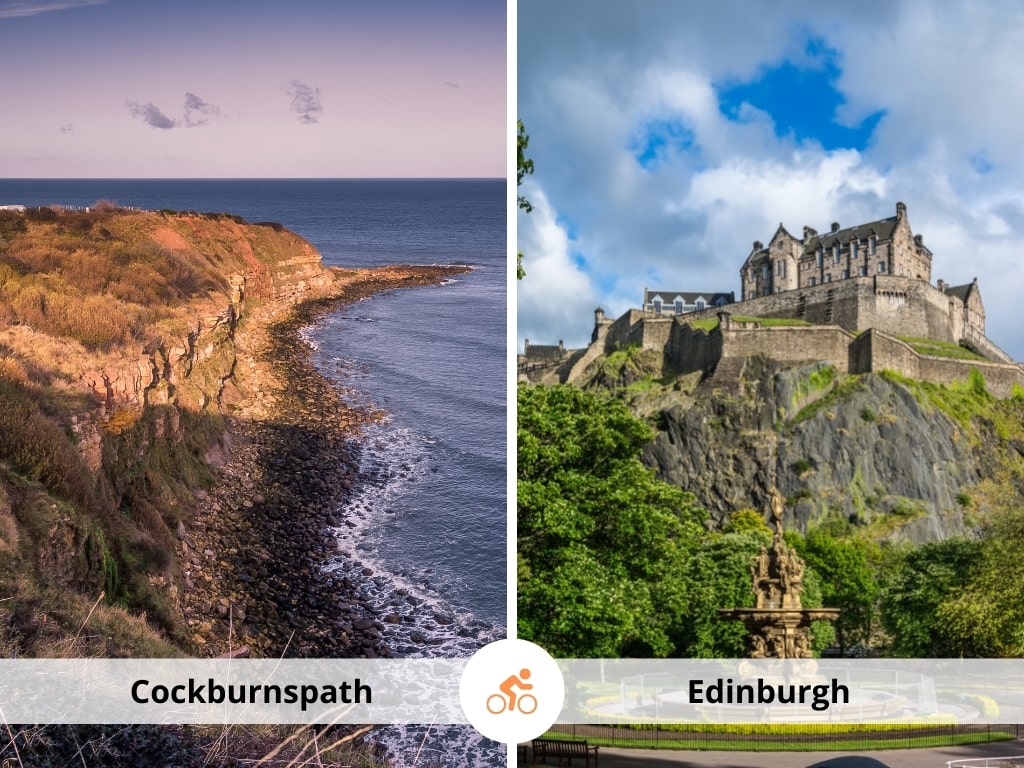 The big finale. Just as the first day becomes increasingly less populated, the final day (unsurprisingly) becomes increasingly more populated. It's relatively remote until Dunbar, but from Dunbar onwards, you're mostly back in the heart of civilization.
What You'll See:
Dunbar: a great little coastal town, and the biggest settlement after Berwick. On the way into Dunbar, you bypass its massive power station, which (just like the one at Lynemouth) is strangely attractive, if you like weirdly apocalyptic big industrial buildings in the middle of nowhere.
Port Seton, Cockenzie, Prestonpans and Musselburgh: this section sort of mirrors the way out of Newcastle, as you get three quick-succession coastal towns that lead you into Edinburgh. Musselburgh in particular is really beautiful, and it offers your first distant view of Edinburgh, with tantalisingly-close glimpses of Arthur's Seat..
Edinburgh: Edinburgh is a brilliant place to end your ride. It's big, it's beautiful, and basically everybody falls in love with the place. And its massive castle offers an appropriate finale.
What to Know:
Today feels strangely short. That's always the case on the last day of a multi-day cycling trip, but even more so with this ride. You'll be meandering into Edinburgh before you know it.
Central Edinburgh is a horrible place to cycle. The cobbled streets are pretty and charming, but riding over them makes you feel like you're gonna smash your bike and your bones. The roads on the outskirts are fine, but if you're planning to explore central Edinburgh after you've arrived, it's easier to do it by foot.
How to Prepare for the Coast and Castles Cycling Route
Physical Preparation
The route is pretty easy, but it's still a challenge. If you've only ever cycled to your local burger shop and back, you'll need to do a bit more prep. Do a couple of 30-mile day rides; if you can manage them, you can manage the Coast and Castles.
Accommodation
You don't need to book accommodation, but unless you're carrying a tent, it's probably a good idea. I normally prefer to travel spontaneously, but most of the places you'll cycle through are tiny, and only have a small few accommodation options.
Camping and Wild Camping
If you like carrying a tent, it's definitely possible to camp along the whole route. But here's where things get complicated: wild camping is legal in Scotland (in the vast majority of places, check out my guide on the Scottish Right to Roam), but illegal in England. That said, if you're being a careful, considerate camper, I don't see the problem with camping anywhere. Just don't tell the police I said that.
If you prefer to camp in official campsites, there aren't many between Newcastle and Craster, or between Berwick and Edinburgh, but there are some great ones between Craster and Berwick. But with a bit of planning, it's definitely possible to exclusively camp en-route.
What to Pack
If you've never before done a multi-day cycling trip, my main tip is… pack less than you need. Lay out all the stuff you're thinking about carrying, then only carry half of it (at most). You don't need six thousand t-shirts and 84 pairs of socks.
You'll also need to pack some bike essentials, which leads us nicely onto…
Bike Prep
You don't need a mega-expensive top-quality bike, because the route is pretty easy, pretty short, and there are loads of towns and villages along the way. But you should still make sure your bike is good enough, and in good enough condition. Here are some bike prep tips:
Make sure you know some basic bike repair and maintenance stuff. You don't need to be Bradley Wiggins, but you should know how to repair a puncture, how to adjust your seat and all that stuff. Pump your tyres up properly before you go, with a good track pump.
Make sure you pack basic repair stuff, such as a puncture repair kit (including a small pump), a couple of inner tubes, some degreaser (and lubricant), some allen keys and some screwdrivers.
Make sure you've already done some rides on the bike you plan to take. If you've never ridden the bike you'll be riding, it might not be good enough, and it might not be a good fit for you.
Recommended Guide Books and Maps for the Coast and Castles Cycling Route – And How to Navigate Your Ride
Honestly, I did the trip without a guide book or a map. But that's probably because I'm from the area, so I already know lots of the roads, towns and geography well.
If you want to use a guide book and map, here are your options:
If you're just doing the inland route, this Coast and Castles route map features everything you need. But be warned: the coastal option between Berwick and Edinburgh isn't marked on it.
If you want to use official maps, go for numbers 316, 325, 332, 340 and 346 for the stretch between Newcastle and Berwick. If you're then continuing along the coastal route, you'll need 351 and 350. But if you're tackling the inland route, you'll need maps 339, 338, 337, 345 and 350. Yeah, you're right, that is a lot of maps, so it's easiest just to navigate all on your own.
If you're in any doubt about which maps you might need and which maps you might not, have a play with this excellent OS Map tool here.
If you just want to navigate on your own, the route is ridiculously well signposted, so you're probably not gonna get lost. To make sure you're on the right track en-route, you can use the map at this link. It's an excellent OS map, supported by GPS and overlaid with all of the NCN routes you'll be following.
Don't worry, I can sense your bewilderment. If you're confused about what the NCN routes are, they're just a network of officially-signposted long-distance cycle networks running through the UK (NCN stands for 'National Cycle Network'). The signs you're following are blue with red numbers on them, and you'll spot them everywhere.
The entirety of the Coast and Castles uses NCN routes. If you're tackling the inland route, follow the NCN1 signs for your entire ride, all the way from Newcastle to Edinburgh. If you're going for the coastal route, you need to follow NCN1 from Newcastle to Berwick, then the NCN76 from Berwick to Musselburgh before jumping back on the NCN1 just after Musselburgh, and all the way to Edinburgh.
I know this might sound complicated, but I promise it's all simple and easy.
Frequently Asked Questions About the Coast and Castles Route
Should I Cycle North to South or South to North?
Most people cycle south to north, no matter which of the two routes they're taking. If you cycle south to north, the wind will be more favorable, you'll spend less time with the sun in your eyes, and the approach into Edinburgh is a beautiful way to finish your ride.
How Do I Get Back to Where I Started?
Get the train. There are loads of daily departures going directly between Edinburgh and Newcastle. You're allowed to take your bikes on UK trains, but you need to book your space in advance (as most trains only have 2-4 bike spaces).
Other Cycle Routes in the UK
I'm just gonna concentrate on northern English ones, cos they're the ones I know:
C2C: by far the most famous long-distance cycling route in the UK, the C2C is a coast to coast challenge running from Whitehaven to Tynemouth. It measures in at around 137 miles (220km).
Way of the Roses: another coast to coast trip, this one's a little more challenging than the C2C, measuring in at 170 miles (270km). It runs between Morecambe and Bridlington, and passes through the historic (and significant) cities of York and Lancaster.
Reivers Route: loads more rural and remote than most other long-distance rides, this also runs between Tynemouth and Whitehaven. It clocks in at 170 miles (270km), and runs through some areas of real wilderness, including regions in and around Kielder.
Hadrian's Cycleway: mix an easy ride with some of the best historical sites in the UK, and you get Hadrian's Cycleway. Just like all the other rides I've mentioned, this is also a coast to coast route. It measures in at around 173 miles (277km).
There are lots of other excellent long-distance rides in and around the UK, but the above are the ones I know best.
Before You Go
Thanks for reading my guide to the Coast and Castles cycling route.
Want to know anything else about traveling in Northumberland? We have guides on the prettiest small towns and villages in Northumberland, the best walks in Northumberland, and the best castles in Northumberland.
For more cycling guides, check out my guides to the best cycling routes in Scotland, the best bike rides in Newcastle, and the best bike rides in London.
Or if you're looking for another long-distance cycling challenge, we've also got a great in-depth guide on everything you need to know about the C2C bike ride.
Stay with us for much more!
Being a Digital Nomad: Tips, Tricks and Places
Do you want to be a digital nomad?
If you do, maybe you don't know where you might want to live. Or how to live there. Or whether you need a visa. Or how to make friends in the scary sprawl of a brand-new city. Or how to stay productive while you travel. Or how to find an apartment. Or whether this lifestyle really is for you. Or… I'm sure you get the idea.
But with some insight and experience, it's not as difficult as you think. So in this book, I've gathered my 6 years of digital-nomadding experience… and I've used it to answer all your questions, soothe all your fears, and get you on your way. After reading this, you'll realise being a digital nomad is much easier (and much more possible!) than you think.