Top 9 Newcastle's Best Cycling Routes for Scenic Rides
In this speedy guide, I've brought you my 9 favorite bike rides in and around Newcastle-upon-tyne.
I was born and brought up near the city, and I've spent loads of my life cycling there. So around the area, they all know me as the Bradley Wiggins of Newcastle. Not because I'm good at cycling, but because I've got big bushy sideburns that I need to shave off.
Anyway, enough about me and my facial hair—here are the best 9 bike rides in and around Newcastle (or at least my favorite ones).
I've included trips heading north, east, south and west, with coastal trips, rural adventures, and jaunts between towns and cities. If it's a good bike ride near Newcastle, it's on this list…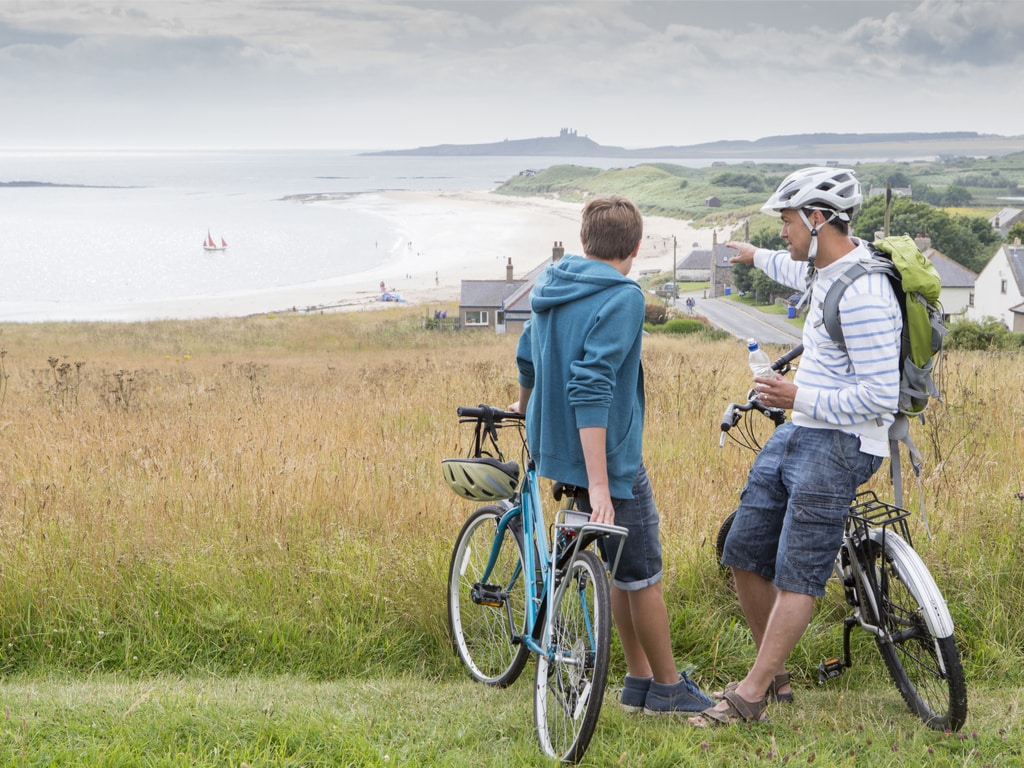 1. Newcastle to Tynemouth
The most well-known and accessible cycling route in and around Newcastle, the ride to Tynemouth is flat, easy and relatively short.
You start on Newcastle's lovely riverside, you cycle through loads of old industrial areas, and you hit some beautiful seaside sights. If you want something easy or you're traveling with kids, this is a great option.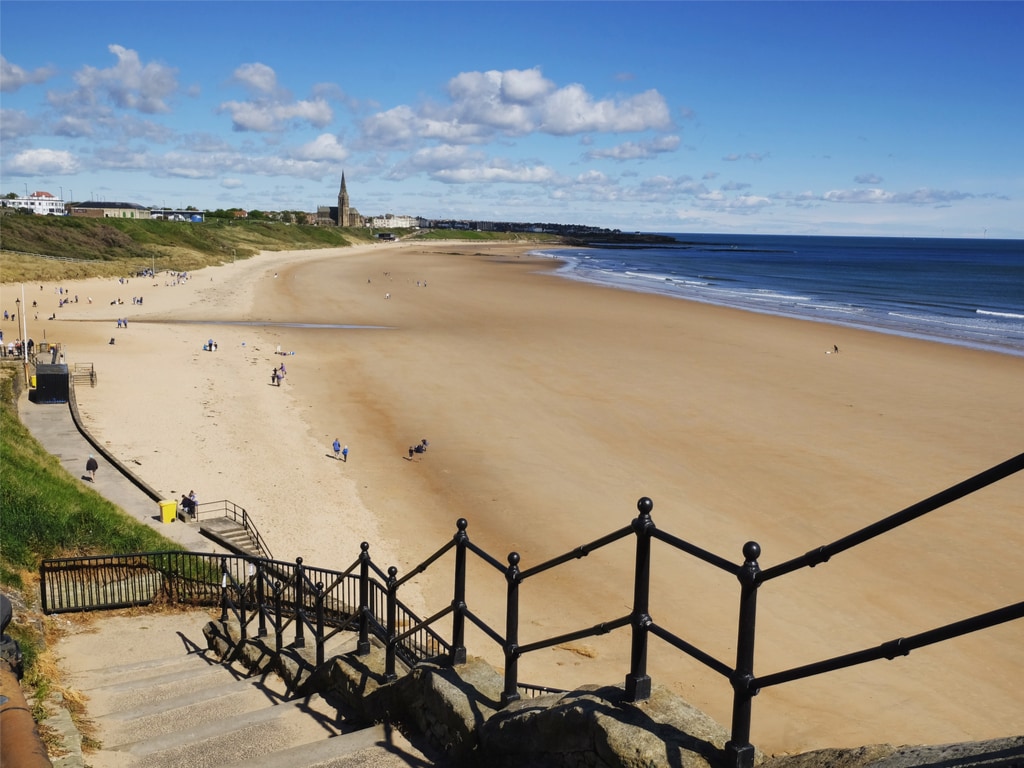 For loads of the ride, you follow varied stretches of the River Tyne. The last quarter for the route is the best bit—you hit parks, boats, and riverside fisherman, and you end at the looming ruins of Tynemouth Priory.
For the entire ride, follow the signs for National Cycle Network route 72 from Newcastle all the way to Tynemouth. Throughout the UK, there's an excellent network of long-distance signposted cycling routes managed by Sustrans. And for most of the rides I've recommended, you can use these waymarkers to navigate quickly and easily.
Difficulty: Easy
Itinerary: One-way from Newcastle to Tynemouth. You can then cycle back exactly the same way, find a new route home, or hop on the Metro public transport system (with your bike) from Tynemouth back to Newcastle.
Distance: The one-way route is 12 miles/19km
Time: 2 hours
2. Newcastle to Wylam
If you want to cycle west instead of east, the ride to Wylam is vaguely more challenging, and it's a completely different experience. Instead of heading towards the seaside, this one takes you to some of the nice little towns that straddle the border between Newcastle and Northumberland.
Again, follow the number 72 route along the River Tyne, but this time west. When you get to Wylam, stop for some food or a coffee or whatever. Then cross the town's bridge, and follow the southern shores of the River Tyne (along route numbers 141 and 14) until you get back to Newcastle.
This is a nice little varied ride. The eastern parts are quite industrial and busy, while the western stretches are relatively rural, packed with farmland, parks and small villages. It's suitable for kids (if they're hardcore enough to tackle the mileage).
Difficulty: Easy
Itinerary: Newcastle to Wylam and back, following a different side of the Tyne River on each leg
Distance: 23 miles/37km
Time: Around 4 hours
3. Newcastle to Consett
This is my favorite direct-from-Newcastle day ride, but it's a bit of a toughy, cos it's quite long.
Cycle southwest from Newcastle to Consett along the number 14 cycle route, before then cycling east from Consett to (close to) Chester-le-Street along the number 7. When the number 7 meets the 725, head north back to Newcastle.
In case you're wondering, Chester-le-Street isn't actually a street. It's actually a big town. Weird.
If you're looking for a varied loop, this is excellent. For the first half, it's a steady but gentle climb all the way up to Consett, which sits at around 270 meters. For this part of the ride, you cycle through Derwent Valley, a massively underrated area with hiking routes, rolling hills, a lovely river and some nice little towns and villages.
Once you hit Consett, it's then downhill all the way through more pretty hills and valleys.
The final northern-heading section of the route is an ugly little beast, but it takes you right past the Angel of the North, an iconic 20-meter monument which is one of the most famous landmarks in England.
Difficulty: Intermediate
Itinerary: Newcastle to Consett to (close to) Chester-le-Street to Newcastle
Distance: 40 miles/64km
Time: Between 4 and 6 hours
4. Newcastle to Belsay
There are countless different ways you can do this one, but the GPS file below gives you a decent idea of the type of route you might want to explore.
For most of the routes I've outlined in this guide, you can follow specific National Cycle Network routes, but that's not the case here. So only try this one if you're confident planning and following an-on road route without cycle-specific signposts.
I love this ride because it takes you from the urban sprawl of Newcastle to some of the closest towns, farms and landscapes of nearby Northumberland. Northumberland is massive, and cycling to its best bits from Newcastle (in one day) is basically impossible. But if you want a little flavor of rural Northumberland without having to cycle hundreds of miles, this route is great.
Difficulty: Intermediate
Itinerary: Newcastle-Dinnington-Belsay-Heddon-on-the-Wall-Newcastle
Distance: 40 miles/64km
Time: Between 4 and 6 hours
5. Tynemouth to Blyth Beach
If you like beaches, seasides, and cute little coastal towns, you'll absolutely love this one. The ride follows the coast for almost the whole way.
Highlights include Tynemouth Priory, Spanish City (stop here for food and drinks), Seaton Sluice Harbor, and all the coastal views. Follow National Cycle Route 1 the whole way for what I reckon is one of the best coastal bike rides in England.
When you get to Blyth, you have loads of different options for returning to Tynemouth. I don't usually recommend this, but I reckon you should come back exactly the way you came. Yeah, it's a bit repetitive, but it's the most beautiful option.
If you want to tackle a much longer trip, Tynemouth to Blyth Beach is the first stretch of the multi-day Coast and Castles route. The entire ride takes you all the way to Edinburgh, and measures in at 170 miles (274km) or 200 miles (322km), depending on which route you take.
Difficulty: Easy
Itinerary: Tynemouth Priory to Blyth Beach via NCN1, then back the same way
Distance: The round-trip is around 16 miles/26km
Time: 2 or 3 hours
6. Newcastle to Sunderland
Start in Newcastle, and follow the route I've already outlined to Tynemouth. Just before you get to Tynemouth, you'll hit North Shields, where there's a ferry crossing to South Shields (yep, you're allowed to take your bike on it. Exciting!). After you get off at South Shields, head east to the coast before following the coastline south all the way to Sunderland.
On your way down the coast, you'll see Souter Lighthouse, Roker Beach, endless cliffs, and some of my favorite shoreline spots in the North East. The South Shields-Sunderland stretch of the coast is way different to the Tynemouth-Blyth stretch, so do them both.
To get back home, you can either go back the same way you came, or jump on the Metro at one of the Sunderland stations. But I prefer to cycle towards Chester-le-Street from Sunderland, before then heading north to Newcastle along the stretch I've already outlined in the Newcastle-Consett route. That's the ride I've marked out on the GPS outline below.
Difficulty: Intermediate
Itinerary: Newcastle to North Shields to South Shields to Sunderland to (close to) Chester-le-Street to Newcastle
Distance: 36 miles/58km
Time: Around 6 hours
7. Haltwhistle to Newcastle
This ride's too big to tackle as a loop (unless you're some sort of maniac). So instead, you need to take your bike on a train from Newcastle to Haltwhistle before then riding home.
I absolutely love this route.
Really remote, you pass tiny towns, endless farmland, and some of Hadrian's Wall's most important sites (including Sycamore Gap and Vindolanda Roman Fort). There's quite a lot of steep, difficult ascent, but the views are absolutely worth the climbs. Follow the NCN 72 all the way.
Most of the route is on-road, but because it's so remote, you'll probably only see 5 or 6 cars until you get closer to the urban areas of Newcastle. If you want to explore the wilder, more rural parts of Northumberland by bike, this is a great choice.
This ride is actually part of the much bigger Hadrian's Cycleway, a multi-day trip measuring in at 174 miles (280km). If you have time, do it!
Difficulty: Intermediate to hard
Itinerary: Haltwhistle to Newcastle
Distance: 46 miles/74km
Time: 7-8 hours
8. Haltwhistle to Ashgill Force
My favorite bike ride on this list. It's a bit of a hassle, because you need to take your bike on a train from Newcastle to Haltwhistle, before then taking your bike on another train from Haltwhistle to Newcastle when you're finished.
But it's absolutely worth the trouble. It's challenging, beautiful and ridiculously remote. And the halfway point is a massive waterfall, you lucky boys and girls.
This is definitely the hardest ride on the list—with nearly 1,500 meters of climbing in total, it's a proper challenge. You ride through Alston, the highest market town in England, and that's not even the highest point on the route.
If you want to make the ride a bit easier, ignore the second half of the GPS route below, and just return from Ashgill Force to Haltwhistle exactly the same way you came.
This route's hard, but it's absolutely incredible. You ride past marshy bogs, vast valleys, distant peaks, barren moors, working farms and about 8 million sheep. It's the best one-day ride I've ever been on.
Oh, and here's a tip for you: don't try to go over Lambley Viaduct. You can't do it on a bike, and you might accidentally ride over some man's front garden. If you do, he understandably gets annoyed. He seems nice, so be nice to him.
Difficulty: Hard
Itinerary: Haltwhistle-Lambley-Slaggyford-Alston-Ashgill Force-Nenthead-Allendale-Haltwhistle
Distance: 50 miles/80km
Time: Around 8 hours
9. Kielder Lakeside Way
You can only do this one if you have a car or a van or whatever to take your bike to Kielder. But if you can manage it, it's absolutely brilliant.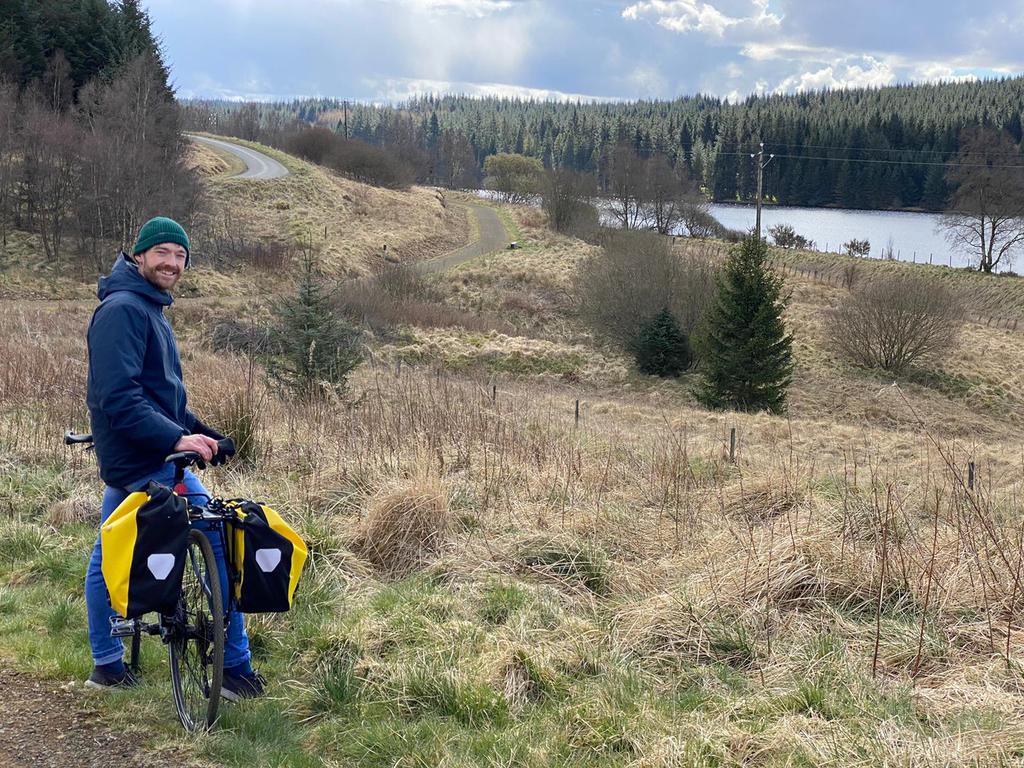 Drive your bike to Kielder Castle, at the northern tip of Kielder reservoir (the biggest reservoir in Europe, depending on how you measure it). From the castle, ride around the entire perimeter of the reservoir, passing farms, forests, and loads of lakeside views. I won't say too much about this one, because I've already outlined it in detail here.
Difficulty: Intermediate
Itinerary: Follow the entire Lakeside Way around the reservoir. It's all signposted
Distance: 27 miles/43km
Time: Around 4 hours
Pro-Tips and Things to Know
Before You Go
Thanks for reading my guide on the best bike rides in and around Newcastle.
If you're looking for any more information on Newcastle, have a look at my guides to the best things to do in Newcastle, the top reasons to visit, and everything you need to know about the Geordie accent.
And if you're interested in other bike rides, check out my guides to the Coast to Coast, the Coast and Castles, and the best cycling routes in Edinburgh.
See you next time kids!
Being a Digital Nomad: Tips, Tricks and Places
Do you want to be a digital nomad?
If you do, maybe you don't know where you might want to live. Or how to live there. Or whether you need a visa. Or how to make friends in the scary sprawl of a brand-new city. Or how to stay productive while you travel. Or how to find an apartment. Or whether this lifestyle really is for you. Or… I'm sure you get the idea.
But with some insight and experience, it's not as difficult as you think. So in this book, I've gathered my 6 years of digital-nomadding experience… and I've used it to answer all your questions, soothe all your fears, and get you on your way. After reading this, you'll realise being a digital nomad is much easier (and much more possible!) than you think.