Top 15 Best Swimming Holes in Arizona
Hidden along the numerous creeks and rivers in Arizona lie some of the most refreshing and picturesque swimming holes that the southwest United States has to offer. The Grand Canyon State is mostly desert, but if you know where to look, you can find little oases tucked in between canyon walls.
Many of these swimming holes are fed by natural springs, meaning the water is crystal clear and ice cold year round. Others are located farther down the creeks from their source, making the water more mild.
For adrenaline junkies, a few of these water holes have cliff jumping from various heights; be sure to check the water depth before you leap! Some of these natural pools also have nice shaded banks, perfect for a picnic and relaxing.
Read on to learn about Arizona's swimming holes, and start to make your summer adventure list!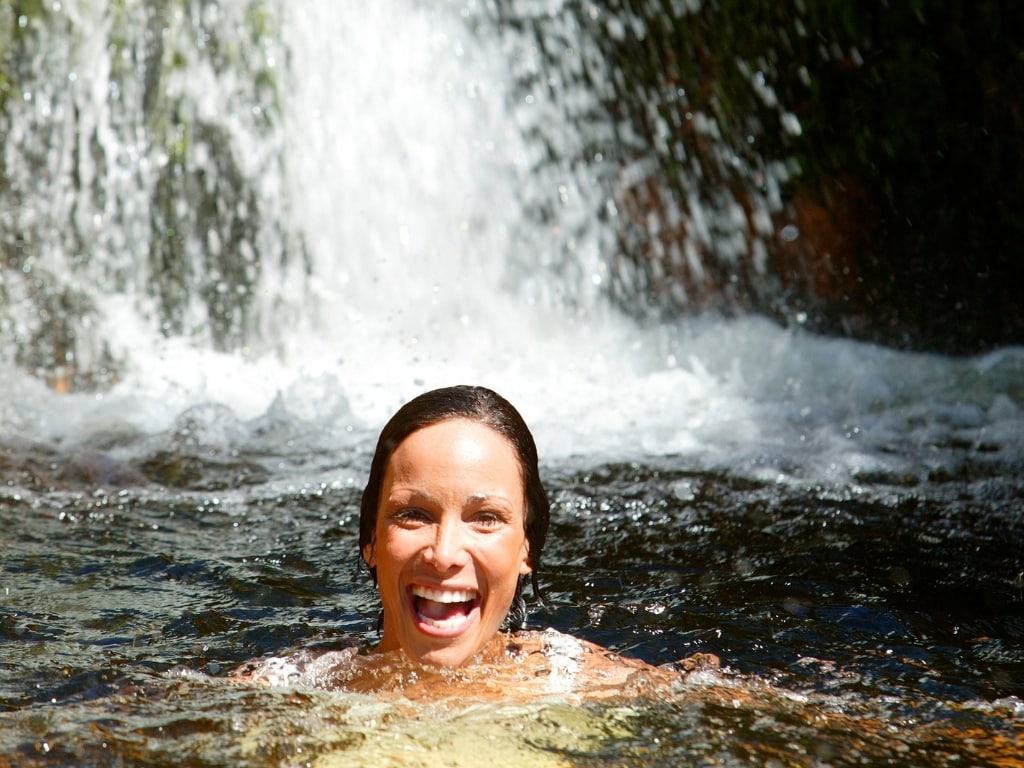 1. Slide Rock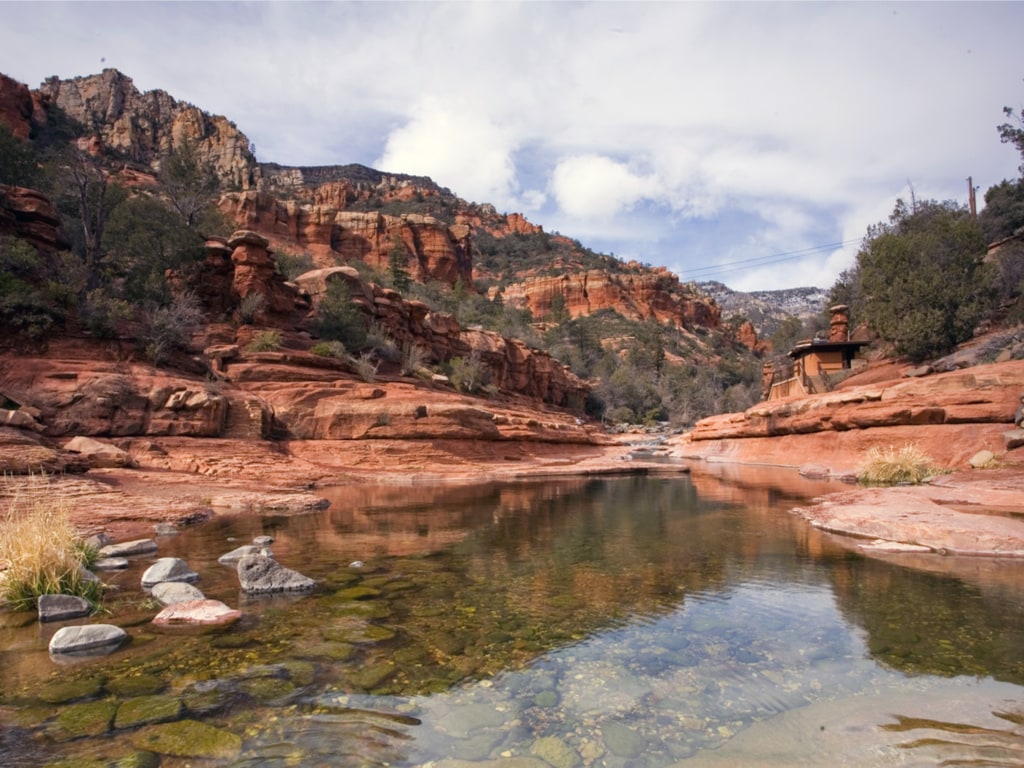 This is one of Sedona's most popular tourist hotspots, especially in the summer months. The red rocks in Oak Creek create a natural slippery "slide", and you can actually physically slide down the rocks into the series of pools.
Although there is parking enough for 100 vehicles, plan on getting here early; the parking lot will fill up very quickly on those hotter days! There are few shady spots along this stretch of the creek, so try to claim your spot right away if you want to set up "camp" for the day. Getting here is simple- take highway 89A out of Sedona for about 7 miles, and you'll see the sign for Slide Rock State Park.
Sedona and the surrounding landscape are known for their spiritual energy, and this water is no different; the refreshing temperature of the water can make even the warmest day more tolerable. Soak in the flowing waters of Slide Rock State Park, and enjoy one of Arizona's most classic swimming holes.
2. Grasshopper Point
Sedona is a mecca for swimming holes, and Grasshopper Point is one of the best around. Located downstream from Slide Rock, this swimming hole is deeper and more shaded, and usually less populated as well.
There is less parking available here, but as people are always coming and going you should be able to snag a spot. For a less crowded experience, try this swimming hole on a weekday. To get to Grasshopper Point, take highway 89A north out of Sedona, and after 2.5 miles you'll see the turnoff to the right. There is a $9 parking fee to use the small parking lot, and there are bathrooms as well.
It's only a short stroll to the swimming hole, and it's surrounded by small cliffs and overhanging trees. The water in Oak Creek is clear and fairly cold, but on a hotter day it'll feel downright invigorating. The cliffs provide some cliff jumping, and other areas are more shallow and perfect for smaller kids and families to wade and swim.
3. Crescent Moon Ranch
Located near Red Rock Crossing Park and trails, this Sedona landmark is actually a small bed-and-breakfast historic home. Near the home is Oak Creek, and a pristine swimming area. Entrance to the parking lot is $11 per vehicle, so plan to spend the day here to make it worthwhile!
Oak Creek is spectacular, with shaded banks and crystal clear, cool water. There are breathtaking views of nearby Cathedral Rock, with its towering red cliffs and spires. The serene landscape here is classic Sedona, and swimming in the creek can sometimes feel like a spiritual experience.
Like most places in Sedona, weekends are exceptionally busy here. For some privacy and a more quiet atmosphere, try visiting the Crescent Moon Ranch swimming hole on a weekday morning.
4. Water Wheel Falls on Ellison Creek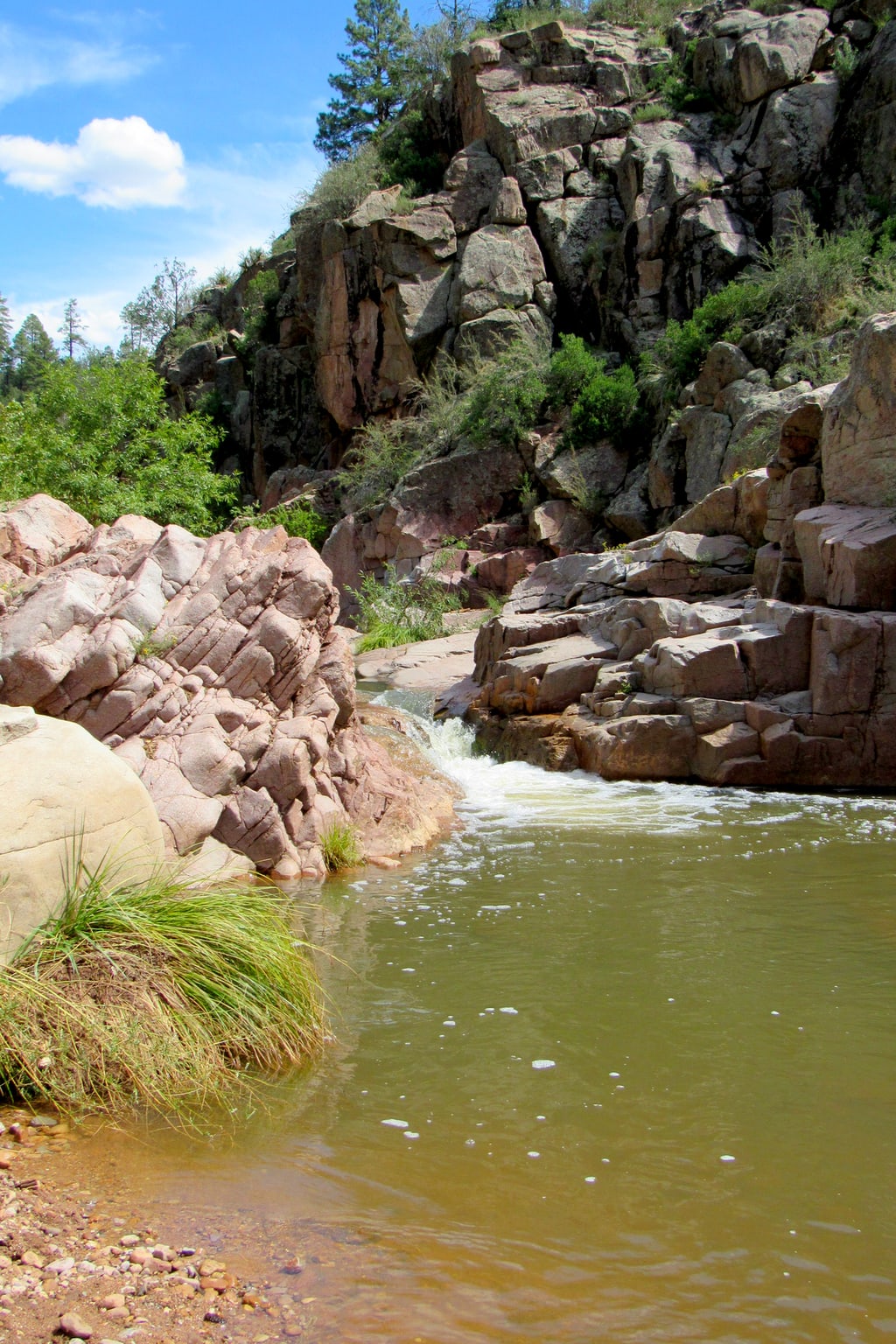 The creeks around Payson, Arizona are mostly seasonal, so visiting here in the early summer month will give you the best experience. Ellison Creek runs through giant boulders in a small rocky canyon, and Water Wheel Falls are formed by the cool water cascading over a series of pools and boulders.
The Water Wheel section of Ellison Creek is popular in the summer months, especially since it is less than 2 hours from the east Phoenix valley. The trailhead lies about 9 miles outside Payson on Houston Mesa Road. Getting to the waterfalls from here requires a short hike, some minor boulder scrambling, and a few creek crossings.
Along the way you'll find a couple cascading falls, but you'll know when you reach your destination- there is a large log with notched footholds creating a ladder of sorts, and the water flows over the boulders into a deep, clear and cold pool.
Water Wheel Falls is a family friendly swimming hole, but like anywhere worth visiting in Arizona, it can get crowded on the weekends. Visit here in the middle of the week for a more quiet experience.
5. Fossil Creek Falls
Fossil Creek is one of the clearest creeks in Arizona, as the water flows swiftly from an underground spring. The falls and the swimming pool beneath them is deep, crisp, and so incredibly refreshing.
Although Fossil Creek Falls is closer to Strawberry, AZ, you cannot access it from that side due to road closure from road erosion. To get to the trailhead, take the I-17 north out of Phoenix to the 260 East. After 10 miles you'll see forest road 708 and which will take you to the trailhead.
The hike itself is short, only 2.6 miles round trip, but it is in full sun! You'll be happy to reach the creek and the swimming hole, where you can jump in and cool off. Enjoy swimming around in one of only two designated "Wild and Scenic" rivers in Arizona.
The falls are beautiful as well, but avoid climbing or jumping off them to preserve the geology underneath the water.
Permits are required to visit Fossil Creek, but don't let some of the extra work discourage you from traveling here. This is a must-visit for anyone wanting to enjoy one of Arizona's best swimming holes.
6. Bull Pen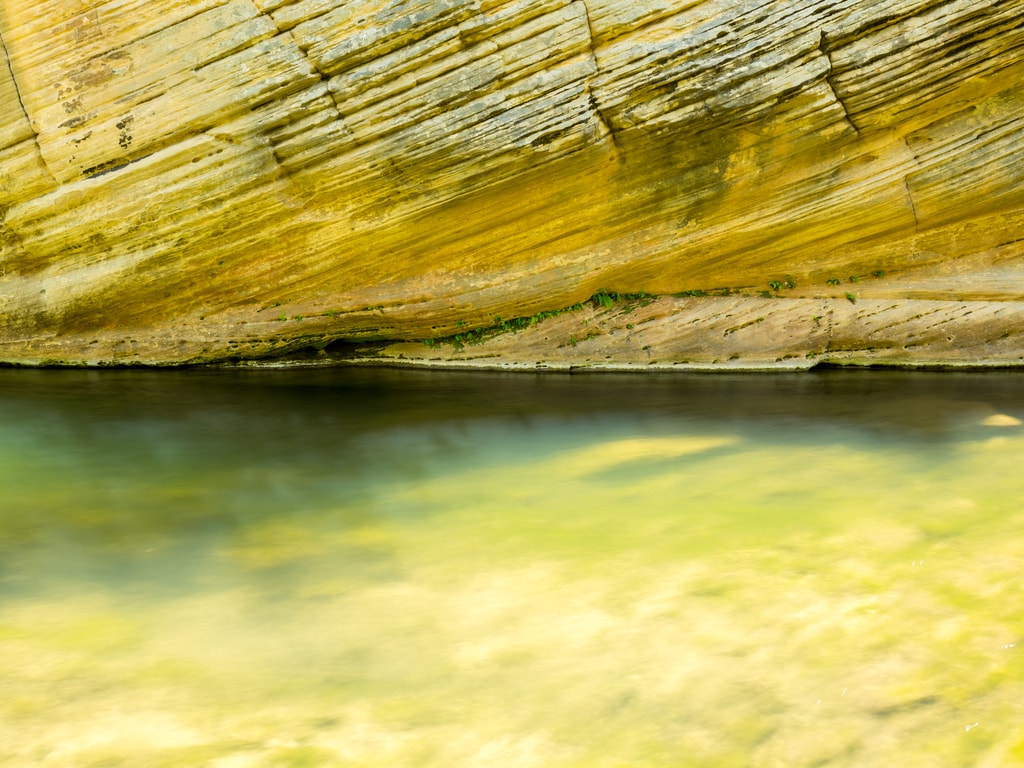 Located on West Clear Creek, this large and deep swimming hole is a cliff jumper's dream. The water depth here is about 9-10 feet with cliffs that top out around 20 feet tall. Definitely jump at your own risk, and know your limits!
Another great feature of this natural pool is the beach-like bank that has gradual depth, making this a great place for younger kids to play. The sand and gravel here is more soft than what you would normally find in Arizona.
Getting here requires driving down a 5-mile dirt road, and a vehicle with decent clearance is always a good idea. The trailhead lies about 15 miles east of Camp Verde, making this a 2-hour drive from Phoenix, perfect for a summer day trip.
The Bull Pen swimming hole has calm, clear water and is the perfect temperature year-round. Plan a trip here for some cliff jumping, and there is even a rope swing for more adrenaline-pumping fun.
7. Romero Pools
Romero Pools are a seasonal waterfall and swimming hole that only flows during the spring and early summer runoff. This creek might also be flowing after exceptionally hard monsoon rains.
Located in Catalina State Park near Tucson, getting to the falls requires a hike of about 2.8 miles one way. It can be a difficult hike for those less experienced, so be prepared.
The dainty falls and pool may be smaller than others on this list, but the hike is part of the appeal for visiting this swimming hole. The water is crisp and a great reward for your climb into the mountains. Be sure to stop on your hike and take in views of Mount Lemmon and the city of Tucson.
8. Mooney Falls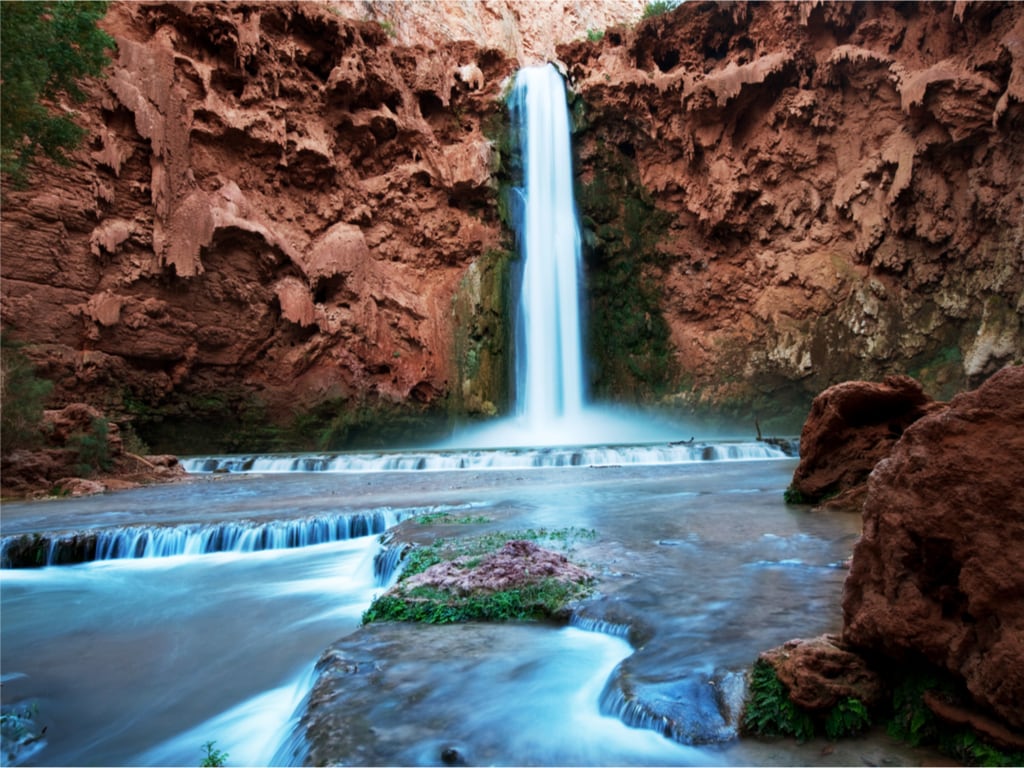 Havasupai has arguably the most picturesque creek and waterfalls of anywhere in Arizona. The iconic blue waters of Havasu Creek spill over the red cliffs at several towering waterfalls, of which Mooney Falls is the tallest. Getting to this pool requires a slightly scary descent, involving a tunnel through the cliff, some chains and ladders, and slippery wet rock.
Mooney Falls measures at 190 feet tall, so when you're swimming in the blue pool underneath, be sure to stay clear of the falling water! It's much more powerful than it looks! The water in Havasu Creek is always crisp and cold, and since the temperature regularly gets into the triple digits in the canyon, swimming here is a must.
Fairly expensive permits are required to visit this area, and the only way to access the gorgeous creek and canyon is by foot, mule, or helicopter. Traveling to Havasupai has become a bucket-list item for many people due to its popularity on social media.
9. Havasu Falls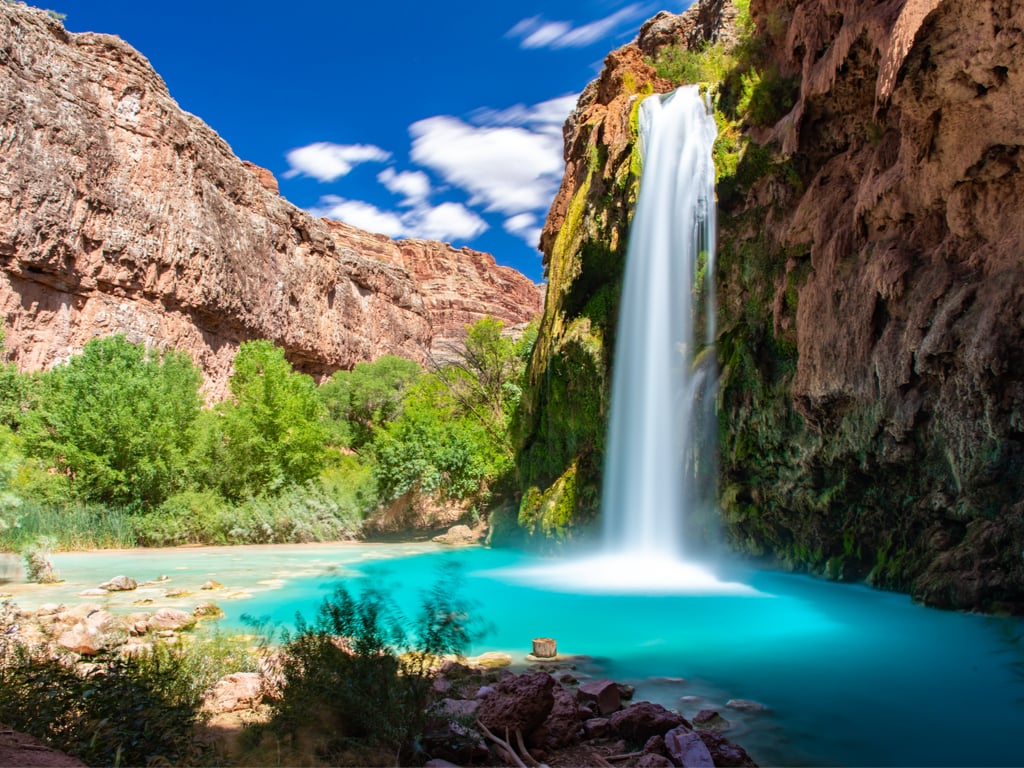 Another huge waterfall located along Havasu Creek, these falls have a larger pool at the bottom, as well as trees that are perfect for hanging up your hammock and taking a nap to the relaxing sounds of falling water.
Havasu Falls are about 98 feet tall, and the pool at the bottom is more easily accessible from the trail than Mooney Falls, making this a very popular stop for campers and hikers in the canyon. There are picnic tables at the bottom, so plan on bringing your lunch here and enjoying the view.
Just like with Mooney Falls, Havasu Falls is very powerful when it hits the pool below, so swim at your own risk! The creek below the swimming hole is more calm and the perfect depth for relaxing and wading.
10. Rock Falls
Also known as Fiftyfoot Falls, the water at the bottom of these waterfalls is deep enough to jump into from the top of the falls. This is essentially a brand new waterfall- it was formed during a gigantic flood in 2008.
Behind the cascading waters of Rock Falls lies a small cave, making a fun place to explore but be sure to wear shoes, as the rocks are very slippery. Like the rest of the waterfalls on Havasu Creek, the water here is a bluish hue and is refreshingly cool year round.
The trail from the village of Havasupai to the campsites near Havasu Falls passes right by Rock Falls, giving you an excellent vantage point to enjoy watching the cliff jumpers. It's also a great time just sitting in the pool below and watching the adrenaline junkies enjoy themselves.
Be sure to add cliff jumping off Rock Falls to your Havasupai bucket list.
11. Beaver Falls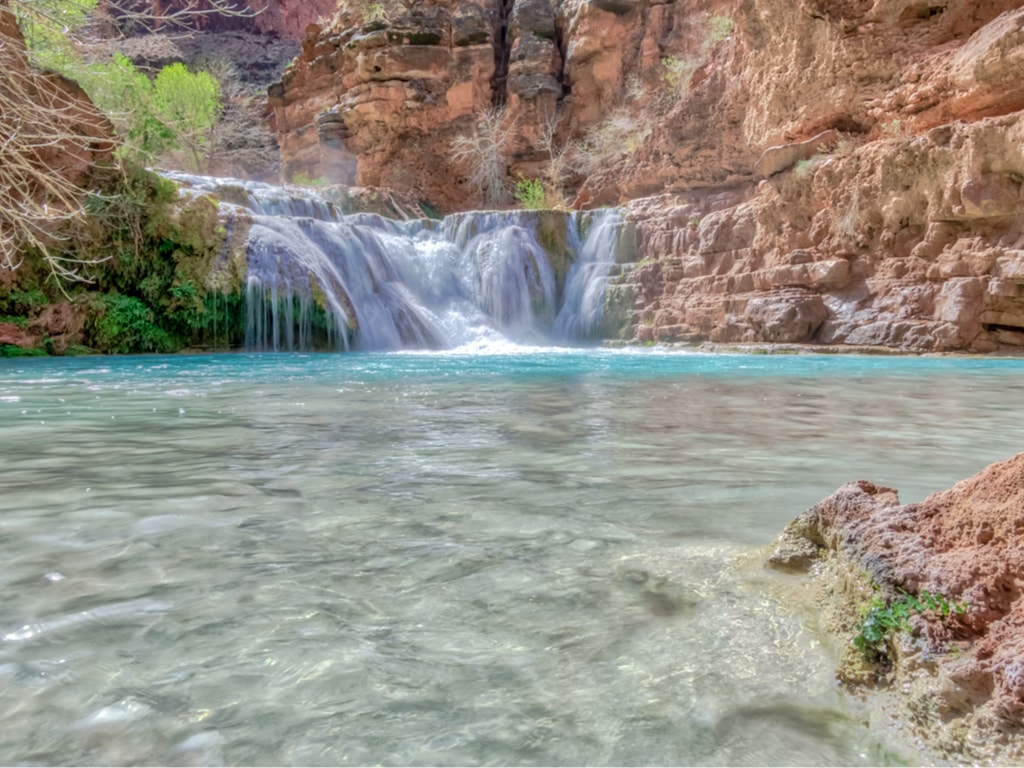 Another entry on the list located on Havasu Creek, reaching Beaver Falls requires hiking about 3 miles further downstream. It can be easy to lose the trail among the thick brush and weeds, and the hike also requires several creek crossings.
Once you've made the journey, you're rewarded with a series of cascading pools over shelves of travertine rock that make up Beaver Falls. One of the ledges is high enough over a deep pool for cliff jumping, and all of the pools make excellent swimming holes.
The beautiful blueish waters of Havasu Creek are caused by minerals in the creek, which get collected over time on the edges of the rock, creating the ledge and pools. Always be cautious walking on these ledges as they can get slippery!
Any of these swimming holes and waterfalls along Havasu Creek makes the money and long hike completely worth it.
12. Seven Falls
The name says it all- hiking to these falls gives you seven (or more!) opportunities to dip into the clear crisp water. The water cascades over slick rock in a series of small waterfalls, with the bottom pool being the largest and best one to swim in.
Seven Falls are on a seasonal creek in the Tucson area, and getting here requires a 6.8 mile round trip trek. The extra work is more than worth it, especially during the spring and early summer runoff when the pools and falls are at their best.
The trail to the pools is daily exposed, so always plan ahead and bring plenty of water. Even on a cooler day, the Arizona sun can be brutal! The trail will wind you through a forest of saguaro cacti, and give you excellent views of the surrounding Sonoran landscape. The trail crosses the creek several times, so stop and enjoy the cool water along the way.
13. Wet Beaver Creek
One of Arizona's best kept secrets (until recently, with the rise of social media), the swimming hole at "The Crack" on Wet Beaver Creek is worth the journey to get there. Hiking to the pool involves over 3.5 miles one way on a hot and exposed trail, so bring at least a gallon of water for each person.
The hike is rocky but pretty straight forward, and brings you directly to "The Crack", a rock formation with a huge swimming hole at its base. Start early, and go on a weekday to avoid the crowds.
Once you make the trek, the pool here is downright chilly! On a hot day, it'll take your breath away with the change in temperature from the air to the water. Dogs are welcome on this hike on a leash, but be warned that the heat and rocky terrain might be hard on them.
There are several cliffs high enough to jump off into the deep pool, and even a few trees big enough to hang up your hammock. There are plenty of flat and shaded spots to set up camp for the day. This is becoming one of the more popular swimming holes in Arizona, and is about 2 hours from Phoenix.
14. Salome Creek
Also known as "The Jug", this is a hike and swimming hole unique from any other in Arizona. When the water is flowing at its highest in early summer, you'll be hiking in water in a slot canyon. The depth varies from knee deep to swimming depth. This hike is definitely not for those who are scared of repelling or heights, as the very end of the slot canyon section requires a jump or repel off a 25-30 foot waterfall (depending on water depth).
The base of this waterfall is an excellent swimming hole, and big enough to swim in without getting in the way of those who are jumping or repelling down the waterfall. Always check the water levels before you go, as this will dictate whether you will have to repel or not. If the water is shallow, jumping off isn't an option.
The hike through "The Jug" starts on a road, then drops down into the canyon and the creek. Once you get to the waterfall and make your descent, the trail then climbs back out of the canyon, and follows the edge of the canyon in a loop back to your vehicle.
This is the perfect swimming hole to add to your adventure list, so enjoy the water hike and listen to the yells of cliff jumpers echo through the canyon.
15. Parsons Spring
This is one of the more remote swimming holes in Arizona. The dirt road to the trailhead definitely requires a high-clearance 4WD vehicle, and the hike itself is 7.3 miles round trip on a rocky and grown-over trail.
The journey is worth it- the swimming hole on Sycamore Creek is flanked on one side by a towering red cliff, and a shaded shoreline on the other side. The pool is supplied by an underground spring called Parsons Spring and is perfectly refreshing year round.
The trail is fairly pleasant, and only gets difficult on your way out as it climbs out of the canyon towards the end. Be sure to bring a map and pay attention during river crossings to avoid getting lost. Spend plenty of time at the pool to cool off from the trek there. Since it is a little more remote than most, this is one of the least busy swimming holes in Arizona.
Conclusion
When the temperatures hit the triple digits, it's time to hit the water! Arizona's summers can be brutal, but luckily there are many cool, refreshing swimming holes scattered throughout the state. Even better, most of these swimming holes are easily accessible by a short hike.
Since most of these pools are found in the higher country, for most people in Arizona it requires a short road trip to reach an oasis, but it is always worth it. It's always recommended to wear water shoes to avoid slipping on the mossy rocks found in these swimming holes.
Although you're swimming in water, bring your own drinking water; giardia (a common parasite) can be found in most swimming holes. Besides these minor safety precautions, swimming in one of Arizona's wild pools makes the long summer days tolerable. Slather on the sunscreen and enjoy some of the hidden gems on Arizona's creeks and rivers.
Stick with us to learn and discover more adventures in the state such as the best beaches in Arizona, the best water parks in Arizona, our guide on the best hiking trails in Arizona, and the list of the best National Parks and Monuments in the region.
Explore Arizona
Still wanting to learn more? Dive in our Arizona Travel Guides and discover the best places to visit, interesting things to do, budgeting tips, comfortable accommodation, and everything you need to plan your perfect trip in the state.