14 Best and Coolest Things to do in Alaska this Fall
Are you looking for a vacation that is both exciting and beautiful? If so, then Alaska in the fall is the perfect destination for you!
This time of year, the state is alive with color as the leaves change and the skies grow darker, things become more relaxed than during the peak of summer cruise ship season, and the locals will be out enjoying the last bit of sunshine before the snow falls.
During the autumn, Alaska is wild, scenic, and fascinating no matter what area of the state you visit. Plus, there are plenty of things to do, from enjoying the last of the summer sun to exploring the wilderness. Many consider fall the best time to visit Alaska because of the gorgeous foliage, darker skies, and the "shoulder-season" savings.
So what are you waiting for? Pack your bags and head to Alaska!
In this article, we'll be exploring the 14 best things to do in Alaska in the fall.
1. Take a Glacier Day Cruise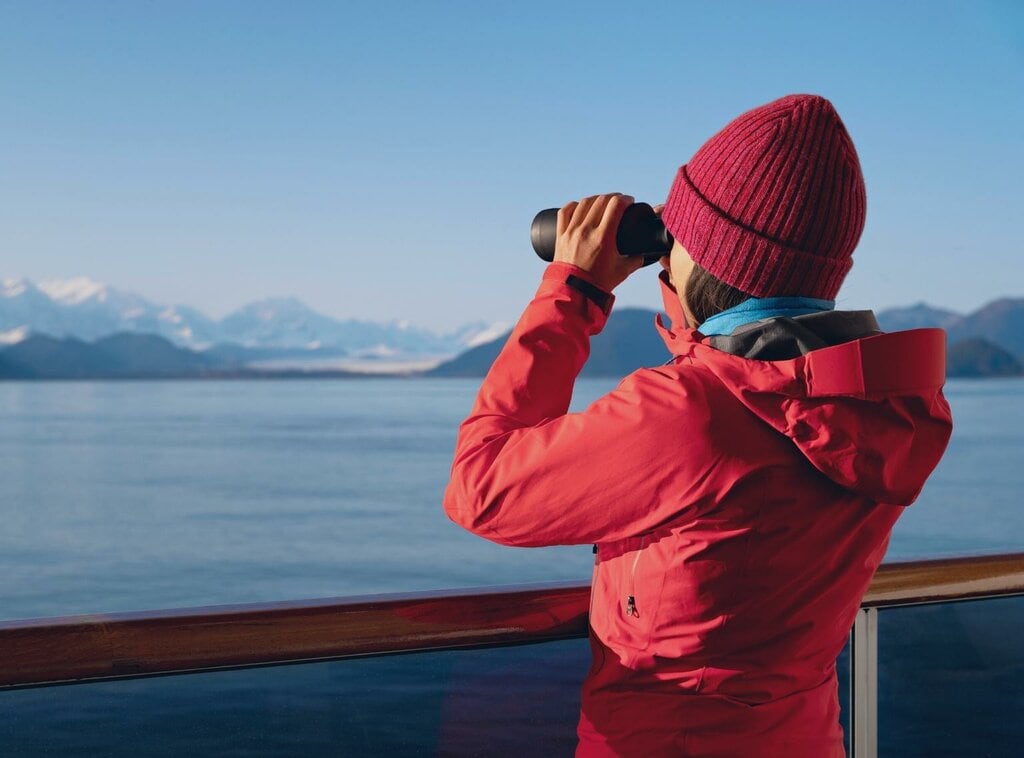 A glacier cruise is the most incredible way to experience the classic Alaskan coastline scenery. You may catch a glimpse of seals, whales, puffins, and icebergs cascading into the water. You'll also get to see bears, mountain goats, and bald eagles while passing through beautiful inlets and fjords.
Such cruises, fortunately, are among Alaska's most accessible tours. The majority of coastal communities provide cruises.
Here are my top recommended tours near Anchorage, Seward, and Homer:
They also provide excellent value for the length of the adventure when compared to other Alaska experiences, and you won't have to compete with crowds of other tourists for a space on the boat in the fall months.
2. Go Fishing
As the fall season progresses, the days grow shorter, and the eggs from the summer's salmon spawn continue to drift through the rivers, past armies of ravenous rainbows and Dollies. Then, just as the egg frenzy dies down, the decaying carcasses of thousands of fish provide the food chain a new lease on life. In Alaska, fall is a fantastic season for fishing.
Time will fly by as you cast for rainbow trout, Dolly Varden, grayling, steelhead, and silver salmon, with fewer fishermen competing for a bite. Stunning fall colors will surround you on these cooler days.
If you book a fishing tour, you don't even need to pack your gear or worry about where to go. The tour services will connect you with the best fishing areas.
Here are some of the best fishing activities in Alaska you can do:
3. Enjoy the Alaska State Fair
The Alaska State Fair takes place every year in Palmer. The fairgrounds are about an hour north of Anchorage and attract a large number of tourists from all across the state. They come to this weeklong event that begins at the end of August. The Fair is known for its enormous, record-breaking veggies and gorgeous site at the foot of the Chugach Mountains. Amusement rides, food kiosks, competitive exhibitions, carnival games, live music, and more are all part of the festivities.
Free entertainment is available throughout the fairgrounds, and visitors can also enjoy events and contests such as the rodeo, Diaper Derby, and Alaska Grown Games. Every year, as part of the AT&T Borealis Concert Series, the Fair hosts major name concerts as well.
4. Go Wildlife Viewing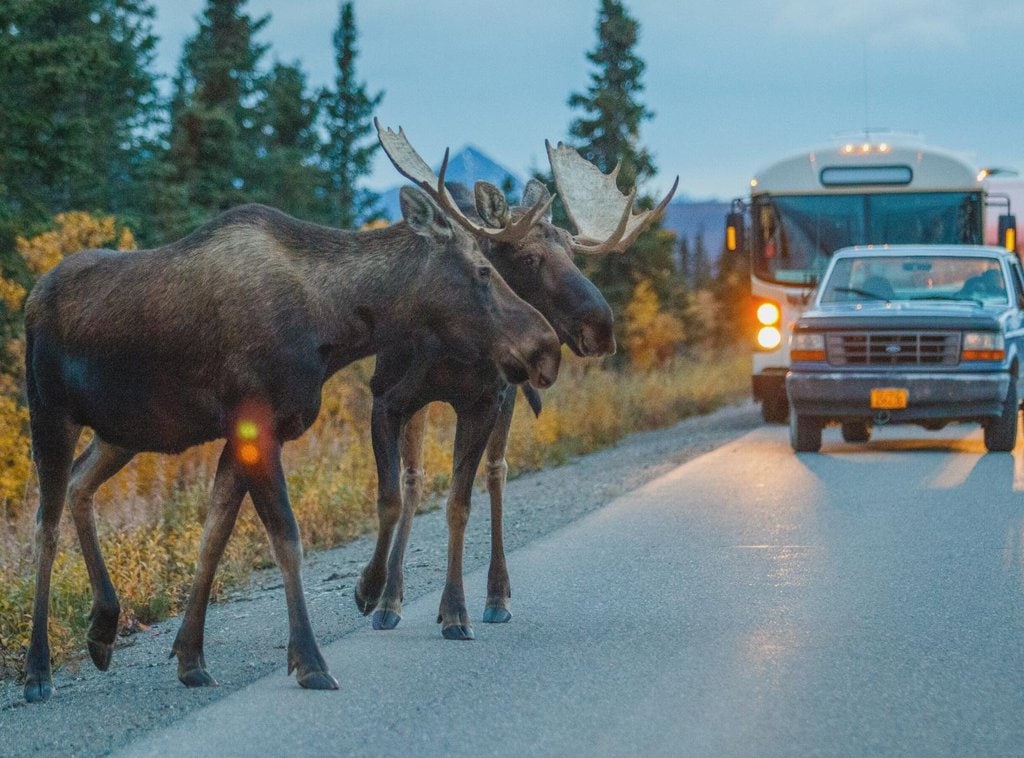 For good reason, seeing wildlife in Alaska is one of the top priorities for many visitors to the state.
Alaska is home to various species, including brown and black bears, moose, whales, eagles, caribou, wild sheep, and more.
When you combine this wildlife diversity with Alaska's stunning and rugged landscapes (which range from high mountains to fjords and rainforests), you get a wildlife viewing experience unlike any other.
You can catch glimpses of the animal locals all year round, but late summer and early fall are often a good time to have your camera ready.
Bears hibernate in the winter, and whales and other birds migrate to warmer waters for the winter, so fall is often the last chance to catch a glimpse.
Wildlife tours can help you get the best chance of seeing the animals on your list as animals are sometimes in various places or doing different activities at different times of the year. Your guides will know where the best places are located for seeing bears, moose, and all the other creatures.
The best tours for wildlife viewing in Alaska are these ones (handpicked):
5. Try Snowshoeing
While you may think of it as mainly a winter activity, snowshoeing can be enjoyed in the fall in many areas of the state. It may look complicated, but you can very likely succeed at this activity if you have two working feet.
Booking a snowshoe tour can be done in many cities or larger towns, and you can usually find ones that suit a variety of levels, from beginner to seasoned pro.
Anchorage has plenty of multi-use trails that can be used for snowshoeing, and some years you may find enough snow to try in the late fall. A better option may be further north like Fairbanks.
Here are my recommended snowshoeing adventures:
6. Ride the Alaska Railroad
Year-round service is available on the Alaska Railroad. From Seward on the Kenai Peninsula, 70 miles of track extend north to Anchorage, Talkeetna, Denali, and Fairbanks. Whittier, Girdwood, Spencer Whistle Stop, and Wasilla are among the other stops.
Take the train to Fairbanks for spectacular views of the changing fall colors and a chance to see Denali up close. Alternatively, enjoy a day excursion up to beautiful Hurricane on one of America's last whistle-stop railroads.
The ever-changing vista beyond your window is filled with mountains and glaciers. You might even see some wildlife. The train from Anchorage to Seward is one of the most scenic, but any route is more scenic than a typical rail ride in other parts of the country.
7. Northern Lights Viewing
The Aurora borealis can be seen in the fall due to the shorter days and longer nights. Visitors to the Interior and Arctic Alaska can view waves of green and sometimes red northern lights dancing across the sky starting in mid-August on clear nights.
Fairbanks is a popular destination for viewing since it is located about 180 miles south of the Arctic Circle and experiences the northern lights on a regular basis. While the phenomena can also be seen in more southern towns, like Anchorage and Juneau, you'll see fewer displays.
Bring your camera, tripod, and warm clothing because snow is always possible! In Fairbanks, the first snowfall usually occurs around September 27, whereas in Anchorage, the first snowfall usually occurs in mid-October.
Book my recommended tour from Fairbanks, and if you want a cheaper (and shorter) option book this one instead.
For more details about the subject, read my full guide: where to see the northern lights in Alaska?
8. Go Hiking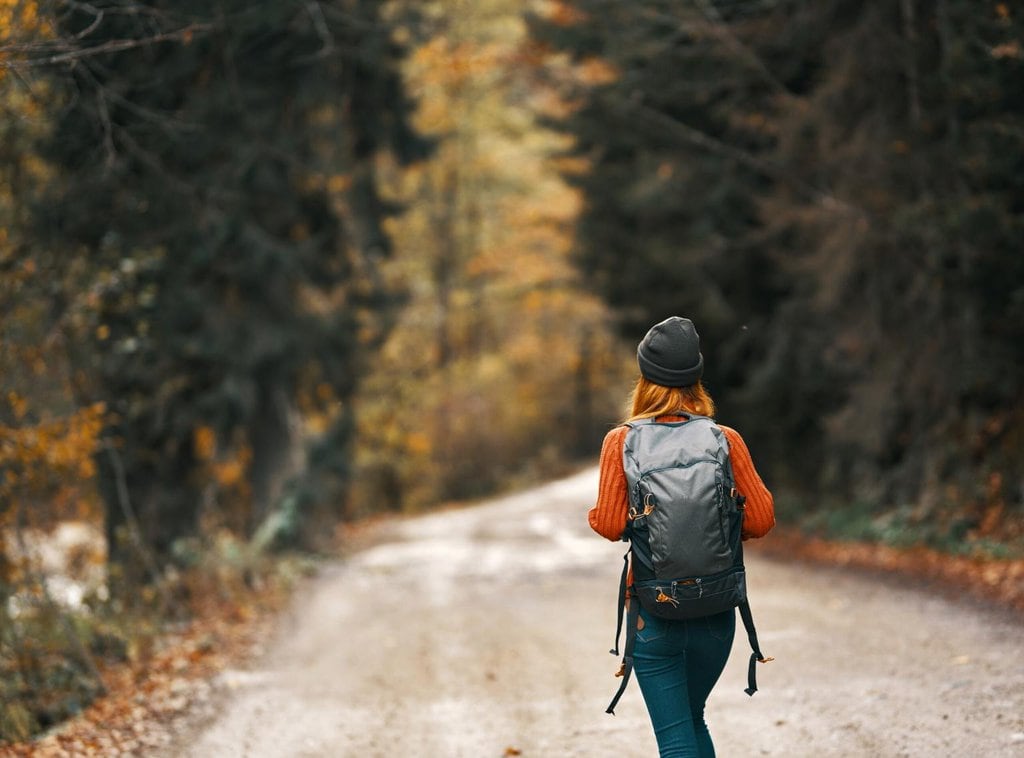 Hiking in the Last Frontier can't be considered anything less than epic!
Alaska is a huge state. It's roughly one-third the size of the contiguous 48 states, at about 660,000 square miles.
It is home to two of the country's largest national forests and two-thirds of the country's national parklands. It also contains around 80% of the country's wildlife refuges. All ripe places for fall hiking.
Few destinations have such a diversified landscape as Alaska.
In the southeastern section of the state, you may see fjords and an uncut temperate rain forest. Transitional and boreal forests can be found in Alaska's south central and interior areas. Further north, the icy tundra awaits.
Throughout the state, there are numerous opportunities to experience glaciers up close. You may also go alpine hiking without the height because of the low tree lines.
So get yourself out there and explore Alaska's wilderness! Read my guide about the best hikes in Alaska.
9. Visit Denali National Park
Denali National Park attracts over 600,000 tourists each year for a reason. It's a massive, beautiful, and thrilling national park teeming with fascinating megafauna and countless stunning vistas.
Denali was designed to safeguard a complete functioning ecosystem, unlike most national parks that were established to protect only natural wonders. A single 92-mile road bisects the park, an area the size of New Hampshire, which is covered with mountains, glaciers, glacial valleys, boreal forest, and arctic tundra. There are 38 mammal species, 160 bird species, and 758 plant species in the park.
A visit in the fall can be just as rewarding as a visit in the summer. Just make sure you hire a guide (here is a good one) if you want the best chance of achieving the "Denali Slam" — viewing the big five creatures in the park: moose, caribou, wolf, Dall sheep, and the brown or grizzly bear.
You can also engage in multiple activities in the park such as:
10. Enjoy Whale Watching
In February, whales start migrating from Mexico's warm waters and arrive in Alaskan waters by April. From May to September, you can witness a variety of whale species all over Alaska. Passengers on cruise ships frequently observe whales right from the ship's deck.
In the fall, there are a couple of different whale species you may be able to catch a glimpse of. Near Anchorage and the Cook Inlet, you may see the ivory-skinned beluga whale. Near Seward, in the waters of Resurrection Bay, you may see Orcas swimming by in late summer through September.
Taking a whale-watching cruise will boost your chances of a sighting. The smaller boats let you get a closer look at the whales, and your guide will almost certainly provide you with intriguing data about the local whale pods.
11. Go Hunting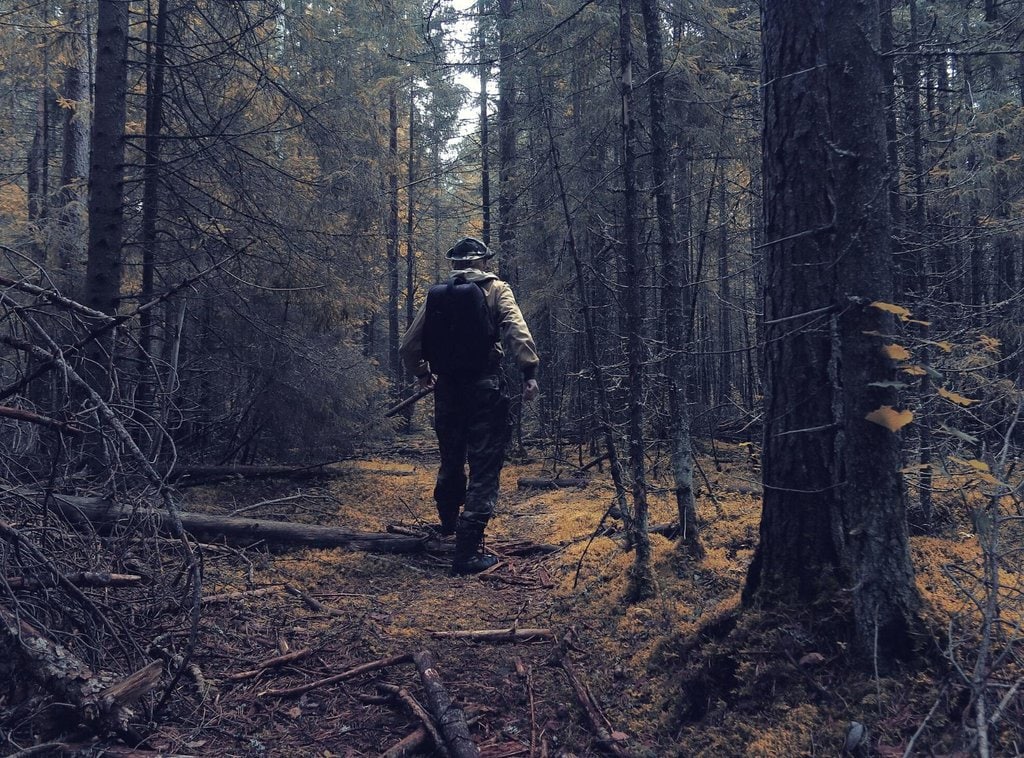 The majority of Alaska's hunting seasons run from August to October. The Last Frontier's seasons and game differ significantly from those in the lower 48 states.
The state leads the nation to have a diverse range of large game species available for hunting, making it a great hunting location. Game enthusiasts will find everything from black bears, caribou, and moose to mountain goats and muskox.
Hunting seasons can fluctuate from year to year, and not all seasons are open to nonresidents. Nonresidents are frequently barred from hunting in years when game herds are small or scarce.
The Alaska Department of Fish and Game sells hunting permits and tags on the internet, so it is a good idea to research permit availability before booking your hunting excursion.
12. Leaf Peeping
September can bring gorgeous days with mild temperatures, ideal for lengthy drives or mountain hikes to view the changing colors. Furthermore, there are no mosquitos this time of year, which is a great boon!
You'll find the leaves on blueberry bushes are bright red, while birch trees turn a magnificent yellow that contrasts sharply with the dark green of the spruce. Colors begin to peak in mid-September in Southcentral Alaska, near Anchorage, the Matanuska-Susitna Borough, and the Kenai Peninsula.
The Tongass National Forest near the Inside Passage is green all year. Still, the turning leaves and berries of Devils Club and deer cabbage give spectacular flashes of yellow and red beneath the old-growth Sitka Spruce starting in late September and October.
13. Try ATV Riding
Using an all-terrain vehicle (ATV) in the backcountry of Alaska has a lot of advantages. Not only can you cover more land in less time than when hiking, but it can also be a lot of fun. The ride will be bumpy, but it is sure to be a boisterous adventure.
ATV treks are definitely off-road. You'll travel through dirt, gravel bars, crossing streams, and possibly climb up a glacier. Your tours will start with a quick lesson on how to operate the four-wheel, all-terrain vehicles, and you'll most likely be able to drive yourself. However, children under the age of 18 will always remain passengers.
Communication is usually provided by a headset or a two-way radio. Safety equipment and some outerwear, like helmets and raingear, are generally included in the tours.
14. Meet Reindeers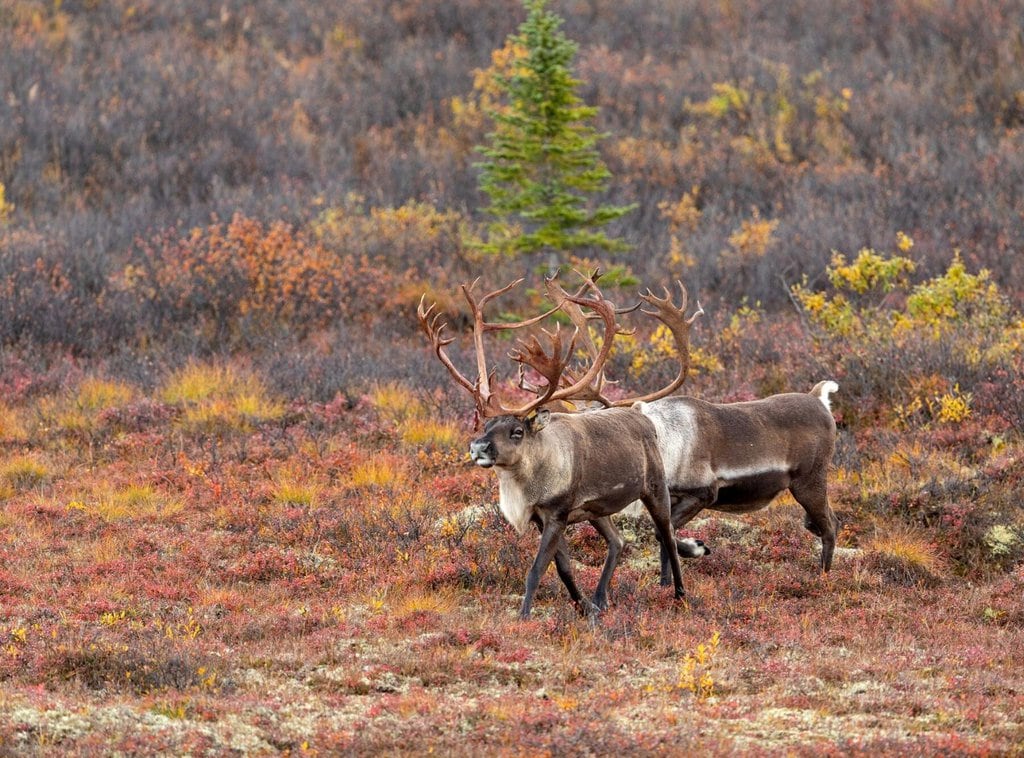 There are an estimated 750,000 caribou or reindeer in Alaska, dispersed between 30+ separate herds.
From the prairie-like barrens of the Arctic Slope to the brushy Kenai River flats, from the foothills of Denali National Park to the sweeping Alaska Peninsula along the Bering Sea, this distinctive species with sprawling antlers and inexhaustible vigor roam the countryside.
But if you don't want to head out in the wild to catch a glimpse of these stoic creatures, you can make your way to the Reindeer Farm in Palmer. This working farm offers feeding opportunities and doubles as a petting zoo.
If you are visiting Ketchikan, you can find a few resident reindeer at the Ketchikan Rainforest Sanctuary and Totem Park.
Alaska in the Fall is an Ideal Destination
Autumn in Alaska is stunning, with vibrant colors, crisp fall air, and a variety of activities such as fishing, hiking, sightseeing, and everything in between. Plan to see the landscapes bathed in scarlet, copper, and gold, and keep an eye out for the northern lights' magnificent green brilliance.
A vacation to the Last Frontier in the fall is the ideal time to fall in love with the state's outstanding features. Smaller crowds, lower pricing, and more fun await you during the off-season!