Hadrian's Wall Walk: The Most Famous Hike in England
The Hadrian's Wall hike is one of the UK's most famous long-distance trails. It's a beautiful but relatively easy wander through farms, fields, history, heritage, and some of the most famous landscapes in Northumberland.
A little while ago, I walked the entire route over six days. But because I'm from the local area, I've also done lots of shorter stretches countless times, both on foot and on my bike.
I've compiled my experiences into this: the ultimate guide to hiking Hadrian's Wall.
I've covered what you need to know, the best things you'll see along the way, and lots of practical information. And for the big babies who can't think for themselves, I've added a sample itinerary, to make things nice and easy.
Pack your bag, fish out your hiking boots and join us — here's my guide to the Hadrian's Wall walk!
What is the Hadrian's Wall Walk?
The Hadrian's Wall walk is a long-distance multi-day walking trail measuring 84 miles (135km). It runs almost from coast to coast, stretching east to west across the far north of England.
The walk was officially established in 2003, but the wall has been around for much longer. The building of the wall started in AD122, under the guidance of Emperor Hadrian. The wall was designed to keep the big bad northern barbarians from entering Roman territory south of the wall's frontier.
In England and Wales, we have a series of 15 so-called 'national trails', multi-day walks promoted, managed, and maintained by a UK charity. Of them all, the Hadrian's Wall path is probably the most famous.
The walk is so popular because it offers a massive sexy mixture of lots of lovely things. You get great views, an accessible route, good waymarking, diverse landscapes, and a big fat dose of Roman history.
Lots of people walk the route for its historical significance. I don't care about all that stuff, but I still love the area and the hike—so you don't need to be a history professor to enjoy yourself. If you just like walking and nice views, there's plenty to keep you entertained.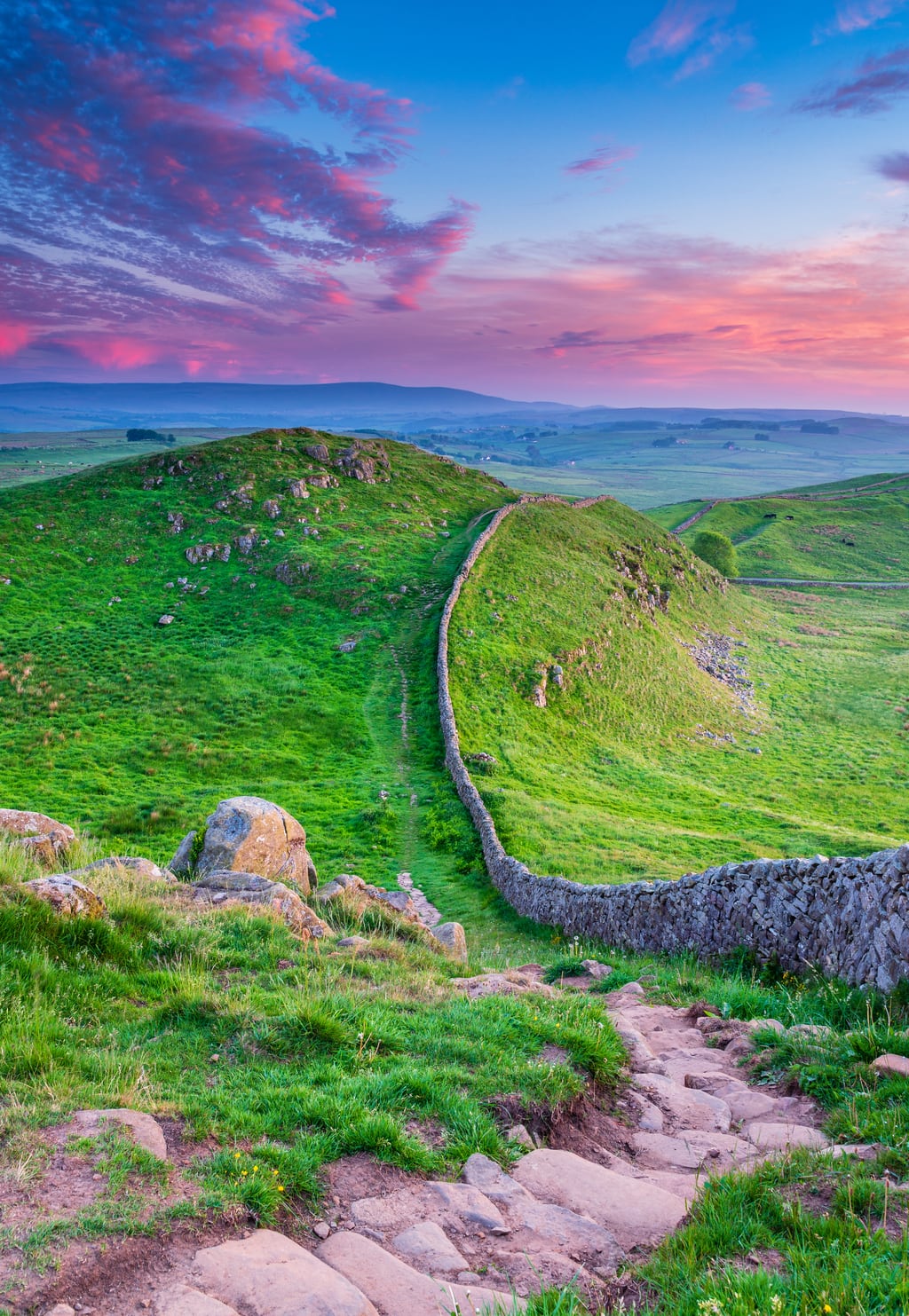 Here's a basic outline of the walk in speedy stats:
Start: Wallsend, eastern Newcastle
End: Bowness-on-Solway, Cumbria
Distance: 84 miles (135km)
Elevation: Around 2,300 meters in total
Average time to finish: 3-5 days
Difficulty: Easy to moderate
How Long Does It Take to Complete the Hadrian's Wall Walk?
Most people complete the route in around four days. At that pace, you're walking around 21 miles (34km) per day.
That said, it's your trip, so do what you want. When I did it, I tackled the route over six days—and that's what I'm going to recommend in this guide. Doing it quicker definitely would have been possible, but I wanted to take my time and enjoy all the views, the sunshine, and the pub food.
I've met some absolute maniacs who've done it in one day, and I've met others who didn't finish it because they tried to go too fast. So do whatever you're comfortable with, and you'll have a lovely little time.
Is the Hadrian's Wall Walk Difficult?
For a long-distance multi-day walk, it's not difficult at all.
If you've only ever walked to your local kebab shop and back to get a large doner and chips, yeah, you'll probably struggle.
But if you've ever done a multi-day walk, you'll probably find Hadrian's Wall easier than whatever you've done before. Lots of it is flat, it's pretty much all simple to follow, and even the most strenuous parts are pretty easy. So if you're looking for an entry-level multi-day walk, Hadrian's Wall is perfect.
If you've never done a multi-day walk before, try a two-day practice walk to see if your legs, joints, and brain are up to it. If they are, you'll be fine.
Highlights Along Hadrian's Wall Walk
There are loads! Assuming you walk east to west, (which I think you should) you'll see these things in this order: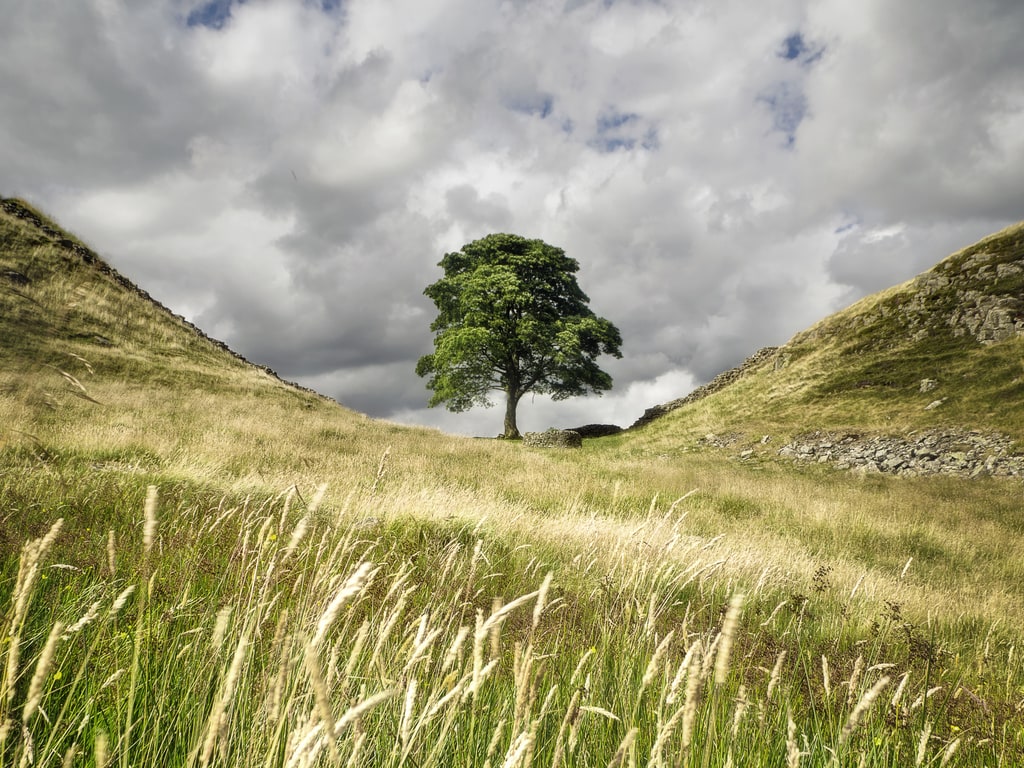 Newcastle-upon-tyne
I was born here, so I might be biased, but I reckon Newcastle is one of England's most underrated cities. The hike takes you through one of Newcastle's prettiest areas: 'the Quayside,' the part of Newcastle built on and around the Tyne River.
Heddon-on-the-Wall
The first cute little village in a series of cute little villages, Heddon-on-the-Wall is lovely. It's a peaceful contrast to most of the places you've walked through so far. Here, you'll find the first major stretch of still-standing wall along the walk. Perfect if you like history or looking at stones or whatever.
Northumberland National Park
Lots of the walk's highlights (including the next four in this list) are found inside Northumberland National Park. But the entire park is great. For around 17 miles (27km), you walk through the southernmost stretch of the park. Probably the quietest national park in the UK, it's massively underrated.
Housesteads
One of the best-preserved Roman forts in England, this place is right along the hike, so you can visit with absolutely no detour. The fort has heating, toilets, and drainage systems (so does the house I live in, who cares) along with lots of Roman artifacts.
Sycamore Gap
The site of probably the most famous tree in England, Sycamore Gap is home to a lone Sycamore. It sits right in the center of a mini valley, and loads of people come here to take photos of the place. So fire up your Instagram and join the party baby!
Quarries, Crags and Little Lakes
During the middle part of your walk (that's Chollerford to Walton, but more on that later), you'll pass loads of crags, quarries and small lakes. Combine craggy peaks with water, expansive viewpoints and national park territory, and you get some juicy panoramas.
Cawfields Milecastle
Along the walk, you'll see lots of well-preserved milecastles. Every Roman mile (that's a little shorter than a modern mile, how confusing), Romans built these structures as watchtowers and fortifications along their frontiers.
Of them all, Cawfields Milecastle is one of the biggest and most impressive (and it's in a really pretty place).
Bowness-on-Solway
Bowness-on-Solway doesn't have the most beautiful beach in the world, but it has something much better: the end of your walk. Here, celebrate with a dip in the water, a welcome rest and a nice cold drink. With a massive coastline and a population of around 1,000 people, it's a peaceful finalé.
Recommended Itinerary for the Hadrian's Wall Walk
Day 1: Wallsend to Heddon-on-the-Wall: 15 Miles (24km)
Lots and lots of flat walking take you through lots and lots of civilization.
You start in Wallsend, you walk through central Newcastle, you hit parts of western Newcastle, and you eventually make your way to the charming settlements of Newburn, Wylam and Heddon-on-the-Wall. This final stretch is definitely the nicest part of your day, as you hit the farms and fields that'll come to dominate most of your walk.
The very beginning of the trail is Segedunum—once a huge Roman fort, now a museum. I don't care about all the history stuff, but if you do, it's apparently really good. So if you have time, visit before you start your walk.
For more than half of today, you walk along the Tyne River, so it's really easy to navigate. The stretch that takes you through central Newcastle is lovely. Stop for a coffee and soak up the atmosphere—it'll be a long time before you're in a city again.
Day 2: Heddon-on-the-Wall to Chollerford: 15 Miles (24km)
Today, you see some really pretty landscapes. You'll spend most of your day wandering through endless farmland, making friends with cows, sheep, and (if it's spring) lambs.
For basically all of day 2, you walk parallel to the big B6318 road. That sounds horrendous, but it's not that bad—it's pretty quiet, and you don't see many cars. And it's a beautiful part of the world anyway.
Today, you'll pass Robin Hood Inn. A massive pub right on the side of the road, most Hadrian's hikers stop here for lunch. So should you.
Again, this is a pretty easy day of walking. Not many ascents, not many descents, it's basically all flat.
Day 3: Chollerford to Once Brewed: 14 Miles (22.5km)
So far, you've probably been wondering what all the fuss is about. Today, you'll find out. Day 3 is where the really good stuff starts.
As you leave Chollerford and head west, you enter the southern part of Northumberland National Park, which offers the walk's best views. Today, you see lots of the famous sites I've already mentioned, including Housesteads, Sycamore Gap, and loads of those crumbly crags. For most of today, you walk along an undulating ridge, so you get constant panoramas.
The walking today is a little more challenging, with steady and consistent ups and downs. It's not super hard, but it's as hard as it gets.
Day 4: Once Brewed to Walton: 16 Miles (25.5km)
Today, the brilliant stuff continues. Days 3 and 4 are by far the best parts of the walk. So if you're short on time, just wander from Chollerford to Walton instead of tackling the whole trek.
On your way from Once Brewed to Walton, you'll see more crags and lakes, you'll get more ascents and descents, and you enjoy loads more beautiful views. For the first half of the day, you continue walking along the same ridge you were wandering over yesterday.
In terms of difficulty, today is pretty similar to day 3. So it's challenging, but it's still relatively easy. Like I said, Hadrian's Wall isn't a very difficult walk.
Top tip: go to the House of Meg cafe in Gisland for one of the best sandwiches I've ever had. Or maybe I was just really hungry, I don't know.
Day 5: Walton to Carlisle: 11 Miles (17.5km)
Today, you make your way back towards civilization. Carlisle isn't gonna win any best of Britain awards, but it's got some decent little sights, and it's a nice place to enjoy all the conveniences you've been going without.
Want to eat an Indian takeaway? Or go to a supermarket? Or watch two teenagers have a fight? You can do it all in Carlisle!
Before you get there, your walk from Walton largely takes you through farmland. Remember the stuff you saw on day 2? That's the sort of stuff you'll be seeing again. But the sheep probably have different accents or something.
Day 5 of Hadrian's Wall isn't the most spectacular day, because the best stuff is all over. But the walking is easier than the past two days, it's a pretty short stretch, and you're reaching the finish line!
Day 6: Carlisle to Bowness-on-Solway: 13 Miles (21km)
Today is a strange day and a welcome day.
It's strange because you abandon civilization again in pursuit of your walk's end. And it's welcome because you get to stop walking.
For the first part of today, you leave behind the surprisingly-big sprawl of Carlisle. For a little while, you follow the River Eden, before you then wander through woodland.
The last part of today (and the last part of the entire walk!) is through a load of weird, bleak salt marshes. They start green and relatively pretty, but as you near the coast, they transform, becoming all grey, ugly and oddly apocalyptic.
At the end of your walk, make sure you go to The Kings Arms. All west-heading Hadrian's Wall wanderers end their route at this pub, so you can sit around and compare blisters with all the other just-finished hikers and hobblers.
What is the Best Time to Do the Hadrian's Wall Walk
The best time to walk the Hadrian's Wall path is in mid-spring or early fall. It'll be warm, but not too warm.
In winter, the hike will be cold and horrible and you'll wish you'd never decided to do it.
And summer (though there's no guarantee of hot weather in northern England) will probably be too hot. Constant sun sounds fun until you've got to carry a bag along 84 miles of it. On your sweaty back. With sunscreen in your eyes.
How to Get to the Start of the Hadrian's Wall Walk
Assuming you're traveling from Newcastle-upon-tyne, it's easy. And even if you're not, you need to get to Newcastle to access the start of the route anyway.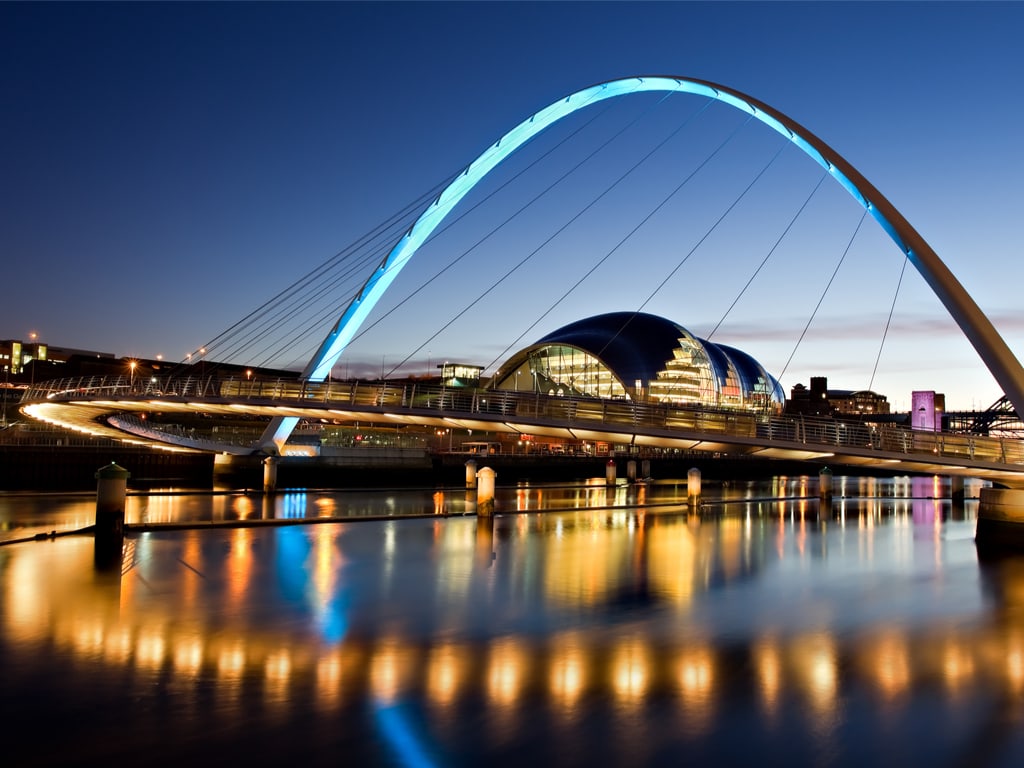 From Newcastle, your options are:
By car: The drive from Newcastle to Wallsend is really short. Plug NE28 6HR into your satnav and drive for about 10 minutes. Get someone else to drive if you can, so you don't need to park up for days and wander back to get your car when you're done.
By train: There's no train connection, but Newcastle and the surrounding area have 'the Metro,' a train-style public transport system. Get the Metro from Newcastle to Wallsend (it's a 10-minute journey) and you're a 3-minute walk from the start of your hike.
By bus: From central Newcastle, you can get the Stagecoach 22 bus. But the Metro is simpler, quicker, and easier to understand, so just do that instead.
Where to Stay Along the Hadrian's Wall Walk
Along the way, there are loads of great places to stay. For each overnight stop I've suggested in my itinerary, I've recommended a couple of places to stay below. Some of them I've stayed at, some of them I've just heard are good. Your best options are:
Night 1: Heddon-on-the-Wall
Most people walking Hadrian's Wall stay in Heddon-on-the-Wall. And because it's still in a relatively populated part of the world, you have a decent number of options. Two great choices are Hadrian's Barn and Houghton North Farm Cottage.
Night 2: Chollerford
Chollerford is pretty rural, but it's a very popular spot for loads of hikers, so it has a decent number of accommodation options. Your two most central options are George Hotel and Thistle Cottage.
Night 3: Once Brewed
The most popular spot in Once Brewed is the Twice Brewed Inn. Lots of people eat, drink and sleep there. If you're looking for something even cosier, try The Hideaway Huts, a couple of miles off the track.
Night 4: Walton
Walton doesn't have a huge number of accommodation options. So if you're not camping, or there aren't many accommodation options left in Walton, head to Lanercost, Banks or Newtown instead. Two of the most popular accommodations for tonight are Hadrian's Wall Studio and Hadrian's View
Night 5: Carlisle
Because Carlisle is a city, you have plenty of options. I stayed at Carlisle City Hostel, which is a good option if you don't want to spend loads of money. But on the other end of the spectrum, if you do want to spend loads of money, try The Halston Carlisle.
Can I Camp on the Hadrian's Wall Walk?
Yeah, you can. Camping isn't quite as easy as staying in hotels, hostels and other indoor accommodations, because you don't have as many options. But as long as you don't mind occasionally straying off the path by a mile or so, you can definitely camp along the entirety of the route.
That said, new campsites are popping up all the time, so (depending on when you're reading this), you might now be able to camp along the entire route without ever going off-track.
Note: it's technically illegal to wild camp in England. But as long as you're being a responsible camper, I wouldn't worry about it—rules against wild camping are ridiculous anyway. No-one's going to throw you in prison for sleeping in a tent.
Where and What Should I Eat Along the Hadrian's Wall Walk?
You'll eat most of your meals in pubs. Every night, you'll wind up eating a pie, or fish and chips, or something else with chips.
If it's stodgy, salty, and mainly beige, that's what you'll be eating.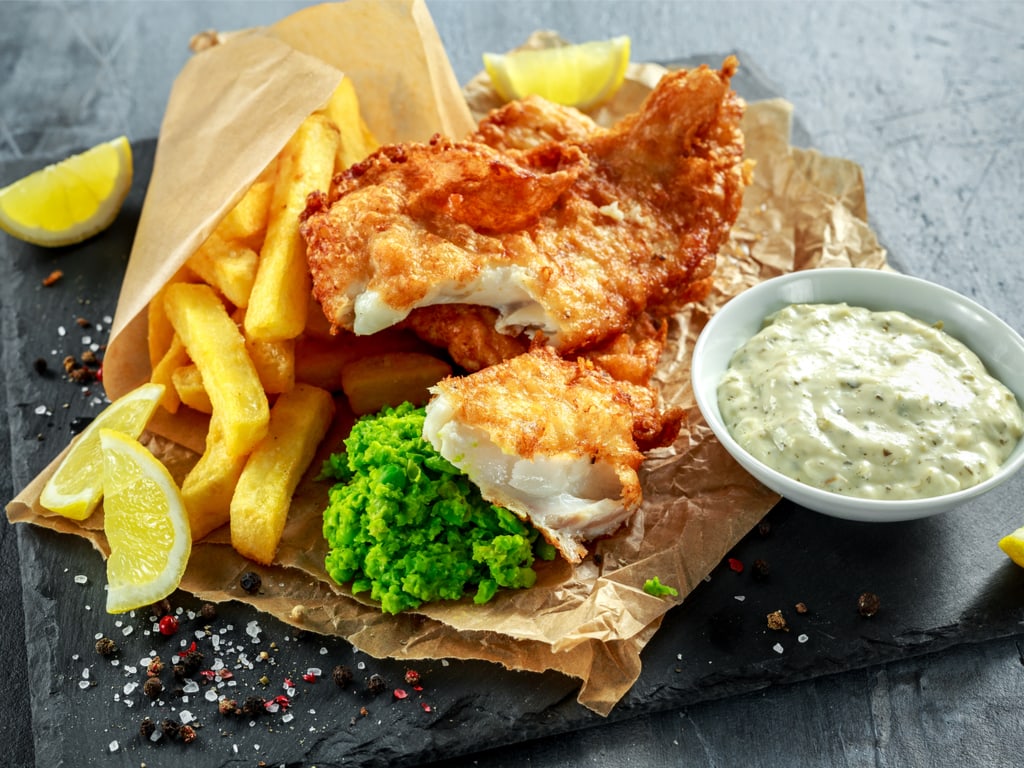 Unlike some long-distance walks, the Hadrian's Wall hike isn't massively remote. So most of the time, there's a café, pub, or shop where you can get some food. But in the middle section, there are a few stretches where you won't find much to eat.
So you don't need to pack loads of food, but make sure you always carry some snacks. Sweet, carb-heavy, calorie-dense stuff is always a good choice.
Oh, and make sure you carry water (obviously).
Recommended Maps and Guidebooks for the Hadrian's Wall Walk
The route is really well waymarked, so some people think you don't need a book or a map. And I get why people think that, but the waymarking isn't perfect, so it's best to carry some help.
More importantly, a good guidebook can give you social and historical context, which is especially useful on a hike like this.
So, yeah, you probably won't die without a map or a guidebook. You're not climbing Everest. But I still think you should carry some. I recommend:
Pro Tips for the Hadrian's Wall Walk
If you can, arrive in Newcastle really early the day before your walk. It's a lovely city, so it's a nice place to explore. Go for a coffee, eat some food, speak to the friendly locals, be confused by the unintelligible accent.
As I've already mentioned, there are lots of milecastles along the trail. Some are harder to spot than others, so keep your eyes open and look for as many as you can. They're a great insight into history, but they're also a good way to measure your progress.
Wear hiking boots for the middle sections of the walk, through fields and farms. But for the rest of the hike, wear running shoes or whatever. At the beginning and end of the hike, there are lots of paved sections—and boots aren't good for paved sections.
Carry good hiking poles, so you're not constantly slamming your knees into the hard tarmac. I injured my knee on the second day because I didn't have poles, so take my advice and don't be an idiot like I was.
Walk east to west. Most people recommend walking west to east, because you have the sun and wind at your back. But because it's a low level walk, the prevailing winds don't really matter. And Bowness-on-Solway is a much better finalé than horrible Wallsend.
If you only have time to complete a short section of the walk, just do days 3 and 4 as outlined in the itinerary above. They're by far the prettiest parts of the walk, and you'll see all the best scenes, sites, and historical stuff.
Hadrian's Wall Walk: Nearby and Connecting Routes
If you're looking for other nearby routes, my top 3 recommendations are:
Hadrian's Cycleway: For people who'd rather explore Hadrian's Wall on a bike rather than their feet. The routes aren't exactly the same, but the views are equally beautiful. The entire route measures in at around 170 miles (274km). I love it.
St. Oswald's Way: An ancient pilgrimage route that briefly shares some of the Hadrian's Wall path, St Oswald's Way is great. Clocking in at 97 miles (156 km), It offers a good balance between inland adventures and coastal ones, and it ends on Holy Island.
Northumberland Coastal Path: If you prefer coastal walks to inland ones, tackle this journey instead. A beautiful and diverse seaside hike that runs 62 miles (100km) from Cresswell to Berwick-upon-Tweed, it's one of my favorite hikes in Northumberland.
Final Words
Thanks for reading our ultimate guide to the Hadrian's Wall walk!
If you want to know anything else about traveling in Northumberland, we have lots more articles on our site. Have a sneaky peak at our guides to the best walks in Northumberland, the best castles in Northumberland, and the most beautiful places in Northumberland.
And for an entry-level introduction to everything you need to know about the area, here's our guide on all the things Northumberland is famous for.
Stick with us for much more!
Being a Digital Nomad: Tips, Tricks and Places
Do you want to be a digital nomad?
If you do, maybe you don't know where you might want to live. Or how to live there. Or whether you need a visa. Or how to make friends in the scary sprawl of a brand-new city. Or how to stay productive while you travel. Or how to find an apartment. Or whether this lifestyle really is for you. Or… I'm sure you get the idea.
But with some insight and experience, it's not as difficult as you think. So in this book, I've gathered my 6 years of digital-nomadding experience… and I've used it to answer all your questions, soothe all your fears, and get you on your way. After reading this, you'll realise being a digital nomad is much easier (and much more possible!) than you think.