Top 11 Best Castles in Northumberland
Northumberland is one of the most castled regions in the world.
Here's how – England is one of the world's most castled countries, and Northumberland is the most castled county in the whole of England (a 'county' in England is just a district, or a borough, or whatever else you want to call it).
Anyway, what I'm saying is, if you like castles, go to Northumberland.
I was born in Northumberland, so I've spent lots of my life living in the place and roaming around the area's castles, which range from towering complexes to tiny little ruins.
What's so great about Northumberland's castles is that they offer a huge variety of experiences. Some have massive restored interiors, others offer guided tours, and many are set in some of the county's most picturesque spots.
Looking for the best castles in Northumberland? They're all in this guide, so read on to gobble down on some tasty castle information!
Here are my 11 favorite castles in Northumberland:
1. Bamburgh Castle
Bamburgh Castle is my favorite castle in Northumberland.
I love it so much because of where it's situated. Looming on the brow of a towering hill, Bamburgh overlooks the nearby coast, the nearby village and its countless day-tripping tourists.
It's got to be one of the most picturesque castles in the world, and it's visible for miles around, dominating the skyline of one of Northumberland's most beautiful stretches of coast.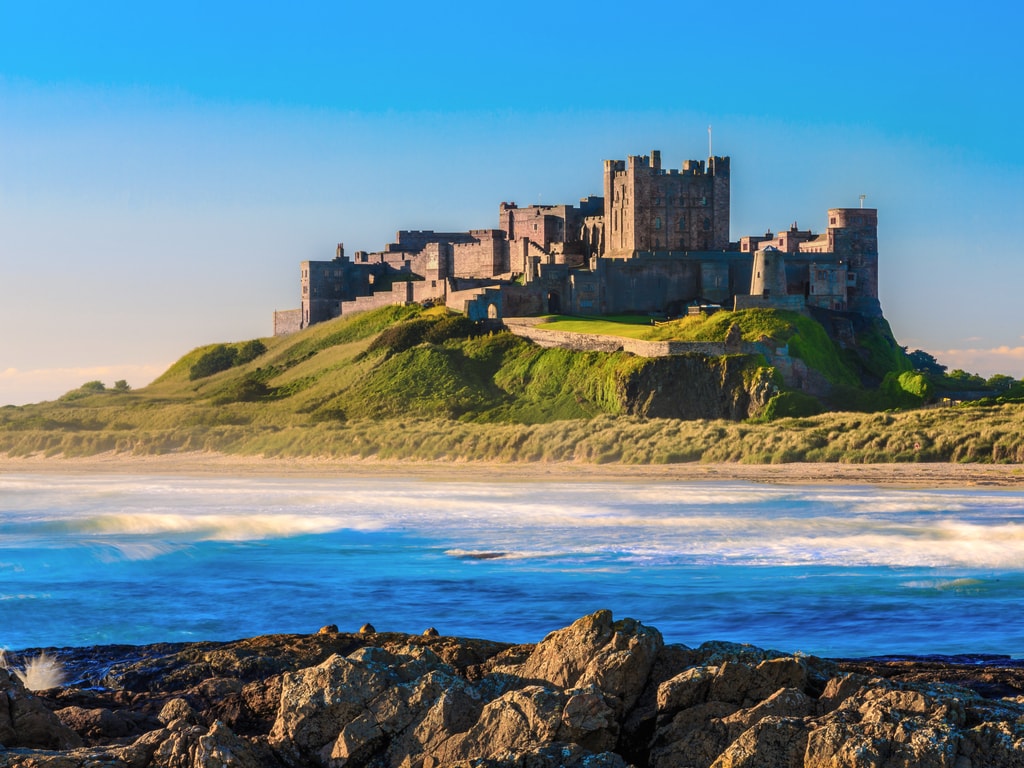 If you want the best views of Bamburgh, head to the shores just north of the castle, one of the most popular photography spots in the region.
One of the oldest inhabited castles in England, the place dates back more than 1400 years, and the interiors are incredible. Lots of kings have lived here, and it was the first castle in the world to be destroyed by gunpowder. Interesting.
2. Dunstanburgh Castle
Dunstanburgh Castle is another coastal colossus, but it feels much more rugged and remote than Bamburgh Castle. The fishing village of Craster is as close as you can get to the castle by car, so you have to park up there and wander over to the castle (it's around 4 miles – or 6km – to trek the round trip).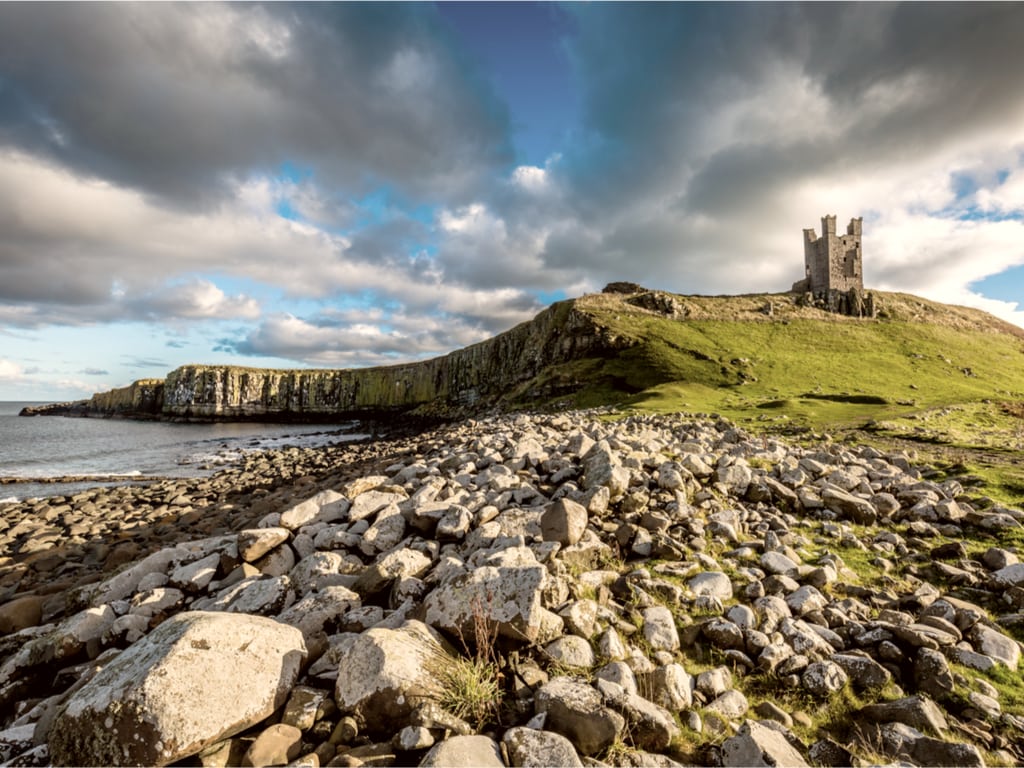 The walk is one of the best short coastal jaunts in Northumberland, and takes in tiny ports, rudimentary boats, countless sheep, nesting birds, beautiful coasts and (of course) the huge ruins of Dunstanburgh Castle. The place is the site of countless battles, feuds and royal in-fighting, and (depending on how you measure it), it's the biggest castle in Northumberland.
While you're visiting Dunstanburgh Castle, make sure you have some kippers in Craster, one of Northumberland's most famous foods.
3. Alnwick Castle
I used to work here. I was employed to hang around the dungeons in a costume and pretend I was, like, a dungeon master or something.
And no, I'm not joking.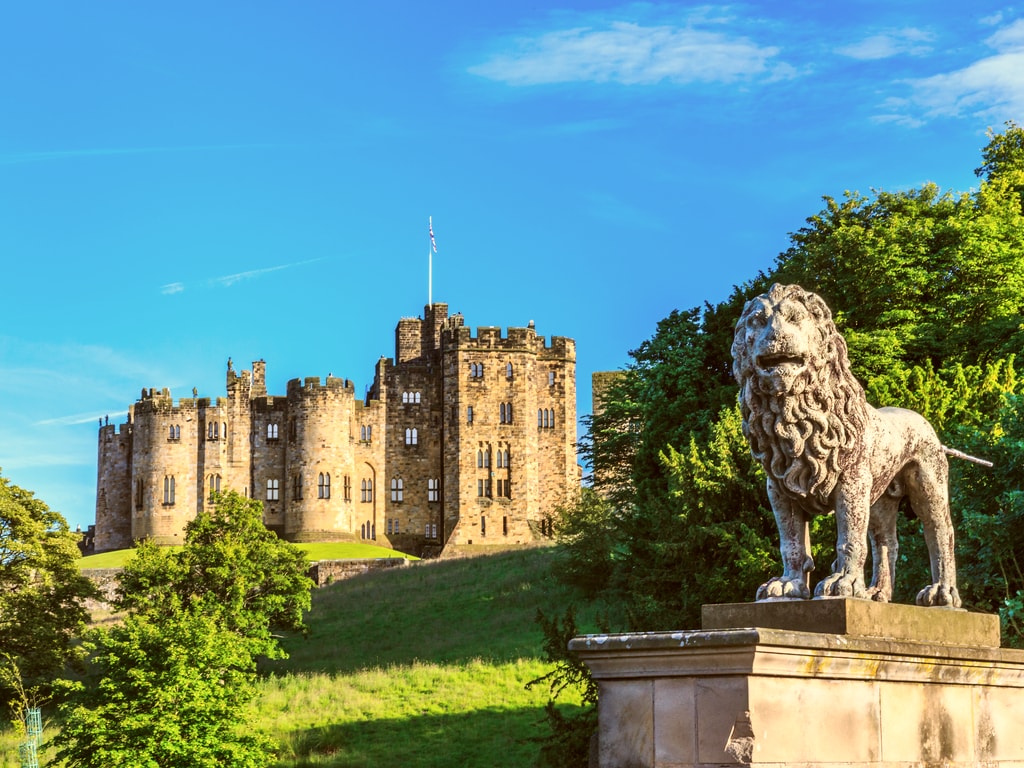 For sheer variety, Alnwick is the best castle in Northumberland.
You get daily events, a massive garden complex (including a labyrinth, a poison garden and water displays), guided tours, medieval shows, a treehouse restaurant, Harry Potter-themed events and attractions (some of the movies were partially filmed here), interactive tours, archery, craft demonstrations, live performances and much more. It's like someone took a castle and made it into a theme park.
But for those of you who are interested in history, there's still plenty here.
The guided tours are great, and take you through both ancient and modern sections of the castle (though its history dates back to the 11th century, it's the second-biggest inhabited castle in the UK, and the Percy family still live here).
4. Warkworth Castle
Warkworth Castle is like a combo between Dunstanburgh Castle and Bamburgh Castle. It's all a massive ruin, like Dunstanburgh, but it overlooks its surroundings from the peak of a lofty hill, like Bamburgh. For accessible castles, Warkworth is a great choice, as it's not too far north, and it's close to lots of other popular places.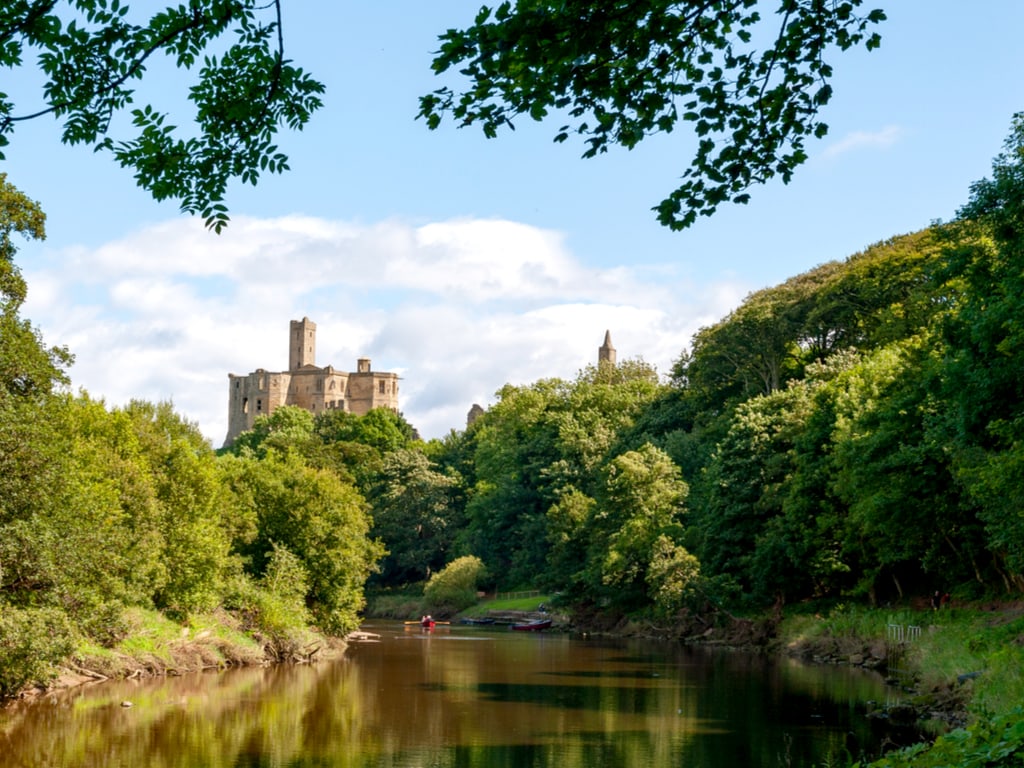 The audio tour here is excellent, and offers a brilliant insight into the history and heritage of the castle, the region, and the huge numbers of people who've made the place their home. If you're interested in historical sites, facts and tours, you'll love Warkworth Castle.
While you're here, make sure you visit the hermitage – accessible only by riverboat, it's a bizarre, moss-covered religious building carved out of rock.
The Percy family, who now live in Alnwick Castle, lived in Warkworth Castle from the 14th to the 17th century.
5. Lindisfarne Castle
If you like weird stuff, you'll love Lindisfarne Castle.
Lindisfarne, more commonly known as 'Holy Island,' is a bizarre and diminutive religiously-significant island only accessible depending on the flow of the tides. If you time your visit right, you can drive or walk over the causeway to reach the island, one of the most remote destinations in England.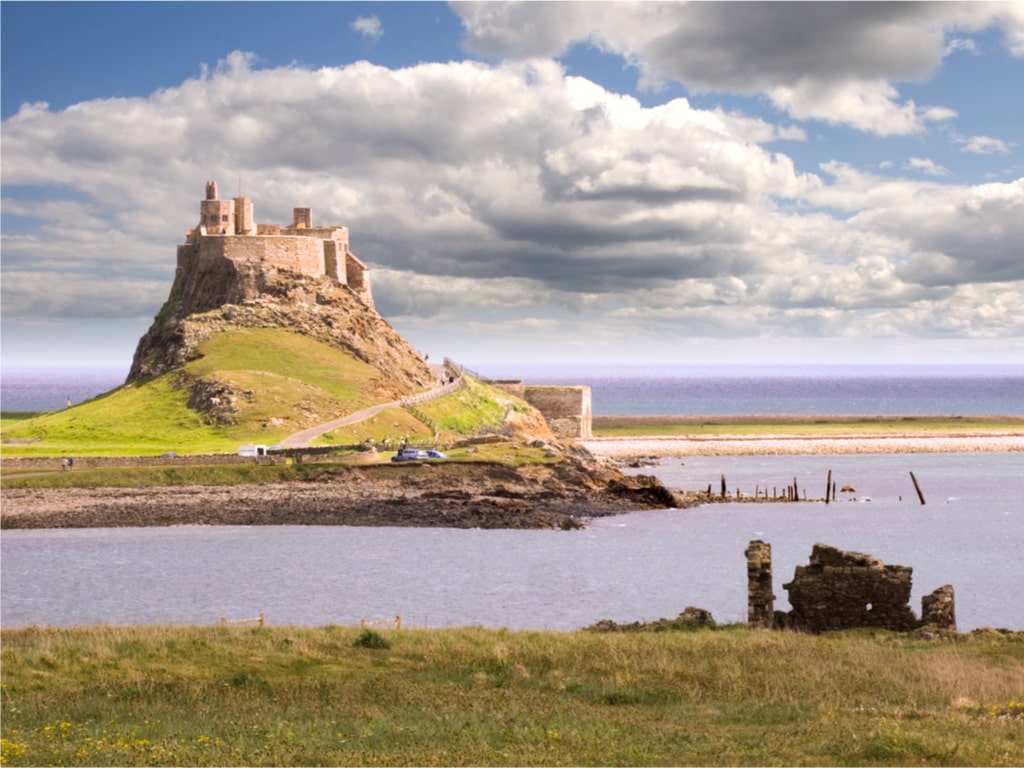 Once a hugely important Christian pilgrimage site, the island is now home to only around 160 people. On Lindisfarne, you'll find a priory, a church, lovely coastlines, excellent walks, rare birds, a load of tourists and the castle that I haven't even talked about yet.
Lindisfarne Castle was a major epicenter for battles between the English, Scots, Vikings and Norsemen, because of its unique and unusual location. It's now a great place to learn about the history of the island, its people, its fighting and its religious significance.
Built on the highest point of the island, the castle overlooks Lindisfarne's tiny dimensions.
6. Chillingham Castle
Chillingham Castle is also really weird. Apparently one of the most haunted castles in the world (if you believe in all that stuff), loads of the castle is geared around all the alleged spooks and spectres that live in its walls, with ghost tours, a torture chamber, all-night vigils and other spooky spectaculars.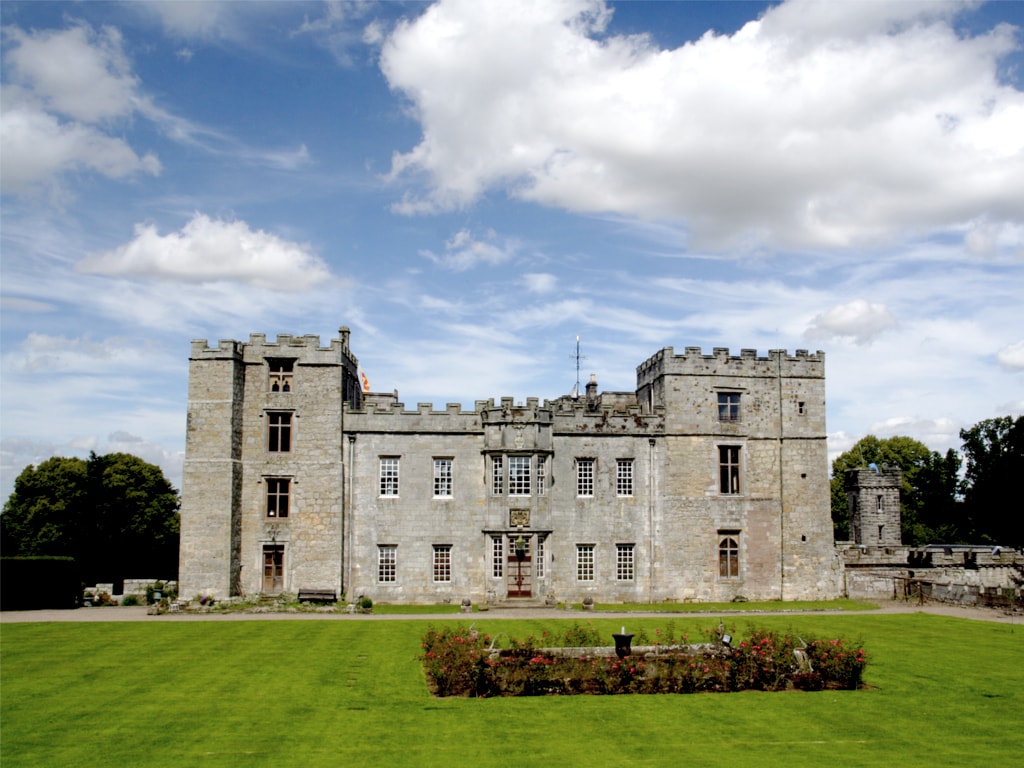 For some lofty prices, you can stay the night (I'm not sure if the same rates apply to the ghosts who sleep there every night, they probably get a discount) in the hope that you'll see a ghost or hear someone knocking on your bedroom wall or whatever.
Aside from all the spooky stuff, the castle itself is beautiful, the interiors are great, the gardens are lovely, and there's lots of history and heritage associated with the place.
7. Prudhoe Castle
Underrated but excellent, Prudhoe Castle sits in one of the lesser-castled parts of Northumberland. While most entries on this list are in the northern areas of Northumberland, Prudhoe Castle sits close to the River Tyne, in the most southern stretches of the county, and pretty close to Hadrian's Wall.
The only Northumberland castle to successfully defend itself in all of its attacks from the Scots, Prudhoe Castle is one of a series of defenses that were built along the Tyne to fight against invasion. Self-guided tours here are a great way to learn about the barbaric battlegrounds of the invasions and occupations in this area.
8. Aydon Castle
Close to Prudhoe Castle is Aydon Castle. The two are around 9 miles (15km) from one another, and they both defended constant attacks from the Scots.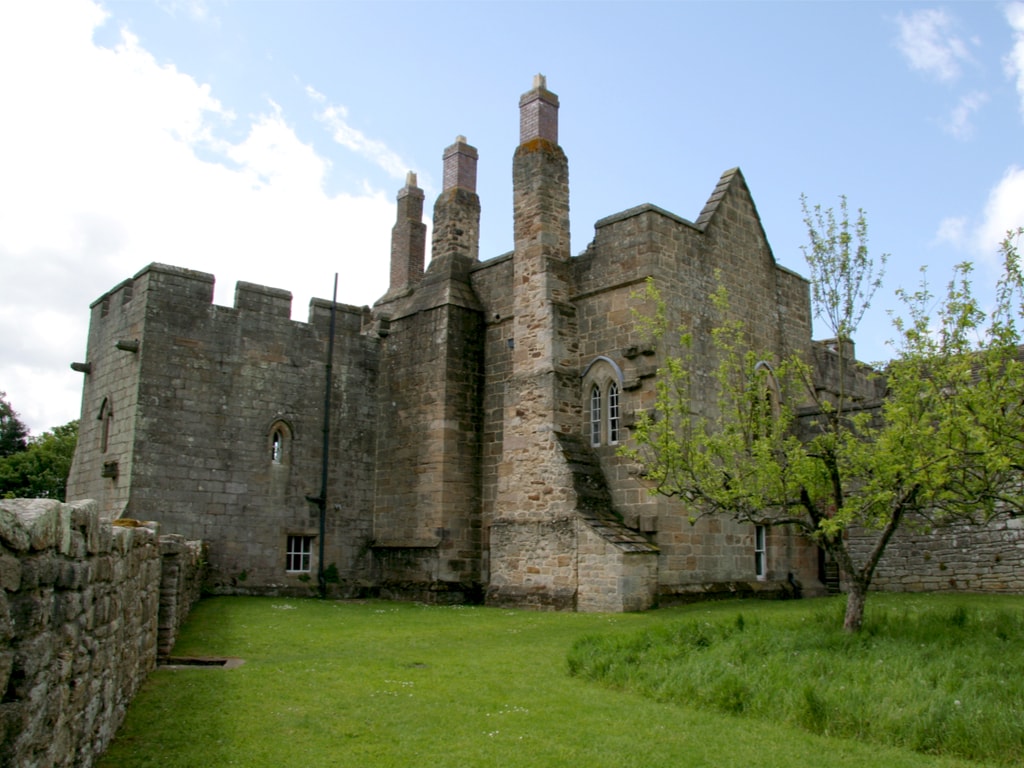 Despite these similarities, Aydon Castle was built around 200 years after Prudhoe Castle, and was originally designed as a residential property before it kept getting attacked.
Despite all the warfare, the place is now one of the best preserved (and least-altered) 13th-century manor houses in all of England.
9. Belsay Castle
Similar to Alnwick Castle, there's way more here than just a castle. Belsay is actually most famous for its grand hall, a stark, imposing and impressive Grecian-style country house.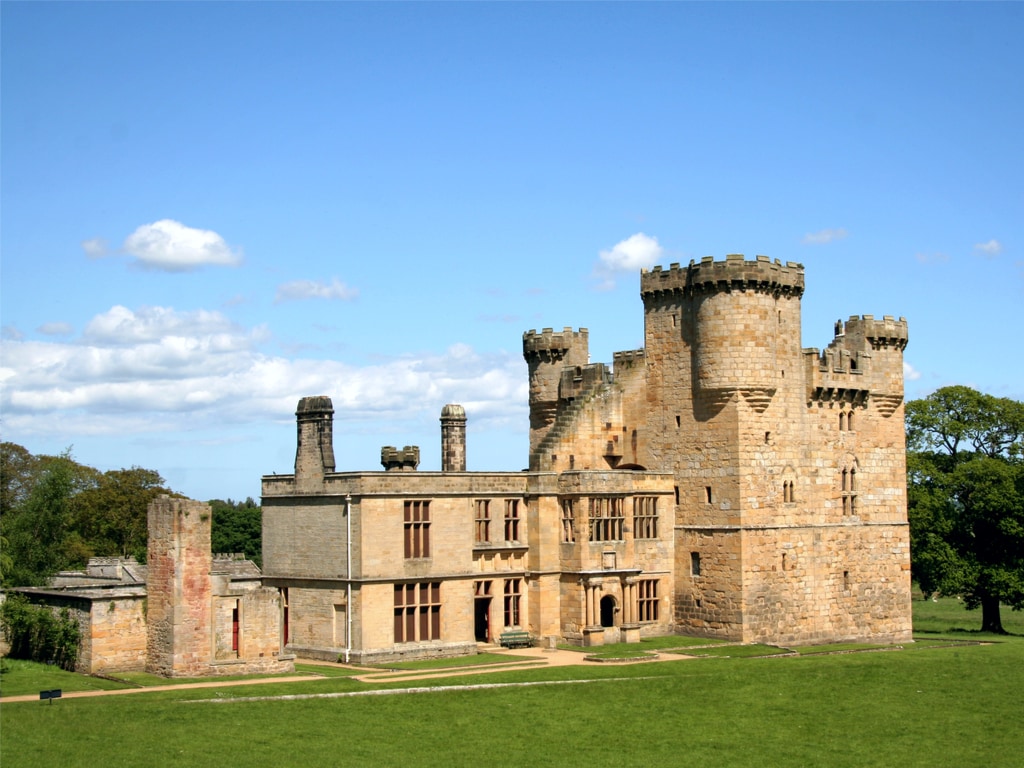 For family fun, Belsay Hall and Castle is a great place to visit – there's lots of history and heritage, the gardens are brimming with strange tropical plants, the quarry garden has its own microclimate, the architecture is beautiful and the place hosts lots of excellent art installations.
To complete the picture, there's a tearoom, a second-hand bookshop, and lots of family-friendly activities. Oh, and a castle. While you're in the area, Bolam Lake is a great place for a gentle family walk.
10. Berwick Castle
I used to live in Berwick, so I've seen this place loads of times. Lucky me.
Officially known as Berwick-Upon-Tweed Castle & Ramparts (how catchy), this place stands at the gateway between England and Scotland, making it one of the most historically-significant ruins in Northumberland.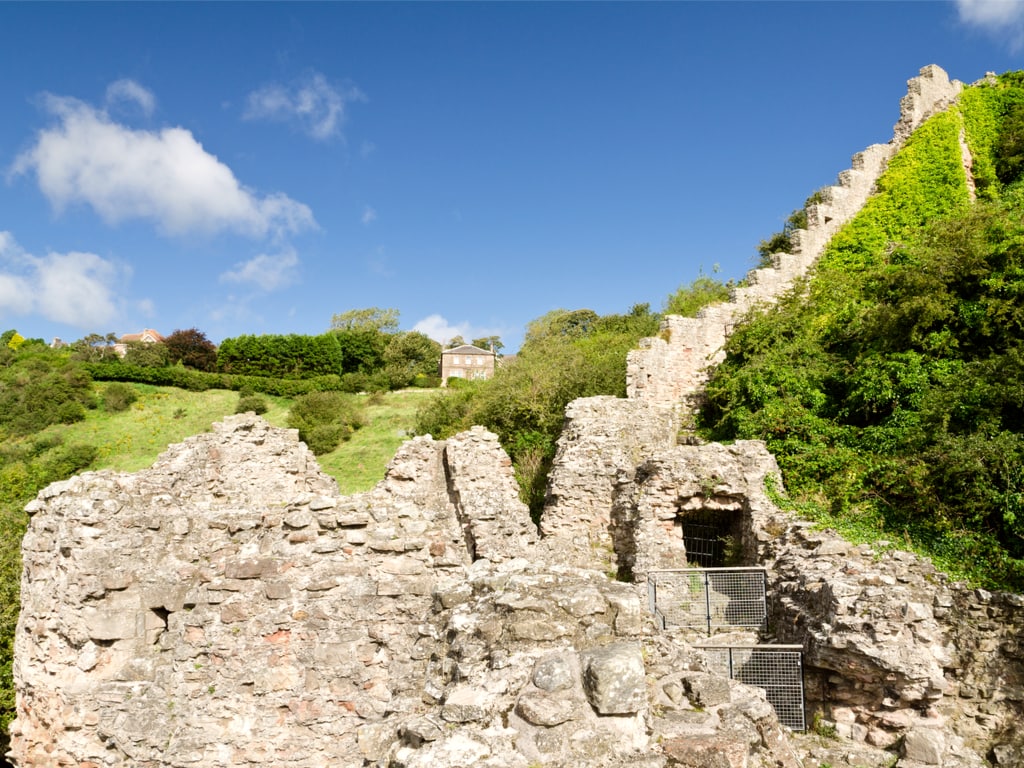 Berwick Castle is different from most entries on this list in that you can't really 'visit' the castle as such. It's not one complex, but rather a series of ruins that run in and around the town of Berwick. It's interwoven so tightly with the city that some of it was demolished to make way for Berwick railway station, and some of its bricks were used to build the town's Holy Trinity Church.
Walking a full circuit of the ramparts (which just means 'walls') is a great way to learn about the castle and its history.
11. Norham Castle
West of Berwick Castle and along the River Tweed is Norham Castle, one of the most-besieged castles in Northumberland (what a strange accolade). This place was attacked at least 13 times by the Scots, but that's no surprise given how close it is to the Scottish border. It's longest siege lasted for nearly a year.
It was finally destroyed sometime in the 16th century before then being rebuilt a few years later. Despite the rebuild, the place is now a ruin.
If you like remote, quiet and serene attractions, you'll love Norham Castle – it's one of the least-visited entries on this list. There's an audio guide you can download in advance of arriving, and it makes a visit much more fulfilling and informative.
Other Great Castles in Northumberland
The above are (in my opinion anyway) the best 11 castles in Northumberland. If you're a pure castle junkie and that's not enough for you, you should also try Mitford Castle, Etal Castle, Edlingham Castle, Bothal Castle and Kielder Castle.
There are also lots of great manor houses and halls in Northumberland, including Wallington Hall, Cragside, Howick Hall, Matfen Hall and Seaton Delaval Hall.
Final Words
There they are – the best castles in Northumberland! Whatever type of castle you're looking for, you'll find it in Northumberland, one of the most castled regions on the entire planet.
If you want to spend a night or more in a castle hotel, head over to my selection of the best castle hotels in Northumberland.
Want to know anything else about traveling in the north of England? Check out our guides on the most beautiful places in Northumberland, 25 unique things to do in the north of England and the most beautiful towns and villages in Northumberland.
You can also browse my list of everything that Northumberland in famous for.
Or if you like hiking, check out my guide to the best walks in Northumberland.
Whatever you want to know about exploring and adventures in the UK, we have it right here on our site. Stick with us for more!
Being a Digital Nomad: Tips, Tricks and Places
Do you want to be a digital nomad?
If you do, maybe you don't know where you might want to live. Or how to live there. Or whether you need a visa. Or how to make friends in the scary sprawl of a brand-new city. Or how to stay productive while you travel. Or how to find an apartment. Or whether this lifestyle really is for you. Or… I'm sure you get the idea.
But with some insight and experience, it's not as difficult as you think. So in this book, I've gathered my 6 years of digital-nomadding experience… and I've used it to answer all your questions, soothe all your fears, and get you on your way. After reading this, you'll realise being a digital nomad is much easier (and much more possible!) than you think.