Top 20 Most Beautiful Places to Visit in Northumberland
I'm originally from Northumberland, and I've spent loads of my life in the place.
I was born in the Northumbrian town of Cramlington, which isn't particularly beautiful (unless you like shops or roundabouts), but it's an excellent gateway to lots of Northumberland's more remote, attractive and exciting areas.
Hugely underrated, not enough tourists come to Northumberland, but the place is a playground for anyone who likes hiking, cycling, beaches, castles and remote adventures in rural regions. The most northerly county in England, it borders Scotland, and it's one of the nation's least-populated areas (apart from all the sheep).
In this article, I've compiled the most beautiful places in Northumberland. I've included lots of the obvious places you probably already know about.
But I've also added plenty of genuine hidden gems that me, my friends and my family all love exploring.
I've included towns, villages, hikes, castles, beaches, coastal towns, weird stuff and loads more.
If you're looking for stuff you probably won't find anywhere else on the internet, there's lots of it in this article, you lucky little boys and girls. Here's your ultimate guide to the most beautiful places in Northumberland…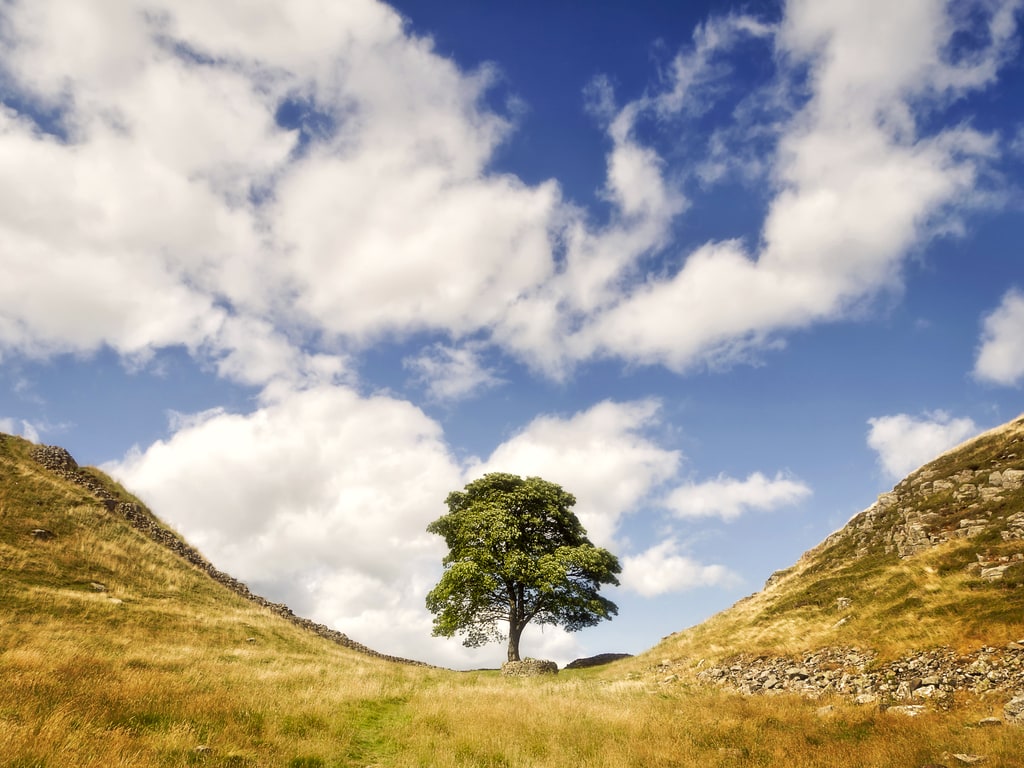 Hiking Spots
Hiking is my favorite thing to do in Northumberland (well, it's my favorite thing to do anywhere). Here are some of the places you can find the the best hikes in Northumberland:
1 of 20
1. Simonside
Simonside is probably the most well-known casual hiking spot among Northumberland locals, because the views here far outweigh the effort required to get them.
The popular walk here is the round-trip hike from Lordenshaws car park up and along the jagged, rocky ridges of the Simonside Hills. Depending on which of the (all very similar) routes you take, the hike measures in at around 5 miles (8km) and only takes 2 or 3 hours. It's a great hike, but it gets more popular all the time, so don't expect the famous Northumberland solitude here.
If you prefer hikes with a little more seclusion, there are plenty in and around the area. Try walking from Rothbury to Scots Gap, or from Rothbury up to the Simonside ridge. Both walks are much less popular, but they're both almost as beautiful. The entire area is brimming with craggy rocks, heathery fields, working farms, far-reaching views and barely-trodden tracks.
While you're near Scot's Gap, consider the Wannie Line Walk, an easy but excellent circular route which takes hikers along two now-unused railway lines. It takes you past rivers, farms, lime kilns, big cows, countless sheep and plenty more. It's a very flat walk, and it measures in at around 6 miles (9.5km).
This entire area is also massively popular with rock climbers, offering lots of accessible but challenging routes.
2 of 20
2. Hadrian's Wall – And Other Long-Distance Adventures
When most people think about hiking in Northumberland, they think about Hadrian's Wall.
Hadrian's Wall Walk is massively popular because it combines lots of excellent perks into one attractive little package – you get great towns and villages, barren stretches of wilderness, walks both long and short, excellent landscapes and some of the most historically-significant sites in the whole of the UK.
A Roman wall built under the guidance of Emperor Hadrian from AD 122 onwards, Hadrian's Wall was designed for keeping the northern barbarians out of England.
Now, it's the location of many of Northumberland's best walks.
Some highlights along the way include the lone tree of Sycamore Gap (probably the most photographed site in Northumberland), the Roman Fort of Housesteads and endless milecastles, wall fragments and historical sites.
If you're going to walk only one stretch of the wall, go for the sections north of Haltwhistle and Bardon Mill.
For hardcore hikers, you can tackle the entire Hadrian's Wall route from Wallsend to Bowness-on-Solway, a long-distance epic that measures around 84 miles (135km). Lots of the walk is in Northumberland (and the best bits are), but many parts creeps into other counties too.
Check out my detailed guide to the Hadrian's Wall Path here.
If you prefer traveling by bike, consider Hadrian's Cycleway, probably the most easy and accessible coast to coast cycle route in the whole of the UK.
If you're looking for other famous long-distance hikes and bike rides in or near Northumberland, consider the C2C bike ride, The Reivers Route, The Pennine Way, The Coast and Castles, and The Northumberland Coastal Path (but more on those last two soon).
For lesser-known long-distance trails, consider St. Oswald's Way and St. Cuthbert's Way, both of which end on the isolated and unusual island of Lindisfarne. The former is 97 miles (156km) and runs from Heavenfield (along Hadrian's Wall) while the latter is 62.5 miles (100km) and runs from the Scottish border town of Melrose. They're both pilgrimage routes, making them sort-of Northumbrian alternatives to the Spanish Camino de Santiago.
While most of St. Cuthbert's Way is in Northumberland, all of St. Oswald's Way runs through the county. Both are obscure and remote, perfect if you like walking in proper solitude and serenity.
3 of 20
3. The Cheviots
If you want rugged, go to The Cheviots, home of the highest peak in Northumberland. This highest peak lends the range its name, and clocks in at a lofty altitude of 815 meters.
The entire area is barren, boggy and packed with moors, with lots of excellent trails to explore. The most popular is the walk along Harthope Valley and up to the Cheviot itself. Other options include a loop-shaped traverse of the entire ridge, taking in other small peaks including Hedgehope, and the ascent up to Hedgehope from the pretty and popular waterfall of Linhope Spout.
Behind Harthope Valley, the most popular part of the Cheviots, is College Valley, which I haven't explored myself, but I've heard it's amazing. If you want the Cheviots experience but with even more remote wilderness, you'll find it there.
4 of 20
4. Upper Coquetdale
Upper Coquetdale is one of the most remote parts of Northumberland, and it's absolutely the least explored hiking area on our list. The region is a roughly-defined area close to the England-Scotland border, along the river Coquet, the length of which actually jostles through lots of the towns, villages and areas in this article.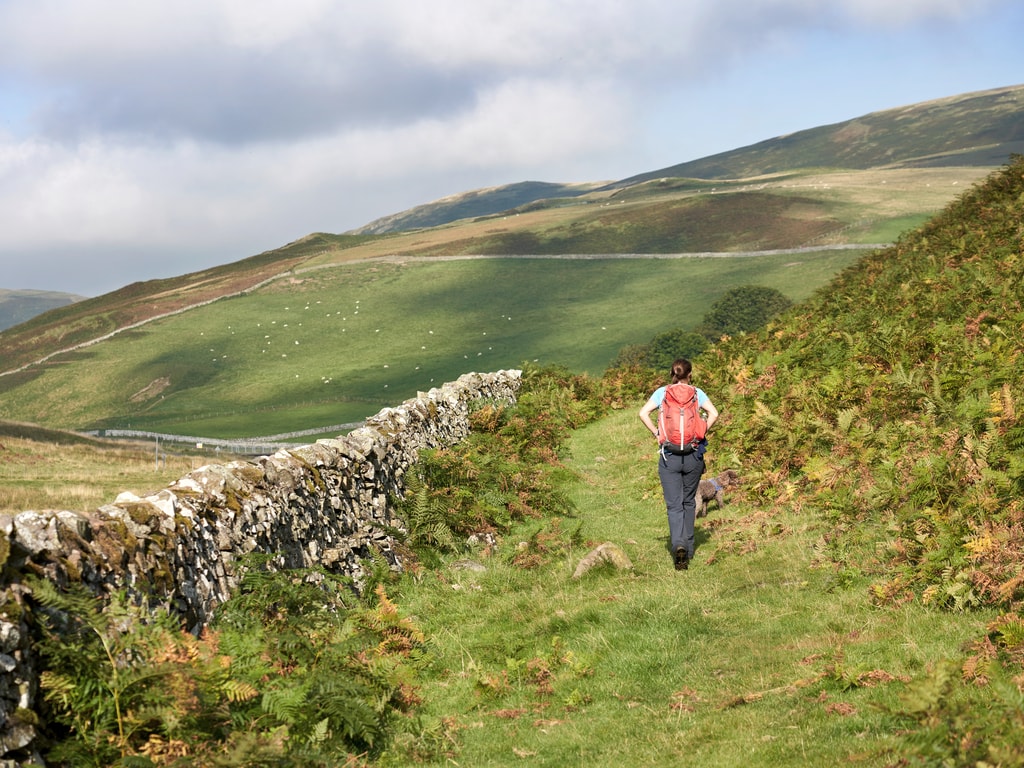 Anyway, if it's close to Alwinton, Harbottle and Barrowburn, and if it's east of Kielder and southwest of The Cheviots, it's probably in Upper Coquetdale. But no matter what you want to call it, the region is outrageously beautiful, brimming with farms, animals, ridges, wildflowers, moorland, meadows, exposed wilderness and strange ancient sites.
There are a huge number of hiking highlights in Upper Coquetdale, including the Drake Stone Walk, The Barrowburn Circuit and some excellent trails right along the silent and serene Scottish border.
5 of 20
5. Other Hikes in Northumberland
Other good hiking spots include Kielder (but much more on that place later), along with Thrunton Woods, Chopwell Woods (which is also great for mountain biking), Holywell Dene, Bolam Lake (perfect for gentler jaunts), the Morpeth to Bothal walk along the River Wansbeck, and the hugely-underrated wander from Edlingham Castle to Lemmington Hall via the old Rothbury to Alnwick railway line.
Beaches and Coastal Settlements
Northumberland's beaches are some of the best in England – some of the region is an officially-designated Area of Natural Beauty, and you can't argue with that. My favorite beaches and coastal settlements in Northumberland include…
6 of 20
1. Druridge Bay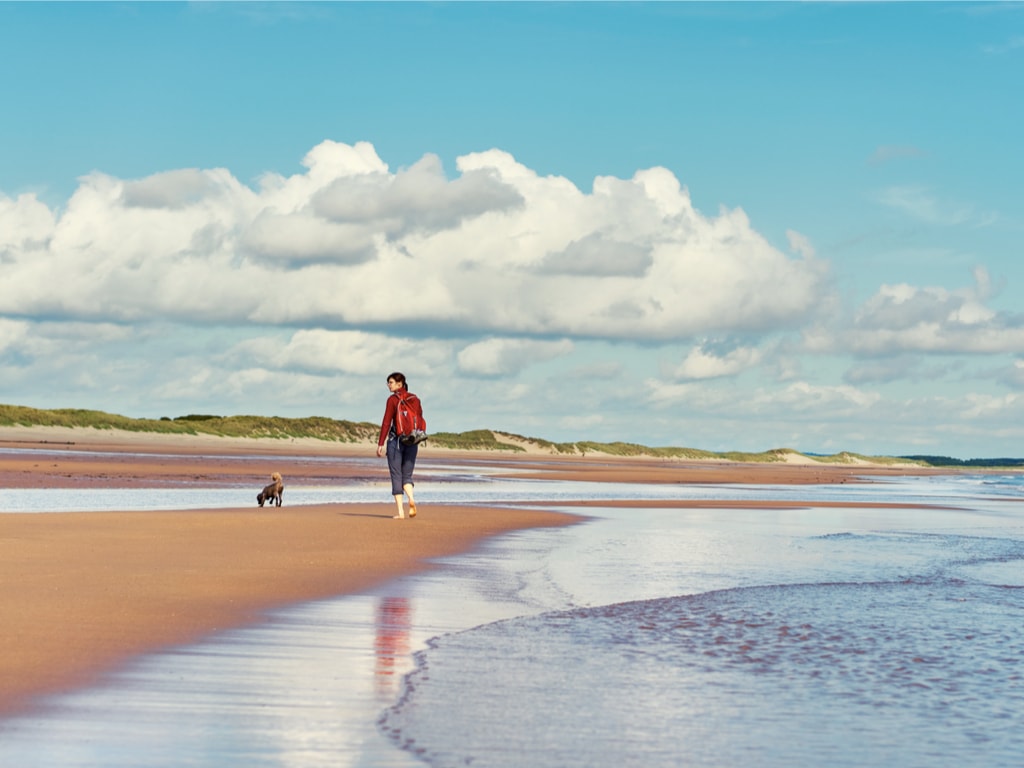 Less remote than most other entries on this list is Druridge Bay, a lengthy stretch measuring in at around 7 miles (12km). One of the longest sandy beaches in the area, its seas and sands are massively popular with hikers, surfers, dog walkers, families, birdwatchers, swimmers and everyone in between.
It's always quiet here, and even on a busy day, there's plenty of space to find solitude. The area has sandy dunes, rock pools, excellent wildlife and lots of nearby woods and meadows.
7 of 20
2. Craster and Embleton Bay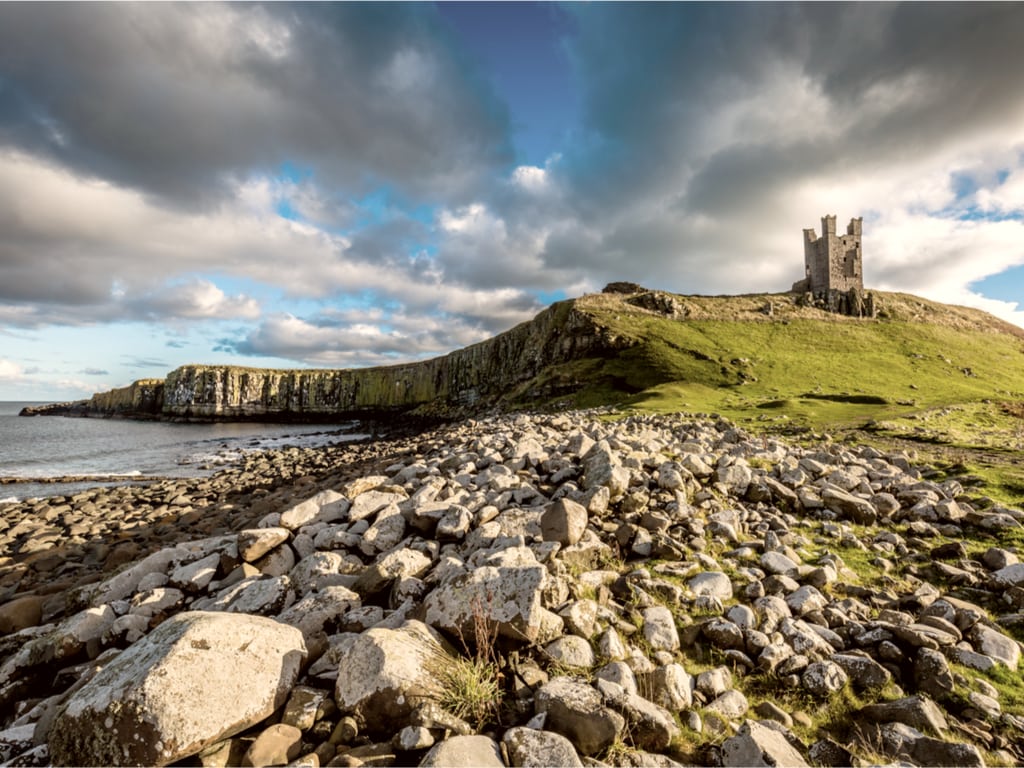 Famous for its kippers (bright yellow fillets of smoked herring, if you're interested), Craster is a tiny little coastal village plonked right in the middle of the Northumberland coast.
It's ridiculously charming, with its diminutive port, rudimentary fishing boats and close proximity to the towering ruins of hefty Dunstanburgh Castle. If you're looking for a great mid-distance coastal walk, wander from Craster to Seahouses, a hike that measures in at around 10 miles (16km).
It's my favorite stretch of the Northumbrian coast.
Part of this stretch includes Embleton Bay, a wide, golden, dune-backed beach that seems to stretch on forever. It's one of the best beaches in Northumberland.
8 of 20
3. Seahouses
Speaking of Seahouses, it's lovely, and offers varied attractions including mini golf, fish and chips, boat trips, day trips and nearby nesting puffins on the remote and unpopulated Farne Islands.
And if looking at cute little puffins isn't appealing, I don't know what's wrong with you.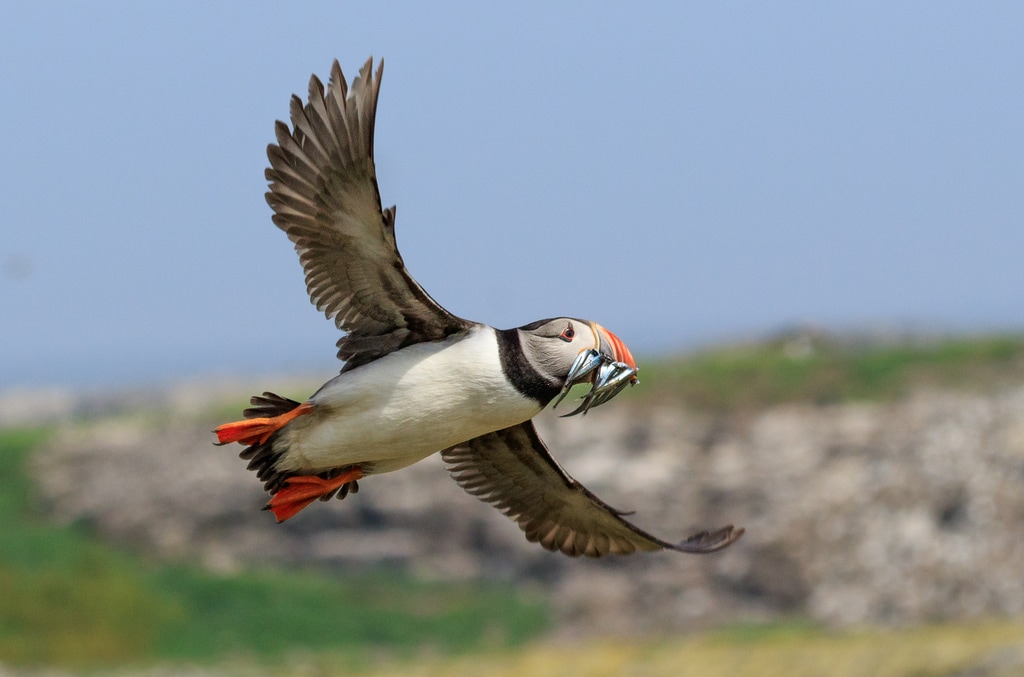 For family fun, Seahouses is the best coastal destination in Northumberland, with a great combination of adventurous excitement and handy conveniences. Around 2.5 miles (4 km) south of Seahouses is Beadnell Bay, one of my favorite beaches in Northumberland.
9 of 20
4. Northumberland Coastal Path
The Northumberland Coastal Path is without doubt the best way to see loads of the highlights along the Northumberland Coast. A long-distance walking trail that takes hikers all the way from Cresswell to Berwick, it covers a huge amount of the stuff I've already mentioned in this guide.
Measuring in at 100km (62 miles), it takes in Warkworth, Amble, Alnmouth, Craster, Seahouses, Bamburgh, Lindisfarne, Berwick and loads more. If you want to see lots of Northumberland's most popular coastal highlights in one long stretch, it's absolutely the best way to do it.
If you'd prefer to see it all by bike, consider the Coast and Castles cycle route, a long-distance cycling trail that measures in at 200 miles (320km) or 170 miles (275km), depending on which route you take. It stretches from Newcastle to Edinburgh, and takes in some of Northumberland's best spots and scenery (including, unsurprisingly, lots of coasts and castles).
10 of 20
5. Other Coastal Spots in Northumberland
Other good options include Blyth Beach, Seaton Sluice (which has a beautiful little harbour), Bamburgh Beach, Low Newton Beach and the incredible fishing village of Alnmouth (which has some excellent walks).
Castles
Northumberland is one of the most castled regions in the world, with more than 70 castles in the county, ranging from crumbling ruins to massive complexes. They're a great insight into lots of the region's history and heritage, but loads of them are great just because they're beautiful buildings in beautiful places. Here are some of the best castles in Northumberland:
11 of 20
1. Bamburgh Castle
This is my favorite castle in Northumberland. I've never been in it (I think going in castles is boring), but it's by far the most scenic and picturesque castle in the county, looming starkly on the brow of a cliffy hill.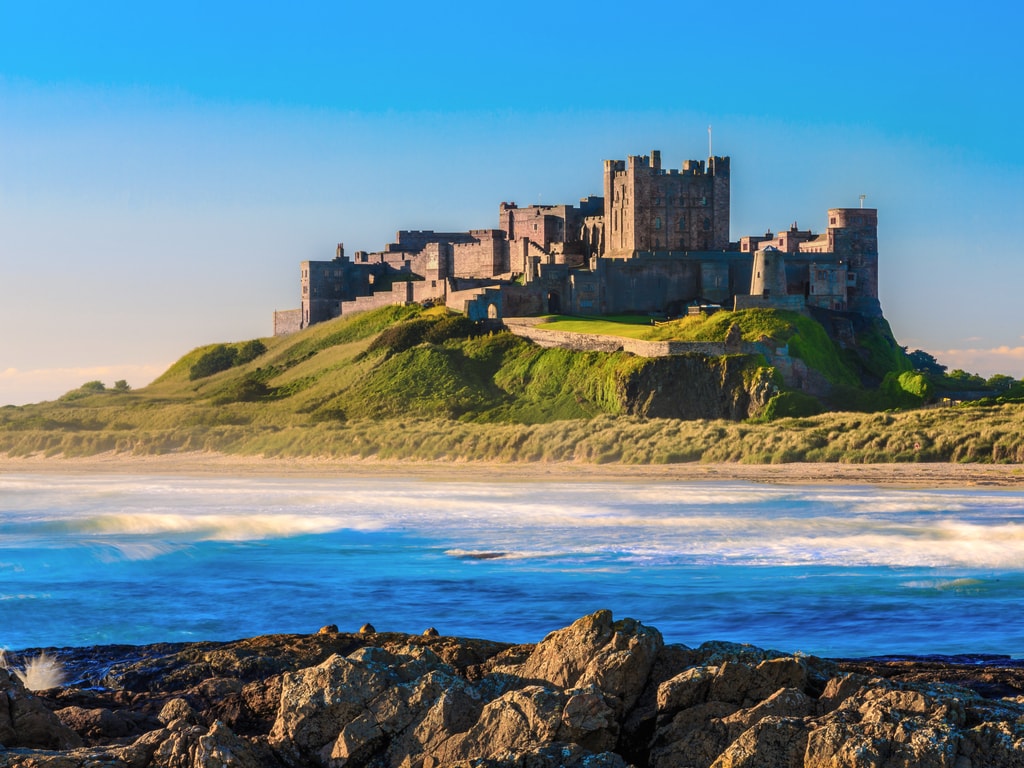 The best viewpoint of Bamburgh Castle is from the golden shores of the beach north of the complex. From here, the castle dominates the skyline, making it one of the most popular photography spots in the entire county.
Bamburgh itself is a charming and tiny little town, made up of a smattering of houses and a big green field. If you're interested in maritime history, check out the town's Grace Darling Museum.
12 of 20
2. Warkworth Castle
Warkworth Castle imposes itself on the town that surrounds it, rising up on a big lump of a hill that overlooks the area.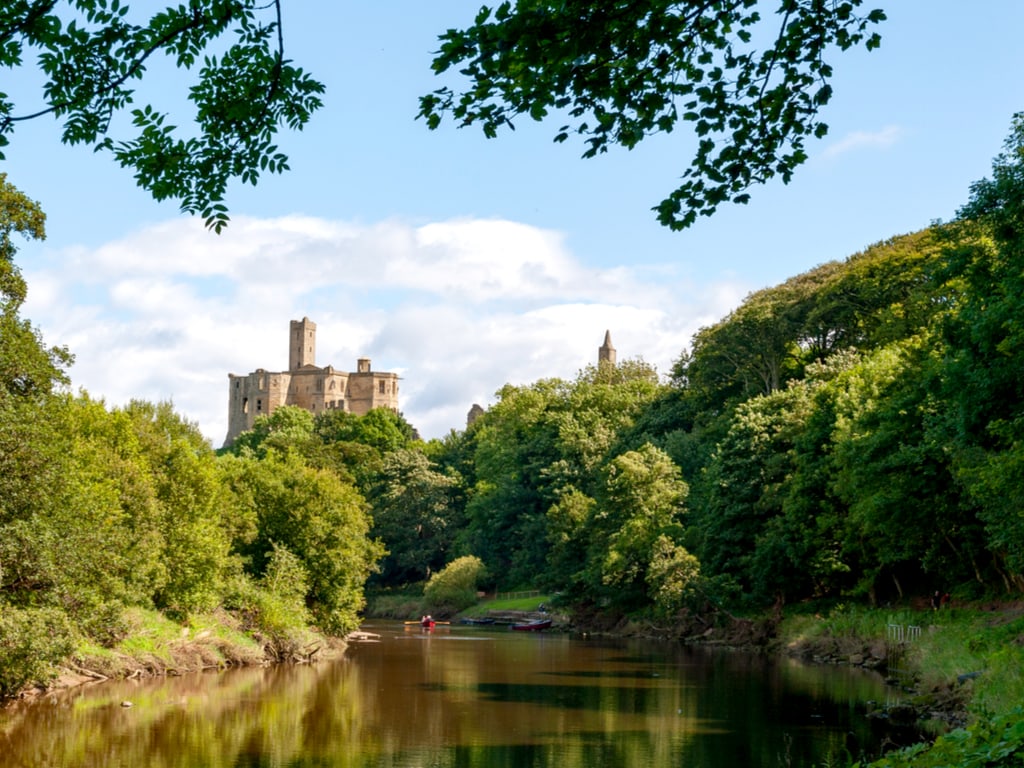 There are lots of coastal walks and riverside walks in the area, many of which offer excellent views of the castle's massive ruins.
The town of Warkworth itself is a nice place to explore, and it's full of pretty buildings and nearby farms and bays. The beach is great, and there are lots of cute cafes, eateries and architecture. It's one of the bigger villages in the area.
13 of 20
3. Alnwick Castle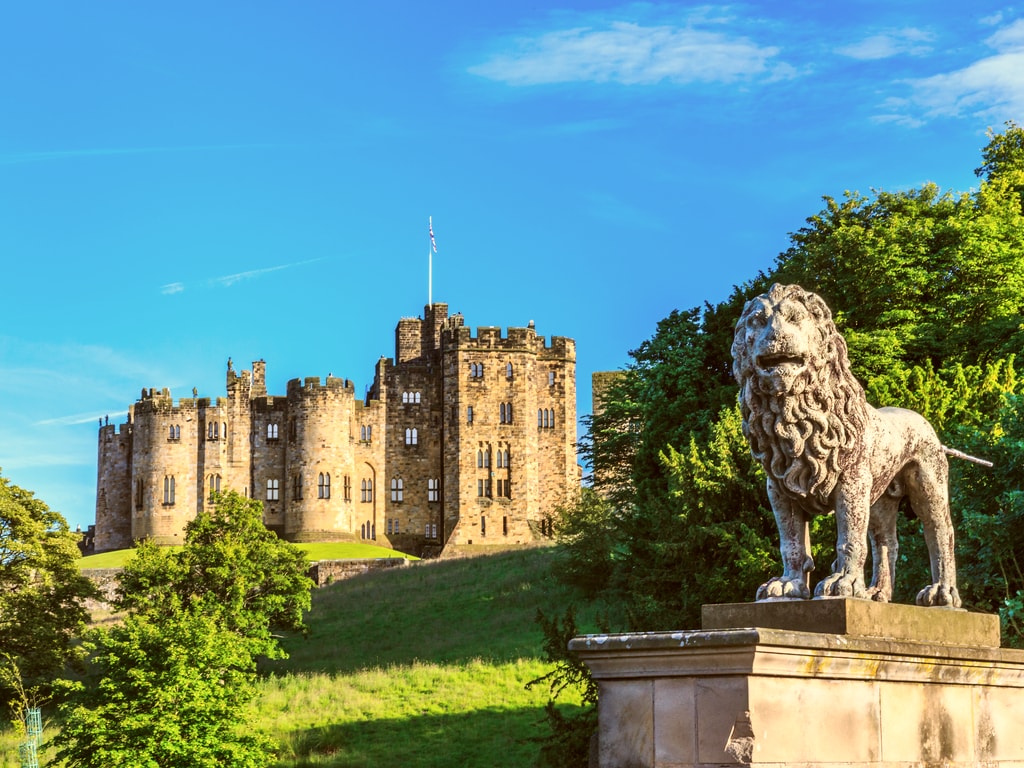 One of the biggest castles in Northumberland (it's actually the second-biggest inhabited castle in England), Alnwick Castle is now most famous as one of the filming sites of Harry Potter. But if you're not 5 years old and you don't care about imaginary wizards, there's plenty more to explore and enjoy here.
The building is beautiful, the interiors are incredible, the gardens are even better, and the landscape surrounding the entire complex is just as good. If you want to visit a traditional English castle, this is as good as you'll find anywhere.
When you're checking out Alnwick Castle, make sure you go to the nearby Barter Books, one of the best second-hand book shops in the UK. The town of Alnwick is also a great place to explore, with its labyrinthine web of narrow lanes and cobbled streets.
14 of 20
4. Other Castles (and Old Buildings) in Northumberland
Another highlight is Chillingham Castle, allegedly one of the most haunted castles in the world (if you believe in all that stuff).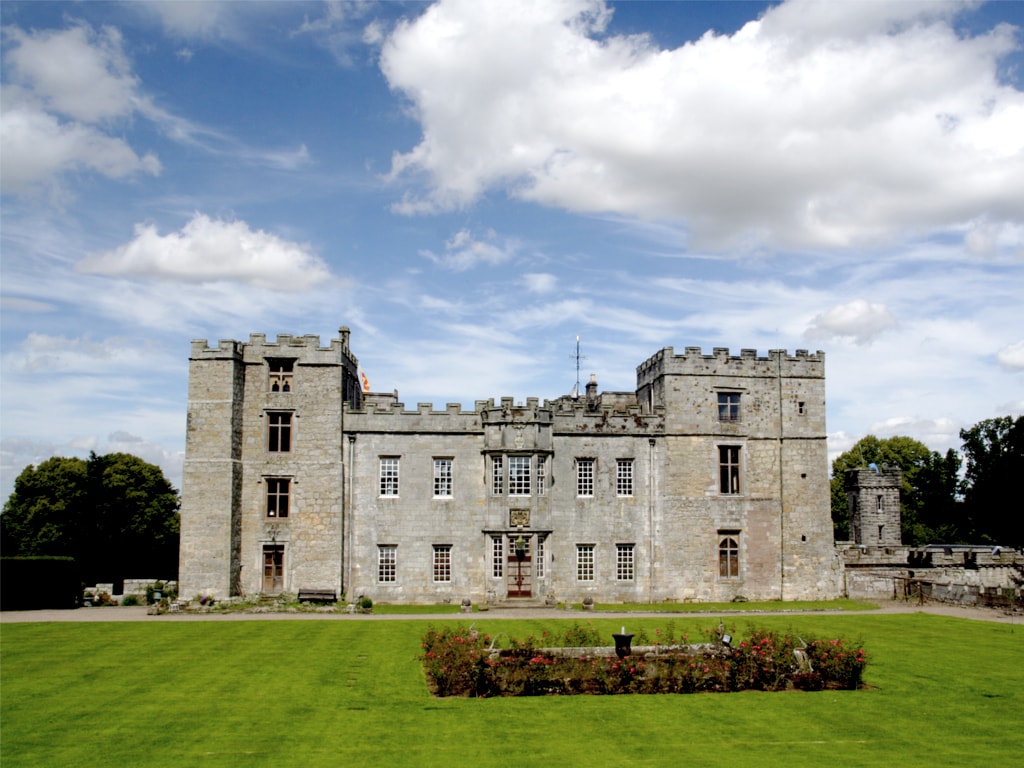 For smaller castles, try Mitford Castle (the walk from here to Morpeth is great), Prudhoe Castle, Etal Castle and Aydon Castle. Again, make sure you check out Dunstanburgh Castle, close to Craster.
Northumberland is also packed with manor houses and other ancient buildings. Some of the best include Wallington Hall, Cragside, Howick Hall, Matfen Hall and Belsay Hall.
Towns and Villages
Northumberland is brimming with loads of picturesque, diminutive settlements. Here are some of the prettiest towns and villages in Northumberland:
15 of 20
1. Rothbury
With a beautiful riverside location, some great places to eat and drink and lots of nearby hikes, Rothbury is an excellent location for anyone wanting to explore outdoor adventures in Northumberland.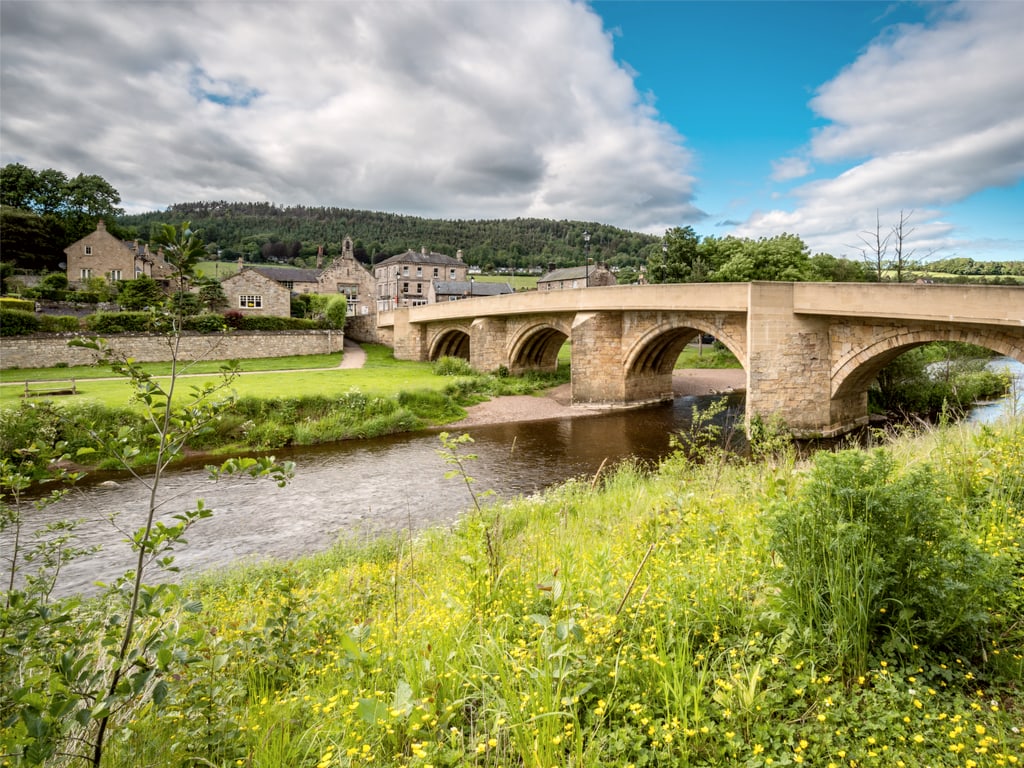 It's an excellent base for exploring Simonside and other nearby areas, the riverside walk through and beyond the town is excellent, and it has lots of options for accommodation.
If you want a rural but convenient base for exploring the northern parts of Northumberland, Rothbury is an excellent choice. Aside from all the walks, popular trips from Rothbury include Brinkburn Priory, Cragside and Fontburn Reservoir.
16 of 20
2. Otterburn
Otterburn is brilliantly located for exploring the wilder parts of Northumberland, and it's ridiculously beautiful, with endless farmland, countless sheep, a cute bridge and a handful of charming little houses.
Otterburn is a sort-of rural crossroads for exploring lots of the wider area, with the Cheviots and Upper Coquetdale to its northeast, and Kielder and Hadrian's Wall to its southwest. And because it's situated right on a main road, Otterburn is convenient for driving in and around Northumberland.
Otterburn is smaller and less well-equipped than Rothbury, but it's a perfect place for people who like overnighting in really rural places. There are a very small number of eateries and shops here, but nothing major.
If you want conveniences, don't stay in Otterburn, but if views and location are your priorities, you won't find any better.
17 of 20
3. Morpeth (and More)
Morpeth is one of the biggest towns in the northern part of Northumberland, along with Berwick, Alnwick and Hexham.
You should use one of these four as a base if you want somewhere close to rurality but with all the amenities and conveniences you need on a longer trip. If you want good restaurants and bars, or if you're traveling with kids, these towns give you enough comfort and conveniences to keep everyone happy.
Morpeth is my favorite of them all, as it's the best compromise between pretty and convenient.
It's well-located for outdoor adventures, it's linked to Newcastle-upon-Tyne by train, and it's relatively attractive. If you're traveling with kids, check out Carlisle Park, Whitehouse Farm and Northumberland County Zoo, all of which are in and around the town.
Other Adventure Areas
18 of 20
1. Hareshaw Linn
The waterfall of Hareshaw Linn isn't mind-blowing, but it's a great gentle jaunt for families, couples and people who can't be bothered with anything intense. The round-trip walk from the village of Bellingham measures in at around 3 miles (5km).
The walk to the waterfall takes you over bridges, through forests and beyond lots of rare mosses, lichens and birds. Bellingham itself is a pretty little town – it's small and cosy, and it's a good place to spend a couple of hours.
If you like waterfalls, also consider Linhope Spout (near The Cheviots), and Crammel Linn.
19 of 20
2. Kielder
Kielder is lots of things.
It's cycling, it's hiking, it's beautiful and it's one of the biggest areas of officially-designated dark sky in Europe. But more than any of that, it's home to the biggest reservoir (by volume) in England.
For mountain biking, Kielder is one of the best destinations in England, with lots of excellent trails both long and short.
If you prefer slightly gentler rides, Kielder's Lakeside Way is incredible – it's a 26-mile (40km) circuit that runs around the entire perimeter of the reservoir, and it's the best way to get acquainted with the entirety of the region.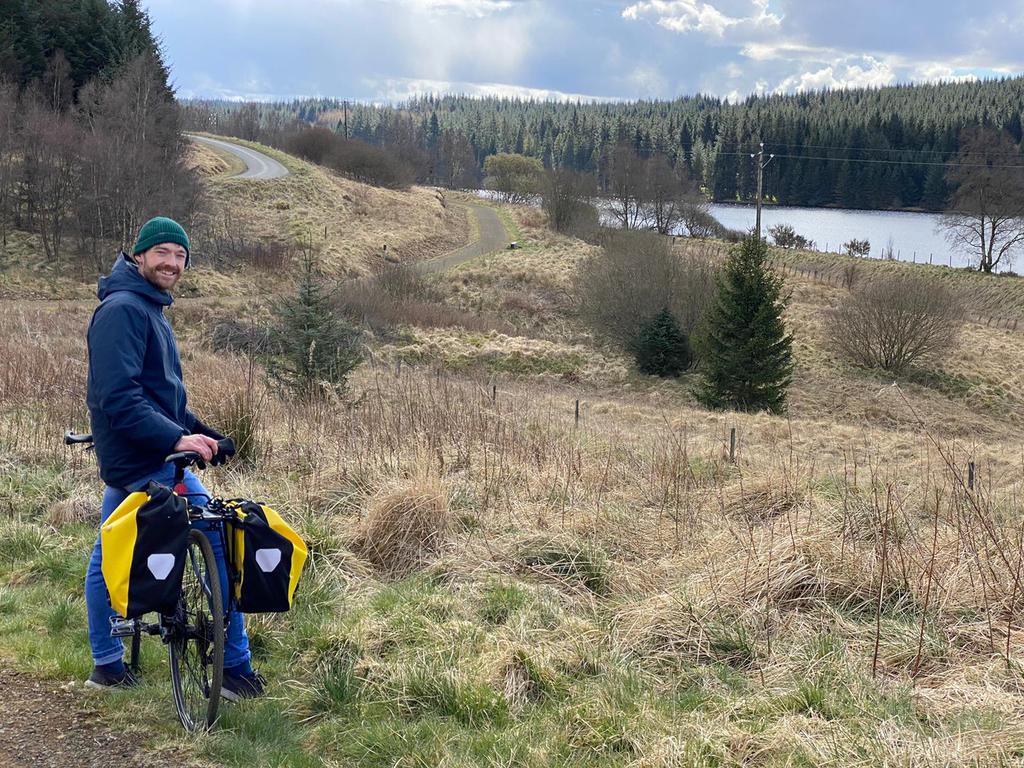 For stargazing, Kielder is genuinely one of the best places on the planet. If you come here on a clear night, you'll see more stars than you've probably ever seen.
The observatory here is packed with excellent equipment, and the staff are massively knowledgeable. Want to look through an industry-strength telescope while someone points the planets out to you? At Kielder, you can.
Check out my big list of the best things you can experience in Kielder.
20 of 20
3. Lindisfarne
I know this sounds like a horrendous cliché, but Lindisfarne is like something from a fairy tale. Imagine a remote, rugged, ancient, sacred place that you can only access depending on the flow of the tides, and you're imagining Lindisfarne.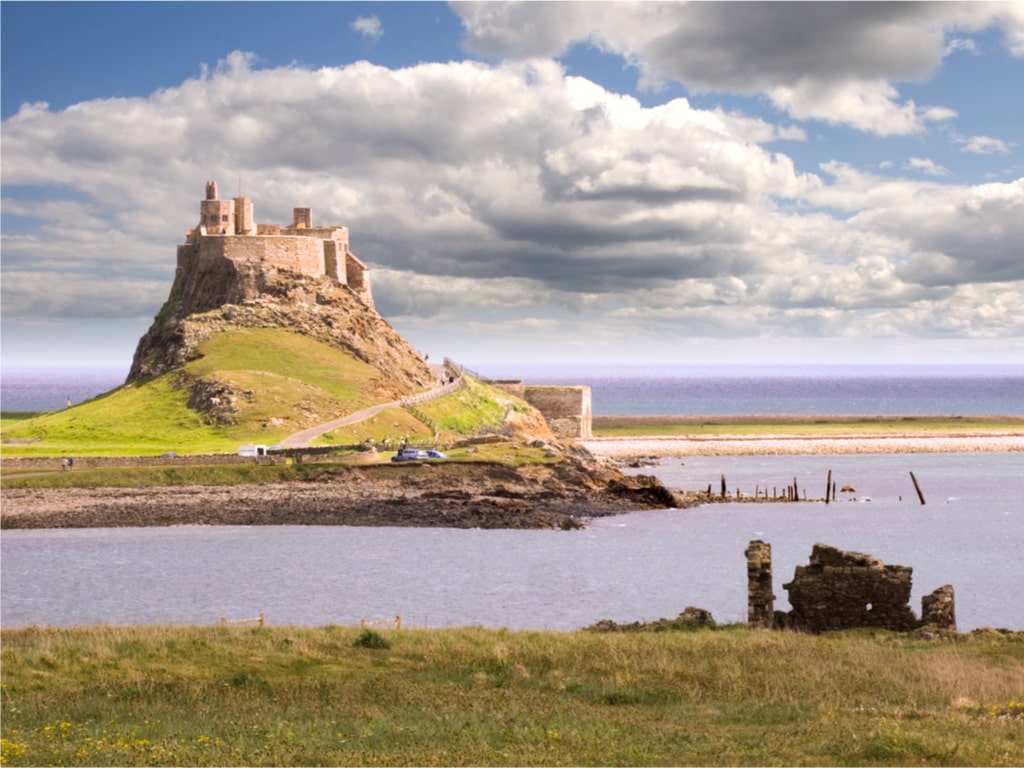 Linked to the mainland by a sometimes-unusable causeway, Lindisfarne is of huge religious significance, and it's more commonly known as 'Holy Island'. St. Aidan came to this tiny, isolated island to build a monastery in AD 635, and it's probably hardly changed since.
It's a beautiful place for a stroll, the drive from the mainland is ridiculously unique, and the whole island feels like it's frozen in time. If you like a combination of beautiful and bizarre, you'll love Lindisfarne.
On the mainland, close to Lindisfarne, is St. Cuthbert's Cave, a mysterious, wooded and rocky sandstone cavern that's supposedly the burial place of St. Cuthbert.
Get Yourself to Northumberland!
See – I told you Northumberland is packed with lots of ridiculously beautiful places. And that's only a few of them. I could have written about loads more, but you were probably already wondering when on earth this big long boring article was gonna end.
Instead, you can check out my compilation of all the things that Northumberland is famous for!
Anyway, make sure you go to Northumberland. It's genuinely one of the most underrated regions in the UK, and it's full of remote, rural, beautiful places.
Want to know anything else about traveling in England? We have lots of guides on our site, including articles on the C2C bike ride, the Coast to Coast walk, the Pennine Way and the most unique things to do in the north. We also have city guides on Newcastle, Manchester and Liverpool.
Whatever you want to know about traveling in the UK or England, we have it right here on our site. Stick with us!
Being a Digital Nomad: Tips, Tricks and Places
Do you want to be a digital nomad?
If you do, maybe you don't know where you might want to live. Or how to live there. Or whether you need a visa. Or how to make friends in the scary sprawl of a brand-new city. Or how to stay productive while you travel. Or how to find an apartment. Or whether this lifestyle really is for you. Or… I'm sure you get the idea.
But with some insight and experience, it's not as difficult as you think. So in this book, I've gathered my 6 years of digital-nomadding experience… and I've used it to answer all your questions, soothe all your fears, and get you on your way. After reading this, you'll realise being a digital nomad is much easier (and much more possible!) than you think.