11 Old Western Towns in Arizona to Visit
Arizona used to be the ultimate example of the "Wild Wild West", where lawlessness reigned and small boom towns seemed to appear overnight.
Gold and other minerals were discovered in several areas throughout Arizona in the 1800s and early 1900s, and miners and those looking to strike it rich flocked to these areas creating settlements that were then abandoned decades later.
These ghost towns now dot some remote areas of Arizona; while some are entirely deserted, others remained habitable and still have a population today.
These Old Western towns are now popular tourist spots or quiet places to retire. Visiting any of these towns can give you a glimpse into Arizona's storied past.
In this article I brought to you the best old western towns in Arizona to visit: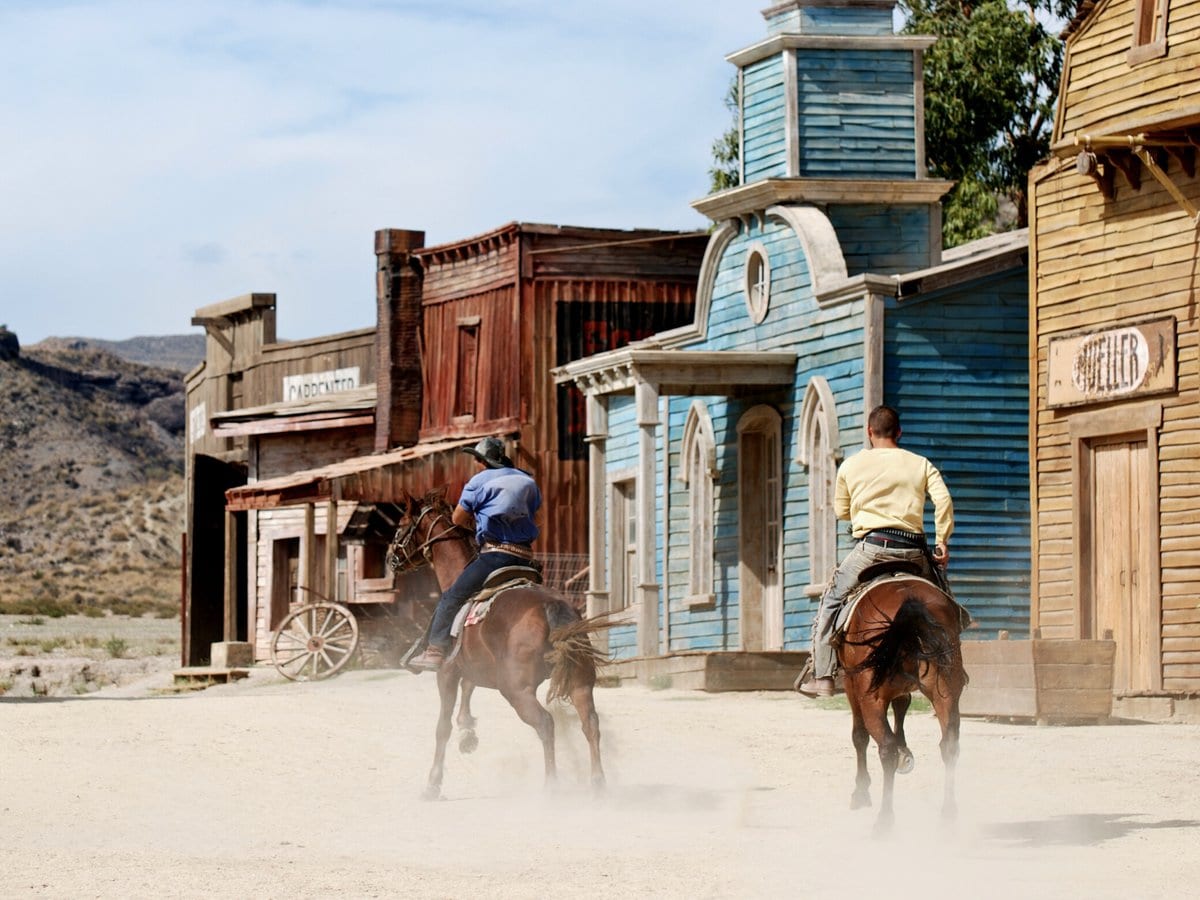 1. Tombstone
This is definitely the most famous (or infamous) of all of Arizona's old towns; Tombstone was the site of the 1881 cowboy gunfight when the Earp brothers confronted lawless men who were accused of robbing a stagecoach.
The fight that ensued has been turned into several movies and television shows and is one of the most-told Wild West tales.
Tombstone popped up seemingly overnight on the desert landscape as a mining town in 1877, and the silver mines produced thousands of dollars in revenue for the next several decades.
As one of the last true boom towns in the West, Tombstone today still has a population of 1,300 permanent residents.
The town sees upwards of 450,000 visitors each year, and the economy largely thrives on tourism; people flock from all over the world to visit the site of the famous O.K. Corral gunfight, several museums, and the Boothill Graveyard, where many legendary cowboys of the Wild West are buried.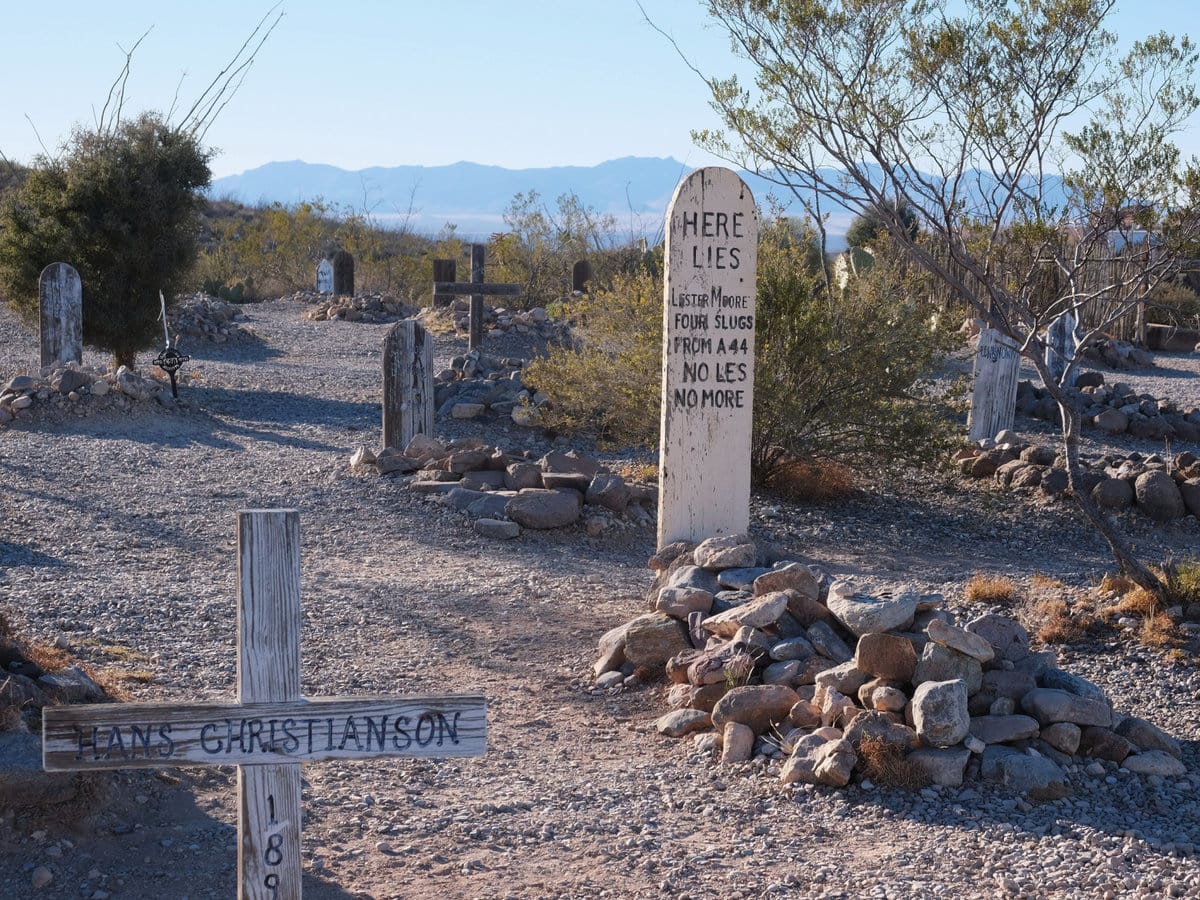 2. Bisbee
What started as a mining town in the late 1800s is now an eclectic town known for its art museums, galleries, shopping, dining, and historic Wild West ambiance. Taking a stroll down the Old Bisbee section of town lets you travel back in time; many of the storefronts are the original facades.
Most of the visitors to Bisbee come for the art scene, and with 18 galleries to see, it's not hard to see why! There are also more than 30 restaurants, several dozen places to stay for the night, and museums that have kept the spirit of the Wild West alive for many years.
There are several mines near Bisbee that are open for tours, the most popular being the Queen Mine. Donning a hard hat, yellow vest, and headlamp, tourists are taken 1,500 feet down into the depths of the mine and seemingly back in time. Word is that parts of Bisbee are haunted, so jump into one of the walking ghost tours if you dare! There are both family-friendly and "more scary" tours available.
Whatever you decide to do in Bisbee, you'll be glad you made the time to visit this quirky small town near the Mexico border.
3. Prescott
Prescott is nestled in the mountains 100 miles north of Phoenix and is still a well-populated western town to this day with almost 47,000 residents. Even though Prescott is larger than other western towns in Arizona, there is still a small-town feel to it.
Every visitor to Prescott should head to Whiskey Row, the home of the oldest business in Arizona, the Palace Restaurant and Saloon. Famous cowboys Wyatt Earp, Virgil Earp, and Doc Holliday all frequented the Palace in their day, and today the site is included on Whiskey Row with several other historic saloons.
For education on Prescott's history and legacy, visit the sprawling Sharlot Hall Museum and see all of its artifacts, outlining the history of Prescott and the surrounding areas.
Prescott (pronounced Pres-citt by locals) is also home to the world's oldest annual rodeo during Prescott Frontier Days over the 4th of July weekend.
The mountains surrounding this large town are also home to the Prescott Circle Trail, which encircles the entire city proper with a length of 56 total miles. Watson Lake is also a fantastic place to take in a warm day, with its picturesque rocky shoreline.
Swimming isn't allowed in Watson Lake, but you can paddleboard, kayak, or canoe around to explore some hidden coves.
4. Jerome
Another charming Old West town located near Prescott, Jerome is known for its picturesque setting on Cleopatra Hill overlooking the Verde Valley.
Due to its unique setting, when you visit Jerome, be prepared to climb stairs- many, many stairs!
In its heyday, the late 1800s/early 1900s, Jerome and its population of about 10,000 people were supported by the rich copper mines in the area.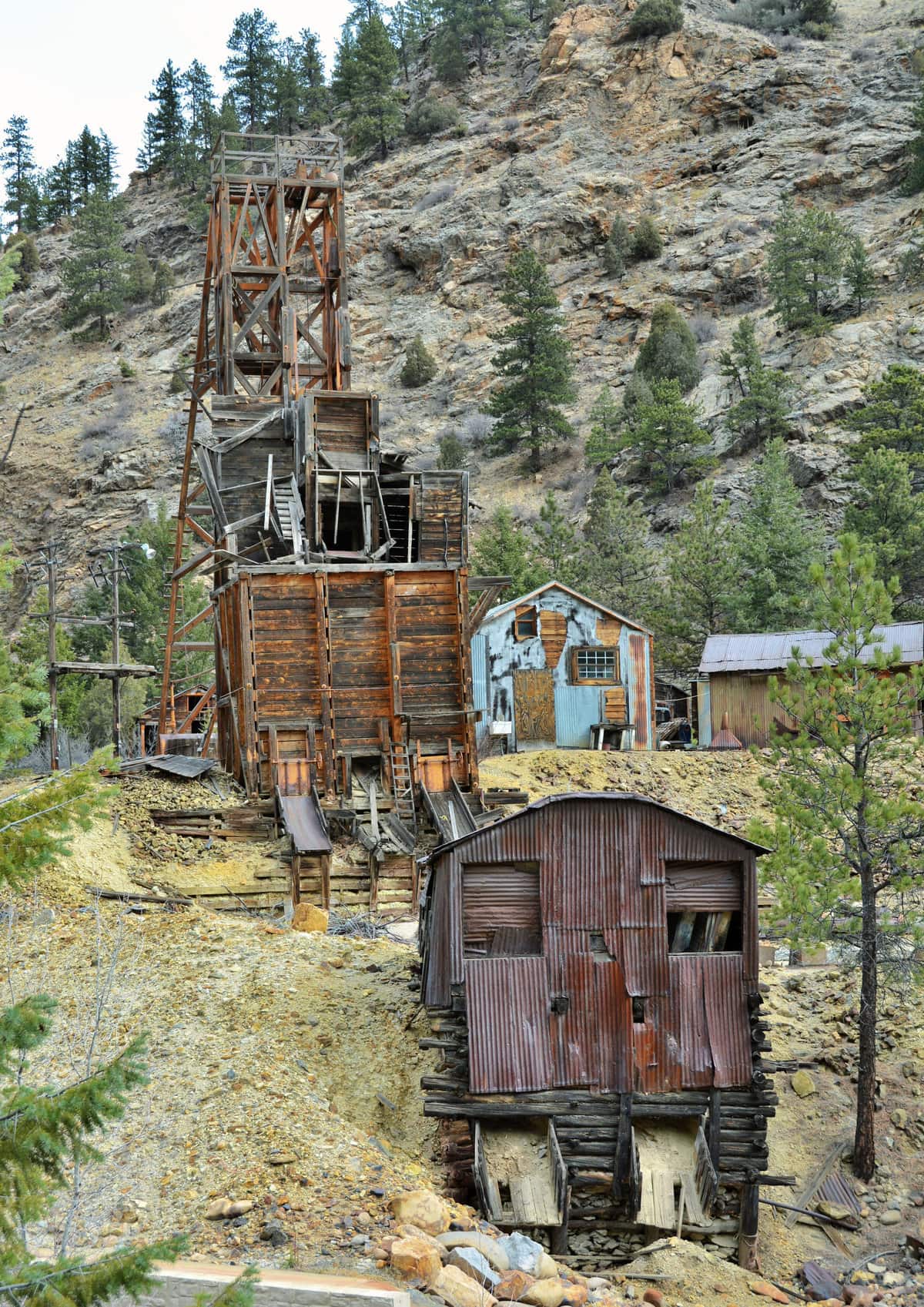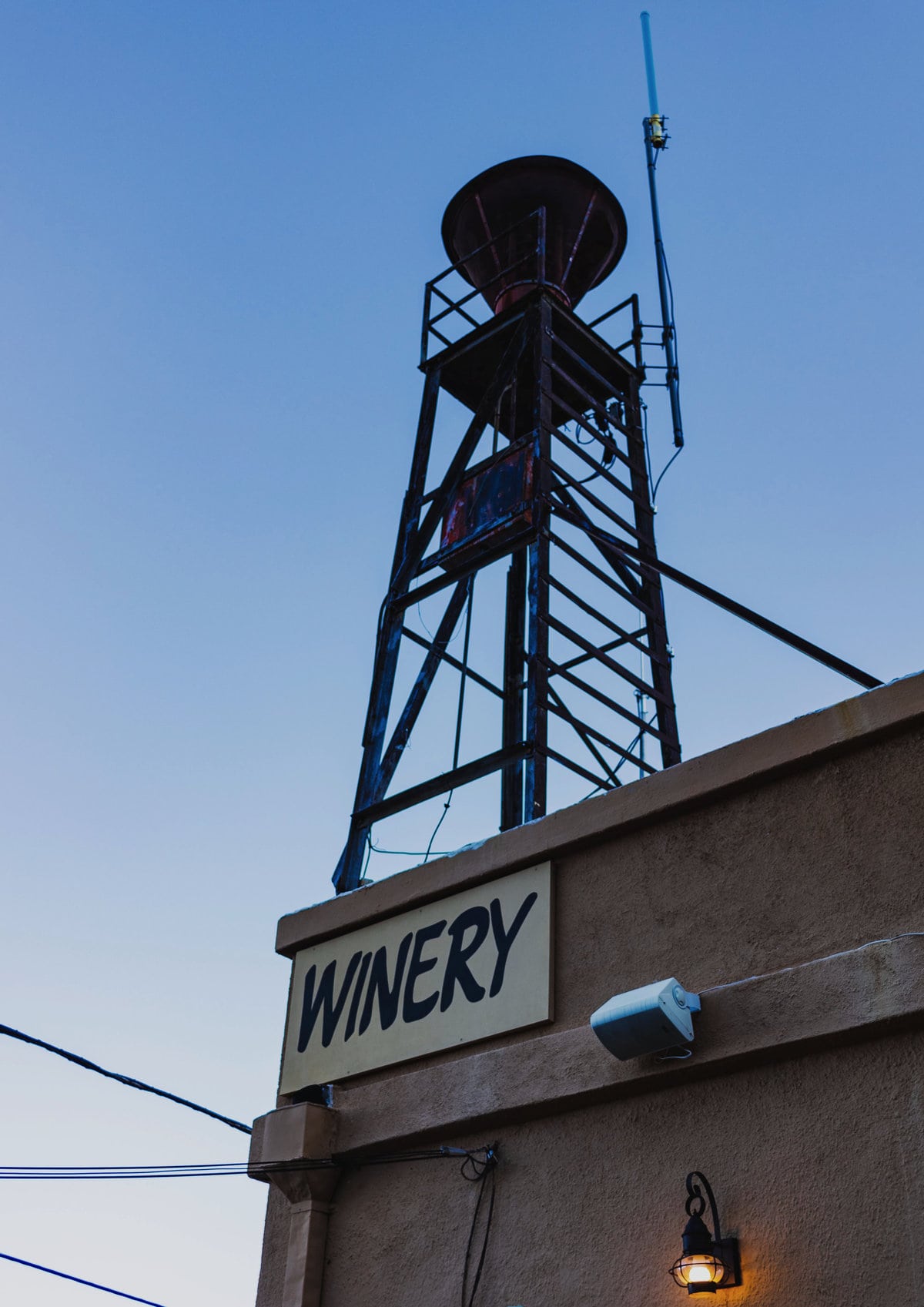 Once the mines ran out, Jerome quickly became a ghost town. Over the next several decades, some of the town's buildings were restored or turned into museums, restaurants, and dwellings.
Due to erosion in this area from mining and natural causes, some of the buildings were lost forever or, in the case of the Sliding Jail, were moved over the years from their original location.
Today, Jerome is a popular tourist destination due to its Old West charm and unique setting. Art galleries, restaurants, vintage shops, breweries, and wineries line the historic and winding streets of this small mountain town.
Jerome is technically a ghost town, and you can book a ghost tour or "spirit walk" to learn more about its spooky history.
5. Benson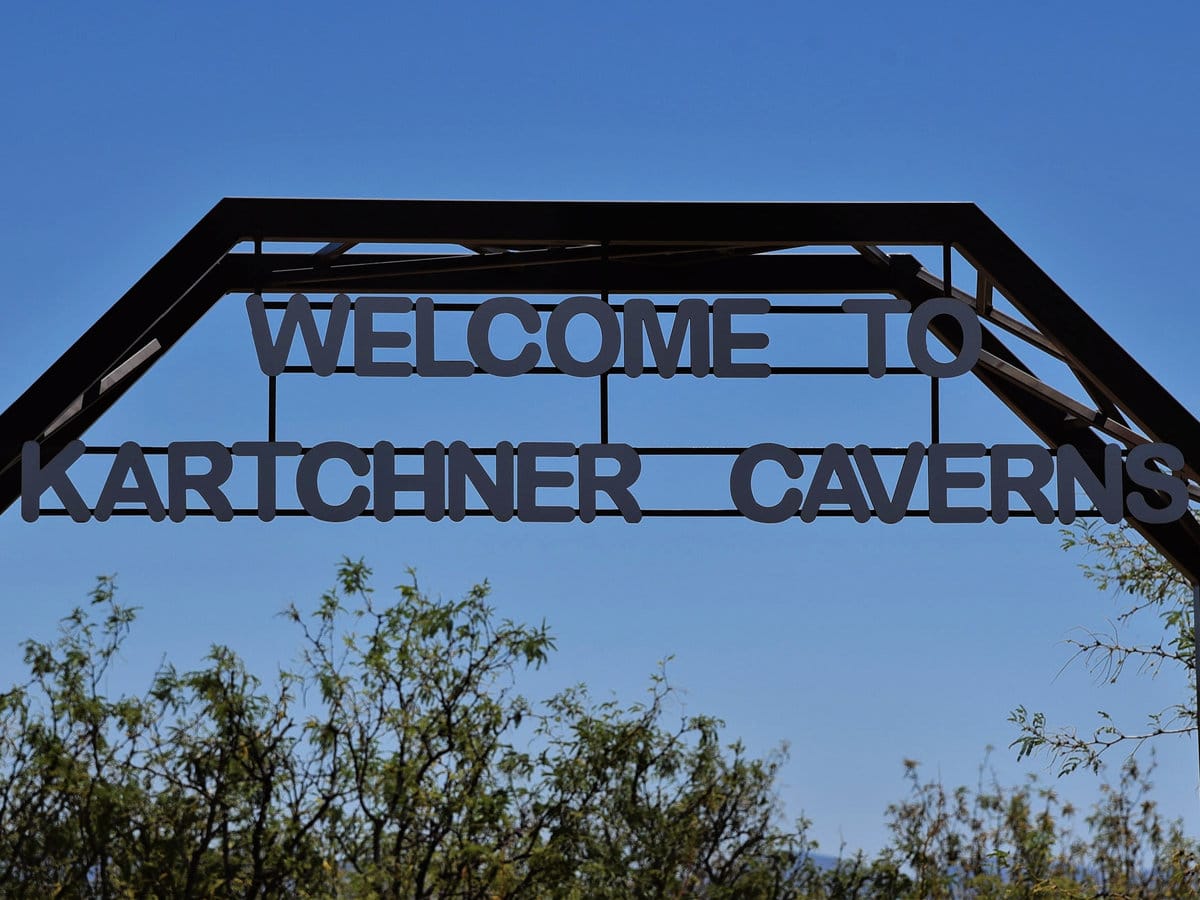 Another small 1880s boom town in southern Arizona, Benson served as a railroad hub and today is most well-known as the gateway town to Kartchner Caverns.
These enormous, underground caverns are "live" meaning the stalactites and stalagmites are continuously growing from water seeping through the limestone. Kartchner Caverns are definitely worth the visit if you happen to be in the area!
Don't forget to also visit the Holy Trinity Monastery, a historic and still-active Benedictine church that is open to visitors. The bookshop also doubles as a bakery, and the homemade bread at the Monastery is legendary!
For fans of railroad history, the Benson Visitor Center is sure to educate and delight. Be sure to try out the brand new train simulator, situated inside the building which is a replica of the original railroad depot. There are also hundreds of artifacts, photos, and documents that outline the history of the railroad in this area.
6. Oatman
Situated in the northwestern corner of Arizona along historic Route 66, Oatman is best known for its non-human residents- the burros. These wild but friendly donkeys are descendants of the original mules and donkeys used by miners in the area, and today the burros outnumber people in this tiny Wild West town.
Take a stroll down Main Street, which is actually Route 66 as it cuts directly through the middle of town, and enjoy some Old Western history coming alive in the 21st century.
In the afternoons, the Oatman Ghost Rider Gunfighters put on a show, acting out a pretend gunfight and bank heist.
The shops that line the main drag of town hold souvenirs, art, and dining to complete your visit to Oatman.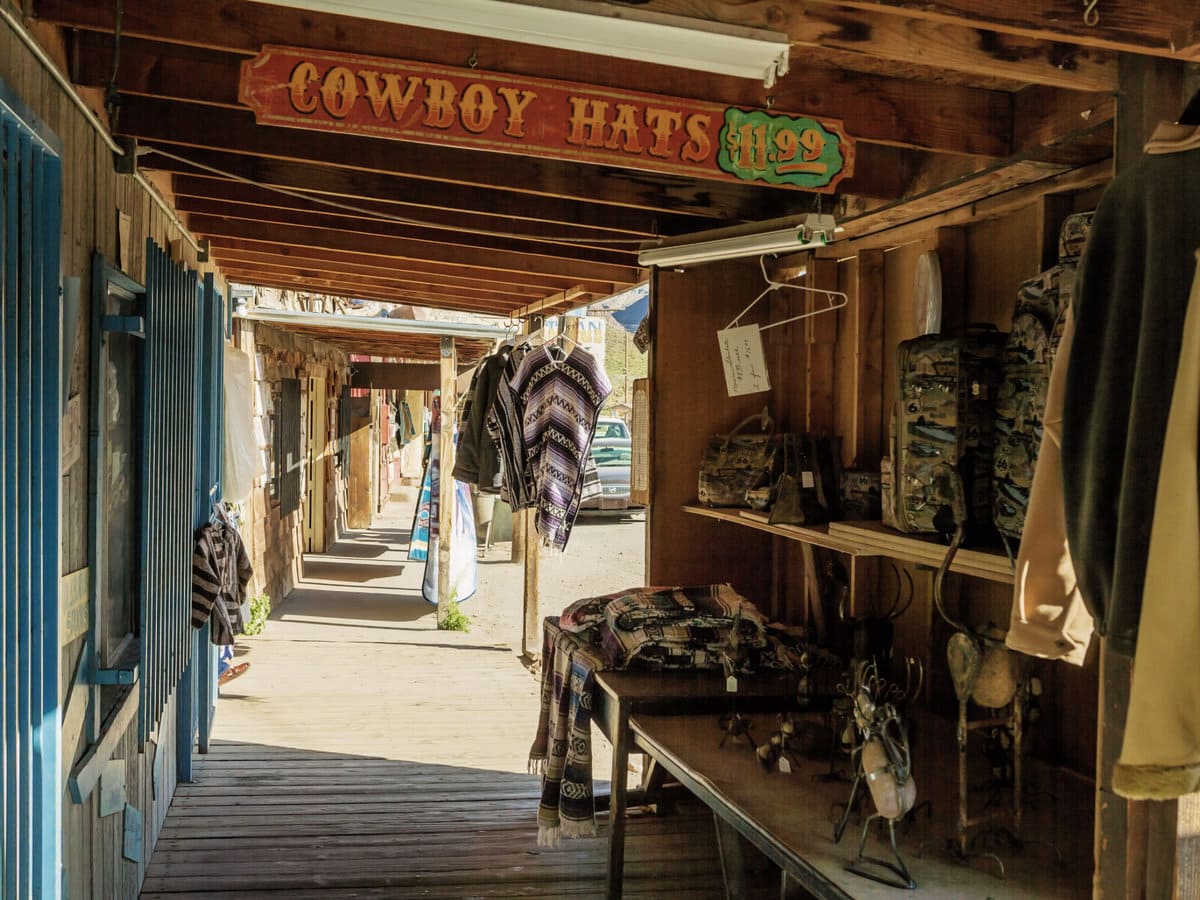 Come and pet a burro or two and enjoy one of the most memorable historic Route 66 Old Western towns.
7. Tucson
The city of Tucson is the second-largest in the state, but it hasn't forgotten its Old Western roots.
The history of old Tucson is lush with Hispanic, Native American, Spanish, and Anglo cultures and you can see touches of all of these cultures throughout the city.
My personal favorite is the Mission San Xavier del Bac, which was founded as a Catholic mission way back in 1692.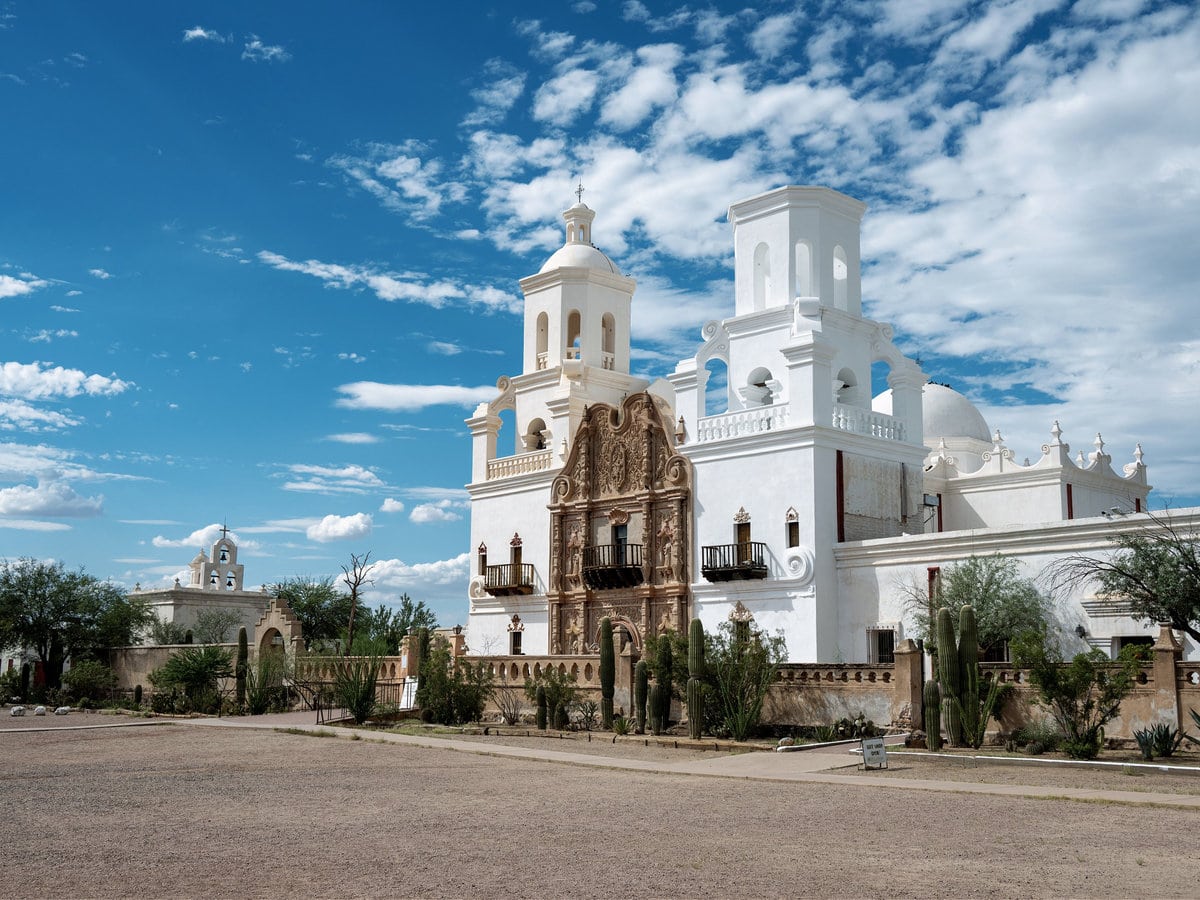 The Mission building itself wasn't completed until 1797. As such, the Mission San Xavier is the oldest European building in Arizona, and the inside is truly a sight to behold with artwork, statues, and mural paintings.
For outdoor enthusiasts, Sabino Canyon and Saguaro National Park are both close by and offer world-class hiking among some of the most beautiful desert landscapes.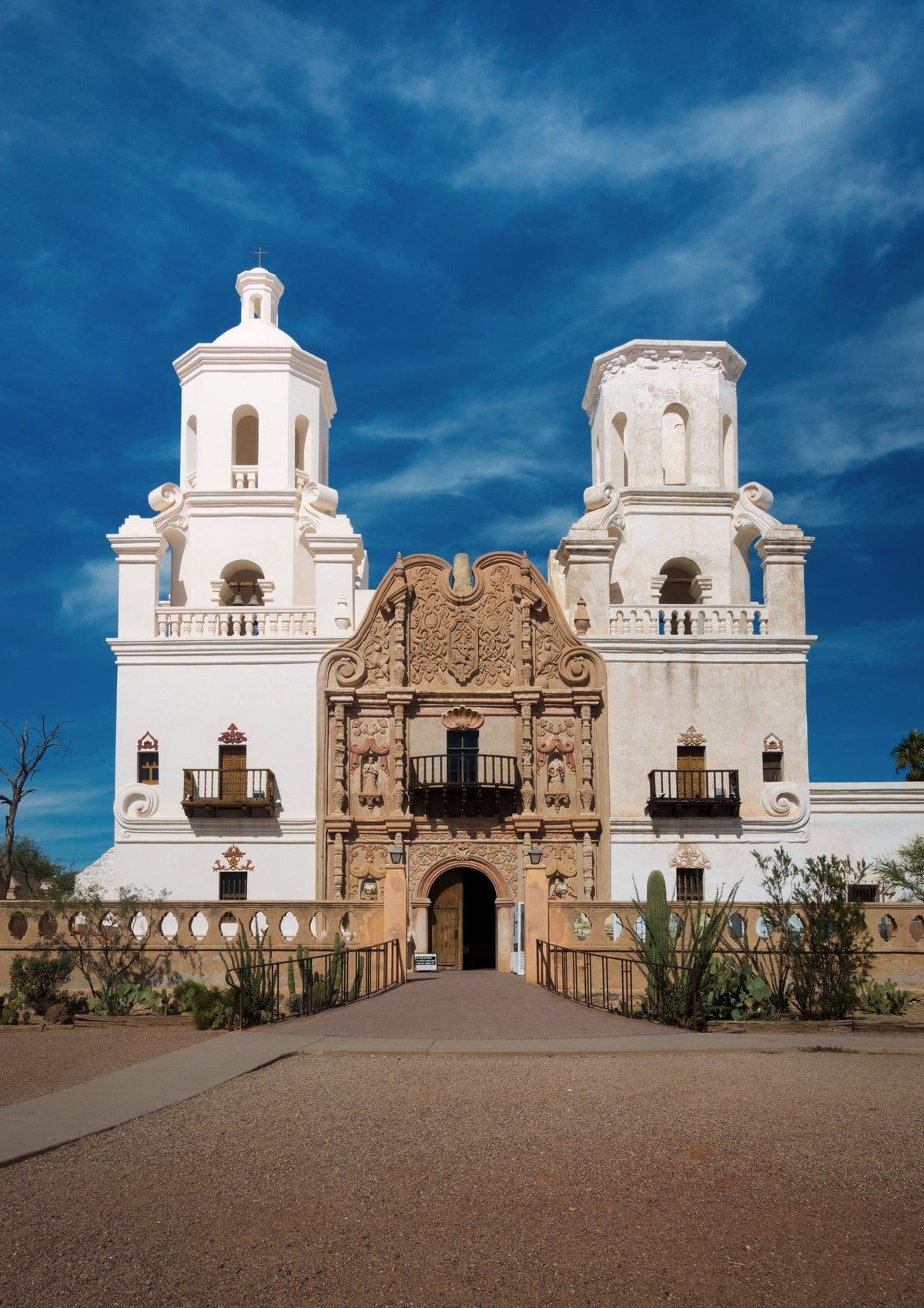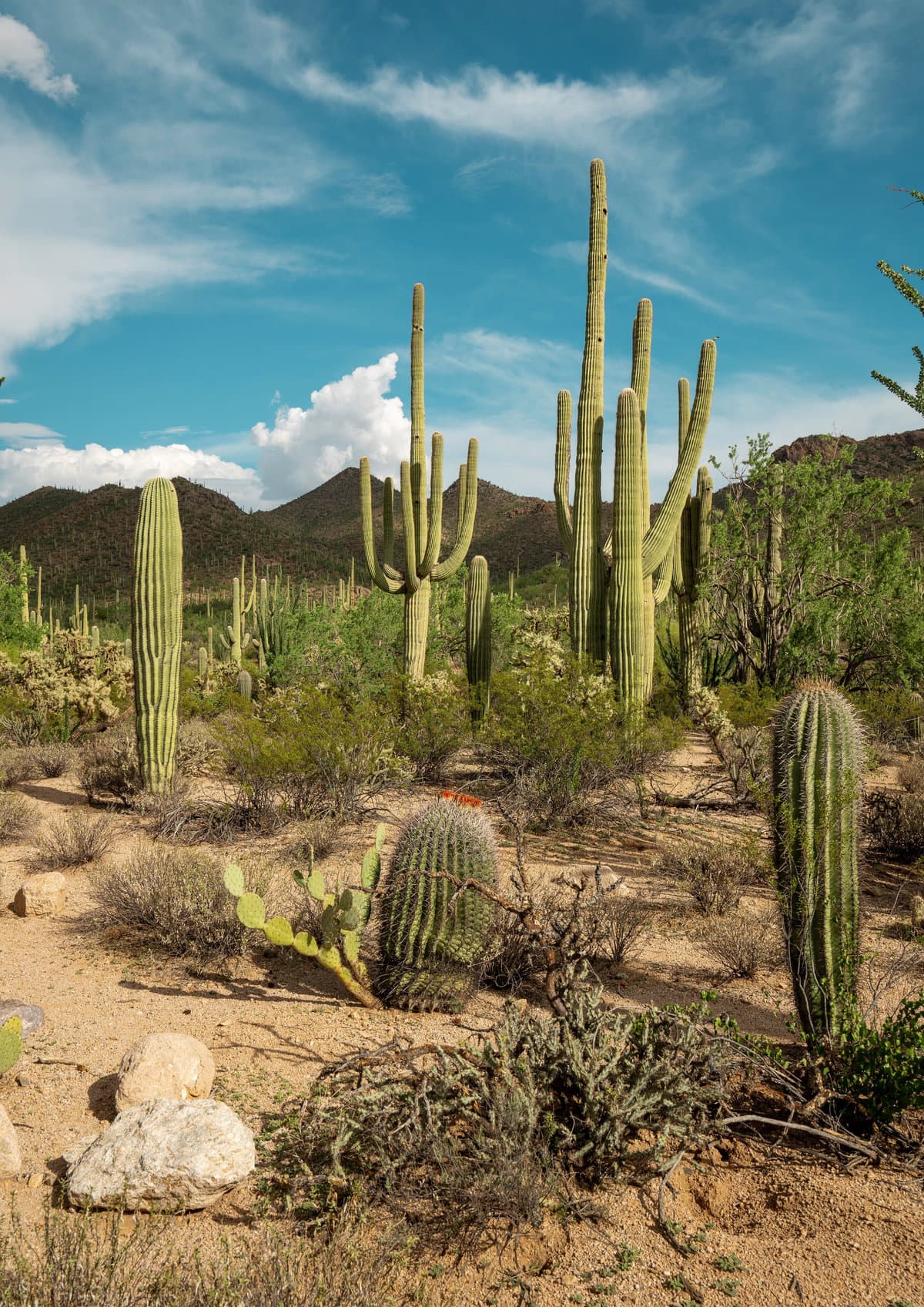 For foodies, the dining in Tucson is top-notch; Diablo Burger is my all-time favorite restaurant in Tucson, especially for their rosemary french fries!
There is never a shortage of community events, locally owned shops, art galleries, and more that will make your visit to Tucson one that you will never forget.
8. Goldfield
Just east of Mesa lies the restored Goldfield ghost town. What started as a small mining town near the Superstition Mountains is now a tourist attraction, complete with a museum, restaurant/saloon, and replicas of Old West buildings.
Goldfield's location so close to the suburbs of Phoenix makes it a great day trip option.
Pan for gold and take home your vial of gold flakes, or take a narrated journey on a mile-and-a-half train journey around the town on a historic train engine and caboose. The Goldfield Mine is open for tours that take you 100 feet underground and makes you feel like you walked back in time!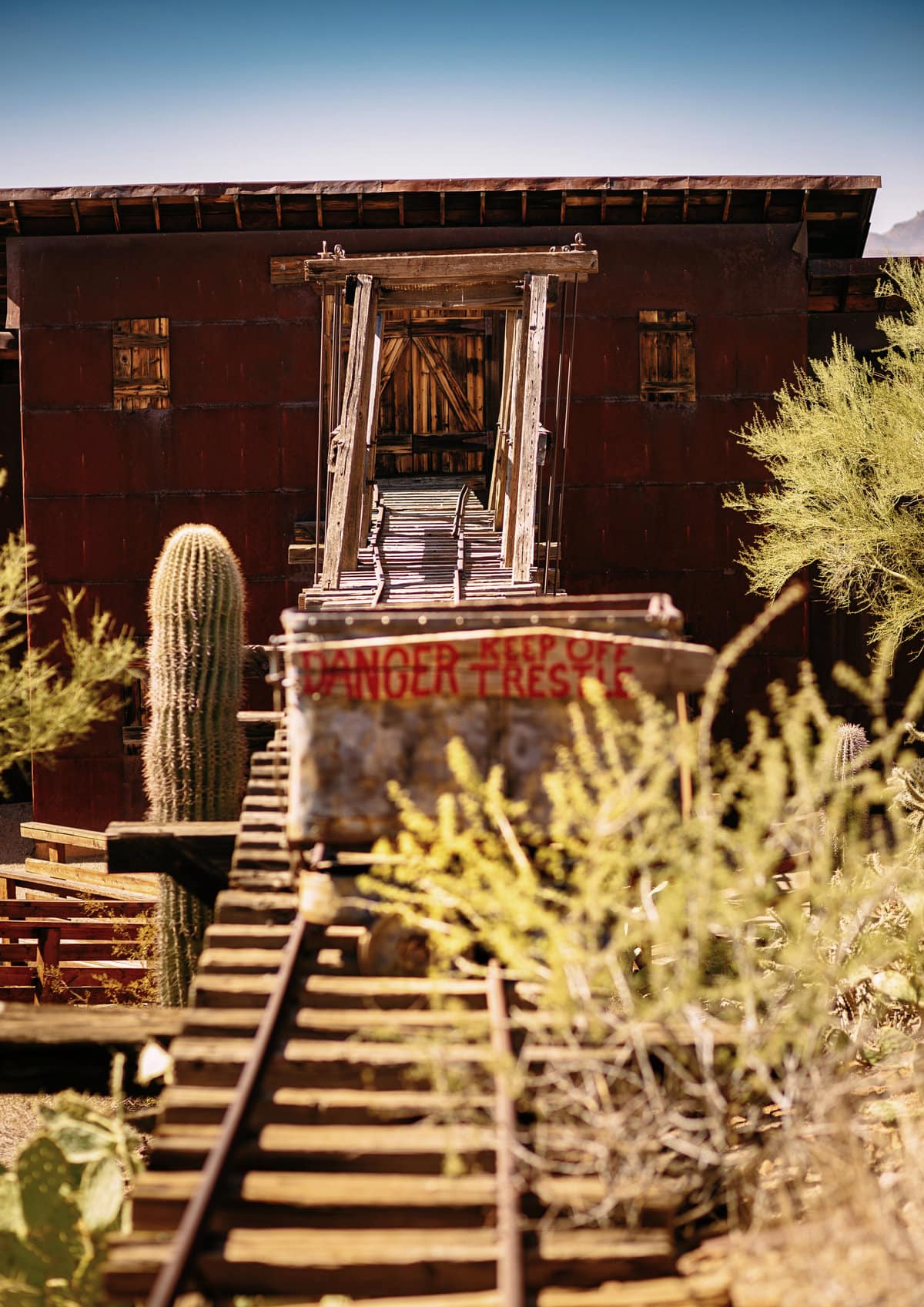 The newest attraction to Goldfield is the Superstition Zipline, allowing you to take in the views of the nearby mountains and surrounding desert like never before!
Visit the Goldfield Museum and follow up with a horseback riding tour through the cacti on experienced mounts, letting you pretend to be one of those tough cowboys of the Old West.
9. Wickenburg
Sixty miles northwest of Phoenix along Highway 60 lies the town of Wickenburg, with a rich western history and traditions that linger into the modern day.
Founded in 1863 when a Prussian immigrant named Henry Wickenburg found gold in the nearby mountains, today the town is home to several world-renowned ranches, an art museum, and a performing arts center.
Wickenburg is home to some of the world's best team ropers and barrel racers as well as other rodeo competitors. The Senior Pro Rodeo attracts horses and riders from all over the country every year.
Historic guest ranches allow you to pretend to be a cowboy for a weekend, going on cattle drives and scenic horseback rides.
If you want to spend time outside while you're in Wickenburg, head to the Hassayampa River Preserve and walk among the gorgeous riparian setting for some quality bird watching. Hike up nearby Vulture's Peak for views of this small Old West city, or hit some holes at one of the several golf courses in town.
10. Chloride
This quirky, tiny town northwest of Kingman is another Route 66 ghost town that is well past its heyday, but still has some permanent residents who are determined to keep this Old Western town alive.
The town is mostly abandoned, but the twenty occupied houses all have one thing in common- unique "junk art" and sculptures made out of thrown-out metal scraps and other random items.
A hidden gem of Chloride is the murals painted onto a huge granite wall just outside town; a 1.3-mile-long rough dirt road that is only accessible by 4-wheel-drive vehicle or by foot takes you past abandoned mines and Native American carvings into rocks (called petroglyphs) to the murals that were painted in the 1960s.
The artist, Roy Purcell, was a seemingly bored prospector who decided to paint a 2,000-square-foot mural in the middle of the Arizona desert.
The town of Chloride may not seem like a place worth visiting at first glance, but you'd be surprised at the unique and eclectic residents and buildings that remain in this tiny forgotten Old Western town.
11. Globe / Miami
Many drivers pass through the twin towns of Globe and Miami every day on their way to the higher mountains in eastern Arizona, but you should definitely consider making a stop here during your road trip!
Located about 60 miles east of Mesa through some of the most rugged desert mountains that the state has to offer, Globe/Miami has a rich and storied past.
My first stop, always, is Guayos Del Rey restaurant a block off of the main drag in Miami; in my opinion, the best Mexican food you'll ever have! I have many fond memories of stopping here with my family on the way to and from camping trips.
Just down Sullivan street from Guayos is a row of antique stores that are simply a delight to wander and browse through.
Houses that are over 100 years old dot the hillsides through Globe/Miami and you can even take tours of these historic homes every year in the springtime. Deposits of silver and copper were found in the area in the 1860s, and the town soon exploded into a fully-fledged mining boom town. Today, there are still over 8,000 permanent residents in the area.
For a peek into the deep history of the Pinal Mountains and the area around Globe/Miami, be sure to make a stop at the Besh-Ba-Gowah Musem, only a mile outside Globe. The 200-room Salado pueblo dates back to around the year 1200, which makes it one of the oldest dwellings in all of Arizona! The visitors center and gift shop allow you to learn more about this cool site.
Before You Go
The wild days of the Old West were sometimes violent, oftentimes difficult for homesteaders and cowboys, and laden with rich history and legends. The Grand Canyon state is no stranger to the days of the Old West, especially since it didn't even become a state until 1912!
Today there are about 130 known ghost town sites; some are completely abandoned and barely accessible and some are still fully fledged towns or cities today. Check out my guide about the best ghost towns to visit in Arizona.
Visiting any of the Old Western towns in Arizona transports you to the past, to the days of miners, cowboys, railroad building, outlaws, and everything that comes with the wild, wild West.
Today, art galleries, museums, restaurants, and tourist attractions keep these historic towns thriving and lively for years to come.