8 Best Road Trips in Arizona
Who doesn't love a good road trip? Close friends, classic tunes, open highways, scenic views, and exciting destinations are some of the things that make a road trip one of the great American pastimes. The journey is half the fun, and in my experience, Arizona's highways are better maintained and safer than many other states.
Whether you're wanting a day trip or a weekend adventure, Arizona has plenty of options for incredible road trips to take in all the grandeur the state has to offer. You can pull up Google maps (or go old school with a physical map) and trace the best route. Sometimes, taking the back roads and the highways less traveled will give you an experience that you might otherwise miss!
Few things are more exciting than the anticipation of a road trip to a place you've never been, so take a pick from one of these trips and get on the road to make some memories!
Here are my picks for the 8 best road trips in Arizona!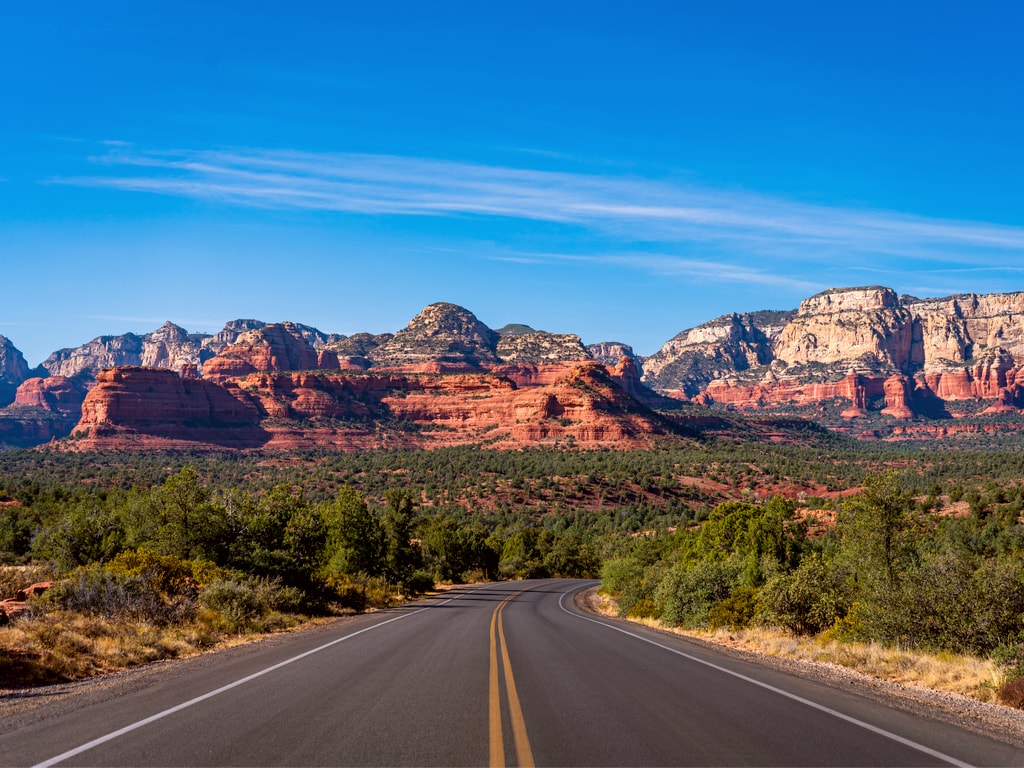 1. Phoenix to Tucson
Although the drive is less than 2 hours, there are quite a few notable points of interest on the way, with plenty to do in Tucson once you get there. It's easy to make this a day trip from Phoenix or spend the entire weekend in Tucson. Whatever you decide to do, it'll be well worth your time to take the I-10 South and explore this part of southern Arizona.
Once you leave the Phoenix Valley, you'll soon pass by the community of Eloy, just off the interstate. If you're an adrenaline junkie like me, make a stop here to visit Skydive Arizona! They offer flights all day long (with reservations in advance so plan ahead!) and their instructors and jumpers are experienced and incredible. Skydive Arizona also has a perfect tandem-jump safety record!
Next on the road, you'll see Picacho Peak; this rugged mountain is situated just off the highway and juts into the sky with its jagged peak. This hike is no joke and is suitable for moderately experienced hikers, and if you make it to the top you're rewarded with incredible views of the surrounding desert. Nearby is Rooster Cogburn Ranch, a fun family-centered farm with exotic animals like ostrich and zebra.
When you make it to Tucson, stop for lunch at one of the many Mexican restaurants. The Mexican food here is legendary and since Tucson is only 70 miles north of the border, the food is genuine and delicious. Try a classic Sonoran Dog at El Guero Canelo, or a delectable crispy chimichanga at El Charro Cafe.
There is so much to do in Tucson, try not to get overwhelmed! The area is rich in southwest history, with several museums dedicated to preserving the ancient and historic people and cultures that have lived here. Visit the San Xavier del Bac Mission 10 miles south of town for a look at one of the first religious buildings built in the area.
Located on the west and east side of Tucson is Saguaro National Park (split into two unique areas), and you could easily spend several days in each one. Hiking, biking, bird watching, camping, and scenic drives are all activities available to you in the park. Few things feel more Arizonan than watching one of our classic sunsets among the towering saguaro cacti.
Traveling from Phoenix to Tucson can open up many opportunities to experience the culture and landscape of southern Arizona, and you could easily do just a day trip or longer while making memories to last a lifetime.
2. Mesa to Payson/Mogollon Rim
The drive is part of the fun of this road trip. Scenic Highway 87 takes you past the iconic profile of Red Mountain, the retirement community of Fountain Hills, and climbs steadily from the desert to the pines in Payson. Situated at the base of the plateau known as Mogollon Rim, Payson is a small mountain community and a great jumping-off point for mountain adventures.
The drive is only about an hour and is generally safe during all weather. From Payson, you can continue to the even smaller town of Pine; here you'll find Pine Trailhead, with miles of trails that wind through the trees and even up to the Rim itself. Tonto Bridge Natural State Park is situated conveniently between Payson and Pine and is a family-friendly place to see cool geological formations.
To the east of Payson, the highway climbs steadily until you reach the top of Mogollon Rim, and from here you can take Rim Lakes Road to several lakes and reservoirs that offer good fishing and hiking opportunities. Forest Lakes is also nearby, where you can rent a cabin for the weekend.
One of my favorite hikes is only 20 minutes outside Payson- Horton Springs. Eight miles round trip with steady but gradual elevation change, this well-traveled trail leads you to a gushing, cold natural spring and creek. The water is fresh, delicious, and safe to drink directly from the spring!
A few restaurants in town are worth mentioning; By the Bucket is a one-of-its-kind eatery where you can literally buy a bucket of spaghetti and meatballs as well as other kinds of pasta. Fargo's Steakhouse is a favorite for a fancier night out, and a local food truck called CRNE Tacos Fuego has excellent street tacos and other Mexican cuisines!
For a shorter day trip to escape the heat of the city, driving to Payson is the way to go!
3. Flagstaff, Page, Monument Valley, Petrified Forest
This scenic loop might take you a few days to take it all in, but you'll be able to see some of the most iconic sights in all of Arizona. Starting in Flagstaff, you'll want to drive up to Humphrey's Peak and if you're into hiking, take the 10-mile round trip trek to the top of the tallest peak in Arizona. The area surrounding Humphrey's Peak is especially beautiful in the autumn months when the aspens are at their peak golden hue.
Then, you'll take Highway 89 north to Page; just before you reach the town, stop by Horseshoe Bend to see one of the most famous views along the Colorado River. The trail is newly remade to be wheelchair accessible and is less than a 1-mile round trip. Near Page is also the beautiful and whimsical Antelope Canyon, where Native American tour guides take you through the narrow, red sandstone walls.
Lake Powell is another great location to spend a summer day or two, and there are houseboats for rent or even daily boat tours. Lake Powell is formed by Glen Canyon Dam, and the lake winds through what used to be Glen Canyon, providing many secret coves to explore.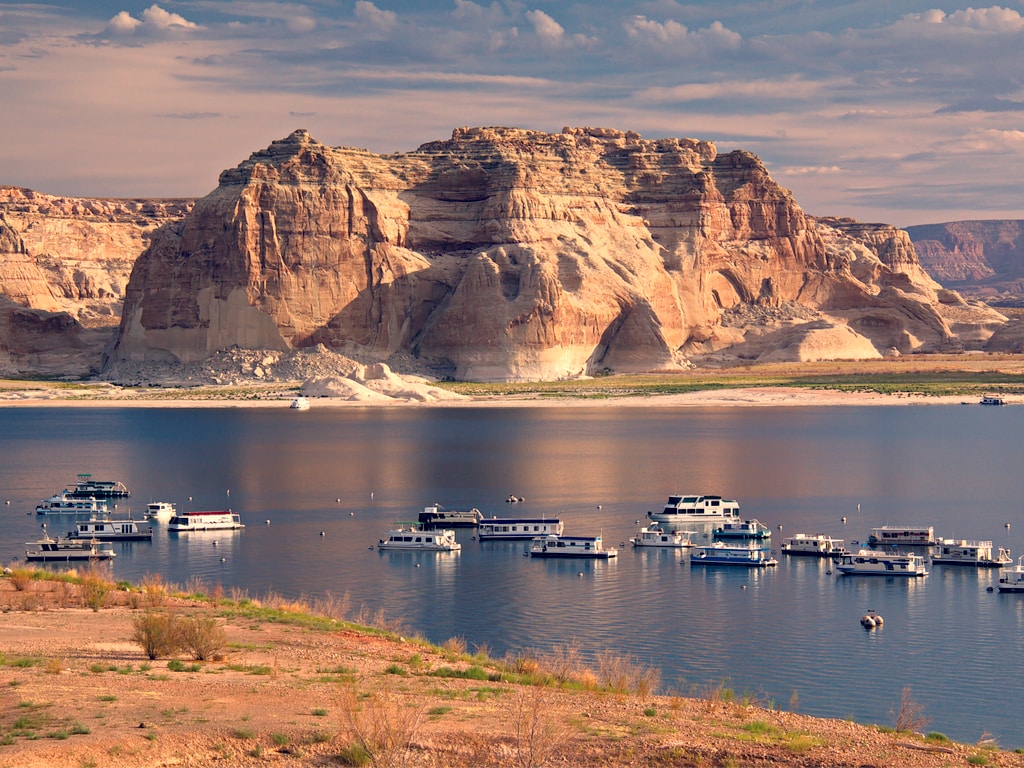 Your journey takes you east from here, to Monument Valley on the Navajo Nation Reservation. These iconic buttes were formed by eons of wind and rain eroding at the desert sandstone. Forrest Gump famously turned around here on his cross-country run in the movie Forrest Gump, and you can even take a picture at that exact spot!
Monument Valley, located on the Arizona-Utah border, is special due to its sacred nature to the local people, so please be respectful of their culture. You can take guided tours through certain areas of Monument Valley and learn more about the history there. Don't forget to snap pictures of all the scenic views!
Turn your wheels south and head to Petrified Forest National Park. The large, reddish rocks here may look suspiciously like downed tree trunks, and that's because they are! This ancient forest was transformed when fallen trees got buried in sand and mud and eventually turned into a rock-like substance, before being unearthed by erosion.
You can easily spend a whole day in this park, and it is one of the few national parks in Arizona where pets are welcome (on a leash, of course!). Learn about the park's history at the Painted Desert Visitor Center, or take a stroll along a few of the short trails that wind through areas with large concentrations of petrified wood. See ancient pueblo ruins, and see petroglyphs (some as old as 2000 years!) carved into rocks.
Northern Arizona has so many beautiful sites with rich history, incredible vistas, and lots and lots of red rock and sandstone. Doing this road trip loop will let you see all of the most famous areas that northern Arizona has to offer!
4. Grand Canyon, North and South Rim
The Grand Canyon certainly lives up to its name- the vast, miles-wide canyon covers more than 1,900 square miles (bigger than the entire state of Rhode Island) and the two rims are 18 miles apart at the widest point. Each rim has its own beauty and unique personality, and is definitely worthwhile to visit both!
The North Rim sits 1,000 feet higher in elevation than the South Rim and receives a couple of feet of snow in the winter (the road is closed between December 1st and May 15th for this reason). The best time of year to visit the North Rim, in my opinion, is in the fall months (September to November), as the aspen trees are brilliant shades of yellow and make for a scenic drive from nearby Jacob's Lake to the Rim.
Hikers can make the trip from the North Rim to the South Rim by foot, which can take an entire day or more to traverse the 24 miles long trail, depending on your fitness level. To see both sides of the Grand Canyon in a less exhausting way, you can drive about 4 hours around from North Rim to South Rim. The whole drive is scenic and has some interesting stops along the way.
Jacob's Lake Inn has the most delicious cookies and diner, so stop here for your lunch. As you continue on your journey, stop at the scenic lookout at the edge of the Kaibab Plateau, to see incredible views of the Vermillion Cliffs. Next, you'll come across Navajo Bridge, and it is always worth a walk to the middle to stand hundreds of feet over Marble Canyon (the beginning of the Grand Canyon).
Refuel at Cameron, Arizona, before continuing to the South Rim. Take your time on this scenic route, as there are many stops and lookout points that allow you to get several different views of the Grand Canyon. Once you make it to Grand Canyon Village, find the trailheads to either South Kaibab or Bright Angel trail and walk down a mile or so for even more expansive views.
Millions of people visit the Grand Canyon every year, and once you see it for yourself, it's not hard to see why. The majority of tourists only ever see the South Rim and rarely venture below the rim itself, but I do think you must see the North Rim, and maybe get a little hiking in, to get a full appreciation for the beauty and vastness of this national treasure.
5. Phoenix to Sedona
Okay, this is one of the best road trips from Phoenix.
Sedona is one of the most dazzling and beautiful places in all of Arizona, with its towering red rocks and spiritual vibes that attract millions from all over the world every year. During peak season (spring and fall) all of the popular hikes in Sedona are fairly crowded, but come in the winter or summer and you might just have the place mostly to yourself.
A couple of stops along the way between Phoenix and Sedona are worth mentioning; Rock Springs Cafe in Black Canyon has some of the most delicious pie I have ever tasted, and it's always fun to grab some pie to go for your road trip north. Montezuma Castle National Monument is only a short distance off of I-17 and is a great chance to see ancient ruins.
Jerome is a little more out of the way but is a favorite for those who love art, live music, and history. There are also a few great restaurants in Jerome that make this small quiet ghost town a must-visit.
Once you make it to Sedona, enjoy the scenic drive through the red rocks and enjoy some of the sights of Cathedral Rock and other famous formations. Stop at the trailheads for Devil's Bridge or Seven Sacred Pools for classic Sedona views and hiking. Continue through town on 89A into Oak Creek Canyon, which is one of the prettiest drives in all of Arizona, in my own opinion.
Hiking the West Fork of Oak Creek is a must-do for any trip to Sedona, and is one of the most pleasant and breathtaking hikes in the whole state.
I would road trip from Phoenix just to do this hike! It can get busy on weekends, so try it during the week or in the off-season to have a little more peace and quiet.
A few restaurants in Sedona will round out your road trip quite nicely, including Hideaway House (with awesome views of Oak Creek), Elote Cafe for Mexican cuisine, or the Angel Kitchen for some savory ramen. However you decide to spend your time in Sedona, it'll be a trip to remember.
6. White Mountains- Globe to Show Low and Beyond
Very few highways in Arizona are more adrenaline-inducing than the winding, jaw-dropping drive through Salt River Canyon between Globe and Show Low. If you're a nervous driver, especially around cliffs and sharp switchbacks, it might be a good idea to let someone else take the wheel; the views are better from the front passenger seat, anyway!
You can stop at the bottom of the canyon and walk down to the river, which is at its highest levels in the late spring. There's a gift shop and rest stop here as well as some picnic tables, great for a mid-day driving break.
From there, enjoy the climb up to the pine trees as you get closer to Show Low, considered the entrance to the White Mountains. Rent a cabin here or in nearby Pinetop/Lakeside if you plan on being here for a few days, as there is a lot to do in the White Mountains.
An hour from Show Low is Sunrise Park Resort, one of the few ski resorts in Arizona. The distance from Phoenix plus the harsher weather in the winter makes this resort less crowded as Snowbowl, the ski resort in Flagstaff. They get great snow every year and have ski runs for all levels.
Mount Baldy is one of my favorite hikes, and it is just down the road from Sunrise. While the summit itself is off-limits to most hikers (it lies on tribal lands), you can hike up to 17 miles round trip on the trails that take you just below the peak.
Camping in the dense pine and aspen forests near Mount Baldy was my favorite family tradition growing up, and getting there was half the fun. Making the 4-hour drive from Mesa to our camping spot with all the kids and dogs holds a lot of fun memories for me. The White Mountains is one of the most beautiful landscapes in the entire state and you'll feel like you've traveled to the Pacific Northwest!
7. Historic Route 66
Everyone has heard the song, right? "Get your kicks on Route 66!" The entire historic highway (established in 1926) runs from Santa Monica, CA all the way to Chicago, IL! The stretch through Arizona is one of the most famous and has several points of interest and things to do along the way.
Start your trip in Kingman near the California and Nevada border, known locally as the "Birthplace of Route 66". The great American author John Steinbeck named this "The Mother Road", and scattered along this beloved highway you'll find people who are passionate about keeping its history alive.
Some of Route 66 runs underneath Interstate 40, but you'll still find places to stop that are still on the original route. Williams, just 30 miles west of Flagstaff, is a small and charming mountain town. Bearizona, one of the best and most interactive zoos in the state, is located here as well as a deer farm.
Soon you'll reach Flagstaff, with a bustling downtown scene and delicious restaurants perfect for dinner after a day on the road. Rent a cabin outside town for a night, and enjoy the spectacular night skies found here.
Next comes Winslow, which name you might recognize from the Eagles song- "…standing on a corner in Winslow, Arizona." In fact, you'll find a sign that reads "The Corner" and it's a fun place to take a picture! Winslow is also known for its live music scene, so take a seat for a minute and enjoy the small-town atmosphere.
The rest of Route 66 in Arizona takes you through grassland prairie and red rock desert to the town of Holbrook. Here, you can stay at the Holbrook Wigwam Village Hotel, complete with teepees to sleep in and vintage cars to look at and enjoy. This charming hotel was said to be the inspiration for the movie Cars!
The rest of Route 66 in Arizona passes through Navajo and Hopi tribal lands, and the people here are very welcoming; you'll be sure to find some interesting museums, local eateries, and other points of interest along the way to the New Mexico border.
For history buffs, driving the entirety of the Arizona stretch of Route 66 can be a nostalgic look into the past of the Mother Road, with hidden gems along the way.
8. Southern Arizona Loop
Want to live some exciting adventures? Take this southern Arizona road trip!
Starting in Tucson, head east on I-10 towards the quaint agricultural town of Wilcox. Be sure to stop at Texas Canyon, one of the coolest lesser-known areas of Arizona (in my own opinion) with incredible rock formations and boulders as big as houses! Spend about an hour exploring among the rocks then continue on your way.
Wilcox is a seemingly-forgotten small town tucked away in the high desert of southern Arizona, but it is an important agricultural town and in the fall, they have one of the best pumpkin patches in the state!
From Wilcox, you'll jump off the interstate and head south towards Chiricahua National Monument. Southern Arizona is a hotspot for interesting and gnarly rock formations, and this national monument is no different. You can hike through the hoodoos (tall rock towers, often with larger boulders balancing on top) and there are several excellent trails that wind through the area. It's well worth spending a whole day at Chiricahua.
From here you'll head to Bisbee, an old copper mining town turned tourist attraction. Be sure to visit the Breakfast Club to start your day, and then take a walk down Erie Street to see all the old buildings and vintage cars. Tour one of the local mines and stop in at one of the several museums to learn more about the history of Bisbee.
As you circle back towards Tucson, you'll pass through the tiny town of Tubac, known for its art scene and museums; with more than 45 art galleries and shops, there's plenty to browse through. There's an old ruin site at Tubac Presidio State Park that is the first European settlement in Arizona, as well as a historic Mission (old church building) at Tumacacori National Historic Park.
Head back to Tucson, and hit up one of my favorite restaurants in town- Diablo Burger. Using only locally grown produce and locally produced beef, these burgers are delectable and have unique and interesting flavor combinations. There are a few museums as well that are always worth a visit, especially the Pima Air and Space Museum.
This tour of southern Arizona allows you to see some of the hidden gems and lesser-known historic sites that are important in Arizona's history. The desert here ranges from lowland scrub land to mountains that are considered "sky islands", or mountains completely surrounded by the desert landscape. Take your time and be on the lookout for new experiences and memories to be made.
Conclusion
Road tripping is one of America's favorite past times, and Arizona's scenic highways are just begging for a cruise. From alpine mountains to deserts and everything in between, or major interstates to lonely backroads, heading out for a road trip in Arizona is bound to be one of your favorite vacations.
For a one-day trip, pick a drive to Tucson. For a long weekend or even a whole week, a tour of southern or northern Arizona would be the perfect itinerary. For history lovers, Route 66 should be your go-to road trip. Whichever trip you pick, you'll be sure to see the best that Arizona has to offer.