What is London Famous For?
Just like you've read on all those souvenir store t-shirts, I love London.
I was born in Newcastle, in the north of England, but like loads of people from our busy little nation, I've spent lots of my life living and working in various parts of London.
Because of that, I know what's good about it, what's bad about it, why the food isn't as horrendous as you probably think, and all the things the city is known for.
So lucky for you, I've brought you them all in this guide. Make yourself a drink, plonk yourself down, and have a speedy little read of this—here are 31 things London is famous for…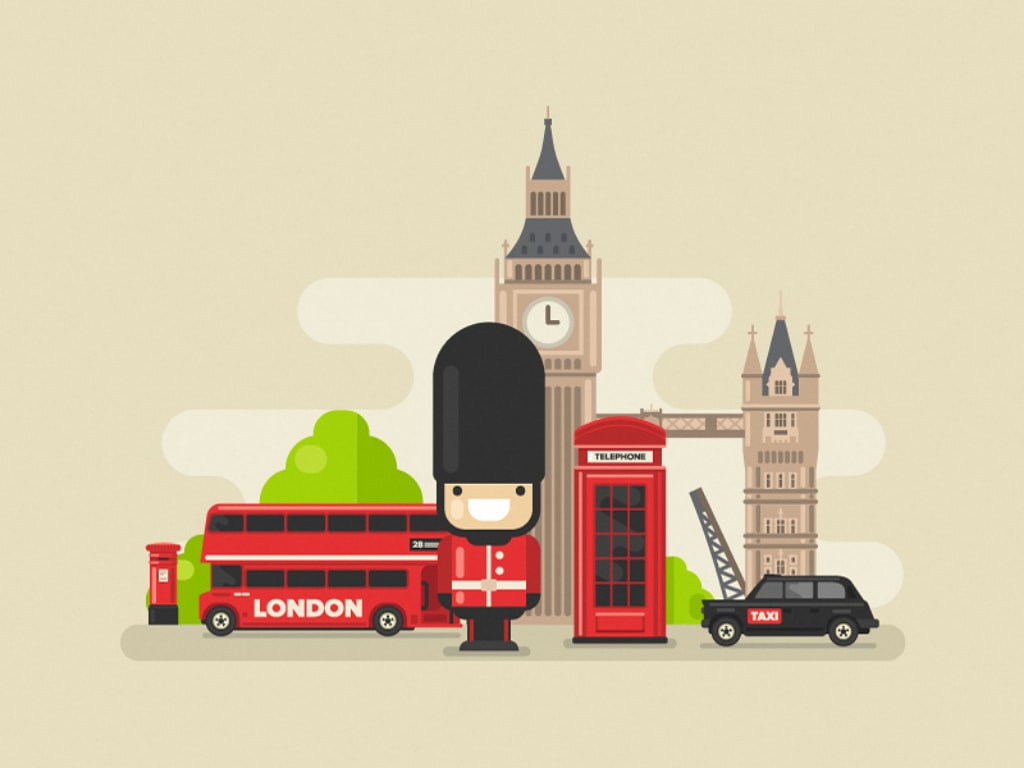 1. Endless Rain
You probably think London is the greyest, rainiest, most depressing city in the world. But the perception of London as a mega-rainy city is (mostly) inaccurate.
Yeah, London is pretty wet. But compared to some other places in the UK, it's like a tropical resort.
In an average year, the city gets around 580mm of rain, and around 106 rainy days. Compare those numbers to a city like Manchester (one of the rainiest in the UK), which gets 1,047mm of rain, and around 152 days of rain a year, and you realize it's not so bad.
(Yes, you're right, I did just Google those numbers five minutes ago).
2. Being Very Very Very Very Expensive
This perception isn't inaccurate. At all.
One of the most expensive cities on the planet, London's prices are ridiculous. They're even ridiculous compared to other parts of the UK.
Have a look at some of the outrageous figures for yourself at Numbeo, but here are some highlights:
According to the site, monthly rent for a 1-bedroom apartment in the city center clocks in at an average of £1,649.72. A meal at an inexpensive restaurant is £15 (but you can definitely find cheaper). A cappuccino is usually around $3 or a little more.
So, yeah, London is expensive, and it's annoying. But all capital cities are. And at least it's not as bad as Scandinavia.
3. Big Ben
Bing bong bing bong bong.
That was my impression of Big Ben. Hope you liked it!
London's most famous landmark is probably the massive clock that looms over the center of the city.
But here's an interesting little tidbit for you: Big Ben is actually the name of the bell in the tower, not the clock itself. The tower is called Elizabeth Tower (since 2012 anyway, re-named after our current Queen).
Anyway, Big Ben, or whatever you want to call it, is iconic, massive and famous, so make sure you visit.
4. Parliamentary Buildings
Obviously, because London is the capital of England, it's the center of the nation's parliamentary action (or inaction, mainly).
Right next to Big Ben (and attached to Big Ben), there are loads of parliamentary buildings.
The Houses of Parliament are the most famous, where most meetings, debates and decisions take place. Not too far away, you also have 10 Downing Street, the house where the Prime Minister usually lives (whoever it is at the time). Next door is 11 Downing Street, where the incumbent chancellor usually lives.
And next to it all are loads of big metal gates and armed police, so no-one can get too close.
5. Wembley Stadium
The biggest football stadium in England, Wembley is iconic. It mainly hosts football matches, but it also plays host to gigs and other sports.
The place was rebuilt between 2002 and 2007, and recently held loads of Euro 2020 matches.
You should absolutely try to see a football match when you're in London. If you want to visit Wembley, book a ticket in advance—it can squeeze up to 90,000 people into its sprawling confines, but it usually always sells out.
And if there isn't a match on at Wembley, there are loads more massive football stadiums in the city—three of London's biggest teams are Arsenal, Chelsea and Spurs.
6. Loads of Green Spaces
Is London famous for its parks? Probably not, but it should be.
The most famous is Hyde Park, a huge green space with a massive lake, great cycle lanes, and lots of lovely places to sit and do nothing. Some of my other favorites are Battersea Park (I reckon it's the best in London), Victoria Park (nice fountains), and St. James Park (cute and quiet).
But the city's most must-visit green space is Richmond Park. Located in a rich part of west London, this place has wild deer. Wild deer! Walking around!
London is one of the greenest big cities in the world, which most people (including me) find surprising. Apparently, 47% of the city is made up of green space, with around 1,700 parks intertwined in its sprawl.
7. The Massive Tube System
London's underground transport system, the Tube, is absolutely massive. More than one billion journeys are made on the Tube every year, on a labyrinthine system that allegedly measures in at around 400km (250 miles).
It's one of the most efficient transport systems on the planet—and it's the oldest underground transport network in the world, operating since the 1890s.
On some of the carriages, you can tell.
For tourists, it's a brilliant system. You can get quickly and easily to the vast majority of London. And for journeys that can't easily be tackled on the tube, the city has loads of great bikes, trains and buses anyway.
8. Being Unfriendly and Aloof
Compared to lots of other places in the UK, London is pretty unfriendly. People don't like to hear that, but it's usually true.
If you want to find the friendliest people in the UK, head north, to some of the more remote and rural places in the nation. Yeah, that's a cliché, but clichés usually exist for a reason.
That said, not everyone in London is miserable. Just don't be surprised if people frown at you when you smile at them.
9. Quirky Camden
If you've heard of London, you've probably heard of Camden.
And if you hadn't, you have now.
One of the kookiest districts in the city, Camden's clientele is mainly made up of weirdos and wackjobs. Here, there are strange market stalls, bizarre events, edgy exhibitions, a vagina museum, a cereal cafe, and Cyberdog, a UV store that mainly sells neon-colored rave clothes.
Aside from all the weird stuff, you also get brilliant food markets, cheap eats, great music venues, and one of the best canal areas in England.
10. Hundreds of Galleries and Museums
I hate galleries and museums. But if you like them, London has loads.
One of the most-museumed cities on the planet, London (according to who you ask), is apparently home to over 300 galleries and museums. Some of the most famous include Tate Modern, the British Museum, the Natural History Museum, the V&A, London Transport Museum, Tate Britain and the National Gallery.
And despite my cynicism, not all of London's museums and galleries are boring—there are even fun ones for plebs like me. Some of the weirdest museums include the Fan Museum, the Freud Museum, the Cinema Museum, the Magic Circle, the Toy Museum and plenty more.
11. Bright Red Phone Boxes
Yeah, they're everywhere. No-one really uses them anymore, because everyone has a cellphone now. But if you want to get a totally original selfie, London's phone boxes are here to help.
While a small few phone boxes still have phones in them, others are used for weird and wacky purposes. Some have been made into small community libraries, some have been transformed into mini stores, and others now house life-saving defibrillators.
12. Big Stupid Furry Hats
You know those big weird hairy hats you've seen pictures of people wearing?
They're worn by the Queen's Guard, British Army soldiers whose job it is to protect royal residences. Their bearskin hats are made from… you guessed it, the skin (and fur) of bears.
Apparently they wear these hats because, historically, tall hats make people seem more intimidating and officious.
I can't really work out what's intimidating about wearing a big tall toupee. But I guess that's why I'm not in the army.
13. Double Decker Buses
We have double decker buses in loads of towns and cities in the UK. And a few other countries throughout the world have them.
But despite their relative ubiquity, London's double decker buses are famous. They're probably famous because they're red, just like the phone boxes we've already covered.
Anyway, if you want to see the city in a relatively unique way, and explore some trivial heritage while you do it, you can tour the city's highlights on an open-topped version of one of these iconic buses.
14. Black Cabs
More vehicles. But this time, a different color.
Just like the yellow cabs in New York, London's black cabs are iconic. And equally expensive.
It probably won't be long until Uber drives these black cabs out of business, but they're still a London institution for now, and you'll see them all over the city's streets.
Here's a fun fact for you: London is dotted with diminutive little eateries called 'green huts.' There are only a few left, but they're tiny car-sized canteens where cab drivers go to eat—and only cab drivers are allowed in them. So I've never seen the inside of one, and you probably never will either.
Oh, and by the way: in England, 'cabs' are called 'taxis'.
15. Countless Cups of Tea
In England, we love drinking tea. Or so the cliché goes.
So you probably think that, everywhere you go, you'll see people slurping tea on streets, in cafés, in bars, and all over the city. And all with their pinky fingers pointing out.
But that's not actually true. Tea, though once hugely popular, is more of an old-fashioned thing now, and it's mainly older generations who drink it.
Coffee is now much more popular. So don't worry, you won't be beaten up and thrown out of a cafe and deported from the country for ordering a cappuccino.
Tea is tasty though.
16. West End Theaters
For seeing top-quality theater, London is one of the best cities on the planet. I don't really like theater, so I'm not an expert, but loads of my friends say the city is brimming with brilliant stuff.
The city's West End is similar to New York's Times Square, packed with loads of world-class shows, musicals and events. If you want to see stuff like Les Miserables, The Lion King and Wicked, you can see it all in London—but there are lots of normal plays and dramas too.
Some of the most famous theatres in the city include The National, Apollo Victoria Theatre, Piccadilly Theatre and the London Palladium.
Oh, and if you like Shakespeare, there's always loads of his stuff in London too.
17. The London Eye
A massive Ferris Wheel right on the banks of the Thames, the London Eye is supposedly brilliant. I've never been on it, but people reckon the 30-minute experience is one of the best ways to see the city's skyline.
The most popular paid tourist attraction in the UK, its highest point sits at a lofty 135 meters.
Located on Southbank (one of the best riverside areas in the city), there are loads of fun things to do near the London Eye, including London Dungeons, BFI Southbank, London SEA LIFE center, and lots of great eateries.
18. The Thames
The river that flows through London, the Thames clocks in at around 350km (217 miles).
In central London, there are loads of great places to explore along the Thames. One of my favorite ways to see the city is by taking a bike, and riding 10-20 miles along the banks and bridges of the river. It's a lovely way to get acquainted with the city, and map out its geography in your head.
If you prefer exploring by water, you can take a Thames cruise, or glide along the water on a speedboat.
If you really want to explore the Thames in full, you might want to walk the Thames Path, a massive waymarked multi-day trek taking hikers from the source of the river right to the center of London. Measuring in at 294km (184 miles), you can tackle the jaunt over 10-14 days.
19. Jack the Ripper
Jack the Ripper is a famous murderer, who went around killing women back in 1888. He murdered at least 5 people, but probably more.
Here's some good news for you: he's dead now. So he's not going to terrorize you or your loved ones while you're walking through London.
If you're interested in the grisly and gory, you can join a walking tour all about the man and his murders. One of the city's biggest-ever mysteries, no-one knows who Jack the Ripper was. But they know he was probably horrible.
20. The Queen
From the naughty to the noble—unlike Jack the Ripper, the Queen isn't a famous murderer.
In the UK, we have a royal family. And the Queen, for now, is head of that royal family.
Our royal family is one of the most famous in the world, and loads of foreigners associate us with them. But we don't all live in palaces and sit in golden chairs.
There are loads of royalty-related attractions in London. Some of the best include Buckingham Palace, Kensington Palace, Tower of London and St. James Palace.
21. Boundless Diversity
One of my favorite things about London is how diverse it is.
London is one of the most multicultural cities on the planet—allegedly, there are more than 250 languages spoken on its streets.
And what's great about this diversity is that it makes the city so varied.
Go to some parts of Leicester Square, and you feel like you're in China. Go to Peckham, and you feel like you're in Africa. Being in Stamford Hill is like taking a trip to Israel. Wandering around Brixton is like visiting Jamaica. Hanging around in Ealing makes you feel like you've stumbled into Warsaw. And it's brilliant.
Around 35% of London's citizens were born outside of the country, but they all come together to form an intriguing and alluring multicultural mesh.
22. Numerous Neighborhoods
Like I've mentioned above, London has loads of neighborhoods, and most of them offer a massively different atmosphere to one another.
All big cities have different neighborhoods. But few cities have neighborhoods as varied and distinct as London. If you want to feel like you're visiting 100 cities in one city, go to London. The hipster haven of Dalston, for example, couldn't be any more different from the rich residential neighborhood of Richmond.
If you like cities with highly-distinct districts and neighborhoods, you'll love London.
23. Brilliant, Pioneering Music
London bred, raised and influenced some of the most famous and popular musicians in history. Some artists who hail from the city include David Bowie, Adele, Amy Winehouse, Led Zeppelin, Queen, Pink Floyd, The Rolling Stones and loads more.
There are also endless songs written about the place. Have a listen to Baker Street (Gerry Rafferty), London Calling (The Clash), West End Girls (Pet Shop Boys) and Waterloo Sunset (The Kinks).
And because we've got such a massive musical heritage, London is home to some brilliant gigs, festivals and music events. Visit as many as you can.
Around here, we reckon the UK has the best musical heritage and output on the planet. And we're right.
24. Fish and Chips
I know you think everyone in London just eats fish and chips all day.
Think again kid.
Fish and chips is more of a coastal treat, and London (as you probably know!) isn't on the coast.
(Although, admittedly, you can find lots of fish and chips in the city.)
Anyway, despite the city's reputation for absolutely terrible food, there are loads of great places to eat—the food scene in London is one of the most underrated on the planet. And even better, it's ridiculously diverse—if you want food from any country in the world, you'll find it. The last meal I had in London was a Ghanian curry with plantain. From a street food stall.
That's London for you.
25. Gargantuan Gridlocks
London's traffic is ridiculous.
If you can avoid driving in London, avoid driving in London.
The roads are mad, and a journey that should take 10 minutes usually takes about 10 hours. So take public transport, or use a bike, or just run around everywhere. It's all faster, and much less stressful.
26. Being Busy
Speaking of busy-ness (is that a word?), London is one of the busiest cities on the planet. Swarming with more than 9 million people, the Tube is always busy, the roads are always busy, and everything is always busy.
If you like quiet cities, you probably won't like London. But if you like places that endlessly bustle, you'll absolutely love the place.
It's genuinely one of the busiest, buzziest cities I've ever been in.
27. The City's Skyline
London has one of the most recognizable skylines on the planet, with loads of skyscrapers towering over the sprawl of the city.
Some of the most famous buildings are The Shard, The Gherkin, and all the towers that loom over Canary Wharf.
For some of the best skyline views, head to Greenwich Park, the London Eye (but I've mentioned that already!), and Primrose Hill. At all three places, you get great panoramas of the city.
28. Really Terrible Souvenir Shops
If you want to buy a bright-red t-shirt that reads 'The Queen Is My Homedog' or whatever, you'll find it in London. You'll also find overpriced fridge magnets, mugs, masks, bobbleheads, keychains, hats, glasses, and other stuff that probably no-one on the planet has ever wanted to buy.
Imagine the worst, most tacky, most useless souvenir you could possibly buy. Now multiply that by ten. In London's souvenir shops, you'll still find something worse.
Here's my advice: don't waste your money. No-one wants you to buy them a pen anyway.
29. Posh Accents
You probably think everyone in London speaks like the Queen.
They don't.
So even though London is famous for upper-class accents, it doesn't really have many of them.
The local accent (or the 'cockney' accent), is much more common. If you're not used to it, it can be pretty hard to understand—it's a thick accent with loads of made-up words.
But because London is so diverse, you'll hear accents from around the planet. If it's an accent you've heard before, you'll hear it. If it's an accent you've never heard before, you'll hear it.
The more time you spend in London, you realize there's not really a standardized accent in the city anymore.
30. Brick Lane
England is famous for curry. And Brick Lane is probably the most famous curry spot in England.
A massive street full of restaurants, canteens, cafes and more, it's one of the best food neighborhoods in England. You get Indian food, Pakistani stuff, Bangladeshi fayre, and loads more.
(There's also lots more in Brick Lane aside from Asian food, but let's not complicate things for now).
I'm not even going to recommend a particular place to eat in Brick Lane. Instead, I'm gonna recommend an approach—go for a wander, and if a place is full of locals, you'll know it's probably good.
The best Brick Lane food is found in canteen-style places. Forget fancy restaurants and places where you order off a menu. Instead, eat at places that look like a school kitchen. You probably think I'm joking, but that's where you get the best food, with no frills, no pretense and no inflated prices.
31. Charles Dickens
Not everyone in London eats gruel and cleans chimneys for a living.
But if you've read lots of Charles Dickens books, you might think they do.
London has moved on from Charles Dickens' days, but he's still one of the city's most famous figures. All of his novels feature the city, and most of his books have loads of references to London landmarks, neighborhoods, areas and history.
If you like Charles Dickens and you're interested in making connections between his books and the city, join one of London's Charles Dickens walking tours. They're an excellent way to learn about Dickens' work and the city itself. Alternatively, have a wander to the Charles Dickens Museum in Camden—the place is located in one of his old homes, where he wrote Oliver Twist.
Final Words
Thanks for reading our guide to the 31 things London is famous for!
If you're thinking about visiting London, you absolutely should. It's one of the most unique cities on the planet, and it's full of brilliant stuff. I've visited the city endless times, I've lived in the city loads of times, and I still love going back.
You could probably spend ten million years in London without getting bored, so make sure you give the city plenty of time, and don't just hit the big sights.
If you feel like seeing other things near the capital city, follow my guide about the best day trips from London.
If you want to know anything else about traveling in England, we have loads more stuff on our site. Check out what England is famous for, 25 unique and interesting things to do in the north of England, and our UK regions guide. See you next time!
Being a Digital Nomad: Tips, Tricks and Places
Do you want to be a digital nomad?
If you do, maybe you don't know where you might want to live. Or how to live there. Or whether you need a visa. Or how to make friends in the scary sprawl of a brand-new city. Or how to stay productive while you travel. Or how to find an apartment. Or whether this lifestyle really is for you. Or… I'm sure you get the idea.
But with some insight and experience, it's not as difficult as you think. So in this book, I've gathered my 6 years of digital-nomadding experience… and I've used it to answer all your questions, soothe all your fears, and get you on your way. After reading this, you'll realise being a digital nomad is much easier (and much more possible!) than you think.