What is England Famous For?
I'm from England, and I've spent lots of my life living in various parts of the place. I've lived in the north, the south, the center, and loads of areas no-one would probably ever want to go.
So I know the bad stuff, the good stuff, and everything in between. But most importantly, I know what we're known for.
Here in England, we're famous for lots of things. Some of them great, some of them grotty, some of them flavorless food, many things are associated with our strange little nation. So in this article, I've brought you the 17 things England is known for…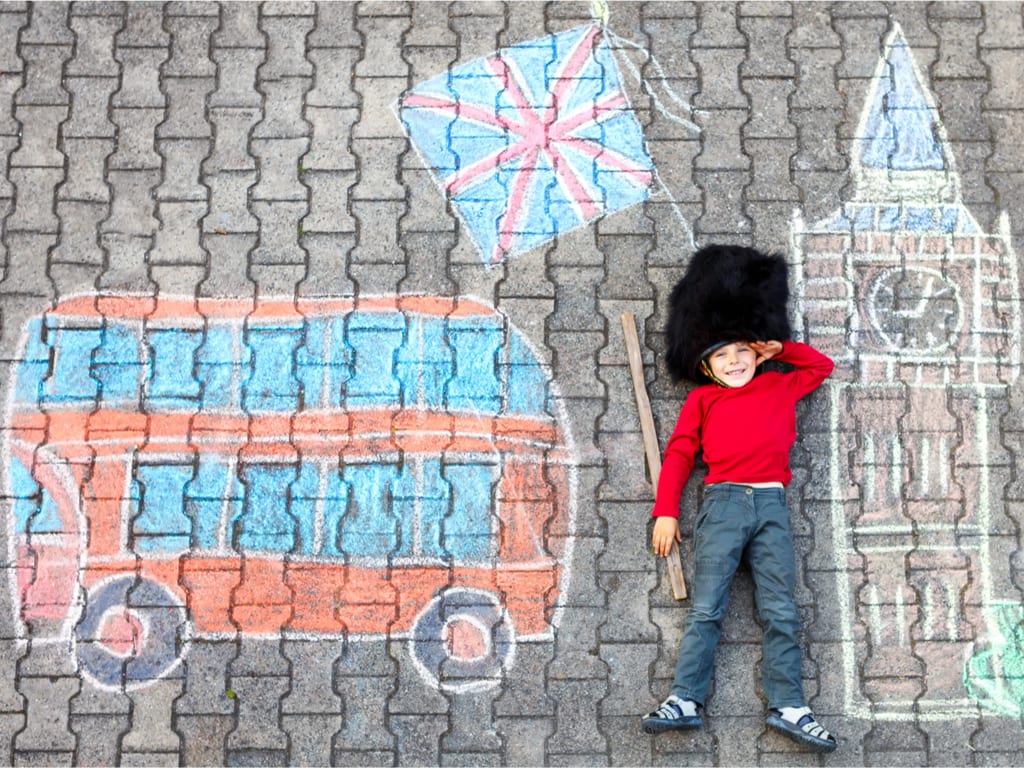 1. The Royal Family
We have a queen. Or at least, while I'm writing this, we do.
Sometimes it's a king.
Or a different queen. Or a different king.
But whoever it is, they get to wear a golden hat.
Anyway, the royal family draws lots of tourists to England, and there are loads of royal sites to visit. Some of the best are Westminster Abbey, Buckingham Palace, the Tower of London and Windsor Castle.
Most people born in England now don't really care about the royal family, but buildings, events and exhibits celebrating them are popular with tourists.
2. Countless Castles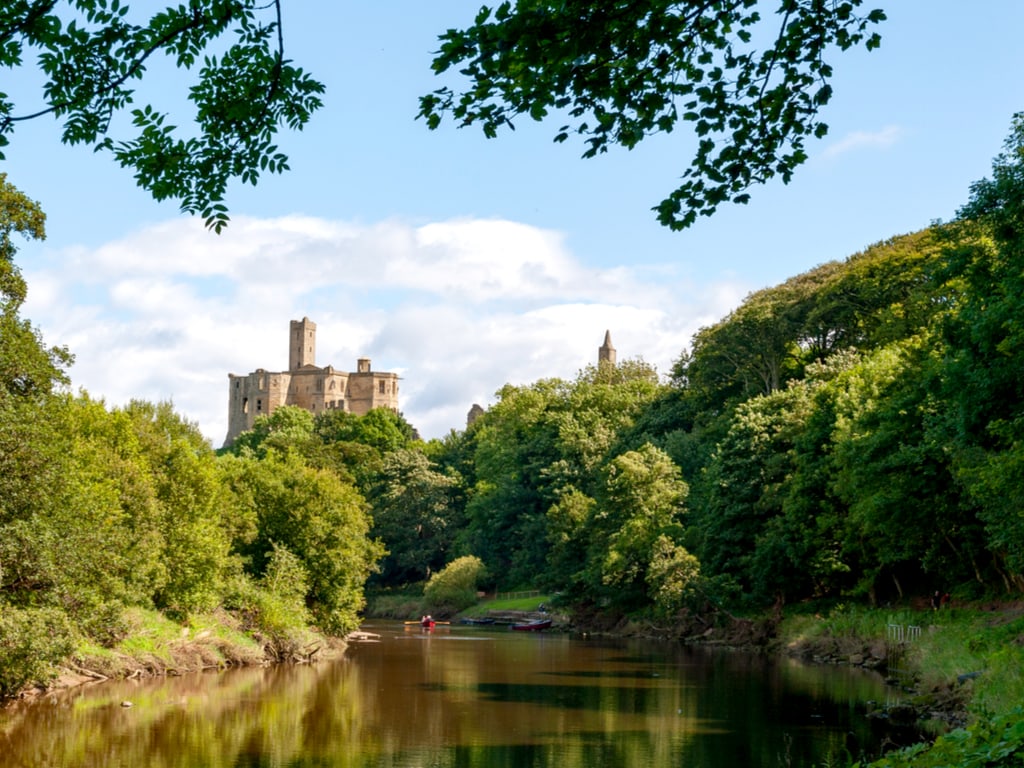 One of the most castled countries in the world, some people reckon there are more than 4,000 castles in England. Others say that's a massive overestimate, and that it's actually closer to 800. I haven't gone and counted them in person, so I don't know the quantifiable truth either.
But here's what I do know: the castles in England are incredible, ranging from tiny ruins to sprawling complexes to some of the most significant sites in Europe. Many of them are very close to London.
Some of the best are Windsor Castle (which I've already mentioned), Warwick Castle, Bodiam Castle, Bamburgh Castle and Alnwick Castle.
Those last two are both in Northumberland. There are over 70 castles in Northumberland alone, so if you're looking for castles in England, head there.
Or just read my guide to the 11 best castles in Northumberland, whatever works for you.
3. Absolutely Terrible Food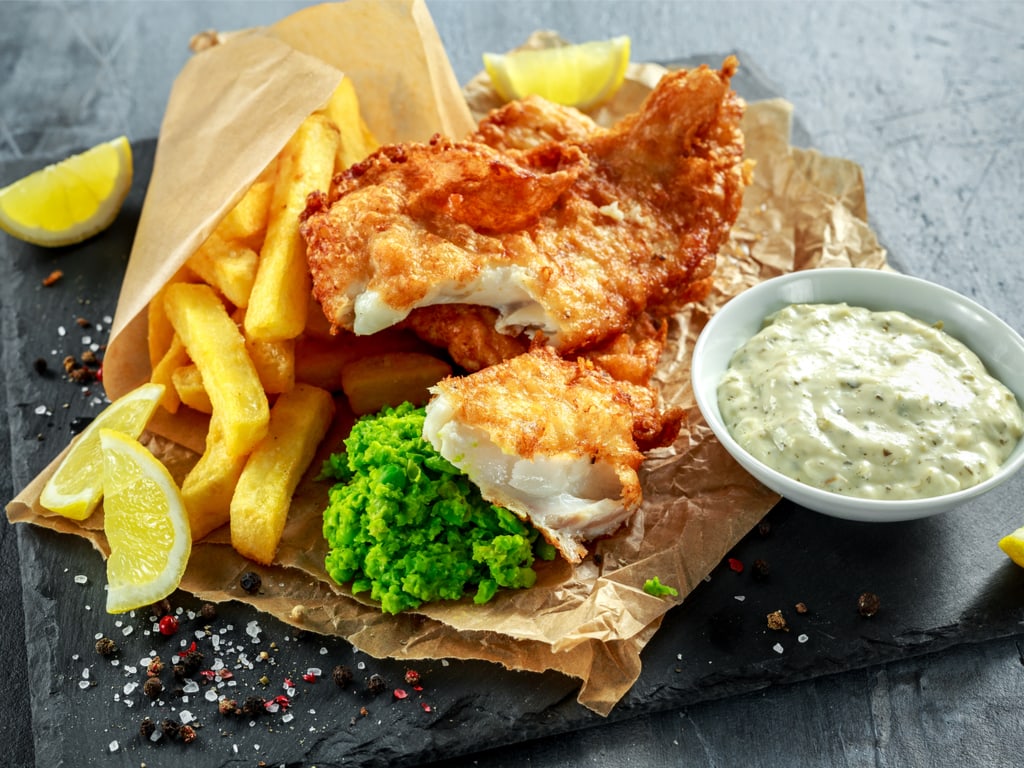 Well, that's the cliché anyway. The truth is, it's not that English food is bad. Instead, it's just that loads of people don't know how to cook, so they just eat loads of beige stuff instead of cooking any actual meals.
But if you're a tourist, you can find loads of good places to eat.
I reckon the best food you can easily find in England is Indian curry. We have a massive Indian population, which means lots of excellent Indian food everywhere. Usually, you'll find the best Indian food in canteen-style places (rather than proper restaurants)—if you see cheap prices, and lots of Indian people eating there, it's usually good Indian food.
If you want to try traditional English stuff, try our pies and pastries, fish and chips, scotch eggs, black pudding, scones, a traditional roast dinner, and all of our lovely desserts.
4. Endless Cups of Tea
Yeah, we love drinking tea.
If you're in a bad mood, have a cup of tea. If you're in a good mood, have a cup of tea. If you're celebrating, have a cup of tea. If all your family have just died in a house fire, have a cup of tea.
Now though, despite the clichés, coffee is way more popular among younger generations. So you'll find a few cafés specializing in tea, but most cafés mainly sell coffee. Like every other country in the world, we have a massive café culture in England, with lots of charming independent places in basically every town and city.
5. History and Heritage
We've got an elaborate and complex history.
Because I don't have much time, and because I don't know much about it, I'm not going to go into detail here.
We've got history related to Romans, Normans, Victorians, Vikings, Jutes, Anglo-Saxons and loads more. Our famous figures include Henry VIII, Charles Darwin, Winston Churchill, Elizabeth I and many others.
But what's great about our history is that it's really well documented, preserved and celebrated. Throughout England, there are lots of great historical sites, areas, towns, cities, museums and more. I'd list them all, but we have thousands—so seek out the ones that are interesting to you, and you'll find something great.
6. Sprawling National Parks for Endless Exploration
In England, we have 10 national parks.
What that really means is we have 10 protected (and massively diverse!) areas perfect for hiking, cycling and loads of other outdoor exploring. In total, these 10 parks cover almost 10% of England's area, so there's plenty of space for fun.
My three favorites are Northumberland National Park, the Lake District, and the North York Moors. The first is the most remote, the second is probably the most popular, and the third (in my opinion) is the most underrated.
But all 10 are great. Whichever one you go to, find some recommended hiking trails (or cycling trails), and explore. Oh, and make sure you stay in the cutest, quaintest villages you can find—the national parks are brimming with them.
7. Hiking, Hiking and More Hiking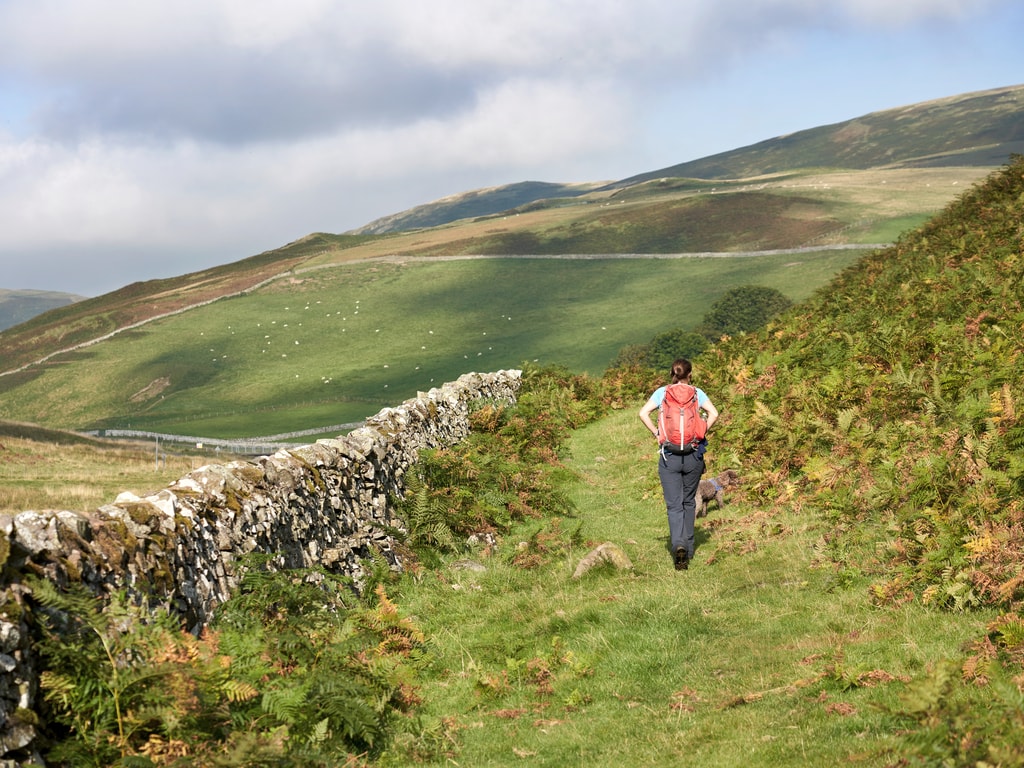 There are a ridiculous number of places to hike in England.
The national parks I just mentioned are obviously great, but other good places to plan hikes around are our National Trails, a sprawling signposted network of 14 massive, multi-day hiking routes.
The oldest is the Pennine Way, a lengthy trail leading from Edale to the Scottish border town of Kirk Yetholm. It's around 260 miles (418km).
The England Coast Path, which hasn't yet been completed, will soon be the longest. The whole thing will go around the entirety of England, clocking in at 2,795 miles (4,500 kilometres).
Here's much more information on all the trails.
The great thing about hiking in England is that it's been a hobby here for a long time (allegedly since the 1700s), so we have a huge number of signposted trails, paths and routes.
We don't have the highest mountains or the most dramatic panoramas, but we've got a huge number of places where walking is simple, accessible and brilliant.
8. London
The most obvious entry on our list.
London is amazing. Multicultural, bustling, and endlessly exciting, there's loads to do.
But the rest of England isn't anything like London. So if you've only been to London, you haven't really been to England. If you have time, make sure you explore as many parts of England as you can.
Anyway, sorry for that detour—London is incredible. I'm not gonna give you a list of all the best places to visit, because you could spend ten million years in the city without getting bored. But here's what you should do: find some districts you like the sound of, and spend your time in them. Like most big cities, London has lots of different districts with varied atmospheres and energy.
If you like grimy but friendly places, try Brixton, Peckham and Camberwell. If you like affluent areas, go to Chelsea, Fulham or Richmond. If you like trendy, try Camden, Shoreditch or Dalston. If you like green spaces, go to one of the city's massive parks.
Whatever you want to do in London, you can do it. But just make sure you also leave the city behind.
9. Music, Both Past and Present
Right, I'm gonna say it. In England, we have the best, most influential and most innovative music scene (and music history) in the world.
Some of our most famous artists include The Beatles, The Smiths, David Bowie, Kate Bush, Pink Floyd, Fleetwood Mac, and The Kinks. We even birthed the Spice Girls. And if you don't reckon you love the Spice Girls, you're a stinking little liar.
Now, we have a huge number of live gigs and festivals—so while you're in England, go to at least one. We even have loads of museums about our musicians—check out the Beatles Museum in Liverpool, the British Music Experience (also in Liverpool), the Handel & Hendrix in London, and the Coventry Music Museum (unsurprisingly, that's in Coventry).
10. Massive Coastlines
Because England is part of an island, it has loads of excellent coasts and beaches.
The southern ones are the most famous, and include Brighton, Bournemouth, Cornwall and Newquay.
But up north, there are also lots of great spots. Get yourself to Whitby, Robin Hood's Bay, and the entirety of the Northumberland Coastline (that last recommendation is perfect if you like really remote stuff).
If you want a proper old-school English seaside trip, try Blackpool or Skegness. Simultaneously welcoming and tacky, both have been popular hangouts for years.
But wherever you go, make sure you eat some fish and chips.
11. Perpetual Rain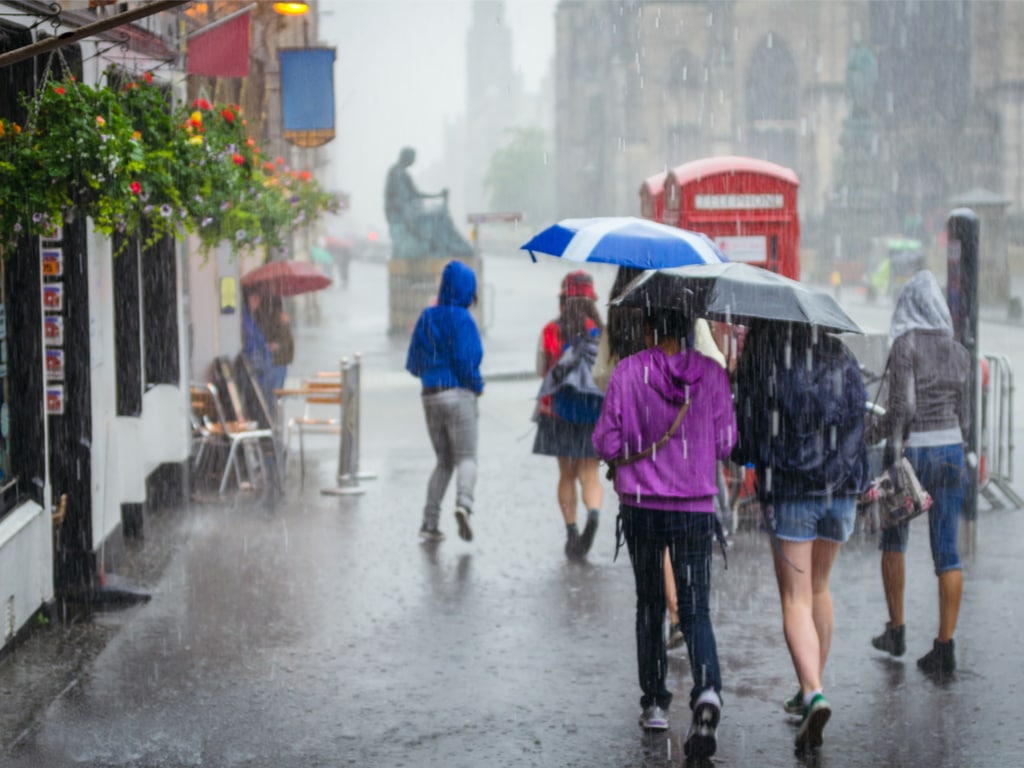 Yes, in England, it does rain all the time. Even in summer.
But it's not as bad as people like to pretend.
If you want to avoid bad weather, May through to August are the best months, but you'll probably still get rained on. Generally, the more south you go, the less rain you get—so if you want a proper summer, head south.
Side-note: as I'm writing this, it's raining. Really heavily.
12. Stonehenge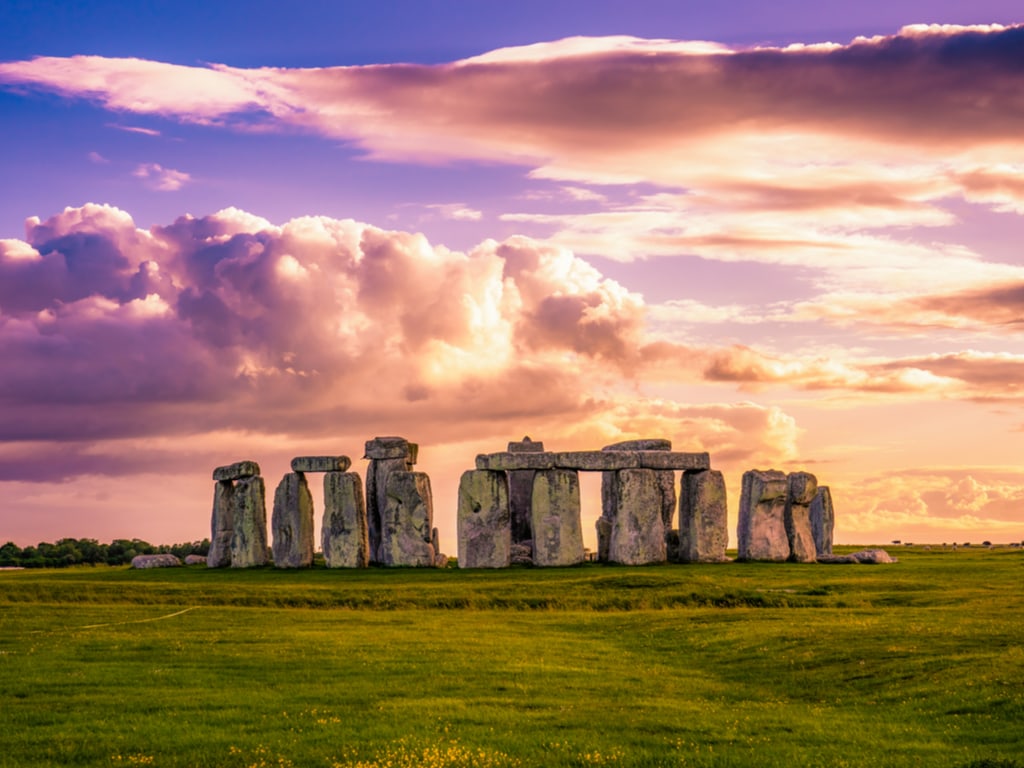 At the moment of writing this article I've not actually been here yet, and it's apparently pretty overrated.
But we're famous for Stonehenge, so I had to add it to this list—for whatever reason, foreigners love associating us with the place.
A massive man-made stone circle, no-one really knows why this place is here, what it is, why it was built, or even who was definitely responsible.
Apparently, work started on Stonehenge around 5,000 years ago, but it took more than 1,000 years to get it built. It's only a few stones, I don't know why they couldn't just get on with it.
Really though, some of the biggest Stonehenge stones weigh as much as four African elephants.
Some people think Stonehenge was built as a healing center, a temple or a calendar. Whichever one of those things is true, at least 200 people have been buried here—so it was definitely used as a cemetery.
13. Unintelligible Accents
No matter which part of England you go to, you'll always be able to find someone you can't understand.
The most indecipherable accents are mostly all found in the north. The most notorious is the Geordie accent (which you find in Newcastle, where I'm from). But some equally-broad accents include the ones you'll find in Liverpool, Manchester, Birmingham, Bristol and Yorkshire.
Even though they're confusing (and sometimes ridiculous), English accents are great. They're an interesting insight into local culture, history and heritage. And lots of regions have their own bizarre made-up words, which people from other parts of England don't even recognize or understand.
Most people in England are really patient, so they'll always slow down and explain things properly if you've got absolutely no idea what they're talking about.
For accents that are even more confusing, head to Scotland.
14. Football Fanaticism
In England, we love football.
(Or soccer, if you're from a country that doesn't know how to call sports by their proper names).
We also love beating people up who don't support the same team as us. Until an international tournament starts, then we're all friends or something. I don't know, it's confusing.
Seriously though, we're the home of football, and we have some of the best teams, players and managers on the planet.
If you're an English male and you're more than 10 years old, your weekends are usually built around football.
While you're in England, you should try to watch a match, even if you don't like football. The atmosphere is always great—loud, raucous and intense. Generally speaking, the biggest grounds (or 'stadiums,' if you're not from England) have better atmospheres, but two of the loudest are St. James' Park (Newcastle's ground) and Anfield (Liverpool's ground).
15. Shakespeare
Our most famous writer is also our most overrated writer.
Anyone who says they like Shakespeare is lying. There's nothing fun about trying to translate some ancient language when you're watching or reading or yawning through one of his plays.
I'm sure he was popular at the time, but so was dying at the age of 40.
If you want to see some of his stuff, here's my recommendation: don't bother.
In all seriousness, go to The Globe in London, or go and see the Royal Shakespeare Company in Stratford-upon-Avon. No matter where you are in England, you'll probably be able to find some of his work—English theaters really seem to love Shakespeare's plays, so his stuff is always on show.
Join the crowds, and pretend to like the play you're watching, just like everyone else.
16. Being Polite
We like queueing, we like saying sorry and we like being overly nice.
English people have a reputation for being ridiculously polite. And that's sometimes true. And because we're so polite, we're also pretty nice.
I know I'm biased, but the more north you go in England, the friendlier people get. And, like anywhere in the world, the more remote and rural the place is, the friendlier it's probably going to be. So head north, head rural, and make friends.
17. Being the Most Hilarious People in the World
English people are known for their sarcastic sense of humor.
Lots of other nationalities don't really understand when we're joking. Loads of times, I've gotten myself into trouble, because people from outside the UK think I'm being horrible or nasty or rude. Maybe I am, but I'm also joking.
And in England, that's a good enough excuse.
But don't worry, you'll learn to get the jokes eventually—and you'll realize we're some of the funniest people on the planet.
Final Words
That's everything England is famous for!
If you like these types of articles, we also have guides on what the UK is famous for, what Scotland is famous for, what is London famous for, and what Northumberland is famous for, as well all the best reasons to visit the UK.
And if you want to know anything else about England, we have lots of articles on our site, including the most unique and unusual places in northern England, a guide on how long it takes to travel across England, and plenty more. Thanks for reading!
Being a Digital Nomad: Tips, Tricks and Places
Do you want to be a digital nomad?
If you do, maybe you don't know where you might want to live. Or how to live there. Or whether you need a visa. Or how to make friends in the scary sprawl of a brand-new city. Or how to stay productive while you travel. Or how to find an apartment. Or whether this lifestyle really is for you. Or… I'm sure you get the idea.
But with some insight and experience, it's not as difficult as you think. So in this book, I've gathered my 6 years of digital-nomadding experience… and I've used it to answer all your questions, soothe all your fears, and get you on your way. After reading this, you'll realise being a digital nomad is much easier (and much more possible!) than you think.