The United Kingdom Regions Guide
England isn't the same as Scotland. Scotland isn't the same as Wales. Wales isn't the same as Northern Ireland. Instead, all of these places are part of the United Kingdom. But that isn't the same as Great Britain.
Confusing isn't it?
In this article, we've briefly unpacked the difference between all of the places in the United Kingdom, so you no longer have to be confused when you're planning a trip to Great Britain… or the UK… or the British Isles.
Read on for more! 🇬🇧
How is the United Kingdom Divided?
The United Kingdom (or UK) is divided in two different ways. Firstly, the United Kingdom is literally divided into different geographic areas, and is mostly made up of four different territories:
England
Scotland
Wales
Northern Ireland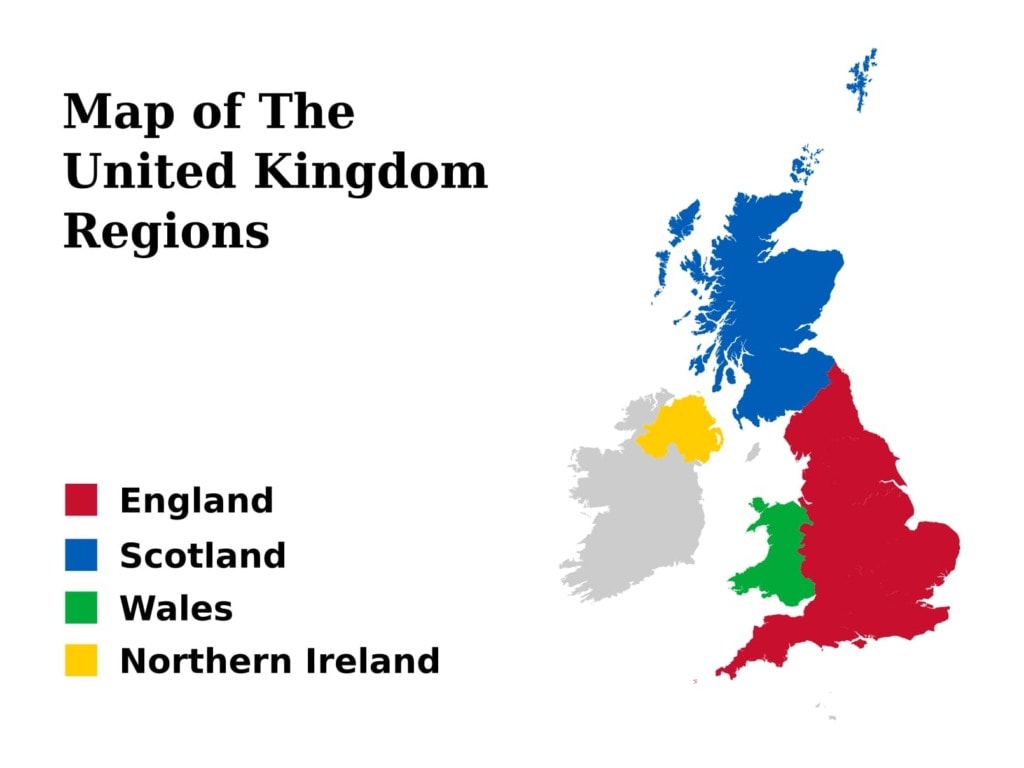 While the first three of these are countries, Northern Ireland isn't an official country, according to who you ask. Some consider it to be an independent country, while others don't.
Though Northern Ireland shares a border (and some of a name) with the Republic of Ireland, the latter isn't part of the United Kingdom. The Republic of Ireland is a different country independent of Northern Ireland.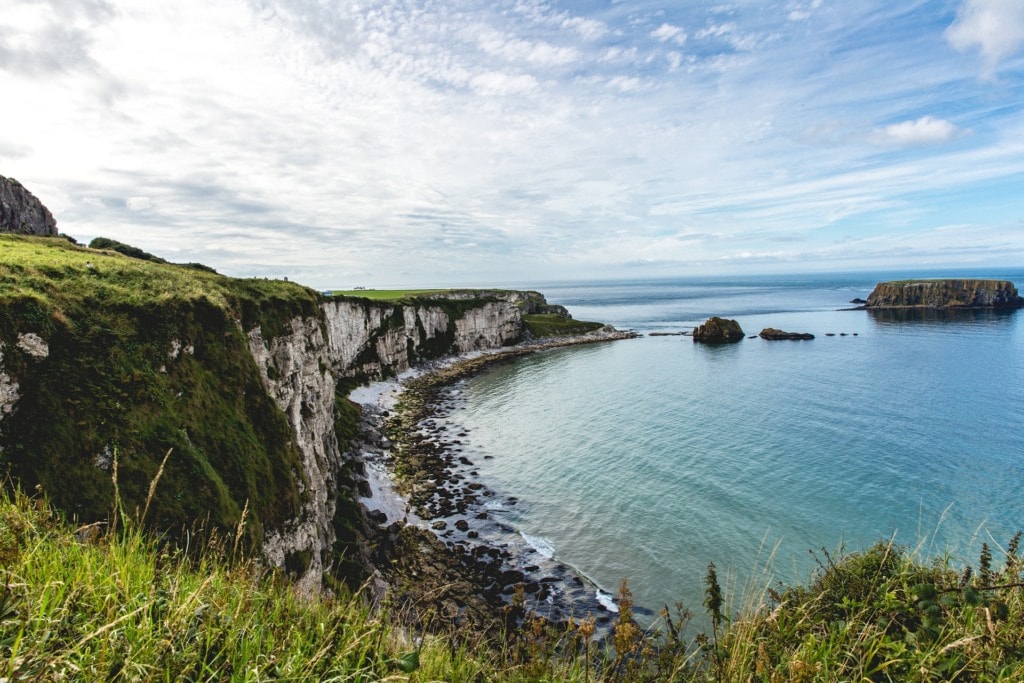 There are many islands which are part of England, Scotland, Wales and Northern Ireland which are also part of the United Kingdom. The biggest of these include Lewis and Harris, Skye and Mull. There are another three islands (Jersey, Guernsey and the Isle of Man) which are part of the UK but are independent from England, Scotland, Wales and Northern Ireland.
There are also many other countries and territories which are (in various ways) controlled or partly-controlled by the UK government and monarchy, but we'll get to that later.
The UK is also divided in a political sense. But political divisions in the UK are a little complicated and technical, so to save us all (myself included) from the inevitable headache of having no idea what I'm talking about, I'll keep things simple…
The UK has a government which can and does make decisions on the behalf of the entire UK, but Scotland, Wales and Northern Ireland all also have their own political parliaments and assemblies which can make political decisions on behalf of their own countries or territories. England does not have its own separate devolved parliament.
These separate political systems are similar to one another, but do have some small legal and political differences, which I won't go into.
Whoever is King or Queen of the UK at any given time is the monarch of England, Scotland, Wales and Northern Ireland. At present, it's Elizabeth II. But despite her being the monarch, all countries also have separate parliamentary governments. The monarch of the UK is also the monarch of many other countries but, again, I'll get to that later.
What Are the Four Regions of the UK?
Here's a brief guide to England, Scotland, Wales, and Northern Ireland:
1. England
Population (approx): 56 million
Currency: Pound Sterling
Capital City: London
Greater London Population (approx): 9 million
Language: English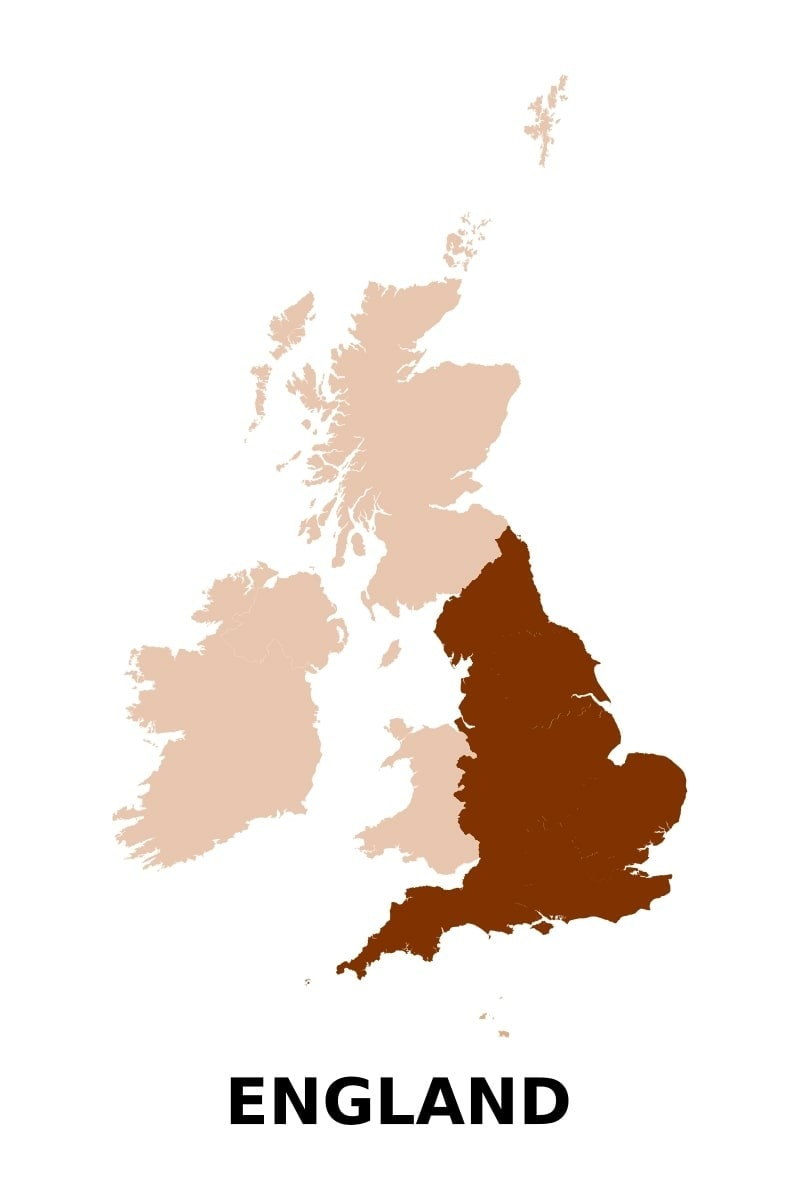 By far the most populated country in the UK, England is very diverse, with a huge multi-cultural population. With 250 languages spoken in England's capital of London, it's the world's most linguistically-diverse city.
But England is way, way more than just London's home.
The south is full of fantastic coastlines, important historical sites and a massive cultural scene. The north, meanwhile, is packed with excellent hikes, friendly locals and a huge musical history. The north of England might just be one of the world's most underrated regions. That's why we actually wrote a complete list on the best thing to do and the best places to visit in Northern England, I highly encourage you to check it out, click here.
2. Scotland
Population (approx): 5.5 million
Currency: Pound Sterling (but Scotland have their own special bills)
Capital City: Edinburgh
Edinburgh Population (approx): 530,000
Language: English (though some people still also speak Gaelic, the founding language of Scotland)
Remote, rugged and rural in many parts, Scotland has a very small population density, with 174 people per square mile, making it the least densely-populated country in the UK by far. The entire country has 3.5 million less inhabitants than Greater London alone.
Because of this small population, lots of Scotland feels remote and untouched, with huge areas of mountainous land, full of peaks, valleys and lakes. For hikers and mountain lovers, it's one of the most exciting destinations on the planet.
But aside from this, Scotland has a very proud cultural heritage, with lots of famous poets, writers and foods. It also has a huge music scene, making Glasgow one of the world's most exciting cities for music fans.
3. Wales
Population (approx): 3.2 million
Currency: Pound Sterling
Capital City: Cardiff
Cardiff Population (approx): 480,000
Language: English and Welsh (though English is much more widely spoken)
A paradise for fans of the outdoors, Wales has a huge coastline, rugged mountains and incredibly beautiful beaches. With an fascinating ancient language and incredibly friendly people, it's packed with potential for interesting interactions.
Snowdonia National Park is one of the best hiking regions in the whole of the UK, while the village of Llanfairpwllgwyngyllgogerychwyrndrobwllllantysiliogogogoch has one of the longest place names in the entire world (good luck pronouncing it).
Historically, Wales is full of legend, with a history (both real and imagined) crammed with castles and dragons. In a nation which features a dragon on its flag, you know you're set for adventure.
4. Northern Ireland
Population (approx): 1.9 million
Currency: Pound Sterling (but Northern Ireland have their own special bills)
Capital City: Belfast
Belfast Population (approx): 630,000
Language: English, though some people also speak Irish Gaelic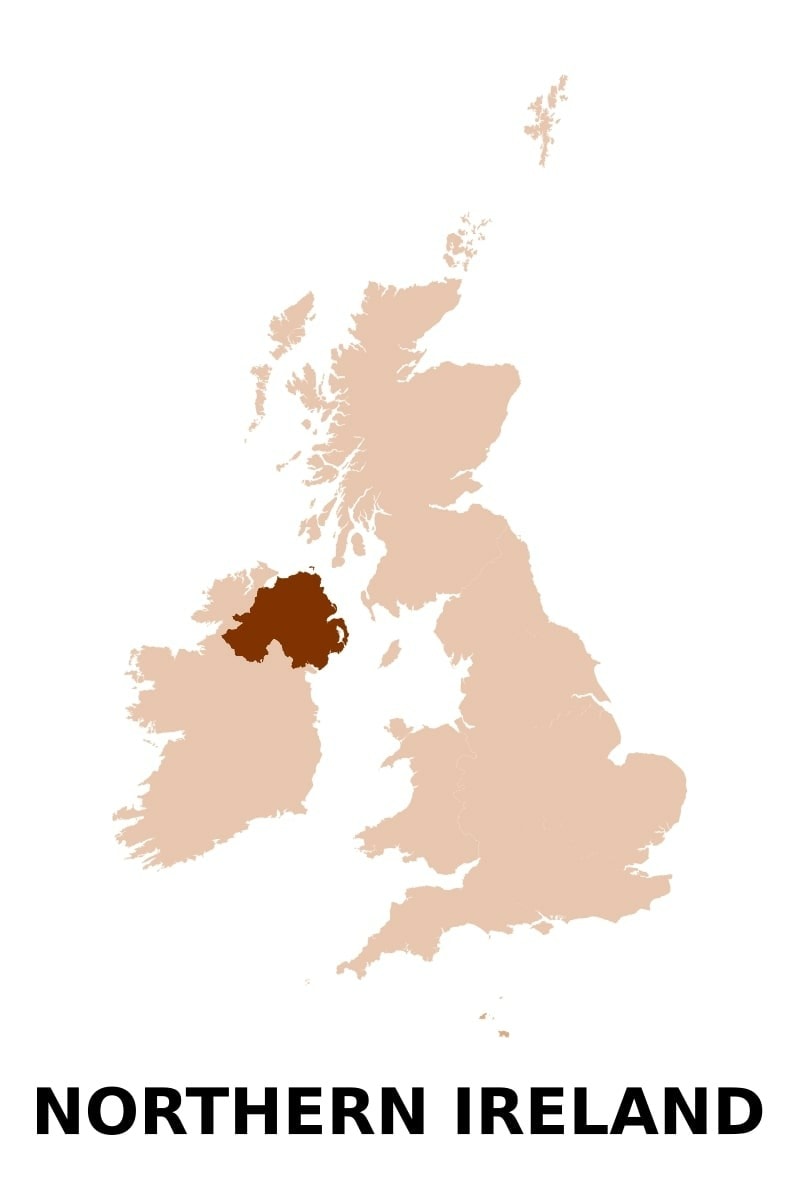 The smallest of the UK's four major parts, Northern Ireland is separated from England, Scotland and Wales by the Irish Sea. With craggy hills and craggier coasts all packed into a relatively small space, it's easy to explore lots of Northern Ireland's beautiful natural wonders in a short space of time.
If you like music, you'll love Northern Ireland. Every night, in any town or city, it's easy to find a pub playing host to cheerful and low-key live music, full of positive energy and spontaneous singalongs.
Belfast is hip and trendy, and many travelers flock here to learn about the history of The Titanic, the most famous ship of all time, which was built in the city.
What's the Difference Between Great Britain and the United Kingdom?
Great Britain is the largest island of the British Isles and consists of England, Wales, Scotland and their respective islands. It doesn't include Northern Ireland.
Simply put, the difference between the United Kingdom and Great Britain is that the UK includes Northern Ireland, and Great Britain doesn't. That's why the UK's full official name is The United Kingdom of Great Britain and Northern Ireland.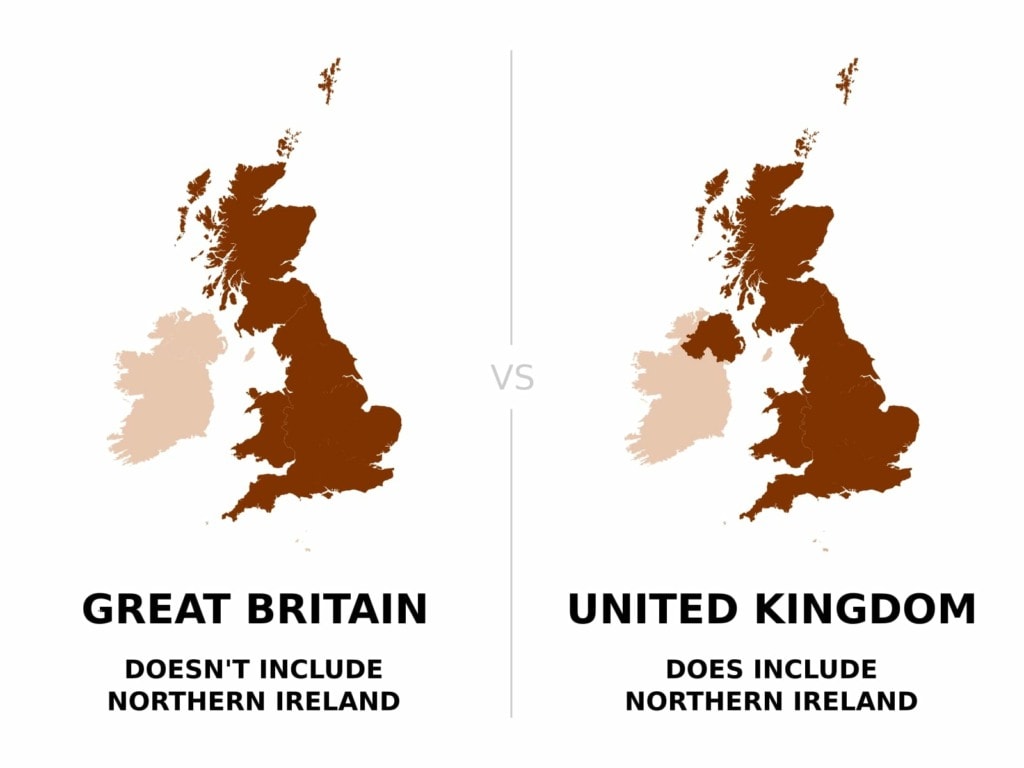 What's the Difference Between the British Islands and the British Isles?
The British Isles is a geographic term that refers to the group of islands in the north east Atlantic Ocean near the north-western coast of Europe. The British Isles consists of the two large islands of Great Britain and (the entirety of the island of) Ireland as well as over 6000 surrounding isles, including the Isle of Man, Guernsey and Jersey.
The British Islands on the other hand is a legal term that refers to the following 4 political entities: The United Kingdom, the Isle of Man, the Bailiwick of Jersey, and the Bailiwick of Guernsey.
In short, the difference between the British Islands and the British Isles is simply that the British Islands don't include the Republic of Ireland but the British Isles do.
The Main Regions of England
1. Greater London: England's capital is its most famous area. But it's way bigger than most tourists realize. Made up of 33 smaller government districts, it's one of the most diverse places on the planet. London is varied, sprawling and non-stop, and it's full of fun.
2. South East: one of England's most-visited regions, it's popular with history fans, who visit the area for its huge number of historical sites. These include Canterbury, Windsor and Oxford. Other areas of interest include Southampton, Dover and The Cotswold Hills.
3. South West: unofficially known as 'The West Country,' this area has a huge coastline, the varied cities of Bath and Bristol, lots of historical importance and the unparalleled Stonehenge.
4. West Midlands: this region is home to the medieval market town of Stratford-upon-Avon, the birthplace of Shakespeare. It also offers some of the UK's best castles, in Ludlow, Kenilworth and Warwick. An area of huge industrial history, it's less visited than most of England's other regions.
5. North West: a popular region for travelers from within England, lots of tourists flock to Manchester and Liverpool for the excitement, culture and musical heritage offered by both cities. This area is also home to The Lakes National Park, perhaps the most famous national park in the entire country.
6. North East: though it's home to the exciting city of Newcastle, the North East of England is so much more than that, with an astonishing coastline, fantastic hiking and some of England's most remote and untouched areas.
7. Yorkshire and the Humber: this region has a number of varying experiences. While Leeds and Sheffield offer the fun and hedonism of emerging cities, York is historical and packed with heritage. For nature lovers, there are three incredible national parks in this area.
8. East Midlands: for an insight into the tradition of a bawdy but fun English seaside escape, Skegness and Cleethorpes are good fun, while Lincoln has lots of historical sites. This whole region is dotted with many small and attractive villages.
9. East of England: this area borders London, and lots of the capital city's diversity and atmosphere spill out into the region. Cambridge, Bury St Edmunds and St Albans have many historical attractions, while Essex has endless seaside fun and exciting nightlife.
Other Territories Tied to the UK
Okay, we've covered the main parts of the UK. But there are many other areas which are tied to the UK, in three different ways:
1. Self-Governing Territories
The UK rules many self-governing territories throughout other parts of the world. A self-governing territory is one which belongs to the UK but (as you might have guessed!) governs itself. There are 14 of these:
Anguilla
Bermuda
British Virgin Islands
Cayman Islands
Falkland Islands
Gibraltar
Montserrat
Pitcairn Islands
Saint Helena, Ascension and Tristan da Cunha
Turks and Caicos
Sovereign Base Areas of Akrotiri and Dhekelia
South Georgia and the South Sandwich Islands
British Indian Ocean Territory
British Antarctic Territory
A small note here: some of these are defined by the UN as non-self-governing territories, but they all have some form of self-governing responsibilities.
2. Crown Dependencies
The three Crown Dependencies of the UK are Jersey, Guernsey and the Isle of Man. They are self-governing, though the UK government has a large role in their politics.
These three places are not classed as overseas territories, for two reasons: their proximity to the UK mainland, and the fact that they have never been colonized by the UK.
They are not considered to be part of England, Scotland, Wales or Northern Ireland, though they are part of the UK.
3. Commonwealth Realms
A country in the Commonwealth Realm is one which has its own sovereign government but recognizes the UK monarch as its own monarch. There are 16 of these countries including the UK:
Antigua and Barbuda
Australia
The Bahamas
Barbados
Belize
Canada
Grenada
Jamaica
New Zealand
Papua New Guinea
St Christopher and Nevis
St Lucia
St Vincent and the Grenadines
The Solomon Islands
Tuvalu
United Kingdom
This means that the current Queen, Queen Elizabeth II, is not just the Queen of the UK, but also the Queen of all of the above countries. She is, for example, Queen of Canada. And Queen of Barbados. And Queen of… I'm sure you get the point.
In Short
In short, it's all a little confusing. But hopefully you've learned the difference between the UK and Great Britain – and all the countries, areas and territories which they officially (and sort of) are made up of.
---
Note: The UK maps are based on the UK vector map by Mapsvg (CC BY 4.0)
Being a Digital Nomad: Tips, Tricks and Places
Do you want to be a digital nomad?
If you do, maybe you don't know where you might want to live. Or how to live there. Or whether you need a visa. Or how to make friends in the scary sprawl of a brand-new city. Or how to stay productive while you travel. Or how to find an apartment. Or whether this lifestyle really is for you. Or… I'm sure you get the idea.
But with some insight and experience, it's not as difficult as you think. So in this book, I've gathered my 6 years of digital-nomadding experience… and I've used it to answer all your questions, soothe all your fears, and get you on your way. After reading this, you'll realise being a digital nomad is much easier (and much more possible!) than you think.