Top 15 Best Castles Near London
I've lived in London lots of times, both long-term and short-term.
Because it's one of the most historic cities on the planet, it's surrounded by some of the most historic places on the planet, including castles, battlefields, stately homes and age-old cities.
So in this guide, I've brought you the 15 best castles near London. I've covered big ones, little ones, ruined ones, active ones, and everything in between. For some, you need access to a car—but for others, you can easily use public transport.
Man the cannons, grab your chainmail, and stick on your hardest helmet—today, Travelness are visiting the best castles near London. And lucky for you, you're coming with us!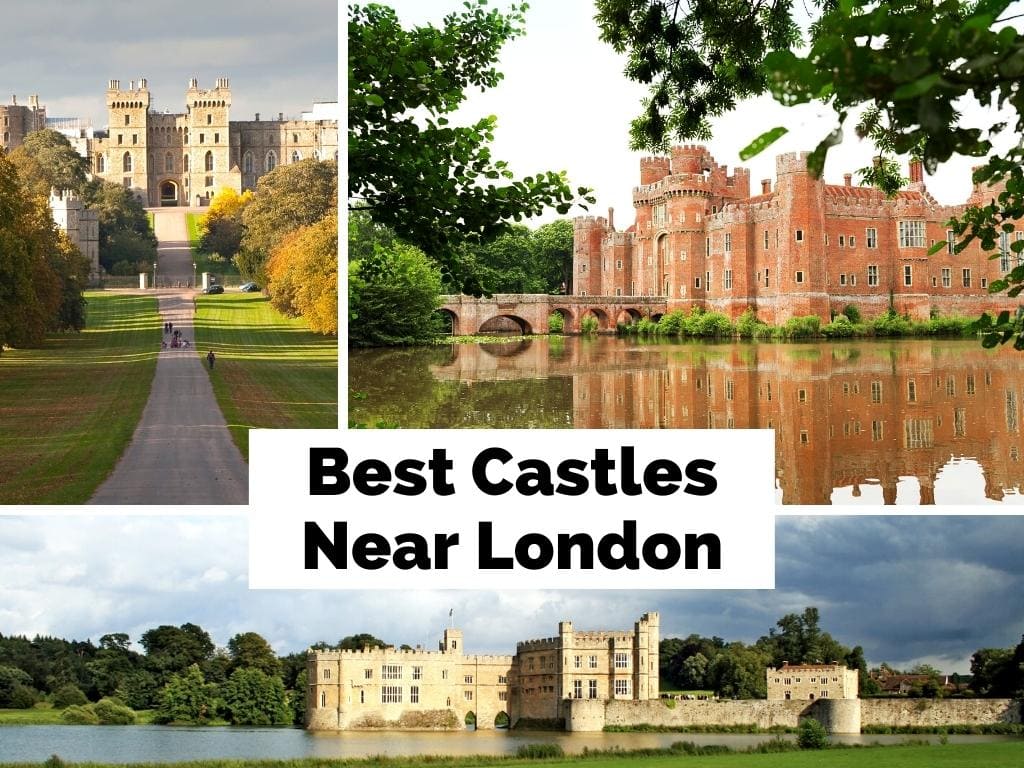 1. Tower of London
Where is it? In the very center of London, perched right over the banks of the Thames
The Tower of London (as you probably already know), is actually in London, so it's a good option if you don't have much time in the capital.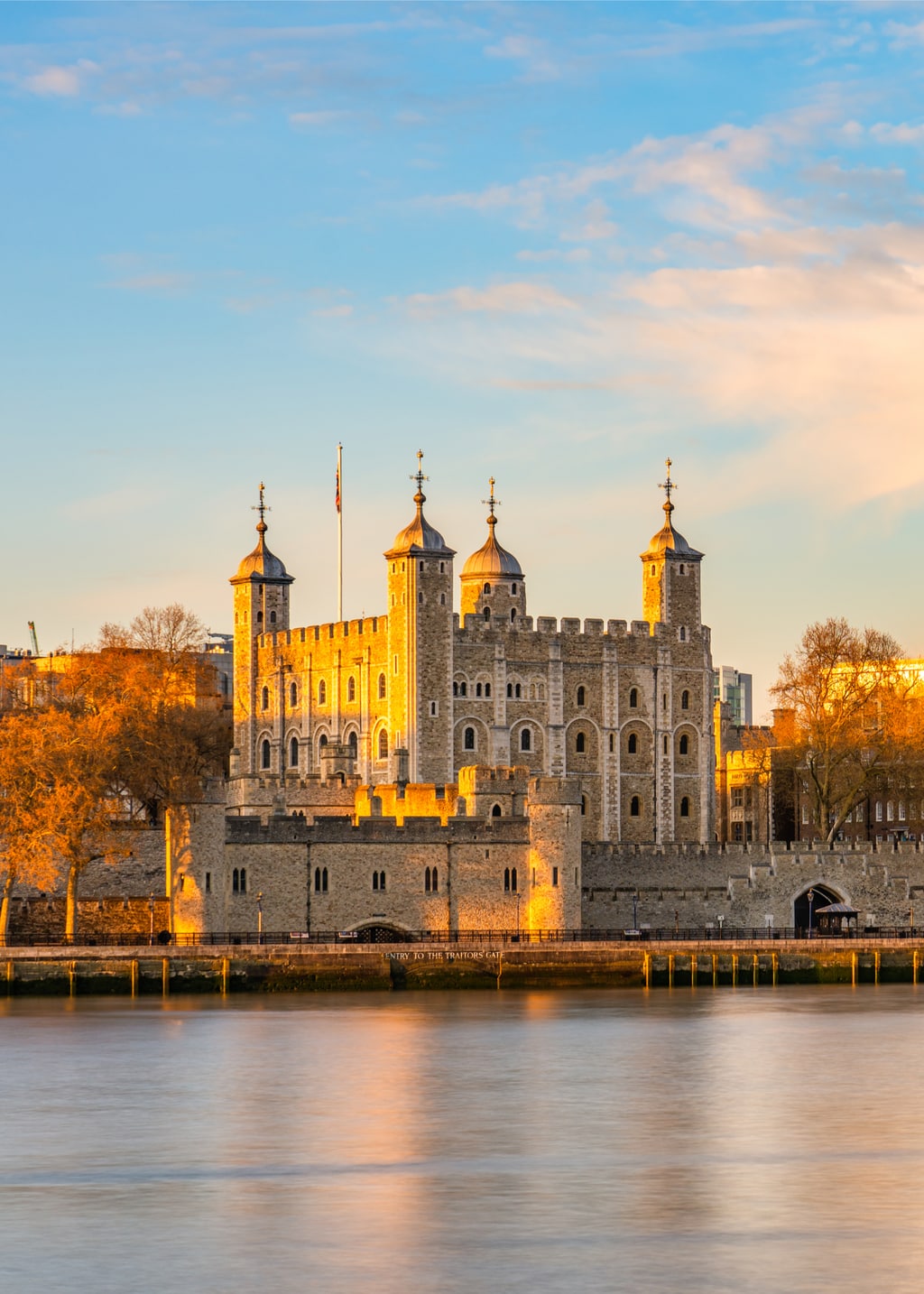 The riverside location is beautiful, the history is huge, the place plays host to the crown jewels, and it's home to a flock of ravens (legend has it that, if the ravens leave the tower, the tower and its kingdom will fall).
It's most famous as a prison, and loads of people have been locked up here (including royals, nobles, and iconic gangster twins Reggie and Ronnie Kray).
If you're looking for more city-center options, check out Severndroog Castle, close to Woolwich Common. It's nothing special, but it's a decent place to visit.
How to get to the Tower of London from central London: Get the tube to Tower Hill. Easy!
2. Highclere Castle
Where is it? West of London, just past Reading
Ever seen Downton Abbey? This place was used in the filming of the series, so (if you're a middle-aged housewife and you've seen it), you might recognize some of the interiors and exteriors.
That said, if you're a big fan of the series, tours don't really focus on it. Instead, they focus on the real people who lived (and live!) here. It's an absolutely massive place, with more than 200 rooms set over 1,000 acres of land.
While you're visiting, you'll see great gardens, seemingly-endless woodland, and Ancient Egyptian antiquities and exhibits.
If you're looking for grandeur and pomp in a still-lived-in place, Highclere Castle is great. Just make sure you time your visit right, because it's not open year-round.
How to get to Highclere Castle from London: By car, follow the M4 west before turning south close to Newbury. By train, there are regular 1-hour services from Paddington to Newbury. From Newbury, you can then get a bus or a taxi to Highclere Castle.
3. Windsor Castle
Where is it? In Windsor, west of London, just path Heathrow
Possibly the most famous castle in England, and the oldest and biggest occupied castle on the planet, Windsor Castle is the sometimes-home of the UK's current Queen, and has been home to nearly 40 monarchs.
For over 900 years, royals have spent time here—and on a visit, you can learn about them all. If you're interested in the British Royal Family, this is without doubt the best castle near London.
You can also see St. George's Chapel (a gothic icon inside the castle walls), the changing of the guard, and one of the most famous art collections in the world.
Fun fact: after invading and taking over England, William the Conqueror built this place (and the Tower of London).
When you're done visiting Windsor Castle, and if you're traveling with kids, head to nearby Legoland.The two are only 3 miles (5km) away from one another.
How to get to Windsor Castle from London: By car, follow the M4 west. By train, it's easiest to take the hour-long service from Waterloo to Windsor & Eton Riverside.
4. Leeds Castle
Where is it? In Kent, southeast of London, close to Maidstone
When most people see 'Leeds Castle,' they (understandably) think 'oh, that must be in Leeds'. Confusingly, it's actually in Kent.
Anyway, I reckon this is the prettiest castle near London (according to the official site, it's "the loveliest castle in the world," but I doubt that's an official designation). It sits on its own little island right in the center of its very own lake, and it's a great spot for taking photographs. Henry the 8th lived here for a while, as did six medieval queens.
The history is really interesting, but it's also a great day out if you're traveling with kids. It offers boat rides, a mini train, mini golf, a play area, birds of prey, and a massive labyrinth.
How to get to Leeds Castle from London: By car, head southeast on the A20 and the M20. By public transport, you have to make lots of changes, so it's not worth the hassle.
5. Dover Castle
Where is it? Right in the middle of Dover, southeast of London
The biggest castle in England (according to who you ask), this clifftop behemoth is perched right over the southeastern coast of England. It's one of the most picturesque castles in England.
William the Conqueror fortified this one when he arrived in England (he loved castles, that man). The insides have been beautifully recreated, and the views from the tower are incredible.
Make sure you also explore the underground tunnels, a winding labyrinthe used to evade attack in medieval times.
On weekends, costumed characters recreate Henry II's reign, and re-enact parts of his life. And if you're looking for more excitement and adventure, they even have a war-themed escape room.
If you like cliffs and beaches, you can combine a visit to Dover Castle with some lovely sands, shores and hikes, right beside the castle. And if you have time, visit nearby Deal, a weirdly-apocalyptic (but charming) seaside town.
How to get to Dover Castle from London: By car, follow the M2 and the A2 southeast for almost 2 hours. By public transport, it's not worth the trouble.
6. Bodiam Castle
Where is it? South of London, between Hastings and Tunbridge Wells
Surrounded by a massive moat, Bodiam Castle looks a bit like Leeds Castle. So if you're into picturesque beauties, you'll probably think it's one of the best castles near London.
It's popular with photographers, who use the moat's water to capture symmetrical snaps. From the outside, It's all big, imposing and beautiful— but the insides are in ruin.
Because the castle is right in the heart of the High Weald Area of Natural Beauty, the grounds and its surroundings have some great walking trails. You can either have an unplanned wander for a spontaneous little adventure, or you can tackle one of the many excellent circulars. These lovely loops all offer brilliant views of the castle.
While you're in and around Bodiam Castle, you should also visit Scotney Castle. Though the place isn't actually a castle (it's a manor house with great gardens), it's ridiculously charming, and it's easy to visit both Bodiam Castle and Scotney Castle on the same day (if you have access to a car).
How to get to Bodiam Castle from London: By car, follow the A21 south. By public transport, it's not worth the fuss.
7. Hever Castle
Where is it? South of London, just north of Tunbridge Wells
Hever Castle is another little moaty boy, just like Bodiam Castle. But while Bodiam is in ruin, the insides of Hever are well-preserved, and ready to be explored. If you're into walking around castles and saying things like 'wow, look how wooden and elegant and expensive everything is,' you'll love it.
Anne Boleyn lived here when she was little, as it belonged to her family for over a century. Later, Anne of Cleves (who Henry the 8th didn't fancy but also didn't behead) lived here too. Lots of the people who lived in Hever Castle are catalogued around the place in a series of portraits (one of England's best collections of Tudor portraits).
And beyond that, there's loads more to enjoy, including jousting, mazes, archery, boating, award-winning gardens and a lake walk. It even has a cute little Japanese teahouse!
How to get to Hever Castle from London: By car, head south on the A23 and A22. By train, you can tackle the direct 1-hour journey from London Bridge to Hever (then walk for 20 minutes to the castle).
8. Camber Castle
Where is it? Southeast of London, close to Hastings
Compared to most other castles on this list, Camber Castle is much more of a ruin.
Though it's still relatively well preserved, there are no existing interiors, and it's right in the middle of farmland—so on a visit, you'll probably see more sheep than people.
It was built on the orders of Henry the 8th as a defensive fortress, intended for spotting and killing attackers heading towards England from the south.
You can only explore the castle's interiors on a guided tour—and these tours are only offered on certain dates and times, so make sure you check in advance. You can visit the outside of the castle whenever you like, but you can only access the place on a 1-mile (1.6km) wander from the lovely medieval town of Rye, with its thatched roofs and cobbled lanes.
How to get to Camber Castle from London: By car, follow the A21 southeast. By train, the route takes around 2.5 hours, so I wouldn't bother.
9. Arundel Castle
Where is it? Southwest of London, between Brighton and Portsmouth
Arundel Castle is absolutely massive—it looks like something from Game of Thrones (not that I've seen it).
Set high on an artificial hill (or 'motte,' if you're a little castle geek), it's ridiculously picturesque, both inside and outside. Inside, you get ornate furniture, tapestries and paintings, and a chapel, a barbican and a keep. And outside, you get great gardens!
Apart from all that stuff, you also get knighting tournaments, jousting, an annual tulip festival, live music, and plenty more family-friendly stuff.
When you're done, make sure you visit the endearing medieval town of Arundel, with its cute cafes and independent stores.
How to get to Arundel Castle from London: By car, follow the A23 south before heading west at Crawley. Or you can take a direct train from London Victoria, which takes about 90 minutes (followed by a 15-minute walk).
10. Hastings Castle
Where is it? In Hastings, south of London
Hastings Castle is another ruin—and another one built under the orders of Willam the Conqueror. But after the original wooden castle fell into the sea (whoops), this stone one was built as its replacement (not that it's in a much better state these days).
You've probably heard of the battle of Hastings, all the way back in 1066. This place was built right after, in 1067, so it represents a pivotal moment in England's past. The castle has an on-site cinema with a 20-minute movie, perfect for learning all about the castle, its people and its battles.
But the top highlights here are the views. Because the place was built on a hill, it offers brilliant panoramas of the nearby area. Perfect for a picnic!
How to get to Hastings Castle from London: By car, head south along the A21. If you want to travel by train, there's a regular 90-minute service from London Bridge to the center of Hastings.
11. Rochester Castle
Where is it? East of London, just past Dartford
If you don't want to travel too far in your castle-seeking search, Rochester Castle is a good option. Not far from London, it's an underrated little gem, and not enough people visit.
One of the biggest castles I've ever seen, it towers in at (nice pun Paul) almost 120 feet (36 meters). It's one of the tallest still-standing castles in England, and it sits right on the edge of the River Medway, close to Gillingham.
Against all odds, it's still standing—because of its tactical location between lots of significant areas, Rochester Castle often had to endure battles, fighting and sieges. During one of these sieges, the in-castle defenders starved to death (that's commitment for you!).
Every winter, the place plays host to the Rochester Christmas Market, one of the best Christmas markets in the UK (if you like small and unusual Christmas markets).
How to get to Rochester Castle from London: By car, you want to head east on the A2. For public transport, take a direct 40-minute train from Victoria to Rochester.
12. Blenheim Palace
Where is it? Northwest of London, just past Oxford
Okay, this isn't quite a castle. But it sort of looks like one, and it's a massively significant place. So if you're interested in British history and heritage (if you're not, you're reading the wrong article), you'll probably want to visit.
Winston Churchill was born here, it served as a hospital during the first world war, and it's currently home to the Duke and Duchess of Marlborough. They also have an on-site train (great for kids), a walled garden, and a sprawling hedge-lined labyrinth.
Now an officially-listed UNESCO site, most people reckon Blenheim Palace is the most impressive piece of Baroque architecture in the UK.
The Christmas events here are really special—they have a Christmas market, an immersive walk-through lightscape, and lots of food and drink.
How to get to Blenheim Palace from London: By car, drive northwest along the M4, M40 and A40. By public transport, take the train from London to Oxford Parkway before taking the 7 Gold bus to Blenheim Palace.
13. Broughton Castle
Where is it? Northwest of London, north of Oxford, close to Banbury.
Sitting on its own little private island, Broughton Castle is surrounded by a moat. Largely constructed in the early 1300s, it's actually a fortified manor house (rather than an actual castle), and it's been a private residence since the day it was built
It's currently inhabited by a Lord and Lady and their family (the nearby The Saye & Sele Arms is named after them), so the general opening hours are really restricted (see below)—but it's always open for group bookings made by appointment.
Inside the house, some ancient features have been preserved (such as stone walls and four-poster beds), while other areas have been almost completely modernised.
Most people reckon the major highlights are in the gardens, which are full of various flowers, trees and shrubs. Ornately crafted with a modern landscape and design, it's a top spot for flower fans, but not for families with kids (you don't get hedge mazes or big fountains or any of that fun stuff).
How to get to Broughton Castle from London: By car, head along the M40 before heading west at Banbury. If you want to take a train, the easiest option is the direct service from Marylebone to Banbury, followed by a quick ride on the 75 bus from Banbury to Wykham Lane.
14. Herstmonceux Castle
Where is it? South of London, close to Eastbourne
Another moated behemoth, Herstmonceux Castle (unlike most castles) was built from brick, all the way back in the 15th century. That makes it one of the oldest still-standing significant brick buildings in England. It was built as a home rather than a line of defense—but although it never saw conflict, it's been partially rebuilt and restored several times.
You can only visit the inside of the castle on a guided tour, but you can visit the grounds and gardens any time (well, within opening hours). In the grounds and gardens, you'll find 300 acres of woodland, lakes, meadows, walks, and a so-called 'magic garden.'
The place is also home to the Observatory Science Center, with interactive exhibitions, ancient dones, and big ol' telescopes.
Herstmonceux Castle is now an international study center, with lots of people coming to live and learn inside the castle walls.
How to get to Herstmonceux Castle from London: By car, you want to drive south on the A21 before turning off before Hastings. By train, the route takes more than 2 hours (at best), so don't bother.
15. Oxford Castle
Where is it? Right in the middle of Oxford, which is northwest of London
With over 1000 years of history, there's plenty to explore in and around Oxford Castle
The place is most famous for its ancient prison. Lots of people were detained and tortured here, and prisoners were allegedly made to climb the 101 steps up to St. George's Tower more than 5000 times a day. When you visit, make sure you do the same thing yourself (but only once) for great panoramas over Oxford.
Other attractions include spooky crypt trips, history walks, murder mystery nights, jailbreak escape rooms, award-winning tours of the castle (you can only visit on a tour), and loads of kid-friendly events and attractions. If you're looking for a castle you can visit with kids, Oxford's is a great choice.
Side note: Oxford itself is a great day trip from London. Packed with history, heritage, art and charm, it's a lovely place to spend a day.
How to get to Oxford Castle from London: By car, take the M40 and the A40 to Oxford. The best train service is the hour-long direct line from Paddington to Oxford.
Final Thoughts and Further Reading
There they are—the best castles near London. Thanks for reading!
Other good options are Rockingham Castle, Warwick Castle, and Carisbrooke Castle, but they're all pretty far from London, so they're only worth visiting if you have a car (and if you really really love castles).
If you just can't get enough of ancient fortresses, check out our guides to the best castles in Northumberland and to the best castles in Scotland. Or if you want to know more about London, wander over to our articles on the best day trips from London, and all the things the city is famous for.
See you next time!
Being a Digital Nomad: Tips, Tricks and Places
Do you want to be a digital nomad?
If you do, maybe you don't know where you might want to live. Or how to live there. Or whether you need a visa. Or how to make friends in the scary sprawl of a brand-new city. Or how to stay productive while you travel. Or how to find an apartment. Or whether this lifestyle really is for you. Or… I'm sure you get the idea.
But with some insight and experience, it's not as difficult as you think. So in this book, I've gathered my 6 years of digital-nomadding experience… and I've used it to answer all your questions, soothe all your fears, and get you on your way. After reading this, you'll realise being a digital nomad is much easier (and much more possible!) than you think.