Top 17 Best Christmas Markets in the UK
As a 31-year-old man, I'm not really the target market for Christmas events.
But as a 31-year-old man from the UK who's lived a lot of his life in the region, I've spent loads of my time in the UK's Christmas markets. So even though I'm not a little boy or a little girl, I know all about them.
Every year, they hit most of the region's cities, hanging around for weeks on end, getting everyone to buy tinsel and cheese and German sausages. Massive, busy, and beautifully-themed, they're some of the best Christmas markets in the world.
In this guide, I've brought you the top 17 Christmas markets in the UK. I've included events in England, Scotland, Wales, and Northern Ireland, so you've got plenty of choices.
Jump in your sleigh, fill your sack, and join us. Today, Travelness is ho-ho-hoing all the way to the biggest and best Christmas markets in the UK!
1. Manchester Christmas Market
I reckon Manchester Christmas Market is the best Christmas market in the UK. I absolutely love the place, and I used to visit every year.
Unlike most of the events we've featured later on our list, it's not really just one market.
Instead, it's a collection of lots of different markets, all spread throughout the city. For the duration of its stay, the event absolutely dominates the city center, and you can't wander around Manchester without seeing its stalls and stores. Most Christmas markets are only in small pockets of cities, but that's not the case with this one.
Along with loads of other stuff, you get French food, German food, street performers, amazing hot chocolates, hog roasts, and around 8 million cheese stalls. One of the best and biggest on our list, Manchester Christmas Market has more than 300 vendors, and it's a great place to eat, drink, indulge and buy gifts.
Typical dates: Early November until a few days before Christmas
2. London Winter Wonderland
Here's the one you've probably all heard of.
London Winter Wonderland is brilliant. You get 100 stalls of all the usual souvenirs, foods and goodies, but that's only the beginning. A sprawling area packed with ice skating, performances, fairground rides, food trucks, a grotto, comedy shows, live music, the world's tallest transportable Ferris wheel and plenty more, it's more like a festival than a Christmas market.
Located in Hyde Park (the most famous park in London), Winter Wonderland is right in the center of the city. It's easy to access, no matter what part of London you're staying (or living) in.
The only downfall is that it's ridiculously busy, which is pretty annoying (unless you really really love queues). If you can, try to visit outside of weekends and evenings, so you can experience Winter Wonderland without all the huge crowds.
London also has Christmas markets in Leicester Square, and on Southbank. They're both absolutely brilliant. My favorite of the two is Southbank Christmas Market, which is perched right on the River Thames.
3. Bath Christmas Market
Bath looks like the sort of city that should have a Christmas market year-round. It's a really beautiful, alluring and atmospheric place any time of year. But at Christmas, it's even better.
During Bath Christmas Market, the city's cobbled lanes play host to around 130 wooden chalets. The vast majority of stalls are owned by local people, while the gifts are almost all handmade. So if you want to support the local economy and buy stuff you can't find elsewhere, Bath Christmas Market is a great choice.
You also get Christmas carols, brass bands and other performances. Some of the most popular are the excellent choir services held inside Bath Cathedral. Traditional and beautiful, don't be surprised if you do a little nostalgic cry.
If you're looking for something really charming, Bath Christmas Market is one of the best Christmas markets in the UK.
4. York Christmas Market
Just like Bath, the city of York looks like it was built with the sole intention of hosting Christmas markets. One of the most charming, attractive cities on the planet, York's medieval lanes and cobbled streets are the perfect place for a cute and cosy Christmastime.
Every year, the city is filled with around 100 stalls, accompanied by lots of food trucks, a retro-style fairground, and plenty more festive fun. Most stalls are managed by local businesses, so it's a great way to buy unique gifts and support the local economy.
One of the most popular parts of York Christmas Market is Thor's Tipi, a pop-up indoor tent with food, drinks and invitingly-warm fires.
The market is actually part of a bigger city-wide Christmas celebration. Every year, York hosts ice skating, concerts, pantomimes and plenty more. If you want to spend Christmas in a UK city, it's one of your best choices. Here's more information on other Christmas events in York.
5. Edinburgh Christmas Market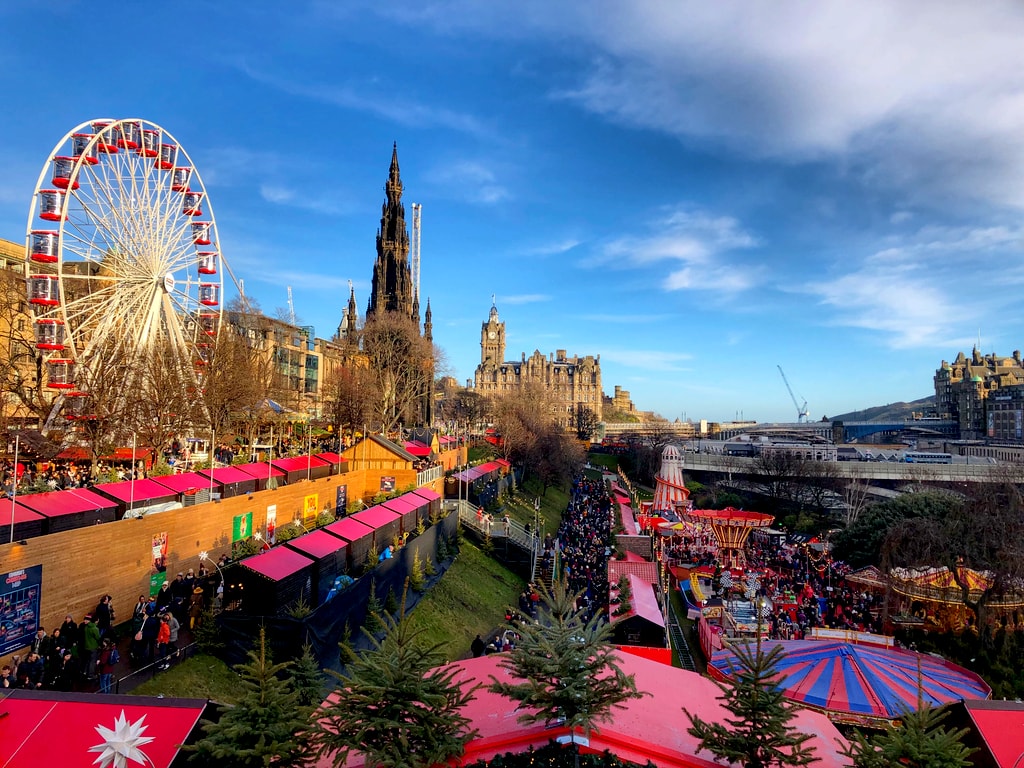 Scotland's capital is home to one of Europe's most famous Christmas markets (and one of the UK's best Christmas markets).
I absolutely love it. People come from all over Scotland and England to visit, so it's a pretty popular choice.
Read also: Best Places to Visit in Scotland in Winter
Apart from all the standard stalls, there's way more stuff on offer throughout the city. For kids and families, one of the most popular attractions is Santa Land, an outdoor area with rides, crafts, a tree maze, and a store for buying Christmas gifts for kids. Another popular attraction is the ice rink.
From the markets, you get great views of Edinburgh Castle, making the event one of the most scenic Christmas markets in the UK. If you're looking for a pretty, enchanting, kid-friendly Christmas market that goes all-out on the festive fun, you'll absolutely love Edinburgh Christmas Market.
6. Glasgow Christmas Market
Massively underrated, Glasgow Christmas Market is great. It's way less famous than Edinburgh Christmas Market, but it shouldn't be.
Here, you get two areas with stalls, stands and other attractions. Between the two, there are over 100 traders, offering local goods and produce including crispy duck rotisserie, crepes, bratwurst sausage, crepes, trinkets and handmade crafts. Aside from all that stuff, kids can meet Santa, ride the vintage carousel and take a spin on the towering Helter Skelter.
And again, like lots of the Christmas markets we've featured, Glasgow Christmas Market often has street performers and other outdoor attractions. So it's just not a standard market.
Glasgow is one of the friendliest cities in the UK, so you'll always get loads of warm welcomes. If you're looking for a friendly Christmas market, you've found it!
Typical dates: Early November to late December
Location: Glasgow City Centre
7. Birmingham Frankfurt Christmas Market
The biggest German-style Christmas market outside of Germany and Austria, Birmingham Frankfurt Christmas Market serves up big fat portions of sausages, schnitzels and lederhosen-laden delights.
If it's German, and you've heard of it, and you can put it in your mouth, you'll probably find it here. With loads of other German stuff you probably haven't heard of.
It's one of the most impressively-themed Christmas markets in the UK, with twinkling lights, almost 100 wooden chalets, and an excellent atmosphere.
The traditional carol services at Birmingham Frankfurt Christmas Market are really popular. Equally popular is Birmingham Christmas icon Christmas Moose, a weirdly-terrifying decapitated moose head that sings Christmas songs from his wooden chalet.
Typical dates: Early November until a couple of days before Christmas
8. Winchester Cathedral Christmas Market
Ever been to a Christmas market in the grounds of a cathedral? If the answer to that question is 'no but now I really really want to,' get yourself to Winchester Cathedral Christmas Market.
A definite contender for the most beautiful Christmas market in the UK, it attracts more than 400,000 visitors each year. Established in 2006, it's been serving up wholesome slices of enchanting experiences ever since. You get great handmade stuff from more than 120 local businesses, along with a massive ice rink.
Any time of year, the cathedral itself is a great place to visit—it's one of the biggest and best in Europe.
9. Belfast Christmas Market
Northern Ireland's biggest city is home to Northern Ireland's biggest Christmas market.
Based in the grounds of Belfast City Hall, Belfast Christmas market is beautifully illuminated, making it one of the prettiest Christmas markets on our list. You get around 90 wooden chalets, packed with all the standard foods, drinks and gifts. Some of the food is international stuff, while other tasty treats include homemade goods from local businesses.
It's been running for over 15 years, and it attracts more than 1 million visitors each year. So join the fun!
Irish people are known for being ridiculously friendly. So this market is one of the most welcoming, friendly and festive Christmas markets in the UK. It's lovable and atmospheric, and it's absolutely brilliant.
10. Cardiff Christmas Market
Set in the pedestrianized streets of Wales' capital city, Cardiff Christmas Market is the biggest in the nation.
All of its vendors make and sell only original work, so it's a great place to buy really bespoke trinkets and treasures. If you're keen to buy original gifts, it's one of the best Christmas markets in the UK.
Cardiff Christmas Market is committed to promoting and supporting the work of local people, so there aren't any big brands here. It's also pretty unique: it has 200 vendors spread over 80 stalls, who take turns to peddle their wares. So you could visit a few different times, and still see different stuff on each visit.
On top of all that stuff, you get all the typical festive food and drinks, so you can gulp and gobble while you shop.
11. Leeds Castle Christmas Market
Alright, pay attention, because this Christmas market isn't in Leeds.
Confusingly, Leeds Castle is actually pretty close to London.
Snuggled in the heart of Kent, it's one of the most aesthetic castles in the UK. Set right in the middle of a lake, Leeds Castle is a lovely place to visit anyway—but during Christmas time, it's even better.
At Leeds Castle Christmas Market, you'll find around 70 wooden chalets, all separated from water by the (according to the official website) "the loveliest castle in the world." It might not be the biggest Christmas market in the UK, but it's maybe the most attractive. Apart from all the views, you get food, crafts and retro fairground rides.
During the festive season, Leeds Castle also features other Christmas events, including parties, special meals, and murder mystery nights.
Typical dates: Pre-Christmas weekends in December
12. Leeds Christkindelmarkt
Unlike Leeds Castle Christmas Market, Leeds Christkindelmarkt actually is in Leeds. Confusing.
Another German-style market, Leeds Christkindelmarkt is without doubt one of the best Christmas markets in the UK (or at least one of my favorite Christmas markets in the UK).
With 40 traditional-style wooden chalets offering toys, gifts, decorations, German food and plenty more, it's really atmospheric, cosy and comfy. It's like someone packaged up the very concept of Christmas and somehow transformed it into a market.
It's smaller than some of the others we've featured, but it's more beautiful than most. It's ridiculously lovable—and if you go, it won't be the last time.
Typical dates: Early November until Mid-December
Official URL: N/A
13. Chatsworth Christmas Market
If you prefer rural markets to city-center ones, you'll love Chatsworth Christmas Market, set in the imposing grounds of Chatsworth House (a massive stately home in the middle of the Peak District National Park, and home to the Duke and Duchess of Devonshire).
One of the most wholesome and obscure on our list, it's much bigger than you'd expect. With 100 stalls, there's plenty to explore. Most of the stuff is handicrafts and souvenirs, so it's a nice place to buy some unique and unusual stocking fillers.
It's also really pretty—the whole house is redecorated to look all festive and fun.
Weirdly, this one isn't open in December. So it's a good place to buy Christmas gifts rather than indulging in December festivities. Oh, and the opening hours are sometimes pretty limited.
14. Nottingham Winter Wonderland
The biggest Christmas market in the East Midlands, Nottingham Winter Wonderland has around 70 stalls. Like loads of the ones we're featuring on our list, the market has traditional German-style chalets, selling all the ubiquitous treats and trinkets, like sausages, hot chocolate, cakes, gifts, souvenirs and more.
But the event is way more than just a market. These stalls are part of the much bigger Nottingham Winter Wonderland, which features fairground rides, a grotto, an ice rink, a carousel, a toboggan, live music and an ice bar.
This all-out winter-themed ice bar is a massive favorite, featuring ice sculptures, glasses made from ice, and a really unique atmosphere. It's like hanging out at Mr. Freeze's house.
(Sorry about that really dated Batman & Robin reference).
Typical dates: From the beginning of December until Christmas Eve
15. Stratford-upon-Avon Victorian Christmas Market
Shakespeare's home is also home to one of the best Christmas markets in the UK.
The event has only been running for a short few years, but it's already established itself as a big family favorite. Right in the center of the historic town, it's massively atmospheric—the stall owners dress up in Victorian clothes for the duration of the event.
On top of local produce from local businesses, you also get performances and a retro funfair.
There are around 300 stalls in total, so there's plenty to enjoy. But it's only on for a short few days, so check before you go!
Typical dates: A short few days in Mid-December
16. Newcastle-upon-Tyne Christmas Market
I know you probably haven't heard of Newcastle's Christmas market.
But I'm from Newcastle, and I'm really biased. And anyway, I promise it's really really great.
Newcastle Christmas Market might be pretty small, but there's plenty on offer. You get continental food stalls, offering tasty meals and morsels from Spain, Italy, Germany, and much further afield. And on top of all that, there's all the usual handmade gifts and crafts.
When you're finished at the market, make sure you stop off at close-by Fenwick's window. A hugely-popular Newcastle Christmas institution, the massive Fenwick superstore in Newcastle stuffs its outdoor window displays with themed Christmas decorations.
Every year, the theme is different. Sometimes it's based on a book or movie, sometimes it has lots of famous characters, and other years, it's just a made-up narrative about Santa and his pals. Whatever it is, join the queues and join the fun.
17. Caerphilly Christmas Market
Set right beside Caerphilly Castle, Caerphilly Christmas Market is probably the cutest Christmas market we've featured. Pretty, welcoming and smaller than some others on our list, it's really friendly, and has a lovely atmosphere.
But despite its relatively small scale, you still get around 100 vendors, so there's plenty of stuff to eat, drink, buy and look at.
But be warned: it's usually only around for a day. So make sure you check the dates before you turn up.
If you haven't been, you should absolutely go. It's definitely one of the best Christmas markets in the UK. And when you're done, make sure you have a wander over to the castle. It's one of the best in Wales.
Final Words
Thanks for reading our guide to the top Christmas markets in the UK. Now rev up your reindeer, stick your red hat on, and go join the fun!
If your search is focused only on the North East, then check out my guide about the best Christmas markets in North East England.
If you want more information on family-friendly adventures and activities in the UK, we have loads more articles on our site. Check out our guides to the best aquariums in the UK, the best zoos and wildlife parks in the UK, and the 25 most unique and unusual attractions in the north of England.
Whatever you want to know about traveling in the UK, we have it right here on our site!
Being a Digital Nomad: Tips, Tricks and Places
Do you want to be a digital nomad?
If you do, maybe you don't know where you might want to live. Or how to live there. Or whether you need a visa. Or how to make friends in the scary sprawl of a brand-new city. Or how to stay productive while you travel. Or how to find an apartment. Or whether this lifestyle really is for you. Or… I'm sure you get the idea.
But with some insight and experience, it's not as difficult as you think. So in this book, I've gathered my 6 years of digital-nomadding experience… and I've used it to answer all your questions, soothe all your fears, and get you on your way. After reading this, you'll realise being a digital nomad is much easier (and much more possible!) than you think.