19 Best Things to do in Scotland in Winter
Most people don't want to visit Scotland in winter, because they think it's too cold.
Those people are dum-dums.
Yeah, it can be cold. But just wear more clothes! Most things you can do in Scotland, you can do year-round in Scotland. And on top of that, winter brings some unique attractions and events that you can only celebrate and enjoy in the colder months. So in this article, I've brought you details on them all.
Here they are—the 19 best things to do in Scotland during winter!
1. Join a Rabbie Burns Celebration
Rabbie Burns (or Robert Burns, if you're not on nickname terms) is one of Scotland's most famous figures. This local icon churned out hundreds of poems in the 1700s, and his work is now celebrated on Burns Night, every 25th January.
His most famous ditties include 'To a Mouse,' 'The Battle of Sherramuir,' and "Tam o' Shanter.'
If you can get yourself invited to some friends-and-family Burns Night event, you should. You'll get traditional food (haggis, neeps and tatties) poem recitals, music, dancing and more. It's a really wholesome way to learn about local people and culture.
Failing that, go to some event in a bar or restaurant or whatever instead.
For insights into Scottish history, heritage and tradition, Burns Night is one of the best events on the planet. And you don't get it in summer!
2. Wander Around Some Christmas Markets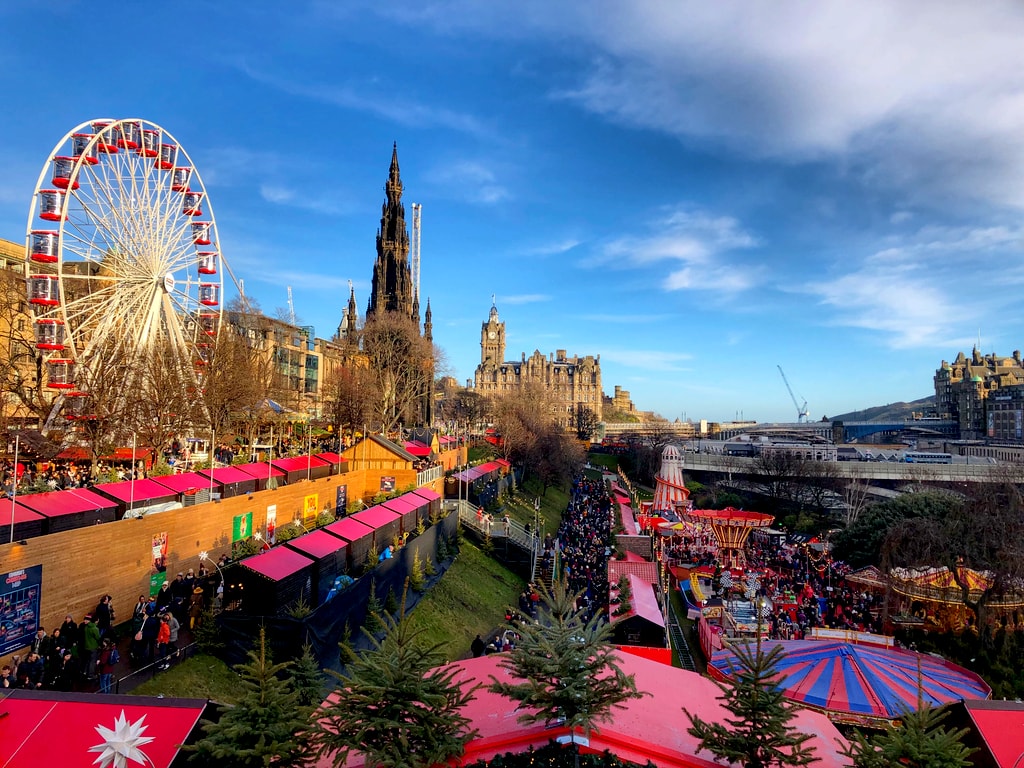 Scotland has some of the best Christmas markets in the UK.
The most famous are the markets in Edinburgh and Glasgow, but there are loads more in other cities and towns (and even in some smaller villages). Some of the best littler events include Oban Winter Festival, Ullapool Christmas Market (with a Christmas tree made almost completely out of lobster creels!), and the Loch Lomond Shores Christmas Market in Balloch.
These markets are always packed with festive food, tasty drinks, unique gifts, excellent events, and plenty of things to see and do. Some even have fairground rides, ice rinks, Santa's grottos, and carol services.
If you're traveling with kids, they're especially fun.
3. Get into the Christmas Spirit
Partially because of the markets we've just mentioned, Scotland has a lovely atmosphere during winter. But it's not just because of the Christmas markets—Scotland (like the rest of the UK) embraces Christmastime more than most other nations on the planet.
You get Christmas decorations, illuminated towns and cities, lots of great shopping, excellent events, friendly faces, and loads of kid-friendly fun.
You also have a reasonable chance of snow—Scotland has around 15-20 snow days a year. If you want to find some snow, head north and west, and to some of the nation's loftiest areas. Be warned though: Scotland isn't as snowy as some other European nations, so there's definitely no guarantee of seeing the stuff (unless you hit the mountains).
If you like festive fun and indulging the Christmas spirit, you'll love spending winter in Scotland.
4. Clamber Up the Summit of Arthur's Seat
Probably the most famous viewpoint in Scotland, city-center mini-peak Arthur's Seat offers great panoramas of Edinburgh and its surroundings.
Coated in snow, Edinburgh looks ridiculously beautiful, and even more charming than usual—a wander up Arthur's Seat is always nice, but a wander up Arthur's Seat in winter is super nice.
If you don't want to do any hardcore hiking on your Scottish winter trip, cos you don't like bad weather, Arhur's Seat is an okay compromise. But if you're not a lazy cold-fearer, there are loads of brilliant Scottish hikes you can tackle during winter.
Which brings us to…
5. Do Some Proper Hiking
High-level hiking in snow can be brilliant (especially in Scotland) if you plan properly and don't be a big idiot about it.
You get brilliant views, no crowds, physical challenges, and a really unique perspective on the hills and heights of the nation you're visiting.
Most of Scotland's hikes are really great in the winter, and not enough people explore them.
If you specifically want to clamber around in snowy peaks, head north, west, and to the loftiest parts of the nation. Some of Scotland's snowiest peaks are found in and around the Cairngorms, Caithness, and Glencoe. Ben Nevis is of course a great option too, since it's the highest peak in the nation.
But if you do hike in winter (and I'm gonna be Mr. Serious for a minute here), stay safe. Make sure you know how to read a map and compass, and check some detailed weather reports before you leave. Loads of tourists wake up on a clear winter day and think 'the weather is gonna be a-okay today! Whoopie poopie!", then wind up being found by mountain rescue.
So hike, and you'll have a brilliant time—but just be sensible about it.
6. See Some Reindeer
Speaking of Cairngorms National Park, the place is home to the Cairngorm Reindeer Herd, the only herd of free-roaming reindeer in Britain. They've been wandering around the area since 1952, and there are currently around 150 in the pack.
You can see them any time of year, but there's nothing magical about reindeer in the summer. But reindeer in the winter—that's where the money is!
To find them, head east of Aviemore to the Cairngorm Reindeer Center, where you can take organized mountain trips to seek out the reindeer. Because they're pretty used to humans, you can pet and feed them, and make friends.
During December, the center plays host to paddock-based Christmas events, featuring tinsel decorations, Santa visits and more.
Pro tip: make sure you book in advance, cos this place is massively popular, especially in winter months. Oh, and on the worst weather days, there's no guarantee the tours can go ahead.
7. Ride on a Sled Dog Safari
Yep, just like you've seen in the movies.
You don't need to go to northern Scandinavia to get pulled around by dogs.
Jump on the back of a sled in some of Scotland's best beauty spots, for one of the most magical experiences of your life. You can get involved in these tours at Cairngorm Sleddog Center (and I reckon they're the best ones), but there are other great locations near Inverness and Fort William.
8. Drive the Snow Roads…
'The Snow Roads' is one of Scotland's best road trips: a 90-mile (145km) adventure along the highest roads in the UK.
Spanning the eastern side of the Cairngorms National Park from Blairgowrie to Grantown-on-Spey, it's ridiculous fun. The trip takes you through mountains, towns, villages, forests, and some of Scotland's most picturesque panoramas.
And because these are often the first roads in the UK to get a smattering of snow, it's a perfect place for a proper winter adventure.
Pro tip: this is ridiculously good fun, but if it's snowy or icy, you should only tackle the trip in a well-equipped car. If your car is unsuitable or inadequate, you'll end up getting stranded, or crashing, or slipping off a cliff. All of those things are bad ideas.
9. … or Take Another Snowy Road Trip
Scotland is one of the best road trip nations on the planet.
Aside from the Snow Roads route, there are loads more beautiful, adventurous, brilliantly-waymarked journeys throughout the nation.
The only annoying thing about them (for everyone including locals) is how busy they can get.
But during winter, the nation's road trips are quieter, and arguably more scenic (if you prefer snowy landscapes to summery ones).
The North Coast 500, for example (that's the most famous road trip in Scotland) is brilliant. But in the height of summer, it can sometimes be too busy to enjoy. So if you do it in winter, you get all the views without the crowds—and as a juicy little bonus, that makes it feel much more exciting and adventurous.
If you want good views, fewer crowds, fewer people to negotiate, and less chance of crashing on a single-track road, Scotland's road trips are packed with endless opportunities for winter fun.
Again, just make sure your car is good enough, and you're confident enough. If it is, and you are, you'll have a phenomenal time.
10. Get Knees-Deep in Hogmanay
I know what you're thinking: 'What's Hogmanay?'.
Don't worry—friendly Paul is here to help you out.
Hogmanay is just New Year's. But in Scotland. No-one really knows why Scottish people call it that, but they just do. Some people think it comes from Anglo-Saxon heritage, others think it's of Norse origin, I think it doesn't really matter.
Anyway, New Year's is a big deal throughout the world.
But in Scotland, it's bigger than in most places. You get massive fireworks displays, big parties, endless crowds, brilliant events, and a lovely atmosphere. Scottish people are known for being friendly, welcoming, warm and hospitable—and if you want to experience that in the best way, Hogmanay is the best time.
The best places to enjoy yourself are the big cities. Edinburgh has the most famous Hogmanay celebrations, but Glasgow's festivities are arguably more warm and friendly (just don't tell the people in Edinburgh I said that).
If you prefer littler parties and events, the smaller towns and cities are great too—there's just not as much to do, and not as many people to meet.
Pro tip: if you're visiting Glasgow or Edinburgh for Hogmanay, book your meals, events and nights out in advance. Venues get really (really really) busy.
11. Go Skiing…
Yep, you can ski in Scotland. Not enough people know that, but more people should. Where there's mountains, there's skiing—and Scotland has plenty of mountains.
The season usually lasts from December until March (but sometimes a little later, depending on how cold it is, and how much snow has fallen, and all that stuff).
The two best places to ski in Scotland are Glencoe Mountain Resort, near Glencoe and Fort William, and in the Cairngorms. As we've covered, the Cairngorms is usually the snowiest part of Scotland, so it has three great ski resorts.
These four are the best, but there are other places with great skiing experiences. Just make sure you go to a reputable place with good reviews.
I wrote an entire guide about skiing in Scotland, you should check it out.
I've never been skiing in Scotland, but my dad has. And he liked it, if that helps.
Pro tip: if you like winter sports, Scotland also offers snowboarding, sledging, fat tire biking, and loads more.
12. … or Snowshoeing
Most winter sports, you've probably heard of. Snowshoeing, you probably haven't.
A strange combo of hiking and snowboarding (with one tiny board on each foot), snowshoeing allows you to hike over snow, as you wear big wide shoes with flat panels on the bases. I've never done it, but I've heard it's brilliant.
A really unique way to hike and explore, it turns inaccessible places into accessible places. Again, just make sure you take precautions.
The best places to snowshoe in Scotland are the Cairngorms (that old range again!), Loch Lomond & The Trossachs, and in and around Ben Nevis.
13. Gaze and Gawp at the Northern Lights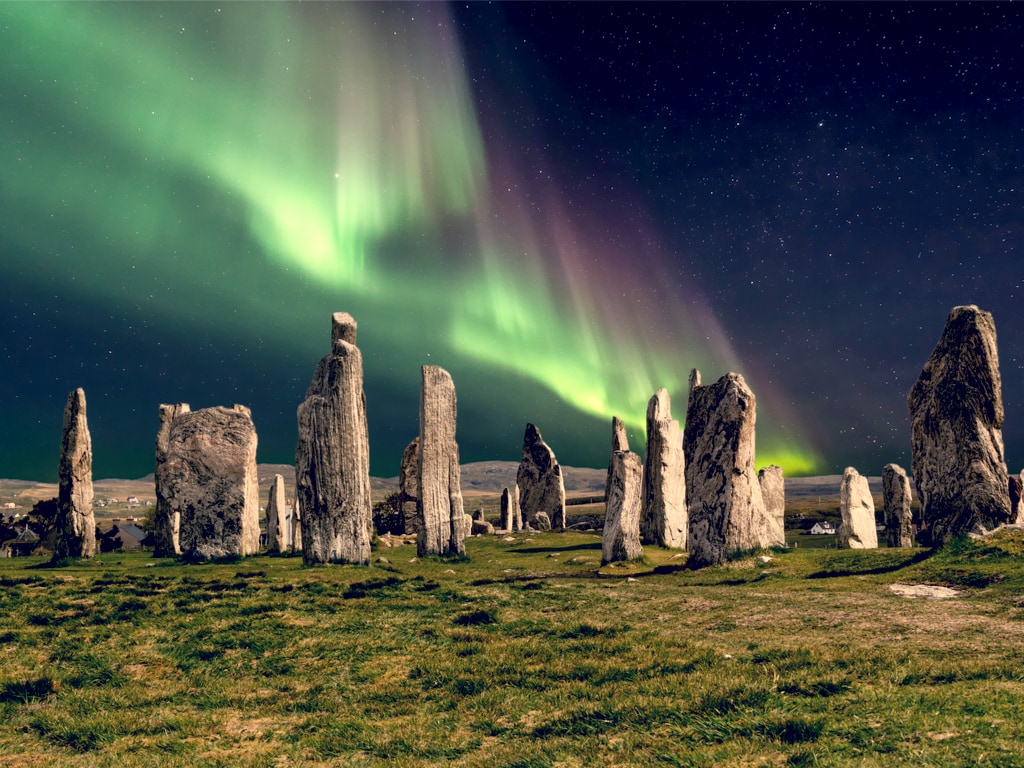 No, you haven't read that wrong.
In Scotland (if you get a good winter day), you can see the northern lights. Some parts of northern Scotland are in line with (or even more northerly than!) the Norwegian city of Stavanger, where some people travel to see the lights.
You have to be lucky, because star-spotting needs clear skies. And in Scotland, clear skies are pretty unusual.
That said, if you time it right and go to the best places, you might be in with a chance of seeing the northern lights without having to go to Lapland or whatever.
The best places to see the northern lights in Scotland are the northwestern extremities of the mainland, along with the Shetland Islands (which are really far north!) and the Orkney Islands.
14. Attend the Irn Bru Carnival
Only in Scotland could a massive temporary fairground be named after an obscure fizzy drink.
But no matter what it's named after, it's brilliant.
Europe's largest indoor funfair, it comes to Glasgow every Christmastime for around 3-4 weeks in December and January. It's been running for over 100 years—and every year, it serves up hefty slices of thrill rides, kids' rides, family fun, game stalls, food, drinks, and inflatable play areas.
Imagine a traditional British funfair, but indoors, bigger, and with a modern twist, and you're imagining the Irn Bru Carnival. Get yourself there, have some fun, and make some friends—just try not to do a big orange Irn Bru vomit on the waltzers.
Pro tip: it's a massively popular event, so you should definitely book in advance.
15. Save Some Cash
If you travel in Scotland during winter, you'll likely spend a little less money.
That's mainly because accommodations are cheaper in the winter months. There are way fewer tourists, so accommodations need to lower their prices in order to attract the few tourists who do travel to Scotland.
If you like bartering for a bargain, you can even try negotiating down from the advertised prices (but only in winter). It might work, it might not, but it's worth a go.
Whatever the case, if you like to travel on a budget, winter is a great time to visit Scotland.
Read also: Scotland Currency: A Complete & Helpful Guide
16. Enjoy the Crowd-Free Vibes
I love Scotland, but (like all countries), its most popular attractions can get ridiculously busy during the high season—and therefore ridiculously annoying.
(I know I'm a tourist too, but no-one wants to go on a hike with 50,000 other people).
Anyway, if you visit in winter, there are way fewer crowds. People don't like short days and cold weather—so if you can endure those things, you don't have to endure all the other tourists.
If you like peace, serenity, and having places to yourself, you'll probably prefer Scotland in the winter. You can enjoy hikes, castles, attractions, road trips and city-center exploring all without too many other people.
17. Snap Some Shots
In winter, because Scotland only has around 5-7 hours (or thereabouts) of sunlight per day, the sun is always lurking low in the sky. And if you like taking photographs, you'll know that's good news.
In addition to the great low light, you also get fewer crowds, making it easier to get good shots—you won't have to wait forever while people walk out of your pictures.
And on top of all that, you'll get interesting photographs. Most people photograph Scotland in the summer—so doing it in the winter means you'll get some really unique content.
18. Up Helly Aa
No, I haven't fallen asleep on my keyboard.
In spite of its spelling, Up Helly Aa is a real Scottish event. Obscure, weird and little-known, this 24-hour fire festival has processions, fires, torchbearers, parties and more—and it's one of the weirdest events on the planet. Celebrations occur across several communities in Shetland, Scotland's most northern set of islands.
Imagine going back in time, finding some Vikings with big beards and scary clothes, and watching them set fire to stuff while you look on in confusion. That's Up Helly Aa, except you don't need to travel in a time machine, and it's really fun and inviting. It's one of the best and most unique events in Scotland.
I haven't been, but I'd love to. So if you're going, invite me.
19. Get All Cosy in Some Traditional Scottish Pubs
British pubs are some of the comfiest places on the planet. And Scottish pubs (especially in small towns and villages) are some of the best. If you haven't sat in a Scottish pub in winter, you haven't been to Scotland in winter.
Find some traditional venues, sit next to the fire, make friends, enjoy some food and drink, and be happy that you're not outside in the horrible horrible cold.
When you're looking for good pubs, ask locals for the best recommendations (cos websites like TripAdvisor will never give you the local hidden gems).
Final Words and Further Reading
There they are—the best things to do in Scotland during winter!
If you can only do a couple, I think the winter events offer the best insights into Scottish culture and people. So head to a Hogmanay, and enjoy a Burns Night.
For much more information, check out our guides to Scottish winter weather and the best places to visit in Scotland in winter.
Thanks for reading!
Being a Digital Nomad: Tips, Tricks and Places
Do you want to be a digital nomad?
If you do, maybe you don't know where you might want to live. Or how to live there. Or whether you need a visa. Or how to make friends in the scary sprawl of a brand-new city. Or how to stay productive while you travel. Or how to find an apartment. Or whether this lifestyle really is for you. Or… I'm sure you get the idea.
But with some insight and experience, it's not as difficult as you think. So in this book, I've gathered my 6 years of digital-nomadding experience… and I've used it to answer all your questions, soothe all your fears, and get you on your way. After reading this, you'll realise being a digital nomad is much easier (and much more possible!) than you think.