TOP 18 Best Things to Do in Kielder
Kielder is one of my favorite places in Northumberland. Right on the border of Scotland, it's most famous for its massive reservoir, which is the biggest in northern Europe (depending on how you measure it). According to the official website, the place has "enough water to give everyone on the planet about seven gallons of water" (source).
But Kielder is much more than just a big old load of water in the middle of nowhere. It's a village, an area of protected night sky, it's home to the biggest forest in England and it's a ridiculously beautiful place.
But more than any of that, it's one of the best outdoor areas in Northumberland, and it's great for hiking, cycling, running and loads of other stuff.
It's massively popular with locals (like me) because it's both beautiful and accessible. It's not the most remote or isolated place in Northumberland (though it does a pretty good job of being both of those things), but it's a great compromise between accessible and adventurous, perfect if you want a good combo between fun adventures and quick conveniences.
This area was all just flat land until a few years ago — work was only completed in 1981. My dad remembers when there was no reservoir here at all, but I don't. He's pretty old, whereas I'm just young and cool and sexy.
Anyway, enough about me and my dad, here are all the things you can do in and around Kielder:
1. Mountain Biking
Kielder is probably most famous for mountain biking (well, among people who like doing outdoorsy things. For everyone else, it's just famous as a big pool of water).
Anyway, if you want to do some mountain biking at Kielder, there are 6 trails of different difficulties and lengths. You can choose from:
The Osprey Trail: clocking in at around 12 miles (21km), this is a moderate trail, perfect for new mountain bikers looking for something accessible but challenging. There's nothing technical about this one, but it has lots of great views and plenty of forest.
Red Trails: you have the Deadwater Trail, the Bloody Bush Trail and the Lonesome Pine Trail. They're all considered 'difficult and suitable only for proficient mountain bikers'. If that's you, give them a go.
Cross Border Trail: fancy tackling a mountain bike trail that goes into Scotland? This trail is around 25 miles (40km), and takes you to the village of Newcastleton and back in a big loop. With hills, valleys, ascents and descents, it's challenging and beautiful.
Black Deadwater Trail: for proper hardcore cyclists, this one is really technical with some fun steep drops. The highest point is 571 meters, so there's a decent amount of climbing involved. On a good day, the views from this point are amazing.
There's also a trials park, so you can have a bit of a play before you set off on a proper trail. Here, you can practice technical stuff, tackle some challenges and mess about with friends.
Obviously, it's best to bring your own bike, but if you haven't got one, or you can't be bothered to bring your own, there's a good rental place right next to the castle. They specialise in mountain bikes and electric bikes, but they also offer some hybrids and other models too. There's a smaller bike rental place on the western shore of the lake.
Both places also offer bike repairs, cycling equipment, and loads of advice for exploring the area. For now, here's a map of all the mountain biking routes in Kielder along with some of the gentler trails, which brings us to…
2. Cycling
Kielder isn't all about mountain biking. I've never actually done any mountain biking in the place (though I've got plenty of friends who have), but I've explored other parts of the area by bike. If you want to cycle in Kielder but you don't like mountain biking, the Lakeside Way is a sweet little remedy for your terrible dilemma. It's one of my favorite day rides in Northumberland.
A 27-mile (43km) route that goes around the entire perimeter of Kielder reservoir, the Lakeside Way is a multi-use path accessible to walkers, runners, cyclists and horse riders. If you want to see all of Kielder, following the entire Lakeside Way is the best way to do it.
The Lakeside Way is suitable for basically any bikes except a thin-tyred road bike. I've done it on a hybrid, and I've seen loads of people doing the same. The total elevation is around 565 meters (or so my Strava reckons), and the surface is mainly made up of flat dirt tracks and light gravel, so it's all pretty accessible. As long as you have tyres around or wider than 28c (with okay traction), you'll be fine.
If you're with kids or you just want a really gentle jaunt, have a go on the Borderline Trail instead. It's 3.7 miles (6km), and it's super easy and fun.
Last of all, Kielder is a great place for some road cycling. There are roads that go around the perimeter of the reservoir, while there are plenty others that go to places such as Bellingham, Otterburn, Scotland, Hadrian's Wall and more.
Check out my detailed guide about biking in Kielder.
3. Water Sports
At Kielder, you can go canoeing, sailing, paddleboarding and water skiing.
I've never done any of them, so I can't recommend them – but if I can think of one place in Northumberland to do any of those things, it's definitely Kielder.
The place is massive, beautiful, varied and peaceful (though I'm not sure how peaceful it'll be with you screaming from your water skis) and packed with views and vistas, so it's probably a great place for water sports.
4. Fishing
Cos Kielder has loads of water, it also has loads of fish. If you want to catch some of them to take home and chow down, you can do boat fishing and bank fishing.
Fish on offer include brown trout, blue trout and rainbow trout. You can catch salmon close to Kielder, but not in the reservoir itself (the nearby Tyne is known as the best salmon-fishing river in the UK).
If you don't have your own boat, you can rent boats from Kielder Waterside. Bank anglers get access to more than 20 miles of the reservoir's perimeter, while boat fishers get access to more than 2,000 acres of water.
Since I don't really know what I'm talking about and I've never been fishing in my life, here's much better information than the stuff I can give you. The guys who run this site even have an on-site shop with all the fishing equipment you'll probably ever need.
If you're in love with fish and you want to learn all about the salmon in and around Kielder, pop over to the Kielder Salmon Center, a museum all about salmon, the Tyne, and salmon in the Tyne.
5. Walking and Hiking
Like I said earlier, The Lakeside Way is a multi-use path, so lots of people tackle various hikes around and along it. You can walk various short sections, or you can walk the full thing if you want a proper challenge.
If you only want to walk one section, consider Bull Crag peninsula. A big lump of land that juts into the southwestern stretch of the reservoir, the walk around the perimeter of this peninsula is around 3 miles (5km), and it's a decent introduction to the area. It also has a couple of car parks, so you can drive right to the start of your walk.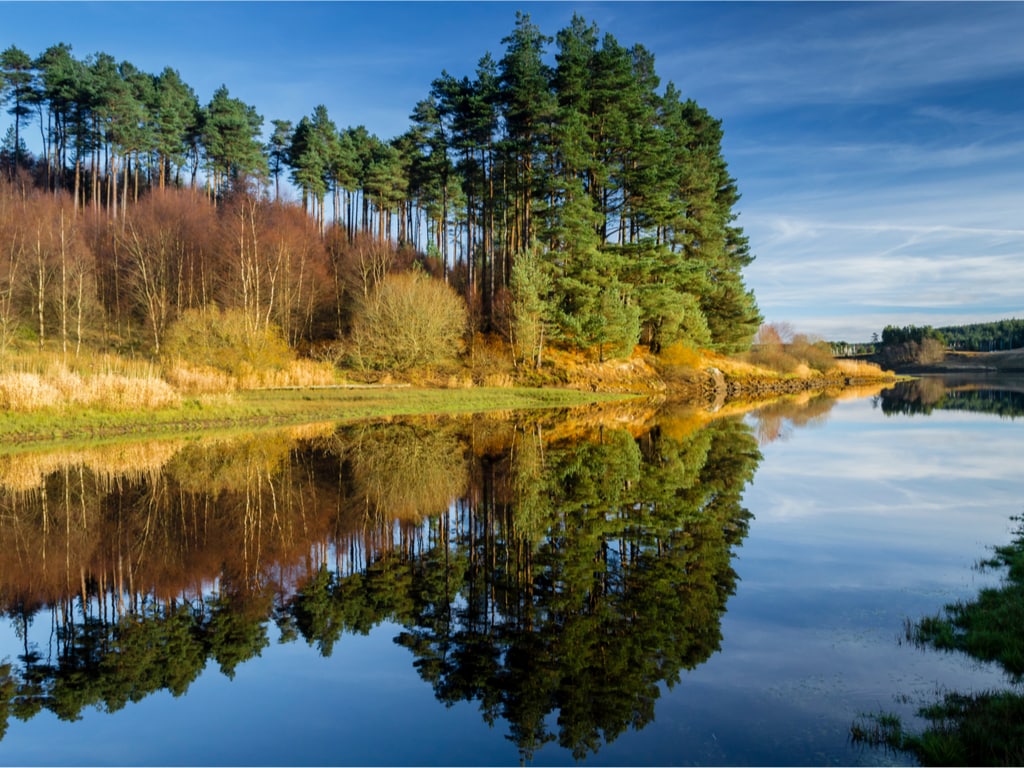 My top pick for a short hike is the eastern peninsula north of Bull Crag (which I don't think has a name, but if you have a look at a map, you should be able to work out where I mean). This section is my favorite part of Kielder (especially the thin, narrow northerly-pointing inlet). It has nice woods, a cute bridge, ascents and descents, great views of the reservoir, and a mini sort-of island.
I've never measured how long this walk is (what sort of expert am I?), but if you park up at Hawkhope main car park and return to the same place in a sort-of loop, it's probably around 7 miles (11km).
If you really want to get a feel for all of Kielder's diversity, you should walk the entire Lakeside Way. I know it's long, but it's also incredible – and since it's all pretty flat, it's not as challenging as a mountain walk or whatever. Go early, do it as a full day, and tackle the full 27 miles. I believe in you.
6. Horse Riding
Like I said, the Lakeside Way is a multi-use path… so you can take your horse on all of it (if you have one).
Loads of the bridleways are wide and quiet, there's little noise, it's all horse-friendly, and all of the footing is good. I don't know much about horse riding, but I've seen loads of horse riders in and around Kielder, so it must be a good place to do it.
7. Running
Kielder's the site of loads of annual races. The main event (and you've probably worked this out for yourself given the perimeter of the reservoir) is the Kielder Marathon, which comes to the reservoir every October. Entry is open to everyone, so get yourself involved if you fancy a big Northumberland challenge.
Aside from the marathon, there are loads more races around the reservoir, including a half marathon, a 10k, and some challenges that include both cycling and running combined.
The reservoir also hosts a series of night runs. Ever wanted to do a trail run in the dark? No, I haven't either, but you can at Kielder.
Aside from all these events, you can obviously just run around Kielder any time you like. If you've ever wanted to do a casual marathon of your own, this is the best place in Northumberland to do it—it's beautiful, diverse, the terrain is good, and the distance is already planned out for you.
8. Star Gazing
Kielder is one of the biggest areas of dark night sky in the whole of Europe.
That basically means that there's hardly any light pollution, so the stars here look brighter than they do from most other places on the planet.
If you want a proper in-depth look at the stars, Kielder Observatory is incredible, and offers industry-level telescopes for getting close-up views of stars, planets and all that other intergalactic stuff. The people leading the workshops are really knowledgeable, and can help you to pick out constellations, shooting stars, meteors and other interesting things.
If you don't want to pay loads of money for an observatory experience, you can just turn up anywhere around the reservoir at night and… look at the sky. On a clear night, anywhere in Kielder will do, but the more north you go, the darker it gets.
If you've never before been to a place with minimal light pollution, you'll be massively surprised at how different the sky looks. At home, you probably see about ten stars in the sky. Here, you can see thousands and thousands (and I know that sounds like I'm making it up, but I'm really not).
If you want something between an observatory experience and a casual one, check out Kielder Skyspace. This sculpture is partially a star spotting location, partially an art installation. It has a big hole in the roof, and walls that change color as dusk approaches. It's a massively unique, immersive and interesting way to watch the stars emerge and appear.
9. Birdwatching and Wildlife Tracking
Northumberland is great for birdwatching and animal spotting. And Kielder is even better than most places in the area, as it has loads of rare birds and other animals. In and around Kielder, you can spot ospreys, red squirrels, goshawks, roe deer, badgers, bats, otters, water voles, adders, frogs and loads more.
There's a Birds of Prey Center in Kielder (where you can touch owls, falcons, vultures and other feathery little boys and girls), and Bakethin Nature Reserve, where you can spy on animals (like a little creep) and learn all about them.
10. Camping and RVing
I've visited Kielder loads of times in a campervan (or RV, if you're not from the UK).
It's a lovely place to pitch up with a tent or a campervan and spend a night – it's really quiet and peaceful, there's hardly anybody else around, and if the skies are clear, you get incredible stars .
There are designated places where you can and can't park up for the night, and it's also worth noting that wild camping is illegal. But I've overnighted in places you're not supposed to (don't tell the police), and I think it's okay as long as you're responsible and respectful. Don't make fires, don't be loud, don't leave stuff behind, and leave the place as you found it.
If you're doing all of that stuff, I don't see a problem with camping and RVing in supposedly-prohibited places.
If you want to stay over in a much more adventurous (and always allowed) way, Kielder has 8 nearby mountain bothies. Bothies are usually found in Scotland, but here's a map of where you can find the ones close to Kielder.
11. Drive (Sort Of) Off-Road
At the northern part of the reservoir, really close to the castle, there's a 4×4 track, which you can explore if you have a 4-wheel drive.
The longest forest road in England, this ride clocks in at around 12 miles (19km). The views are great, the ride is fun, and it brings you out onto the A68 road, perfect if you're on your way out of the area.
12. Art, Architecture and Viewpoints
The area around Kielder reservoir is dotted with loads of weird art installations. Some of them are cool, some of them are crap, but seeking them all out is a nice way to explore the entire area.
Some of the best ones include Belvedere Viewpoint (a pointed, spaceship-like metal box with a great view), Silvas Capitalis (a big head in the woods), Freya's Cabin (a wooden hut with a view), Janus Chairs (some curvy chairs) and lots of the stuff we've already mentioned.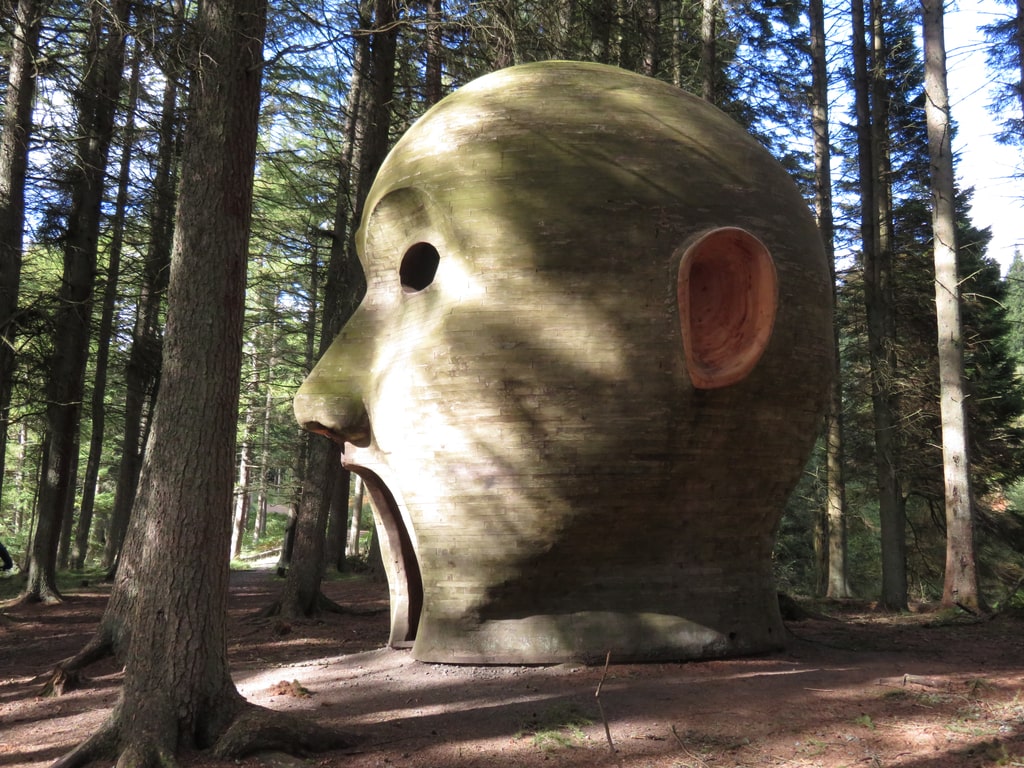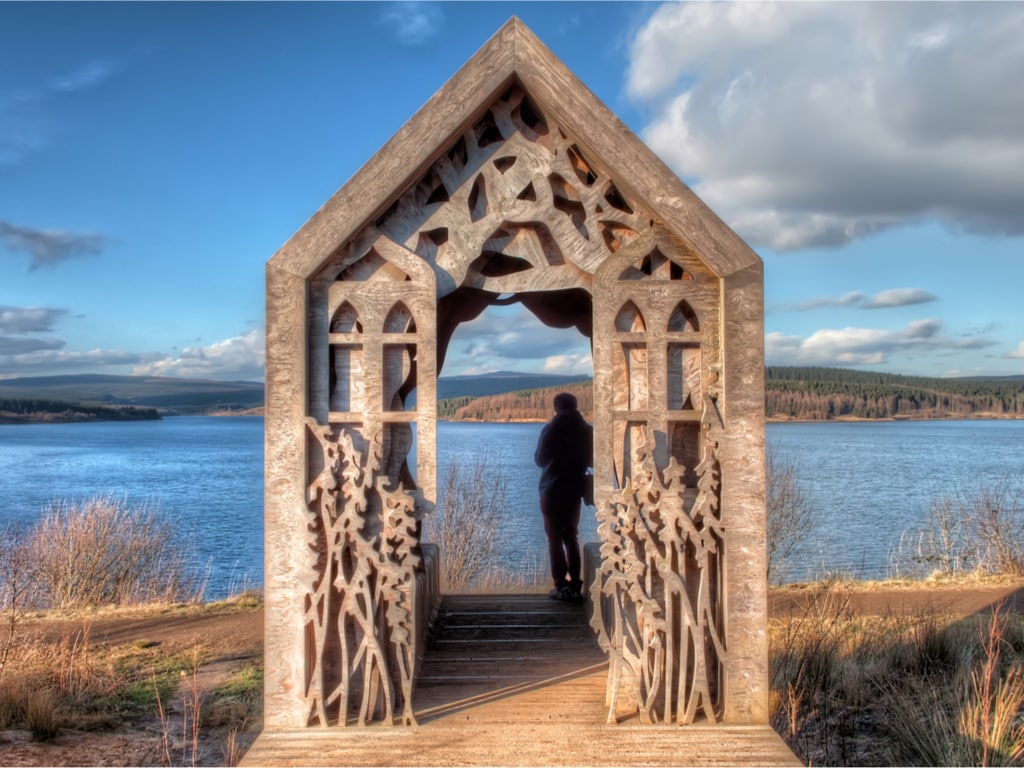 Aside from Belvedere Viewpoint, there are loads of great viewpoints in Kielder. The best way to see them all is just to tackle the entire Lakeside Way, but the best viewpoints are marked on all of the maps that dot the perimeter of the reservoir.
My favorite views are from the western part of the northern shore of the lake.
13. Ride the Osprey
60-seater ferry 'The Osprey' is a great way to see Kielder if you can't be bothered for anything strenuous.
It takes various routes around the reservoir, there's space for wheelchairs, pushchairs and bikes, and there are open-top areas for lapping up the views. Prices start at £6.95 for adults.
14. Kielder Castle
Kielder Castle isn't the most impressive castle in Northumberland, but it's a decent place to visit if you're in the area. Once a hunting lodge, now a tourism center, it's quite attractive and majestic, but there are way better castles in Northumberland, so don't come to Kielder specifically to see it.
The inside of the castle is currently under renovation, and it won't be opening back up until 2022.
15. Explore the Minotaur Maze
This isn't anything special, but the Minotaur Maze is right next to the castle, and it's a fun little adventure for young kids. A small labyrinth built from rock, glass and mesh, it's a quick five-minute mystery. I've got no idea what it has to do with minotaurs.
For young kids visiting Kielder, there's also a Gruffalo Trail that goes through the woods.
16. Village Visits
The two villages that bookend the reservoir are Kielder (no surprises there) and Falstone.
Kielder is absolutely tiny, but it has a pub and a pretty village green.
Falstone is a bit bigger (although it's still also really small), and it sits just south of Keider's massive dam. Here, there are a tiny selection of places to eat, drink and sleep—and if you want to get a feel for how cute and cosy northern Northumberland villages can be, it's a great choice.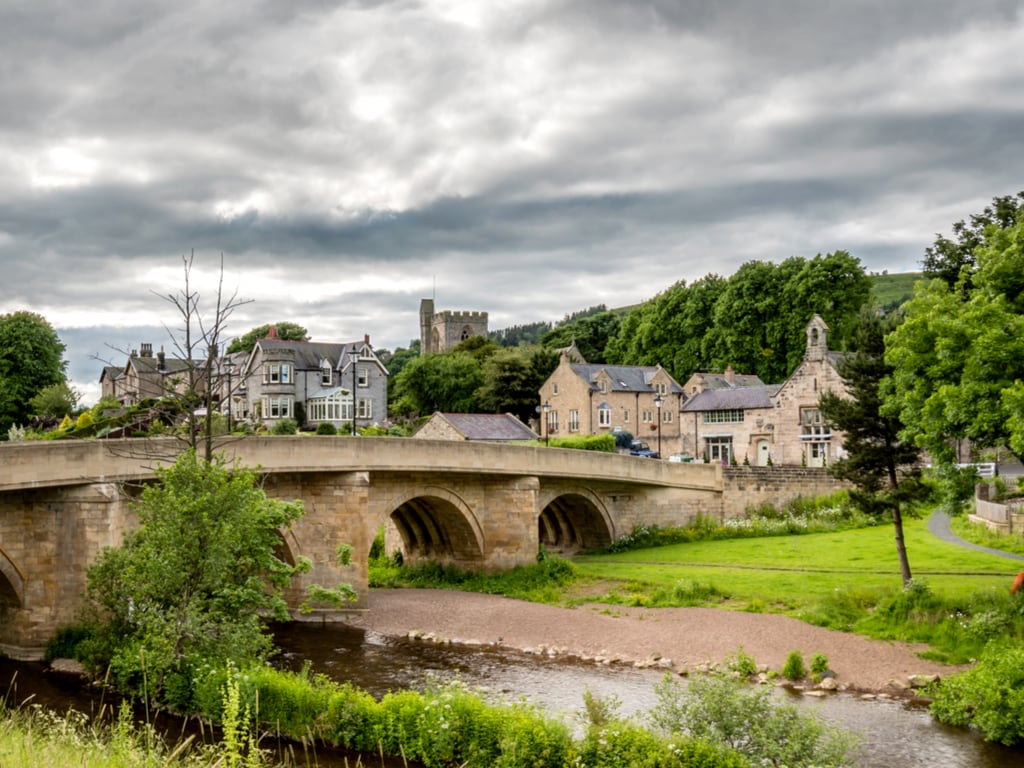 If you want to go even further, you can also visit places such as Bellingham, Otterburn, Rothbury, Alwinton, Harbottle and loads more. Check out my guide on the most beautiful villages and small towns in the area.
Kielder is also really close to the Scottish border, so it's an excellent access point for visiting southern Scotland. Most people visiting Scotland go to Edinburgh, The Highlands or the far north, but the border area is ridiculously underrated.
17. Other Active and Interactive Stuff
If you're looking for any other weird or wacky activities, Kielder has loads of them. Calvert Kielder offers stuff such as climbing walls, a zip wire, swings and a high ropes course, while Kielder Waterside has archery, crossbows, mini golf, pond dipping, sea scooters, segway excursions, body zorbs and loads more.
18. Relaxing and Recuperating
Like I said earlier, Kielder isn't just some barren wilderness – it's also home to cafes, public toilets and all those other conveniences that some people like. So if you just want a gentle stroll then eight bits of cake, you can have that at Kielder too.
You can find cafes and other conveniences at Leaplish Waterside Park, Tower Knowe Visitor Center, Kielder Castle and more.
Broadly speaking, if you want isolation, go to the northern side of the lake – but if you want a little more convenience, go to the south side.
Final Words
Thanks for reading our guide to all the stuff you can do in and around Kielder.
Want to know anything else about adventures in Kielder and Northumberland? We have articles on the best castles in Northumberland, the 20 most beautiful places in Northumberland and our ultimate guide to all the biking in Kielder.
We also have lots of articles on other beautiful areas in the UK, including guides on the best hikes in Scotland and the best cliffs in Scotland. Stick with us for much more!
Being a Digital Nomad: Tips, Tricks and Places
Do you want to be a digital nomad?
If you do, maybe you don't know where you might want to live. Or how to live there. Or whether you need a visa. Or how to make friends in the scary sprawl of a brand-new city. Or how to stay productive while you travel. Or how to find an apartment. Or whether this lifestyle really is for you. Or… I'm sure you get the idea.
But with some insight and experience, it's not as difficult as you think. So in this book, I've gathered my 6 years of digital-nomadding experience… and I've used it to answer all your questions, soothe all your fears, and get you on your way. After reading this, you'll realise being a digital nomad is much easier (and much more possible!) than you think.