15 Best Hikes and Walks in and around Glencoe
Some of Scotland's most impressive and iconic mountains are perched in and around the lovely valley of Glencoe. And considering how many mountains Scotland has, that's a pretty big boast.
One of the most beautiful parts of the nation, some people reckon Glencoe is Scotland's number one spot for hikes, lochs, mountains, countless brilliant trails and lots of lovely villages (including one that also goes by the name of Glencoe. Weird!).
So in this guide, we've brought you our favorite walks in the region, with a varied collection of the 15 best hikes in and around Glencoe.
Bring your hiking boots, you intrepid little explorers, cos this one might get steep!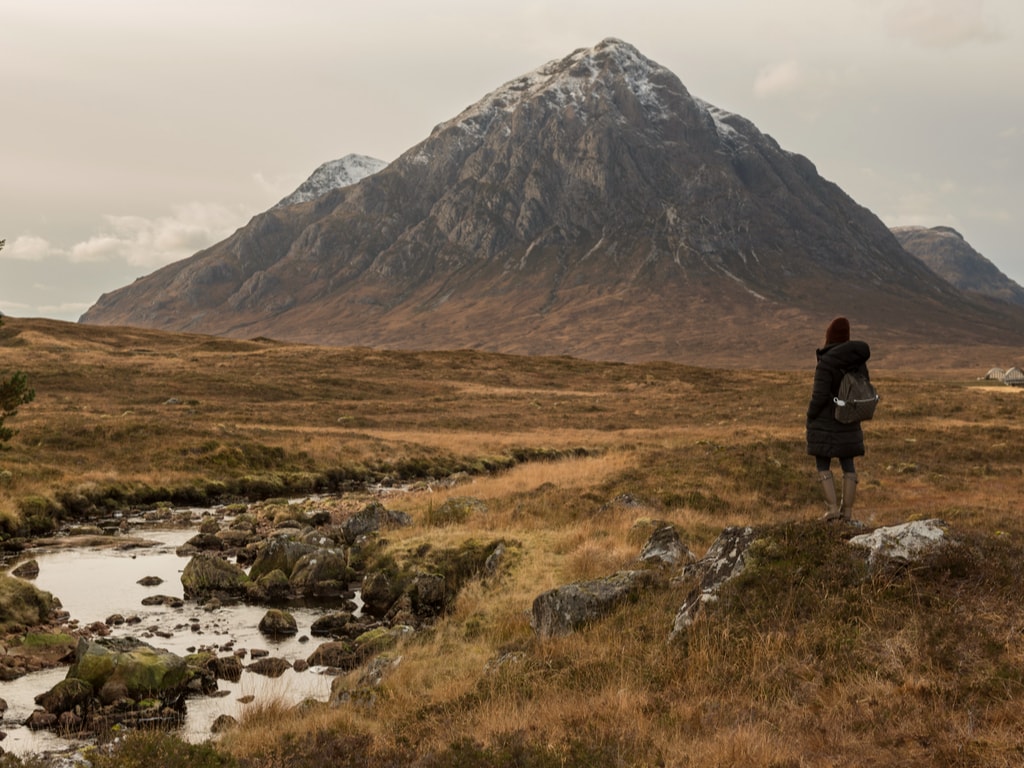 1. Brecklet Trail
A massively underrated wander, the Brecklet Trail isn't right in the heart of Glencoe's most famous stretches—but I honestly can't think of many walks that offer views this good for effort this little.
You head to Ballachulish, a little village just west of the settlement of Glencoe. From the Tourist Information Center in the village, take the waymarked trail above and through the old disused quarries.
Along the way, you get great aerial views of Ballachulish, and some lovely panoramas of the water-filled quarries. But the best part of the whole hike is the view of Loch Leven and the massive hills behind it. I reckon this is the best Loch Leven view you can get (controversial!).
Suitable for all abilities, you ascend a measly total of 116 meters (380 feet). But if you want an even easier walk in the same area, check out our next entry…
2. Ballachulish and Loch Leven
By far the easiest walk on our list, this is a mini wander along a tiny peninsula leading into Loch Leven, plus an optional stroll through the village of Ballachulish. While the previous entry took you above all the scenery, this one takes you amongst it.
To get the fun started, you want to park up at the Tourist Information Center in Ballachulish. Head north towards Loch Leven, to one of the prettiest sections of its shores. From here, walk in a little loop, taking in the entire peninsula.
When you're done, you can either head back to your car, or wander around Ballachulish. Made up of a small few houses, the pretty quarries, and some incredible mountain-backed scenery, it's a lovely place for a gentle stroll. Walks this easy aren't usually this beautiful.
If you're looking for short, simple and suitable for anyone, this is the best Glencoe option for you. It's basically all entirely flat.
3. The Lost Valley (Coire Gabhail)
More commonly known as The Lost Valley, Coire Gabhail is a great wander. A dense wooded valley that opens out into a massive scenic plateau, it's unlike most other walks in the area.
You start your adventure from the biggest car park on the A82 road leading through the valley of Glencoe.
From here, you head on a steep but steady wander, ticking off a total ascent of 335 meters (1,100 feet). You tackle some moderate scrambles through thick forests and rocky sections, before the plateau of the valley opens up in front of you. When you're done, retrace your steps to get back to where you started.
When you get to the valley's plateau, there are lots more paths leading to various peaks, passes and panoramas, some of which I've covered later in this guide.
If you prefer wooded walks to hilltop wanders, you'll love this one.
4. The Glen Lochan Trails
Northeast of the village of Glencoe, there are three small lochs (or 'lochans,' if you want to get all technical).
For a gentle but beautiful walk, you can wander around all three of them. This hike isn't as grand or challenging as most others on this list, but it's much more beautiful than most people expect.
Park up at the designated Glencoe Lochan car park, just outside of the village and north of the river. From here, go in a big circle taking in all three lochs. Along the way, you pass lovely lochside views, some of Scotland's most beautiful woodland, and great panoramas of Glencoe's mountain in the distance.
In any other place on the planet, this cute walk would probably be a big attraction. It's only overlooked because it's surrounded by so many other famous and challenging hikes.
5. Grey Mare's Tail
A short but steep walk, this route takes you to Grey Mare's Tail, one of the best waterfalls in the UK. It measures in at an impressive 50 meters (164 feet). Thunderous and fast, it's not a place for a dip, but it's a great picnic spot.
Start at the car park beside Kinlochleven's St Paul's Church, and follow the waymarked trail.
At first, the walk takes you on a wander through dense woods. After you pass the waterfall, the woods recede to give you great views of Kinlochleven (a cozy little town), close-by Loch Leven, and the Pap of Glencoe (another great summit which we'll come to later).
For all the great views and variety, this one is surprisingly easy—there's only 185 meters (607 feet) of total ascent, and it'll take you less than 3 hours (even if you're a slow walker).
If you're into waterfalls, you'll probably think this is the best hike in Glencoe.
6. Blackwater Reservoir
Pretty lengthy but still very achievable, this walk is a little different to most others we've featured on our list. Firstly, it heads east rather than south or west; and secondly, it has some interesting insights into the area's history and heritage
You kick things off by parking up in the Kinlochleven Visitor Center, before wandering past the waters of the hydro power station. You then follow the River Leven, which sits in a verdant wooded valley. Eventually, you hit waterfalls, little lochans, and the ruined remains of a Prisoner of War camp.
You eventually hit the western end of Blackwater Reservoir. Follow this bank for a little while before returning back to the car park on a path that heads east.
For a combo of trees, woods, distant mountains, industrial insights and largely-unexplored terrain, this wander is great. There's around 550 meters (1,804 feet) of total ascent.
7. Buachaille Etive Beag
Buachaille Etive Beag is one of my favorite hikes in Glencoe. It takes you across a jagged ridge to reach the heights of two summits: Stob Dubh and Stob Coire Raineach.
Park up in the designated car park (which is a little further east than the one you use for the Lost Valley trail). From here, walk towards and beyond the beehive cairn, then keep left on a well-maintained and easy-to-follow path.
You head steeply upwards for a little while before joining the lovely ridge that you'll follow for the rest of the ascent. From the peak of Stob Dubh, the view is absolutely phenomenal—I reckon it's one of the best views in the whole of Glencoe. Double-back for a little while before then pushing onto Stob Coire Raineach and even more great views.
If you want to explore a similar area but with a slightly easier challenge, check out the next entry on this list.
8. The Two Lairigs
While most of the hikes in this part of our list take you up to peaks and passes, this one circles the base of the hefty ridge of Buachaille Etive Beag.
Because of that, it's a little easier than most of the other big Glencoe wanders—you only tackle around 573 meters (1,879 feet) of total ascent.
Park up at the same car park outlined in the previous entry (on the A82 road, opposite the beehive cairn). You then head forward into the valley, and circle the giant ridge of Buachaille Etive Beag in a big loop. You'll eventually find yourself back on the A82 road, around 1 mile (1.5km) east from where you set off.
This is your archetypal valley walk, and the views are incredible. If you prefer being surrounded by mountains rather than being up them, this is the best hike in Glencoe.
9. Pap of Glencoe
In my opinion, this is the best hike in Glencoe.
Though it's not too lengthy, it's surprisingly difficult, and the top section is packed with tricky scrambling and some super-steep sections. It takes you right over the center of Glencoe, and to some unbelievably-good views of the whole area.
If you're a stubborn completionist, I recommend starting this one from the center of Glencoe village. Wander up the minor road to a car park (where you can also start the trail) before following the signpost dictating the direction of the walk.
From here, keep following the path for ever-improving views of the village and Loch Leven. When you reach the summit, you get outrageously good views of Loch Leven, along with lots of the peaks that surround it. On a clear day, you can even see Ben Nevis.
When you're done, retrace your steps to get back to where you started.
10. Bidean Nam Bian
One of the most famous mountain ranges in Glencoe, the multi-peaked hike around Bidean nam Bian is incredible. And if you attempt it, you choose to pass through the Lost Valley, ticking off two wanders from this list in one bumper walk.
Park up in the main car park on the A82 road, and follow the directions through and to the Lost Valley.
From here, keep pushing forward, and head to the peak to your left. Once you hit this peak, stop for views and a rest, then push on to the next summit (west of where you were). From here, follow the ridge back towards where you started. You'll ascend one more peak on your way back to your car.
I absolutely love this walk, and I totally recommend it. If you want challenging and difficult, it's one of the best hikes in Glencoe. You slog through around 1,320 meters (4,330 feet) of total ascent.
11. Ben Nevis
Okay, Ben Nevis isn't actually in Glencoe.
But it's super close to the area, and it's the biggest and most famous peak in the entire nation. With a summit measuring in at 1,345 meters (4,413 feet), it's a must-visit for any hiker in Scotland (even if, to be honest, it's nowhere near as beautiful as some of the nation's other ascents).
There are countless ways to get up this big boy. But the most popular route is the so-called 'Tourist Trail,' which takes hikers on the most accessible and easy-to-follow path. If that's the type of walk you're looking for, it's outlined here. A fun challenge, you pass a lovely loch, varied terrain, and great views of the other peaks in the region.
When you get to the top, be careful. This sprawling plateau is notorious—if it's misty and you're careless, you might get lost.
12. Buachaille Etive Mor
Buachaille Etive Mor is one of the most popular summits in Glencoe. Visible right from the side of the A82 road, it's a meaty behemoth, and it's a great hike.
Further east than both of the car parks we've already mentioned, there's a small layby opposite a white house. The big lump right in front of you, and right behind that white house, is Buachaille Etive Mor. You walk through a vast moor before tackling the steep but manageable ascent. The summit measures in at around 1,021 meters (3,351 feet).
It's one of the best hikes in Glencoe if you're keen to climb a mountain you can see right from the main road. Some of the peaks on this list are tucked away, deep in the valley. But this one looms right over the center of the road, so it's easy to access.
13. Garbh Bheinn
One of Glencoe's best under-the-radar hikes, Garbh Bheinn is brilliant.
While most of the popular Glencoe mountains are north of the A82 road, this one's south of that same road—so it's way quieter, way less-explored, and (arguably) much more interesting.
To get started, head east on the road running from Glencoe to Caolasnacon. Just after Caolasnacon, there are a small few places to pull in and park.
You then follow the path heading southeast, and the huge sprawl of Loch Leven stretches out behind you. Follow the rising ridge through boggy moorland. This walk and its views are similar to the Pap of Glencoe, but with slightly easier ground.
To return, you just retrace your steps.
If you're looking for a great high-level walk in the region, but without being surrounded by crowds, this is one of the best hikes in Glencoe. I love this area.
14. Aonach Eagach
If you're looking for a massively challenging (and frankly terrifying) one-day walk in Glencoe, you've found it.
Notorious for being the narrowest ridge on the UK's mainland, Aonach Eagach is a pretty harrowing adventure. You should only attempt this one if you're super confident with ridges, rocks and scrambling. You might even want to take a rope—it's genuinely really dangerous, and lots of people get in big trouble up here.
Just east of the main car park on the A82 road, there's another small car park on the north side of the road. From here, head briefly east before following the ridge heading northwest then west.
To get back to where you started, there's no public transport that I know of. But it's really easy to hitch a lift, so that's what I recommend.
For scary and adventurous, this is without doubt the best hike in Glencoe.
15. West Highland Way
Scotland's most famous long-distance trail, the West Highland Way is absolutely iconic. And for some of its northern stretch, it winds through lots of Glencoe's best parts.
Measuring in at a lengthy total of 96 miles (154km), it runs from world-famous Fort William all the way south to Milngavie, a small settlement just north of Glasgow.
It was officially established in 1980, and around 35,000 people tackle the route in its entirety each year. It takes in Loch Lomond & The Trossachs National Park, Glencoe, Ben Nevis, and plenty more—if you want to see lots of Scotland's highlights and most famous places, it's an excellent choice.
When most people are looking for a long-distance trail in Scotland, they choose this one, so it's always a good pick.
Final Words and Further Reading
There they are—the 15 best walks in and around Glencoe!
If you want any more information on exploring the outdoors in Scotland, rove on over to our guides on the best hikes in and around Edinburgh, Glasgow, Inverness, the Isle of Arran, and the Isle of Skye.
And if that's not enough, check out our guides on Scotland's best lochs, and Scotland's best road trips.
Thanks for reading, you absolute hero, and we'll see you next time!
Being a Digital Nomad: Tips, Tricks and Places
Do you want to be a digital nomad?
If you do, maybe you don't know where you might want to live. Or how to live there. Or whether you need a visa. Or how to make friends in the scary sprawl of a brand-new city. Or how to stay productive while you travel. Or how to find an apartment. Or whether this lifestyle really is for you. Or… I'm sure you get the idea.
But with some insight and experience, it's not as difficult as you think. So in this book, I've gathered my 6 years of digital-nomadding experience… and I've used it to answer all your questions, soothe all your fears, and get you on your way. After reading this, you'll realise being a digital nomad is much easier (and much more possible!) than you think.