15 Best Caves to Visit in the UK
I was born in the UK, and I've spent much of my life in and around the region.
Famous for hikes, hills, meadows, coastlines, fields, and farms, there's plenty of exciting stuff to explore in the area.
And that includes the murky depths of some cavernous caves… with plenty of them dotted around all four nations of the region.
So in this guide, I've brought you the 15 best caves to visit in the UK. Bring your headlamp and come join the fun!
Best Caves in the UK
1. Cheddar Gorge Caves – England
The biggest gorge in England, limestone ravine Cheddar Gorge is a whole load of different stuff, and it's packed with endless outdoor activities for people of all ages.
But because you're reading this list, you're probably most interested in the area's two caves, which are both super interesting.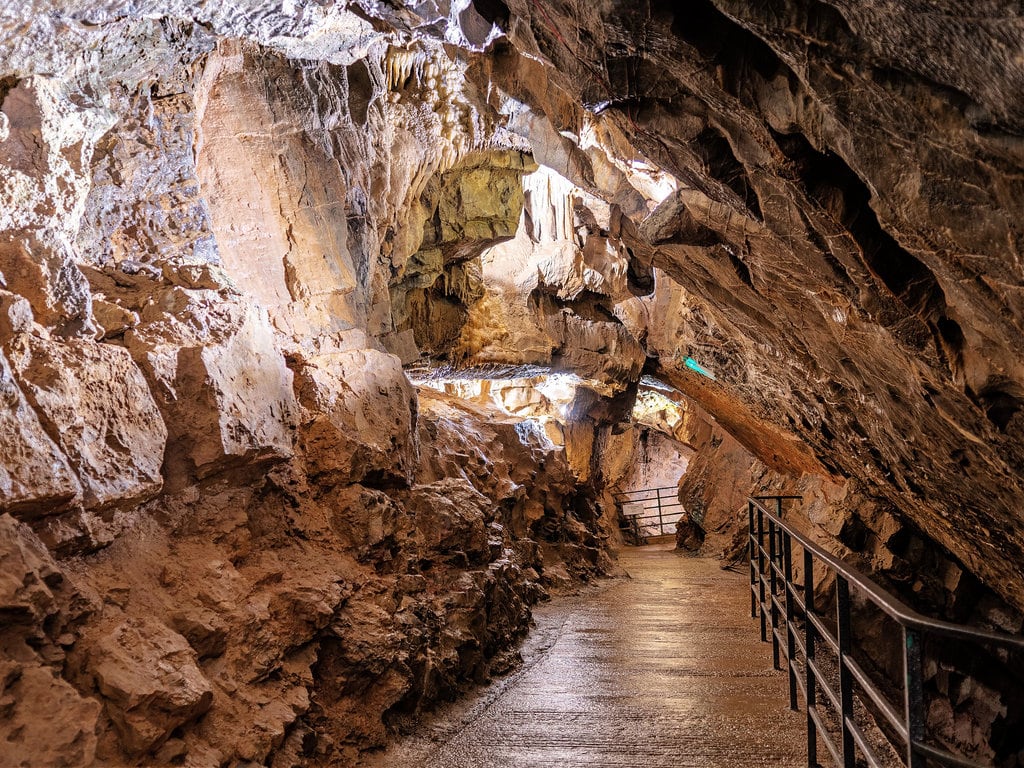 Gough's Cave is more than half a million years old and is brimming with otherworldly formations and strange ancient meeting rooms. Cox's Cave features a multimedia experience of videos, sounds, and flashing lights, and tells the compelling story of prehistoric man.
The cave-y complex also offers hiking, rock climbing, gorge climbing, viewpoints, adventure caving, and plenty more.
Sitting in the south of England, this place is close to both Bristol and Bath… so it's a great day-trip option from both of those cities. If you're traveling with kids or you're looking for lots of activities, this is absolutely one of the best caves to visit in the UK.
Opening Hours: 10 am until 5 pm, 7 days a week (except on some public holidays)
Family-Friendly? Yep. Because all activities are supervised and safe, there are lots of kid-friendly precautions. Some parts of the complex have an age limit
Recommended Tours? This excellent tour takes you to Cheddar Gorge from London (and partially includes some cave exploration, for an extra fee)
2. Smoo Cave – Scotland
One of my favorite caves to visit in the UK, this remote little beauty is in the far north of Scotland.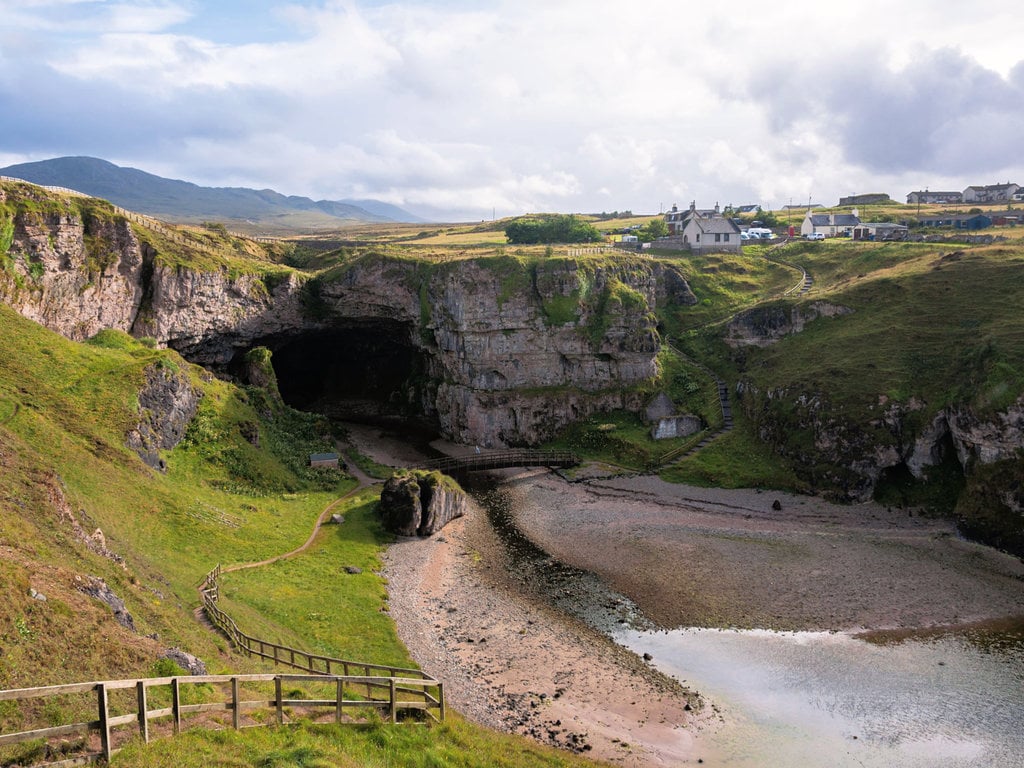 A dark and dramatic sea cliff complex, Smoo Cave lies just beyond the pretty little village of Durness. It has a massive mouth and contains a 25-meter (82-feet) waterfall. You can access the main mouth of the cave on a relatively short walk.
But it's best to see Smoo Cave on a tour. On these tours, you learn about the geography and geology of the place… but most importantly (and most fun!), you ride in a little boat to an interesting alternative access point.
Tour times vary according to weather conditions, so you typically can't book in advance—and no tours run at all between the 1st of November and the 31st of March.
A visit to Smoo Cave is a great little side trip if you're riding around the loops and lanes of the North Coast 500 road trip (which you absolutely should!)
Opening Hours: 24 hours a day, 7 days a week
Family-Friendly? Yes, but it can get very slippy—so wear good shoes, and make sure your kids are being sensible and safe
Recommended Tour? This one takes you to the cave and around the NC500 highlights, while these local tours take you to just the cave
3. Llechwedd Slate Caverns – Wales
If you're traveling with kids, they'll absolutely love this place.
Winner of the allegedly prestigious 'North Wales Tourism Attraction of the Year 2019/2020,' the Llechwedd Slate Caverns are located in the northern part of Snowdonia National Park.
An ancient rock quarry sitting deep under the region's mountains, these slate caverns were first plundered for resources back in the 1st century AD. Since then, they've been an important part of the region… and now they're an important tourist site.
Packed into the cavernous confines of the area, you get cave tours, truck rides, quarry visits, mountain summits, zip lines, Europe's steepest cable railway, and lots of insights into the history and heritage of the area.
If you have more time in and around Llechwedd Slate Caverns, I totally recommend exploring Snowdonia National Park—full of peaks, passes, and panoramas, it's one of the most beautiful places in the UK.
Opening Hours: 9 am until 5 pm, 7 days a week
Family-Friendly? Yes—all tours and experiences are great for kids. But some sections have age limits, and timid kids might find some of the experiences quite scary
4. Marble Arch Caves – Northern Ireland
Our first (and last) Northern Irish entry, the Marble Arch Caves are a fantastic collection of UNESCO-listed underground caverns… and they form one of the most exciting entries on our list.
There are various experiences on offer here—but the most exciting is Martel's Cave Tour, which offers a juicy combo of walking and boat-tripping. On this tour, you ride along an underground river, clamber through hidden passages, and see lots of cool formations. These experiences last around 75 minutes, and they're some of the most immersive cave tours the UK has to offer.
When you're done with all the caves, the complex also offers hikes, wildlife, and some great kid-friendly adventures and activities—and the surrounding area is packed with lakes, walks, and lots of outdoor adventures.
The Marble Arch caves are only open from March until September
Opening Hours: 10 am until 5 pm, 7 days a week (but it's only open from March until September)
Family-Friendly? Yeah, this place is great for kids—and because all tours are organized, it's super safe
5. Peak Cavern – England
Home to the biggest cave entrance in Britain, The Peak Cavern is unique and unusual in lots of ways.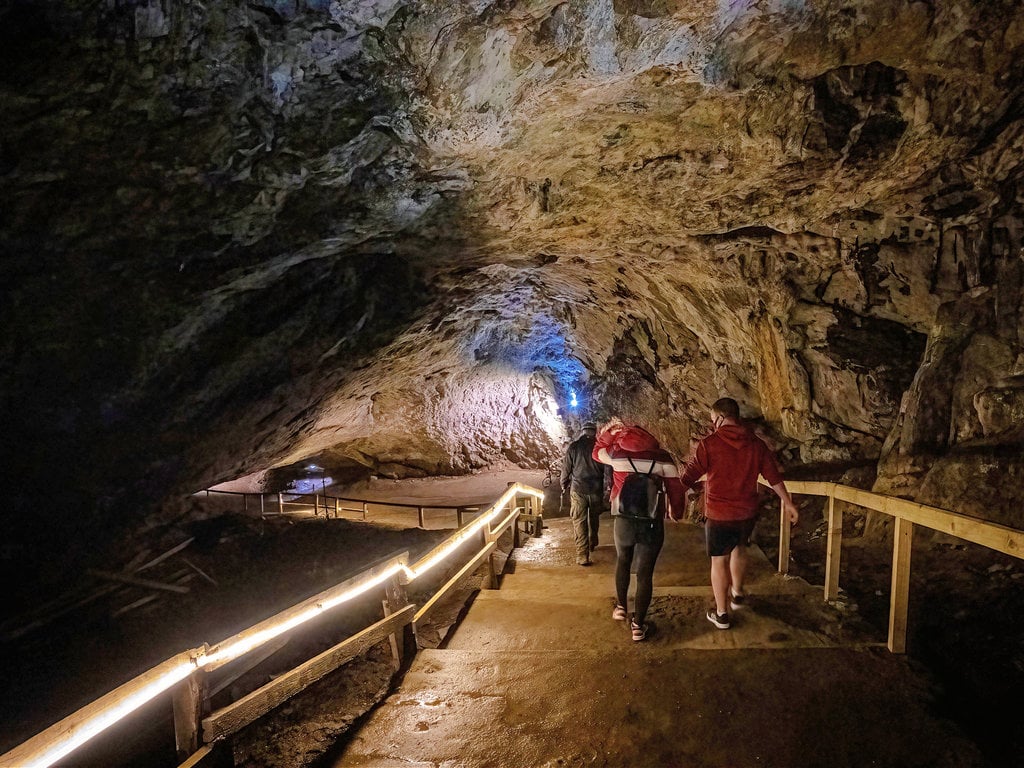 Sitting in Derbyshire, the cavern is part of the biggest cave system in the Peak District… and people still lived in these caves up until around 1915.
On a tour, you'll learn about the cave, the cave system, the people who lived here, their rope-making exploits (yep, seriously), and loads of other stuff. Make sure you also take a boat trip to Speedwell Cavern, a flooded subterranean lead mine that's part of the same system.
Because it has such a large mouth, the front of Peak Cavern is a pretty accessible place… and it, therefore, offers lots of cool events. Live music performances have been held here by Jarvis Cocker, The Vaccines, and loads of other big names—and they also host tribute bands, cinema screenings, and festive Christmas Carols.
Opening Hours: 10 am until 5 pm, 7 days a week (but in colder months, it's often closed on certain days… so double-check if you're visiting between November and March)
Family-Friendly? Yes, the caves and tours are very safe and child-friendly
6. Merlin's Cave – England
Located in the tourist haven of Cornwall, this is one of the most popular and well-known caves in the UK.
Sitting right beneath the lofty heights of Tintagel Castle, the lengthy cave measures at around 100 meters (330 feet). It forms a complete tunnel, so you can walk right from one end to the other (if you have a flashlight).
Named after the second-most famous wizard of all time (after Harry Potter), Merlin allegedly lived in this cave. And he would spend his time here learning how to cast spells or grow his beard, or whatever.
You can access the place by paying to enter Tintagel Castle. But if you're only interested in the cave (and not the fortress above it), you can get in for free—if you're here during low tide (and you should only come during low tide), you can wander in from the gaping hole on the beach.
Opening Hours: Open 24/7 (it's just a natural cave)
Family-Friendly? Absolutely—but it's dark, and has slippy sections… and make sure you don't wind up stuck in the cave during high tide
Recommended Tour? This fantastic 2-day tour takes you from Cornwall to Merlin's Cave (and lots of other excellent places)
7. White Scar Cave – England
The longest show cave in England ('show cave' is just a fancy name for a public cave that's easy to visit), White Scar Cave lurks on the southwestern tip of Yorkshire Dales National Park.
Measuring in at a massively impressive 6km (around 4 miles), the place (of course) offers the longest cave tours in Britain, and it's brimming with impressive stuff.
On the 80-minute tour, you'll walk for approximately 1.5 km (1 mile)… stumbling across a massive thunderous waterfall, lots of creepy and kooky rock formations, the so-called 'squeeze' (a narrow shuffle-through hole), and lots of strange sights and sounds. It's a really impressive tour, and popular with people of all ages.
You can't enter without a tour… but given the length and detail, these excellent experiences are surprisingly affordable.
If you're looking for more adventures when you're done, head to the nearby Ingleton Waterfalls Trail.
Opening Hours: Between February and October, it's open from 10 am until 5 pm, 7 days a week. During other months, it's open during the same hours, but only on weekends and during school holidays
Family-Friendly? Yes, though you should warn your kids that some sections of the tour are dark, dingy, and a little claustrophobic
8. Chislehurst Caves – England
Sitting on the outskirts of London, this place is different from most other caves we've featured on our list—and it's an excellently-accessible option for people who don't have much time to enjoy remote adventures.
A collection of intertwining man-made tunnels, Chislehurst's 'caves' aren't really caves at all.
But they're still super interesting. Carved out for hundreds of years (probably between the 13th and 19th centuries), these big boys measure in at around 35km (22 miles) in total, and they have a very storied history.
They were first used as chalk mines and flint mines… but that's just the beginning. The labyrinthine network has also been used for growing mushrooms, storing ammunition, filming TV shows, hosting concerts, and as a WW2 air raid shelter.
… and now, of course, it's a tourist attraction. On a 45-minute lamp-lit tour, you'll see murals, mannequins, carvings, and a whole variety of strange stuff.
Opening Hours: Open from 10 am until 5 pm, but only Wednesday to Sunday (though it's also open on most public holidays, and during any school holidays)
Family-Friendly? Yes, although it's a little creepy and claustrophobic (with some pretty strange mannequins)
9. Kent's Cavern – England
Located very close to Torquay, Kent's Cavern is situated along one of the prettiest parts of England's coastline (so it's surrounded by lots of great stuff).
A prehistoric cave system that once housed a big bunch of ancient humans (and lots of Ice Age animals) the place is billed as "Britain's oldest home".
On tours here, there's a big focus on all the prehistoric stuff, including tools, bones, teeth, and lots of 400,000,000-year-old rocks. There's also a spooky blackout section and lots of ancient (and interesting!) rock formations.
But aside from all that stuff, the cave complex also hosts other family-friendly adventures and activities. Highlights include woodland trails (with shelter-building, code-cracking, model animals, and real animals), and an interesting 'Stone Age Zone' (with lots of exhibits on the people and creatures who once lived in the area).
Opening Hours: Open year-round, 7 days a week, 10 am until 4:30 pm
Family-Friendly? Yes, there's lots of kid-friendly stuff on offer
10. Clearwell Caves – England
Sitting underneath the dense and diverse Forest of Dean, and very close to the England-Wales border, the Clearwell Cave complex offers some of the best caves to visit in the UK.
In the maze-like complex of ancient bat-ridden caves, you get 9 different caverns, a frozen waterfall, a 'skeleton pool,' and information on the miners who've worked here (and still do!) over the past 4,500 years.
If you're on the hunt for lengthy and adventurous tours, this place offers the best you'll get. Amongst other activities, they offer intense three-hour experiences where you go deep underground, reaching depths of 200ft (62 meters).
The complex is also home to interesting events and exhibitions, including stuff related to modern art, Dr. Who, live music, and the big-eared bats that live here.
When you're done in Clearwell Caves, you have loads more kid-friendly attractions in the area. Highlights include Perrygrove Railway and activity-packed Puzzlewood.
Opening Hours: Dependent on the time of year, and the tour you want… so always check in advance
Family Friendly? Yes, although some activities have age limits—and some of these experiences get very dark and dingy
11. Fingal's Cave – Scotland
The most remote entry on our list by a long way, Fingal's Cave is a mysterious and little-visited place. If you're looking for something really unusual, this is the best cave to visit in the UK.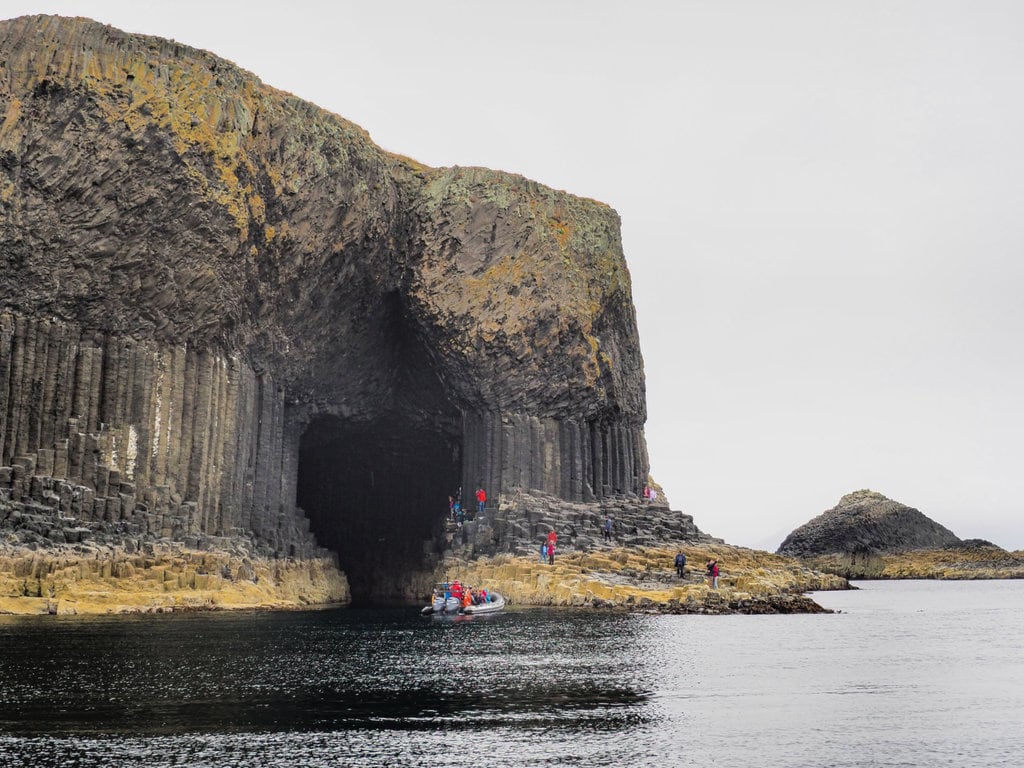 Off the west coast of Scotland (close to Oban), you have the Isle of Mull. West of the Isle of Mull, you have a tiny uninhabited island called Staffa.
And at the southern tip of the island of Staffa, you have the unique and otherworldly Fingal's Cave. Surreal and strange, you've probably never seen anything like this place. I know I definitely haven't.
If you come here during summer, it's one of the best puffin-spotting sites in the UK.
But it's also famous for the strange sounds it creates. Because of the cave's arched roof, the place amplifies, echoes, and adapts the noises of the waves that crash against it. Harmonious and haunting, this soundscape is like something you might hear in a cathedral.
Opening Hours: It never closes… but unless you have your own boat, you need to take a tour (the tours from Oban are the easiest to access)
Family-Friendly? Yes, but only if your kids aren't scared of boat trips
Recommended Tour? This incredible 4-day tour starts and ends in Edinburgh, and inexplicably crams loads of Scotland's highlights into a pretty short time. Fingal's Cave (of course) is one of the stops along the way
12. The Bone Caves – Scotland
The last Scottish entry on our list, the ominously-titled Bone Caves are a little different from most other places we've featured on this list. While most of the rest are mega-popular tourist sites, this is a tucked-away cavern in the middle of nowhere.
If you're looking for a remote and rural adventure, this is one of the best caves to visit in the UK. Sitting north of Ullapool, in the far west of Scotland, the Bone Caves are hidden up the heights of some limestone cliffs.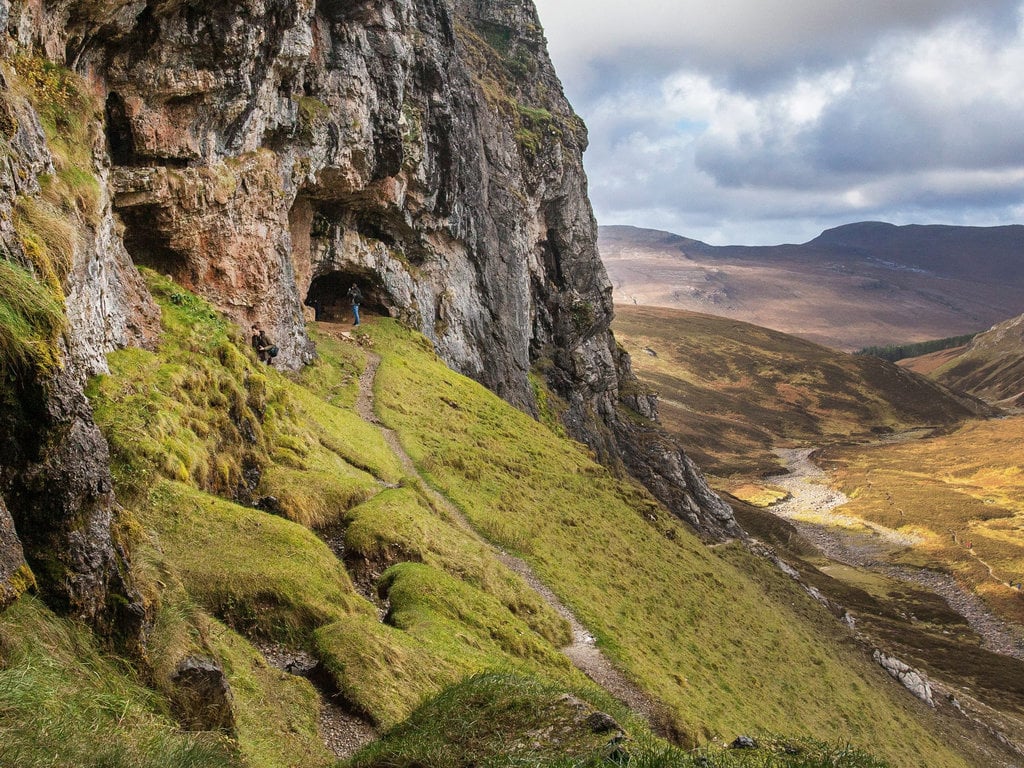 They're most famous as the site of a very important discovery. A century ago, two men were wandering around this cave when they found lots and lots of bones, including remains of wolves, lynxes, Arctic foxes, brown bears, and even a Polar bear. These bones provided proof that all these animals once lived in the region.
You can only visit the caves on a hike, via this excellent but easy stroll.
Opening Hours: 24/7 (it's just a natural cave)
Family-Friendly? Yes, although you need to walk to get here—so it's not suitable for small kids (or lazy kids)
Recommended Tour? This tour of the northwest Highlands takes you to the caves and lots of other excellent places
13. National Showcaves Center – Wales
The fantastic National Showcaves Center of Wales isn't just one cave. Instead, it's a bunch of different caverns, all sitting in a massive complex measuring in at around 10.5 miles (17km).
Three of them are open for visits. Between them, they offer strange formations, tiny tunnels, unusual waterfalls, human skeletons, ancient relics, and a whole load of interesting history.
One of the top attractions in the entire nation, the center also offers a museum, an Iron Age farm, fossils, shire horses, playgrounds, stone circles, mannequins, and over 200 life-sized dinosaur sculptures. And for serious cavers, they offer some pretty profound subterranean experiences.
For lots of excitement and adventures (and endless kid-friendly fun), the National Showcaves Center of Wales houses some of the best caves to visit in the UK.
Opening Hours: Specific opening times depend upon the time of year, and the particular experiences you want to explore—so always check in advance
Family-Friendly? Yes, this place is fantastic for kids of all ages
14. St. Cuthbert's Cave – England
St. Cuthbert's Cave is in Northumberland, pretty close to where I was born. So it's mainly on this list because I'm very biased and I have no reasonable sense of perspective.
This one doesn't look particularly special, but it has an interesting history, and it lies along one of my favorite long-distance walks. One of the most famous sites along the multi-day St. Cuthbert's Way, this cave is surrounded by pretty fields, distant peaks, and a whole load of remote rurality.
It's named after St. Cuthbert (which you probably had the mental dexterity to work out for yourself), a significant Anglo-Saxon Saint from the 7th century.
After he died, a bunch of monks carried his corpse across the country. During their travels, one story has it that they briefly stopped here with his body, because he once lived in the cave.
There's not a whole load to do here, but it's a serene place to walk, wander, and munch on a picnic.
Opening Hours: 24 hours a day, 7 days a week
Family-Friendly? Yes—your kids will enjoy the small climbs and the gentle walks
15. Marsden Grotto – England
Also close to where I'm from, it's another biased entry from a very biased man.
Even if I wasn't hugely prejudiced, Marsden Grotto is great—it's really unique and unusual, and it's different from pretty much every other entry on this list.
While all the other places we've featured are adventure spots, this is… a restaurant and hotel! Look for yourself!
But it's not as banal as it sounds. Built into the side of a seacliff, the inside of this place looks like a weird medieval banquet hall, and it's accessible via the kooky confines of a strange elevator.
And it has an interesting history… the place was blasted into the rocks because an 18th-century couple wanted to create their own rent-free home. Eventually, it then became a smuggling spot, an inn, and a den of criminals.
When you're done eating and drinking, have a wander along the cliffs here. This is one of the prettiest areas of the northeast coast.
Opening Hours: 10 am until 10 pm, 7 days a week
Family-Friendly? Yes, but it's a bit boring for younger kids (although, admittedly, it's much more exciting than a standard restaurant)
Frequently Asked Questions About Caves in the UK
How many caves are in the UK?
According to the UK Caves Database site, there are around 150 caves that measure in at least 1 kilometer (0.6 miles) log or at least 60 meters (197 feet) deep.
But sadly, that's an impossible question to answer precisely.
Some UK caves are untouched, others are probably undiscovered, and many sources vary widely in their response to this question.
Also, what is and isn't a 'cave' isn't exactly clear. When does a hole in a rock become a cave? How big can a hole in a rock be before it becomes a cave? And how many more hypothetical questions can I squeeze out of this tricky dilemma?
Even the UK caves database site doesn't really know how many caves there are in the UK. So that's about the best information I can give you, without trawling around the UK for decades in a hardhat. Sorry.
What is the deepest cave in the UK?
The deepest cave in the UK is the strangely-titled Ogof Ffynnon Ddu (which, as you probably guessed from the name, is Welsh). It has a massively impressive depth of 274.5 meters (901 feet), and it contains approximately 50km (31 miles) of paths and passageways.
Because of that hefty length, it's also the second-longest cave in Wales.
Its name translates to 'cave of the black spring,' and it sits in south Wales (inside the beautiful Brecon Beacons National Park).
It was discovered in 1946… and in 2021, it was the site of one of the longest cave rescues ever undertaken in the UK (source). Spooky.
What is the biggest cave in the UK?
That depends upon what exactly you mean by biggest.
As we've already covered, the deepest cave in the UK is Ogof Ffynnon Ddu. Again, it measures 274.5 meters (901 feet), and contains approximately 50km (31 miles) of passageways.
The UK's longest cave system is the Three Counties System, which sits in the valley-packed funfest of the Yorkshire Dales. It has a massive 86.7 km (53.9 mi) of passageways, and it's made up of several different systems, all connected to one another.
The longest show cave in the UK is White Scar Cave, which we've featured on this list. Also in Yorkshire Dales National Park, it has a length of around 6km (4 miles).
The biggest natural hole in the UK is Hull Pot, a collapsed cavern that's basically a big ol' hole in the ground. It's 300 feet (91 meters) long, 60 feet (18 meters) wide, and 60 feet (18 meters) deep. Again, it's in Yorkshire Dales National Park!
Are there any unexplored caves in the UK?
Yes, there are a huge number of unexplored caves in the UK.
And because lots of caves are underground, there's a good chance that many of the UK's caves haven't even yet been discovered.
In this article, UK caving expert Andy Sewell estimates that around 60 miles (96km) of known UK caves remain unexplored… and many more are probably completely undiscovered.
Because caves are (of course) underground, it's impossible to know how many there may be… and some may remain unexplored (and undiscovered) forever.
So who knows who many unexplored caves there might be in the UK? I certainly don't. And neither does Google, apparently.
Before You Go
And after all that scrambling and spelunking, we've crawled and clambered our way to the end of our guide on the 15 best caves to visit in the UK.
For more UK-based natural beauties and adventures, check out our guides to the 10 biggest forests in the UK, the 15 best botanical gardens in the UK, standing stones in the region, and the top 19 reasons to visit the area.
Thanks for reading, and we'll see you again soon!
Being a Digital Nomad: Tips, Tricks and Places
Do you want to be a digital nomad?
If you do, maybe you don't know where you might want to live. Or how to live there. Or whether you need a visa. Or how to make friends in the scary sprawl of a brand-new city. Or how to stay productive while you travel. Or how to find an apartment. Or whether this lifestyle really is for you. Or… I'm sure you get the idea.
But with some insight and experience, it's not as difficult as you think. So in this book, I've gathered my 6 years of digital-nomadding experience… and I've used it to answer all your questions, soothe all your fears, and get you on your way. After reading this, you'll realise being a digital nomad is much easier (and much more possible!) than you think.