15 Most Beautiful Hikes & Walks in and Around Inverness
If you like hiking, Inverness is the best city base in Scotland.
Perfectly located for exploring the Highlands, it's got close proximity to some massive peaks and panoramas, it's right beside Cairngorms National Park, and it's the start (and end) point for the absolutely incredible North Coast 500.
So in this guide, I've brought you the 15 best hikes in and around Inverness. I've covered multi-day trails, gentle jaunts, massive challenges, and everything in between—whatever you're looking for, I've already found it.
Come with us as we explore the top 15 hikes in and around Inverness. Get those boots laced, pack some snacks, and hurry yourself up—we're just about to leave!
Multi-Day Hiking Trails in and Around Inverness
1. The Loch Ness 360
As you've probably worked out, this long-distance route takes hikers around the entirety of Loch Ness. If you have time for it, it's the best way to explore the loch, without exception.
Starting and ending at Inverness Castle, the Loch Ness 360 has an overall ascent of around 3,000 meters (9,834 feet), and takes you to all the lochside places you've heard of, along with plenty you haven't.
Some stretches are right on the shore of the loch, but most parts are relatively high above it, so you get brilliant views of the loch along the length of the walk.
Pro tip: if you don't want to do the whole trek, you can instead hit the South Loch Ness trail, which runs along only the southern shore of the loch. Obviously, that makes it around half the length of the full route. Equally, if you only want to tackle a short day-walk around Loch Ness, you can do a small section of the Loch Ness 360—I'd do one of the six routes listed here.
2. The Great Glen Way
The northern part of the Loch Ness 360 shares a path with the Great Glen Way, another brilliant long-distance trail. It runs all the way from Inverness to Fort William, the two most famous settlements in the Scottish Highlands.
A coast to coast trail measuring in at 78 miles (125km), it's an absolutely incredible insight into this part of the Highlands. You pass endless iconic places, including Ben Nevis, Loch Ness, Loch Oich, Loch Lochy, the Caledonian Canal, and plenty more.
For pretty much the whole duration, you walk along the most famous and iconic glen (that's a valley, if you're not used to all the Scottish slang) in the entire nation.
Surprisingly, the whole hike is relatively flat, easy and accessible, with 1,835 meters (6,020 feet) of total ascent, so it's a great option if you want a long-distance walk without too much of a challenge. If that sounds too easy, there's a high-level option between Fort Augustus and Drumnadrochit, which makes things a bit more difficult.
3. The Moray Coast Trail
The Moray Coast Trail is absolutely beautiful. If you're looking for a long-distance coastal walk near Inverness, this is it.
Stretching from Forres to Cullin, I reckon it's the best long-distance walk on our list. And because it measures in at only 50 miles (80 km) of almost entirely flat ground, it's possible to tackle it in 3 or 4 days.
This part of Scotland's coastline is ridiculously underrated. Along the way, you get jagged cliffs, peaceful beaches, hidden bays, famous lighthouses, and some of my favorite coastal towns and villages in all of Scotland. And if you're lucky, you might even see bottlenose dolphins (the Moray Coast is one of Europe's top locations for spotting them).
Best of all, these beaches, cliffs, coves and towns are way quieter than some of Scotland's others.
Easy Single-Day Hiking Trails in and Around Inverness
4. Culloden Battlefield and Clava Cairns
Two of the most significant historical sites near Inverness, this is a great hike for history buffs (but if you're not into all that stuff, you'll probably find it really boring).
Culloden Battlefield was the site of the last battle in the Jacobite Uprising (back in 1746), while Clava Cairns is a bunch of prehistoric burial cairns.
If you want to visit them both via this walk, you need to park up at the Culloden Woods car park. From there, you walk through woods, forests, fields and farms on a nothing-startling-but-surprisingly-pretty stroll. The full route is described here. For a combo of an easy but long walk and some interesting and varied historical insights, this is great.
The start of the walk is only 4 miles (6.5km) from Inverness. You can drive, or take one of the 1, 3 or 3A buses. Or if you can be bothered, and you just can't get enough of hiking, I suppose you could even walk.
5. River Ness and Caledonian Canal Circuit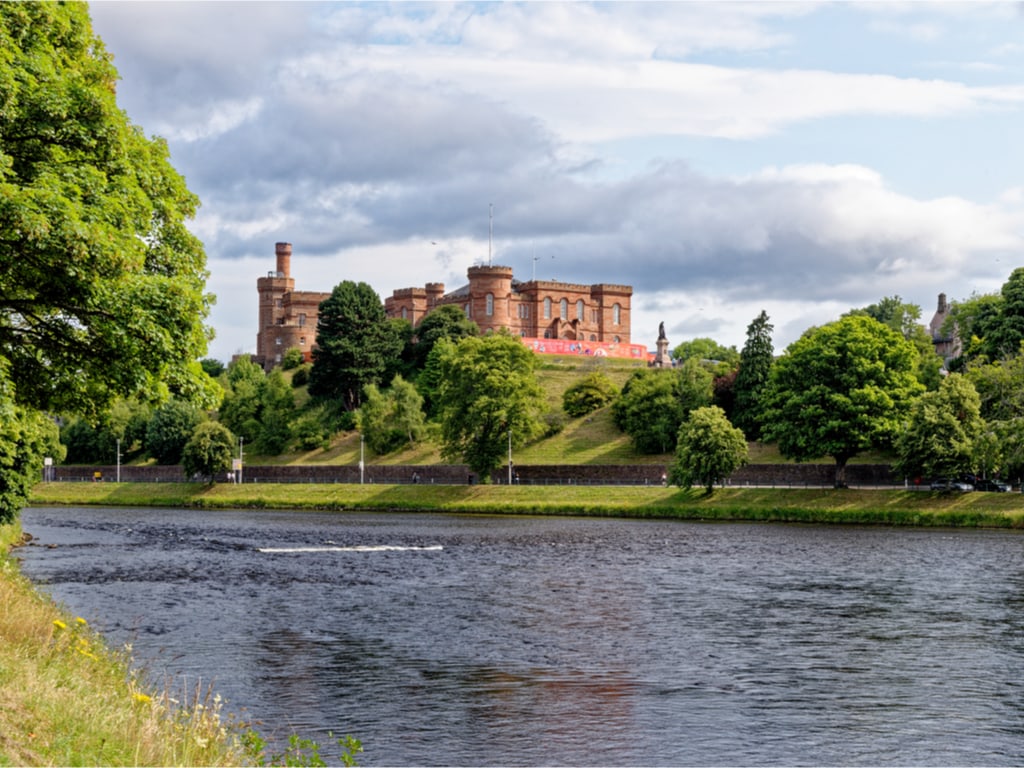 If you want a pretty easy wander that starts right from the middle of Inverness (instead of having to drive or take a bus or whatever), this is the walk for you.
Starting right on the main street in Inverness (High Street), you follow the River Ness and the Caledonian Canal, passing some of the city's most iconic sights along with some under-the-radar areas. Clocking in at a relatively lengthy 7.25 miles (11.5km), it's a great alternative way to see the city.
Along the route, you see Inverness Castle, Muirtown locks, distant hills, a couple of the Ness Islands, and a small part of the Great Glen Way.
Here's the full route, described in much more detail. Though it's pretty long, it's all really flat, so it's suitable for basically everyone.
6. Fairy Glen, Rosemarkie
Not to be confused with the Fairy Glen on the Isle of Skye, Rosemarkie's Fairy Glen is a pretty woodland area home to two cute waterfalls.
If you're into big walks with big sights, you might find this one a bit boring. But if you're looking for a relaxing walk with your family, or your dog, or a big stack of sandwiches, it's a nice gentle stroll.
Starting from the designated car park, walk through the glen, past loads of flowers and trees, and to both the falls (they're actually a pair of twin falls, so is that two falls or four? I don't know). They plunge down into little pools, so take your swimsuit and go for a dip.
The place is also an RSPB bird reserve, so bring your binoculars. There's a good chance you'll see buzzards, bullfinches, thrushes, and plenty more.
To get to the car park by car, drive 30 minutes north of Inverness. If you're using public transport, you can take either the 26 bus or the 26A bus, both of which take you right to the start of the trail. Convenient!
7. Craig Phadrig
Another short jaunt, this is another simple and easy option.
Hilly forest Craig Phadrig, just on the outskirts of the city, is home to an ancient hillfort. Experts say it was built around 300 years before Jesus was born, and they get all excited about it. I reckon it just looks like a flat bit of land surrounded by trees, but I'm not an archeologist.
For me (and probably you, since you're reading this post), the real highlight here is the wander up to the fort. En-route and up top, you get excellent views of the Beauly Firth, the sort-of river that separates Inverness from the Black Isle.
To start your walk, you only need to go very slightly outside of the city, to the Leachkin Brae car park. It's around a 15-minute drive, or a 45-minute walk, or you can take one of the 2, 3 or 3A buses. Follow the path leading from the far end of the car park, which takes you up to the peak (and then return to the car park in a loop).
8. Ord Hill
Ord Hill is just over the river from Inverness, so it's another great option if you don't want to wander far for a hike.
Perched just over the Beauly Firth, I reckon it's the best viewpoint in the area. It overlooks Inverness and the water separating the city from the hill's ridge. I massively recommend this one—the walk is easy but the views are incredible.
Head to the Ord Hill car park, just off the major A9 road. Here, there's a map of the hike, which outlines where to go. Follow the forested trail, and you'll get some surprisingly brilliant views of Kessock Bridge, Inverness, the Beauly Firth, and lots of hills and mountains in the distance.
The viewpoint is an absolutely perfect spot for a picnic; it's a great place to come with kids, older people, or on a romantic wander.
The car park is a 15-minute drive from Inverness, but there's no convenient public transport servicing the route.
9. Plodda Falls
One of the most impressive waterfalls in the UK, Plodda Falls is a popular place for a family stroll. Measuring in at around 46 meters (151 feet), they tumble powerfully down a big ol' face of sheer rock.
Best of all, the pretty walk to reach them is short, easy, and suitable for all abilities.
Start from the designated Plodda Falls car park before following the green and white markers downhill past some absolutely massive fir trees. You'll pass a charming cottage and a tiny stream before reaching the bottom of the falls. From here, walk up to the top of the cascade before circling back to your car.
The falls are around one hour from Inverness by car. If you're using public transport, it's not worth the hassle.
Pro tip: if you like wild swimming, do it here. There's an absolutely perfect plunge pool.
Challenging Single-Day Hiking Trails in and Around Inverness
10. Cairngorm and Ben Macdui
The biggest national park in the UK, Cairngorms National Park is brimming with peaks, passes and panoramas.
From Inverness, it's possible to tackle loads of the area's hikes. But a challenging clamber up both Cairn Gorm and Ben Macdui is the one I recommend—you hit two of the biggest mountains in the UK in one big bumper day (Ben Macdui ranks at number 2, while Cairn Gorm ranks at number 6).
It's best to start from the Cairngorm Ski Center, which sits at a pretty decent altitude, making the hike a bit shorter and easier. You'll hit Cairn Gorm pretty quickly, then it's a much longer walk to Ben Macdui. There are around 930 meters (3,051 feet) of ascent in total.
The paths are usually pretty well-worn, so you shouldn't get lost. But lots of people underestimate how remote this walk is, and how misty it can get (spoiler alert: really misty). So make sure you carry a map.
The Ski Center car park is around 43 miles (69km) from Inverness. It's possible by public transport, but I don't think it's worth the hassle.
Pro tip: if you want to make this walk even longer, go down to Loch Avon on your way from Cairn Gorm to Ben Macdui. Beautiful, serene and tucked away, it's one of my favorite lochs in Scotland.
11. Loch Affric Circuit
One of the best lochs in Scotland (and one of my favorites), Loch Affric is pretty hefty, with a lengthy perimeter of around 8 miles (13km).
The best way to explore it is by walking around the entire thing. An absolutely beautiful hike, you get endless loch panoramas, lots of sparse woods, and incredible views of the mountains dotted around the loch. This one's a photographer's dream—loads of snap-happy Kodak-clutchers tackle this walk to get shots of the mountains reflected on the surface of the loch.
For some short sections, you're right on the edge of the loch; but the majority of the time, you're slightly above its shores, with excellent views of the area. Walks this flat usually don't have views this good.
The designated car park where you start your hike is a one-hour drive from Inverness. There's no public transport to the car park.
12. Meall Fuar-Mhonaidh
This weirdly-named mountain is much less famous than it should be, but it's a lovely wander.
If you've been to Loch Ness, and noticed a big mountain somewhere between Invermoriston and Drumnadrochit, that's Meall Fuar-Mhonaidh. You get the best possible panoramas of Loch Ness from up here, the biggest mountain close to the loch.
With an elevation of 699 meters (2,293 feet), it's a relatively big boy, but it's suitable for anyone with hillwalking experience.
To walk up it, find the car park in Balbeg. From here, follow the sort-of-signed path following a stream, through some woods, and along a ridge. When you're done, come back exactly the same way.
The car park is around 30 minutes from Inverness by car. You can't reach it with public transport.
Fun fact: translated from Gaelic into English, the name of Meall Fuar-Mhonaidh means 'cold lump of mountain.'
13. Findhorn to Lossiemouth
If you don't want to tackle the entirety of the Moray Coast Trail (a multi-day walk listed in the first section of this guide), wander from Findhorn to Lossiemouth instead—I reckon it's the best part of the entire long-distance route.
If you're looking for a coastal day hike close to Inverness, this is it. It's pretty lengthy (measuring in at around 18 miles/30km), but it's absolutely worth it. Along the way, you'll see a massive amount of varied stuff, including harbors, sailboats, dunes, tank traps, red squirrels, forests, beaches, birds and bays. I especially love the second half, with its jagged caves, hidden coves and alluring waters.
Lossiemouth is a great place to finish your hike. One of my favorite coastal towns in Scotland, it's cute and charming, and everyone loves it. Full of beaches, day-trippers, ice cream and fish and chips, give yourself time to enjoy the place. I would spend the night.
To get back to Findhorn, you'll need to take two buses, probably changing at Elgin. Or you could hitchhike instead—it's really easy in Scotland.
14. Carn Eige and Mam Sodhail
Close to Loch Affric, both Carn Eige and Mam Sodhail are excellent ascents. They both measure in at just under 1,200 meters (3,900 feet)—and because they're so close to one another, if you're gonna do one, it makes sense to do both.
If you're looking for a massive physical and mental test within driving range of Inverness, this is one of the best.
The most popular way to tackle the two peaks (and the only way I've done it) is by parking up on the northern shore of the western part of Loch Beinn a Mheadhoin. You then follow a stream for a while before clambering up both mountains (Carn Eige first, then Mam Sodhail later) by traversing a loop-like set of tricky ridges.
You get brilliant views of Loch Affric, Loch Beinn a Mheadhoin, and loads of nearby mountains.
Measuring in at around 17 miles (27km), and with around 1,700 meters (5,600 feet) of total ascent, it's a hefty affair, but it's absolutely worth it.
15. The Five Sisters of Kintail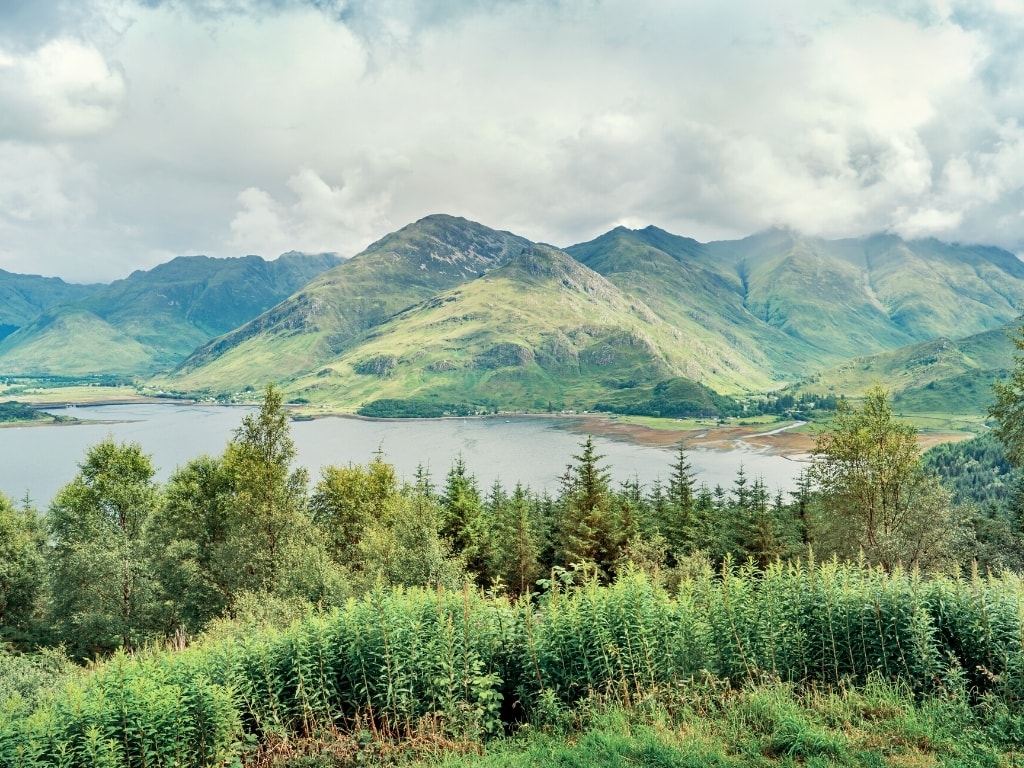 Okay, this one's pretty far from Inverness, but it's totally worth the drive.
A massive (and massively challenging) ridge walk, it's one of my favorite hikes in Scotland. Some days, depending on how I'm feeling, I might even tell you it's my absolute favorite.
Situated near Loch Duich (close to where the mainland meets the Isle of Skye), the whole hike measures in at 9.5 miles (15.5km), and you tackle a total ascent of 1,385 meters (4,545 feet).
Along the way, you hit five separate summits (which is why it's called the Five Sisters of Kintail), and get excellent views of Loch Duich and countless distant peaks. The entire walk is along a precarious ridge running from Glen Shiel car park to the tiny (and charming) village of Allt a chruinn. It's usually a pretty misty wander.
Be warned: it's pretty challenging, with some scrambling and scree. But if you're an experienced hillwalker, you'll be fine—just take your time.
When you get to the end of the hike, it's easy to hitch a lift back to where you started.
Final Words and Further Reading
So, there they are—the 15 best hikes in and around Inverness. Thanks for reading, you beautiful person.
If you want to explore more wonderful wanders in Scotland, check out our guides to the best hikes in and around Glasgow, the best hikes in and around Edinburgh, the best hikes in Scotland, and the best coastal walks in the nation.
And for more Inverness-based adventures checkout my guide on the best road trips from Inverness.
See you next time!
Being a Digital Nomad: Tips, Tricks and Places
Do you want to be a digital nomad?
If you do, maybe you don't know where you might want to live. Or how to live there. Or whether you need a visa. Or how to make friends in the scary sprawl of a brand-new city. Or how to stay productive while you travel. Or how to find an apartment. Or whether this lifestyle really is for you. Or… I'm sure you get the idea.
But with some insight and experience, it's not as difficult as you think. So in this book, I've gathered my 6 years of digital-nomadding experience… and I've used it to answer all your questions, soothe all your fears, and get you on your way. After reading this, you'll realise being a digital nomad is much easier (and much more possible!) than you think.