Best Cliffs in Scotland: Top 13 Most Breathtaking Scottish Cliffs
Scotland is brimming with craggy cliffs and vertiginous shoreside outcrops.
One of the most underrated beach destinations on the planet, Scotland is full of excellent shoreline landscapes, with lots of precipitous panoramas. And it's all varied stuff – you don't just get normal old boring cliffs, you get caves, overhangs, natural arches, strange formations and a whole load of brilliant views.
In this list, we've included mainland cliffs, remote island overhangs, outrageously faraway formations and plenty more.
Hope you've packed some good shoes, cos today we're exploring the best 13 cliffs in Scotland…
1. Duncansby Stacks
I'm kicking things off with (probably) the most famous entry on our list.
You've all heard of these cliffs, or at least John O'Groats, the village very close to them.
John O'Groat's is famous as the most northeasterly point of mainland UK, and lots of people drive, walk or cycle between here and Land's End (the most southwesterly point of mainland UK) as a challenge.
But if you venture just a little further east of the village, you'll find Duncansby Head and Duncansby Stacks. The former is a lonely, humble lighthouse, while the latter is part of a cliff-packed promontory with pointy stacks, crashing waves and lots of hashtags on Instagram.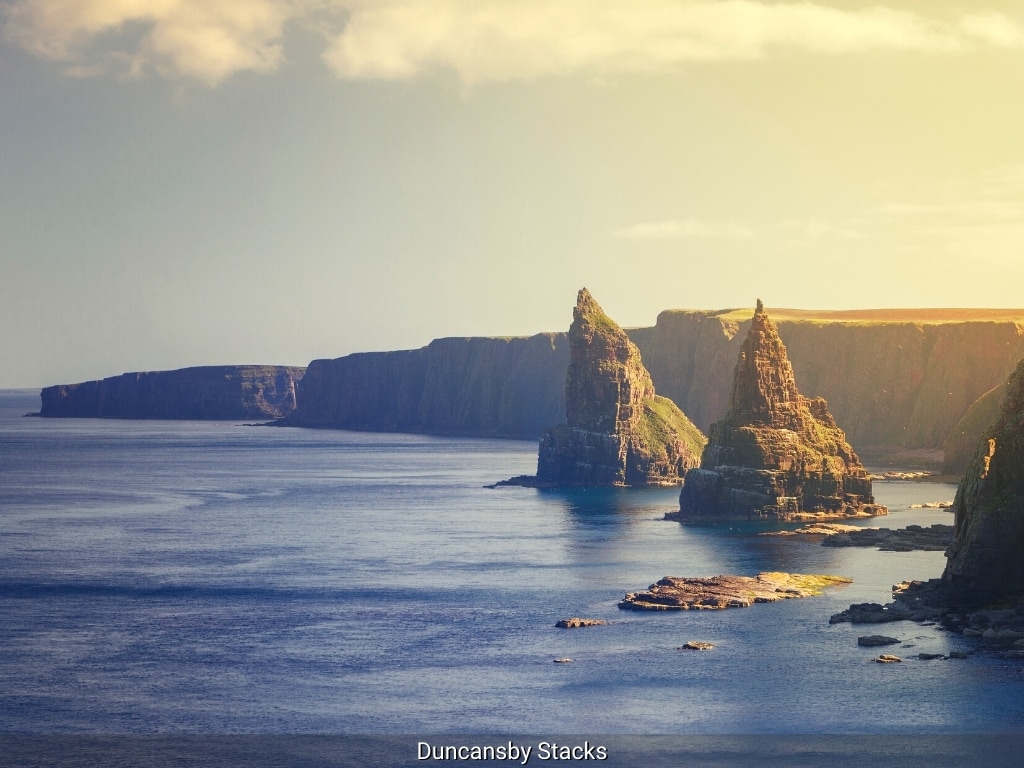 These two crumbling, jagged stacks rise around 50 meters from the sea, separated from the on-land cliff face beside them.
If you want to properly explore the area, there's a popular, easy coastal hike which includes the town, the stacks and the lighthouse. It's 8km, it takes 2.5 hours and it's one of the best well-known coastal walks in Scotland.
When they've been to John O'Groats, lots of people think they've been to the most northerly point in Scotland. But they haven't. That accolade actually belongs to…
2. Dunnet Head
The most northerly point in mainland Scotland (and mainland UK), Dunnet Head is less well-known than its Duncansby neighbor, but it's still pretty popular with locals, tourists and North Coast 500 road trippers.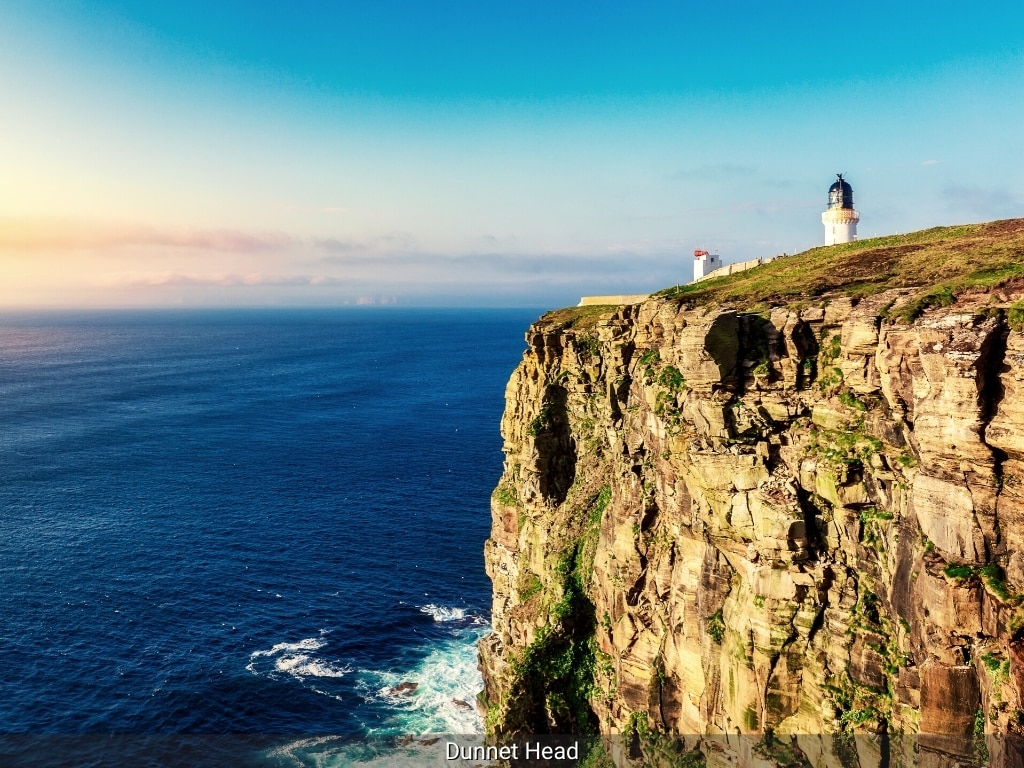 No matter why they're visiting Dunnet Head, you'll always find people clambering around on these gigantic cliff edges, desperate to seek out the best view they can.
Again, Dunnet Head is the name of the lighthouse, but the limestone cliffs around it are excellent, packed with birds, 100-meter sheer drops and nice places for a stroll. If you get a clear day, you can see the Orkney Islands ahead of you, a rugged archipelago off the north east coast of Scotland. But more on those later, as they're one of the best cliff-hunting destinations in Scotland.
If you fancy a lengthy walk, you can complete a near-perimeter loop from Dunnet village to Dunnet Head, taking in the cliffs, the lighthouse and almost all of the lumpy headland. The entire loop is a hefty 17km.
3. Whaligoe Steps
Another cliffside attraction along the North Coast 500, the Whaligoe Steps are probably the strangest entry on this list. If you're only gonna visit one of these places, consider this as your sole pick.
Lying between Wick and Lybster on the east coast of Scotland are more than 300 18th-century man-made steps, which descend directly down a cliff face and offer access to one of the world's most secluded, hidden harbours. It's an descent of around 80 meters, and trundling down the steps is an infamously odd experience.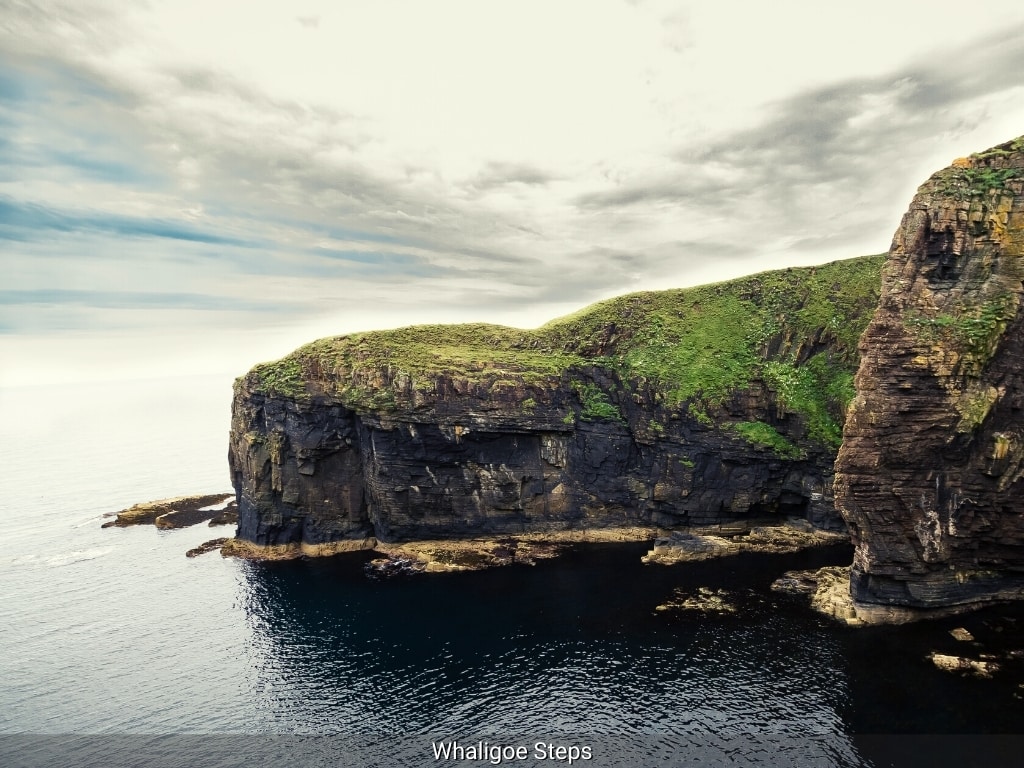 The harbour and inlet at the descent's bottom are narrow and diminutive, while the views from the base are brilliant. You get grassy verges, rocky cliffs, a gushing waterfall, ancient industrial relics and the ruins of a house-sized salt store.
Getting up and down the steps takes around 30 minutes in total, making it a great hiking choice for anyone who can't be bothered with a long walk.
4. Clo Mor Cliffs
This entry is a pretty strange one too, and accessing these faraway cliffs is a surreal, adventurous and challenging experience.
The Clo Mor cliffs are some of the biggest in the UK, looming large in Scotland's most northwesterly point. But because they're many kilometers from any major road, there's only one way to access them.
That arduous journey begins on a small rudimentary boat, which you catch from close to Durness. This small boat takes you over the Tongue of Durness, a watery inlet which (sort of) separates this remote lump of land from the mainland.
When you've crossed the water, you'll be greeted by a minibus, which will take you to the appropriately-named Cape Wrath. Here, you'll find a lighthouse (this is becoming a pattern) along with the ridiculously-remote Clo Mor cliffs. This 18-km journey will take you around 90 minutes, since the roads are so bad and the landscape is so inhospitable.
The Clo Mor cliffs rise almost 300 metres from the sea, making them some of the loftiest and most impressive in the whole of Scotland.
Cliffs aside, Cape Wrath is worth a visit anyway. It's home to endless wilderness, it's one of the most remote areas in a very remote country, and it's the finishing point for the Cape Wrath Trail, maybe the most challenging long-distance walk in the UK.
5. Duirinish Peninsula
Here's another mainland-but-sort-of-island entry.
The Isle of Skye is by far the most well-visited island in Scotland. That's partially because it's big, but it's mainly because it's connected to the mainland by a road bridge.
On this island, you'll find the Duirinish Peninsula, a western blob of land that sticks out from the main part of Skye. The entire peninsula is full of dramatic coastlines and crumbling cliffs, so it's all a good place for a shoreline wander.
If you're looking for more cliffs on the Isle of Skye, check out my guide to the Isle of Skye's best cliffs.
If you want to seek out particularly good cliffs here, the southern half of the peninsula is a cliff-lover's paradise. The famous walk here is from Ramasaig to Orbost (or vice-versa), a 22-km jaunt that takes around 9 hours. It's a big challenge, but lots of people reckon it's the best clifftop walk in the UK, so it's definitely worth the effort.
If you want to do something on Skye that isn't just all the normal stuff, the Ramasaig to Orbost hike is phenomenal. If you (understandably) can't be bothered to do the full walk, pick any point along the stretch and you'll still get brilliant cliff-caked views.
6. Quiraing
This one's one the Isle of Skye too.
Unlike the walk outlined above, visiting the Quiraing is a massively popular choice for Skye's countless visitors, but that doesn't make it any less inspiring. It's genuinely one of the most iconic and impressive sights in Scotland.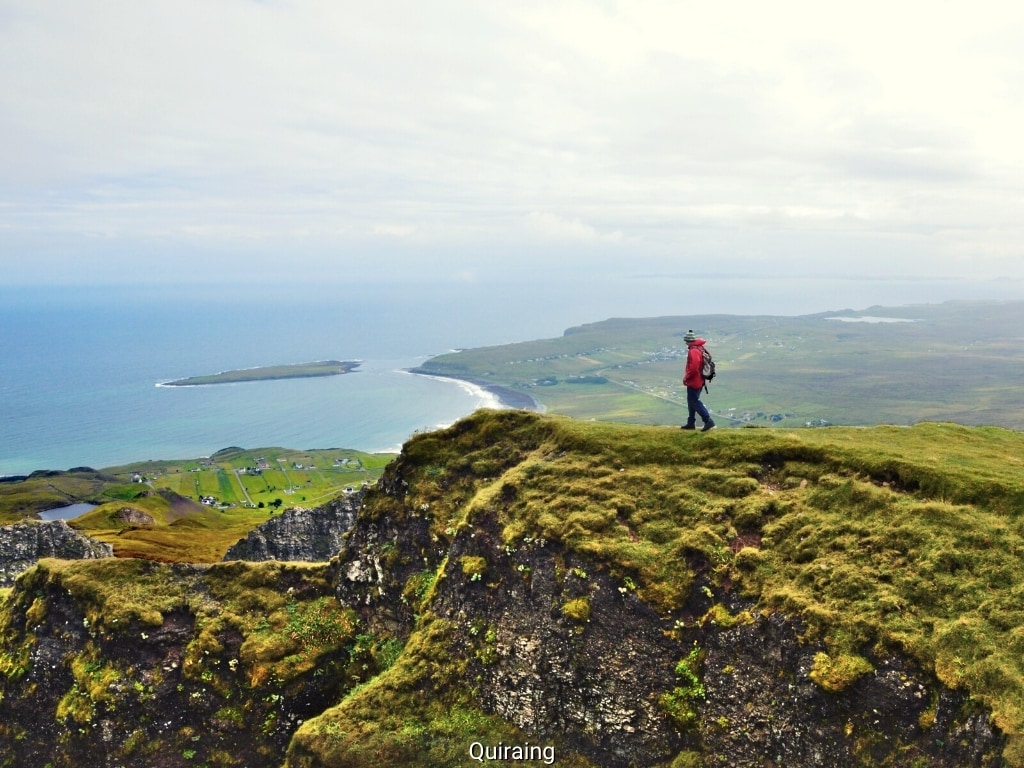 Fun fact: a picture I took of the Quiraing has been my phone background for two years. That's good to know isn't it.
Anyway, enough about me.
Now here's a disclaimer: this ancient landslide site isn't really on the coast, so it's not really a cliff. But it sort of looks like a load of cliffs, it's very close to the coast, and it's cool, so I've put it on this list anyway.
The highest point of the Quiraing sits at around 540 metres, making it the loftiest entry in this guide.
The Quiraing is massively distinctive, and I mean that sincerely. There's not really anything else like it. It's marshy, it's weirdly-shaped, it's bright green, and it dominates the landscape. It's like someone took a section of a different planet and for some reason dumped it in Scotland. And I know all of that sounds like a cliché, but it's true.
Loads of people visit the Quiraing. Some drive past and take pictures, some people stop for a short while, others complete the brilliant 6.5km hiking loop. Whatever you do, just make sure you visit it. I love this place.
7. Marwick Head
With Marwick Head, we bring you our first really remote island cliffs. But don't worry, they're definitely not the last – we've got loads more of them on the way.
Around 70 small islands make up the Orkneys, but Marwick Head is found on the western stretch of the main island (known sometimes as 'Mainland,' sometimes as 'Hrossey' and sometimes as 'Pomona').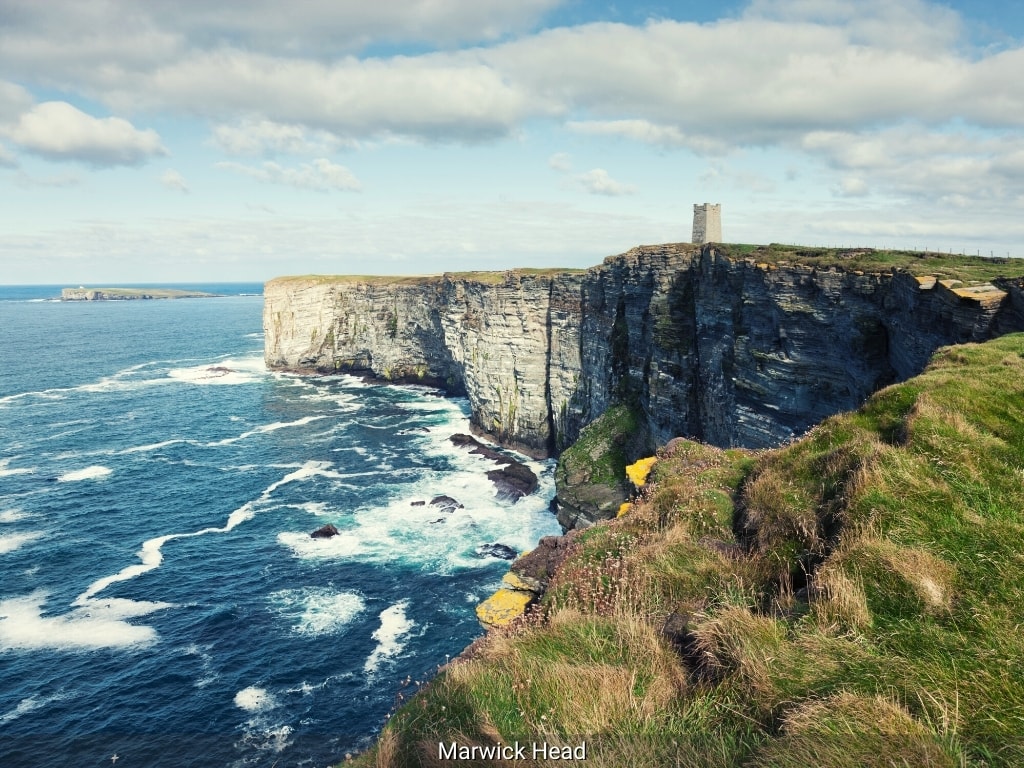 Located close to the questionably-named village of Twatt, Marwick Head is an important Nature Reserve where countless rare birds come to breed.
The cliffs themselves measure in at around 83 meters, and they're rocky, remote and strange, resembling small shelves of worn rock. Aside from the cliffs, there's also a stone memorial here, which commemorates a famous (and fatal) maritime disaster.
The entire western coast of mainland Orkney is an excellent cliff-spotting location, with lots of highlights. Another of my favorites here is Yesnaby Stacks.
8. The Vat of Kirbister
This one's also on Orkney, but not on the mainland. Instead, you'll have to venture over to Stronsay, a star-shaped island in the east of the archipelago. Lots of people reckon this is Stronsay's highlight, and they're probably right.
A natural bridge-like rock arch, it's a popular hangout spot for locals, tourists, birds and flowers. Carved out by a collapsed cave, it's a strange little structure, measuring in at about 20 meters high.
There are loads of great walks in the area, and plenty of other great cliffs surrounding the mega-famous Vat. If you like unusual cliffs, The Vat of Kirbister is a UK must-visit.
9. St. John's Head
This cliff also resides on the Orkneys.
It sits on Hoy, the most southwestern of all the Orkney Islands. The highest vertical seacliff in the UK, St John's Head measures in at a whopping 335 meters.
Flat, imposing and stark, St John's Head looks very different to most other cliffs. While most are jagged, rough and rugged, St John's Head is an oddly-flat slab. Its surprisingly vibrant red and yellow hues stand out vividly against the dull brown of the sandstone, especially in good light.
Just south of St John's Head is the Old Man of Hoy, an iconic sea stack which is more well-known than (and almost as impressive as) St John's Head. Walking to both of them from the tiny village of Rackwick is an excellent way to spend 2 or 3 hours.
For exploring Hoy, Rackwick is an excellent (and beautiful) base.
10. Conachair
Alright, we're finally gonna leave Orkey behind.
We're now heading for a much smaller island destination, in the shape of the tiny, remote and rarely-visited: St. Kilda.
A minute little archipelago around 80 miles off the western coast of the Scottish mainland, St. Kilda is one of Scotland's last proper wildernesses. Lots of the places on this list are remote, but St. Kilda is ridiculously remote.
No-one lives here except a small few permanent military personnel and occasional conservationists and scientists. The 36-strong proper population was evacuated to the mainland in 1930, and no civilians have lived here since.
The biggest island in St. Kilda, Hirta, measures in at around 6 square kilometers, while the other islands in the region are significantly smaller. St. Kilda is a two-time UNESCO World Heritage Site, and the biggest seabird nesting hub in the entire North Atlantic.
Anway, enough about how strange St. Kilda is, and more about how strange Conachair is, a lumpy cliff which seems oddly at home on the unusual island it's perched upon.
Conachair is absolutely one of my favorite entries on this list.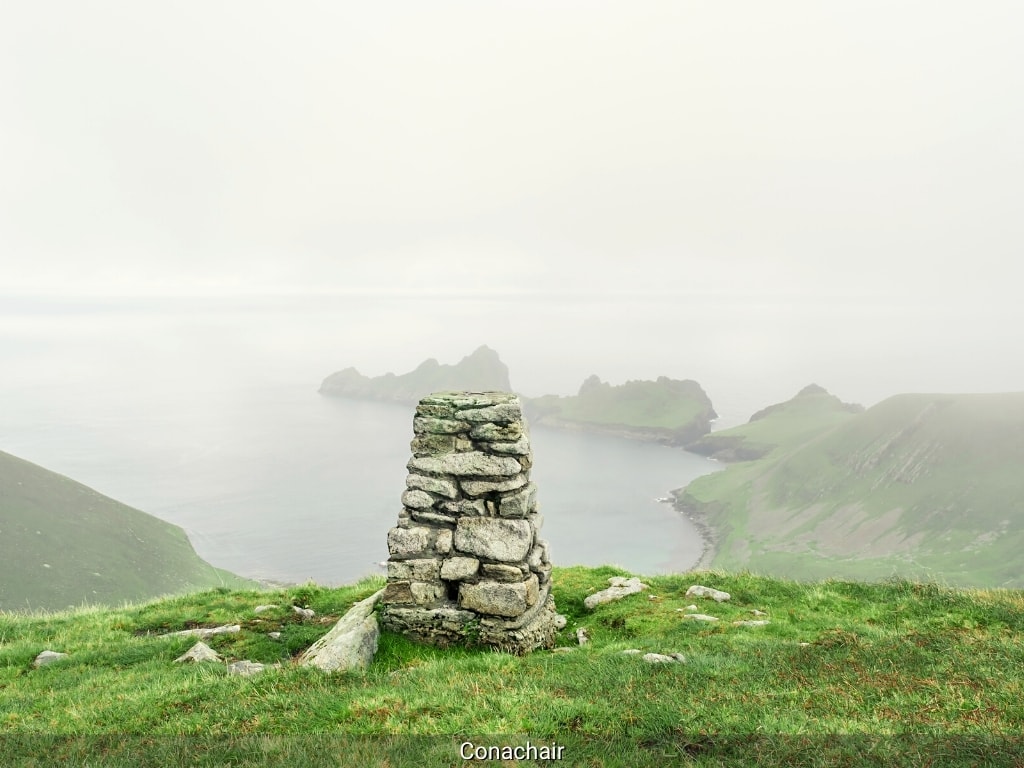 Round, marshy and upwardly-tilted, Conachair is the highest summit in St Kilda, and home to the largest sea cliffs in the UK, measuring in at an impressive 430 meters.
If you want a proper adventure in a near-untouched destination, you'll love Conachair. Lots of Scotland feels like it's in the middle of nowhere, but Conachair genuinely is.
11. Butt of Lewis
The Butt of Lewis is another (and our last) island-based adventure.
A tiny northern headland on the weirdly-named island of Lewis and Harris (the largest island in Scotland), the Butt of Lewis is most famous for its lighthouse, which looks like something from a Wes Anderson movie.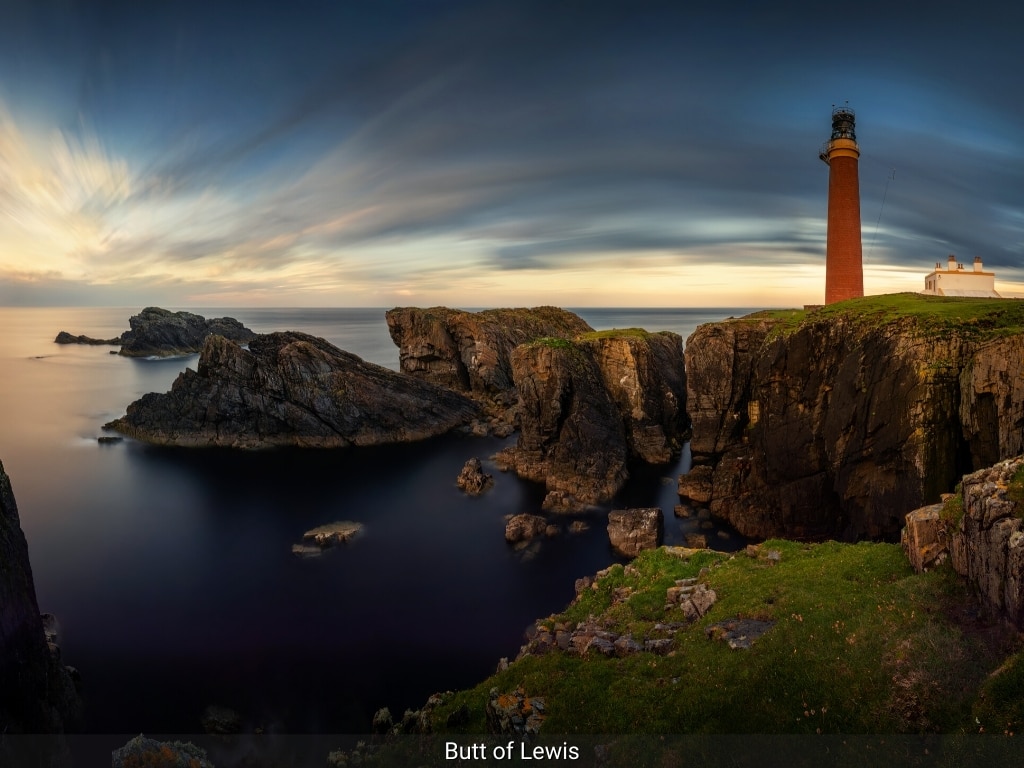 But beyond its kooky lighthouse, this part of the island also has some fantastic cliffs, in an area often considered to be the stormiest point in the UK. Because of its volatile reputation, it's a great place for dramatic cliffside views, with massive waves clambering noisily up the rough cliffside verges.
If you fancy a walk, you can stroll from here to two other excellent shoreside attractions – the secluded Eoropie Beach and the craggy stacks of Dun Eistean.
12. St. Abb's Head
Away from the islands, back onto the mainland and over to another head.
(In case you hadn't noticed, the word 'head' in this context usually implies the presence of a lighthouse. So, yes, these cliffs do have a lighthouse).
Domed, pastel and retro, the lighthouse here is just north of the tiny village of St Abb's, which lends its name to both the lighthouse and the surrounding area, with cliffs measuring in at around 90 meters.
St. Abb's Head is the most southern entry on this list, and it's pretty close to the border between Scotland and England. If you don't have time to venture very far north, St. Abb's Head is the best option on this list.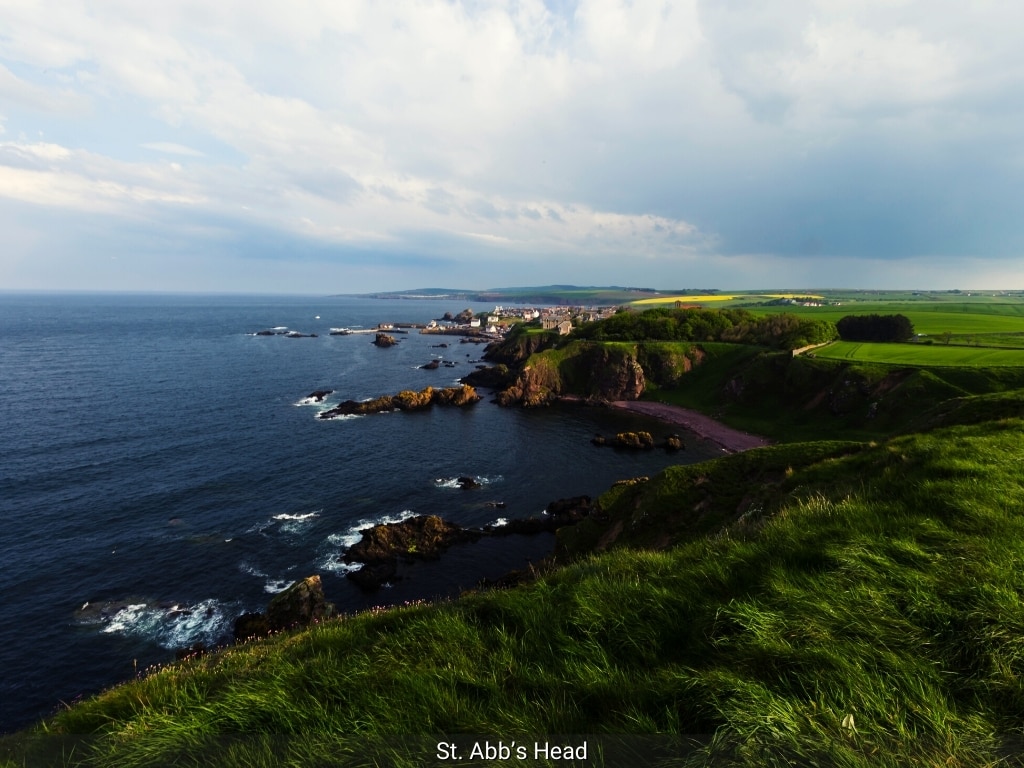 It's also a good option if you want to find relative seclusion with relative urbanity. St Abb's is by no definition a busy place, but it's close to Eyemouth, a massively popular seaside destination for people from both northern England and southern Scotland.
It's also close to lots of populated towns and cities. Situated somewhere between Edinburgh and Berwick, St. Abb's Head is a great getaway if you're visiting either place. Here you get great walks, great cliffs, great birds and a surprising sense of solitude.
13. The Bullers of Buchan
Yes, loads of these places do have strange names, you're right.
Around 40km north of Aberdeen, this birdwatching haven sits on the rough and ragged far eastern coast of Scotland.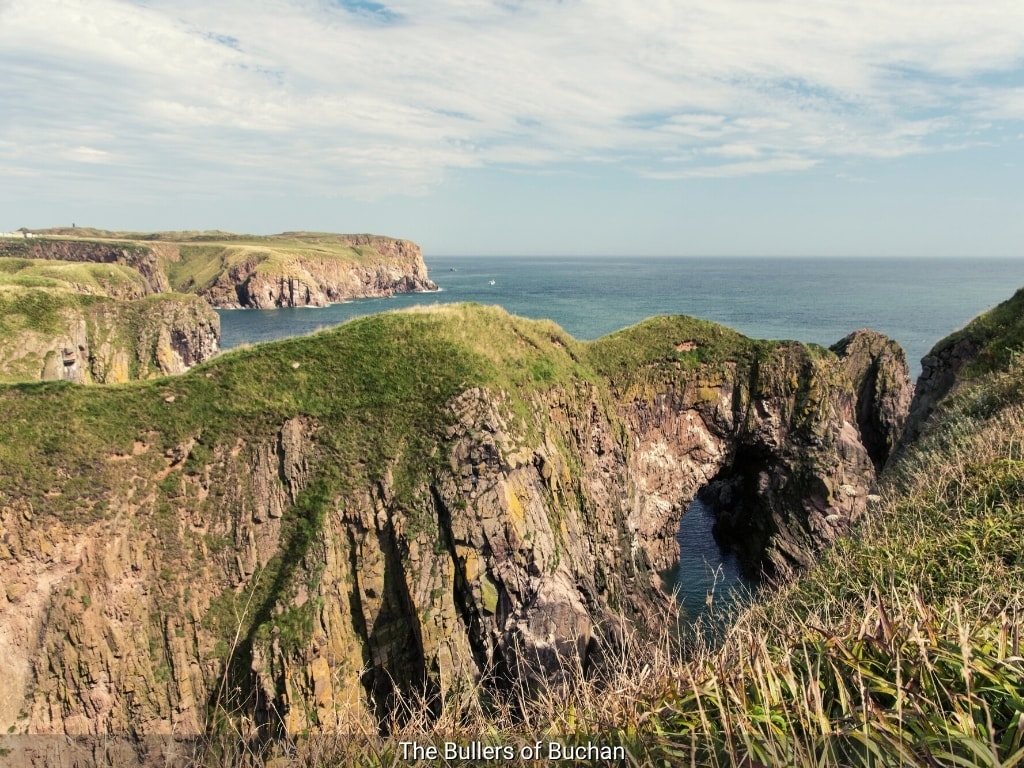 Just south of Peterhead, the collapsed sea cave of Bullers of Buchan is (relatively) accessible, making this another good choice if you don't have time for remote destinations in your pursuit of craggy cliffs.
The collapsed cave has left lots of close-knit cliffs in its wake, along with a natural archway. The cliffs are pretty short at around 30 meters, but the formations are dramatic and varied, and puffins often lurk about on their rocky peaks. It's a unique and unusual landscape, and it's one of the biggest attractions in this area.
Walks around the Bulllers of Buchan take in many other interesting places, including the coastal villages of Boddam and Cruden Bay. If you walk between the Bullers of Buchan and the latter, you'll pass the imposing ruins of Slains Castle, one of Bram Stoker's inspirations for Dracula.
The Bullers of Buchan also offers one of the best coastal walks in Scotland.
See You on the Cliffside
That was meant to be a pun on 'flipside'. Believe it or not, that's the best I could do. I'm meant to be a writer.
Anyway, there they are – the best cliffs in Scotland. Whether you like precipitous walks, remote shores, unusual overhangs or all three, there's plenty of choice on this list. Because Scotland has such a massive, jagged coastline, it's one of the most cliff-heavy countries on the planet.
If you're only visiting Edinburgh and want to see some cliffs, I wrote the perfect guide for you: the best cliffs near Edinburgh.
And if you're planning a trip to Scotland and want to know more about the nation, we've got plenty of stuff on our site. We have articles on:
Whatever you want to know about Scotland, we've got it right here. Stick with us for much more!
Being a Digital Nomad: Tips, Tricks and Places
Do you want to be a digital nomad?
If you do, maybe you don't know where you might want to live. Or how to live there. Or whether you need a visa. Or how to make friends in the scary sprawl of a brand-new city. Or how to stay productive while you travel. Or how to find an apartment. Or whether this lifestyle really is for you. Or… I'm sure you get the idea.
But with some insight and experience, it's not as difficult as you think. So in this book, I've gathered my 6 years of digital-nomadding experience… and I've used it to answer all your questions, soothe all your fears, and get you on your way. After reading this, you'll realise being a digital nomad is much easier (and much more possible!) than you think.