What is Scotland famous for?
One of the world's best destinations for adventure travel, Scotland is vastly underrated as a tourist spot.
When most tourists go to Scotland, they only visit Edinburgh.
They look at the castle, they walk down the Royal Mile and they buy Scottish souvenirs from the endless rows of tourist stores.
But Scotland is way more than just Edinburgh. It's full of some of the world's most incredible outdoor adventures, it's outrageously varied, and it's one of the friendliest places you'll ever visit.
In short, Scotland is much more than just its capital city. It's cows, it's mountains, it's road trips and it's monsters. And it's amazing.
So what is Scotland famous for?
Here are 13 things which Scotland is famous for:
1. Mountains
By far the most mountainous country in the UK, Scotland has an endless amount of mountains. Though most of the nation's peaks are relatively low-level (with only 9 mountains over 1,220 meters), don't let that fool you – Scotland's hikes are incredible.
Scotland has a huge amount of opportunity for hiking adventures, with 282 mountains at over 914 meters. Known as 'munros', locals and travelers alike love tackling these peaks. But the nation also has hundreds of smaller summits, some of which can also be surprisingly challenging.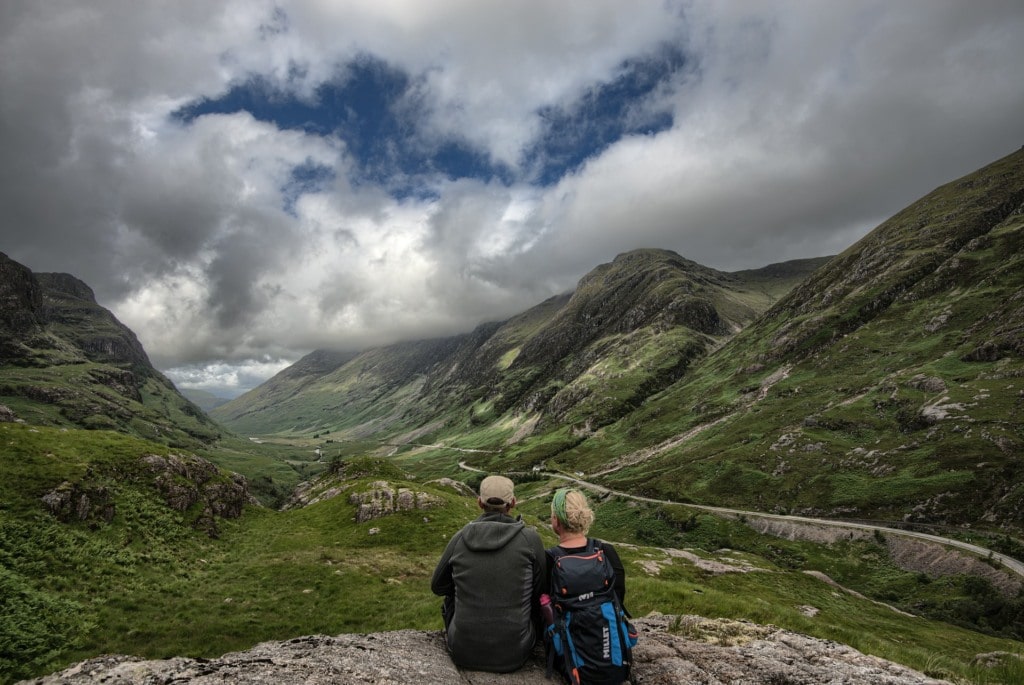 Scotland's mountains are hugely diverse. The nation has boggy peaks, peaty lowlands, jagged scrambles, intimidating ridge walks and low-level rolling city hills.
I've traveled around the world in pursuit of mountains, and I've been on some of the so-called must-walk hikes in many corners of the globe. But Scotland probably has the best mountains I've ever seen.
You could spend years in Scotland without completing all of its astonishing ascents. For sheer diversity in a concentrated area, hiking doesn't get much better than Scotland. Plus in Scotland you can hike almost everywhere.
2. Lochs
No, I haven't spelled 'lake' wrong. 'Loch' is the Scottish word for 'lake'. Hence Loch Ness. And Loch Lomond. And the 30,000 other lochs in the country.
Like lakes? Like mountain lakes? Like views of towering peaks reflected in bright blue bodies of water? If you answered yes to any of the above, you'll love Scotland.
Germany, Italy and their Alpine neighbors have famous lakes dotted in the peaks of their majestic mountains. Scotland has the same, but does it better.
If you're in any remote area of Scotland, wherever you drive, wherever you walk, you'll constantly stumble upon hidden lochs, all of which beg to be photographed.
Or swam in, but Scotland is cold.
From the voluminous proportions of Loch Ness to the tiny dimensions of some of the nation's puddle-like lochs, no one loch is like another – but they're all ridiculously beautiful.
Here are the best lochs of Scotland.
3. The Loch Ness Monster
Speaking of lochs, the Loch Ness Monster is one of Scotland's most famous assets. Never before has a non-existent legend inexplicably generated so much tourism.
And although it's an endearing little idea, the Loch Ness Monster clearly isn't real – though some people still unironically believe that there's literally a monster somehow living in one of the nation's lochs.
Sort of a dinosaur, sort of a monster, sort of a fish, Nessie (as it's lovingly known) is Scottish folklore's biggest export.
4. Highland Cows
Nessie probably isn't real, but Highland cows definitely are. They're also definitely cute.
The oldest cattle breed in the world, Highland cows are ridiculously charming and notoriously friendly. So even though they're massive, you don't need to be afraid of them. You could probably even give one a cuddle (if you're a creep).
With shaggy hair, curving horns and stubby little legs, they're built to survive arduous Scottish winters, so they don't just look like that for Instagram. Most of them don't even have Instagram accounts.
Though the original highland cows were black, they're now famous for their gorgeous ginger locks.
In more remote parts of Scotland, you'll definitely see some Highland cows. On road trips in the more rugged parts of the country, cars often have to stop for marauding herds of the nonplussed beasts.
5. Haggis
The national dish of Scotland, haggis is typically made as follows: the liver, heart, lungs and fat of a sheep is minced before being mixed with oatmeal, onion and spices. This delectable mixture is then packed into a sheep's stomach before being boiled.
Disgusting, right?
Wrong.
Though it might sound like something a witch might force feed a child in some sort of nightmarish fairy-tale, haggis is actually delicious. It has a great texture and a great flavor, and you can't visit Scotland without eating it. It's also surprisingly healthy.
It's best eaten with neeps and tatties (or turnips and potatoes, if you're not from Scotland).
While visiting Scotland, you should try haggis. You should also try smoked salmon, sticky toffee pudding, fish and chips, and all the Scottish food you'll have access to.
6. Bagpipes
This raucously strident instrument was also originally crafted from the stomach of a sheep.
In Scotland, sheep's stomachs are seemingly the height of versatility.
Loud and obnoxious, bagpipes are somehow very popular in the country. They're Scotland's national instrument. Though there's nothing welcome about hearing the tuneless squawks of the screeching windbag when you're in the nation, bagpipes are somehow surprisingly endearing.
Bagpipes were originally used to scare off enemies on the battlefield. When you hear them, that won't come as much of a surprise.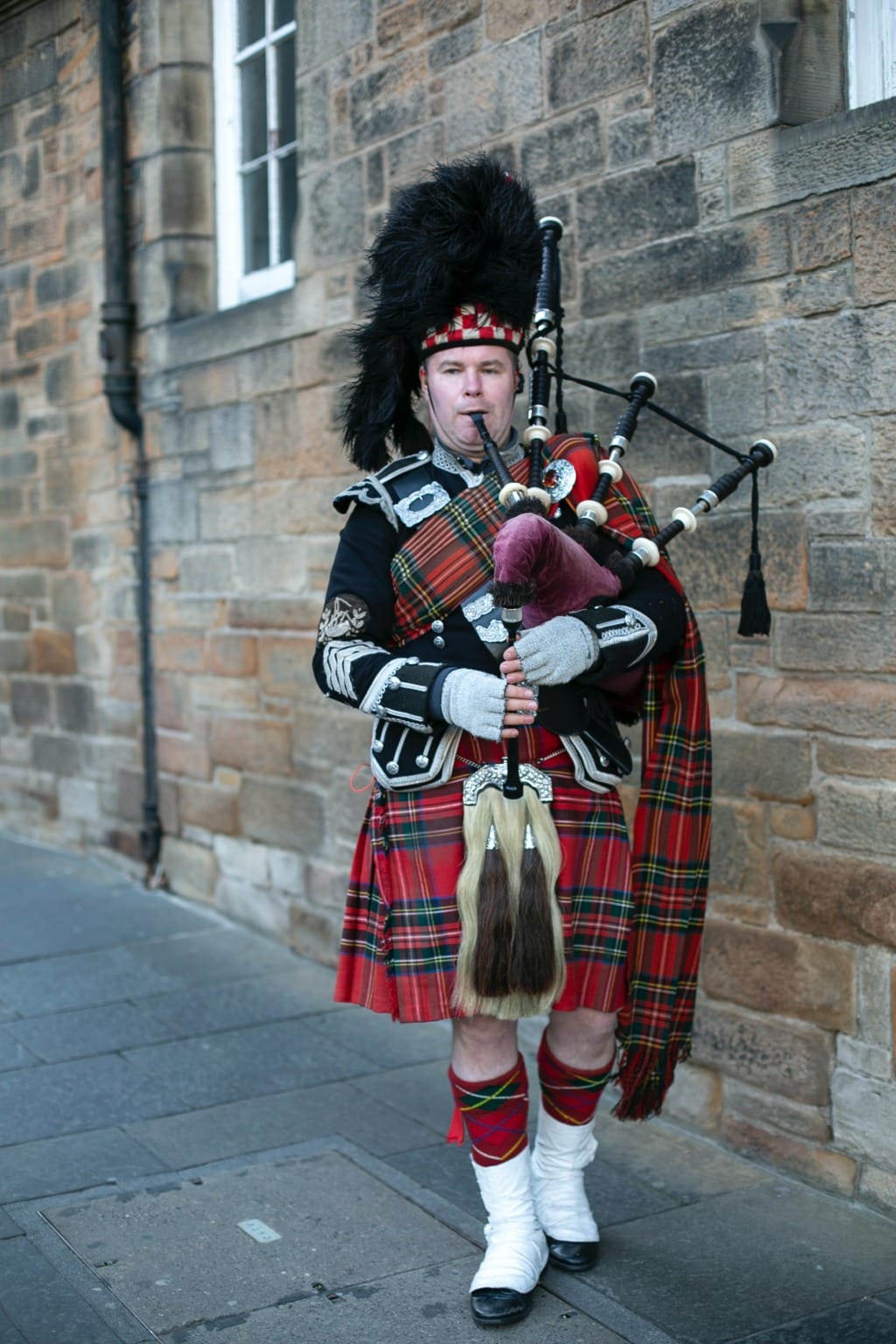 Scotland has a huge musical heritage, and most of the stuff they produce is – fortunately – better than their bagpipe din. But I'll get to that later.
If you see someone playing bagpipes, they'll probably be wearing a tartan kilt, a Scottish skirt traditionally designed for men. You can learn more about the Scottish dress in this thorough guide.
7. Accents
You'll hear bagpipes. But you'll also hear lots of accents.
Notoriously difficult to understand, Scottish accents are often absurd and unintelligible. But they're also ridiculously charming.
While accents vary throughout different parts of the country (and especially on some of the islands), they're all pretty strong, and you'll likely have a hard time understanding anyone.
To help you get by, here's a brief glossary with some of the words you're likely to hear:
Aboot: about
Auld: old
Aye: yes
Bairn: baby or child
Blether: chat
Didnae: didn't
Dinnae: don't
Greet: cry
Ken: know
Mon: come on
Thon: that
Wean: child
As I said, it's all a little confusing. But the language is part of the fun, and you'll find Scottish people endlessly charming.
The Scottish accent is in some ways pretty similar to the Geordie accent which you'll find in northeastern England.
8. Being Friendly
Scottish people are some of the friendliest people in the world. Over and over again, the nation is routinely voted as one of the friendliest destinations on the planet.
And from experience, it really is. I'm from Newcastle, the most northern city in England, so I've spent a lot of time in Scotland. And I've always been confronted with almost unbelievable levels of warmth, hospitality and generosity.
I've hitched lifts, I've stayed in stranger's homes, I've rented accommodations with people I've only just met.
A couple of years ago, when I was hitchhiking along the North Coast 500, I somehow ended up spending three days with four teenagers who picked me up along the way. We rented a caravan, we stayed in a log cabin, we played pool. Even teenagers in Scotland are friendly.
But this isn't unusual. In Scotland, stuff like this happens all of the time.
Everyone in Scotland will talk to you. Everyone will help you. Everyone will make you smile.
You'll leave Scotland a happier person than you were when you arrived.
9. The North Coast 500
If you're confused by my mention of the North Coast 500 above, don't be. If you don't know what is, you do now: it's one of the best road trips in the world.
A 500-mile circular route which takes you to the most northern – and most remote – mainland parts of Scotland in the Scottish highlands, it's a surprisingly rural adventure along lochs, mountains and beaches.
Lots of the North Coast 500 is so remote and otherworldly that it feels like you've landed on a different planet. A friendly, beautiful planet with lots of fried food.
Though the North Coast 500 offers a huge amount of diversity and variety, it's most famous for its beaches. Scotland's beaches are incredibly underrated, and the best of them can be found in and near Durness, Gairloch and Lochinver, all of which are along the North Coast 500. Learn more about the NC500 here.
Other road trips in and around Scotland include the Argyll Coastal Route, the Heart 200 and driving the entirety of the Arran ring road.
10. Islands
Scotland's islands are incredible, from the mega-famous Skye to Arran's 'Scotland in miniature' dimensions to the remote and distant Shetland Islands.
In total, Scotland has almost 800 offshore islands, but less than 100 of them are inhabited.
These islands offer hikes, beaches, mountain peaks and bizarre landscapes.
If you like strange scenery, check out the Isle of Skye's Quiraing, Orkney's Old Man of Hoy and the Machrie Moor Standing Stones on Arran.
But the more remote islands offer even stranger insights into Scottish life. Jura has more deer than people, Eigg's massacre cave is the site of countless deaths, and Hirta Island has a now-abandoned ghost town.
If you like weird stuff, you'll love some of Scotland's remote and eerie islands.
11. Castles
Scotland has a huge history of battles, bloodbaths and tribal feuds – a grisly heritage marked by a vast number of towering castles.
Some of the best include Edinburgh Castle, Stirling Castle, lochside Eilean Donan, Balmoral Castle and Culzean Castle.
But these fabulous fortresses aren't just lazily-situated lumps of bricks – Scotland's best strongholds are set against some of the most beautiful lakes, mountains and misty peaks and valleys you'll have ever seen.
I don't like castles. But even I like Scotland's castles.
12. Music
With a poetry history dating back to the hugely-loved Robert Burns (whose legacy is celebrated annually on Burns Night), Scottish people are hugely – and justifiably – proud of the art which their nation has produced.
And though it's no longer churning out poets, Scotland is hugely famous for its musical exports.
The most famous Scottish musical artists include Annie Lennox, James, Mogwai, Lewis Capaldi, The Proclaimers, Snow Patrol, Travis and plenty more.
If you love live music, you'll love Scotland. You'll find lots of live gigs (both planned and spontaneous) in many of the nation's smaller destinations, while the bigger cities have brilliant venues. The best of them all is Glasgow's Barrowlands, which has hosted hundreds of world-famous acts.
The nation is also home to lots of famous music festivals, including Arran Folk Festival, TRNSMT and Kelburn Garden Party.
13. Cities
At the top of this article, I mentioned Edinburgh. And I mentioned it with cynicism, because for most tourists who visit Scotland, it's their only port of call.
And though it shouldn't be their only port of call, it's absolutely an incredible city. With an imposing castle, the world's biggest theater festival and an excellent food scene, it's fantastic.
But it's not Scotland's only incredible city – the nation is home to many more must-visit cities.
Once rough but forever friendly is Glasgow, with its great music scene, its mega-sociable locals and its iconic Barras Market.
Other highlights include the Highland capital of Inverness and the gastronomic smorgasbord of Aberdeen.
Compared to many other countries in the world, Scottish cities are small, friendly, accessible, and they all feel like home.
Conclusion
Scotland has so much to love. A nation with less than 6 million inhabitants (and every one of them friendly), it's way more varied than you probably expect. It has tropical-style beaches, excellent road trips and some of the planet's most challenging and beautiful hikes.
But more than that, it has great food, fantastic music and excellent cities. You should really visit Scotland at least once in your lifetime and explore all of what it has to offer.
Checkout my article on the top reasons to visit Scotland right now.
Related Articles:
Being a Digital Nomad: Tips, Tricks and Places
Do you want to be a digital nomad?
If you do, maybe you don't know where you might want to live. Or how to live there. Or whether you need a visa. Or how to make friends in the scary sprawl of a brand-new city. Or how to stay productive while you travel. Or how to find an apartment. Or whether this lifestyle really is for you. Or… I'm sure you get the idea.
But with some insight and experience, it's not as difficult as you think. So in this book, I've gathered my 6 years of digital-nomadding experience… and I've used it to answer all your questions, soothe all your fears, and get you on your way. After reading this, you'll realise being a digital nomad is much easier (and much more possible!) than you think.