Top 10 Best Beaches in Northumberland
I was born in Northumberland, about 4 miles from the beach. Growing up, I spent loads of my life splishing around in the area's sands, shores and rock pools, and as a fully-grown adult, I now do exactly the same thing.
In this article, I've unpacked all the best beaches in Northumberland (or at least my favorite beaches in Northumberland). I've included barren beaches, rocky shores, sandy funspots, populated places and everything in between. I've also included places in the north, south and center of Northumberland, so you'll be able to find one close to wherever you're staying or wherever you're visiting.
Looking for the best beaches in Northumberland? Bring your bucket, your spade and your speedos kid, cos we're visiting them all in this article.
1. Bamburgh Beach
This isn't necessarily my favorite beach in Northumberland (although it is one of them), but it's got my favorite coastal view in Northumberland. It's one of the most photographed spots in the area, so bring your camera and fire up your Instagram.
Get yourself down to the beach's sands, head north of Bamburgh Castle, look behind you, and cry with enthusiasm at one of the best views you've ever seen. From here, the castle looms over the beach, dominating the skyline and towering over you and everything else in view. If you're lucky, and the tide's out a bit, you might even see the castle reflected in the sea. Sexy.
The beach itself always has families, couples and dog walkers enjoying its shores and sands, but it's never very busy, so it always feels peaceful and serene. If you've got kids (or are one), there are always loads of great rock pools here, so you might see some crabs, starfish and other cute little creatures.
If you're a keen little surfer, this is one of the best spots in Northumberland, with good swells, consistent conditions and lots of lessons and equipment available.
2. Alnmouth Beach
If you don't like Alnmouth, you don't like life.
Here, you'll find cyclists, hikers, horse riders, dunes, nice cafes, a lovely river, and plenty more. But the real highlight is (and this won't be much of a surprise considering the title of this article) Alnmouth's brilliant beach.
From the beach itself, you get great views of the village. Head out of the bottom of the village and southeast towards the sands that are cut in two by the River Aln. From here, look behind you, and enjoy all the cute buildings and bright-orange roofs.
But if you want the best views of the town and the beach all in one big lovely picture, head to the western side of the River Aln, close to the A1068 road. The view of Alnmouth from here is one of my favorite coastal scenes in Northumberland.
Alnmouth beach is also close to two great golf courses (not that I've ever played golf in my life, but I've heard they're good), so if you like bogeys, holes-in-one and all that stuff, you can combine some sands with some swinging.
3. Blyth Beach
Remember at the beginning of this guide when I said I used to live close to a beach? It was this one, and I spent loads of time there.
When I was little, this place had a reputation for being covered in dog turds and dirty syringes. It was mostly untrue then, and it's totally untrue now. Blyth beach has gone from being totally okay to now being totally lovely.
One of the highlights here is the kooky collection of colorful little cabins. The pastel-colored tiny houses can be rented by the day, and they're probably the most photographed thing in Blyth. Other big highlights include jet skiing, a yachting club, and wide, dune-backed sands.
Blyth is a pretty big, pretty populated town—around 20,000 people live here. So while most places on this list are pretty remote and rural, Blyth is (by far) the most urban beach on this list. The town itself isn't particularly pretty, but it's friendly, accessible,and has all the conveniences you need.
Blyth is also the most southern beach on this list, and one of the best beaches near Newcastle. So if you're staying in Newcastle and you're looking for a nearby beach, head either to Blyth or Newbiggin, which brings us to…
4. Newbiggin Beach
What I love about Newbiggin (or Newbiggin-by-the-Sea, if you want to give the place its proper name) is how it's sort of a crossroads between loads of different things.
It's somehow simultaneously old-fashioned and trendy. It's simultaneously urban and rural. It's simultaneously cool and… not cool. Again, just like Blyth, Newbiggin once had a reputation for being a little rough, but that's not the case now. I absolutely love Newbiggin.
The beach here is vast, wide and sandy, and it's a great place for a walk. Popular with fishers, the place is always full of boats, dog walkers and families with kids.
Newbiggin is also a fiercely proud place. There used to be loads of mining communities in and around this area, so it's one of those places where it feels like everyone knows everyone, and everyone's friendly to everyone (including you).
5. Cresswell Beach
Just north of Newbiggin is Cresswell, where you'll find one of the most underrated beaches in Northumberland.
One of my favorite things about the area is that it's sort of weirdly apocalyptic. And I genuinely mean that as a compliment (before Creswell's residents run to my house and kick my head in). The village is close to the industrial behemoth of Lynemouth power station, there are more sheep than people, and it always seems to be misty.
South of Cresswell, you have places like Ashington, Newbiggin and Blyth, which are all pretty busy and populated. But then Cresswell (and its beaches) are desolate, silent and beautifully bleak. The beach is sandy, duney, and full of rock pools, so it's good for all sorts of adventures.
While you're here, make sure you pop into The Drift Cafe, one of the best coastal eateries in Northumberland.
6. Druridge Bay
Clocking in at around 7 or 8 miles (depending on who you ask), Druridge Bay is a local favorite. Most locals, when they're asked what the best beach in Northumberland is… they'll tell you it's Druridge Bay.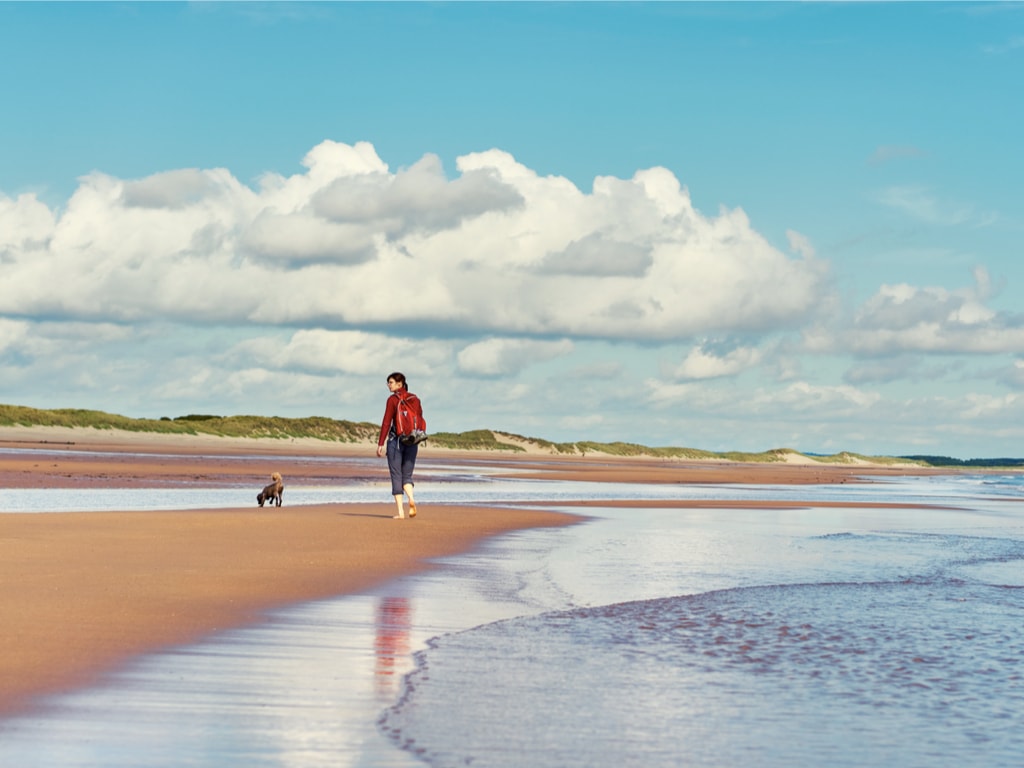 I don't like this one as much as some people, because it's all bay and no action, and I prefer shores and sands close to little towns and villages. But don't listen to miserable ol' me—Druridge Bay is still really beautiful. And because it's massive, there's loads of variety. Here, you can walk your dog, go birdwatching, visit the reservoir, clamber up some dunes, surf, sail, canoe and loads more.
And because the whole beach is so long, you can always find a quiet, peaceful spot.
Pretty much the entire area between Cresswell and Amble is considered to be Druridge Bay, so the place connects relatively-populated southern Northumberland with much more rural northern Northumberland.
7. Seahouses Beach
If you're traveling with kids, get yourself to the beach at Seahouses.
Kids love Seahouses, because it's full of fun stuff. A decent-sized town (compared to most other places on this list anyway), it has all the conveniences, eateries and accommodation options you need. But apart from all the logistical stuff, Seahouses also has mini-golf, endless fish and chips and faraway trips to the Farne Islands (where you can see puffins, seals and maybe even dolphins and porpoises).
The beach itself is great too. Filled with sloping sands and grassy dunes, there are lots of perfect places for kids to play. The beach is just north of the harbour, and it's a little busier than most others on this list, perfect if you're kids like making friends.
8. Holy Island's Beaches
Like weird beaches? You'll love these.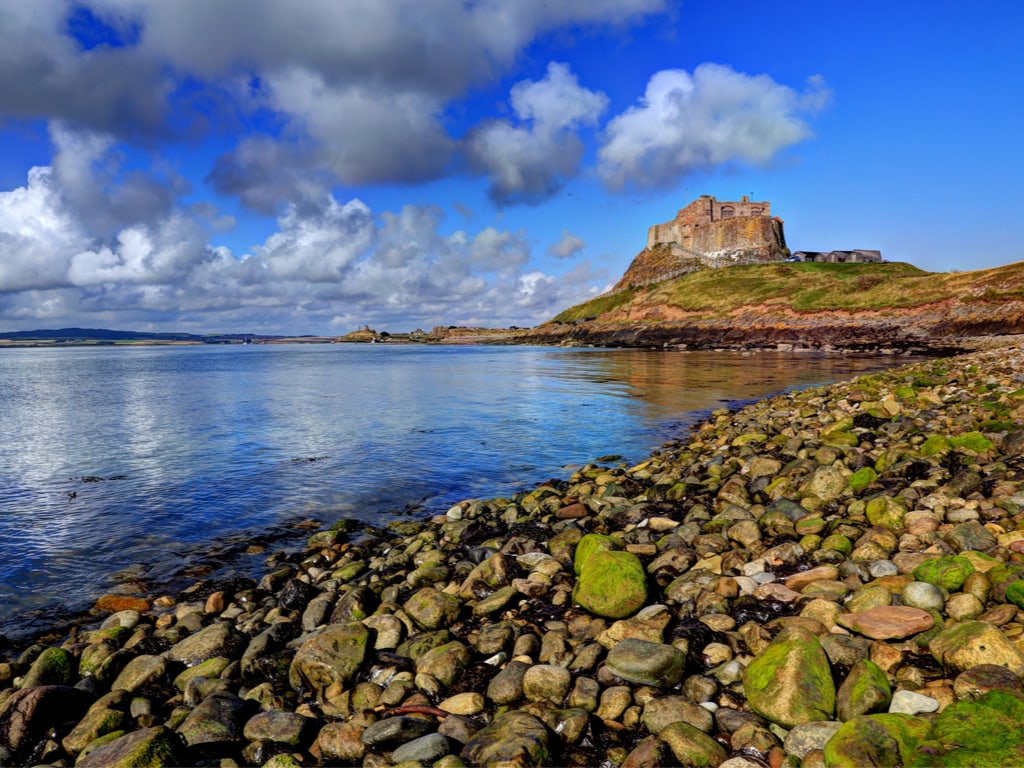 Holy Island (also known as Lindisfarne) is a weird little place. An important ancient pilgrimage spot, Holy Island can only be accessed by a causeway, which is only traversable when the tide is out.
The most popular and well-known beach here is Harbour Beach, a rocky little place on the south shore of the island. From here, you get amazing views of Lindisfarne Castle.
If you want more peaceful beaches, head anywhere along the north shore of the island, where you'll find sandy, secluded coves, and quiet little walks.
But because Holy Island is… well, an island, you can find lots of private little beaches anywhere. Go for a wander to any of the island's edges, and you'll find yourself a perfect little spot.
9. Craster Beach
I love Craster.
Rocky rather than sandy, Craster beach is pretty narrow, but it's a lovely place for a walk (along the nearby grass rather than along the slippy, ankle-snapping rocks).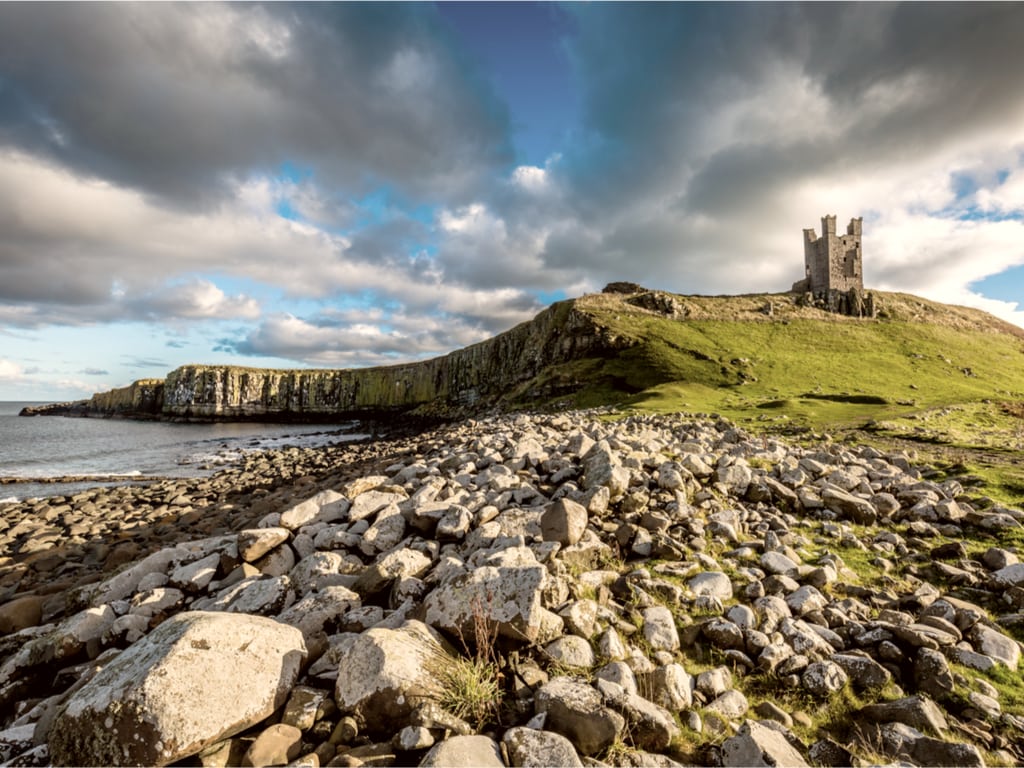 The big highlight here is Dunstanburgh Castle. Just a mile or two north of Craster, this is one of the biggest castles in Northumberland, and views from the castle complex take in farmland, seas, shores, endless sheep and the castle itself. For sheer diversity, this is as good as coastal panoramas get, and I can't think of many castles that are this close to the beach.
Just north of Craster and on the other side of Dunstanburgh Castle, you'll find Embleton Bay. If you're looking for sandy strolls rather than rocky ones, you'll find them here. Embleton Bay is popular with wild swimmers, peace-seekers, golfers and sunrise strollers.
10. Spittal Beach
When people are looking for Northumberland beaches, this one is massively overlooked and underrated.
I'm not really sure why that is, but it's probably cos it's really close to Berwick—and people wrongly assume that Berwick is part of Scotland rather than England.
But it's not, you silly billies.
Spittal Beach is really wide and sandy, perfect for shoreline strolls. It's a popular getaway for Berwick locals, and lots of people come here to fish and birdwatch. There's a promenade with loads of benches, perfect for sitting all day and munching on some greasy, salty, lovely fish and chips.
One of my favorite panoramas in Northumberland is the view of Berwick from the tiny coastal towns of Spittal and Tweedmouth. Go to Spittal, head vaguely and slightly north along the beach, and as you start approaching Berwick, you'll see the town come into view over the River Tweed.
Notable Mentions
Here are some other places we couldn't quite squeeze into our list…
Low Newton-by-the-Sea: the beaches in and around here are some of my favorite hidden gems in Northumberland. There are about ten houses in the area, surrounded by plenty of small, serene coastal spots.
Beadnell Bay: this is the place people go when they want to find a remote, quiet beach close to Seahouses. So if that's what you're looking for, you've found it.
Seaton Sluice: here, the beaches offer a great combo of rocks, sands and farmland. But the real highlight in Seaton Sluice is the harbour, which leads into the lovely valley of Holywell Dene.
And as an added extra bonus, if you're staying in the south of Northumberland (or in Newcastle), head to Tynemouth, Whitley Bay and Cullercoats. They're only just south of Northumberland, but they're all amazing.
Before You Go
Thanks for reading our guide to the best beaches in Northumberland.
Before I sign off and leave you to go sploshing around in the sea, here's one final top tip—if you want to see all these beaches in one big long go (or most of them anyway), consider a multi-day trip designed for exactly that purpose. If you like hiking, the 62-mile (100km) Northumberland Coast Path follows massive chunks of the coastline, while the Coast and Castles bike ride is basically the same thing, but (unsurprisingly) on a bike.
Want to know anything else about all the adventures you can have in Northumberland? We also have guides on the best castles in Northumberland, the best hikes in Northumberland and the most beautiful places in Northumberland. I've also compiled all the things and facts that Northumberland is famous for.
Whatever you want to know about adventures in northern England and beyond, we have it right here on our site.
Being a Digital Nomad: Tips, Tricks and Places
Do you want to be a digital nomad?
If you do, maybe you don't know where you might want to live. Or how to live there. Or whether you need a visa. Or how to make friends in the scary sprawl of a brand-new city. Or how to stay productive while you travel. Or how to find an apartment. Or whether this lifestyle really is for you. Or… I'm sure you get the idea.
But with some insight and experience, it's not as difficult as you think. So in this book, I've gathered my 6 years of digital-nomadding experience… and I've used it to answer all your questions, soothe all your fears, and get you on your way. After reading this, you'll realise being a digital nomad is much easier (and much more possible!) than you think.