The Prettiest Villages and Small Towns in Northumberland
I was born in Northumberland, in a place called Cramlington.
Now, you won't find Cramlington on this list (since there's nothing particularly pretty about shopping centers), but you'll find lots of nearby towns and villages in Northumberland, all of which are beautiful, alluring, and great for exploring various parts of the region.
I've lived large parts of my life in this region and I've explored most of its towns and villages, so gather 'round boys and girls, and listen to the wise old man of Northumberland.
Massively underrated and much less-visited than lots of other areas in England, Northumberland is mostly known for hiking and outdoor adventuring. But it's also home to lots of charming, beautiful villages, and I've brought you all my favorites in this helpful guide.
I've divided my list into three sections – inland highlights, coastal settlements and 'the big ones,' featuring some slightly-larger towns for people who like a little more comfort and convenience (or if you're traveling with kids).
Before we get to all the juicy details, here's a map of where you'll find all the towns and villages in our guide…
Inland Highlights
If you're looking for small inland towns and villages for exploring the fields, farmland, hills, hikes, moors and mountains of Northumberland, choose one of the places from this section…
1. Rothbury
In lots of ways, Rothbury is my favorite town in Northumberland.
It's not the prettiest, it's not the most charming, it's not the best-located, and it's not the most interesting. But before you start thinking I've got a vendetta against the place, let me finish:
Rothbury does a very good job of being almost the best at all of these things, making it a brilliant compromise if you're looking for a big sexy mixture of all of the best things that Northumberland's small towns have to offer.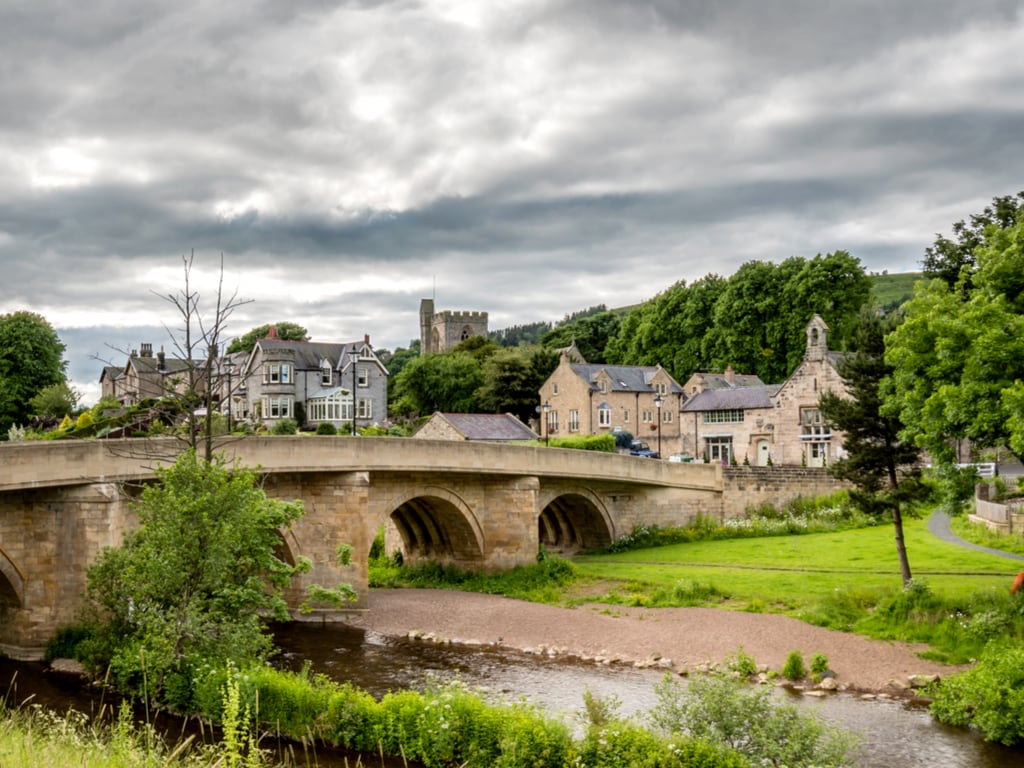 Around 2,000 people live in the town, but way more descend upon the place every month to take advantage of Rothbury's atmosphere, location, and nearby hikes.
A quaint little town with a beautiful riverside location, Rothbury has lots of great places to eat and drink, regular events, and lots of lovely independent shops. And even better, it's the perfect base for exploring Simonside, one of the best-known hiking regions in Northumberland.
Also very close to Rothbury is Cragside, one of the best country houses in the UK. A massive complex of over 1,000 acres, Cragside is brimming with walks, gardens, woodland and more.
Recommended accommodation and hotels in Rothbury:
2. Wooler
If you want quick, easy access to The Cheviots (and why wouldn't you?), stay in Wooler.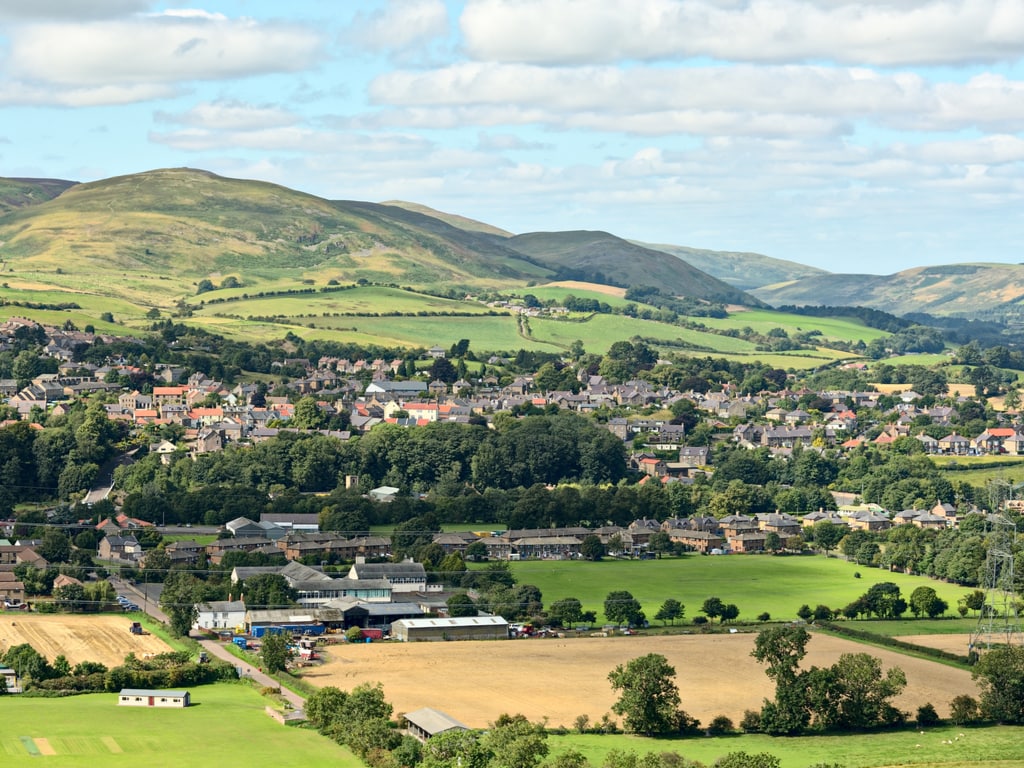 Wooler is sort of like a slightly-smaller Rothbury, with a population of around 1,700 people (if you trust population estimates). It's a tiny stone-built market town, it's friendly, and it's one of the best hiking bases in the whole of Northumberland.
One of Wooler's highlights is Doddington Milk Bar, a rudimentary little shack that's been serving up fresh milkshakes, fresh ice cream and other dairy delights since the 1930s. The milk they use is sourced and churned at a farm just a couple of miles away.
Recommended accommodation and hotels in Wooler:
3. Harbottle
Another hiking hub (yes, I do like hiking) Harbottle is the best entry point for Upper Coquetdale, the most remote, underrated, and unexplored trekking region in all of Northumberland.
If you like quiet villages, stay in Harbottle – it's home to around just 300 people, and it's a proper old-school tiny village. Everyone here knows each other's name, the place hosts a ridiculously-retro annual 'Show Day' (with sheep showing, sheepdog trials and vegetable-growing competitions), and the village only has one place to eat and drink.
A couple of miles north of Harbottle is Alwinton, which is even smaller. Less than 100 people live here, and just like in Harbottle, you'll find no shops, one pub, and a small crowd of smiling faces.
Recommended accommodation and hotels in Harbottle:
4. Ford & Etal
Ford & Etal are actually two places – but for some reason that I can't really work out, they're always grouped together. The most northern entry on this list, Ford & Etal are the best pick if you're looking for a tiny base from which to explore both Northumberland and Scotland.
Highlights near Ford & Etal include Etal Castle, the steam-powered (and kid-friendly) Heatherslaw Light Railway, and the nearby traditional corn mill.
If you're looking for bigger places to explore from Ford & Etal, the border towns of Coldstream and Berwick are great choices. Berwick is much bigger and better-equipped, but Coldstream is much more charming – and it's a better base for outdoor fun.
Recommended accommodation and hotels in Ford & Etal:
5. Corbridge
Right on the banks of the River Tyne before it deepens, broadens and churns towards Newcastle, Corbridge is well-located for exploring the southwestern stretches of Northumberland, and it's a great place to stay if you want to throw yourself into Hadrian's Wall or the North Pennines.
While you're in Corbridge, you should also visit Aydon Castle and Corbridge Roman Town, and venture to Hexham (but more on Hexham later). West of Corbridge, you'll find Haltwhistle and Haydon Bridge, which aren't quite as pretty or big as Corbridge, but they're both excellent bases for hikes and bike rides.
Recommended accommodation and hotels in Corbridge:
6. Otterburn (and Elsdon)
In terms of pure beauty, Otterburn is my favorite village in Northumberland. There's not much to do in the tiny village except leave it behind to go on hikes or bike rides or whatever, but I reckon it's the prettiest place on this list.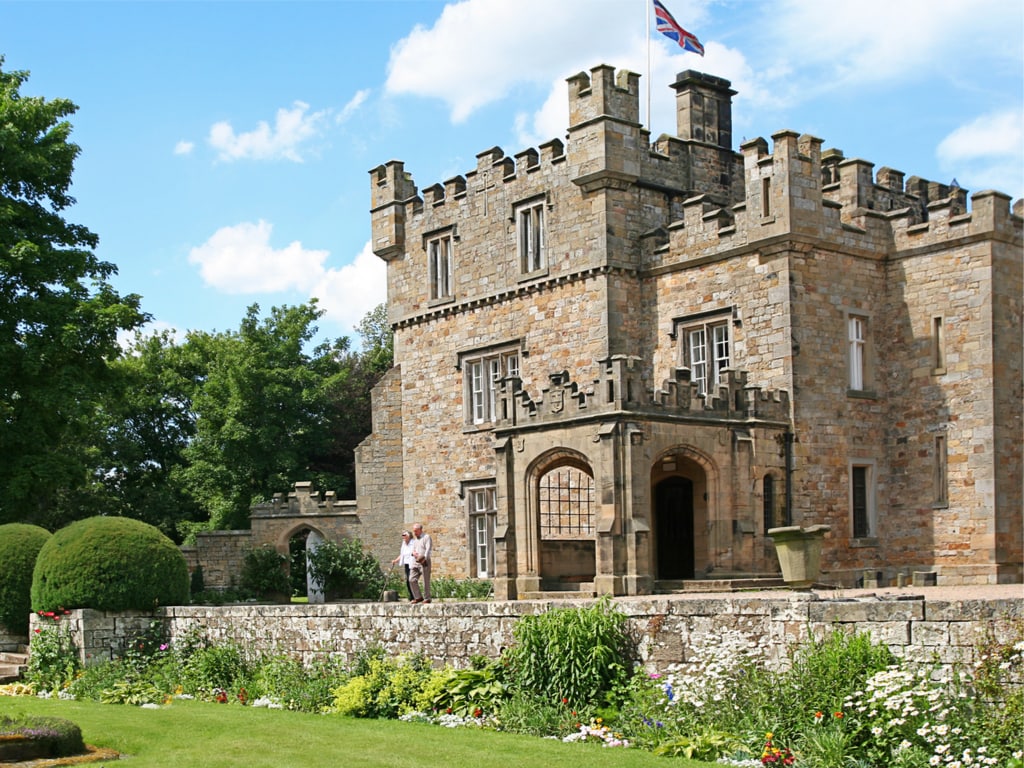 It's also a great place for exploring all of Northumberland – it sits at a small crossroads, sort of in the middle of the region, giving excellent access to lots of the other incredible areas that surround it. And because it sits right on the main A696 road, it's excellently-placed for getting around.
Three miles east of Otterburn is Elsdon, one of the most underrated villages in all of Northumberland. Built right into the foothills of Northumberland National Park, it has a beautiful church, some castle ruins, a small few homes, and endless farmland. It's even smaller than Otterburn, and less than 1,000 people live in the two villages combined.
Recommended accommodation and hotels in Otterburn & Elsdon:
7. Blanchland
Tiny tiny Blanchland is a ridiculously pretty village. If you're looking for properly picturesque, Blanchland is one of my favorite entries on this list.
It's also different to all other entries on this list, as it's the only one not situated north of (or very near) the River Tyne. Very close to County Durham, in a place that most people don't realize is still Northumberland, Blanchland is crafted from cobbled lanes and ancient stones, and it's so pretty that it's been used as a filming site for many TV shows.
On the outskirts of the North Pennines, Blanchland is great for exploring hikes, bike rides and other outdoor adventures in one of the least-explored (and most barren) outdoor areas in the UK.
Recommended accommodation and hotels in Blanchland:
Coastal Settlements
Most interested in exploring the bays and beaches of Northumberland's award-winning coast? Choose one of the towns and villages from this section of our list…
8. Alnmouth
For me, Alnmouth is the most charming coastal village in Northumberland by far, with a measly population of around 600 people, and seemingly twice as many boats.
If you're looking for somewhere quaint, cute and lovable on the Northumberland coast, Alnmouth is it.
The place has colorful, orange-topped houses, golden beaches, two great golf courses, a charming harbour and lots of great small places to eat. West of the village, there's some beautiful farmland, so you can tackle lots of circular walks taking in both fertile fields and peaceful shores.
Recommended accommodation and hotels in Alnmouth:
9. Craster
I absolutely love this place. With its tiny harbour, close-by beaches, famous smoked fish and nearby crumbling ruins of the massive Dunstanburgh Castle, Craster is one of the most iconic and popular places along the Northumberland Coast.
The walk from here to Seahouses is the best coastal walk in all of Northumberland (well, I think so anyway). It measures in at around 10 miles (16km), and it covers lots of the region's highlights (including Dunstanburgh Castle).
If you like tiny coastal settlements, you'll love Craster – only around 300 people live here, but when you visit, you'll be surprised it's not less.
Recommended accommodation and hotels in Craster:
10. Warkworth
Warkworth isn't quite on the coast, but it's very close, so let's just all pretend. With a huge castle, a steep and busy main street, lovely riverside walks and mega-close proximity to the popular seaside town of Amble, Warkworth offers an excellent compromise between inland adventures and shoreline fun.
Around 1,500 people live in Warkworth, but it has a welcoming buzz which belies its size.
When you're in Warkworth, make sure you take an over-river boat trip to the weird and wacky Hermitage, and go to the nearby Morwick Dairy farm for some ice cream (apparently I like recommending places to eat ice cream).
Recommended accommodation and hotels in Warkworth:
11. Bamburgh
There isn't much to do in Bamburgh, but it's the home of my favorite castle in Northumberland, which looms over the tiny town it calls its home, and the (around) 400 people who live here.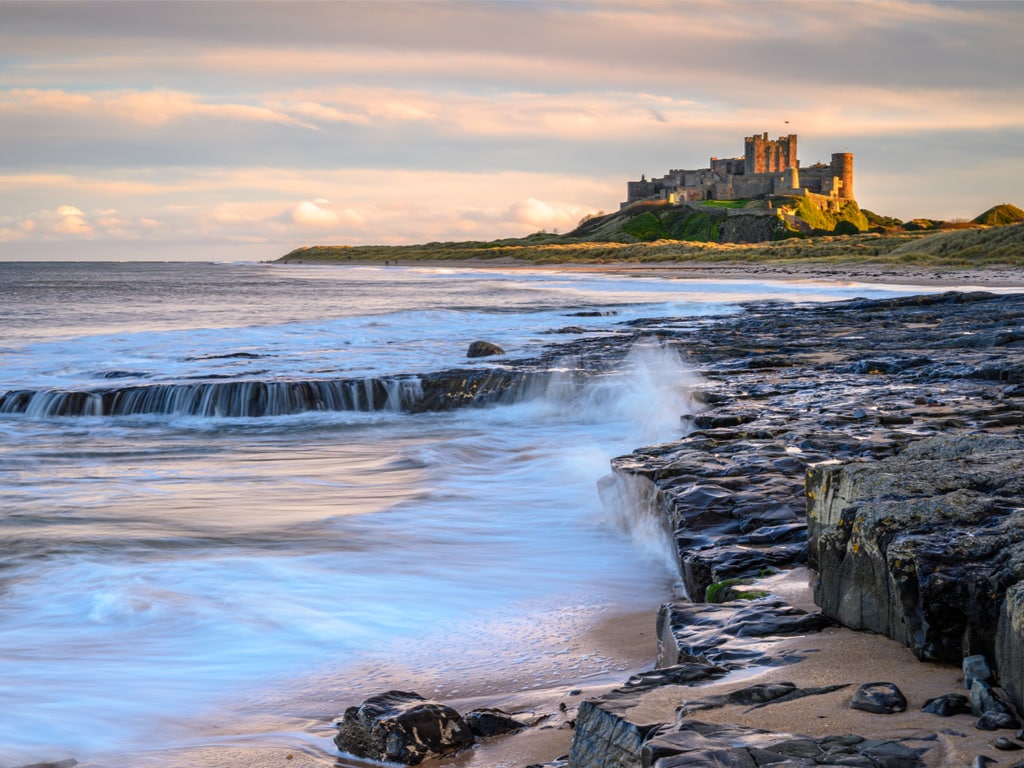 The major highlight here is obviously the castle, but Bamburgh's beaches are brilliant too. For a juicy combo of them both, head to the shores just north of the castle, and look back at the fortified behemoth behind you for one of the best views in Northumberland.
If you're interested in maritime history, have a peek in the village's diminutive Grace Darling Museum.
Recommended accommodation and hotels in Bamburgh:
The Big Ones
If you're looking for some slightly bigger towns to stay in Northumberland (if you like having lots of conveniences, or you're traveling with kids or whatever), my three favorites are….
12. Morpeth
Morpeth is the biggest entry on our list. It still only has a population of around 15,000, but compared to most of the other places I've mentioned, it's a buzzing metropolis.
As a compromise between busy and beautiful, Morpeth is the best town in Northumberland. The town itself is relatively busy, but it's also well-connected to Newcastle by train.
Despite its size, Morpeth is cute and quaint, it's close to lots of lovely outdoor areas, and it has great proximity to Northumberland Zoo and Whitehouse Farm.
Recommended accommodation and hotels in Morpeth:
13. Alnwick
You've probably already heard of Alnwick. It's (unsurprisingly) the home of Alnwick Castle, one of the biggest and most celebrated castles in all of the UK, and one of the filming sites for some of the Harry Potter movies.
It's also one of the world's most action-packed castles, with a massive program of daily events and attractions, including interactive exhibitions, guided tours, a poison garden, Harry Potter-themed events, craft demonstrations, live performances and much more.
Aside from Alnwick Castle, the cobbled streets and charming lanes of Alnwick also offer Barter Books (one of the best second-hand bookshops in the UK), and lots of great places to eat and drink.
Recommended accommodation and hotels in Alnwick:
14. Hexham
If you want a big base from which to explore Hadrian's Wall, the North Pennines, or the southwestern stretches of Northumberland, choose the market town Hexham.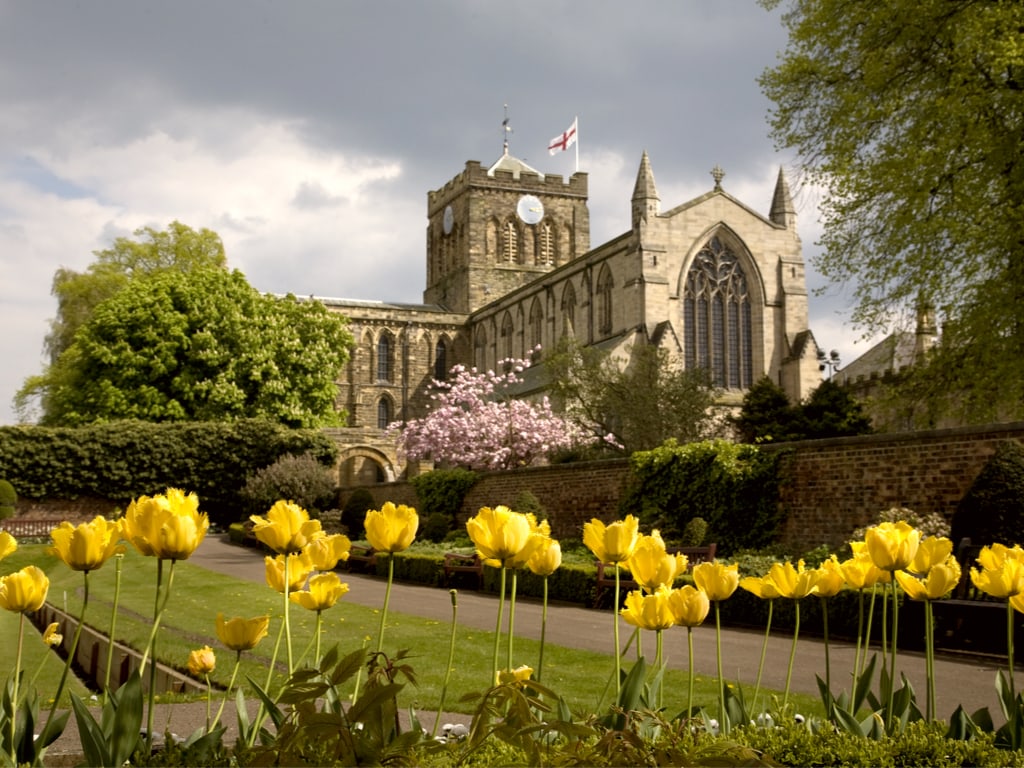 Hexham has a population of around 12,000 people, it sits on the banks of the River Tyne, it has a great abbey and old goal, there are lots of places to eat, drink and shop, and it's beautiful. It's also well-situated for exploring other nearby towns and villages along the Tyne, including Corbridge, Halthwhistle, Wylam and more.
Just like Morpeth and Alnwick, if you want a little more comfort and convenience, if you like the bustle of bigger towns, or if you're traveling with kids, Hexham is great.
Recommended accommodation and hotels in Hexham:
Final Words
Thanks for reading our guide to the prettiest villages and small towns in Northumberland!
If you want any more information on traveling in Northumberland, we have loads of articles on our site, including guides on the best walks in Northumberland, the best castles in Northumberland, the Northumberland Coast Path and plenty more.
Whatever you want to know about Northumberland and the UK, we've got it right here you lucky boys and girls.
Being a Digital Nomad: Tips, Tricks and Places
Do you want to be a digital nomad?
If you do, maybe you don't know where you might want to live. Or how to live there. Or whether you need a visa. Or how to make friends in the scary sprawl of a brand-new city. Or how to stay productive while you travel. Or how to find an apartment. Or whether this lifestyle really is for you. Or… I'm sure you get the idea.
But with some insight and experience, it's not as difficult as you think. So in this book, I've gathered my 6 years of digital-nomadding experience… and I've used it to answer all your questions, soothe all your fears, and get you on your way. After reading this, you'll realise being a digital nomad is much easier (and much more possible!) than you think.