The Secret Pyramid in Scotland You Didn't Know Existed
As you know (because you probably Googled it to get here), there's a strange secret pyramid in Scotland.
But apart from its existence, you might not know much more about it—so in this quick guide, I've covered it all.
Why exactly is it there? Who built the thing? And is it in any way related to the Ancient Egyptians*?
*spoiler alert: it isn't.
Coming up, all that and more. Here's your complete guide to the Secret Pyramid in Scotland!
What is the Pyramid on the Balmoral Estate?
Well, it's a big pyramid.
I'll cover all the history in the next section, but here's a quick insight into what you can expect from gawping at it…
The Balmoral pyramid in Scotland sits around 440 meters (1,440 feet) above sea level, and around 200 meters (650 feet) above its surrounding area. Constructed completely from granite, it has a surprisingly-big base of 12.5m x 12.5m (that's 41 feet x 41 feet). It measures in at a hefty height of around 10.6 meters (35 feet).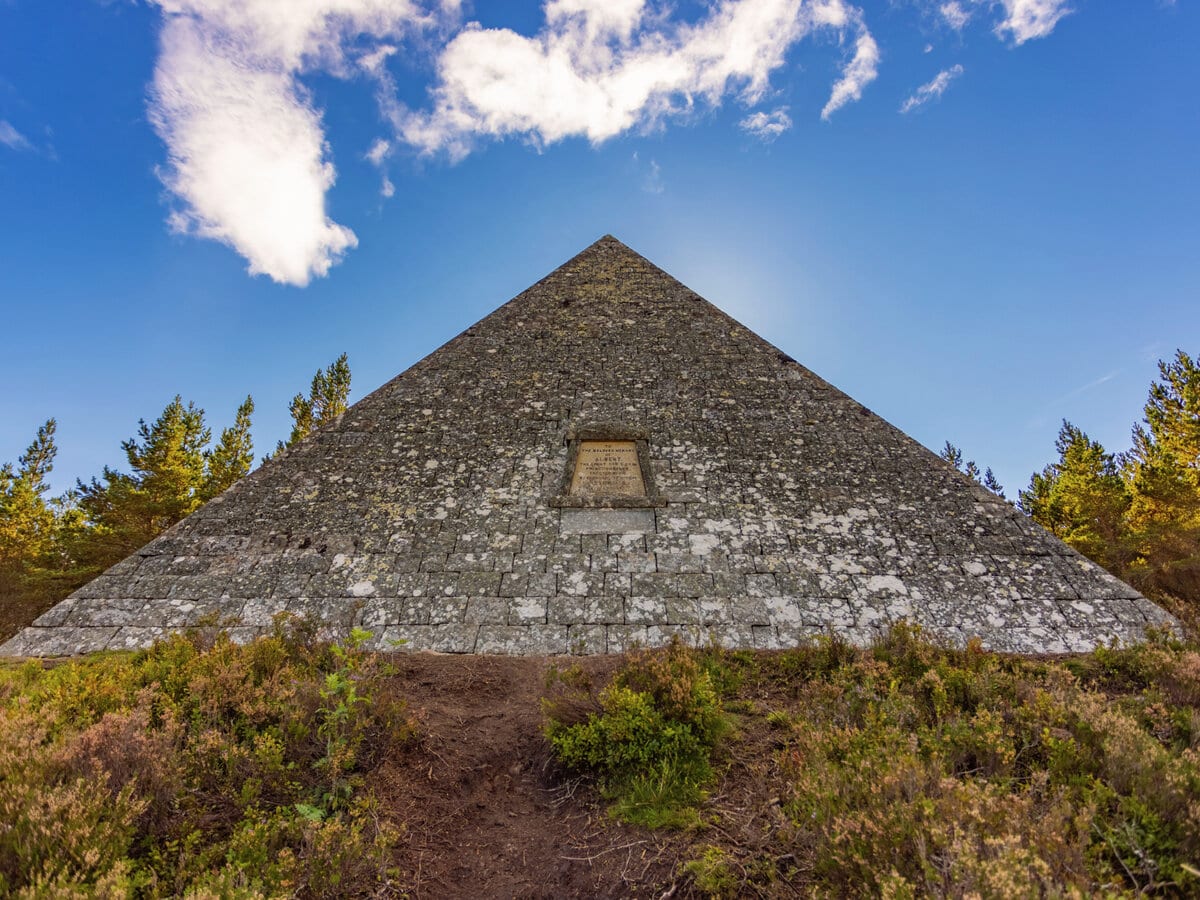 The big secret Scottish pyramid in Balmoral has been standing there since 1862. And the reason behind its existence is pretty surprising. Which brings us to…
Why is There a Pyramid in Scotland? and Who Built It?
Let's answer this question with a little history lesson.
Back in 1840, the UK's Queen Victoria married Prince Albert. It was all a bit controversial at the time, but the most important thing is this: the two really really loved each other. How nice.
Queen Victoria really liked the countryside. So her husband Albert thought 'hey, let's do a nice thing for my wife.' And he did. This nice thing was to buy and renovate the estate at Balmoral. The Queen liked the region, and Albert wanted to give his wife a beautiful countryside getaway.
When the two bought the estate, they wanted to proudly announce their purchase. To do so, they built a pyramid-shaped 'cairn.'* Victoria laid the first stone, Albert laid the last stone.
(*Traditionally, a 'cairn' is a collection of often-loose rocks all piled on top of each other. These days, they serve as markers for the tops of mountain peaks and summits, and to tell hikers they're heading in the right direction, But traditionally, they were built to mark graves and other important sites).
The couple went on to make a habit of building these sometimes-pyramid-shaped cairns—and they built cairns every time one of their children got married. They had 9 children, so that was 9 more cairns.
In 1861, after 10 cairns had already been built, something unexpected happened. Prince Albert died (at the age of only 42!), and the Queen was understandably upset.
She went to Balmoral to be upset in isolation, and she decided to… build another cairn. It was constructed in honor of Albert, and was (much) bigger than the other 10. And that's the one now known as the secret pyramid in Scotland. Although all the other cairns vaguely resemble pyramids, this cairn is very much pyramid-like, and can't be mistaken for any other shape.
Completed in 1862, the pyramid is inscribed with "To the beloved memory of Albert the great and good Prince Consort. Erected by his broken hearted widow Victoria R. 21st August 1862."
Where is the Pyramid in Scotland?
The secret Scottish pyramid sits on Craig Lowrigan hill, a low-level peak on the Balmoral Estate (one of the UK's private royal residences, and where the most recent Queen would often spend her summers).
This estate is close to Ballater (one of the prettiest villages in Scotland), in the eastern part of central Scotland. Ballater and the Balmoral Estate (and the pyramid) all sit inside Cairngorms National Park, the biggest national park in the UK.
Around the big pyramid, there are 11 other cairns (which don't all look like pyramids, but people often refer to them as pyramids regardless). Anyway, whatever you want to call them, I've used both words interchangeably for the rest of this guide.
How to Get to the Secret Pyramid in Scotland?
🚗 How to Get to the Scottish Pyramid by Car
You can't actually ride right up to the secret Scottish pyramid. The closest you can get by car is by driving to the Balmoral car park.
Although the Balmoral Estate is typically only open from April until July, the car park is accessible year-round. And so too is the walk (although it's not recommended to tackle the walk when the Royal Family are in residence, which is usually from late August until late October).
To get to this car park, you want to follow the A93 road running between Breamar and Ballater, where you'll find a tiny little place called Crathie. The car park is here, and its actual coordinates are 57°02'22.6″N 3°12'59.8″W. Stick those coordinates into Google Maps, and they'll show you exactly where to go.
🚌 How to Get to the Scottish Pyramid by Bus
If you're using public transport, Aberdeen is the only city you can easily access the pyramid from. The 201 bus runs from the city to the Balmoral area, but because it's a 50-mile (80km) journey, it's pretty lengthy.
The bus stop you'll need to get off at is 'Crathie,' and it's located right beside the car park we've just outlined above.
There are no direct bus routes from any other city in Scotland.
The best access points for reaching the Scottish pyramid by public transport are Breamar and Ballater. Because the 201 bus runs to both of those places, they're the wisest overnight bases. They're both touristy and charming, and they're both lovely places to spend a day or two.
Note: there is no train station close to the pyramid. You can't use trains to reach the pyramid or the Balmoral Estate from any part of Scotland.
✈️ How to Get to the Scottish Pyramid by Plane
The nearest airport to Scotland's secret pyramid is Aberdeen International Airport. Once you've landed there, you can get to the Balmoral Estate via the methods we've outlined above.
Glasgow and Edinburgh also have international airports, but they're a little further from the Balmoral Estate.
🚶‍♀️Getting to the Scottish Pyramid on Foot
As we've mentioned, you can't get to the pyramid without doing at least a little walking.
So no matter whether you drive or take public transport or whatever, you'll have to tackle at least some on-foot adventuring.
You have a few different options for your wander—but all of the best and most popular routes start from the Crathie car park we keep mentioning. And the two choices I recommend are:
If you just want to see the famous Scottish pyramid (and none of the other cairns/pyramids around it), the shortest and easiest option is to follow the instructions for this walk. It's around 2 km (1.2 miles) one-way. Some parts are signposted, and some aren't—but the instructions at the link are pretty clear. Depending on how fit you are, the whole walk will probably take between 1 and 2 hours.
If you want to tackle something a bit more scenic and adventurous (and lengthy), you can wander along this 6-mile (9.5km) walk. It takes in various cairns and pyramids (including, of course, the big famous pyramid), lovely views of Deeside and the Cairngorms, and some surprisingly varied stuff. The whole route will probably take between 2 and 3 hours, and has a total ascent of 370 meters (1,200 feet). If you're not a regular walker, you probably won't be fit enough to do it.
For more walks and wanders in the nation, rove on over to our guide on the 15 best hikes in Scotland.
Can You Go Inside the Secret Scottish Pyramid?
Nope, you can't go inside the secret Scottish pyramid.
Though it sort of looks like a burial cairn, it's not actually a burial cairn, and there's nothing inside it. It's not hollow, and it doesn't even have a door.
Prince Albert was not actually buried inside the pyramid. Instead, his body was laid in Frogmore House & Gardens, in Windsor. And when Queen Victoria died 40 years later, she was placed there too.
Is the Secret Scottish Pyramid Worth a Visit?
Yep, it's definitely worth visiting.
It's weird, it's in a beautiful place, it's an interesting historical insight, it offers lovely views, and the longer hike (which we outlined above) is a genuinely great walk.
And on top of all that, it's in the grounds of one of the UK's most famous buildings… so you can also visit the estate while you're on-site.
As you can probably tell, I definitely recommend visiting the secret Scottish pyramid.
Pro Tips for Visiting the Secret Scottish Pyramid (and Some Facts)
Are There Any Other Pyramids in Scotland?
There are actually 13 pyramids in Scotland.
All but one of them are on the Balmoral Estate—so that's 12 total pyramids in Balmoral.
11 of those 12 were built (or, more specifically, ordered to be built) by Queen Victoria. One of the others was built many years later. Here's a breakdown of all 12 pyramids on the Balmoral Estate:
The Prince Albert Death Cairn: as we've covered, this is the biggest and most famous of all the cairns, and it's known as the secret Scottish pyramid. It was the last of the Victoria-made cairns to be made, and construction was completed in 1862. As you probably know by now, it was built to commemorate the death of Prince Albert (Queen Victoria's husband).
The 'Purchase Cairn': the first of all the 12 Balmoral Estate cairns to be laid. As we've covered, this was laid when Victoria and Albert bought the Balmoral Estate, back in 1852.
The other 9 cairns Victoria and Albert built: these were all built to commemorate the marriages of their 9 children. Each time a child got married, they built a new cairn. So that's 9 marriage-based cairns. Add that to the 'Albert's-death' cairn and the 'purchase cairn,' and you get 11 cairns.
The 12th (and final) cairn on the Balmoral Estate is the Diamond Jubilee Cairn, which was built to commemorate the 60th year of the reign of then-British-Queen Elizabeth II, back in 2012. It was the first to be built for 120 years, making it a late addition to the cairn collection.
The final pyramid in Scotland isn't on the Balmoral Estate. Known as the Star Pyramid, it sits beneath Stirling Castle, which is relatively close to both Edinburgh and Glasgow. It was built in the 1860s.
Also known as 'Salem Rock,' the Star Pyramid is a big chunk of sandstone, and it's dedicated to anyone who died for civil liberty or religious liberty in Scotland. It's close to the city's Old Town Cemetery, and features carvings which reference passages from the Bible. It's right in the heart of the city, and it's definitely worth a visit (especially if you like strange stuff).
Before You Go
And just like that, we've reached the end of our guide to the Secret Pyramid in Scotland. And thanks to us, it's now probably not so secret anymore.
For more information on big behemoths in the nation, check out my guides to the 13 UNESCO sites in Scotland, and the 17 best castles in Scotland.
Thanks for reading, thanks for visiting Travelness, and come back again soon. See ya!
Being a Digital Nomad: Tips, Tricks and Places
Do you want to be a digital nomad?
If you do, maybe you don't know where you might want to live. Or how to live there. Or whether you need a visa. Or how to make friends in the scary sprawl of a brand-new city. Or how to stay productive while you travel. Or how to find an apartment. Or whether this lifestyle really is for you. Or… I'm sure you get the idea.
But with some insight and experience, it's not as difficult as you think. So in this book, I've gathered my 6 years of digital-nomadding experience… and I've used it to answer all your questions, soothe all your fears, and get you on your way. After reading this, you'll realise being a digital nomad is much easier (and much more possible!) than you think.