Top 13 Best Picnic Spots in Northumberland
I was born in the northern English county of Northumberland, so I spent lots of my life picnicking in the place as a little boy.
Now, I still behave like a little boy, but I also have a job. And my job is writing about travel stuff, so we've come full circle, and my task today is to bring you this… a big long list of all my favorite places to picnic in Northumberland.
So if you've been asking yourself where can I have a picnic in Northumberland? This is the perfect article: I've brought you everything you need to know about the best picnic spots in Northumberland. I've added places from various parts of the county, and I've included lots of helpful practical information including addresses, parking fees, opening times and more.
I've covered castles, stately homes, lakes, urban getaways, fun-packed parks, big long coastlines and plenty more. Whatever type of picnic place you're looking for in Northumberland, you'll find it on this list.
Wrap up your sandwiches, grab some soda, and bring your favorite snacks, cos today Travelness is taking you on a big fat Northumberland picnic!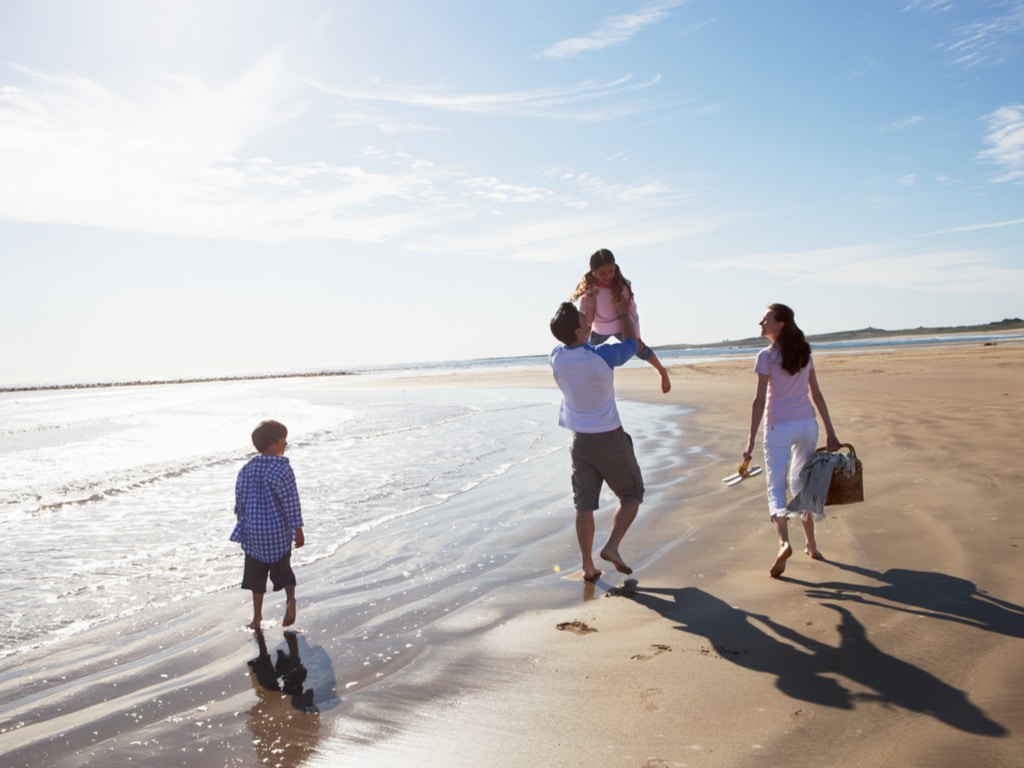 1. Blyth Beach
This place is very close to where I was brought up, so I spent loads of my childhood eating, adventuring and exploring here.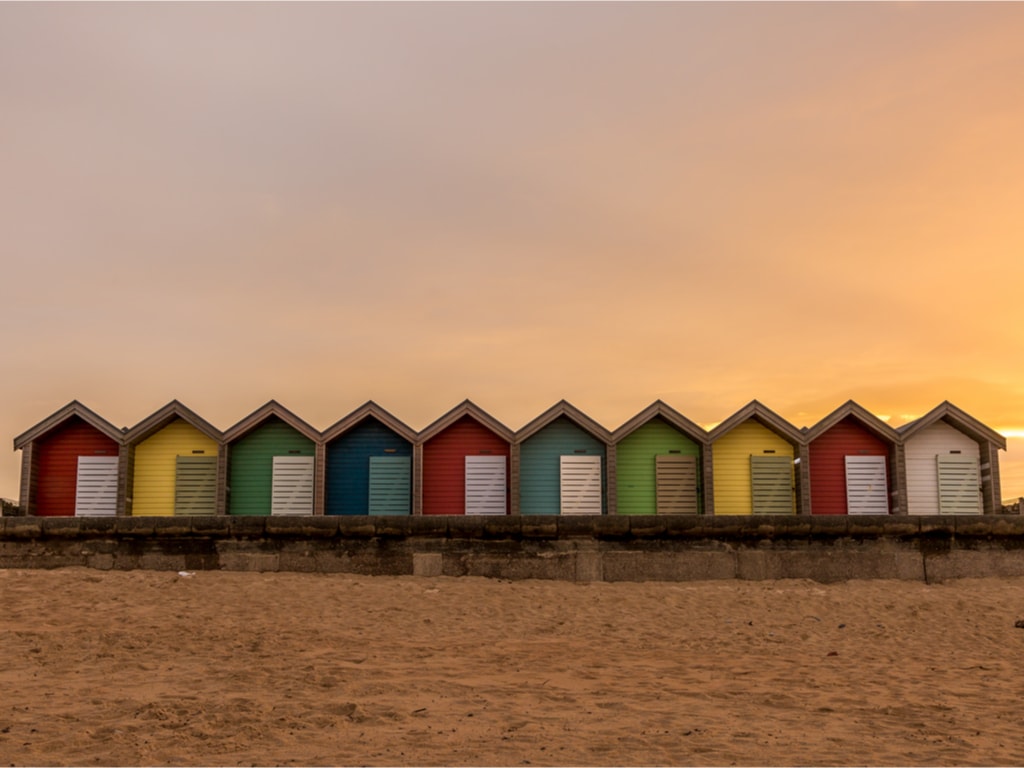 When I was younger, Blyth Beach was a popular hangout, but it was nothing special. But now, the area has undergone lots of renovation, making it pretty, accessible, and fun. Have a splash in the sea, build some sandcastles, play in the local parks and wander onwards to Seaton Sluice. There's also loads of ice cream and fish and chips, the archetypal British seaside treats.
If you really want to plonk yourself down for a full day of lolling and luxuriating, rent one of Blyth Beach's colorful little cabins. If you rent one of these, you have your own private place to eat, get dressed, and enjoy the lovely views.
Blyth is quite a big town, so it has all the amenities you need for an easy day of picnicking. It's also very close to other towns, including Cramlington and Ashington—and it's just a few miles from Newcastle. So if you're looking for a coastal urban adventure, you've found it.
Address: Blyth Beach, Blyth
Entrance Fees: Free
Parking Fees: Free
Public Toilets? Yes
2. Carlisle Park, Morpeth
Carlisle Park is easily one of Northumberland's best (and biggest!) urban green spaces. So if that's what you're looking for, stop Googling and get yourself there.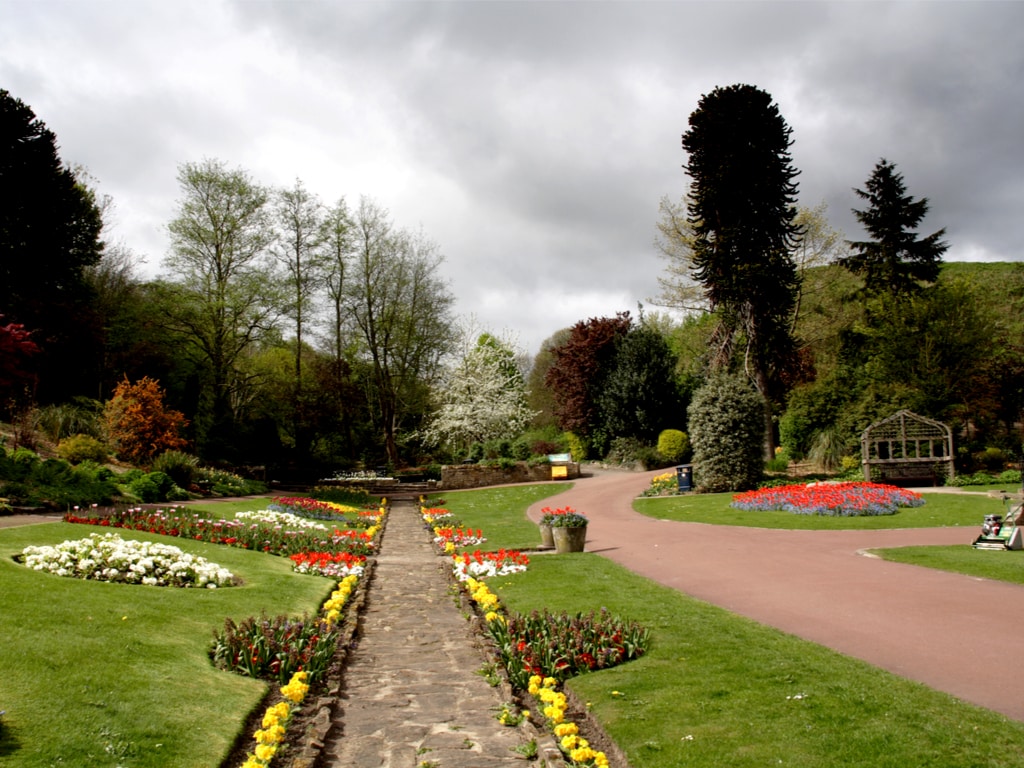 Here, there's a boating lake, loads of ducks, play parks, a paddling pool, an aviary, a woodland, a beautiful river, a castle(!), and lots of greenery to play and explore in. When I was little, I used to come sledging here in the winter.
Because Carlisle Park is so vast, there are plenty of places to picnic, with lots of nice scenic spots. The whole place is filled with banks and hills, so you can find lots of vista-packed vantage points to munch on your meals and morsels.
If you're traveling with small kids and want a pretty, walkable, charming, friendly town with all the kid-friendly amenities you need, Morpeth is the best option in Northumberland. And if you decide you can't be bothered with a picnic, Morpeth has plenty of great cafes and restaurants, loads of which are kid-friendly.
Address: Carlisle Park, Morpeth, NE61 1YD
Opening Hours: Daylight hours
Entrance Fees: Free
Parking Fees: £2 for the full day
Public Toilets? Yes
3. Belsay Hall
I used to come here all the time when I was little. It's most famous for its majestic hall and medieval castle (both of which are brilliant), but the gardens are massively underrated.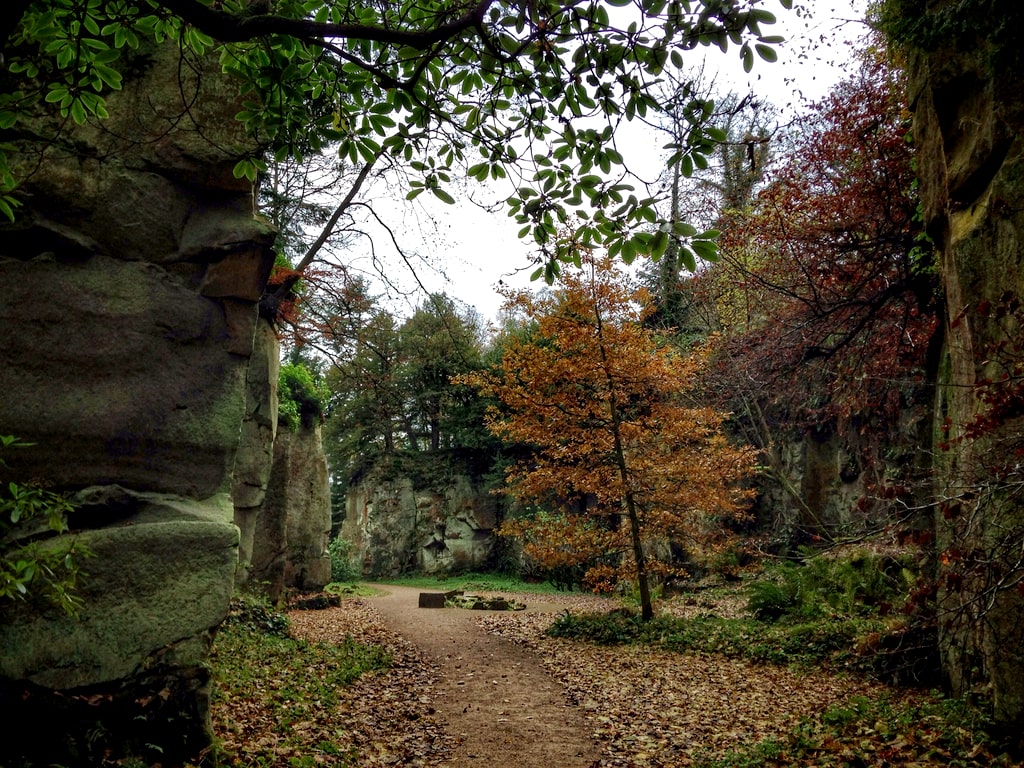 They have their own microclimate, so they're packed with weird exotic plants. Loads of the gardens are sandwiched between steep, dramatic ravines, so kids can feel like they're wandering through the set of Jurassic Park (if they even understand that dated reference).
Popular with families, couples and dog-walkers, loads of people come here to picnic, so it's a great place to combine history, heritage and adventure with some chewing and chomping.
Belsay Hall is great because it feels remote and rural (as does Belsay Village!), but it's actually pretty close to lots of the area's bigger towns, like Morpeth and Ponteland.
Address: Belsay Hall, Belsay, Northumberland, NE20 0DX.
Opening Hours: 10:00-17:00, 7 days a week
Entrance Fees: £11 for adults, £6.60 for children, free for English Heritage members
Parking Fees: Free
Public Toilets? Yes
4. Bolam Lake
Right beside Belsay Hall is Bolam Lake, so you can combine the two of them into one gigantic mega-trip if you're feeling energetic and adventurous.
A beautiful little lake with loads of birds, fun forests, and lots of small spots to eat and drink, Bolam Lake is a real family favorite, and it's very kid-friendly. It's also massively accessible, so it's great if you have kids with pushchairs. And there's a lovely visitor center, where you can buy great snacks and drinks.
When you're here, make sure you feed the birds. But not with bread, cos that's illegal now, or something.
Address: Bolam Lake, Bolam, NE20 0HE
Opening Hours: Open during daylight hours
Entrance Fees: Free
Parking Fees: Between free and £3, depending on how long you stay
Public Toilets? Yes
5. Cragside
One of the most famous and popular stately homes in Northumberland, Cragside is really close to Rothbury, a brilliant and beautiful hiking hub town.
Cragside has lots of walking trails, beautiful architecture, excellent gardens, rocky crags, fantastic views, and lots of places to peacefully picnic. Northumberland is famous for its big old houses with big old estate gardens—and Cragside is one of the best of them.
Address: Cragside, Rothbury, NE65 7PX
Opening Hours: 10:00-17:00, 7 days a week
Entrance Fees: £13 for adults, half price for children, free for all National Trust members
Parking Fees: Free
Public Toilets? Yes
6. Alnwick Garden
Alnwick Garden is absolutely perfect for picnics. It's packed with action and adventure for kids, but there are also plenty of green spaces for chilling out and eating. And if you want to combine it all with some interesting history, the Gardens are also home to one of the biggest castles in England.
You'll find picnic spots everywhere, located in and around all of the fun. So you can eat near mazes, fountains, water displays, the poison garden, the huge treehouse, play parks, medieval shows, Harry Potter-themed events and attractions, interactive tours, live demonstrations, a huge castle, and loads more.
It's a pricey place to visit, but you get a full day of fun. So pack more than one picnic.
Address: Alnwick Castle, Alnwick, NE66 1NQ
Opening Hours: 10:00-17:30, 7 days a week
Entrance Fees: Garden tickets are £14.85 for adults and £5.50 for children, while entry to the castle is £18.50 for adults and £9.75 for children
Parking Fees: £3 per day
Public Toilets? Yes
7. Sycamore Gap
The most iconic spot along Hadrian's Wall, Sycamore Gap is perfect for a picnic, because it's scenic and relatively remote, but it's not too far from a car park. It's also massively beautiful—one huge tree stands in a big old dip, making this one of Northumberland's most-photographed spots.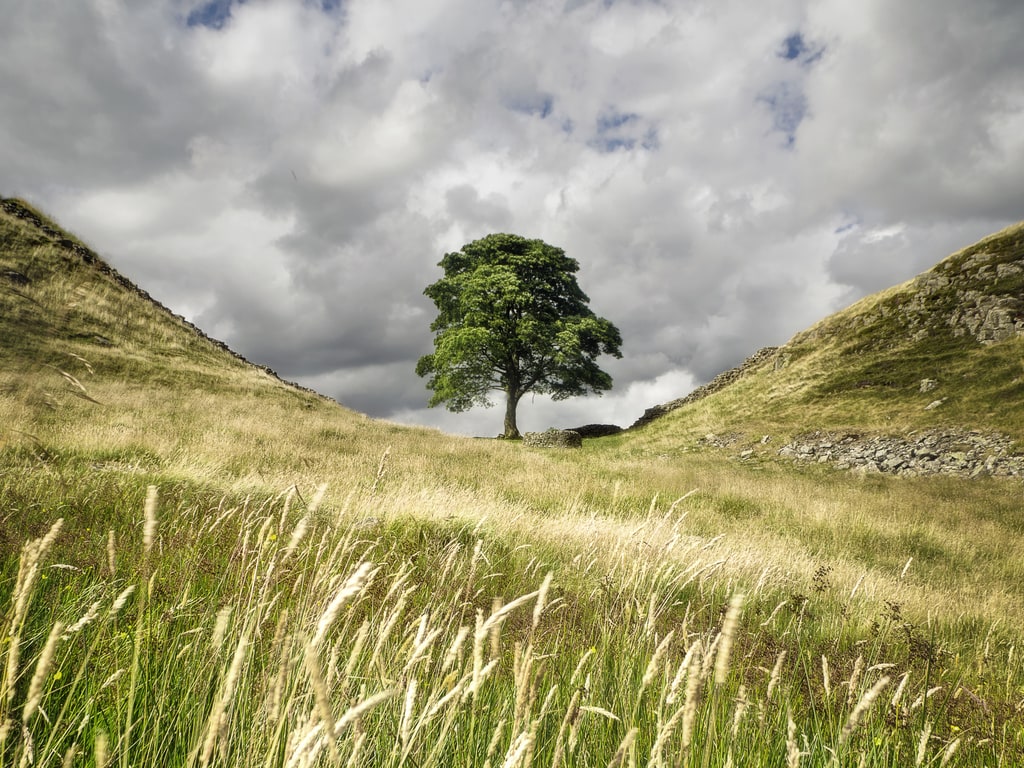 You can combine a Sycamore Gap picnic with a lovely little hike from Steel Rigg car park. The round-trip walk takes anywhere from 1-3 hours depending on how old and speedy your kids are. But for kid-friendly walks where the views far outweigh the effort required to get them, it genuinely doesn't get much better than this.
If you're looking for other top picnic spots along Hadrian's Wall, consider both Housesteads and Vindolanda, two excellent Roman Forts.
Address: Steel Rigg Car Park, B6318, Haltwhistle, NE47 7AW
Opening Hours: Daylight hours
Entrance Fees: Free
Parking Fees: £3 for 3 hours
Public Toilets? No
8. Northumberlandia
Okay, I'm gonna kick this off with a disclaimer: Northumberlandia isn't great. If you like rural stuff and remote adventures, you'll probably find Northumberlandia a bit boring and contrived.
But some people seem to love it. And if you just want a simple place for a picnic without having to drive or wander very far, Northumberlandia does the job. It's close to lots of towns (including Cramlington, where I was born), and it's only a short drive from Newcastle.
A man-made hilly park, Northumberlandia (for some reason I can't quite work out) is built in the shape of a woman. But unless you're a bird, you won't be flying over the place, so you won't be able to see that. All in all, the place has around 4 miles (6.4km) of walking trails, some okay views, a visitor center, and lots of accessible places to picnic, so it's a decent place for a wander with small kids.
Address: Fisheddress:r Lane, Cramlington, NE23 8AU
Opening Hours: Daylight hours
Entrance Fees: Free
Parking Fees: Free
Public Toilets? Yes
9. Humford Woods
I spent a lot of my childhood adventuring in and around Humford Woods (and nearby Plessey Woods, which is also a decent spot for a picnic).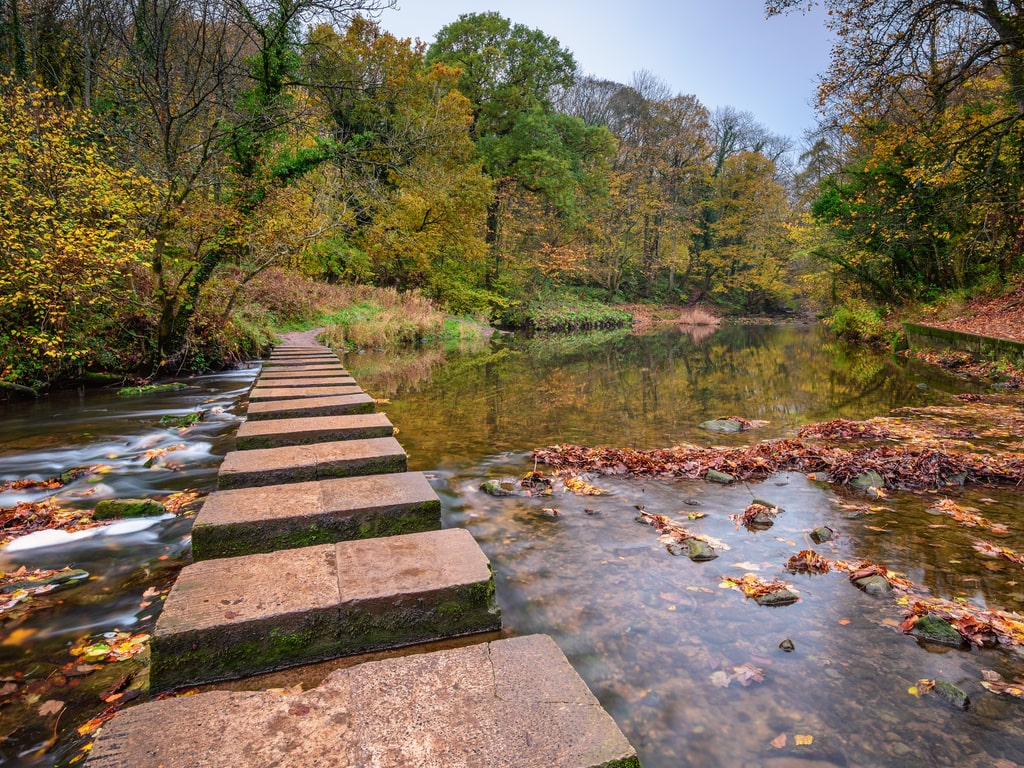 Just like Northumberlandia, this is a good option if you want an outdoor adventure without having to travel far to get it. Just outside of Bedlington (close to Cramlington), Humford Woods offers wooded trails, a great play park, some fun stepping stones, a winding river and a mini waterfall. And because it's big, you can always find a peaceful place for a picnic. It's massively popular with loads of local families.
Then when you're done, you're very close to Newcastle, and lots of nearby towns.
Address: Humford Woods, Humford Mill Car Park, NE22 5RT
Entrance Fees: Free
Parking Fees: Free
Public Toilets? Yes
10. Bamburgh
Combine one of Northumberland's best beaches with the region's best castle, and you get lovely lovely Bamburgh. You can picnic in various places in Bamburgh—try Bamburgh Beach, in and around the castle grounds themselves, or (my favorite), the fields which lie just under the western side of the castle.
The details below give you access to the big field, which has brilliant views of the castle, and huge amounts of space to picnic in. From that field, it's easy to find the castle and the beach, since Bamburgh and its surroundings are so small.
Address: Front St, Bamburgh NE69 7BJ
Entrance Fees: None
Parking Fees: Links Road Car Park is £4.50 for three hours
Public Toilets? Yes
11. Kielder
Kielder is lots of things. It's the biggest reservoir in Europe, it's a huge cycling hub, it's packed with great walks and it's brimming with animals, forests, flowers and more. It's one of the best family-fun destinations in Northumberland, and that means… lots of places to picnic!
The best picnic spot in Kielder is Kielder Castle, as it has lots of benches, lots of spots for hanging out, a big car park, and some good places to grab food and drink. It's also well connected to the Lakeside Way, a multi-use path popular with cyclists, walkers and horse riders. The information in the box below is for Kielder Castle, but there are also great picnic spots around Kielder's two other big visit centers: Tower Knowe and Leaplish.
If you want to know much more about Kielder, check out my bumper guide on the place here—and my guide to cycling in Kielder here!
Address: Kielder Castle Visitor Centre, Kielder, Northumberland, NE48 1ER
Opening Hours: the area around the Castle is open 24/7
Entrance Fees: Free
Parking Fees: £5 for the day
Public Toilets? Yes
12. Druridge Bay
Druridge Bay is a massively popular hangout for loads of families who live in Northumberland.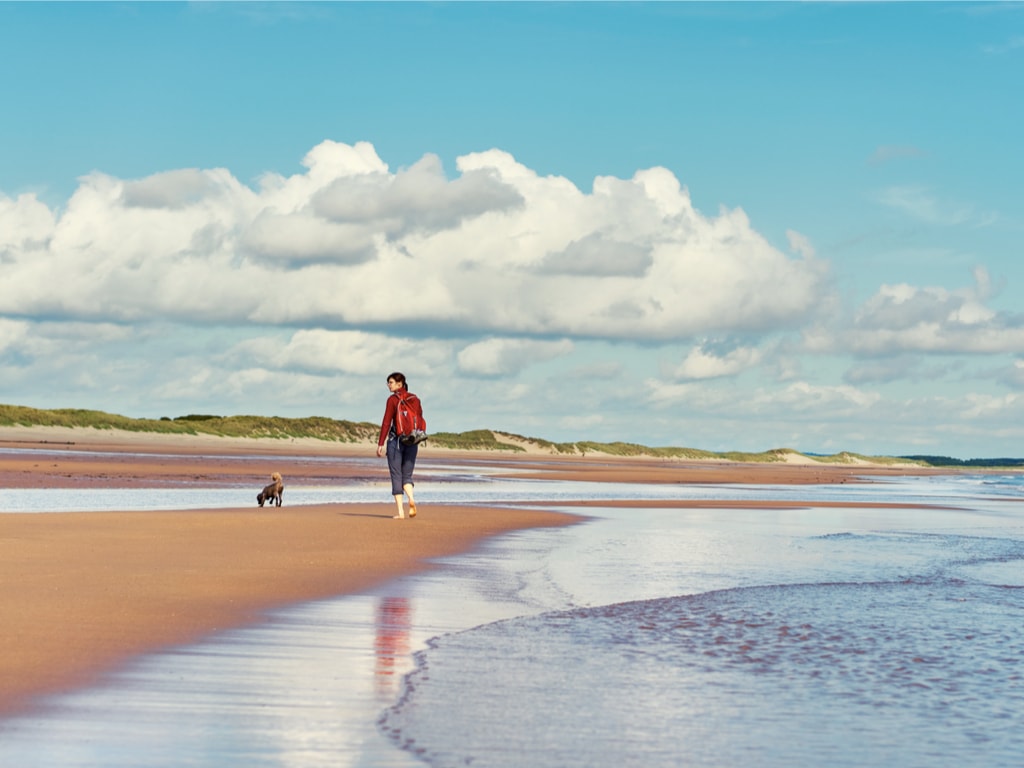 A lengthy stretch of coastline, Druridge Bay is sort of everything. Here, you have dunes, birdwatching spots, a beautiful country park, a big lake, loads of vast open spaces, great hikes, towering dunes, forested walks, sailing, surfing, and everything else you'd imagine you can squeeze into 7 miles (11km) of sands and scenes.
If you like beaches, you'll find somewhere you love along Druridge Bay. And wherever you choose, it'll be a great place to picnic.
Address: Various!
Entrance Fees: Free
Parking Fees: Most car parks are around £3 for a full day, or sometimes free
Public Toilets? Yes
13. Warkworth
Warkworth is great for a picnic, because there are so many lovely places to hang out. My favorite spot is anywhere along the river, but most people like picnicking in and around the castle.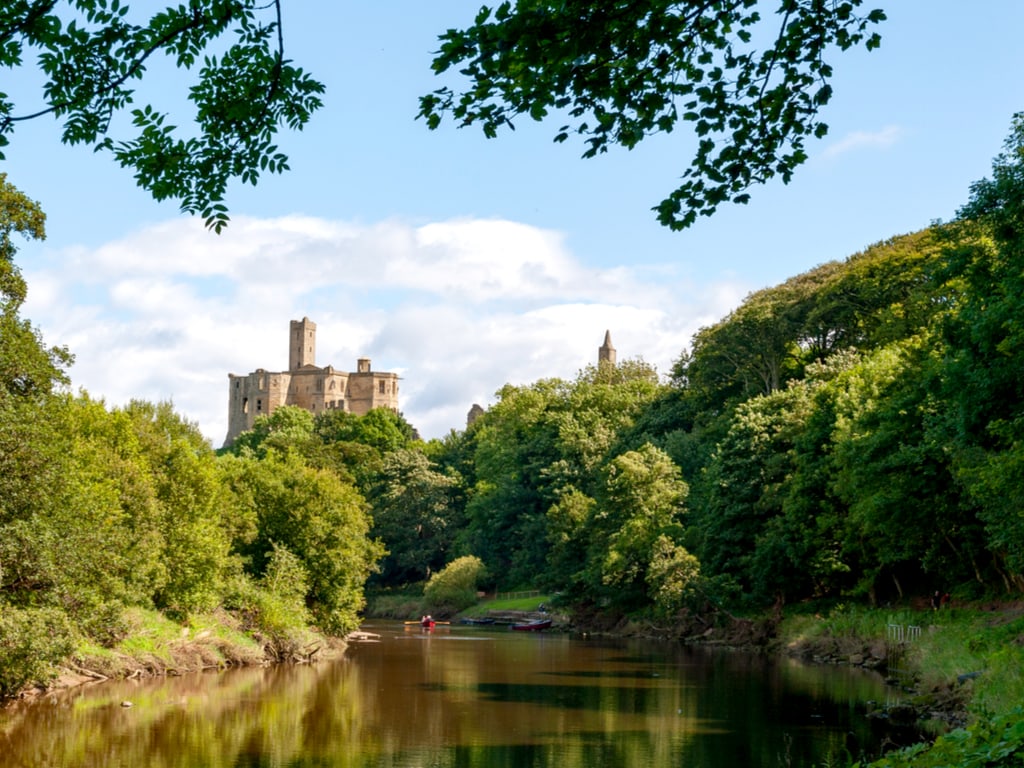 Because the castle absolutely dominates the town and its skyline, it's a good place to begin exploring Warkworth and all of its picnic spots, so I've included details of the castle in the box below. The castle is huge and historic, and because it's so big, it's a great place for exploring, adventures, and eating.
If you want an extra al fresco adventure, head to the nearby ice cream shop (Morwick Dairy), where you can chow down on some freshly-made ice cream while surrounded by the sights, sounds and smells of a farm. The ice cream here is brilliant, and it's a lovely little rural spot.
Address: Warkworth Castle, Castle Terrace, Warkworth, NE65 0UJ
Opening Hours: 10:00-17:30, 7 days a week
Entrance Fees: £8.70 for adults, £5.20 for children, free for English Heritage members
Parking Fees: Various, but you get the money back if you visit the castle
Public Toilets? Yes
The Expert Tips
If you like beachside snacking, head to the officially-designated Northumberland Coastline Area of Natural Beauty, the big long stretch of sands and shores that runs all the way from Amble to Berwick. Grab a picnic and plonk yourself anywhere along the coastline for some of the region's best views.
If you want to combine your picnic with a big lengthy hike, ignore this entire list and instead head towards some of Northumberland best hiking regions, including Simonside, The Cheviots and Upper Coquetdale.
If you like great urban parks, consider Berwick, Alnwick, or Hexham (or Morpeth, but I've already mentioned that place). Here, you'll find well-equipped towns with nice kid-friendly parks to picnic in.
When you picnic in Northumberland, make sure you gobble on some local delicacies. Some of my favorites include Craster kippers, Doddington Dairy Ice Cream (there's a great Doddington Dairy place in Wooler), and ham and pease pudding sandwiches.
Bon Appetit!
Thanks for reading our guide to the best picnic spots in Northumberland. One of the most remote, rural regions in England, Northumberland is packed with great places to chew and chomp, from town parks to lofty peaks to sand-backed shorelines. If you like eating outdoors, it's one of the best destinations in England.
So whatever type of picnic spot you're seeking, you'll find somewhere perfect on this list.
If you want to know anything else about traveling, adventuring and exploring in Northumberland, we have plenty of articles on our site. Some of our favorites include the best walks in Northumberland, the best castles in Northumberland, and our ultimate guide to the Northumberland Coast Path. Stay with us for much more!
Being a Digital Nomad: Tips, Tricks and Places
Do you want to be a digital nomad?
If you do, maybe you don't know where you might want to live. Or how to live there. Or whether you need a visa. Or how to make friends in the scary sprawl of a brand-new city. Or how to stay productive while you travel. Or how to find an apartment. Or whether this lifestyle really is for you. Or… I'm sure you get the idea.
But with some insight and experience, it's not as difficult as you think. So in this book, I've gathered my 6 years of digital-nomadding experience… and I've used it to answer all your questions, soothe all your fears, and get you on your way. After reading this, you'll realise being a digital nomad is much easier (and much more possible!) than you think.