13 Best Cycling Routes in Edinburgh for Scenic Escapes
I love Edinburgh, and I love cycling.
Combine those two fascinating tidbits, and you get a man who knows all the best rides and routes in Scotland's capital city.
So in this guide, I've done my civic duty, and I've brought you the 13 best cycling routes in Edinburgh. Looking for long rides? Short rides? Beautiful scenery? More hypothetical questions? Whatever you're on the hunt for, I've covered all that and more.
Jump in your saddle, stick on your helmet, and come join the two-wheeled fun!
Best Short Cycling Routes in Edinburgh
1. Holyrood Park Circular
If you're looking for super short and super simple, or if you're traveling with kids, this is the ride for you.
The biggest city-center park in Edinburgh, Holyrood Park is known for being the home of Arthur's Seat, a lovely little hill, famous for great viewpoints and short hikes.
But it's also much more than that—crammed into Holyrood Park, you rocky ridges, ancient ruins, little lochs, lots of tucked-away picnic spots, and some pretty walking and cycling paths.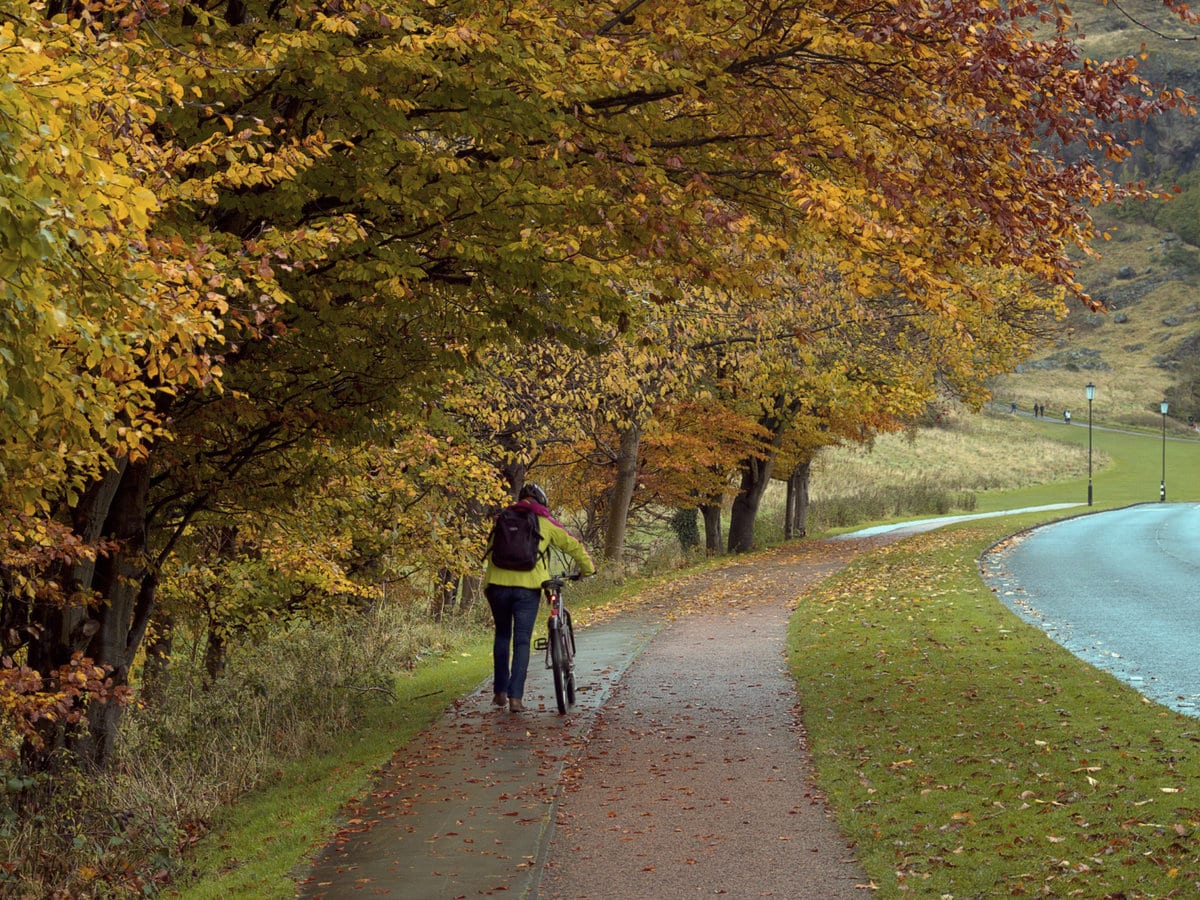 The easiest route is by following the entirety of the Queen's Drive loop, a 4-mile (6.4km) road that basically runs around the entire perimeter of the park. Some sections are on-road, but other stretches have paved sidewalks beside the road.
That said, all of the roads are closed to traffic on weekends, perfect if you're cycling with kids and you want to keep them safe.
2. Edinburgh to Portobello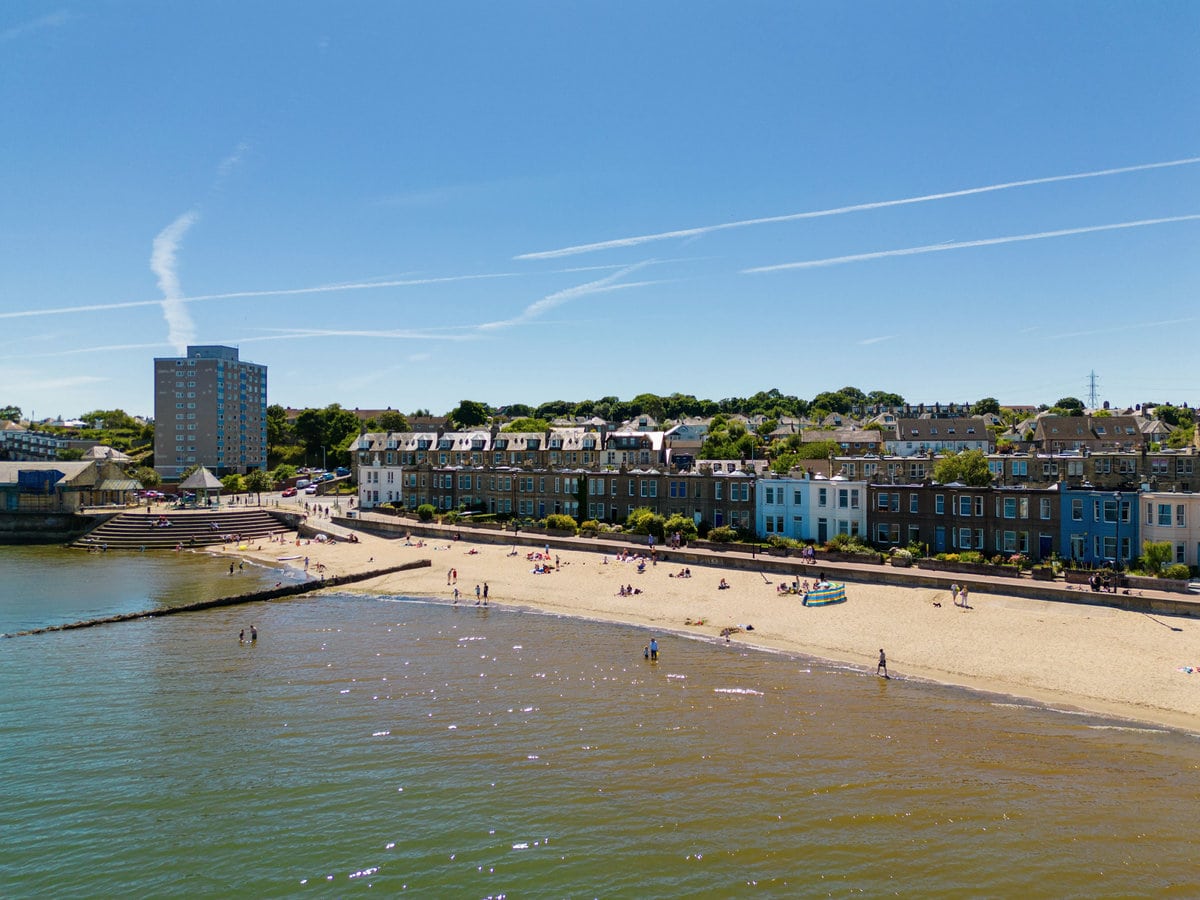 The prettiest shoreline within short reach of Edinburgh, Portobello Beach is a massively popular spot for a family day out. Just east of Holyrood Park, it's also a popular choice for people who want a pretty but easy bike ride right from the center of Edinburgh.
Because it's so close to Edinburgh, there are countless ways to make your way to the beach.
But the easiest traffic-free route is to follow the National Cycle Network route 1 (NCN1) from the center of Edinburgh. The route runs south of Holyrood Park and along Duddingston Golf Course before continuing east to Brunstane train station.
From here, you divert off the route to continue heading east. After a couple of minutes, you'll hit Fisherrow Sands, a southern stretch of Portobello Beach. And just northwest of here, you have Portobello Beach!
Expect fish, chips, ice cream, 2 miles of sand, big crowds, and loads of stuff to keep you and your kids busy.
3. Edinburgh to Musselburgh
South of Portobello, you have Musselburgh, a nice town with a nice beach.
For this route, you simply extend the ride outlined above, make it even better, and make your way to a much more beautiful part of this coastal stretch. Follow the directions above—but when you hit Brunstane train station, you keep following the NCN1 instead of heading off-route.
When the NCN1 merges with the NCN 76 just past Musselburgh train station, follow the NCN 76. The route will then take you through the cute little town of Musselburgh, along pretty sections of the River Elk, past some links and lagoons, and onto the shores and sands of Musselburgh's beaches.
Quieter and prettier than Portobello Beach, there's not a whole load to do at Musselburgh Beach, but that's sort of the point.
When you're done enjoying the beach, Musselburgh itself is a great place to visit—a charming little market town, it has lots of cute places to eat and drink. The Haugh Cafe is one of my favorites.
4. The Water of Leith
The Water of Leith is a 35km (21-mile) river running to Leith all the way from the nearby Pentland Hills.
Around halfway along the Water of Leith, you have Balerno, a cute village with a tiny population. And running from Balerno to Leith, you have the Water of Leith walkway, a 12-mile (19km) exercise route for walkers, runners, and (as you probably guessed by its inclusion on this list) cyclists.
Snaking a meandering route through the city, the Water of Leith route is a perfect mixture between rural and suburban, taking in meadows, bridges, Dean Village, tree-lined paths, and lots of great places to stop for food and drink.
If you like finding green pockets inside cities, you'll absolutely love this… and if I was only going to tackle one ride in the center of Edinburgh, it would be this one.
Because the Water of Leith is also a walkway, make sure you look out for pedestrians.
5. Edinburgh, Granton and Cramond: the Western Shore
When most people visit beaches near Edinburgh, they head southeast, to the shorelines we've already mentioned.
But if you want to instead do something a little different, you can head in the other direction, towards Granton, Cramond, and some lengthy stretches of sand. These beaches are quieter and quainter, and they're a great option if you want to head away from the busier shores.
For this ride, follow the NCN75 from central Edinburgh to Leith. Once you hit Leith Docks, head west and continue until you hit Cramond Beach. Stick as close to the shore as you possibly can, and you'll get the best views the ride has to offer.
Along the way, you'll see Granton Harbor, Granton Beach, Silverknowes Beach, Silverknowes Esplanade, and Cramond Beach itself—and as a nice bonus, you'll also pass a small stretch of the Water of Leith, and some pretty sections of central Edinburgh.
6. Edinburgh to the Forth Road Bridge
If you want to extend the ride to Cramond I've just outlined above, cycling to the Forth Road Bridge is a great choice. When you reach Cramond Beach, follow the coast before heading south to the southern stretch of the village of Cramond.
From here, join the NCN1, then divert onto the NCN 76 when the two merge. You'll pass more beaches and more seaside views before hitting the bridge soon after.
The Forth Road Bridge is one of the longest long-span suspension bridges on the planet (whatever that even means), and architecture enthusiasts seem to love the place. In total, it clocks in at more than 2.5km (1.5 miles).
The Forth Road Bridge has a separate traffic-free section for pedestrians and cyclists. So when you reach it, you can ride all the way to the other end, getting great views of both the Forth Bridge and the Queensferry Crossing (the two bridges that run parallel to the Forth Road Bridge).
7. The Innocent Railway Path
You'll find yourself cycling along The Innocent Railway Path during lots of the routes we've featured in this guide.
Once the UK's first underground railway line (or at least partially), the Innocent Railway Path is now an urban exercise route, popular with runners, walkers and cyclists. Close to the southern side of Holyrood Park, the cycling route I'm going to recommend measures a total of 4 miles (6.4km), and it's partially underground.
This underground part is its most famous stretch… a massive graffiti-covered tunnel, it's one of the strangest sites in Edinburgh. The tunnel itself measures in at over 500 meters (that's around a third of a mile), and it's a weird combo between intimidating and alluring.
Anyway, for the simple ride I'm recommending, start at Brunstane train station, follow the NCN1 in a westerly direction, and emerge from the depths of the dimly-lit tunnel around an hour later.
Best Long-Distance Cycling Routes in Edinburgh
8. Edinburgh to Eyemouth
There are lots of coastal towns between Edinburgh and the England-Scotland border. But of them all, pretty much everyone (including me) agrees that Eyemouth is the best of them.
On this ride, you make your way to Musselburgh via the route outlined above. Once you reach Musselburgh, keep following the NCN76 all the way to Eyemouth. You'll pass wind farms, rural meadows, challenging inclines and declines, incredible panoramas of St. Abb's, and some of the best beachside views you've ever seen (between St. Abb's and Cockburnspath).
This is genuinely one of my favorite bike rides in the world.
When you get to Eyemouth, make sure you spend some time exploring the place. Endlessly charming and endearing, you'll fall in love with it, like everybody else does.
While you're there, make sure you eat at the Tavern, for a traditional slice of old-school British canteen-style life. It's no-frills in the best way possible.
9. Edinburgh to Berwick, Via the Coast
If you want to take the Edinburgh to Eyemouth ride even further, you can go all the way to Berwick (or Berwick-upon-Tweed, as it's officially known), the first English town after you cross the Scottish border.
Measuring in at around 65 miles (105km), this is a pretty lengthy challenge. But if you're prepared and experienced, it's definitely possible as a (relatively strenuous) day ride.
You'll pass Eyemouth (of course), along with the stuff we've outlined in the Edinburgh-Eyemouth route. But beyond Eyemouth, you'll pass farms, fields, Ayton Castle, and great views of the Tweed River.
The descent into Berwick is super scenic, taking you past some rural parts of the town before you cycle through the heart of the place.
To get your bike back to Edinburgh when you're done, you can simply hop on a train with your bike. Just make sure you book in advance, because capacity is usually pretty limited.
10. Edinburgh to Berwick, the Inland Route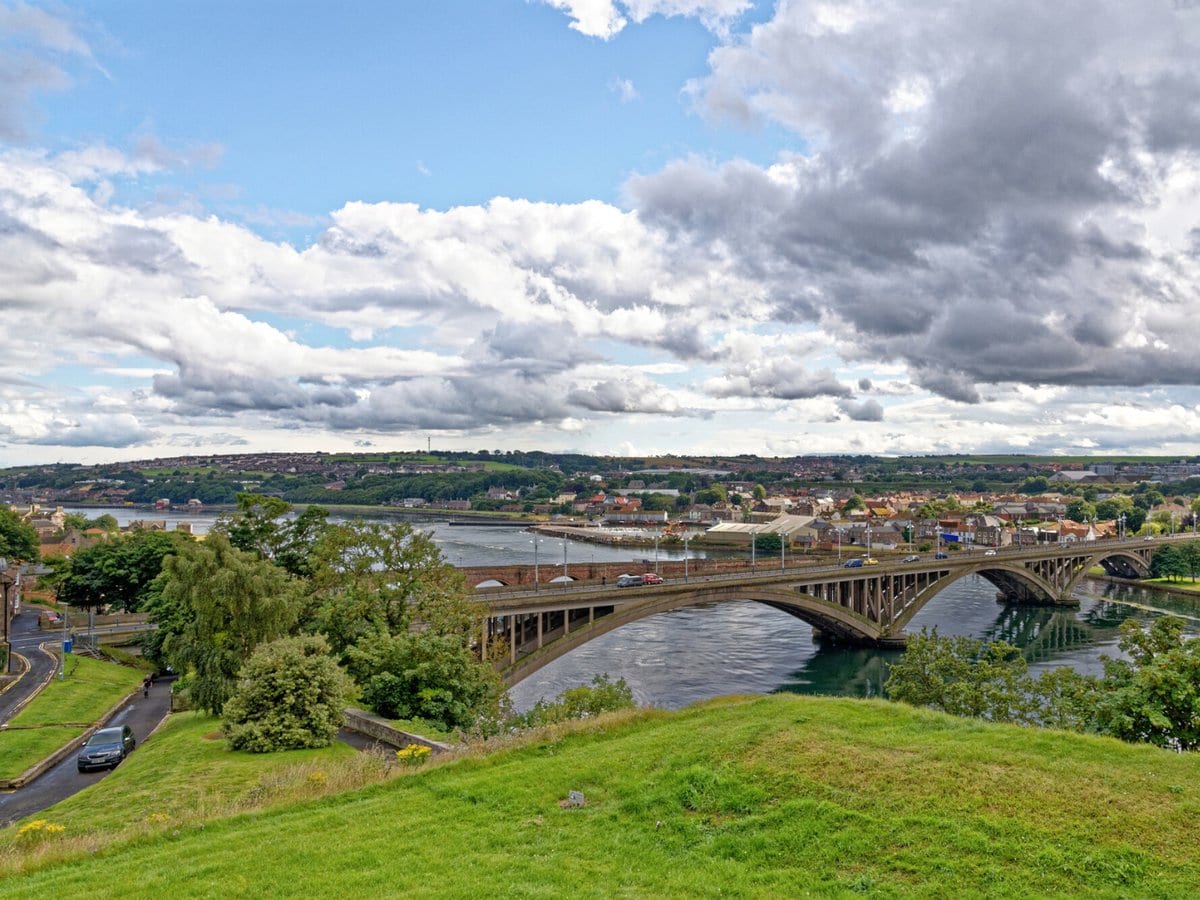 There are two well-known ways to reach Berwick from Edinburgh.
The coastal route I've just given you is more popular, but this inland route is longer and more challenging… and depending on the type of landscapes you're into, it's arguably more beautiful.
This part of the UK is vastly underrated. Brimming with little hills, the River Tweed, lots of abbeys, and a surprising amount of history, I love the borderlands between England and Scotland.
Because this route measures in at 100 miles (160km) of peaks and panoramas, the vast majority of people won't do it in one day. If you're going to take a rest day, I recommend taking it in Melrose, which is basically halfway along your ride… and it's my favorite town in the Scottish borders.
If you want to make this ride even tougher and more interesting, you can then return from Berwick to Edinburgh via the coastal route outlined in the previous entry.
11. The Coast and Castles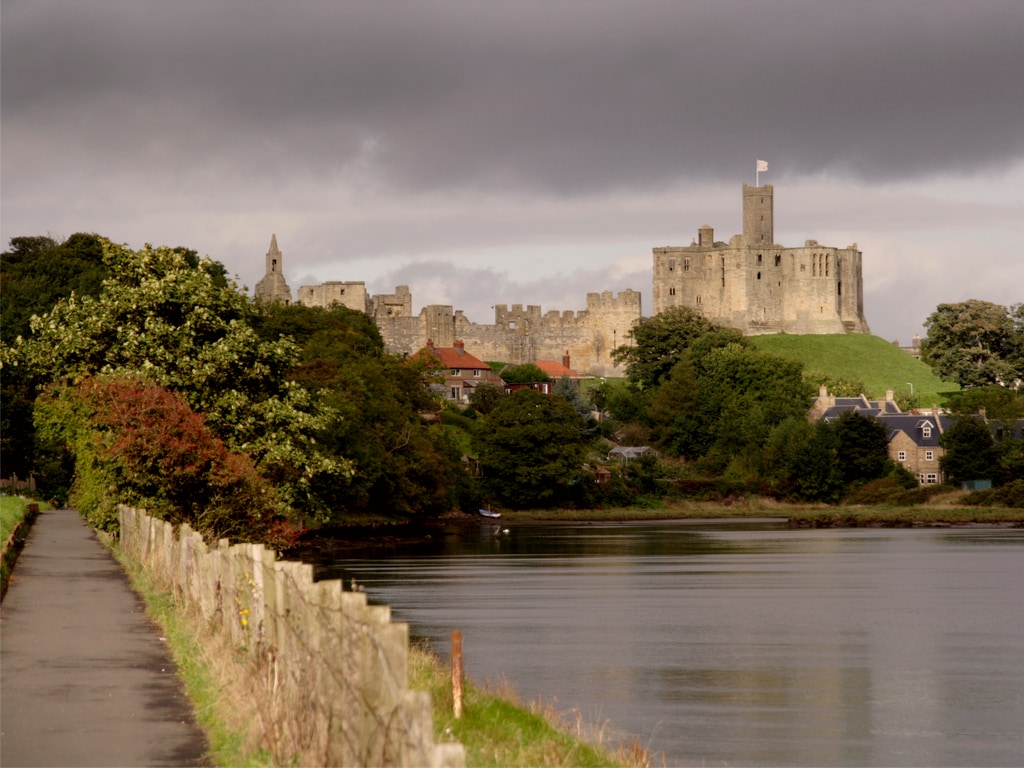 For something much more challenging, you can ride all the way from Edinburgh to Newcastle on an official, very-famous multi-day epic. This is one of my favorite multi-day rides in the world, and it's the longest ride on this list.
For the first part of your journey, you cycle from Edinburgh to Berwick on either of the two routes we've outlined above (they're both part of the official route).
From here, you make your way from Berwick to Tynemouth on the NCN1, heading south past massive castles, remote beaches, and some of Northumberland's most beautiful stretches.
When you reach Tynemouth, you head west, riding alongside the River Tyne for around 14 miles (22.5km) until you reach one of the most underrated cities in England (yes, I was born and raised in Newcastle, but I assure you that's definitely irrelevant).
Again, to get back to where you started, you can just jump on a train with your bike—but book in advance.
12. Edinburgh to Glasgow
A brilliant ride between Scotland's two most significant cities, there are lots of ways to cycle between Edinburgh and Glasgow.
But the best route is the NCN754, which takes you along the towpaths of the Union Canal and the Forth & Clyde Canal, on an entirely traffic-free route. Riding along canal towpaths is one of my favorite ways to cycle, and I totally recommend this jaunt.
Along the way, you'll pass pretty towns, meandering barges, lots of native animals, the bizarre Falkirk Wheel, and lots of reminders why canals are so charming.
For returning, you can either hop on a train with your bike, or you can cycle all the way back to Edinburgh via the almost-as-popular NCN75. If you opt for the second, it makes for a great two-day trip. And as a nice bonus, the NCN75 is around 80% traffic-free, making it another good option for kids.
13. Edinburgh to Falkirk
If you want to venture between two significant Scottish settlements, but don't want to go as intense or lengthy as the Edinburgh-Glasgow trip outlined above, this route is a great compromise.
Halfway along the NCN754 from Edinburgh to Glasgow, you have Falkirk, a large-ish town with a surprising number of tourist attractions.
So, again, the entire route is traffic-free, and it's full to the brim with lots of lovely canal towpaths. Along the way, you'll pass hills, aqueducts, bridges, Linlithgow Palace, the town of Linlithgow itself, and the entirety of the Union Canal.
Falkirk itself is a really underrated place to visit, and it's a great place to end your ride. While you're there, make sure you check out the Kelpies, a giant statue of two massive horse heads inside a pretty park. I don't think it's anything particularly special, but loads of other people seem to love it.
Pro Tips, Rules and Best Practices for Cycling in Edinburgh
Before You Go
There they are—the 13 best cycling routes in Edinburgh!
If you want to know anything else about cycling in the UK, ride on over to our guides on the best cycling routes in Scotland, the best cycling routes in England, the best bike rides in Newcastle, cycling in Kielder, and the best bike rides in London.
And if you want to know more about adventuring around Scotland's fantastic capital, check out my guides: 2 days in Edinburgh: The ULTIMATE Itinerary, the 11 best free museums, the 19 most beautiful walks in and around Edinburgh, and the city's 15 best day trips.
Thanks for reading, you globetrotting icon, and we'll see you next time!
Being a Digital Nomad: Tips, Tricks and Places
Do you want to be a digital nomad?
If you do, maybe you don't know where you might want to live. Or how to live there. Or whether you need a visa. Or how to make friends in the scary sprawl of a brand-new city. Or how to stay productive while you travel. Or how to find an apartment. Or whether this lifestyle really is for you. Or… I'm sure you get the idea.
But with some insight and experience, it's not as difficult as you think. So in this book, I've gathered my 6 years of digital-nomadding experience… and I've used it to answer all your questions, soothe all your fears, and get you on your way. After reading this, you'll realise being a digital nomad is much easier (and much more possible!) than you think.