Top 17 Best Flea Markets in Arizona
Bargain lovers and high-end shoppers alike always enjoy a good flea market. Arizona has many memorable and entertaining flea markets to choose from, and all are full of a variety of products, handmade gifts, farm-grown produce, and whatever else you are on the lookout for.
Arizona is a tourists playground, and it's well worth your time to add a flea market or two to your travel itinerary. From outdoor farmer's markets to sprawling indoor shopping, Arizona's flea markets do not disappoint.
Grab your wallet and your sense of fun because you'll find yourself wanting to buy everything in sight at these Arizona flea markets!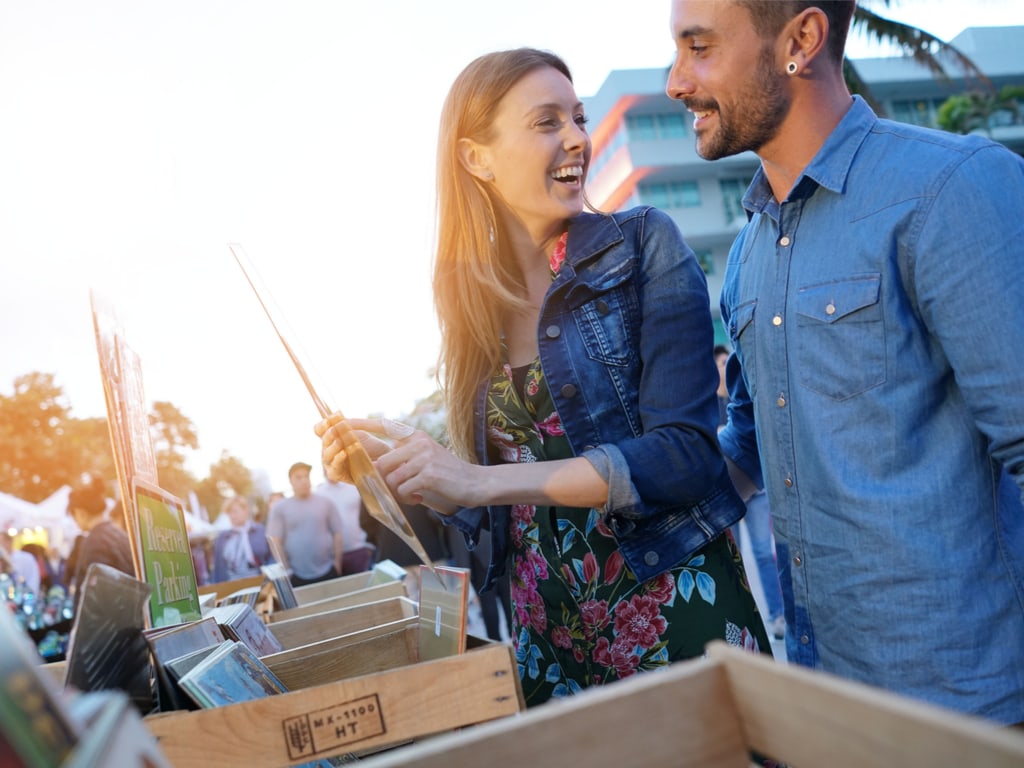 1. Mesa Market Place Swap Meet
This covered but open-air shopping center is a local favorite. The parking is free, the admission is free, and the live music is also free!
Even though it is an open-air market, it's still bearable in the hottest days of summer due to its large misting system. If recreational shopping is your thing, put this flea market on your must-do list.
It's definitively one of the best things to do while in Mesa.
Most of the merchants here specialize in home improvement products and yard, garden, and patio enhancements. If you're looking to change up the decor in your house, or add some new patio furniture, or get yourself a new grill, Mesa Market Place Swap Meet is the place for you!
The food court here alone is worth a visit, and the live music plays most of the day at the food court, giving you lunch and a show! With more than 1600 vendor spots and over a mile of shoppable space, this huge swap meet is a favorite of Mesa residents and visitors alike.
The best time to visit is in the fall and winter months when more vendors tend to be selling.
Address: 10550 E Baseline Rd. Mesa, AZ 85209
Hours: Weekends 7:30 am-3 pm
2. Apache Trail Swap Meet
Another Mesa flea market, Apache Trail Swap Meet specializes in hand-made trinkets, gifts, collectibles, and other items that you can only find here. The saying "one man's trash is another man's treasure" rings true here, as a lot of the items for sale may seem trivial or silly, but that just means that there is something for everyone here.
Apache Trail Swap Meet is also a great place to shop for antiques and other items that you might not find anywhere else. This is definitely not a commercialized flea market, and the various vendors here showcase the talented and creative people who live in Mesa.
Visitors to this flea market liken it to a giant garage sale or a thrift store. People who love casual shopping and sifting through "junk" to find their "treasure" will certainly love to spend hours searching for hidden gems.
Address: 9452 E Main St, Mesa, AZ 85207
Hours: Fri-Sun 7 am-12 pm
3. Thieves Market
Have you ever wanted a quirky and funky shopping experience? Thieves Market is the flea market for you! The vendors here pride themselves on selling one-of-a-kind items that are either hand-made, vintage, and exotic items that you can't find anywhere else.
This family-run flea market offers different food trucks and rotating vendors every month. To become a vendor, you have to sell items before 1990, sell your own hand-made items, or have exotic imports for sale.
No commercialized shopping here! Everything you see is unique!
Thieves Market is held out in the open, so only runs during the cooler months. On the first Saturday of the month from October to April, shoppers descend on the parking lot at Tempe's Big Surf to browse for hidden gems. Admission is $5 at the door, and children under 12 are free!
Address: 1500 N McClintock Dr, Tempe, AZ 85281
Hours: First Saturday of the month between Oct-Apr, 8 am-2 pm
4. Phoenix Park 'n Swap
Another "garage sale" style flea market, the Phoenix Park 'n Swap is a sprawling, mostly shaded swap meet where you can find clothing, trinkets, gifts, handmade items, furniture, and so much more!
This flea market offers more than just items for sale – occasionally you'll find a pop-up pet store, mini pony rides, carnival rides, and food!
The food choices are varied and delicious; you can choose from Indian fry bread, different kinds of Mexican food, classic American fare, and beverages like lemonade and coffee.
With over 1000 vendor spaces and 300 acres of shopping and activities, shopping at Phoenix Park 'n Swap can take up your whole day!
Come with a list of things you're on the hunt for, but be prepared to find things you didn't even know you needed. This is also a fantastic place to shop for gifts, so keep Phoenix Park 'n Swap in mind for birthdays and holidays.
Address: 3801 E Washington St, Phoenix, AZ 85034
Hours: Wed 4-10 pm, Fri 6 am-noon, Sat/Sun 6 am-4 pm
5. Merchant Square
Located in Chandler, Merchant Square primarily focuses on antiques like furniture, home decor, jewelry, clothing, toys, glassware, and so much more. There is an indoor and outdoor marketplace for miscellaneous items and a brand new section called the Highland Yard Vintage, home to garden items, home decor, and furniture.
No matter where you spend your time shopping, you're bound to find what you're looking for.
Antique shopping can be an art form, and if you do it long enough you start to know what to look for to find the most valuable items for your home or resale value. At Merchant Square, there are thousands of items to sift through, and you're bound to find some hidden gems.
The American Way Market Cafe was built with care, utilizing antique and vintage signs, decor, furniture, and drink coolers to maintain an old-timey vibe. You can buy homemade bread and treats, and eat delicious sandwiches and soup.
Merchant Market is definitely one of the fancier flea markets in the valley and should be on any antique lover's must-shop list.
Address: 1509 N Arizona Ave, Chandler, AZ 85225
Hours: Mon-Thurs 10 am-6 pm, Fri-Sat 10 am- 8 pm, Sun 10 am- 5 pm
6. West Wind Glendale Swap Meet
If you're in the West Valley and on the hunt for a bargain, be sure to make a stop at the Glendale Swap Meet. Here you'll find locally grown produce, stylish boutique clothing, trinkets, gifts for all ages, and home goods and decor.
There are plenty of food options to satisfy your appetite while you shop, with authentic Mexican food cooked by local families as well as classics like hot dogs and hamburgers. Slushies and fresh lemonade are especially refreshing on warmer days.
Live music plays most days of the week, giving a lively ambiance perfect for some casual shopping.
As you wander through the aisles of vendors, keep on the lookout for special bargains and items that you can't find anywhere else. The Glendale Swap Meet is all outdoors, so be sure to come early on those hot summer days!
Address: 5650 N 55th Ave, Glendale, AZ 85301
Hours: Sat-Sun 4 am-3 pm
7. Native Art Market
Located in Old Town Scottsdale, this new indoor brick-and-mortar store just recently opened in the last year. The Native Art Market started as an outdoor-only market that operated during the non-summer months, and they have now opened a year-round indoor market as well.
They feature over 200 Native-run small businesses, from tribes all over the state. All of the items for sale are only the highest quality handmade products with only the most authentic materials used.
There's turquoise jewelry for sale, which is a staple of Arizona's Native artisans. Homemade tea bags and clay soaps can make for a relaxing evening at home. Arizona-grown coffee is especially unique and flavorful.
When you shop at Native Art Market, you know you are getting quality, handmade, and locally sourced products as well as supporting local Native artists.
Address: 9151 E Indian Bend Rd, Scottsdale, AZ 85250
Hours: Every Day 9 am-7 pm
8. Call It New/Call It Antique
This locally beloved antique store is huge, at over 43,000 square feet in size. You can easily spend hours and hours browsing the aisles for anything you might want. Furniture, clothing, jewelry, kitchen items, home decor… Call It New/Call It Antique has it all!
This antique market is especially known for its excellent customer service, and the staff is more than willing to help you find anything. They may have thousands of items, yet the staff always knows where to find what you're looking for. The prices are known to be lower than other antique stores in the area as well.
Those that have collections they want to add to or have a particular love of vintage items will certainly want to spend an entire afternoon here. With so many things to look at, you'll find yourself coming back again and again.
Address: 2049 W Broadway Rd, Mesa, AZ 85202
Hours: Daily 11 am-5 pm
9. Coolidge Flea Market
Coolidge is a small town less than an hour south of Gilbert, and on Sunday mornings they hold an outdoor flea market with plenty of vendors to shop from. Many of the products for sale are handmade, while some are antique or resale items.
While it may be in a small town, the Coolidge Flea Market still delivers for those who love to bargain shop. There's also some excellent Mexican food for sale, so be sure to grab some tacos or a burrito for the road.
Most of the vendors that set up at this flea market are locals, so your dollars go towards supporting them and their artistry. While this market is smaller than most, it makes up for it with a cozy hometown feel.
Address: 4238 E Wilshire Ave, Coolidge, AZ 85128
Hours: Sundays, 6 am-2 pm
10. Gilbert Farmer's Market
This is the go-to market in Gilbert for fresh produce, handmade gifts, food trucks, and so much more! Set in bustling downtown Gilbert, this is a favorite place to wander and browse after getting brunch at one of the many restaurants on the downtown strip.
What makes this outdoor market unique is that the vast majority of the vendors sell only organic produce, grown on their own property. All of the growers are chemical and pesticide-free as well, making the fruit and vegetables you'll be buying taste fresher than ever.
On the other side of the street from the farmer's market is a flea market of sorts, with vendors selling handmade products, artwork, jewelry, clothing, purses, and anything else you can think of. Vendor spots are limited and the organizers are picky about the quality of the items that are sold, so you can be sure to find some excellent shopping at Gilbert Farmer's Market.
Address: 222 N Ash St, Gilbert, AZ 85234
Hours: Saturdays, 7 am-12 pm
11. Melrose Vintage Market
This dog-friendly outdoor market runs during the cooler seasons, on the third Sunday of the month from November to April. If you're looking for a wide array of vintage items, food trucks, and art galleries, this is the market for you!
At Melrose Vintage Market, you'll find over 50 vendors selling items like handmade jewelry, valable thrift store finds, army surplus, and even interesting and delicious food creations. The inventory is always changing week to week, so it's well worth a visit more than once!
Melrose Vintage Parket takes great care in picking their vendors so you'll be sure to find plenty of quality products, gifts, and artwork as you browse. Shopping at this market allows you to support local artists as well!
Address: 700 W Campbell Ave, Phoenix, AZ 85013
Hours: Sundays (Nov-Apr) 9 am-3 pm
12. Brass Armadillo Antique Mall
One of the few fully indoor flea markets in Arizona is located in the far west Phoenix valley in Goodyear. This sprawling flea market has two stories full of antiques, collectibles, thrifted goods, repurposed furniture, and pretty much anything else you could be on the search for.
Those who enjoy casual shopping will love wandering the aisles of the Brass Armadillo Antique Mall, and could easily spend hours in this store searching for treasure. Their website even has a "personal shopper" feature, where you can send the owners a message telling them what you are looking for, and they'll do the searching for you!
You won't find mass-produced items here; they have strict rules on the types of products that different dealers can sell here. The big focus is on one-of-a-kind antique and vintage items, so you are sure to find that unique piece of furniture, home decor, or collectible that you've been looking for.
Address: 13277 W McDowell Rd, Goodyear, AZ 85395
Hours: Daily 9 am-9 pm
13. Peddler's Pass
Head north to Prescott, and you'll find a small flea market will local vendors. The eclectic vibe of this flea market fits with the folksy atmosphere of the town of Prescott. The vendors here sell mostly handmade items, including jewelry, polished rocks from local creeks and rivers, artwork, and other unique items that can only be found here.
Peddler's Pass has been family-owned and operated for 33 years, and it has a homey feeling with friendly vendors and happy shoppers. In addition to vendors selling their own creations, you'll also find garage sales, estate sales, tools, clothing, and Native American fares.
The concessions here provide plenty of variety of snacks, treats, and drinks. The farmer's market section of Peddler's Pass also has many local gardeners and farmers selling fresh produce at great prices. This flea market has a hometown feel that you notice the minute you start shopping!
Address: 6201 W Highway 69, Prescott, AZ
Hours: Thursday-Sunday all day
14. Flagstaff Urban Flea Market
Held on the second Saturday of the month from June through October, this local favorite market is full of peddlers who sell a variety of handmade, vintage, and antique goods.
The location in downtown Flagstaff is especially convenient, with museums, bookstores, and restaurants nearby.
Anything you can think of the that might be sold at a flea market is sold here: handmade leather and woodwork, jewelry, artwork, vintage clothing, upcycled furniture, household decor, ceramics, books, and unique foods.
You could easily spend hours walking among the vendors to find that perfect gift.
The Flagstaff Urban Flea Market is an excellent place for small businesses and first-time sellers to set up their booths and showcase their products. The excellent weather in Flagstaff also makes for a great getaway for the weekend for bargain hunters and casual shoppers alike.
Address: 211 W Aspen Ave, Flagstaff, AZ
Hours: 9 am-2 pm, Second Saturdays from June-October
15. Tanque Verde Swap Meet
This flea market is part indoor, part outdoor and has more than 800 vendor spots, making this Tucson's largest shopping destination. With 33 acres of space, it would be hard to look at everything in just one day!
In addition to the usual swap meet items for sale, you'll also find food trucks and small carnival rides, making this a great stop for the whole family!
Are you looking for the perfect woven wool Mexican blanket? What about a new bike for your son for his birthday? Or handmade Navajo jewelry? You'll find all of those at Tanque Verde Swap Meet, and more!
There are even some pony rides, hair braiding, ear piercing, face painting, and more unique experiences and products available here.
The local food is amazing as well with tacos, frybread, burgers, churros, and many more delicious fares. If you're in Tucson, this swap meet is more than worth the visit!
Address: 4100 S Palo Verde Rd, Tucson, AZ 85714
Hours: Fri 1 pm-11 pm; Sat 8 am-11 pm; Sun 2 pm-10 pm
16. London Bridge Swap Meet
This flea market is set up near the scenic London Bridge in Havasu City, right next to the expansive Lake Havasu/Colorado River. The London Bridge Swap Meet is fully outdoors and runs every Sunday during the cooler months.
With over 560 spaces for vendors, local artisans and small businesses can take advantage of this flea market to sell their goods and show off their talents. Here you can find homemade bread, kettle corn, and even get a haircut!
If you're coming to Havasu City to enjoy a good lake day, add a visit to the London Bridge Swap Meet to your list of must-do activities!
Address: 157 Paseo del Sol, Lake Havasu City, AZ 86403
Hours: Every Sunday from 8 am-2 pm Sept-May
17. Sedona Community Farmer's Market
Sedona is a hub for people who are seeking spiritual enlightenment and a deeper connection with nature. The people who live and visit here also appreciate organic foods and goods and fresh produce.
The Sedona Community Farmer's Market is the place to find all this and more!
Vendors have rare and unique vegetables for sale, and fresh fruits and preserves. If you're looking for healing products made from scratch, look no further! At this market, you'll find locally made kombucha, supplements, tinctures, lotions, homemade herbal teas, and locally distilled essential oils.
The Sedona Community Farmers Market keeps with the free-spirited vibe of this red rock community, and the local vendors are friendly and devoted to their craft and products. This is a must-visit during your stop to Sedona.
Address: 336 W Highway 79, Sedona, AZ
Hours: Summer- Fri 8-11:30 am, Winter- Sun Noon-4 pm
Conclusion
Flea markets are a source of hidden treasures, handmade goods, and bargains galore. Wandering the aisles of your local swap meet, flea market, or antique store can provide hours of entertainment and casual shopping.
Whether it's a small town garage-sale feel or a big city vibe, flea markets are bound to give every shopper a reason to spend their money.
Arizona's flea markets tend to be set up outdoors, and in the winter months, the weather is perfect, ideal for long hours spent on your feet searching for those awesome deals. Food trucks are serving delicious fare at many of these flea markets, so you can get what you need plus a good meal.
Pick the nearest of these flea markets, grab your cash, and get to thrifting!
Related articles:
Explore Arizona
Still wanting to learn more? Dive in our Arizona Travel Guides and discover the best places to visit, interesting things to do, budgeting tips, comfortable accommodation, and everything you need to plan your perfect trip in the state.