25 Reasons Why You Should Visit Scotland
Have you ever wondered why people are drawn to Scotland, what makes it so special and why you too should visit?
Well, here are the top 25 reasons why visit Scotland at least once in your life! From its thousands of hikes, 30,000+ lochs, amazing food, countless islands, magical Northern Lights, and unbelievably friendly locals, Scotland has a lot to offer to its visitors.
Read on to find out why you should plan your next trip to Scotland!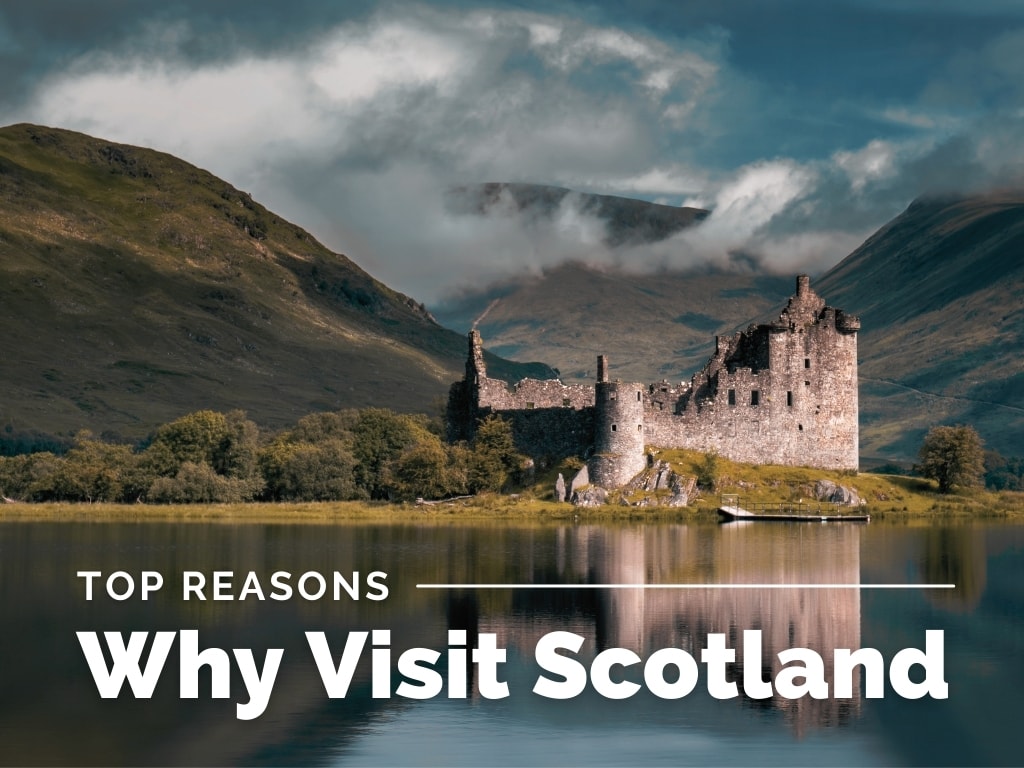 Why Visit Scotland
I was born in Newcastle, in the north of England, really close to the Scottish border. Because of that, I've spent loads of my life in Scotland. I've traveled in the country countless times, I've got friends who live there, and I've hiked and cycled through various parts of the underrated nation.
It's one of my favorite countries in the world—so in this article, I'm gonna convince you to go. In my desperate attempt, I've brought my top reasons to visit, covering mountains, hills, cities, lochs, hitchhiking, festivals, bothies, food and loads more.
(I promise I don't work for the Scottish tourist board).
Get your kilt on, grab your ginger wig, and sit yourself down for five minutes of tartan-themed temptation. Here are my 25 favorite reasons to visit Scotland…
1. Because You Can Hike Absolutely Everywhere
If you love hiking, you'll love Scotland.
Every time I travel, I explore as many hikes, hills and peaks as I can. And of all the places I've ever been, Scotland is the best for hiking.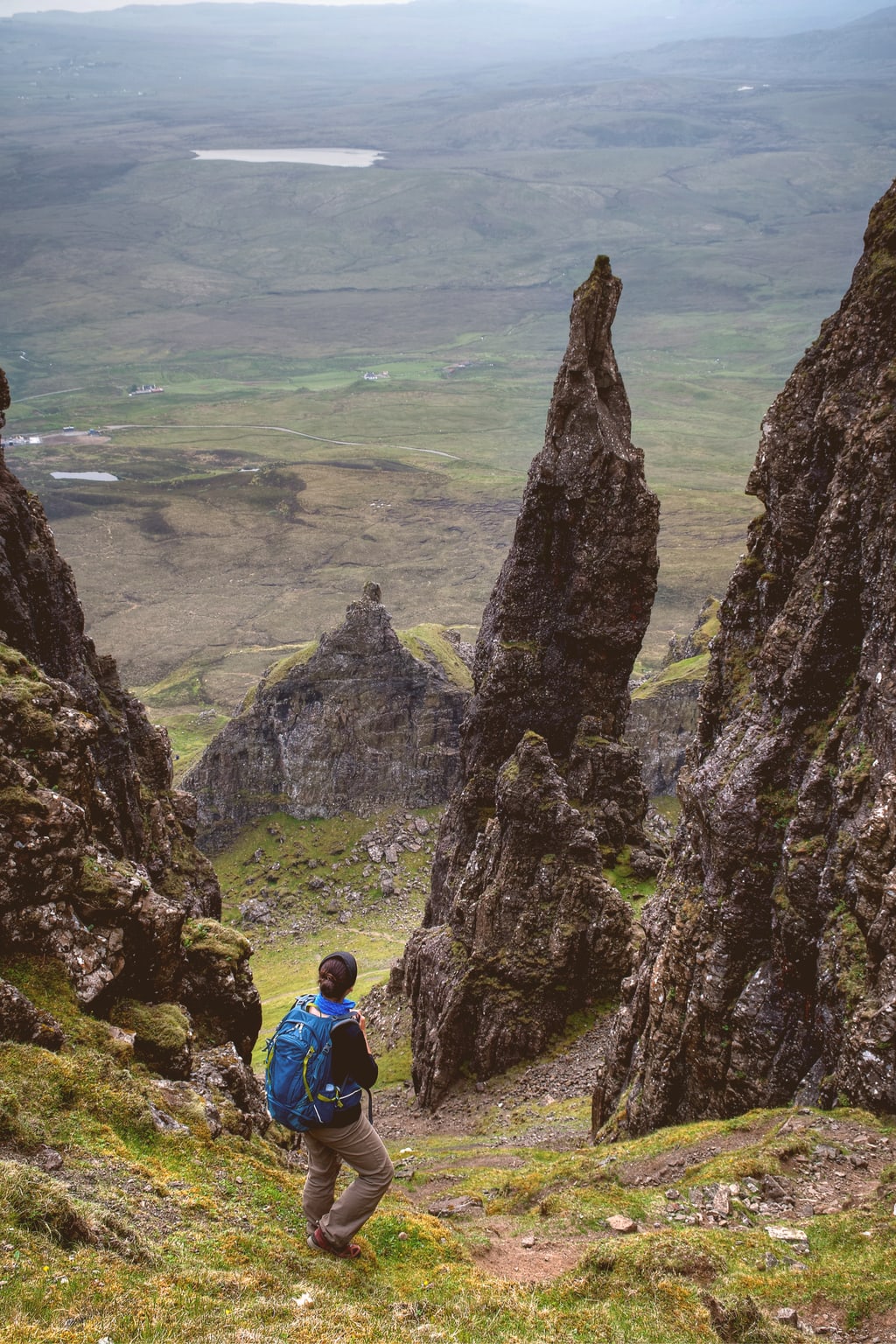 For an idea of just how many hikes you can do, have a look at trekking website WalkHighlands, one of my favorite resources for Scottish travel (apart from our site, obviously). So far, they have more than 2,100 hikes listed, and they're always adding more. The site gives you a brilliant idea of all the diverse, varied and beautiful hikes the country has to offer.
From those thousands of trails I selected my favorite ones and wrote a ranking/guide about the best hikes in Scotland. You should check it out!
One such area is the Cairngorms National Park, the largest of Scotland's parks and a hotspot for outdoor adventure sports. There are hundreds of miles of tracks and trails across the park – offering a rich variety of trails that go up, down and around the highest mountain range in the UK.
And, of course, there's Ben Nevis, the highest mountain in the UK and a real challenge for any experienced hikers.
These are just two of the many hiking possibilities to be found in Scotland. From the rolling hills of Fife to the rugged peaks of Shetland, Scotland has trails to suit all skill levels and interests. To top it off, on a clear day even the most experienced hikers will be struck by the lush landscapes and stunning views.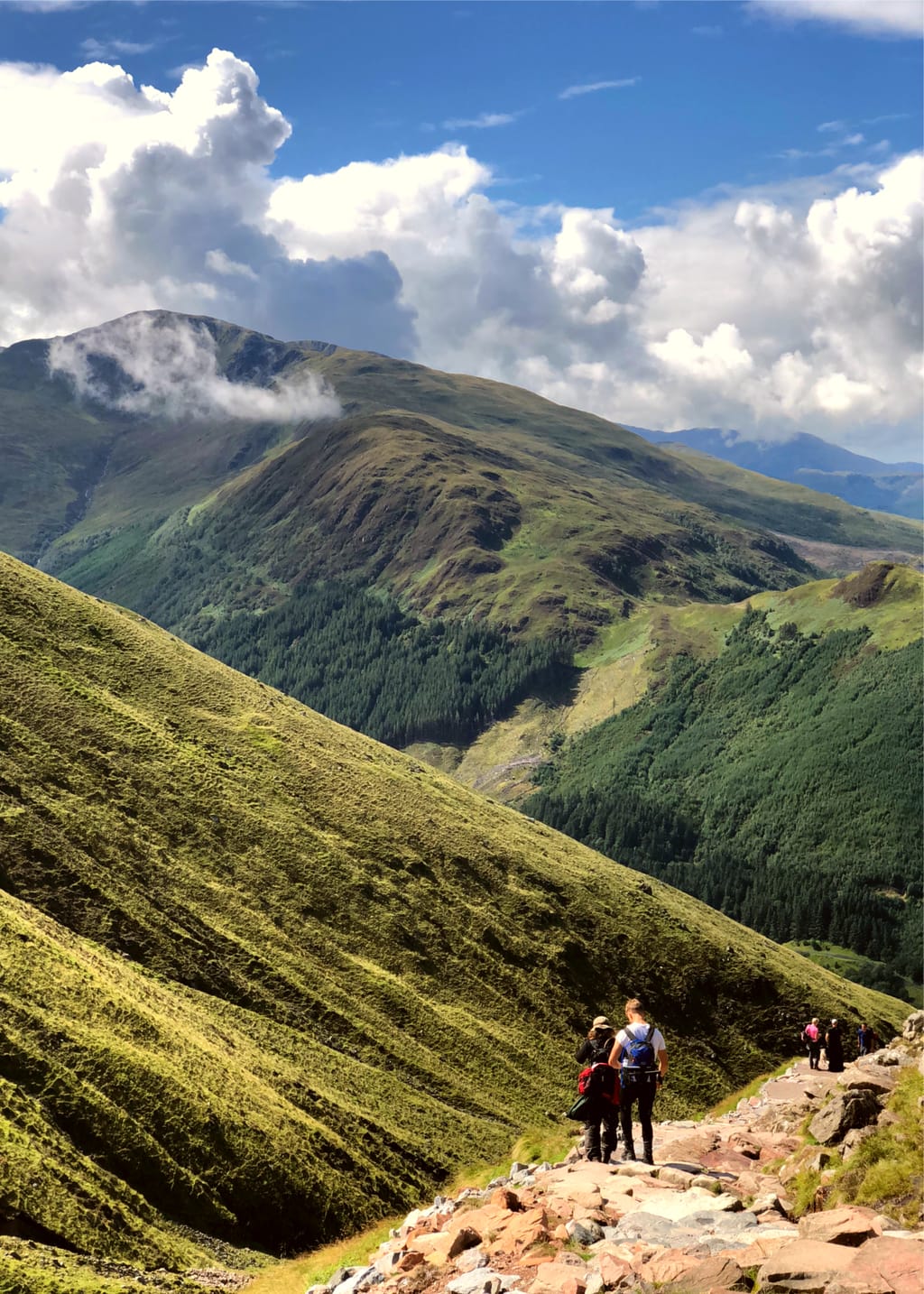 It sounds like a cliché, but you could probably hike in Scotland for your whole life without getting bored. Some of my favorite areas are Torridon, Assynt and Skye, but there are endless places to rove, wander and walk.
2. To Splish Around in More Than 30,000 Lakes
I know this sounds like I'm exaggerating, but I'm not—Scotland genuinely has more than 30,000 lakes.
A quick note, before we move on: when you're in Scotland, lakes aren't called lakes. Instead, they're called 'lochs'.
Anyway, Loch Ness is the most famous loch in the nation, and it's the one you've probably all heard of. Here's a fun little fact for you: you could take all water from every lake, river and reservoir in all of England and Wales, add it together, and you'd still have less water than what's contained in Loch Ness! Read this article for more facts like this about Loch Ness.
And here's an even funner fact: compared to most of Scotland's other lochs, Loch Ness is actually pretty terrible. If you don't believe in Nessy, the Loch Ness monster, then don't just visit Loch Ness. Some of my favorite lochs include Loch Duich, Loch Carron and Loch Maree. And here is a full list of the best lochs in Scotland that are better than this popular lake.
Spend as much time as you can exploring as many lochs as you can. If you like water, you'll absolutely love Scotland.
3. Because Everybody is Ridiculously Friendly
If you can't make friends in Scotland, there's something wrong with you.
The more north you go, and the more remote you go, the friendlier people get. But throughout Scotland, people are really sociable, friendly, open and generous.
So make some friends. Find some buddies. Encounter some amigos.
If you're interested in solo travel, Scotland is one of the world's best countries to do it. You'll meet loads of locals and travelers, you'll never be alone, and you'll always have someone to chat to.
4. Because It's the 1st Harry Potter's Fans Destinations
Scotland has long been known for its rich Celtic culture, stunning scenery and inspiring history. But in recent years, one particular aspect of Scotland's landscape has attracted an increased amount of attention – its role as a backdrop for the immensely popular Harry Potter films based on J.K. Rowling's books.
No matter what kind of Harry Potter fan you are – from casual to hardcore – there are some must-see sites, activities, and magical experiences unique to Scotland that can't be found anywhere else in the world.
One of the major draws for Harry Potter fans is the beautiful Glenfinnan Viaduct in the Scottish Highlands, which features prominently in the films. Visitors can either take a boat cruise along Loch Shiel to get the full effect of the bridge, or even simply catch a glimpse of it while taking a ride on the Jacobite Steam train, touted as the "Hogwarts Express".
JK Rowling also brought the city's many bits of street art to life in her books, and visitors can now take an interactive tour of some of her favorite spots around town.
The iconic Hogwarts School of Witchcraft and Wizardry is another big draw for Harry Potter fans. While visitors won't find a real-life version of the building itself, they can still admire the real-life places chosen to represent Hogwarts in the films – Alnwick Castle, Glen coe, etc …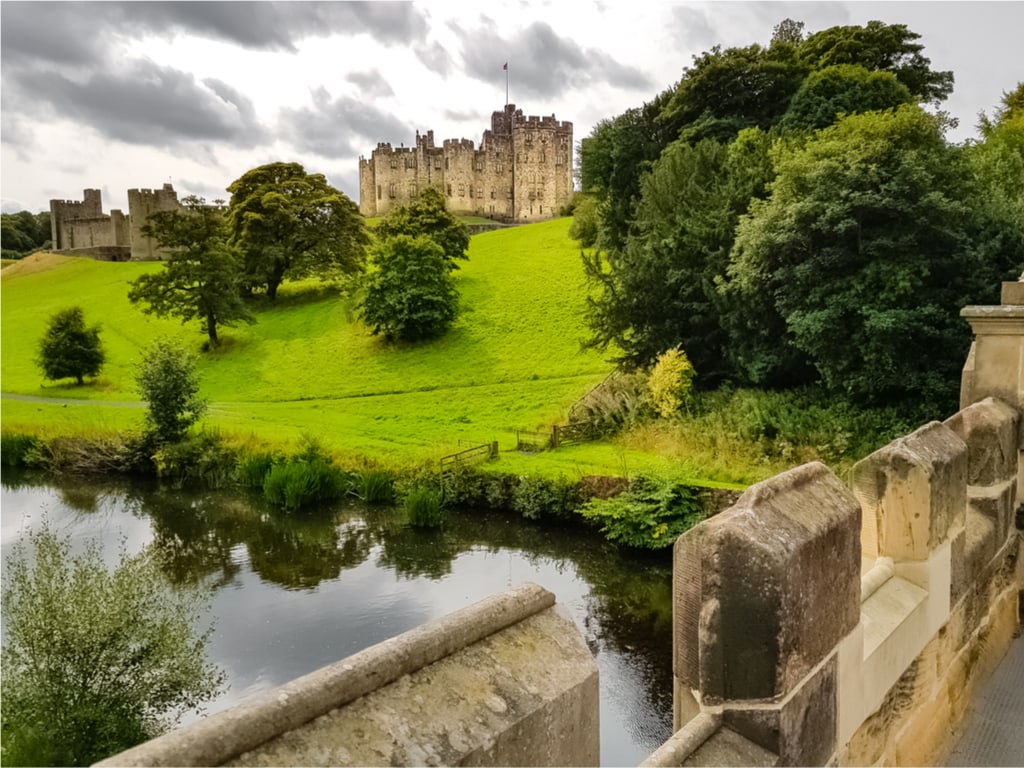 No matter which kind of experience you look for in your Scotland trip, a Harry Potter-themed tour is a great way to make the most of your visit to this beautiful country. From Glenfinnan Viaduct to Rowling-inspired street art, Scotland's magical connection to the Harry Potter franchise has turned some of the country's most iconic sights into unforgettable magical experiences.
For more details head over to my detailed articles: 12 Mysterious Harry Potter Locations in Scotland You Should Visit.
5. To Go on the World's Best Road Trip
The USA has Route 66. Iceland has its ring road. Vietnam has the Ho Chi Minh Trail.
But Scotland has something better than them all: the North Coast 500. It's seriously one of the best things I've ever done. A 500-mile (800km) road trip in the Scottish Highlands through mountains, lochs, beaches, fishing villages, charming towns and roaming cows, it's insanely beautiful.
I've visited Georgia, Romania, Tajikistan and Kyrgyzstan for road trips. But Scotland, in terms of scenery, beats them all.
If you only do one thing in Scotland, make it the North Coast 500. Every time you think it can't get better, it gets better. Most people drive it, some people hitchhike it, and others cycle it. Whatever you do, it'll be absolutely incredible.
I even wrote a complete guide about it.
6. For Loads More Road Trips
The North Coast 500 is Scotland's most famous road trip.
But there are loads of others you probably haven't heard of. Some highlights include the South West Coastal 300, the Heart 200 and the North East 250.
On them all, you get to drive past beautiful scenery, charming towns and villages, world-class beaches and much more.
7. To Visit Edinburgh
Yeah, I know. What a cliché. But you were thinking it anyway.
And I can't write an article about reasons to visit Scotland without mentioning Edinburgh.
If you visit Edinburgh, you get to visit one of the most beautiful cities in the UK. A labyrinthine mesh of cobbled streets, ancient buildings, craggy ridges and world-famous sites, it's massively charming. Just like most tourists, you'll probably fall in love with it.
But in your pursuit of Edinburgh, don't ignore the nation's other cities. Glasgow is obviously brilliant, Inverness is my favorite, and all the other cities have lots of perks too.
8. For the Highland Games
One of the very best reasons to come to Scotland is to attend the Highland Games held throughout, which are a unique part of the Scottish culture.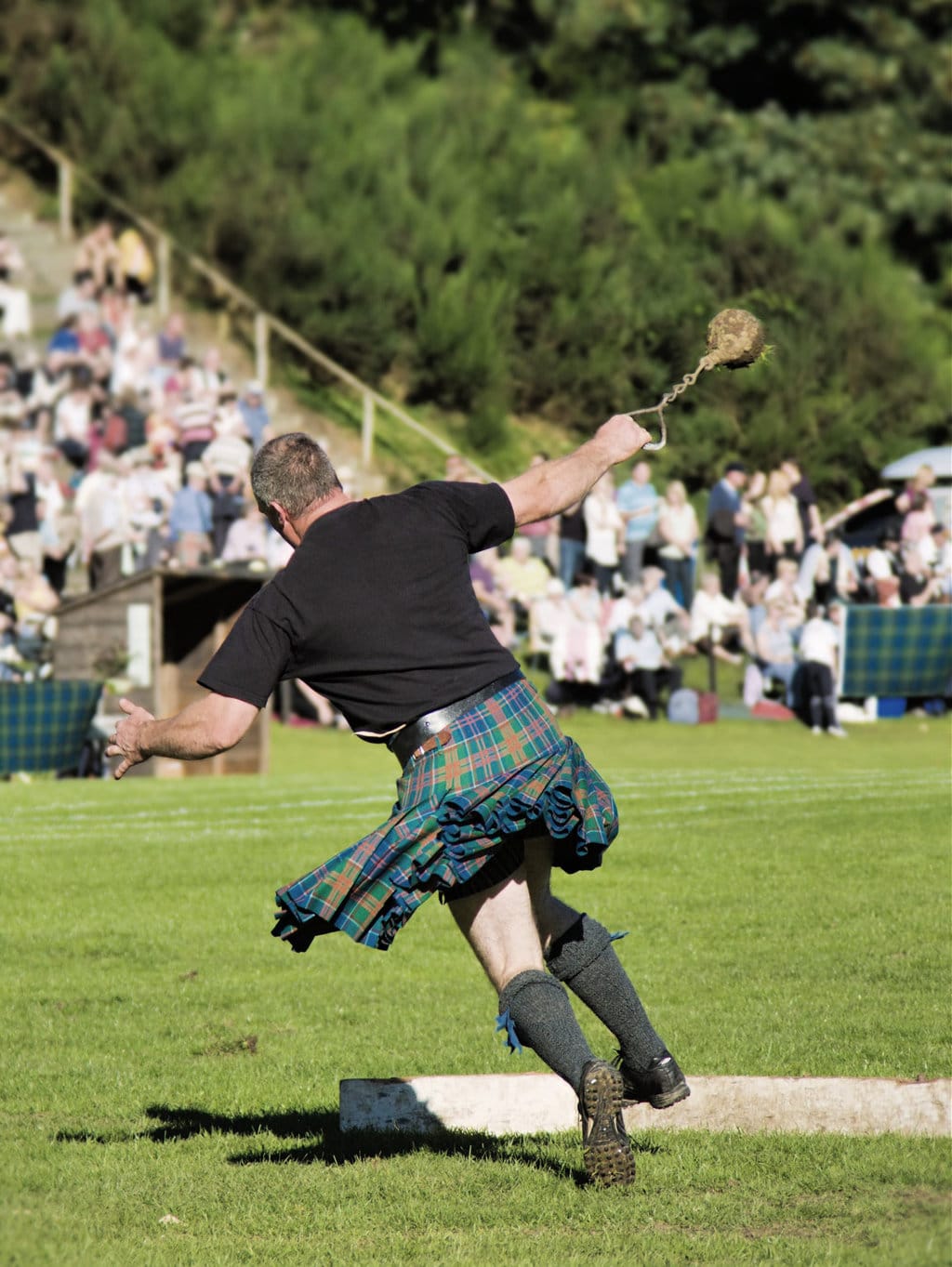 The Highland Games has been a popular part of Scotland for centuries and is a truly unique experience for visitors to the country. It is a mixture of sports and cultural activities that take place every year in Scotland, from Inverness to Edinburgh, as well as other small towns.
The games are usually held during the summer months and feature traditional Scottish events, such as caber tossing, weight and hammer throwing, cycling, running and Highland dancing. These events date back to the 5th century and were important social events for the clans of Scotland and a way to display strength and agility in a fun and exciting atmosphere.
The Highland Games are a great way for visitors to experience traditional Scottish culture, as well as witness some incredible feats of strength and endurance. It's a unique opportunity to watch traditional Scottish sports, partake in activities, or simply cheer from the sidelines.
There's also plenty of entertainment, music and traditional fair to keep visitors entertained throughout.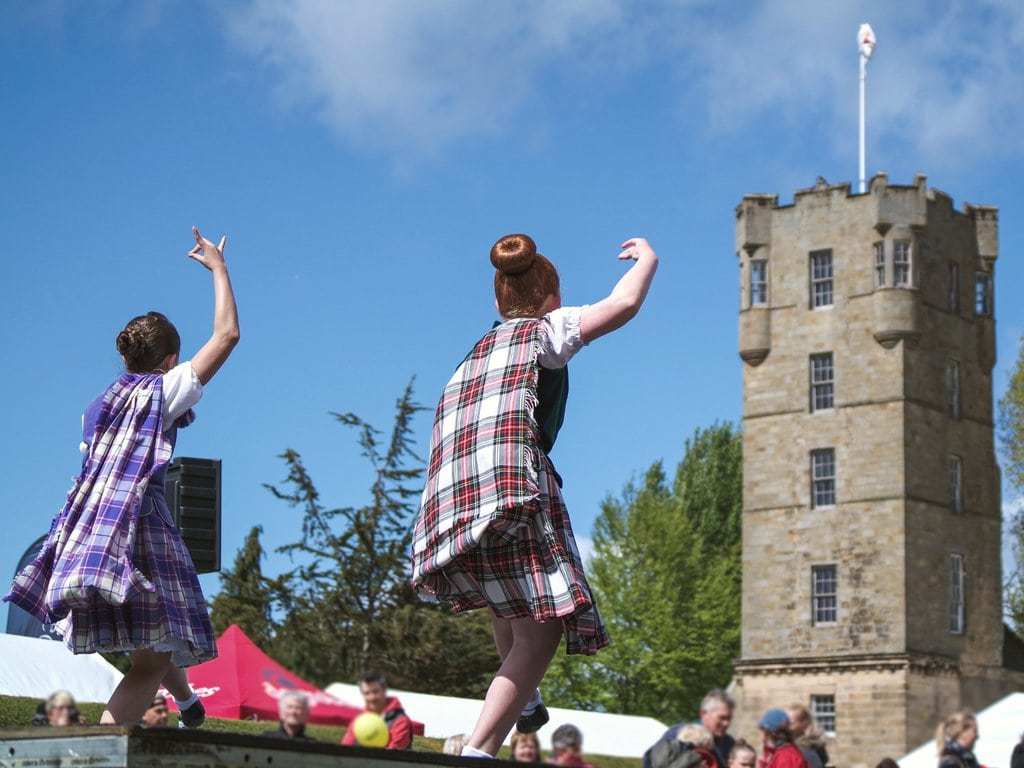 The Highland Games is an authentic and amazing cultural experience that shouldn't be missed. It's an exciting and immersive event where visitors can witness traditional sports and activities that have been around for centuries, as well as spending time with locals who can share their knowledge and culture.
Whether you are interested in the sports on offer or simply want to come and watch a traditional event, the Highland Games are definitely one of the best reasons to visit Scotland.
9. For Getting Really Remote
If you like traveling to the middle of nowhere, go to Scotland.
Now I know what you're thinking. You're thinking that Scotland is famous and developed and it's got an iconic capital city so it can't possibly be as remote as I'm telling you it is.
But you're wrong—some settlements have populations of less than 50 people.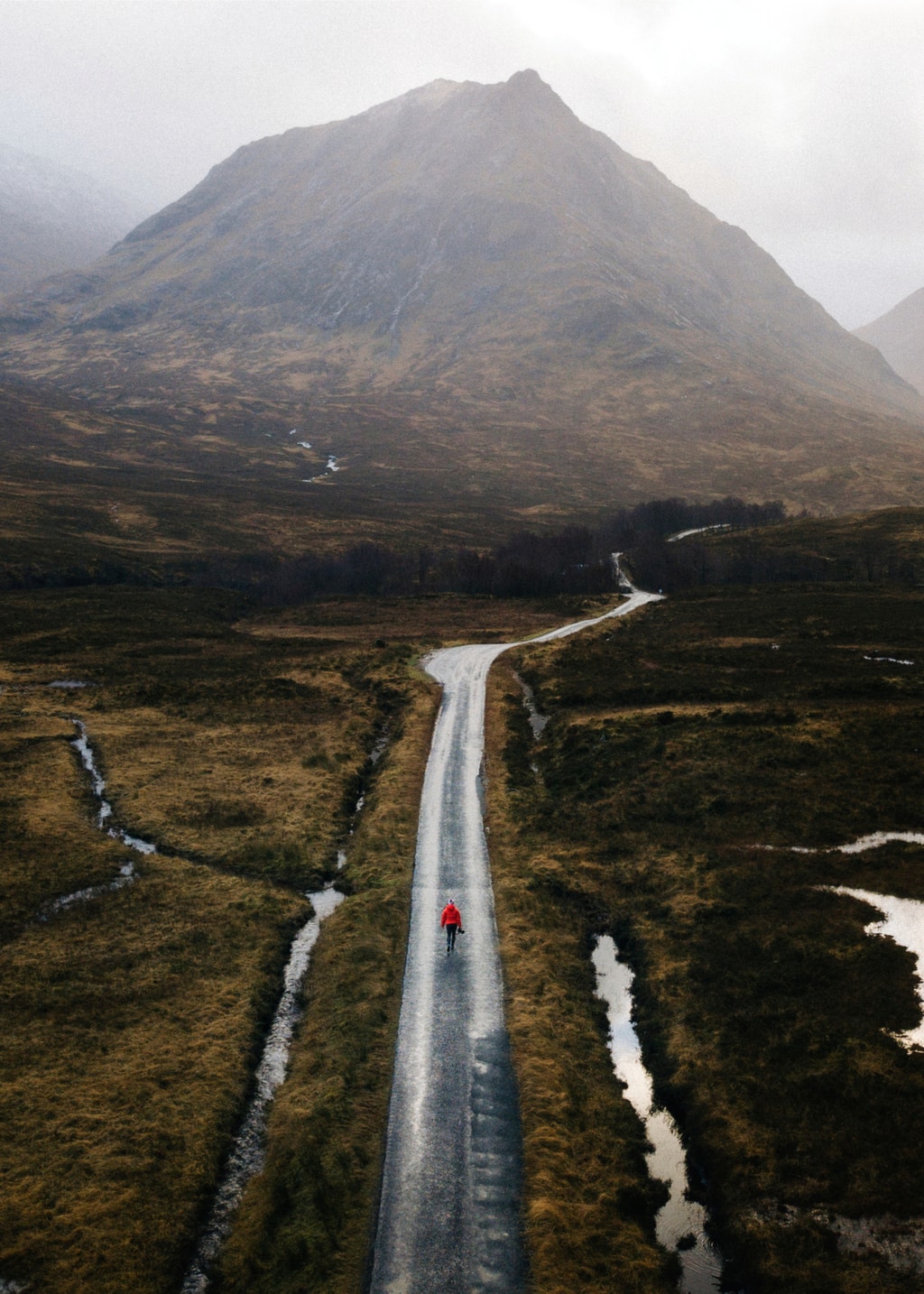 I've hitchhiked around Scotland loads of times. And in some places, I've stood for an hour without seeing a single car. If you like being in the middle of nowhere, and enjoying proper peace and isolation, you'll find it in Scotland.
10. To Hitch a Lift to Nowhere
No, hitchhiking isn't scary. Not everyone in the world is trying to kill you, so get over yourself.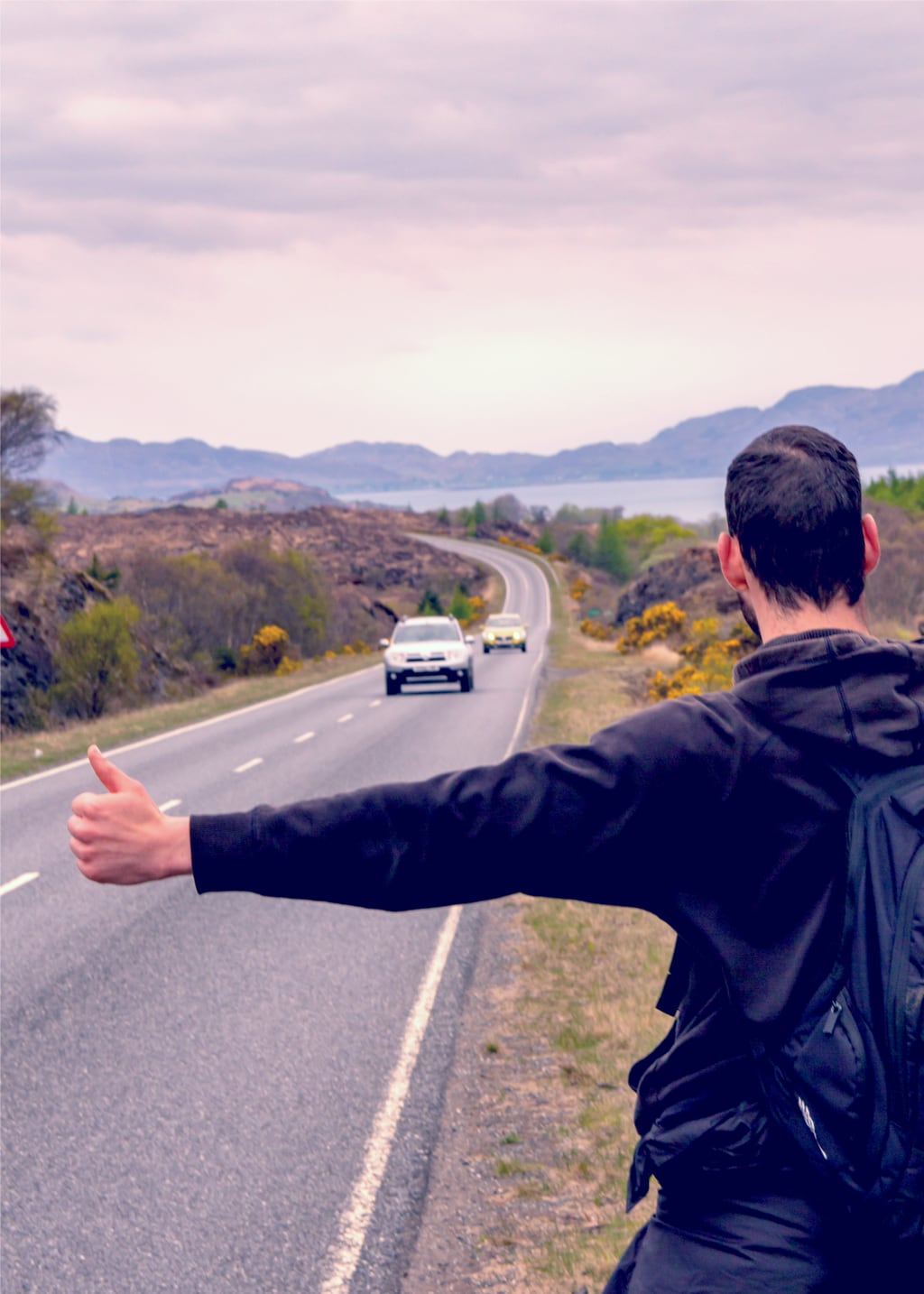 If you've never hitchhiked before, Scotland is a brilliant place to get started—I reckon it's the best country in western Europe to do it.
Everyone speaks English, everyone is friendly, and it's pretty much always more reliable than public transport (especially the more remote you go). In Scotland, you'll realize why hitchhiking is brilliant, and why it's the best way to explore the country. If Scotland is the first place you hitchhike, it won't be the last.
11. Because You Can Visit Endless Islands
Scotland isn't quite Indonesia, but it has nearly 800 islands.
Visiting them is brilliant. Some offer remote experiences on uninhabited shores. Others have excellent beaches. Some have orcas, puffins, otters, eagles and sharks.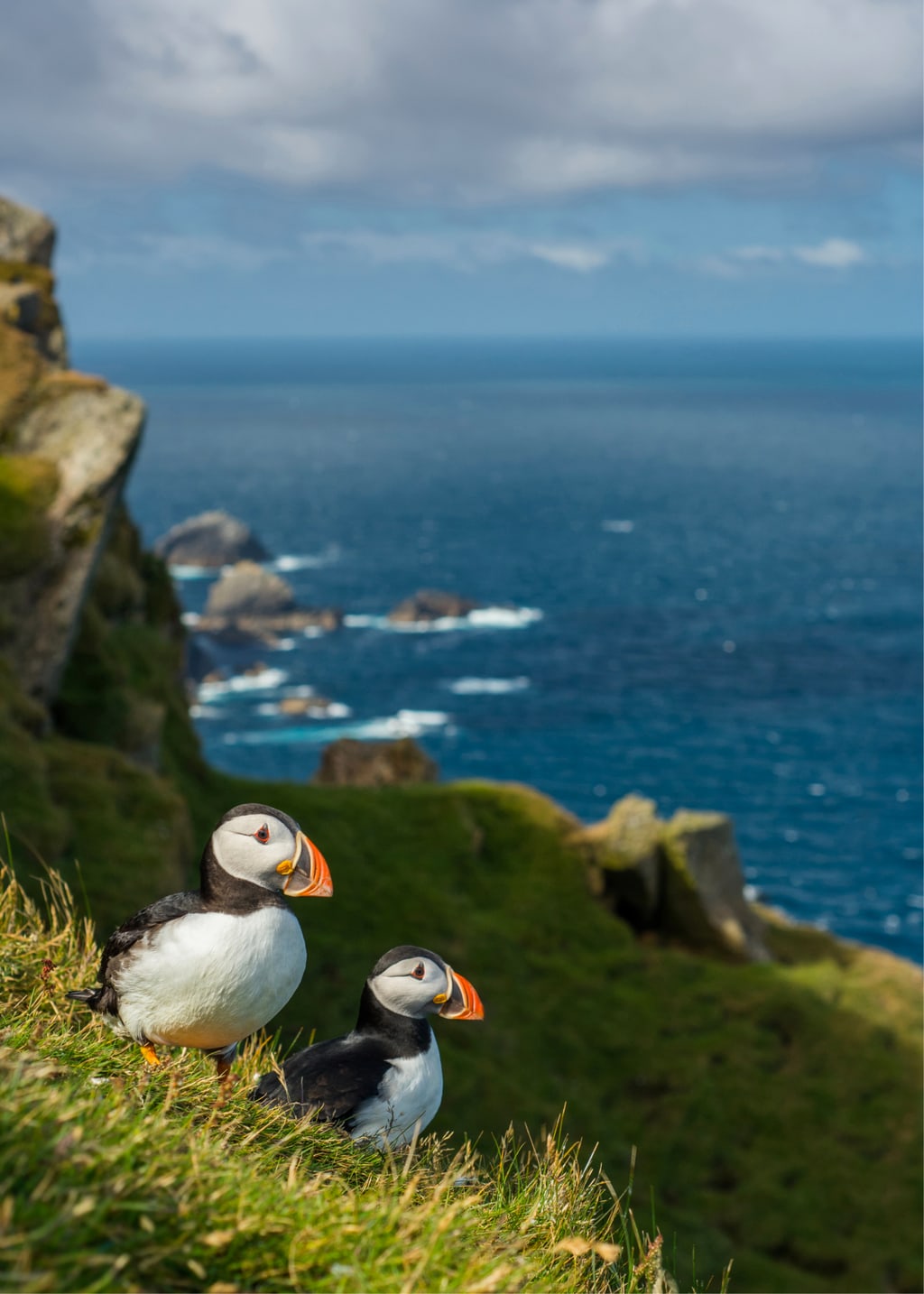 Others have brilliant hikes. Some are only accessible by ferry. A small few have ancient neolithic sites. Most of them have cute little fishing villages.
So there's loads of stuff to enjoy on all of Scotland's islands. But more importantly, you get to visit some of the most alluring, endearing places you've probably ever visited.
12. For Dipping into Northumberland
Just south of Scotland is Northumberland, the most northerly county in England.
Because I'm from Northumberland, I'm probably (definitely) biased, but I think it's the most beautiful part of England. Hugely remote, you can hike, swim, surf, cycle and explore endless stretches of nothing.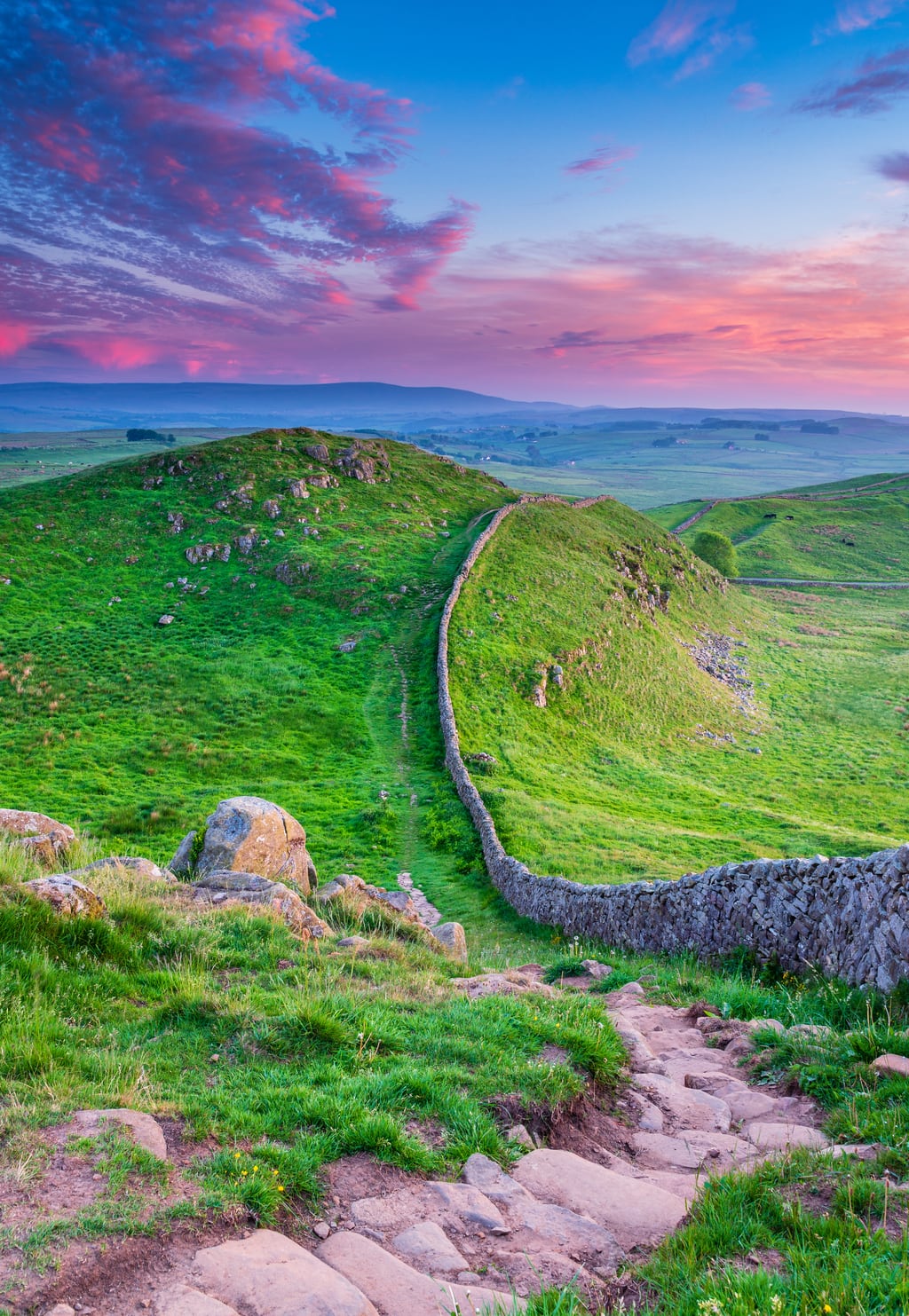 If you want further outdoor adventures outside of Scotland, you'll find them in Northumberland—and the area is ridiculously easy to access from its northern neighbor.
13. To Hole Up in a Bothy
Scotland's bothies are some of the nation's most unique features.
Charity-operated shacks in the middle of Scotland's wildest landscapes, they're rudimentary cabins designed for overnight stays during long hiking trips and other outdoor adventures.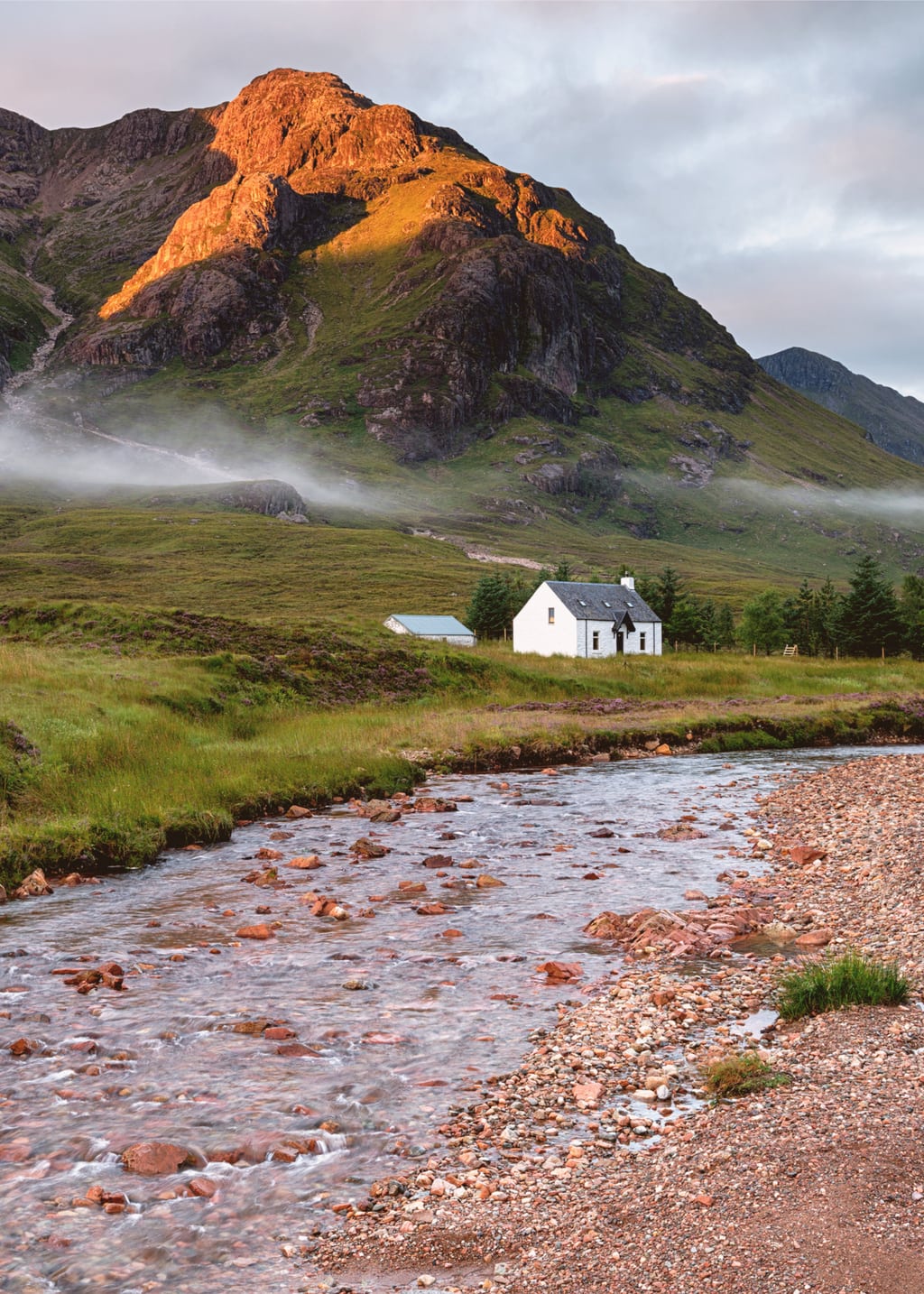 So if you want to enjoy some proper wilderness, Scotland's bothies can help. You can safely explore some of the nation's most remote spots without worrying about where you'll need to sleep. And best of all, you don't even need to pay.
Here's a map of all the bothies in Scotland.
14. To See the Northern Lights
Everyone wants to see the Northern Lights. You, me, your friends, our grandmothers.
Even people who've already seen the Northern Lights probably want to see the Northern Lights.
Most people flock to Norway, Sweden and Iceland to see the iconic illuminations. But not many people know that you can see the Northern Lights in Scotland. Surprisingly, the region is on the same latitude as Norway's city of Stavanger, one of the world's most famous light-spotting locations.
If you go to the right places at the right time, Scotland can give you a taste of one of the world's most famous sights.
15. For Meandering Multi-Day Walks
Hiking is fun. But multi-day walks are where the adventure's really at.
Scotland has loads of multi-day jaunts and journeys. And if you've never been on a multi-day walk before, Scotland is a great place to start. The infrastructure is brilliant, most walks are well-waymarked, and you'll meet lots of other hikers along the way.
In short, Scotland lets you enjoy multi-day walks simply, easily and accessibly.
The most famous is the West Highland Way. But beyond that, the Rob Roy Way, the Cape Wrath Trail and the Arran Coastal Path are all equally excellent.
16. Because It's Ridiculously Beautiful
I feel like I've already covered this in my other reasons. But it's impossible to articulate how beautiful Scotland really is.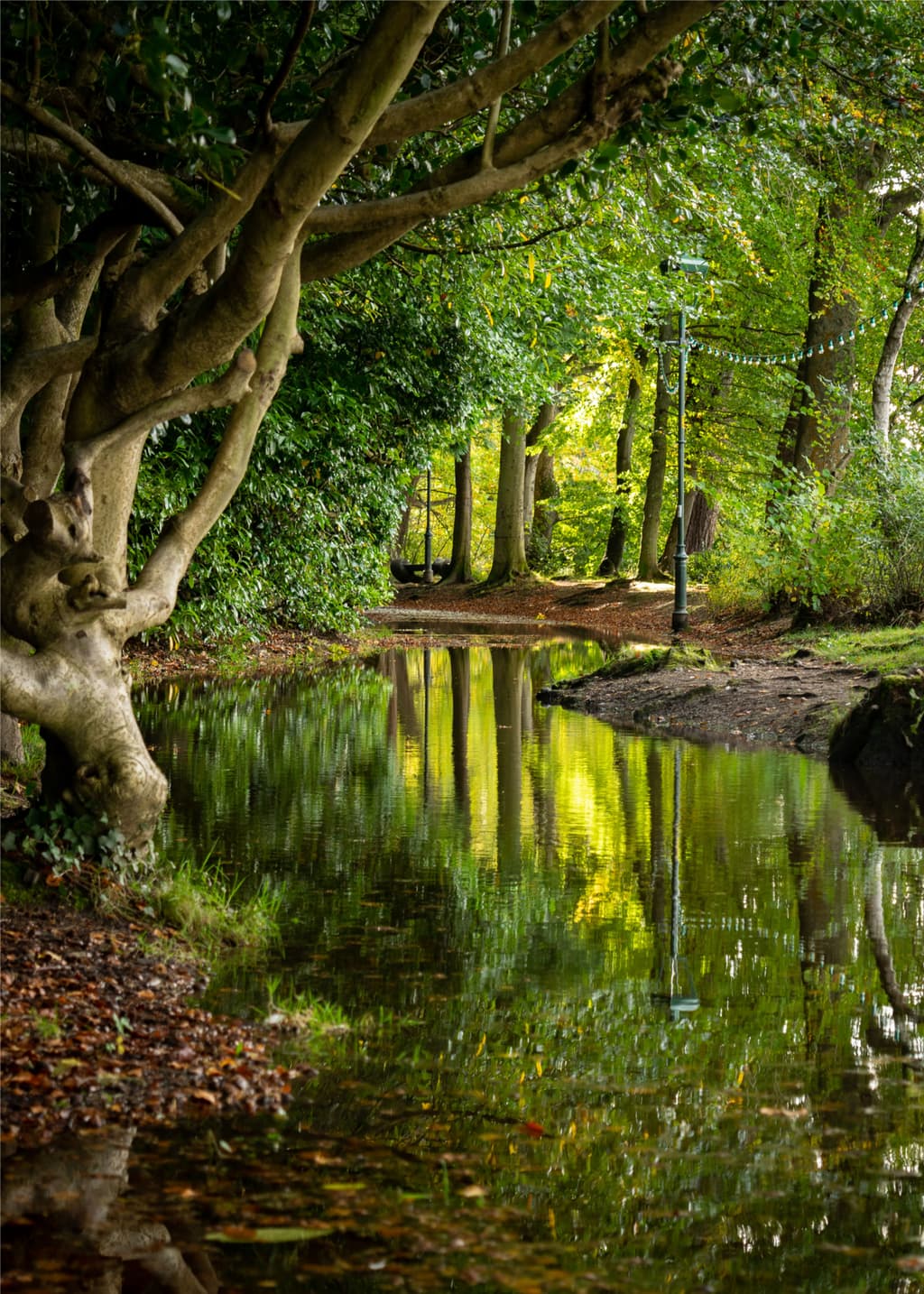 If you want to see one of the most beautiful countries in the world, head to Scotland. It's hugely diverse, so whether you like looking at peaks, passes, valleys, mountains, forests, beaches or whatever else, you can see plenty of it in Scotland.
If you visit Scotland, you get to see some of the most incredible sights on the planet.
17. To Explore Surprising Beaches
I know the idea of nice beaches in Scotland sounds made-up.
But I promise I'm not making it up—on the west coast, the north coast, and loads of the islands, you'll find lots of beautiful beaches.
One of the best things about Scotland's beaches is how quiet, remote and peaceful they are. If you go to Benidorm or the Greek islands or whatever, the beaches are beautiful but busy. But in Scotland, you can enjoy equally-attractive beaches, but with hardly any people.
If you like exploring quiet beaches with incredible views, you can do loads of it in Scotland.
18. For the World's Biggest Theater Festival
Every August, Edinburgh hosts the Fringe Festival
The biggest arts festival in the world, it's a massively unique event.
Over a jam-packed three weeks, the city plays host to around 4,000 shows (no, that's not a typo). Some stuff is theater, some stuff is comedy, all of it's varied.
If you like theater, comedy, stand-up shows, live entertainment, music, street performers or any similar stuff, you'll absolutely love the Fringe Festival.
It's diverse, unique and alluring, and it absolutely dominates the city for its three-week duration. You'll get to see some of the most unique, unusual and affordable theater you've ever seen, and you'll get to enjoy one of the world's most exciting events.
19. To Nibble and Munch on Underrated Food
Scotland isn't all haggis and deep-fried Mars Bars.
(Although, admittedly, you will find loads of them both—and they are both tasty).
In Scotland, you can eat lots of great stuff. Go to the coast, and get brilliant seafood, lobster and cullen skink. Go to the cities for hugely-underrated (and surprisingly affordable) world cuisine. Go to the islands for hyper-local produce.
Throughout Scotland, there are loads of tasty meals and morsels to chow down on. It's an excellent under-the-radar gem for any food fanatics.
20. To Slurp on Irn Bru
No, I haven't spelled that wrong (but in case you're wondering, it's pronounced "iron brew").
Irn Bru is the unofficial national drink of Scotland. And you've never tasted anything like it.
Bright-orange, fizzy and sweet, no-one can really work out what Irn Bru tastes like. Some reckon it tastes like ginger. Others think it tastes like citrus fruit. Some reckon it tastes like bubblegum.
So there's only one way to find out what it really tastes like—go to Scotland and swig some of the stuff for yourself. You'll get to taste an iconic drink, and you'll get to endlessly speculate on its flavor.
21. For Hogmanay
You probably have no idea what 'Hogmanay' means.
A weird old word, it's the Scottish term for New Years. Totally exciting and unique, Hogmanay is one of the country's biggest celebrations. If you like massive events and late-night parties, you'll absolutely love it.
Edinburgh and Glasgow are the best places to celebrate Hogmanay. In both cities, you'll find good food, good drinks, smiling faces and endless fireworks.
If you attend a Hogmanay, you'll make loads of friends and enjoy one of the best parties you've ever experienced. But more than that, you'll get a brilliant insight into one of the oldest and most celebrated Scottish traditions—if you like learning about (and experiencing) real local life, you'll love it.
22. Because It Has Some of the World's Best Castles
Scotland is home to more than 1,500 castles, depending on who you ask.
If you're interested in heritage, history, and age-old architecture, there are plenty of places to explore. The Scottish castles range from sprawling complexes to tiny turrets to huge ruins, and they're a great insight into Scotland's past.
Some of the most famous are Edinburgh Castle, Braemar Castle, and Dunnottar Castle.
Another popular castle is Urquhart Castle which is situated atop a rocky hill overlooking Loch Ness and has been part of some famous battles, making it a true symbol of Scotland's rich history.
Stirling Castle is also a famous and vast fortress, built on a rocky crag and entirely dominating the surrounding area. Having played a key role in the Wars of Independence and being connected to many famous figures from Scotland's past, it's an unmistakable part of Scotland's past.
But my favorite (and lots of people's favorite) is Eilean Donan. Perched right on the waters of Loch Duich, it's one of the most photographable castles on the planet. But because loads of Scotland's castles are in beautiful locations, they're a photographer's dream. So fire up that Instagram.
23. To Camp Wherever You Want
Scotland is a wild-camper's paradise.
Apart from a small few places (and in people's gardens), you can roam and camp wherever you want in Scotland. You don't need a permit, you don't need permission, and you don't need to plan.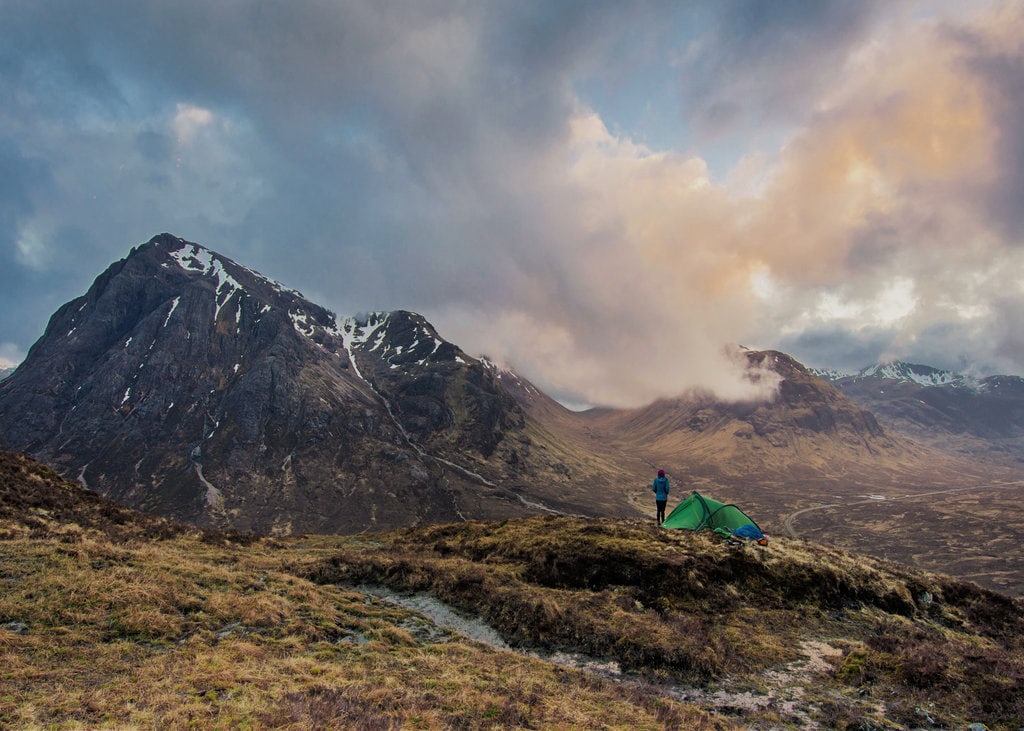 Instead, you can just spontaneously pitch up your tent wherever you like, and make a little home for the night.
If you like spontaneity, freedom and traveling without plans, Scotland is a brilliant place to visit.
They even have a law about about it: The Right to Roam.
24. Because It Has Some of the World's Best Golf
Apart from mini golf and one go on a driving range, I've never played golf in my life.
So I don't really know anything about the sport.
But what I do know is that Scotland's golf courses are world-famous. So if you're a fan, head to the nation for some of the best rounds you've probably ever played.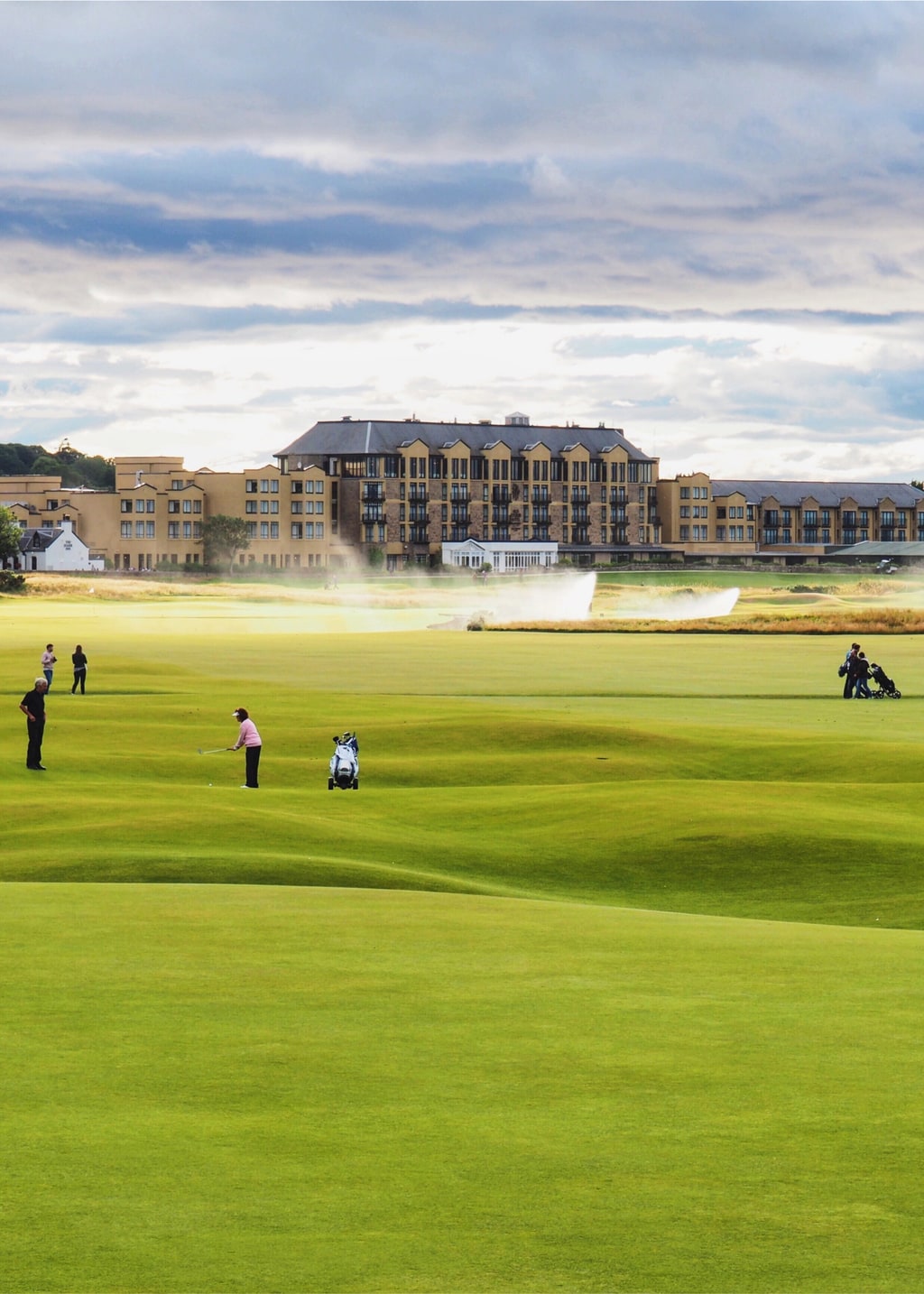 The Old Course in St. Andrews is probably the most famous course in the world, but other great Scottish courses include the ones at Royal Dornoch Golf Club and Carnoustie Golf Links. The country has almost 600 courses in total, so there's plenty to choose from.
In Scotland, you get great courses, great facilities and great equipment.
25. To Wander on a Budget
Scotland can be a surprisingly good place to travel cheaply.
Like I've already said, you can camp (almost) anywhere and you can hitchhike everywhere. And on top of that, campsites and accommodations are a little cheaper than you probably expect, buses are very affordable, and the country has loads of excellent hostels.
For western European standards, you can easily travel in Scotland without spending too much money. So if you're looking for a cheap trip, get yourself there!
Final Thoughts
Thanks for reading our guide to the top reasons to visit Scotland.
If you want to know anything else about traveling in the nation, we have lots of articles here on our site. For much more, wander over to our guides on the top reasons to visit the Isle of Arran, the best coastal walks in Scotland, things you shouldn't do in Scotland, and things you shouldn't say to Scottish people.
We also have articles on mountains, traditions, cliffs, clothes, heather, money, and plenty more. Whatever you want to know about Scotland, you'll find it right here!
Related Article: Top Reasons to Visit the UK
Being a Digital Nomad: Tips, Tricks and Places
Do you want to be a digital nomad?
If you do, maybe you don't know where you might want to live. Or how to live there. Or whether you need a visa. Or how to make friends in the scary sprawl of a brand-new city. Or how to stay productive while you travel. Or how to find an apartment. Or whether this lifestyle really is for you. Or… I'm sure you get the idea.
But with some insight and experience, it's not as difficult as you think. So in this book, I've gathered my 6 years of digital-nomadding experience… and I've used it to answer all your questions, soothe all your fears, and get you on your way. After reading this, you'll realise being a digital nomad is much easier (and much more possible!) than you think.