21 Strange & Fascinating Facts About Loch Ness
The most famous loch in Scotland, good ol' Loch Ness is one of the nation's most iconic sites, and lots of tourists flock to the place.
But everything's better with a bit of juicy context… so in this article, we've brought you 21 incredible statistics and facts about Loch Ness. We've covered size, scale, what you can do there, some pretty weird stuff, and (of course) that big famous monster that probably doesn't lurk in its depths (or does it?).
Bring your tam-o-shanter, slip into your kilt, and don your ginger wig. Today, we're learning 21 facts about Loch Ness!
1. The Loch Contains a Massive 263 Billion Cubic Feet of Water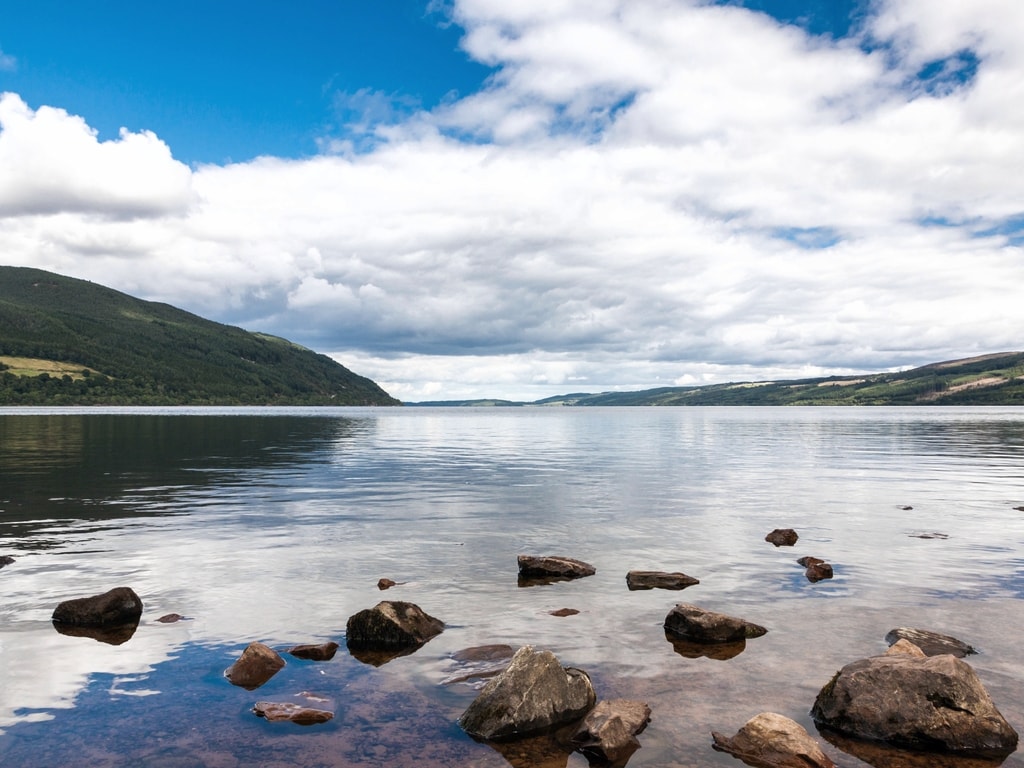 That stat likely means absolutely nothing to you, because you've probably never measured anything by cubic feet before.
So let me put it a different way… you could take every single lake, river and reservoir in England and Wales, combine all that water, and Loch Ness would still have more water.
I know that sounds like a completely impossible, ridiculous, and fictional statistic, but I promise it's true.
2. Everyone on the Planet Could Fit Inside of It (way More Than Once)
Here's another way to articulate the loch's outrageously hefty size.
You could take every person on the planet, and squeeze that massive group of people into the loch's volume… 10 times over.
Yep, if Loch Ness was hollowed out, 77 BILLION people could fit inside of the space it left behind.
3. Even Though It's Massive, Loch Ness is Not the Biggest Loch in Scotland
Yeah, Loch Ness is the most voluminous loch in Scotland. But in terms of surface area, it surprisingly doesn't nab the #1 spot.
That honor instead goes to Loch Lomond, which is another of the nation's most popular tourist spots. Sitting around 125 miles (200km) south of Loch Ness, it's perfect for kayaking, canoeing, swimming, fishing, and plenty more fun stuff.
Loch Ness has a surface area of 21.7 square miles (56.4 square kilometers), with a length of 22.5 miles (36.3km), and a maximum width of 1.67 miles (2.7km). Loch Lomond, meanwhile, has a surface area of 27.4 square miles (71 square kilometers), with a length of 24.2 miles (39km), and a maximum width of 5 miles (8km).
4. Loch Ness Never Freezes!
Because it's so vast, and full of so much water, Loch Ness never freezes.
The profound depth of the place somehow stops the water from freezing in some scientific way that I don't understand or have the intelligence to articulate.
Anyway, the average temperature of Loch Ness sits at around 5.5°C (42°F) year-round, with little deviance from that figure. So it's not a great place for a warm dip in summer.
5. As You've Probably Guessed by Now, Loch Ness is Pretty Deep
At its lowest point, the waters of Loch Ness sit at 230 meters (755 feet).
That makes it the second-deepest Loch in Scotland, behind Loch Morar (one of the nation's lesser-known lochs, with a maximum depth of 310 meters/1,015 feet).
To put that into context, the North Sea only has an average depth of around 90 meters (295 feet).
If you want to know much more about the best of Scotland's lochs (including Loch Morar), check out our guide to the 17 best lochs in Scotland. In it, we feature big boys like Loch Lomond and Loch Ness, but we also give you some under-the-radar gems including Loch Coruisk, Loch Assynt and Loch an Aigeil.
6. Loch Ness is Home to an Island…
Named Cherry Island, it's a man-made lump of land, and it originally measured in at around 49 meters (160 feet) by 51 meters (168 feet).
Probably constructed during the Iron Age, it now basically just looks like a big tree.
7. … and a Castle…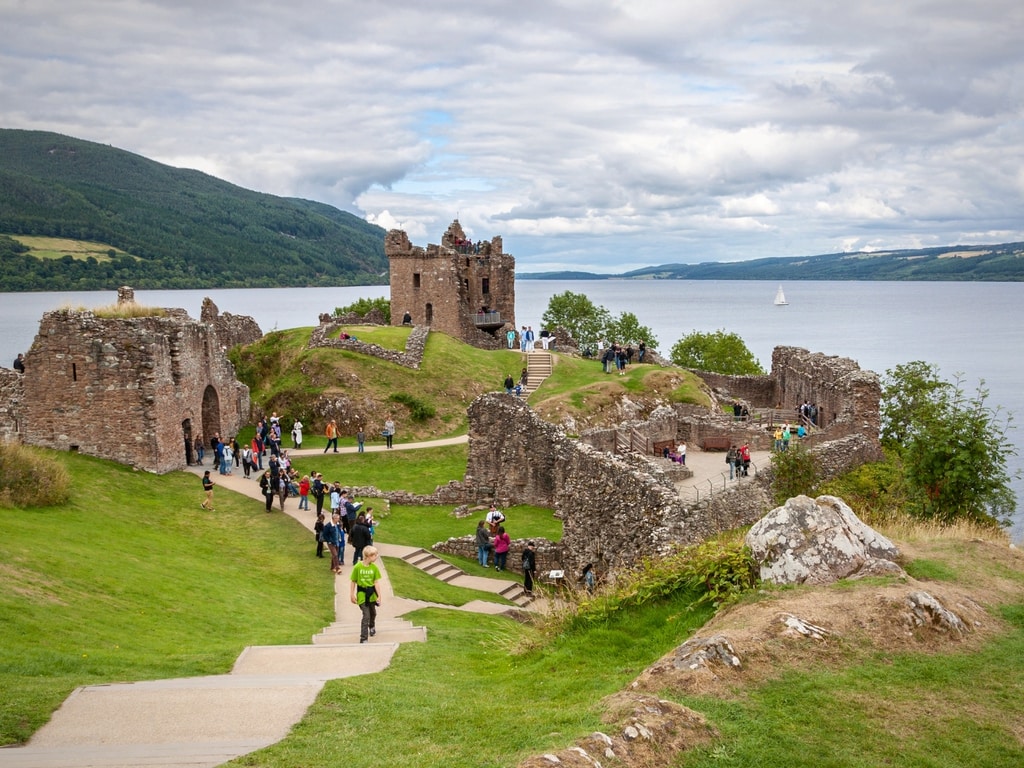 Urquhart Castle is one of the most popular stops along Loch Ness.
Now a big ol' ruin, it's still a pretty scenic big ol' ruin, and it's one of the nation's most well-known photo stops.
Once one of the nation's biggest castles, it's been the site of battles, banquets, raids, and plenty more historic events. It's possible to visit and take tours, and lots of tourists queue up every day to do both of those things.
It's one of the best castles in Scotland (which is a very castled country!)… so make sure you pay the place a visit.
8. … and It's Supposedly Home to Some Big Weird Dinosaur Fish Thing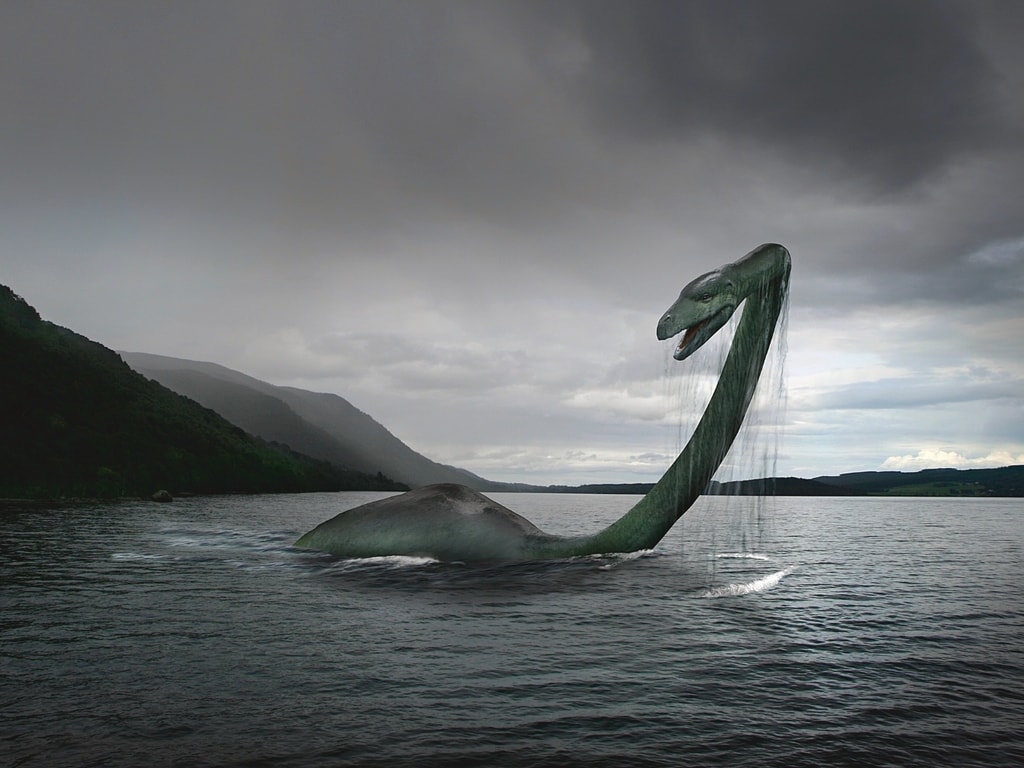 You probably already know this, but some people think that Loch Ness is home to the Loch Ness Monster.
Is it a dragon? A sea serpent? A prehistoric monster? Completely fictional? You be the judge!
In April 2022, some more 'footage' of the beast emerged, and it's been lauded as "the best footage in decades." It's pretty uncompelling, which (in my opinion) tells you everything you need to know about the alleged existence of this big beast.
9. Allegedly, This Big Weird Fish Dinosaur Thing Was First Officially Spotted by a Monk in AD565
Back in the ancient times of AD565, the savage monster allegedly bit a swimmer, and good old St. Columba intervened, ordering the beast to make a hasty retreat.
And it did exactly that, either because the monk was really assertive, or because the monster was scared of God, or because the whole story is completely made-up.
10. The Water is Very Dark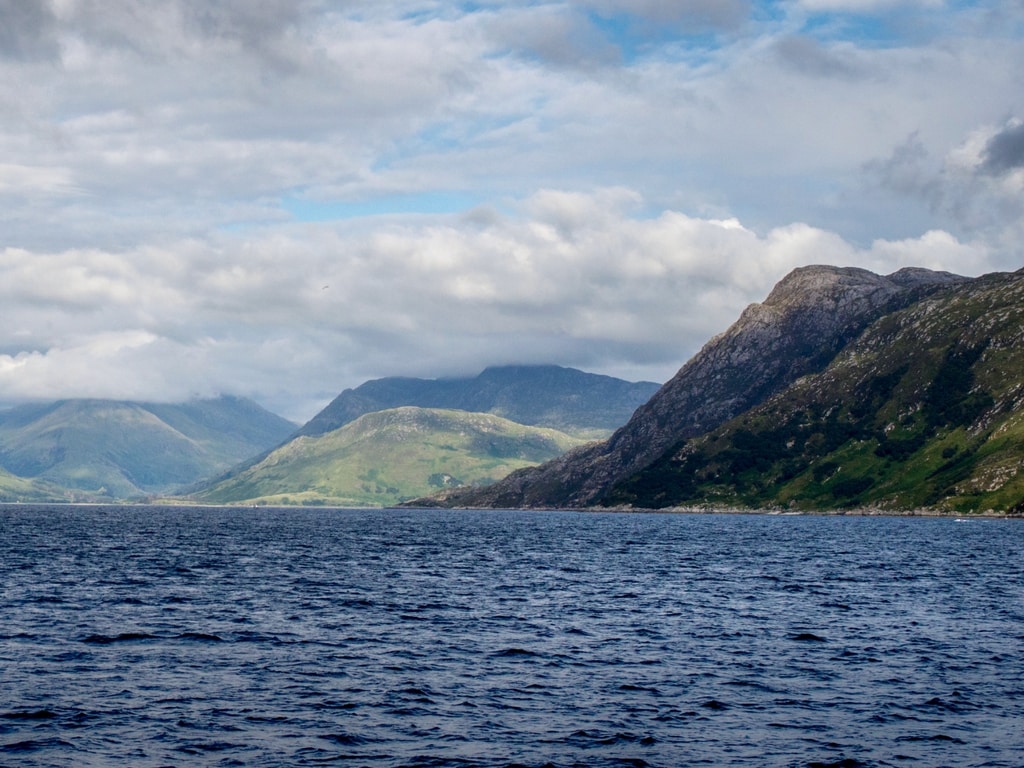 Because the hills surrounding Loch Ness are all peaty, the water in Loch Ness is very peaty.
The rain hits the hills, the rain runs down the side of the peaty hills, and the peaty water runs all the way into Loch Ness.
Because of this, the water in Loch Ness is very dark and murky… so maybe it's possible for an evasive monster to hide out in its depths after all.
11. Some People Have Swam the Entire Length of the Place
The first person to do it was teenager Brenda Sherratt, who swam the entire length in 31 hours and 27 minutes, all the way back in 1966.
The loch even hosts an annual charity relay, where teams of up to six combine to traverse the length of the loch.
12. Loch Ness Sits on a Great Fault Line
Yep, this probably means nothing to you—it meant nothing to me either when I first read about it.
But Loch Ness sits in the valley of Great Glen, which is the most prominent fault line in the British Isles. This basically means that there's a big fracture in the area's land… and this fracture caused the valley to emerge.
This fault line also means that the area is home to tiny earthquakes. Fortunately, the vast majority of them are completely undetectable.
13. The 'wickedest Man in the World' Once Lived Here…
Ever heard of Aleister Crowley?
A controversial English occultist, the strange guy was known by many names, including 'The Great Beast 666,' 'Perabduro,' 'Ankh-f-n-khonsu,' 'the wickedest man in the world,' and plenty more.
He started a new religion, believed himself to be a prophet, and encouraged people to undergo strange cult rituals. He once published a bunch of poems that were later described as 'the most disgusting piece of erotica in the English language.'
And on top of all that, he once lived in a house above Loch Ness. Which finally explains why I've mentioned him here.
14. … and One of the Guys from Led Zeppelin then Bought That Same House
After Aleister Crowley lived in this house, Led Zeppelin's Jimmy Page bought the place. He purchased it in 1970… largely because he was interested in the life and work of creepy Crowley.
Though he never lived there, he paid it lots of visits… and eventually sold it 22 years later after he allegedly described it as having "bad vibes."
Crowley apparently used the home to hold ghost-summoning rituals, which might partially explain why it wasn't the coziest or most comfy place on the planet.
Because of some fires and a whole load of disrepair, the house is now surrounded by scaffolding… and, as a result, is unvisitable.
15. Loch Ness is Home to a Village Called Fort Augustus, Which is a Pretty Unique Spot
Little Fort Augustus (population of approximately 600) is cute and charming, and it's a great place to visit.
It has some nice pubs and cafes, but it's most famous for its set of 5 locks.
Accompanied by a swing bridge, these locks help the Caledonian Canal (and its various boats) to run into Loch Ness. Running alongside the Caledonian Canal, you also have the River Oich, which also contributes to the loch's waters.
But they aren't the only two sources feeding the loch—there are actually around 40 sources running into the loch, which explains how it manages to have a constant stream of so much water.
16. You Can Take a Road Trip Around the Entirety of Loch Ness…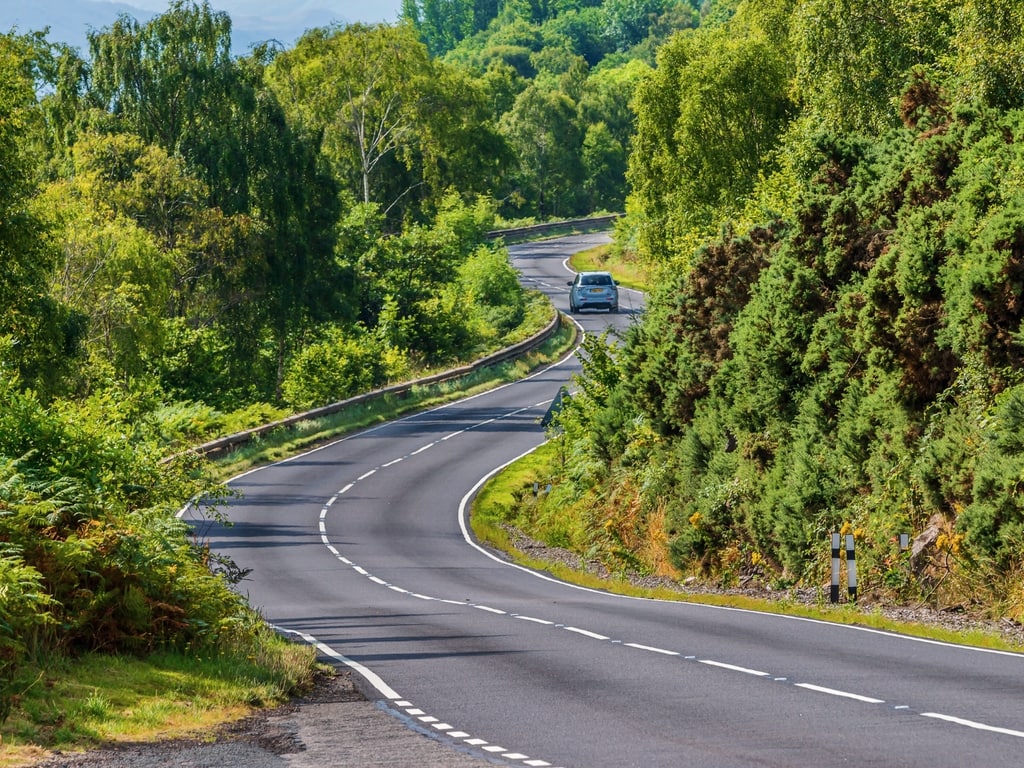 Though the roads of Loch Ness don't always hug the shore, they do for the majority of the time… so a road trip around the big body of water is (of course!) a great way to see pretty much all of the loch.
On the northern side, you follow the major A82 road, taking in some famous settlements, such as Drumnadrochit, Invermoriston and Fort Augustus (and Urquhart Castle!).
On the southern side, you get some tiny villages, some brilliant views, and a largely-unexplored area (which I reckon is much more beautiful and interesting than the northern half of the road trip). This section is on rural roads, rather than a well-traveled highway.
In total, the ride clocks in at around 64 miles (103km), so it's totally possible as a half-day trip (or a day trip with lots of stops).
If you're looking for even more road trips in Scotland, check out our guide to the best road-based rides the nation has to offer.
17. … or Walk or Cycle Around It Instead!
I think this is a much more interesting option than just jumping in a car.
If you're gonna cycle around Loch Ness, you can of course follow the road route as outlined above (though the northern stretch is pretty dangerous and unpleasant).
Or, instead, you can follow the Loch Ness 360°, a multi-purpose adventure loop around the whole loch. It's suitable for cycling, hiking and running. In total, it clocks in at 80 miles (129.5 km), and it's a very popular route. For some stretches, it hugs the shores—but it largely runs in and around the hills and fields surrounding the loch.
Aside from the Loch Ness 360°, there are lots more great walks and wanders in and around Inverness.
18. It's Possible to Buy a Bottle of Loch Ness Water
If you're looking for a weird Loch Ness keepsake, you've found one.
An imaginatively-named company called 'Loch Ness Water' allows you to buy souvenir-style gift bottles with Loch Ness water inside. You can't drink it, bathe in it, or do anything at all with it. But that's what souvenirs are all about.
You get a discount for buying two bottles, in case one just isn't enough.
19. It's One of the Best Fishing Sites in Scotland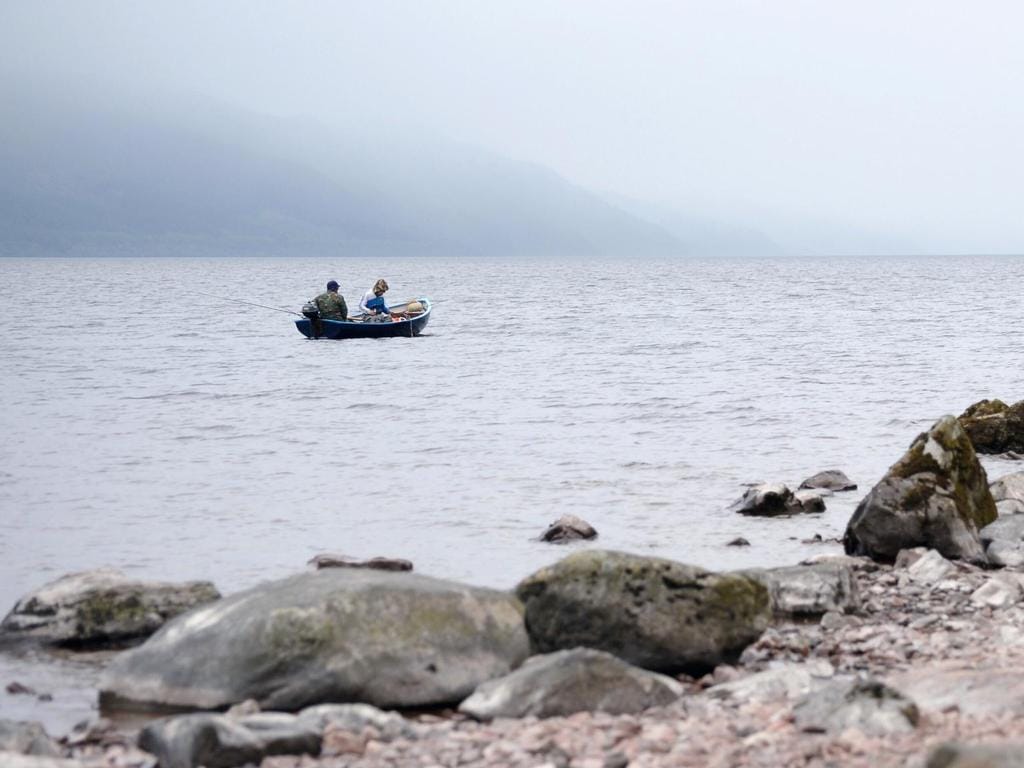 Given its size and depth, this one probably doesn't come as much of a surprise—Loch Ness is home to eel, pike, sturgeon, lamprey, salmon, trout, and plenty more, and it's a great place to play with your rod.
If you want to fish, it's one of the best locations in Scotland. You can either do it yourself, or you can join one of the many tours offering expertise, equipment, and all that other useful stuff.
Depending on when and where you go, you may or may not need a permit. So make sure you check in advance!
20. I Think It's Overrated
Yep, for our penultimate 'fact,' we've gone all subjective.
There are of course lots of great things you can do in and around Loch Ness, but I think there are way better lochs in Scotland. And let's be honest, in a nation of more than 30,000 freshwater lochs, that's not hard to believe.
There are deeper lochs, funner lochs, more beautiful lochs, and more interesting lochs. Yeah, Loch Ness is an iconic must-visit… but don't make it your only Scottish loch experience.
21. Our Website is Not Named After Loch Ness
Despite the pretty similar name, no, we're not named after Loch Ness.
Sorry to disappoint you 🙂
Facts About Loch Ness: Final Thoughts and Further Reading
And just like that, we've reached the end of this guide, and the end of your education on mega-famous Loch Ness.
If you want to know anything else about Scotland's lochs, check out our guide to the best lochs in Scotland. Or if you want to know more about some of the nation's other outdoor areas, wander over to our guides on the best hikes in the nation and the best cliffs in the nation.
And last of all, here are the top 23 reasons you should visit Scotland!
Thanks for reading, thanks for sticking around, and I'm sure we'll see you soon.
Being a Digital Nomad: Tips, Tricks and Places
Do you want to be a digital nomad?
If you do, maybe you don't know where you might want to live. Or how to live there. Or whether you need a visa. Or how to make friends in the scary sprawl of a brand-new city. Or how to stay productive while you travel. Or how to find an apartment. Or whether this lifestyle really is for you. Or… I'm sure you get the idea.
But with some insight and experience, it's not as difficult as you think. So in this book, I've gathered my 6 years of digital-nomadding experience… and I've used it to answer all your questions, soothe all your fears, and get you on your way. After reading this, you'll realise being a digital nomad is much easier (and much more possible!) than you think.