Where to Stay in Newcastle upon Tyne
One of England's most underrated cities, Newcastle upon Tyne (or as locals like me call it, just 'Newcastle') is fun, friendly, and affordable. It's home to one of England's best food scenes, it's packed with culture and – thanks to its cute little size – it's outrageously walkable.
Famous for its warm welcomes, strong accents and football team, Newcastle is so much more than simply England's most northern city. As it shakes off its once-poor reputation, the city is slowly becoming a hot spot for tourists from all over the world.
Check out our guide on why you should visit Newcastle.
And as the tourists increase, so too do the accommodation options, leaving you lots of potential places to stay while you visit the city. Confused? Overwhelmed? Brimming with tears of frustration?
Don't be.
If you're planning on visiting Newcastle, we've got you covered. This guide brings you all the best accommodation options. We've included high-end hotels for luxury stays, budget backpacker hostels for cheap overnighters, and everything in between.
We've also included information on the different areas in – and around – Newcastle, so you can stay in an area which you'll love. From city centre stays to cozy coastline accommodations, we've got it all here.
We've also included a handy guide to Newcastle's best attractions, along with useful information on where you can find each of them.
Let's dive in! 🇬🇧
If You're In A Hurry, Here's Our Advice In Short
The best place to stay in Newcastle is the city centre.
As you might have guessed, it's the centre of the city. And because Newcastle is so small, that means you're never more than a 15-20 minute walk from any of Newcastle's central attractions. If you want close proximity to all of Newcastle's attractions, eateries and atmosphere, it's the best place to be.
Full of good fun, great food and beautiful architecture, Newcastle's city centre is an excellent place to stay – and it's also a great base for those wanting to use their time in Newcastle for exploring the nearby peaks, valleys and shorelines.
To stay right in the heart of Newcastle – and experience all of the city's quirks and contrasts – the city centre is the best place.
Top attractions Newcastle's city centre include:
St James' Park
Grey Street
The Grainger Market
The Laing Art Gallery
… but because the city centre is so close to the other parts of the city, it basically offers ALL of Newcastle's attractions and areas of interest. The above are in the heart of the city, but nothing is far from it.
Quick Facts About Newcastle Upon Tyne
Before we break down all the best hotels, hostels and areas in and around Newcastle, here are some facts about the city:
Currency: Pound Sterling
Language: Everyone (obviously) speaks English, making it easy to get around. The accent takes some getting used to though.
City Population: Around 310,000 (source)
Tourists per year: In 2018, around 18 million people visited the region (source), though most of these people will have been on day trips from nearby towns and cities.
With lots of tourists comes lots of options for accommodation, leaving you with plenty of hotels and hostels to pick from. In this article, we've saved you the hassle, giving you only the best accommodation options on offer in North East England's biggest city.
To put things into context, here's our guide to Newcastle's different areas:
Best Areas and Neighborhoods to Stay in Newcastle
Here are the five areas you need to know about:
City Centre
The Quayside
The Ouseburn
The Coast
Northumberland
The first three are in Newcastle itself, while the last two entries in that list are outside of the centre. But don't let that confuse you, I'll get to it later.
There are other areas in the centre of Newcastle, such as Heaton, Jesmond, Byker and Fenham, but they're mainly residential, and no-one wants to stay in a residential area while they're traveling. Although those areas all have nice parts, they're not worth talking about from a tourism perspective. So I haven't!
All of Newcastle's central areas are very reachable on foot. Newcastle is known for being a very small, very walkable city. So if you're only staying in – and exploring – the city centre, you won't need to use any public transport at all, unless you're horrendously lazy.
If you're planning on going further afield, you will need public transport. If you want to visit the nearby coastline, you can use the city's excellent Metro system, a light rail network which connects lots of the areas around Newcastle.
If you want to explore Northumberland (with its hikes, castles and remote rurality), you can sometimes get by with buses, but it's best to rent a car.
But no matter how and why you're gonna be traveling, here are the five areas you need to know about:
1. Newcastle City Centre
This is – you guessed it! – the centre of the city. The very centre, which in truth, is walkable in about 10 or 15 minutes. It's the heart of the city, and it's where most tourists are likely to spend their time.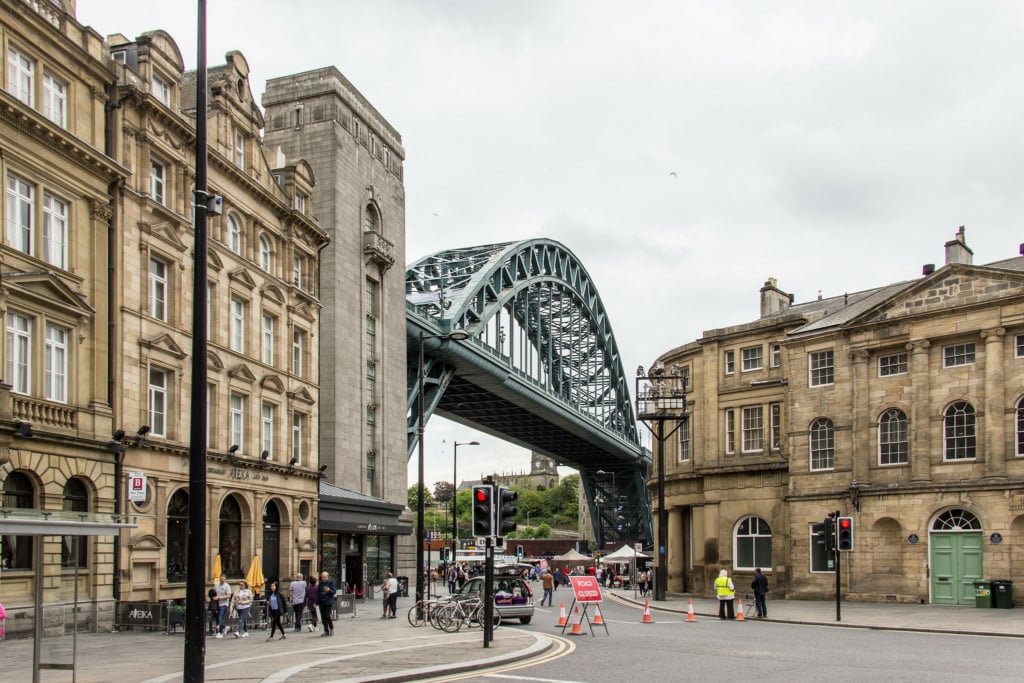 For eating, drinking, sightseeing and shopping, you'll spend most of your trip here. It's busy, beautiful and bustling, and it's full of bars, restaurants, pubs and hotels.
The Best Hotels in Newcastle City Centre
County Hotel (luxury pick)
Situated next door to the train station in an outrageously elegant building, this looks good and it's perfectly-located. With beautiful rooms, excellent food and great facilities inside, this is a fantastic pick if you like a little luxury.
Sleeperz Hotel Newcastle (mid-range pick)
Brilliant location, brilliant breakfasts and excellent value for money. If you want big, comfortable rooms at a fair price, this is a great option. Apart from the weird name, it's all well thought-out.
YHA Newcastle Central (budget pick)
For an English city centre hostel, this place is very affordable. The rooms are modern and clean and the location is brilliant. This is a genuinely great budget pick for even the thriftiest backpackers.
Here are the top things to do in Newcastle City Centre:
St James' Park: if you have any interest in football (or soccer, if you like calling things by the wrong name), you'll have heard of Newcastle United. One of the most famous teams in England, they're nowhere near as good as they once were, but the evergreen fans still come out in their droves. Watching a match at the team's home of St James' Park is a completely unique experience, full of singing, shouting and fully-grown men showing off their giant bellies. It's one of the UK's best stadiums for watching football.
Grey Street: an award-winning street which is (arguably) home to Newcastle's most amazing architecture, Grey Street features lots of 19th-century four-storey buildings. It's also the heart of the city's food scene, with lots of classy pubs, bars and restaurants, perfect if you like indulgent establishments.
The Grainger Market: this old-school indoor market offers Newcastle's most authentic shopping experience. Dating back to 1835, it's been serving the city's residents longer than any of us have been born. While it still features traditional stores such as weighhouses, grocers, butchers and fishmongers, it's recently undergone a hipster resurgence, making it a great place to grab street food, second-hand clothes and lots of unusual oddities and antiquities.
2. The Quayside
Another contender for Newcastle's most beautiful area, The Quayside is home to the city's famous River Tyne. It's also home to lots of cultural venues, beautiful bars, and seven (that's right, seven!) bridges. No-one really knows why the city needs so many bridges, but they make this part of the city look good, so no-one's complaining.
For riverside strolls, great views and a relaxing but busy atmosphere, The Quayside is great. It's perfect for people-watching.
The Best Hotels Near the Quayside
The Vermont ApartHotel (luxury)
These beautiful apartments are elegant and classy and offer incredible views of the surrounding area. With award-winning food and drink, leather-clad monochrome interiors and a location in the classiest part of the city, this place is packed with luxury.
Copthorne Hotel Newcastle (mid-range)
If you want to be right on the banks of the River Tyne, this is great. It overlooks the river, it's set amongst the city's bridges and it's right beside the busy Quayside area. Every single room has fantastic riverside views.
easyHotel Newcastle (budget)
Let's be honest, UK chain easyHotel are never going to provide a luxury place to stay. But if you want a cheap room to save your money for more exciting experiences, this (in the absence of a Quayside hostel) is your best choice.
Here are the top things to do in The Quayside:
Wander: The Quayside doesn't have too many attractions, but its charm lies in its atmosphere. A stroll around the general area is great. With its seven bridges (two of which move to allow the passage of boats – exciting!) and great bars and restaurants, it's a nice place to walk or cycle. Every Sunday, the area hosts a local market, which is an even better way to experience the area.
The Baltic: the city's most celebrated art gallery is actually part of the neighbouring city of Gateshead (but let's not get into the details). Perched right on the banks of the river, in an old flour mill, it hosts various different modern art exhibitions. Some of it weird, some of it wonderful, it's all free and it's all worth a visit. The neighbouring Sage venue hosts excellent music events.
3. The Ouseburn
Like hipster hangouts? You'll love The Ouseburn. Slightly gentrified but still rough around the edges, The Ouseburn is Newcastle's hidden gem. Locals love it, and its position just off the Quayside makes it easy to get to.
A hidden little pocket of culture and creativity, The Ouseburn is home to trendy pubs, independent eateries and lots of weird attractions. It's quirky, creative and cool, and it's Newcastle's most interesting area. Here are its highlights:
Food and drink: if you want to explore cool food and drink, head to The Ouseburn. From The Cluny, with its live music, to the jukebox and craft beer haven of The Free Trade Inn to Ernest's incredible and affordable food, The Ouseburn is fantastic for throwing stuff down your throat. Lots of its venues have quirky events and even quirkier menus.
Seven Stories: the first and only museum dedicated to children's books in the UK, this is one of the nation's best kids' attractions. With seven storeys (get it?) of interactive fun, the museum offers readings, events, hands-on exhibits and loads more. There's even a petting zoo next door!
Victoria Tunnel: one of the city's more unusual attractions, the Victoria Tunnel is a 19th-century waggonway situated under the surface of the city. Lengthy and historic, the tunnel has been used as an air-raid shelter and a passage for the transportation of coal. Tours are an eerie and interesting insight into Newcastle's history.
The Best Hotels Near the Ouseburn
Hotel du Vin (luxury pick)
With an on-site bistro, sleek decor and a beautiful location, this is one of the city's best hotels. Truly classy, each room has deep baths, Egyptian cotton bed sheets and very spacious rooms. The building itself looks beautiful, perched atop a hill overlooking the river, and the hotel's courtyard is great. Even the lighting is classy.
Mariners Wharf (mid-range pick)
As far as furnished apartments go, these are pretty basic, but they're clean, tidy and brilliantly-located. Accommodation options in The Ouseburn are pretty limited, but these are a great choice unless you want something a little more homely.
easyHotel Newcastle (budget pick)
Again, there aren't many accommodation options in The Ouseburn. And there aren't many hostels in Newcastle at all. That makes this your best choice if you want a budget stay near the Ouseburn – it's only around a 15-minute walk from the area.
4. The Coast
Okay, this isn't the centre of Newcastle. At all. But many tourists visit Newcastle as part of a bigger trip to explore the region's charming coastlines. If that's your plan, you can stay here if you prefer overnighting outside of the confines of a city centre.
Newcastle's closest area of charming coastline runs from South Shields to Whitley Bay, and takes in North Shields, Tynemouth and Cullercoats, making for a beautiful run of coastal fun. All five places are easily – and quickly – accessible via Newcastle's Metro public transport system, so you can absolutely stay in these places as a simple and charming base from which to explore Newcastle.
The more northern Northumberland coastline is even better, but it's much further afield. If you're interested in exploring Northumberland's coast (and its other inland areas), I've discussed that in the next section of this article.
But ignore Northumberland for now, because here are the top things to do on Newcastle's nearby coast:
Tynemouth Priory: once one of the largest fortified areas in the whole of England, this 200 year-old priory is packed with history and heritage. An outstanding ruin in a beautiful location, it's a brilliant slice of local insight.
Tynemouth Market: one of the most unique and interesting markets in the whole of the UK, Tynemouth market is open every Saturday and Sunday. Located inside the unusual confines of a public transport station, the market offers over 150 stalls of crafts, hand-made jewellery, vintage collectors' items, retro oddities and loads more. If you like weird and unusual stuff, you'll find plenty of it here.
St Mary's Lighthouse: situated on a small rocky island, St Mary's Lighthouse is an archetypal example of its style. With its bright-white aesthetic, fantastic views and a pretty good chance of seeing the seals that seem to like hanging around it, it's a great place for a trip.
The Best Hotels on the Coastline Near Newcastle
The Metropolitan (luxury pick)
Perched right on the banks of Whitley Bay's sandy beaches (perfect if you want to visit St Mary's Lighthouse), this is a great base for exploring the seaside – and it's well-located for taking the Metro into Newcastle. With clean, tidy and spacious rooms, attractive interiors and excellent breakfast, it's brilliant.
Seafront Apartments, Cullercoats (mid-range pick)
If you want to stay right on the seafront in your own self-contained apartment, this is a great choice. The furnishings are simple but clean, basic but attractive. For proximity to both the sea and the city, these are fantastic.
YHA Newcastle Central (budget pick)
You're not going to find budget accommodation on Newcastle's nearby coastline. Instead, it's cheaper to stay in this city centre hostel (or any city centre hostel!) and travel to the coast on the Metro. It'll save you a lot of money and the journey time is only around 30 minutes anyway.
5. Northumberland
Northumberland is huge. And it's not even part of Newcastle. But England's most northern county (or region, or area, whatever you prefer) is just north of Newcastle. And many people come to this part of the world to explore Northumberland. Full of castles, coastlines and natural wonder, it's one of the most rural and remote parts of England.
A cosy little haven for anyone who likes history, remote places or outdoor adventures, Northumberland is incredible. Some parts can be reached from Newcastle by bus, but if you really want to explore, you need to hire a car.
Northumberland is huge, so recommending a couple of highlights is impossible. But here are how its highlights can be summarized:
Castles: England is renowned for being one of the world's most castled countries – and lots of people visit the nation to seek out its world-class castles. But of all the regions in England, Northumberland is the one with the most castles. In short, if you like castles, you should come here. Some of the best include the castles in Alnwick, Bamburgh and Warkworth.
Villages and towns: Northumberland is packed with beautiful rural villages and towns, and they're all peaceful, quaint and cosy. If you like local vibes, escaping cities, avoiding tourists and getting knee-deep in real local life, Northumberland is great. Some of my favourite spots include Rothbury, Alnmouth and Seahouses.
Hikes: Northumberland National Park is the least-visited national park in the whole of the UK. One of the most remote areas of England, it's perfect if you like to hike without the endless crowds found in some of England's more popular National Parks. Top hiking spots include Simonside, The Cheviots and Hadrian's Wall. Check out this guide about the best hikes in Northumberland if you want to discover more.
Coastlines: now, I said previously that the coastline close to Newcastle is beautiful. And it is. But even better than that is the eastern stretch of coastline in Northumberland. The best beaches (and beach areas) include Druridge Bay, Bamburgh and Craster. The whole area is packed with fishing villages, remote shores and fantastic wildlife.
The Best Hotels in Northumberland
Because Northumberland is so big, it's impossible for me to tell you where you should stay – because where you should stay depends on where you want to spend your time. With 5,000 square kilometers of space, there's no one hotel that's going to give you easy access to the whole area. If, for example, you want to explore Hadrian's Wall, there's no point in you staying in Alnwick.
First, you should plan which area of Northumberland you want to explore, then plan where to stay accordingly. But there are lots of accommodation options – budget, luxury and mid-range – throughout the whole county, so you won't struggle to find a place to stay.
That said, here are three of the most popular accommodations in Northumberland, to give you a starting point:
Hotels don't get much more decadent than this. With huge rooms, a massive on-site golf course and one of the grandest buildings you'll have ever seen, this place is beyond elegant. If you want to explore the best parts of Hadrian's Wall while you're in the area, this is set in a pretty good location.
Bamburgh Castle Inn (mid-range pick)
If you want to explore the Northumberland coast at a relatively low cost, this is an excellent option. Close to great beaches, great castles and excellent attractions, it's perfectly-located.
YHA Berwick (budget pick)
Located in Berwick-upon-Tweed, the last town before Scotland, this is a great place to stay if you want to experience the northern part of Northumberland on a budget.
Where to Stay in Newcastle: Tips and FAQ
Areas to Avoid
Newcastle is very safe. You shouldn't at all be worried about encountering crime while you visit the city. That said, you should still exercise the same common-sense precautions which you would in any part of the world. Try not to walk alone at night, and try to avoid any unlit areas.
You might want to stay away from Byker and Fenham at night, but these places are pretty benign, no matter what some overly-cautious paranoid locals might tell you.
Newcastle is a very friendly city, and it's unlikely you'll encounter any shady characters. Most people will try to help you out and keep you safe.
If you're not the type of person that likes nightlife, stay away from the nightlife areas at night. They can be loud and raucous, and very occasionally, self-professed hard men like to pretend that they enjoy a fight.
You should also avoid staying in any of the areas we haven't listed. That's not because they're dangerous, it's just because they're uninteresting. You don't want to spend your vacation in a residential area, so book an accommodation in one of the areas we've recommended.
Where to Stay for Your First Time in Newcastle?
If it's your first time in Newcastle, stay in the city centre. It's central (obviously), it has lots of options for food and drink and it's the best area to explore all of the city's separate parts. And because the city is so small anyway, you can easily explore the rest of the city and its surroundings by staying here.
Unless you're particularly eager to stay in any other part of the city (for whatever reason), it usually makes sense to stay in the centre of Newcastle.
Above, I've already listed the best three accommodation options in Newcastle's city centre. But since you've asked again…
County Hotel (luxury pick)
Great building, great atmosphere, great location and great rooms, this offers excellent luxury at a surprisingly good price.
Sleeperz Hotel Newcastle (mid-range pick)
This place is very comfortable but very affordable.
YHA Newcastle Central (budget pick)
Even hostels in the UK are expensive, but this one is relatively – and surprisingly – affordable. It's the best budget option in the whole of Newcastle.
Where to Stay in Newcastle on a Budget?
In England, accommodation can be pretty expensive. And though Newcastle is a more affordable place to travel than many other parts of England, some accommodation options are still pretty pricey.
Because of that, your best options for budget travel are hostels, which are affordable for even the most budget-conscious backpackers. Newcastle doesn't have many hostels compared to lots of other cities in England, but here are the best of them:
This place offers excellent rates for its level of quality. It's very clean, with very comfortable beds, and is located in a brilliant part of the city. Compared to lots of other hostels in England, this place is very tidy, affordable and luxurious.
Sociable and friendly, this place has a DVD lounge, a pool table and a very welcoming atmosphere. If you want to make friends in Newcastle while you travel on a budget, it's the best choice. It's a pretty minimalist place, but it has all you need. The location is great.
A hotel in name but a hostel in practice, this place is nothing special or interesting, but it's central, affordable and sufficiently comfortable.
Where to Stay in Newcastle As a Solo Traveler?
If you're solo in Newcastle, you should stay in Newcastle's city centre. It's the busiest part of the city, and it's close to bars, restaurants and nightlife, making it a perfect spot if you're looking to make some local mates.
But no matter which area you stay in, it's also a good idea to book yourself into a sociable accommodation. If you stay in a hotel, you're unlikely to make friends, so it's best to stay at a hostel.
Usually, it's best to seek out hostels which have a reputation for good sociable atmospheres, but since Newcastle has very few hostels, I can't recommend a particular bunch which are good for making friends. Instead, I recommend staying at any of the three hostels already listed in the section above this one.
To reiterate, they are:
Where to Stay for Couples in Newcastle?
Once more famous for headbutts than kisses, Newcastle is shaking off its reputation as a rowdy city and slowly becoming a recognized romantic destination.
But what your romantic break will entail depends on the type of couple that you and your partner are. Like city breaks? Stay in the city centre. Like beaches? Stay on the coast. Like hiking? Stay in Northumberland. I'm sure you get the idea.
But assuming you want to stay in the centre of the city (as most people reading this article will), here are Newcastle's three best central hotels for a romantic (and maybe even raunchy) break:
With deep bathtubs, mega-comfortable Egyptian cotton linen and dark, sultry, wooden-decor rooms, you won't want to leave this hotel (and on a romantic break, maybe you won't want to). With stunning views, wine tasting and some of the best hotel food in Newcastle, couples love this place.
The green valley of Jesmond Dene is a verdant little haven just outside of the city centre. If you want the feeling of staying in the countryside while remaining only walking distance from the city centre, this place is excellent. With heated floors, beautiful surroundings, great food, elegant decor and comfortable bathrobes, it's great for a romantic break.
Right on the banks of the River Tyne, this place offers a romantic setting and romantic decor. The beds are comfortable, the furnishings are classy, and the hotel offers a special romantic package with chocolate, champagne and a sultry suite.
Where to Stay with Kids in Newcastle?
If you're visiting Newcastle with kids, The Ouseburn is a great option. It has Seven Stories (the world's only museum dedicated to children's books), a petting zoo and a great riverside location. And though it's only a 15-minute walk from the city centre, it's away from all the busy parts of the city, which is useful if you're looking to avoid too much hustle and bustle.
This area also has lots of food options. And though some of them have assembled some of the most hipster menus you'll have ever seen, there's still plenty of choice for all but the choosiest of kids.
But no matter which part of the city you stay in, it's important to choose a hotel which is kid-friendly. Here are the city's best three:
If you're staying with kids, a budget chain hotel is always a good choice. And this is one of Newcastle's best. With free infant beds, family rooms, great kids' food and a good location, this has everything you need for a stress-free vacation with kids. Children will love the location, right on the banks of the river.
Holiday Inn Express, Newcastle City Centre
With super-friendly staff, a great self-service breakfast, kids' meals and the chance for kids to get their hands on little packs of chocolate and cookies, there's plenty here that kids will love. The location is in the heart of the city.
If you're traveling with kids, you might prefer an apartment over a hotel. These are the best kid-friendly apartments in the city. They have a central location, a well-equipped kitchen and daily housekeeping.
Where to Stay for a Luxury Vacation in Newcastle?
For a luxury vacation, you should stay on The Quayside. With beautiful architecture, classy bars and restaurants and excellent riverside views, it's the most indulgent and decadent part of the city. It also has great proximity to all of Newcastle's other areas, so you can enjoy a little luxury and peace without being too far away from the rest of the city's action and adventure.
But if you're more interested in the hotel you stay in rather than the area it's part of, there are lots of luxurious accommodations throughout the city. Here are the best three:
I've already mentioned this place about 100 times, but it's one of the classiest hotels in the city. It has spacious rooms, a brilliant bistro, a beautiful courtyard and unparalleled views. If you like sleeping in a great room, it doesn't get much better than this.
If your idea of luxury is a well-decorated city centre apartment in a beautiful building, you'll love this. Super comfortable, set in a grand building and with all the facilities you need for a self-catering stay, these apartments are excellent. The beds are very comfortable.
If you want to feel like the lord of a manor for a few days, this is a surprisingly affordable way to do it. Set in the wooded valley of Jesmond Dene, but walking distance from the city centre, this award-winning hotel offers a garden, seasonal food and lots of boutique touches.
Where to Stay for Local Vibes in Newcastle?
If you like real local vibes, you have two options.
The first is to stay in one of the many small towns in Northumberland, where you'll be surrounded by nature, traditional pubs and local people living their lives. Staying in the heart of Northumberland is an experience you can't replicate in any other part of the world.
If you want a local experience in the centre of Newcastle, you should absolutely stay in The Ouseburn. For many people (including me), it's the most exciting part of Newcastle. Only a 15-minute walk from the centre of the city, it's authentic, fun and full of contradictions. It's young but old, rugged but gentrified, cultural yet traditional.
As listed above, here are the three best places to stay in – or near – The Ouseburn:
Hotel du Vin (luxury pick)
I've mentioned it plenty of times before, and here it is again, but it's definitely the most luxurious hotel in The Ouseburn.
Mariners Wharf (mid-range pick)
These furnished apartments are basic but comfortable, and they have a great location.
easyHotel Newcastle (budget pick)
This is a 15-minute walk from The Ouseburn, but since the area is short on budget accommodations, it's your best pick.
Where to Stay in Newcastle for Beaches?
As mentioned, you can find excellent coastline only a few miles east of Newcastle, and you can easily reach this area quickly and easily via public transport from the centre of Newcastle. But assuming you don't want to travel from Newcastle's centre to visit the coast, here, as mentioned earlier, are the best three places to stay:
The Metropolitan (luxury pick)
A brilliant traditional bed and breakfast in a brilliant location, this place is perfectly situated for exploring the coastline near Newcastle.
Seafront Apartments, Cullercoats (mid-range pick)
This self-contained apartment is surprisingly affordable, and it's in an excellent location.
YHA Newcastle Central (budget pick)
This hostel is in the centre of the city (meaning that, if you stay here, you'll have to travel to the coastline), but if you want budget accommodation, it's the best option, as you won't find anything cheap on Newcastle's nearby coastline.
If you want to visit the Northumberland coast – rather than the coastal areas closest to Newcastle – you should stay somewhere in Northumberland, rather than in the accommodations listed above. And you should hire a car!
Where to Stay in Newcastle for Hiking?
Again, if you want to hike near Newcastle, you should head to Northumberland. Northumberland National Park is one of England's best adventure destinations, full of peaks, valleys and hiking trails where you probably won't see anyone else.
But because this area is so huge, it's impossible for me to recommend a place to stay. Where you should stay depends on where you want to hike. But I can recommend where you can find some incredible hikes – try Simonside, The Cheviots, Hadrian's Wall or the Scottish borders. You could even tackle the most northern stretch of the Pennine Way, the entire Northumberland Coast Path or some of the pilgrimage walks which end in Holy Island.
Plan where you want to hike, then plan your accommodation accordingly.
Final Thoughts
Newcastle is one of England's most underrated cities. With mega-friendly locals (just like me), one of England's most exciting food scenes and brilliant proximity to some of the best hikes and beaches in the country, it's a brilliant destination.
It's affordable, it's fun and it's a cosy place full of exciting attractions.
For all these reasons and more, Newcastle is slowly becoming one of England's most popular getaways. And as the tourist numbers grow, so too do the accommodation options.
That means that some tourists end up staying in substandard accommodations. Don't make the same mistake. Choose a place we've recommended and you'll have a brilliant stay in a brilliant part of the world.
Whatever type of accommodation you like, we've included something perfect on this list.
Our number one pick from all of Newcastle's accommodations is this one:
Set in a central but beautiful location, every room offers excellent riverside views. A great compromise between luxury and affordability, this hotel is perfect for many types of travellers and budgets.
For budget travel, this is our number one pick:
By far the best hostel in Newcastle, this is affordable, comfortable, clean and well-located. It's far better than many other hostels in England.
But wherever you choose to stay, you'll have an incredible time. Get yourself to Newcastle and enjoy!
Being a Digital Nomad: Tips, Tricks and Places
Do you want to be a digital nomad?
If you do, maybe you don't know where you might want to live. Or how to live there. Or whether you need a visa. Or how to make friends in the scary sprawl of a brand-new city. Or how to stay productive while you travel. Or how to find an apartment. Or whether this lifestyle really is for you. Or… I'm sure you get the idea.
But with some insight and experience, it's not as difficult as you think. So in this book, I've gathered my 6 years of digital-nomadding experience… and I've used it to answer all your questions, soothe all your fears, and get you on your way. After reading this, you'll realise being a digital nomad is much easier (and much more possible!) than you think.