15 Stunning Walks in Fife for Scenic Adventures
I like hiking. I like Scotland. I like Fife.
So in this stroll-stacked guide, I've appropriately combined those three passions, to bring you the 15 best walks in Fife.
The region (which sits on the peninsula sandwiched between Edinburgh and Dundee) has way more walks and wanders than most people realize. So coming up, you can expect simple strolls, multi-day epics, coastal wanders, inland stuff, little peaks, and plenty more.
Smash out your hiking boots and come join the two-footed frenzy!
1. The Fife Coastal Path
We're kicking things off with the biggest beefiest behemoth of them all.
The Fife Coastal Path is a massive shoreline wander measuring in at 113 miles (183 km), and it runs from southern-Fife Kincardine to northern-Fife Newburgh.
One of Scotland's official so-called 'Great Trails,' it's among the best coastal walks in Scotland, and it's brimming with a tasty selection of great stuff. Obviously, because it's a seaside walk, you hit loads of great beaches. But other varied highlights include cozy fishing villages, underrated industrial towns, castle-y ruins, woodland stretches, and loads of welcoming locals.
Allegedly, around 35,000 people walk the thing in its entirety every year (source). If you have time, I massively recommend joining them.
For people who don't want to tackle the full thing (which, let's be honest, is probably most of you) I've covered some of the best shorter stretches in other parts of this guide. And the most famous of them all is coming up next…
2. Crail to Anstruther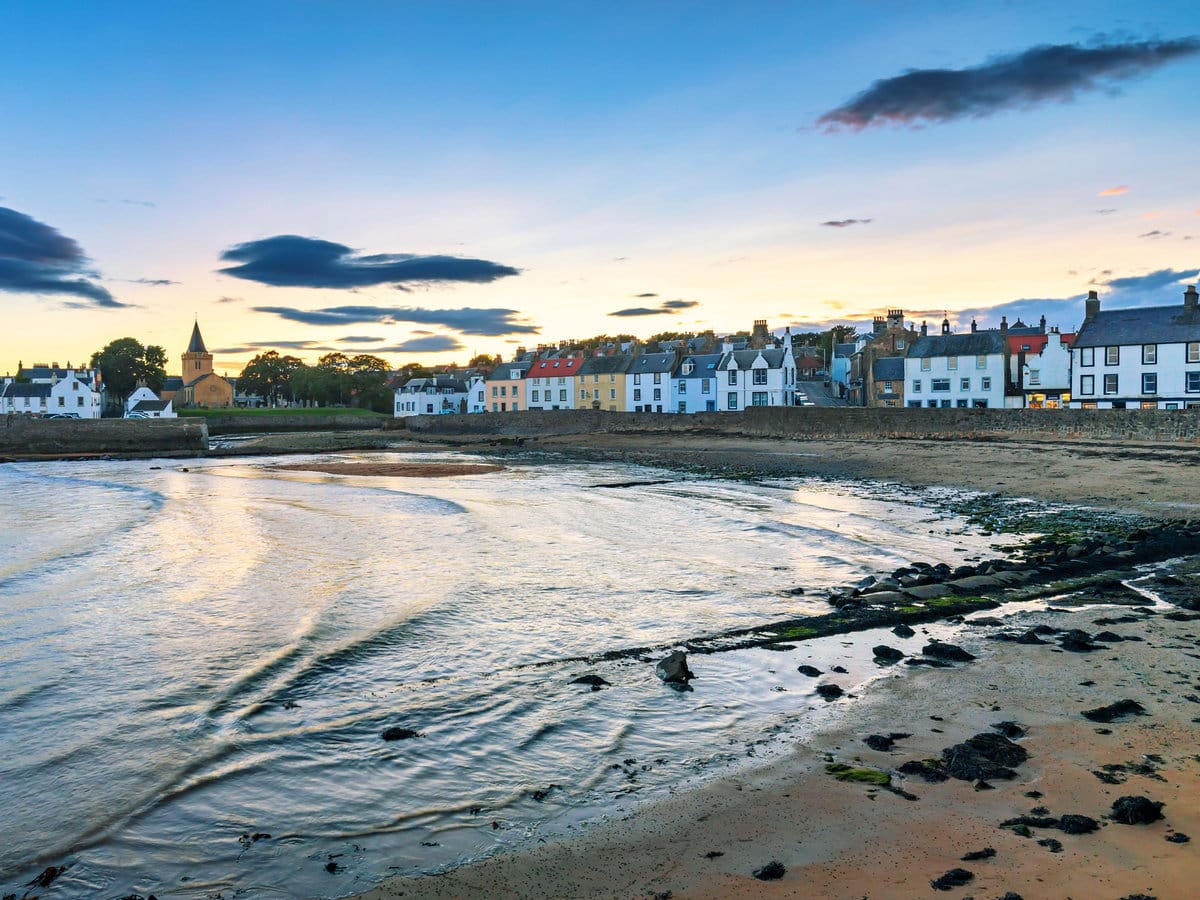 Very-probably the most popular section of the Fife Coastal Path (although I could be wrong, I've never undertaken an official survey), this short stroll is easy but beautiful, and it takes you between the two of Scotland's most charming fishing villages.
You can't tackle this wander without falling in love with both places. The two of them offer rudimentary harbors, orange-topped roofs, old-school homes, and lots of friendly faces. Between them, they have a cumulative population of around 5,500 people.
Because Crail is a bit prettier than Anstruther, most people do this walk in the opposite direction to what I've recommended—but those people are wrong. Cos if you instead end your hike in Anstruther, you can munch on some fish and chips at the iconic Anstruther Fish Bar, which always wins awards.
If you're looking for easy, or little-dog-friendly, or something you can do with kids, you'll think this is one of the best walks in Fife. It's cozy and I love it.
3. Crail to Kingsbarns
For this one, you'll head north out of Crail, instead of south out the place.
It's similar to the walk I've just outlined above, but a little quieter, a little longer, and a little lesser-known. But it's still flat and simple—so it's another easy option.
It's another good hike for people who strictly want to stroll along the coast. The entire 6.5 miles (10km) of this one sticks tightly to the shoreline. It passes quiet beaches, two golf courses, Constantine's Cave, little Fife Ness lighthouse, and the most easterly point of Fife.
When you reach the shores of Kingsbarns, head west for a little while to reach the center—then do some much-needed munching at The Inn at Kingsbarns. Some of the food is basic, but it's a cozy and welcoming spot.
Some parts of this coastal stretch are impassible (and therefore impossible) when the tide is high. Check here for tide times, and don't risk it when you shouldn't.
4. Kingsbarns to St Andrews
If you head north out of Crail, you hit Kingsbarns. And if you head north out of Kingsbarns, you hit St Andrews (which, as you probably know, is one of the most famous coastal settlements in Scotland).
Again, cos this is another coastal jaunt, it's quite flat, with a total elevation gain of around 150 meters (500 feet). It's a good choice if you want to combine your shoreline strolling with a little bit of farmland—around 1.5 miles (2.5 km) of this hike heads inland.
Again, a section of this walk is unpassable at high tide (it's the part near Buddo Rock, a strange rocky outcrop not far from St Andrews).
You've probably worked this out for yourself. But if you want a big challenge, you can hike all the way from Crail to St Andrews in one day. Flat and accessible, that long wander clocks in at only 15 miles (24.5 km), so it's possible as a one-dayer if you're reasonably fit.
5. St Andrews Circular
This gentle jaunt has never been accused of being the most exciting walk in Fife, but it's a nice way to tick off some of the town's top sights and views.
If you're overnighting in St Andrews and you want something relaxing, you'll think this is one of the best walks in Fife. If you hate low-intensity adventures, you absolutely won't.
The wander takes in golf courses, university buildings, cobbled streets, beachy views, the town's cathedral, the scenic pier, a load of colorful homes, some of St Andrews most famous and photogenic streets, plenty of en-route munch-spots, and loads more. It's only 3 miles (5km), but it packs in plenty of highlights.
For a detailed description of exactly where you want to walk for this one, here's your best resource.
6. St Andrews West Sands Loop
Another St Andrews loop, but this one is more remote and rural, and it takes in quiet sands (rather than town-center hotspots).
Look at a map of St Andrews, and you'll see a small peninsula jutting north, out of the town and into the sea. Head north out of the town, following the shores of West Sands (which actually sit on the eastern side of the peninsula—confusing!). When you get to the most northerly point, head back to where you started in a loop. Simple.
Depending on which part of the town you start in, the walk will clock in at around 5 miles (8km). You'll see the massive long sprawl of West Sands beach, the wide estuary of the River Eden, and some of the best St Andrews views you can get.
If you want a fix of beaches without having to take a day trip from St Andrews, this is one of the best walks in Fife.
7. The Isle of May Circular
If you like wildlife, or if you're just on the hunt for something a bit different, you'll think this is one of the best walks in Fife.
The uninhabited Isle of May is a tiny little place. Measuring in at only 1 mile (1.6 km) by 0.3 miles (0.5 km), it sits around 5 miles (8 km) off the mainland coast of Scotland, and can only be accessed from Anstruther.
Head to Anstruther between the beginning of April and the end of September, and you can catch a boat to the island. It's possible to book a ride at the harbor, but it's usually best to get yourself a ticket in advance. These guys offer great trips.
The island is home to a massive variety of animals, including seals, puffins, razorbills, and a load of other seabirds. Come here for the circular stroll (you'll get a map, so just cover all the paths in whatever order you want), and you'll see all the animals, all the barren shores, and all the lumpy cliffs. Highly recommended.
8. The Loch Leven Heritage Trail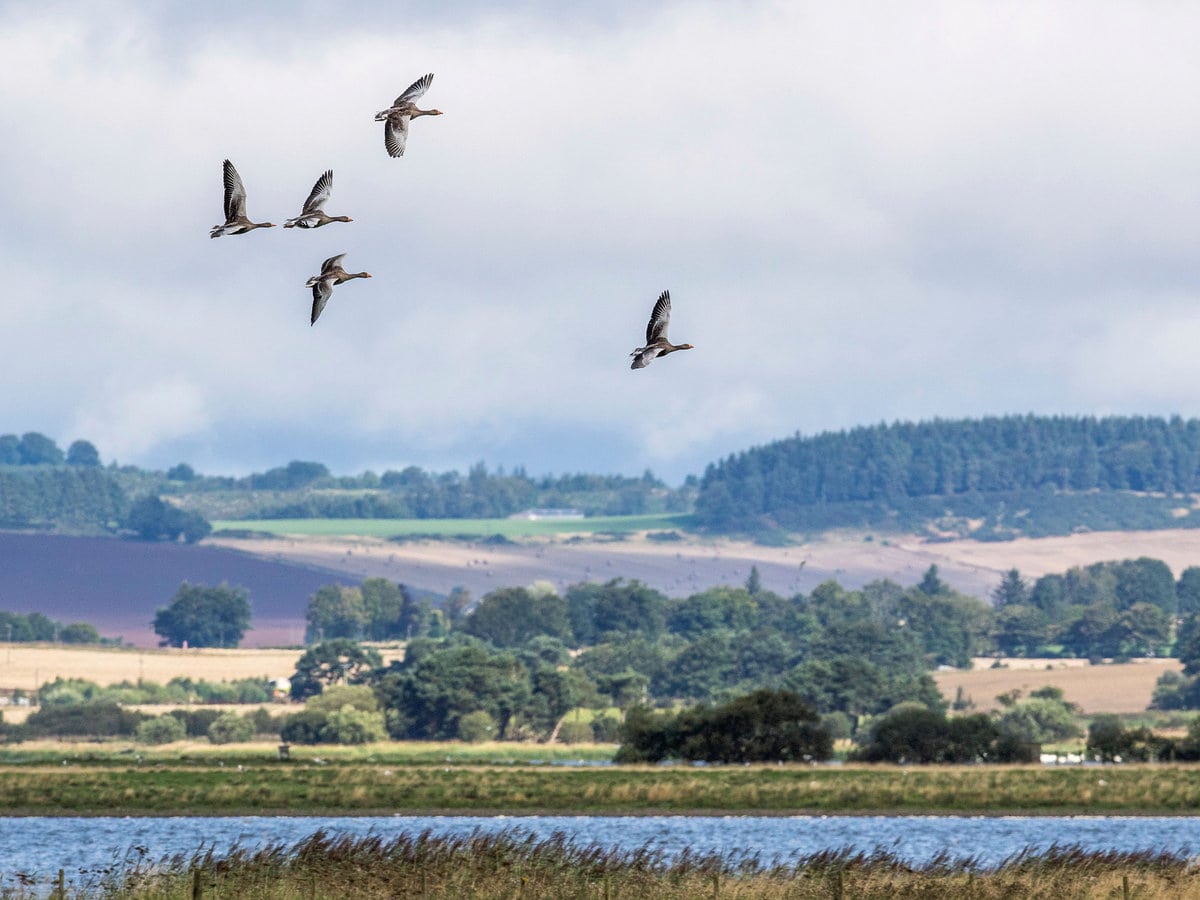 Alright boys and girls, we're heading inland for the first time, and away from all the seas and shores we've been covering so far.
This walk is a bit of a weird one; some people love it, some people hate it.
The inland town of Kinross is situated halfway between Edinburgh and Perth. Very close to Kinross, you have the massive Loch Leven (one of the best lochs in Scotland). It has a hefty perimeter of around 12 miles (19.5 km), and this walk takes you around the entirety of it.
That said, adventurous people shouldn't get too excited: the whole walk takes you along a cycle path, which (mostly) runs around the perimeter of the loch. So I'd rather cycle it, cos I reckon there's nothing more dull than doing a big long 'hike' on tarmac. But if you're the type of person who likes gentle walks with variety and good views, you'll love it.
There are loads of cafe stops along the way, and the area is particularly well-known for feather-toting wildlife. Like birds? You'll love this wander.
9. West Lomond (from Craigmead Car Park)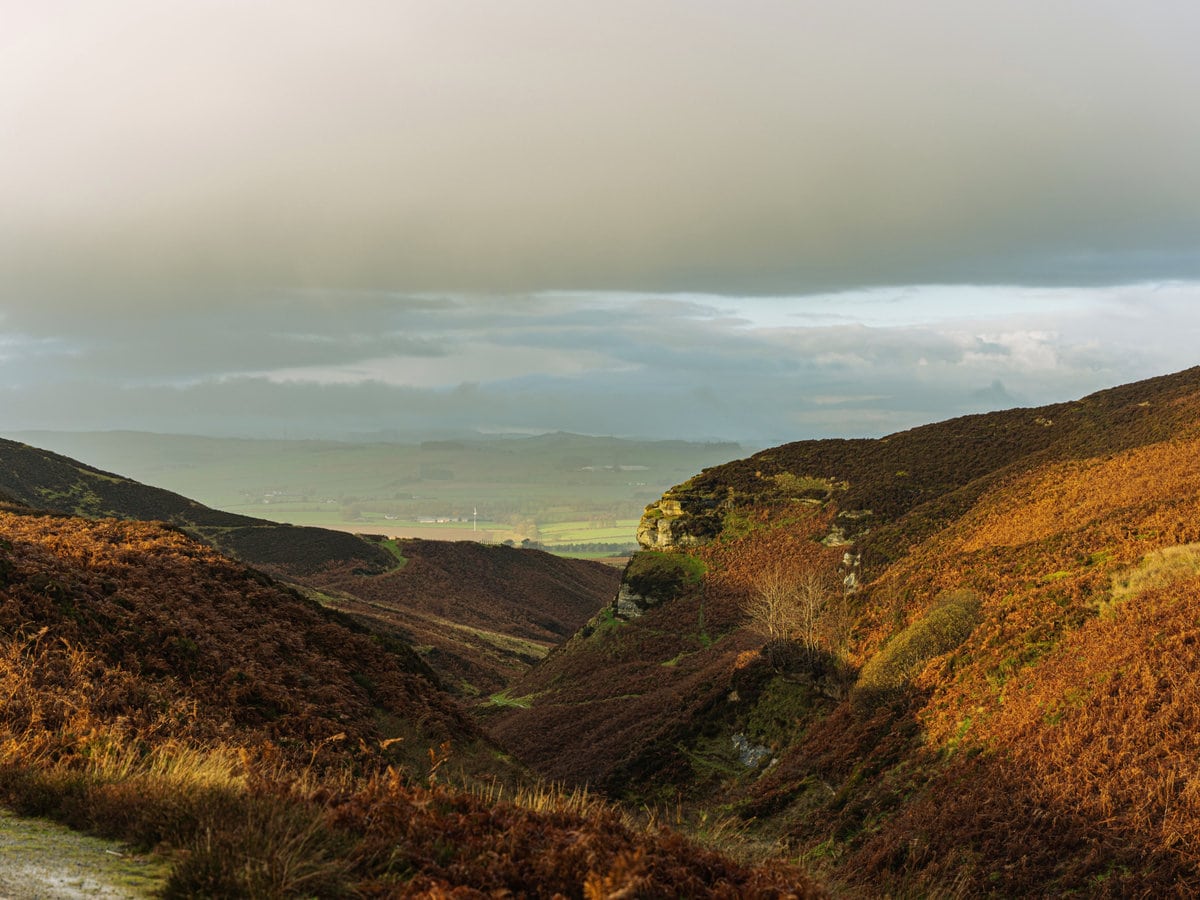 West Lomond is the highest point in Fife, measuring in at a surprisingly-small 522 meters (1,710 feet). If you like tackling the loftiest hikes in whatever place you're visiting, you'll think this is the best walk in Fife.
West Lomond sits at the westerly end of Lomond Hills Regional Park, which serves up some of the other hikes coming up on our list.
There are a few different ways to get up the little peak of West Lomond, but this ascent is the most popular by far.
Park up in Craigmead Car Park & Picnic Area, head west out the back of the car park, and you'll be able to see the peak from afar. The well-worn trail takes you to it (and back from it) in a loop. It's super scenic, and I highly recommend it.
In total, this walk has an ascent of less than 300 meters (980 feet), so it's a relatively easy stroll.
10. West Lomond Again (But Via the Bunnet Stane)
If you like a challenge*, this is one of the best walks in Fife.
*(I use the term 'challenge loosely—cos with a total ascent of only 420 meters/1,400 feet, this is still very doable and simple for any experienced hikers).
Anyway, this hike takes you up to the same peak as our last wander. But it's a bit longer, a bit steeper, a bit tougher, and a bit lesser-known.
But it's also prettier and more interesting, so (if you're fit enough for it), this is the West Lomond walk I recommend.
Park up in the small 'Bunnet Stane Car Park' layby (it only has space for 3 or 4 cars), walk past the strange lumpy formations of the Bunnet Stane, ascend the peak, then head back to your car in a big loop.
The paths for this West Lomond ascent aren't as well-marked as they are on the other trail, but you can find a great description of the details here. I love this walk.
11. East Lomond Loop (From Falkland)
Okay, we've already clambered up the biggest peak in this park.
Next, we're heading up to West Lomond's cousin, the slightly-smaller East Lomond (which has a height of 448 meters/1,470 feet).
This is a pretty easy walk, but it packs in loads of variety and highlights. You start from the lovely village of Falkland (the skyline of which is dominated by the peak of East Lomond).
Starting from anywhere in the village, head south, and follow the easy-to-find southwest trail up to the peak. Head down the back of the hill (you get great views of West Lomond here), cross the road, then head east on the trail running parallel to the road.
You'll then follow a little river, pass a strange sheer-drop waterfall, and return back to the town in a different direction.
If you want lots of variety, this is one of the best walks in Fife.
12. Another East Lomond Loop (But from Glenrothes)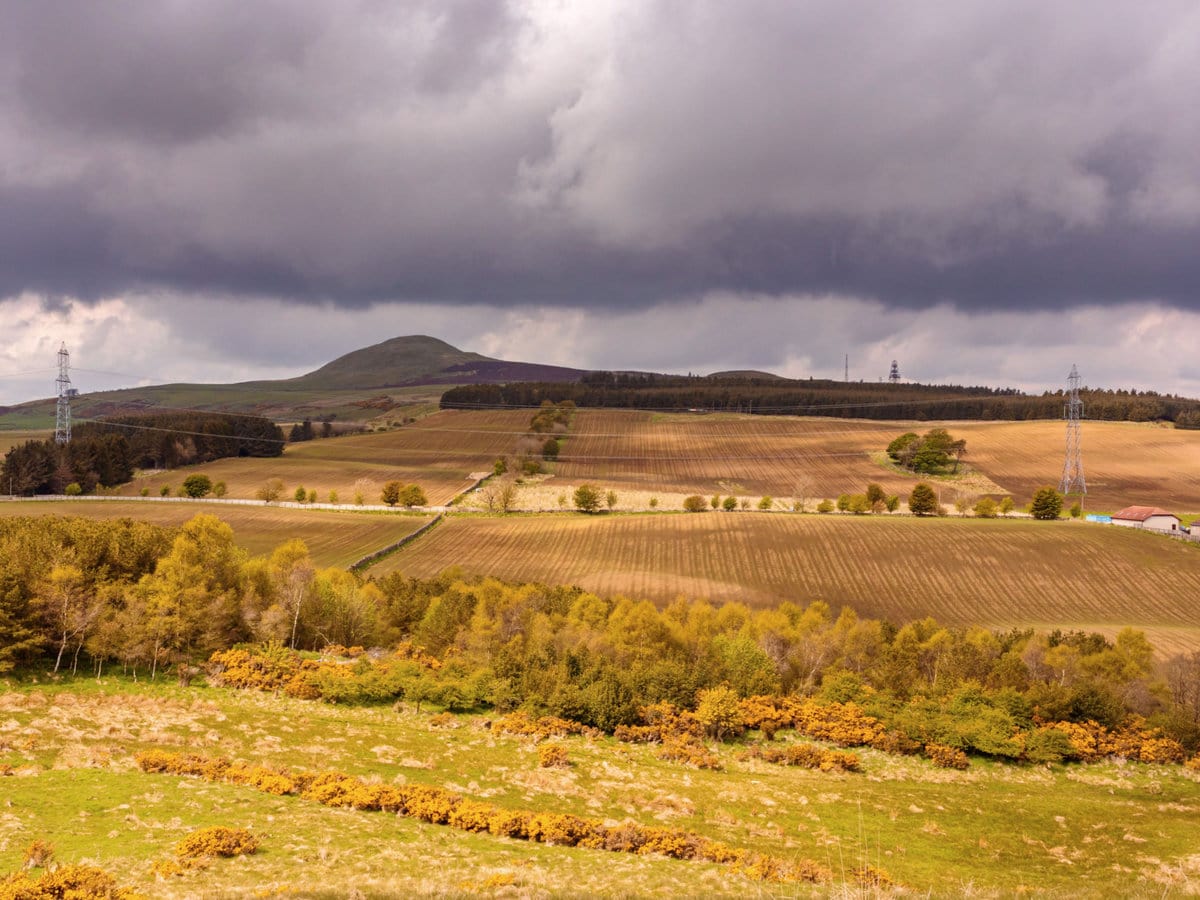 Here's another East Lomond choice for you.
Honestly, I think the previous option is the better walk, and the prettier ascent. But if you're overnighting in Glenrothes, or if you just like longer walks, this is for you.
Starting in the Pitcairns car park in the pretty-big town of Glenrothes, head north, through the horrendously named 'Hairyholes Plantation.' Keep wandering through fields and plantations, along an easy-to-find path. Eventually, East Lomond will come into view. Your path will then take you west, while the landscape becomes a bit more barren and atmospheric.
From here, get to the top, have a picnic, then head back to Glenrothes.
The second half of this walk (that's the part from the peak to Glenrothes) can be tough to navigate. So either download a good offline map (I always recommend Maps.me), or just retrace your outward-section steps to take you back to where you started. Your choice!
13. Both Lomonds in One Day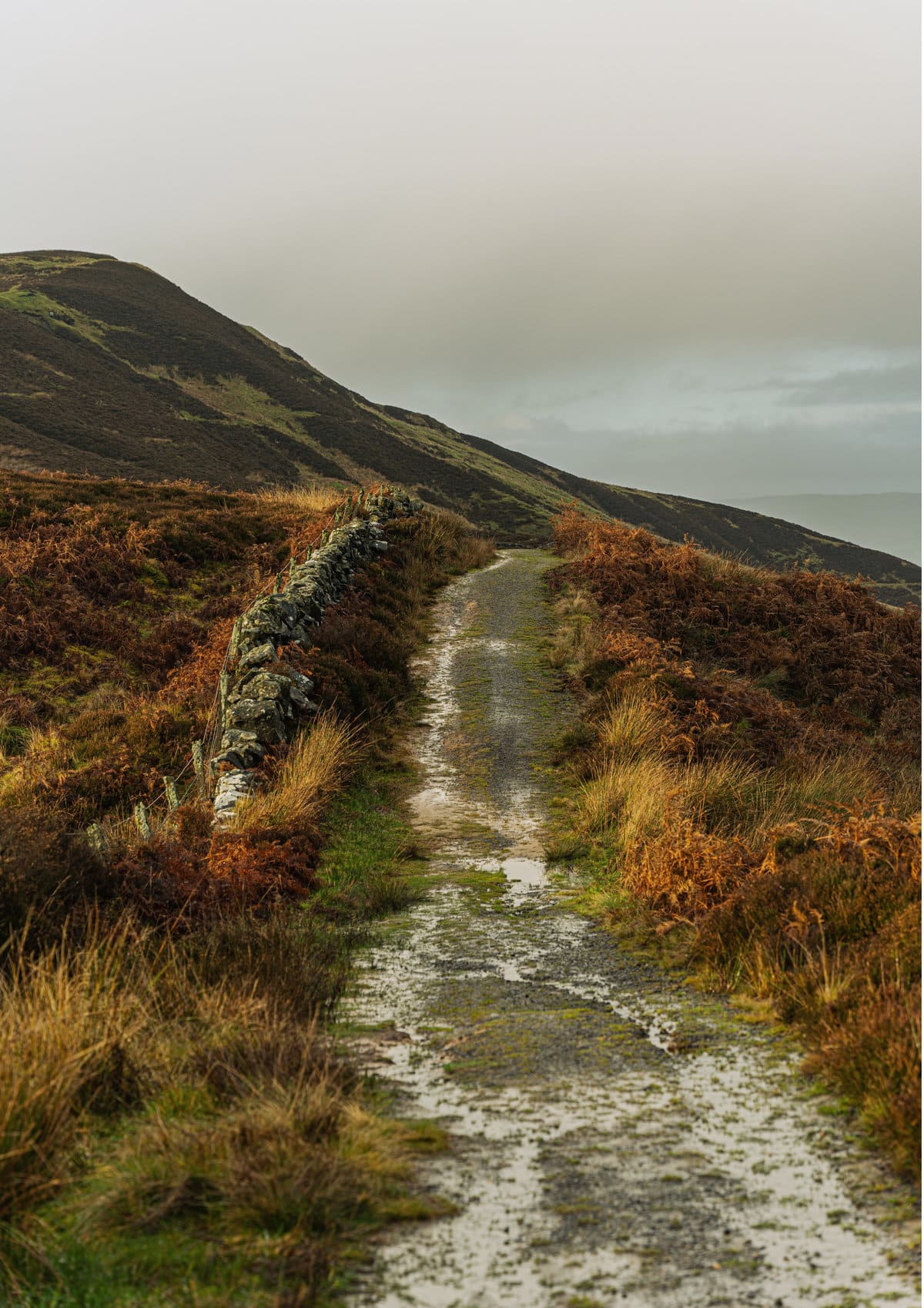 For pedantic completionists like me, this isn't just one of the best walks in Fife—it's THE best walk in Fife.
Want to tick off both Lomond peaks in one bumper day? This is the stroll for you.
As you've probably worked out from the several Lomond options we've covered, you could hit both Lomonds together in a load of different ways.
But here's what I recommend: start in Falkland, then head southwest up the peak of East Lomond (as already outlined above). After your ascent, keep heading west until you hit (and cross) the small road. Here, you'll hit Craigmead car park. Keep heading west to reach the peak of West Lomond.
When you hit West Lomond's peak, complete the loop as outlined in the West Lomond Craigmead hike above. After your return to Craigmead car park, finish your hike by retracing your steps back to Falkland.
I totally recommend this one—why wouldn't you want to hit both these big peaks in one long walk?
14. Bishop Hill Circular (From Scotlandwell)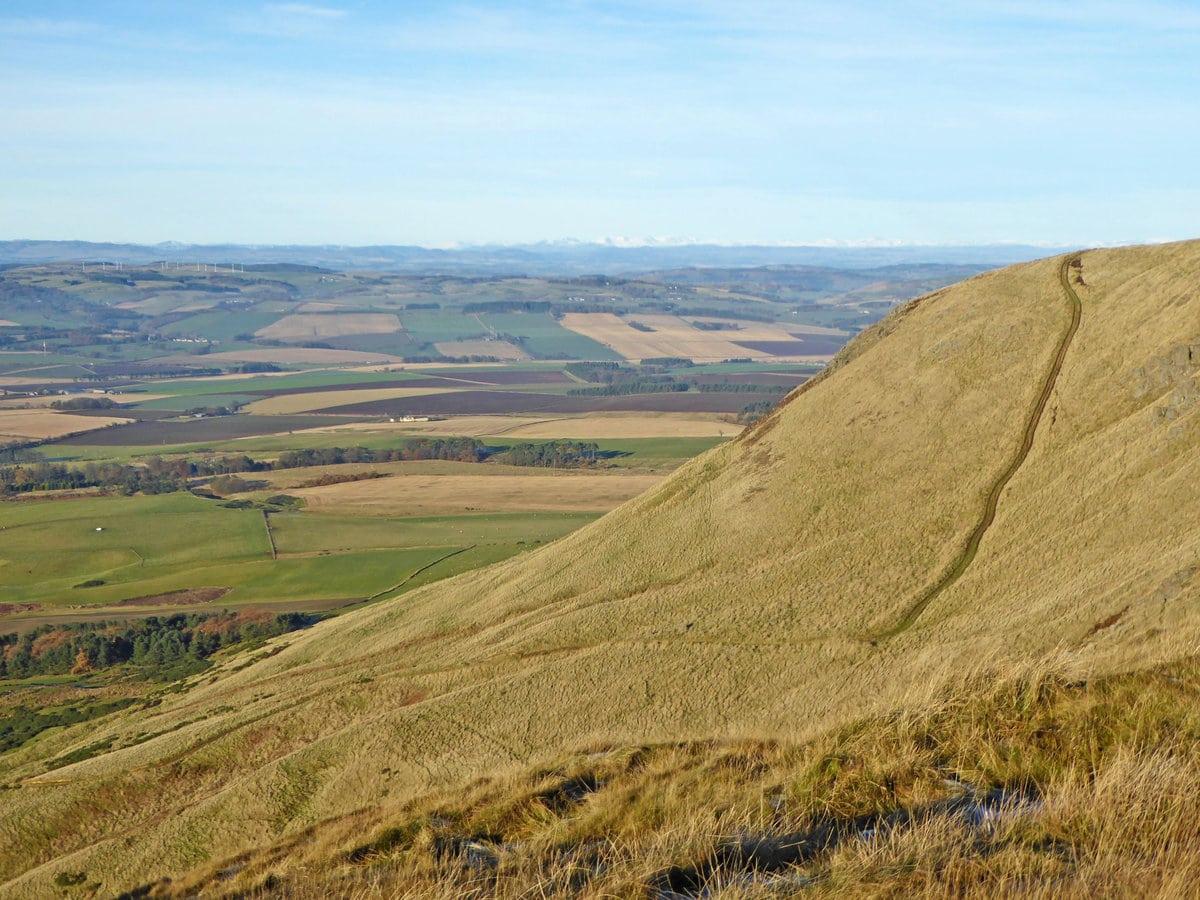 Bishop Hill is actually taller than East Lomond (which is the second-biggest peak in Lomond Hills Regional Park). But because Bishop Hill technically sits outside the park, it doesn't attract as much fame and footfall as either of the Lomonds.
So this stroll is a lot quieter and more remote than most others we've covered.
On the A9, just outside the tiny village of Scotlandwell, you'll see a little church, with a little car park. Park in it. From here, the walk takes you through moors, farmland, brief patches of forest, and plenty more. The route can be tricky to navigate, so here's a good description.
Remember Loch Leven, which I mentioned earlier? From this side of Bishop Hill, you get great views of the place—if you're on the hunt for good panoramas, this is one of the best hikes on our list.
Although it's not particularly tough, this wander is a little steeper than most others we've covered.
15. Auchtermuchty Common Circuit
If you want good views of the Lomonds without having to actually clamber up the Lomonds, this is the walk for you.
The route takes you along farm tracks, country roads, sparse woodland, and rural village stretches. This is an "I'm doing a gentle stroll through civilization" type of walk rather than an "I'm tackling something super adventurous" one.
Head northwest out of the town on Leckiebank Road. Follow the trails until you reach Pitmedden Forest Car Park. From here, head northeast then southeast to reach the B936 road. Head north on this road for a while before taking the right turn to Auchtermuchty Common, on a trail which brings you back to the town.
It's one of the best walks in Fife if you're adventuring with kids—it's easy, you walk right from the center of a town, and it's close to the popular Fife Zoo.
Pro Tips for Hiking in Fife
Before You Go
And just like that, we've wandered along the 15 best walks in Fife.
If you only have time for a couple of hikes, I recommend doing one coastal walk, and one inland stroll. If I could only pick two, I'd go for West Lomond (via the Bunnet Stane), and the Isle of May Circular.
For more on-foot exploring, check out our wander-filled guide to the 15 best hikes in all of Scotland. Thanks for reading, thanks for being you, and thanks for choosing Travelness!
Being a Digital Nomad: Tips, Tricks and Places
Do you want to be a digital nomad?
If you do, maybe you don't know where you might want to live. Or how to live there. Or whether you need a visa. Or how to make friends in the scary sprawl of a brand-new city. Or how to stay productive while you travel. Or how to find an apartment. Or whether this lifestyle really is for you. Or… I'm sure you get the idea.
But with some insight and experience, it's not as difficult as you think. So in this book, I've gathered my 6 years of digital-nomadding experience… and I've used it to answer all your questions, soothe all your fears, and get you on your way. After reading this, you'll realise being a digital nomad is much easier (and much more possible!) than you think.