What is Alaska known for? 16 Unique Things Alaska is Famous for
Alaska is known for its natural beauty, its rugged mountains and valleys, and its abundant wildlife. It is also known for its cold climate, with temperatures often below freezing, its beautiful glaciers, enchanting ice caves, and for mesmerizing Northern Lights displays.
I love Alaska and having lived there a good chunk of my life, I have experienced most of what it has to offer.
When most tourists go to Alaska, they only visit Anchorage and its surrounding areas. They eat some salmon, buy a small totem as a souvenir, and get back home.
But Alaska is so much more than that.
It's a (very) large land full of adventures, history, and incredible landscapes that will get you as close to nature as you can get.
In fact, the name Alaska comes from the Aleut word "Alyeska," which means The Great Land.
So without further ado, here's what is Alaska known for:
1. Cold, Snowy Winters and Mild Summers
When most think of Alaska, they envision snow, cold, and more snow. But with a state as big as Alaska, its weather varies dramatically depending on the region and the season.
Summer in Alaska starts in May and lasts through September, with temperatures averaging in the 70°F range in the area known as the Interior (the State's central region) but has been known to reach into the 90s. The coastal areas and higher elevations rarely get above 65°F, however. May is the driest month of the summer period.
Come August and September, you'll start seeing the fall colors in the forest and tundras of the State. Winter comes around October and lasts through March, with daylight and temperatures differing in each region. In the coastal areas, temperatures rarely go below 20°F, while on the other hand, snow covers much of the south-central region.
As a kid, I lived on Kodiak Island which has pretty mild weather as far as Alaska is concerned. Our winters stayed around snowing temperatures, and the summers usually peaked at 60 degrees.
2. Mesmerizing Northern Lights
Aurora Borealis, or the Northern Lights, are a mesmerizing sight that can best be seen from various places in the states such as Fairbanks. Up there, the lights are typically seen as yellow-green lights but also come in purple, blue, and red patterns.
You can see the Northern Lights in Alaska throughout the year, but the best time to see them would be from August to April when the daylight hours are shorter, and the best viewing areas are in the outskirts of the cities.
If you are in foggier areas such as Kodiak and Sitka, it can be a little tough to catch a glimpse of the Northern Lights.
I explained in full detail in this article: where to see the northern lights in Alaska. Make sure to read it.
3. Endless Days and Endless Nights
For about two months surrounding the summer solstice, Alaskans experience many hours of daylight. The sun sets for a bit, but it doesn't drop lower than six degrees below the horizon. In places like Utqiaġvik (Barrow) and some areas of the Arctic Circle, the sun doesn't set at all.
Alaska also experiences about two months of Polar Night during the winter solstice, where the sun doesn't rise above the horizon, although this does not occur in the entire state. The further north you go in Alaska, the fewer hours of daylight you get during this time.
4. For Being the Largest State in the USA
Alaska clocks in as the largest state in the US – almost two and a half times larger than the next largest state, Texas. In fact, if you put a map of Alaska over a map of the lower 48 states, it will stretch from Los Angeles, California to Savannah, Georgia in width, and the top of North Dakota and the Texas Panhandle in height.
While Alaska is the largest state in terms of area, it has the smallest population. It only has about 740,000 residents and a population density of 1.5 people per square mile.
To put this in a more familiar perspective, if Manhattan had the same population density as Alaska, it would only have 16 people on the island!
Take a look at this list of the largest cities in Alaska by population.
5. It Has the Largest Water Area in the Country
Alaska is the state with the largest total area of water at 94,743 square miles. The entire United States has 264,837 square miles of water, meaning Alaska makes up more than 35% of the total water area of the United States.
This isn't surprising since Alaska has 3 million lakes larger than 5 acres, more or less 12,000 rivers, and loads of ponds and creeks.
All these bodies of water make up 14% of the State's total area. To compare, the next state with the second-largest total area of water is Michigan at 40,175 total square miles.
6. Vast Wilderness
Known as the Last Frontier, Alaska has a bounty of unexplored, uninhabited land. It has more than 57 million acres of rivers, watersheds, forests, mountain ranges, tundra, glaciers, volcanoes, wetlands, and coastlines.
The Alaskan wilderness accounts for 30% of the USA's total and is one of the last places in the United States with large, intact natural landscapes. These areas support the livelihood of many local communities, are home to diverse wildlife populations, provide an environment for wilderness recreation, and protect archaeological resources.
Because a large part of the wilderness remains untouched, ecosystems function naturally here, such as caribou migration and various vegetation.
There are conventional and unconventional ways to explore its vast spaces. For example, some areas may have few roads and limited trails, so flying would be the best and safest option to explore the boondocks.
7. Beautiful National Parks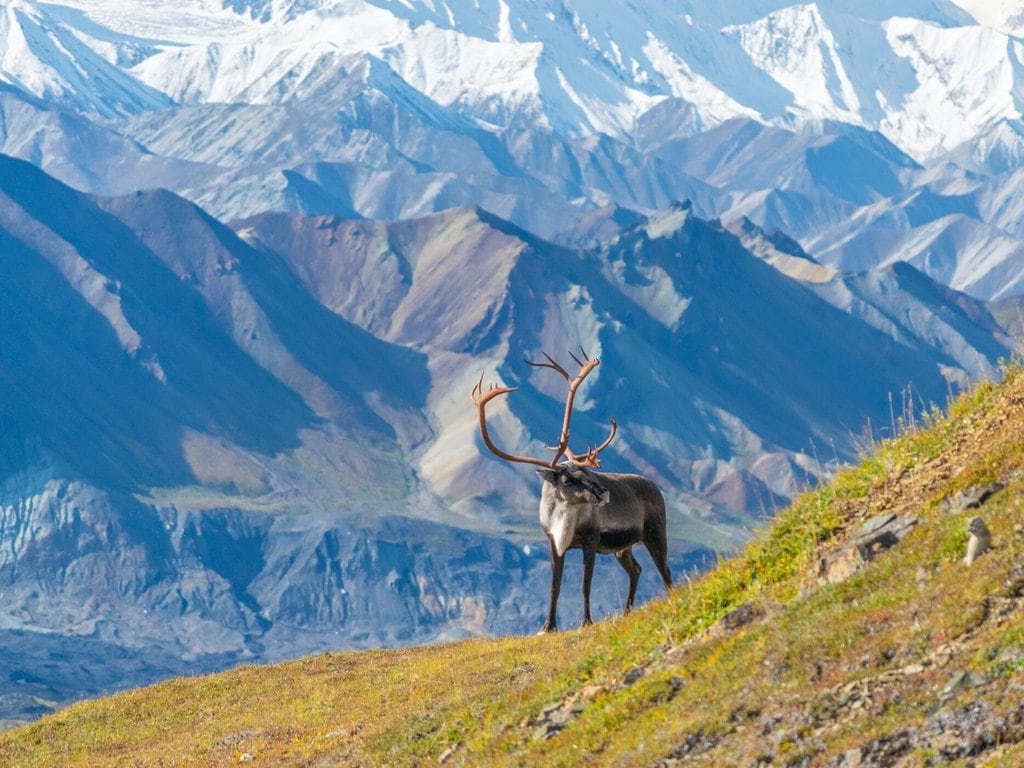 Alaska is known for its 16 national wildlife refuges and 17 national parks. In fact, the state holds more than half of the USA's national parks in terms of area. Alaska's national parks are humongous, and some are a challenge to get to and explore.
And its parks are nothing like a typical park! You can see otters bobbing and whales feeding off the glaciers in the Kenai Fjords National Park while unique wildlife roams in North America's tallest peak, located in the Denali National Park.
Go for a fishing trip, a hike, or off to see some bears at the Katmai or Lake Clark National Parks. See the copper mines and glaciers larger than the size of Rhode Island at the Wrangell-Saint Elias National Park.
The Alaska Public Lands Information Centers can provide you with downloadable maps, itineraries, a list of parks, and other information you need if you plan on spending some time in Alaska's parks. They also have visitor centers in Fairbanks, Anchorage, Ketchikan, and Tok (down the Alaska Highway).
8. Impressive Glaciers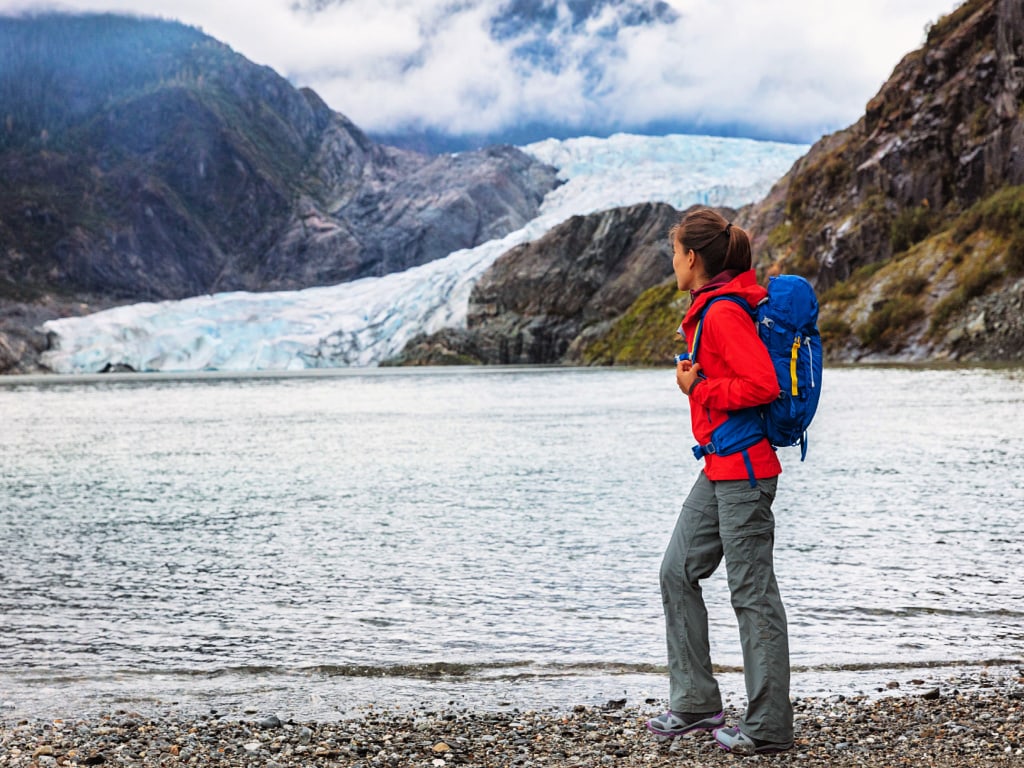 Alaska is also known for its impressive glaciers.
You can't take a trip to Alaska without seeing the towering glaciers, and there isn't a shortage of places to view them from. Hanging glaciers can be seen from pretty much every highway that crosses the Alaskan mountains.
If you can go on a short hike, you can approach some of the land-based glaciers. Go on a cruise or fishing trip, and you'll see some of the glaciers along the coastal mountains.
You may even see some glacier calving, a display of glacier pieces breaking down and falling to the sea that usually occurs from the seasonal change from winter to summer. There are so many others in remote areas accessible through charter flights or through mountaineering.
I recommend taking a flight over a glacier if you can swing it. Seeing the ice from above is such a unique experience.
9. Enchanting Ice Caves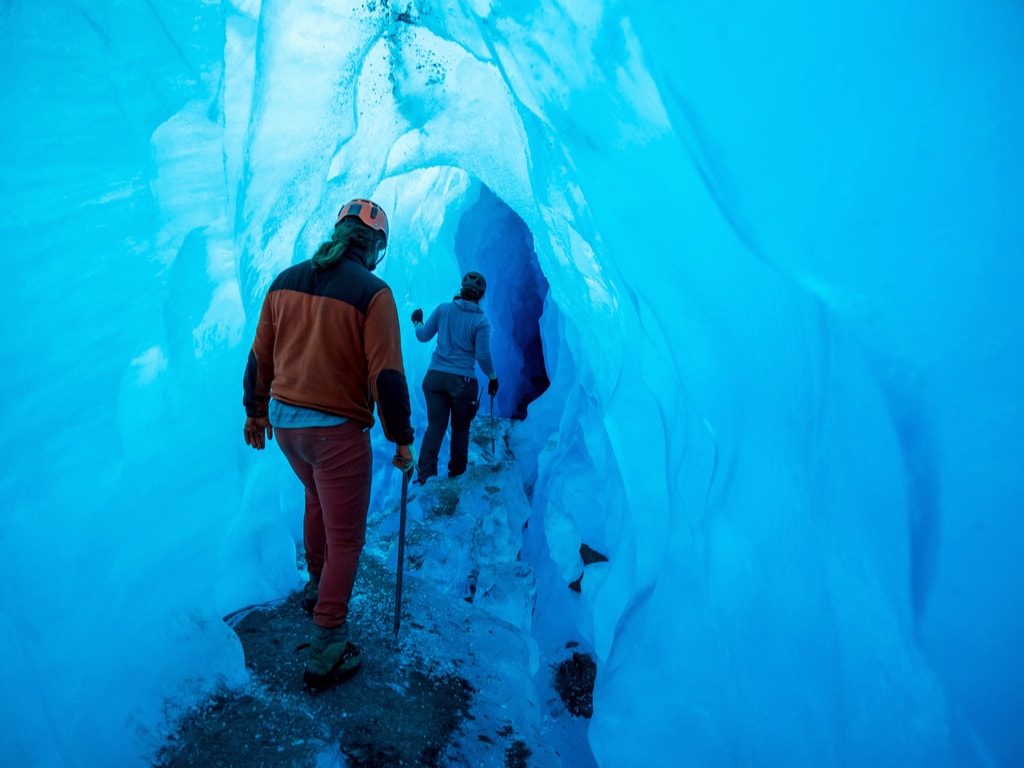 Ice caves are some of the most incredible natural wonders, the most surreal and beautiful places in Alaska. Featuring beautiful shades of blue and white, these caves are a must-see for any traveler to the state.
They are created when rivers or streams flow over a Glacier, and the water freezes around the edges. This forms a type of natural fortification and can create some incredible opportunities for adventure.
There are a few different types of ice caves in Alaska, but they all have one thing in common: they are incredibly cold. In fact, even in the summer months, the temperature inside an ice cave can remain below freezing. This means that visitors need to dress warmly and be prepared for the elements.
Indeed, when visiting the caves, it is important to dress warmly and wear sturdy shoes. They can be slippery, so be sure to take your time and watch your step. Inside them, you will be mesmerized by the incredible colors and formations of the ice.
When visiting an ice cave, it is important to be respectful of the natural environment. This means not touching the ice, or damaging the cave in any way. It is also important to be aware of the potential danger of falling ice and to take precautions accordingly.
Seeing the Alaska ice caves is an unforgettable experience that should not be missed.
I wrote a full guide on the best Ice Caves in Alaska you should visit. Make sure to read it next 😉
10. Alaska Native Culture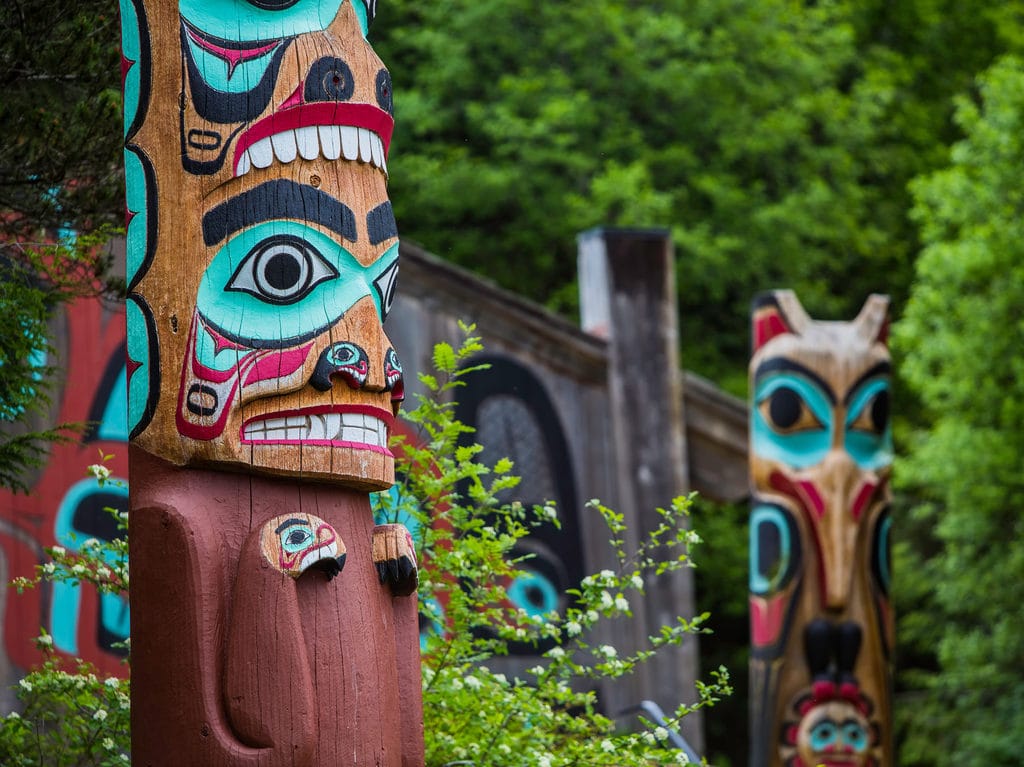 The native people of Alaska make up 15% of the State's population, the highest percentage for this group in any US state. Even today, many of the different indigenous groups still maintain many of their traditions, such as customary ways of making art and crafts, subsistence fishing, hunting and gathering for food, and whaling.
Groups are known by the names they use in their own languages, such as Yupdik or Inupiaq. They may also be referred to as Inuit, the current term used in Alaska.
There are 11 distinct cultures spread throughout the different regions in Alaska. These groups have various languages and philosophies but have common spiritual beliefs, values, and goals.
Many of the villages are scattered throughout the rivers and coastlines of Alaska, where they still practice their traditional ways of life. Even in the bigger cities of Alaska, such as Juneau, Fairbanks, and Anchorage, you can hear Native languages being spoken and see Inuit influences.
11. For Its Rich Wildlife … And for Bears
There is a diverse wildlife population in Alaska. You can find moose throughout the State except in the extreme north. You can find other marine mammals, such as sea otters, sea lions, Harbor seals, and the Pacific walrus.
Birds such as the bald and golden eagle, ptarmigan, loons, puffins, owls, and swans are also creatures that inhabit the State.
Alaska has both grizzly and black bears. Nearly 98% of the United States grizzly bears live in Alaska. The best places to find the grizzly bears are where salmon is abundant – along the Gulf of Alaska's coast and the southwestern region. If you get the chance to visit Kodiak Island, you may even come across the famed Kodiak Grizzly.
Black bears, on the other hand, can be found in the inland, forested areas of the State.
12. For Whale Watching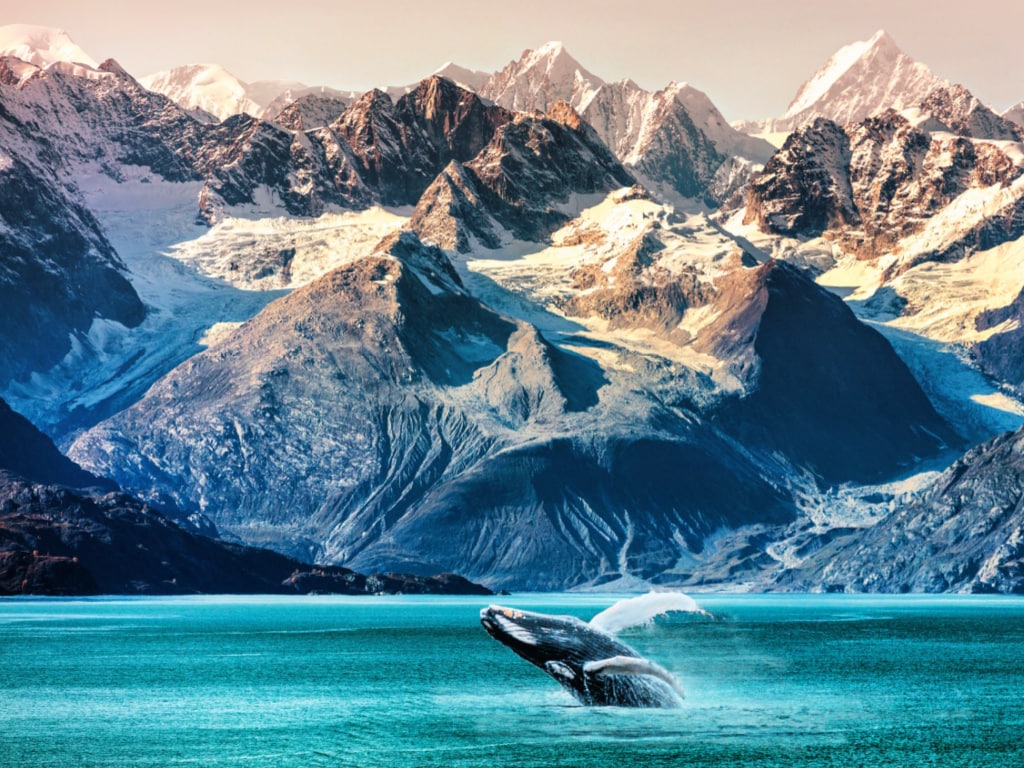 The prime time to go whale watching is during the summer season peaking from May to September when different species of whales come together to feed in the Alaskan waters. The best areas to go are the Icy Strait and Juneau — although I have seen whales in Anchorage and Sitka as well.
You can see humpback whales and orcas in both spots, although orcas may not be as easy to spot because they move quickly through the waters and are generally transient, unlike humpback whales. Gray and fin whales are also commonly sighted in the Alaskan waters, and sometimes, if you're lucky, you can see minke, sperm, beluga, and blue whales as well.
13. Fishing and Salmon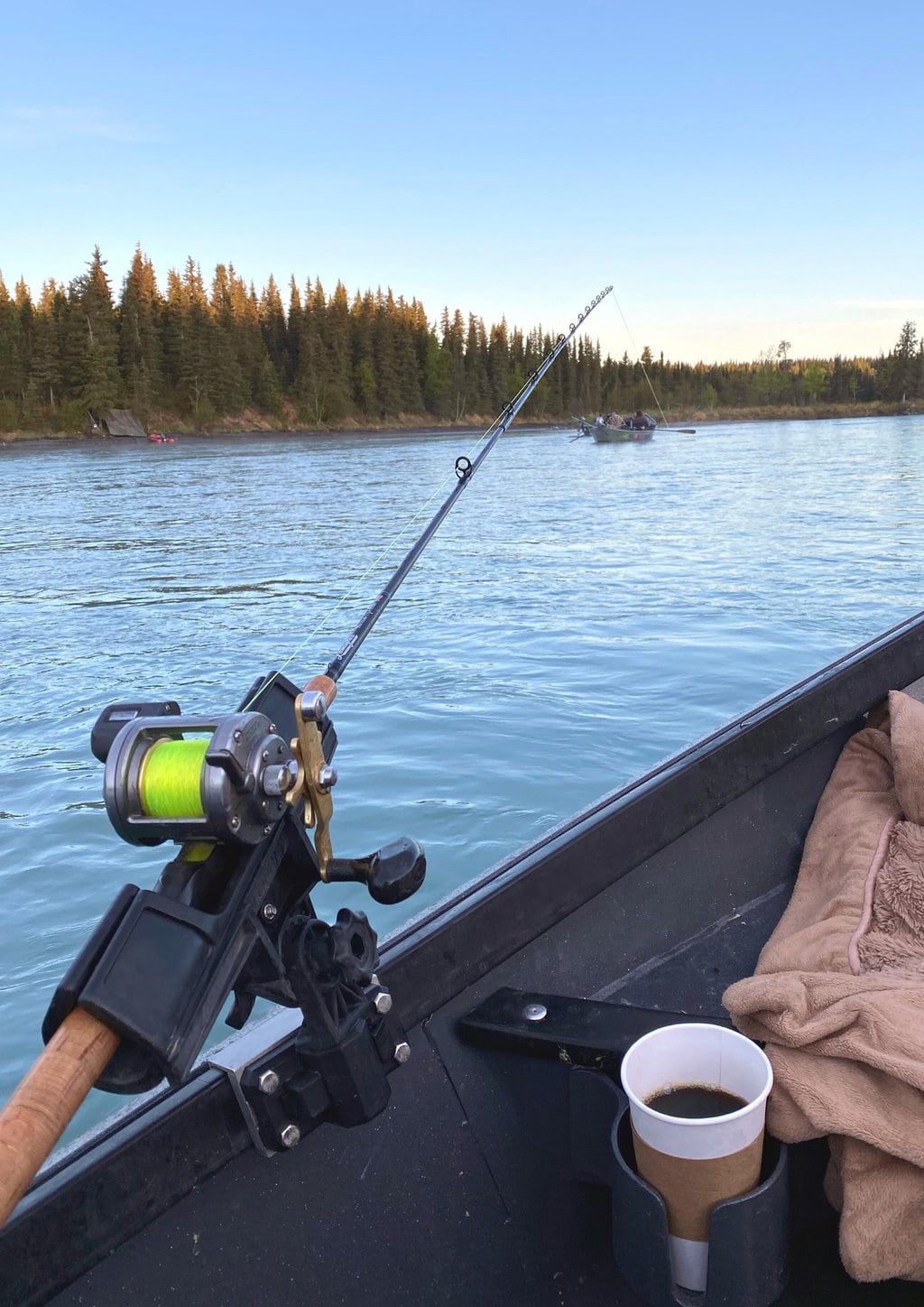 You can go fishing all year round in Alaska, but of course, you'll catch different species and have to go to other fishing locales, depending on the season.
If you're looking to catch some salmon, though, the best time to go is during the summer season, with the best fishing window peaking between May to September. Throughout the summer season, different species of salmon will be available for fishing – king salmon from May until the end of July, red salmon from mid-June to mid-August, silver salmon from July to November, and pink and chum salmon from mid-July to mid-August.
You can enjoy halibut fishing, another visitor favorite, from May until September.
Other fish available are the arctic grayling, rainbow trout, dolly varden, arctic char, burbot, and northern pike. These are found in the lakes, streams, and rivers of the State. Deepwater ocean species such as lingcod, shark, and rockfish are also other alternatives.
14. Alaskan Cruises
Cruising in Alaska is one of the most unique and exciting experiences you can have. You will be able to see some of the most beautiful scenery in the world, enjoy the wildlife, and learn about the culture and history of Alaska.
There are many benefits to taking a cruise in Alaska, including the opportunity to relax and enjoy the scenery, the chance to see some of the incredible wildlife in the world, and the opportunity to learn about the culture and history of Alaska.
Cruise ships offer a variety of activities for all ages, so there is something for everyone to enjoy. Plus, cruises are a great value for your money. You can expect to spend less money on a cruise than you would on a traditional vacation (depending on which cruise you choose of course).
The cost of an Alaskan cruise can be between $600 to $5,000 per person. The cost factors usually are the type of room you choose, the kind of cruise, and how long the cruise lasts.
You should also budget around $1,000 to $1,500 per seven days for shore excursions, not to mention lodging, transportation, and airfare.
Here is a selection of the best cruises in Alaska you can take.
Cruise season in Alaska runs from mid-May to mid-September, with mid-June to mid-July being the peak season since many want to take advantage of the good weather and daylight.
If you're looking for a better bargain, try booking your cruise in May or September, where the price can be lower by a couple of hundred dollars. You may also have more cabin and ship choices because fewer families are traveling since school is in session during these months.
During this time, shore excursions can also be 20% cheaper than standard rates. Be prepared, however, because the weather is cooler and rainier during these two months.
15. For Gold Mining
Gold mining has been the norm in every major town in Alaska. But while it is part of Alaska's history, gold panning nowadays is only allowed in designated private and public lands.
A gold mining tour can cost you nothing or all the way up to $50 for a day tour.
When going to pan for gold, all you really need is a small shovel and pan that you can get at any hardware store for $20. If you decide not to join an organized tour and just go off on your own to the pan, make sure you're not on private property or someone else's claim.
An area is considered public property if it is within 150 feet on either side of the road's center line.
Panning for gold isn't rocket science but takes a lot of patience. You just need to dip your pan into the creek and collect water. Swirl it around in the pan to separate the sand and find the glittering pieces at the bottom.
It's good to keep in mind that this activity is for fun and not for you to become a millionaire because the chances of you finding a substantial amount of gold are quite slim!
16. And for Dog Sledding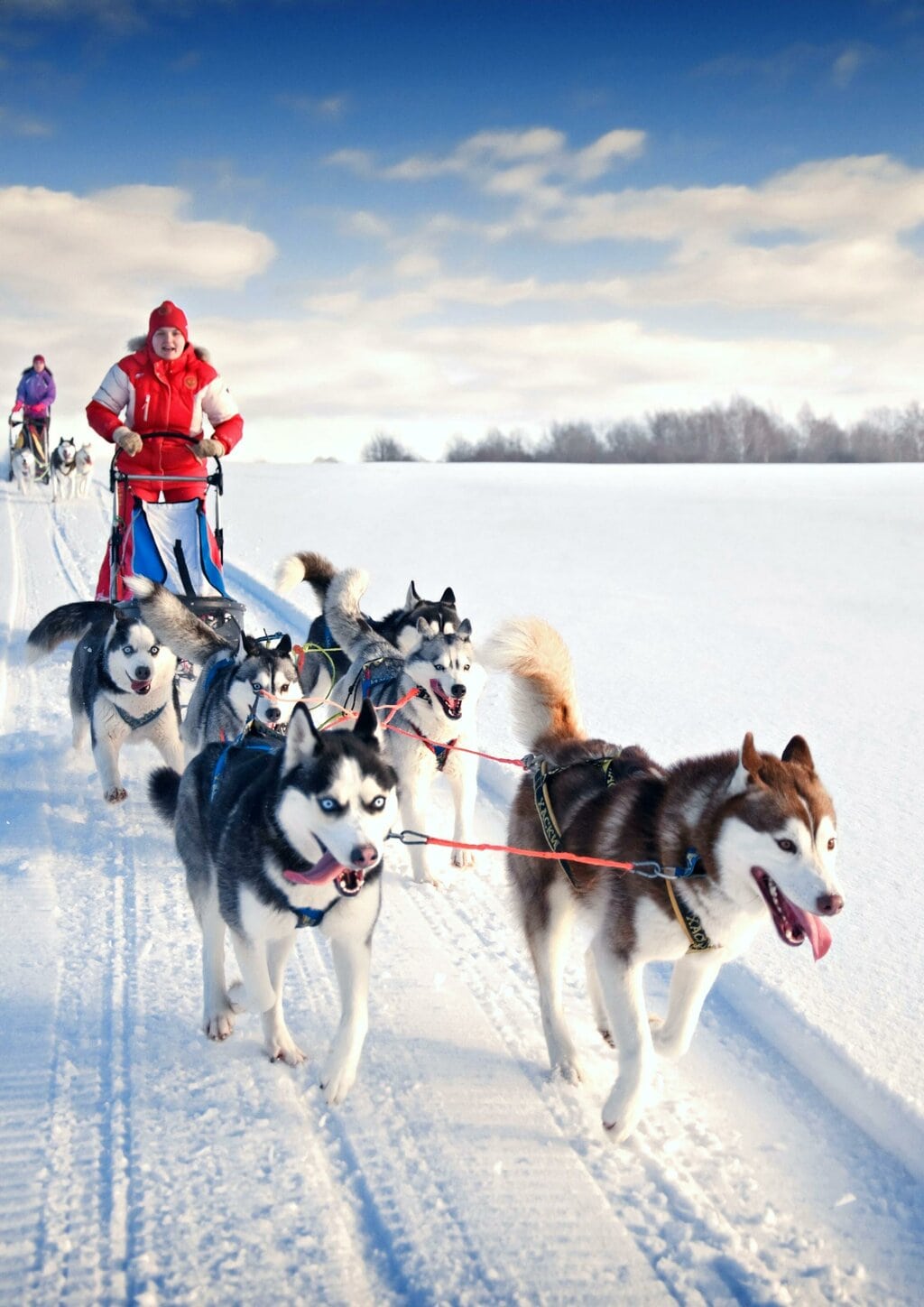 Dog sledding is a favored sport in Alaska and has been one for generations. It is also one of the more popular activities for tourists.
There are three types of dog sledding tours you can sign up for depending on where you are in Alaska:
A kennel tour and demo where you will be taken to a sled dog kennel and see the sled dogs run.
A summer dog sled ride where you sit in a wheeled sled where the dogs pull over dirt.
A glacier dog sledding tour. If you sign up for this tour, you will be taken up to the mountains in a helicopter and then on a sled ride on a glacier with Alaskan sled dogs.
The kennel tours and demos are usually offered in areas like the Interior that have high summer temperatures. The cooler regions of Alaska, such as the south-central and southeast, allow for the summer dog sled ride, while the mountain regions can offer you the glacier dog sledding tours.
The price of the tour can also vary from region to region. Tours in Skagway and Juneau are usually more expensive than in Fairbanks and Denali. The reason being is most of the tour bookings in Skagway and Juneau come from cruise ships that take commissions from the tour companies, which in turn have to increase their rates to make a profit.
If you want an adventure, love dogs, and want to see some fantastic scenery, dog sledding is definitely an activity I would recommend on your visit to Alaska.
Ready to Book Your Trip?
There you have it, all the things Alaska is famous for!
Alaska's size matches its beauty and possibilities. Its overwhelmingly vast and uninhabited wilderness attracts many nature lovers all over the world looking to enjoy what the State has to offer.
The region's wonders can be experienced through fishing, paddling, and hiking in its parks and wildlands. Wherever you go in Alaska, you are sure to be impressed.
I definitely recommend a summer trip for your first visit, but anytime is truly a good time to see the beauty of the Last Frontier.
For more detailed information check out my guide on the top reasons to visit Alaska and my guide listing all the reasons to move to Alaska.